|Emily Chang
KAGOME NASU:Nasu Production Plant Tour
If you say "tomato juice", the first word that comes to my mind is KAGOME. KAGOME is Japan's biggest juice maker with its head office located in Nagoya, and it is one of the most respected such companies of the central Japan region.
As we all know, KAGOME owns a number of production plants and research laboratories throughout the country. I was lucky to have an opportunity to visit one of its factories, KAGOME Nasu production plant. In my last essay, I shared my experience of harvesting "Lylyco" tomatoes, and this time I would like to share what I learnt through visiting the inside of the plant to see how KAGOME's pure juice is made.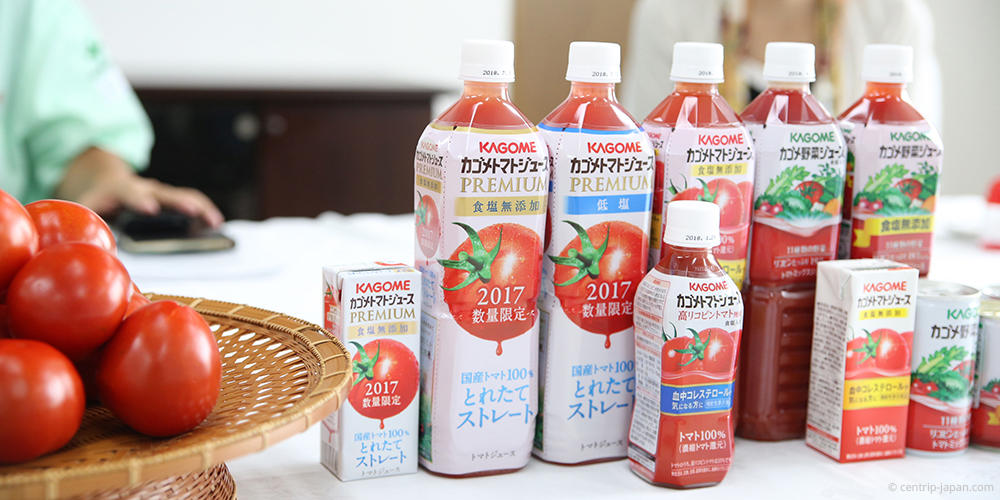 The plant manager and the staff told us that the Nasu production plant concentrates on producing tomato and vegetable juice. They process all the raw tomatoes in summer and process all the raw carrots in winter.
The sidewalk is divided into two. We walked along the course road while enjoying some interesting quizzes for young visitors. As a Japanese company, KAGOME is deeply concerned about children's education.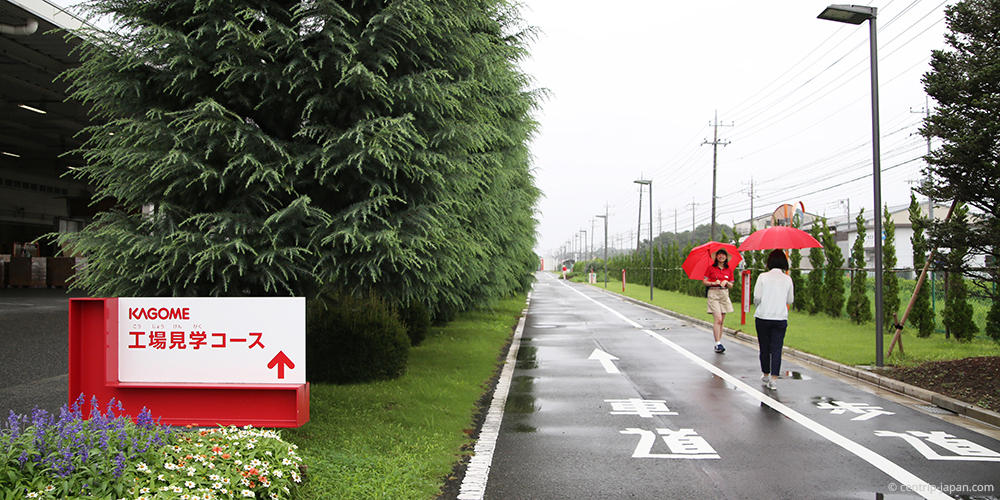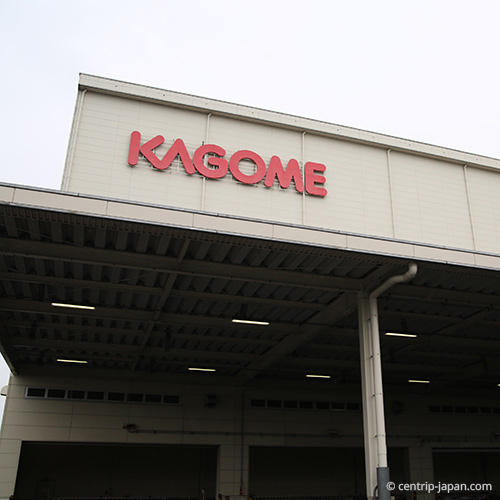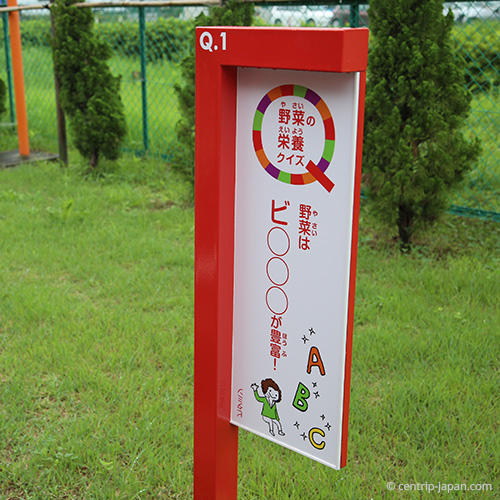 Nasu production plant is about 3 times the size of Tokyo Dome. The plant is made up of three main areas: the processing area, the packaging area and the aseptic filling area.
Step 1. Processing area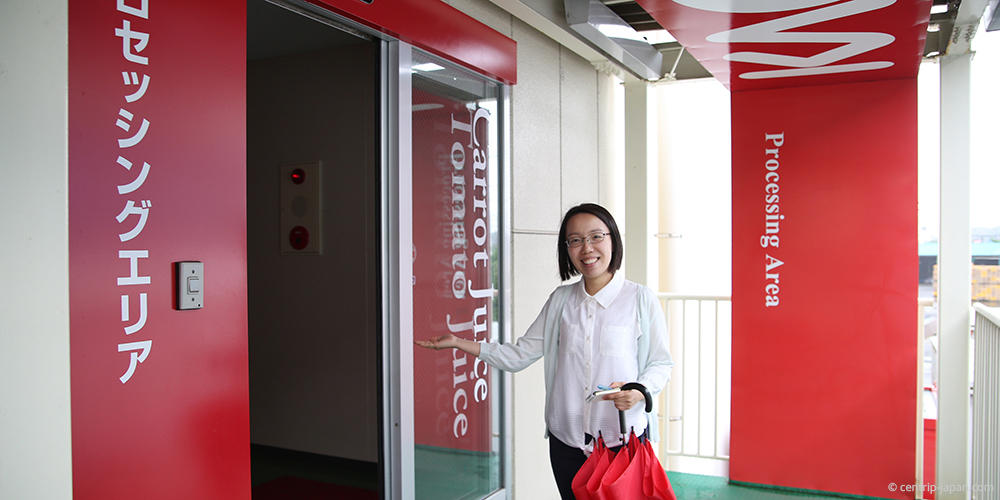 First, we were shown around the raw tomato processing area.
In this area, tomatoes from all the fields are loaded into one place and then this large collection of raw tomatoes flows through a huge washing tank to be washed and processed.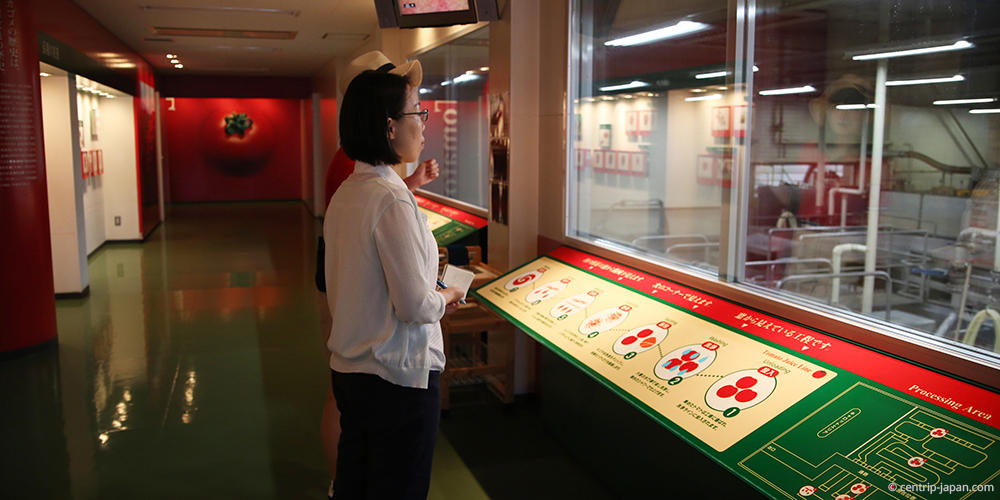 There are some information boards on the wall to explain the differences between various species of tomatoes.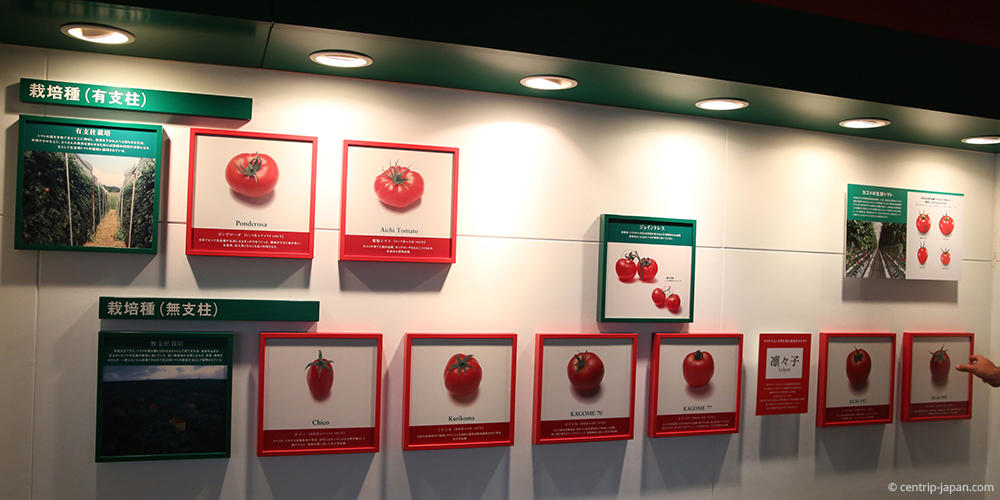 RO (Reverse Osmosis) Technology, KAGOME's original technology, is used in this process to concentrate raw tomato juice by draining water without applying heat. This enables them to maintain the freshness and flavor of raw tomatoes all year round.
Getting a hands-on experience of the facilities and sampling the products improves our understanding of the process.
KAGOME, as a Japan's largest juice maker, takes pride in its own products and is happy to share its knowhow with general consumers.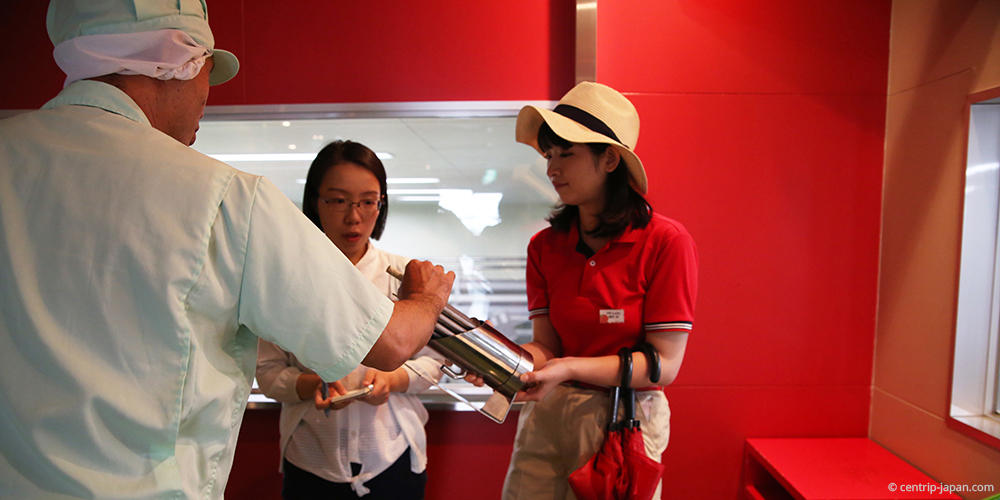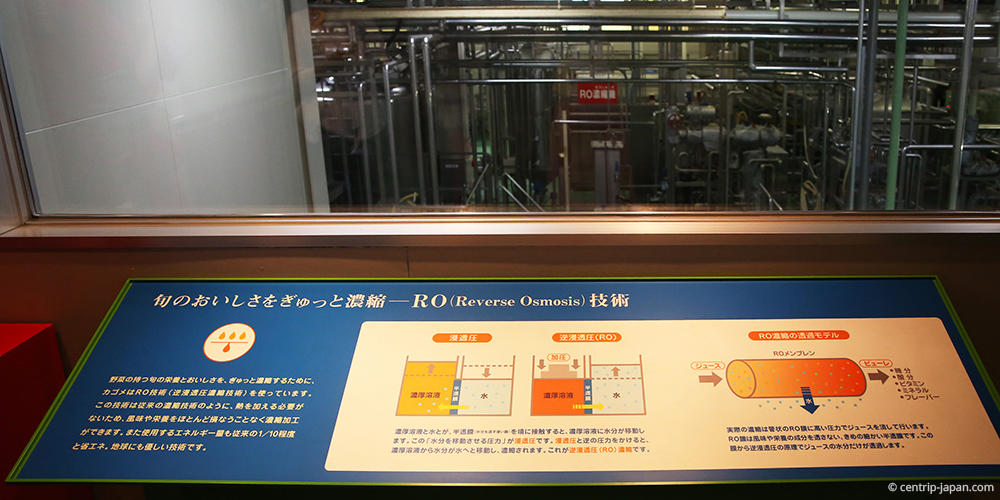 It was a shame that we were not able to see how carrots are processed, as all the carrots are processed in winter.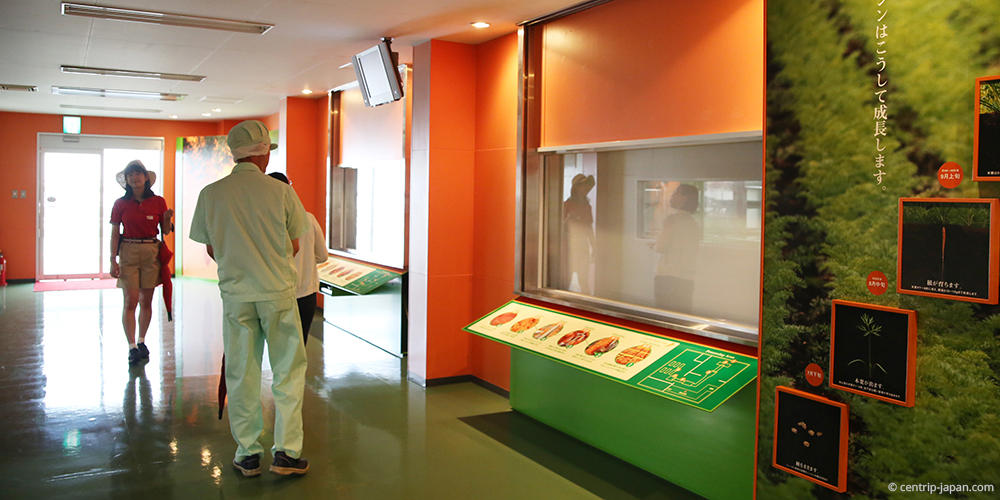 Step2. Packaging area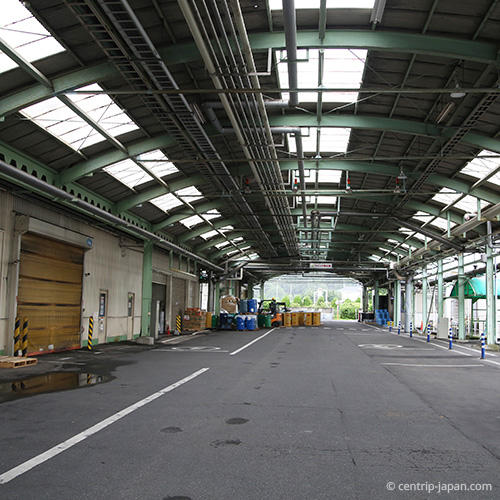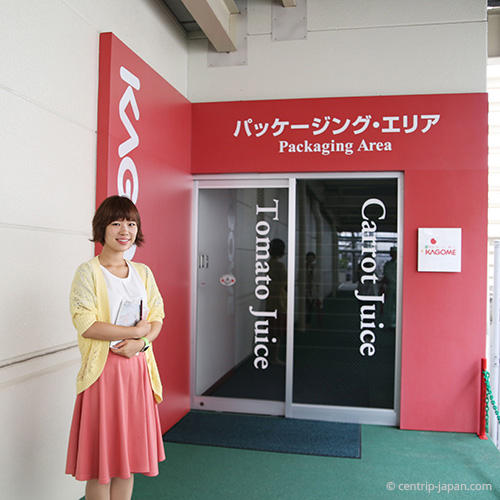 After a short walk, we arrived at the next section, the packaging area.
In this area, tomato juice is filled and packaged.
On the wall, there are some information boards which show the first package designs of KAGOME's tomato juice. They are well-designed even by modern standards.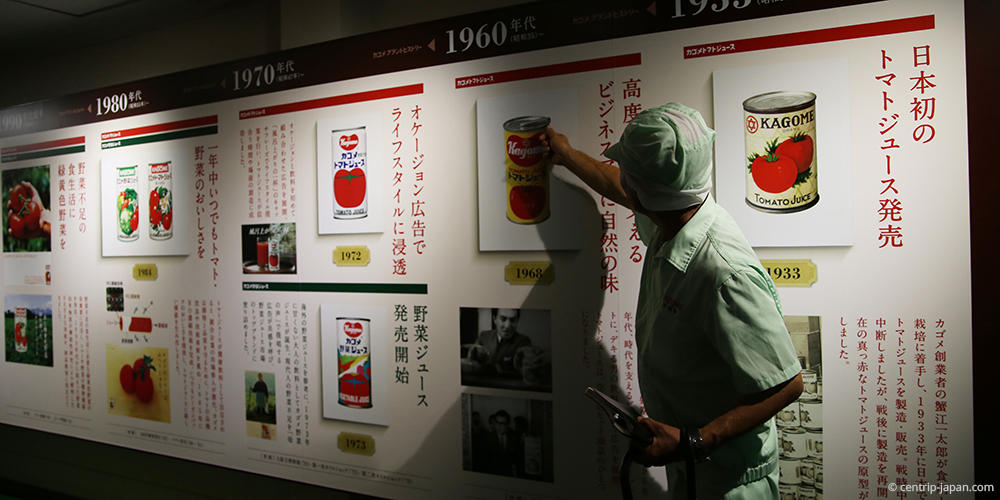 "Lylyco" tomatoes contain two to three time more Lycopene than an average tomato when eaten raw. All the tomatoes used as raw materials in KAGOME's tomato juice are specially developed by KAGOME. This species of tomato is called "Lylyco" tomato. Unlike the tomatoes sold in supermarkets, the flesh of "Lylyco" tomatoes is pure red. This is because "Lylyco" tomatoes contain 2 to 3 times more Lycopene than other species. What is Lycopene? Lycopene has antioxidant action and is effective for preventing lifestyle related diseases and it is also useful for skin whitening.
We were told that Lycopene makes it easier for people to absorb nutrition via vegetable juice when compared to raw vegetables.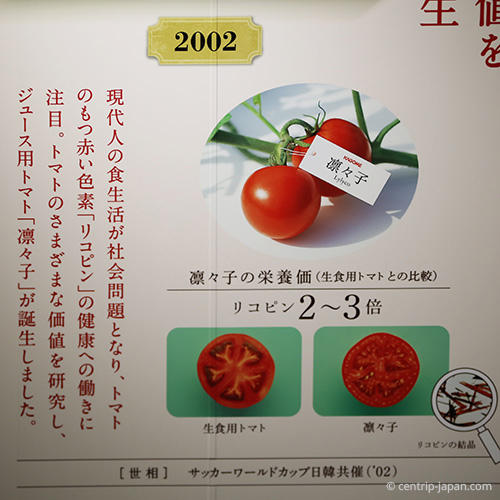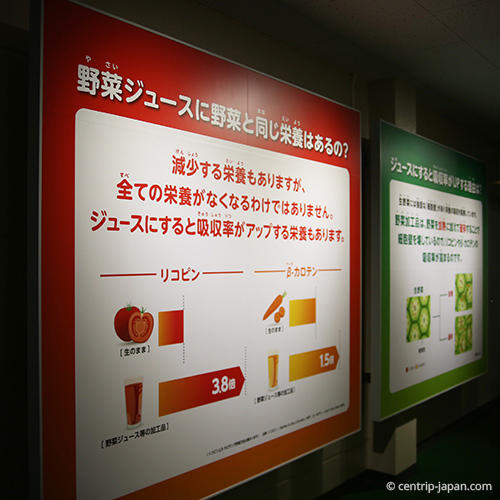 Step3. Aseptic filling area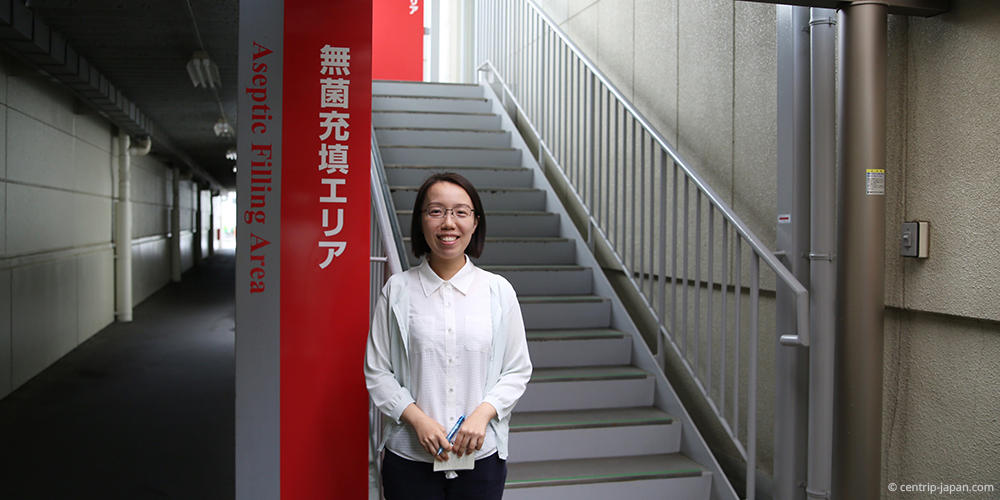 Lastly, let's see how "Lylyco" tomato juice is filled and packaged.
There are 1,500 cans and 600 plastic bottles of tomato juice packaged every 60 seconds. This level of productivity is the best in Japan!
Do you know why the expiration date of KAGOME's pure juice is long even without the use of additives? The secret behind it is the aseptic processing and packaging (APP) technology that KAGOME has introduced into its producing system. Aseptic processing and packaging technology is used to produce a stable packaged product that can be stored for extended periods without refrigeration. It is said that products in sterile conditions will not rot even in 100 years!
This is why KAGOME's additive-free "Lylyco" tomato juice can be stored for so long!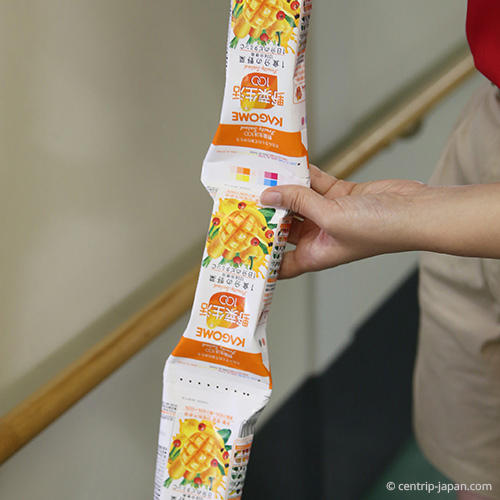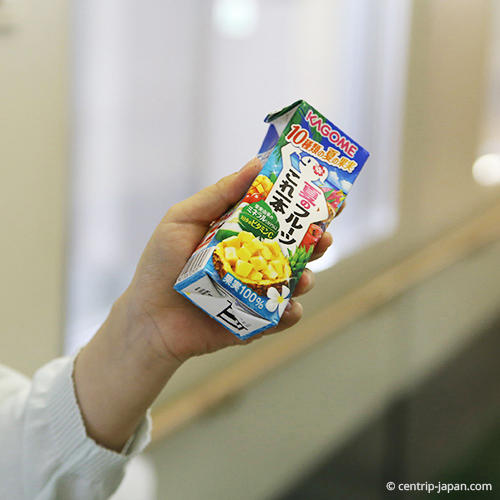 On the wall, there are photos of farmhouse families who supply "Lylyco" tomatoes to KAGOME. Looking at the tomatoes they hold in their hands, it reminds me the cup of fresh tomato juice I drank. I am full of gratitude!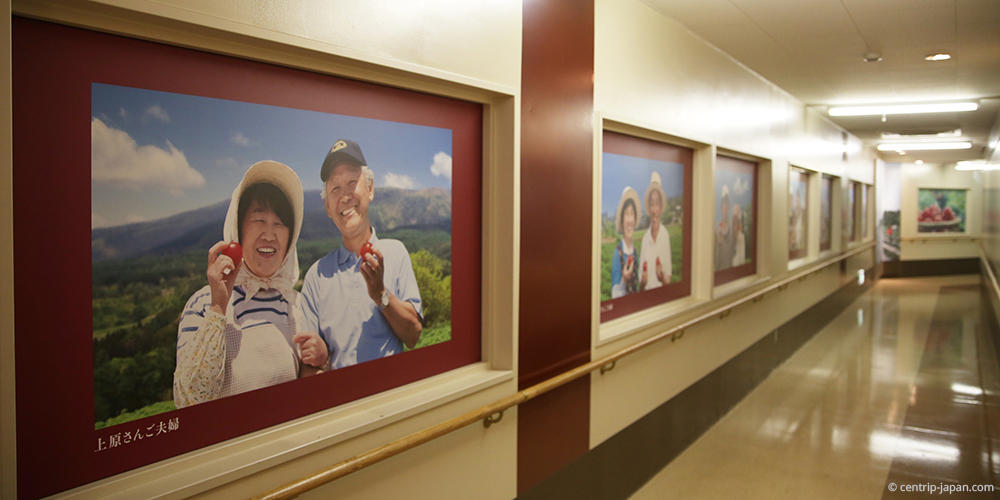 Other than the photos, messages left by primary school students decorate the wall as well. KAGOME has continuously provided opportunities for a large number of children to take part in field study in its plants.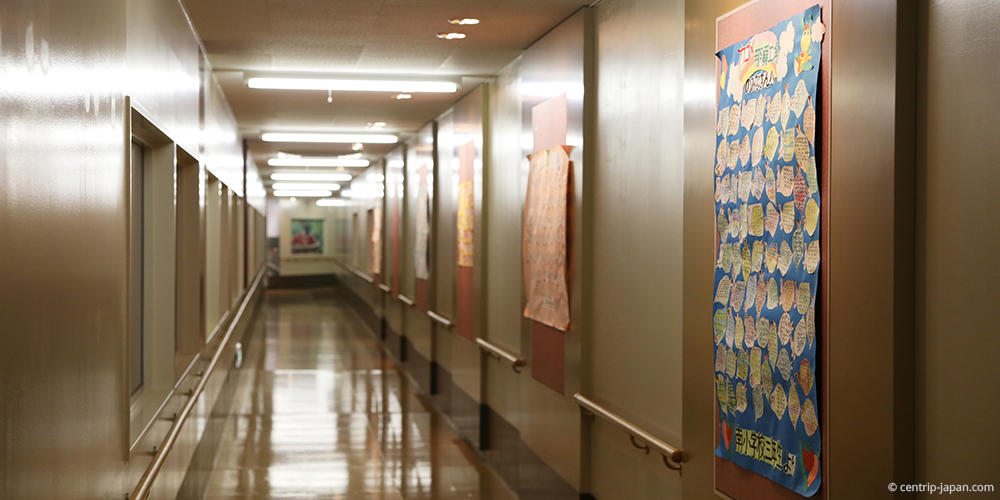 After learning the whole manufacturing process of "Lylyco" tomato juice, we changed our attitude and perspective towards drinking tomato and vegetable juice. It is not only for "taste" but also for "healthcare" and "beauty".
In next essay, I would like to introduce KAGOME's various juices and its special features.