|Willow Lu
KAGOME from the viewpoint of a foreign resident: research activities
The "Nature-Health Research Division" in KAGOME studies tomatoes and vegetables. We spoke to Ayaka Tsutsumi, a researcher who has been working for this division for four years, and learned about the results of the research and the reasons why KAGOME focuses on the properties of tomatoes and vegetables.
What is KAGOME's "Functional Research"?
KAGOME was founded in 1899, and has since that time been continuing to produce various products made from tomato, such as tomato ketchup. Furthermore, research into tomatoes started in the early days of the company, aiming to make the products tastier and more appealing. KAGOME has been studying tomatoes for 40 years. There are 10,000 types of tomatoes in the world, and KAGOME possesses over 7,500 of them. KAGOME focuses its efforts on basic reseach into tomatoes, such as creating new seeds and improving cultivation.
With tomatoes as the principal focus of the research, they also study how various vegetables, especially carrots and broccoli sprouts, effect human health.
Why does KAGOME conduct research into the properties of vegetables?
An aging population, illnesses, and lifestyle diseases are all social issues in Japan. KAGOME wishes to use its knowledge of vegetables to solve these problems. In other words, KAGOME aims to reduce the number of years needed to nurse the elderly and also to extend their healthy life expectancy by making use of the properties of vegetables.
The Japanese are known for their long life-expectancy, and the secret to it is their eating habits.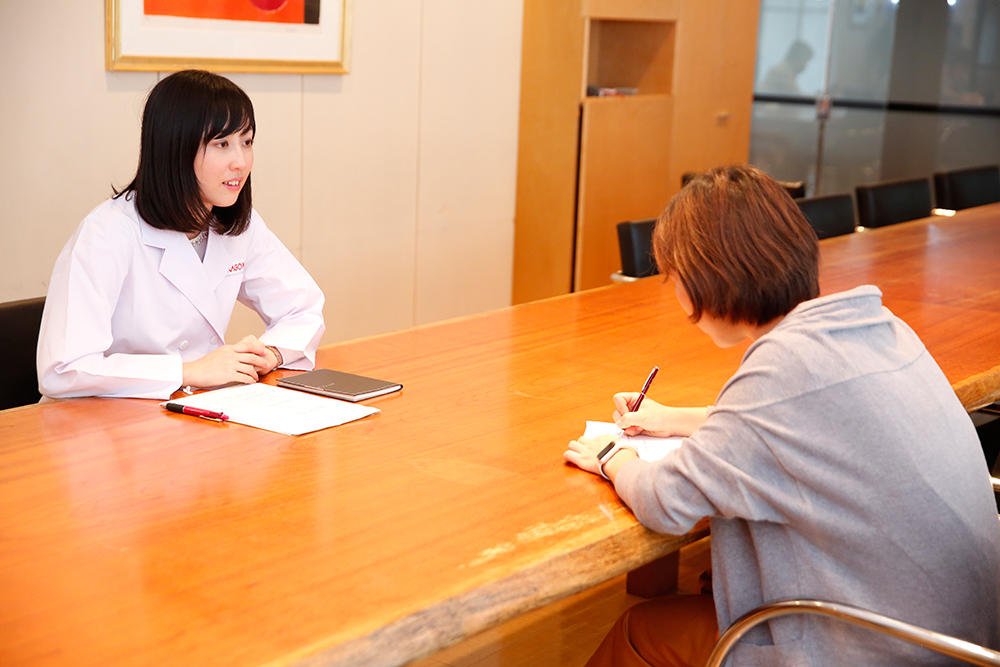 The amazing health effects of Tomatoes
Tsutsumi conducts research into the positive effects that tomatoes have on our skin. KAGOME has discovered that drinking one pack of tomato juice every day for 12 weeks whitens tanned skin. Do not forget to drink tomato juice in the sumer when going to the beach!
What other functions do tomatoes have?
The red color of a tomato is due to lycopene. Lycopene clears out the reactive oxygen, which is known to be the cause of many illnesses. There is much more lycopene can do for us.
Tomatoes are said to maintain the cholesterol in our blood, and prevent arteriosclerosis.
Studies say that drinking two packs of tomato juice before exercising decreases physical fatigue. Therefore, KAGOME hands out raw tomatoes to the runners at the Tokyo marathon, so they can experience the recovery effects.
It is also anticipated that Lycopene can prevent bone fractures.
Colors and the function-efficiency of other vegetables also have positive effects on our health, such as orange carrots being good for our eyes, green broccoli protecting our livers, and the purple anthocyanin promoting improvement of the functions of the blood vessels.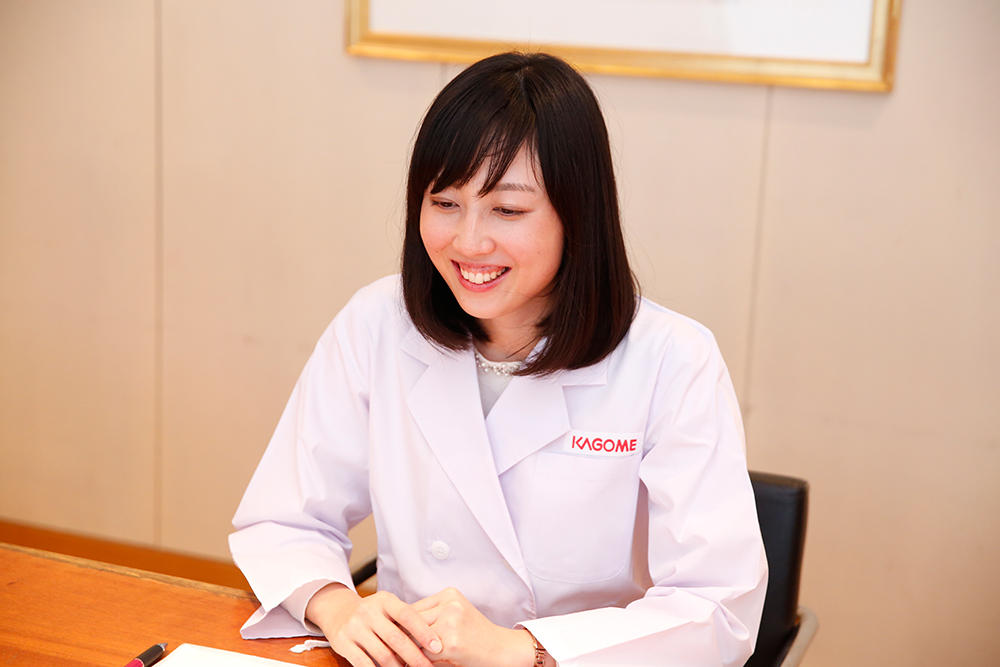 Message to customers abroad from Ayaka Tsutsumi, in the Nature-Health Research Division :
Eating vegetables is important for a healthy life. Since the colors of various vegetables have different effects on our health, do your best to eat many types of vegetables in order to live a healthy life!
Since the properties of vegetable juices are listed on the package, you can easily understand the health effects of a particular product. Let's make use of the various colors and various positive effects of vegetables to maintain our good health.