| Centrip Editorial Board
Enjoy Matsumoto in Spring along with Takayama and Shirakawago
Enjoy Matsumoto along with Takayama & Shirakawago! The Quaint Japanese Castle Town of Matsumoto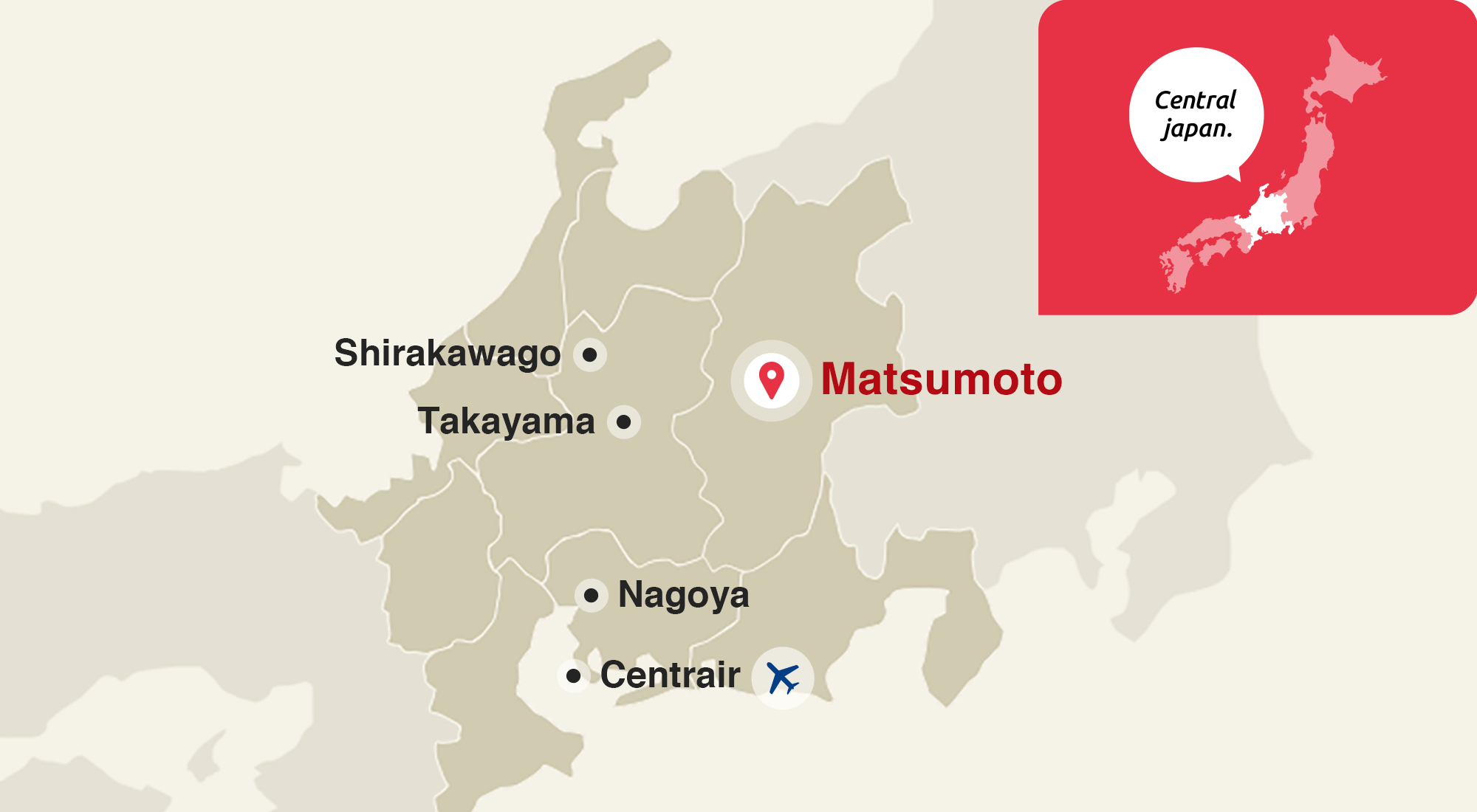 Takayama and Shirakawago are popular tourist destinations because of their historical townscapes and traditional buildings as well as their proximity to Centrair. Matsumoto is easy to get to from Takayama and Shirakawago. It flourished as a castle town and attracts many visitors with its long history and tradition.
Getting to Matsumoto from Shirakawago and Takayama
Shoryudo Bus Pass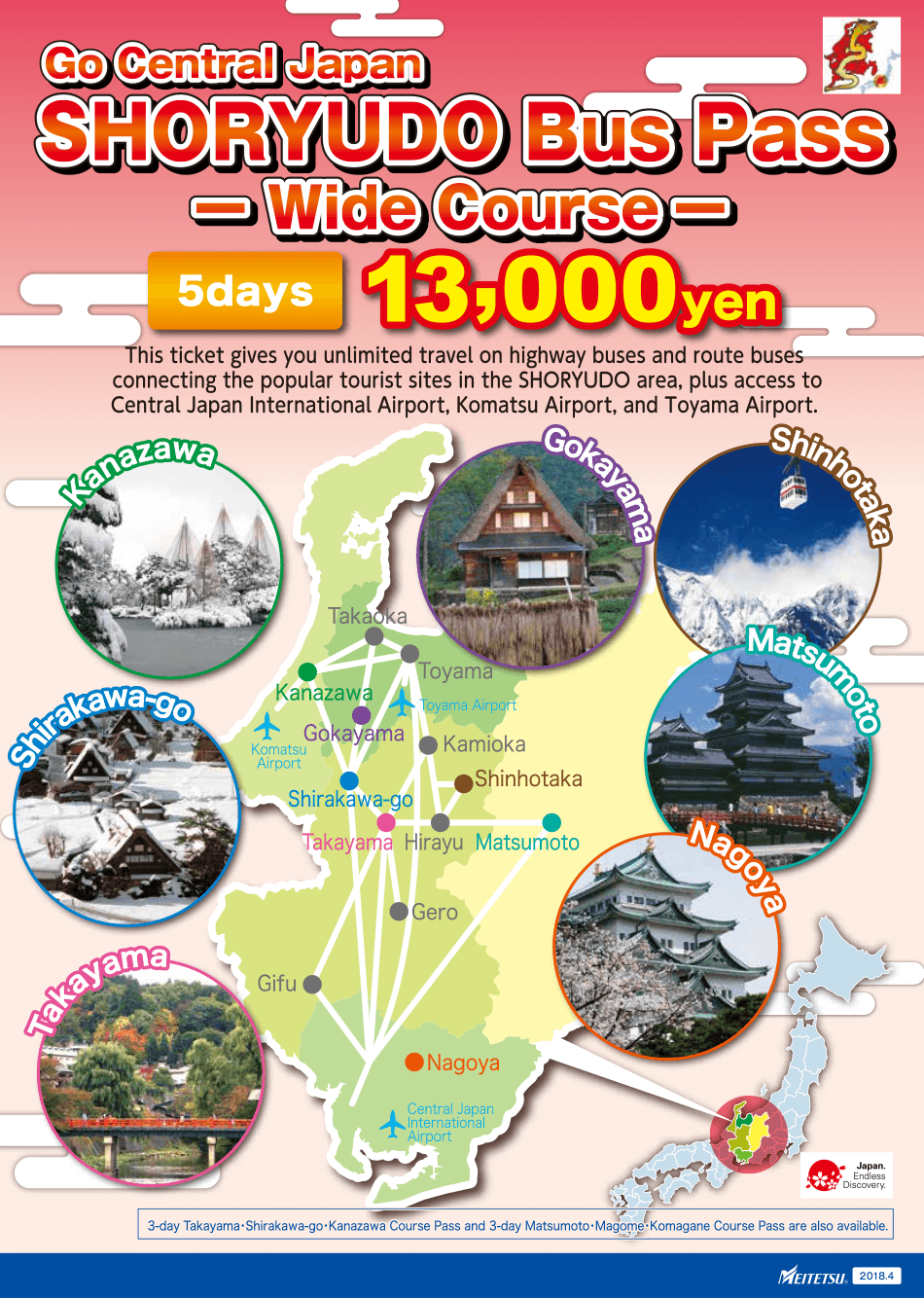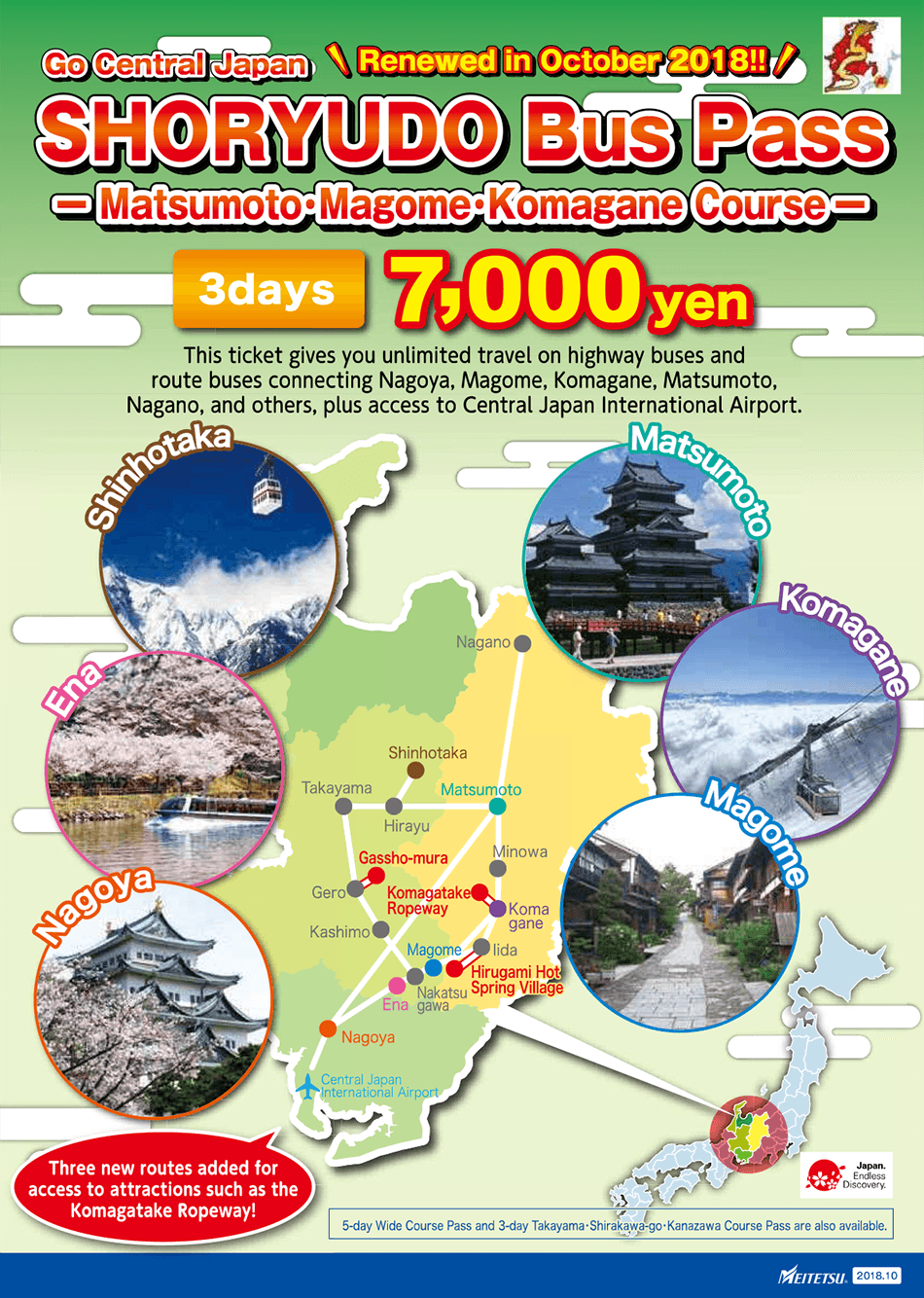 The Shoryudo bus ticket is recommended for getting to Matsumoto from Takayama and Shirakawago. This is a one-day unlimited-ride ticket including Nagoya, Shirakawago, Takayama, and Matsumoto. Since Chubu Centrair International Airport is the most convenient airport for the most tourists around Takayama and Shirakawago, you can travel around the Chubu area worry-free with the Shoryudo bus ticket.
The Wide Course (5 days for ¥ 13,000) includes Shirakawago, Takayama, Kanazawa, and Matsumoto. It is about ¥6,500 less expensive, compared to buying a ticket individually for each destination.
A Matsumoto, Magome, and Komagane course (3 days for ¥ 7,000) is also available. This includes Takayama, but not Shirakawago. Plan your trip according to your schedule.
More Information: Ryutsuke Bus Ticket (MEITETSU WORLD TRAVEL, INC.)
Buy this pass online at the MEITETSU WORLD TRAVEL site above, print it out, and bring a copy to the ticket counter at Centrair or the Meitetsu Bus Center at Nagoya Station to exchange it for a ticket. *You can purchase the pass only online.
This includes 2 tickets to Nagoya Station from the airport. You can exchange the receipt for the tickets at Centrair, so you don't need to buy train tickets.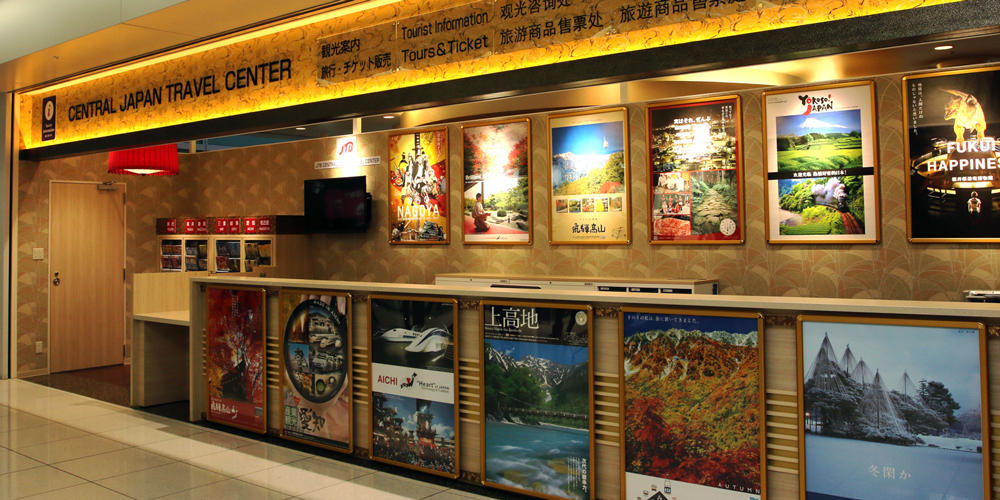 Exchange it at Central Japan Travel Center at Chubu Centrair International Airport.
Taking Highway Buses
Taking a highway bus from Takayama to Matsumoto is convenient. (If you are coming from Shirakawago, you can get to Matsumoto via Takayama.)
Shirakawago-Takayama Line (Nouhi Bus)
Takayama-Matsumoto Line (Nouhi Bus)
For the information on how to get to Matsumoto from Chubu International Airport or Nagoya city, please see the information here.
Tourist Spots in Matsumoto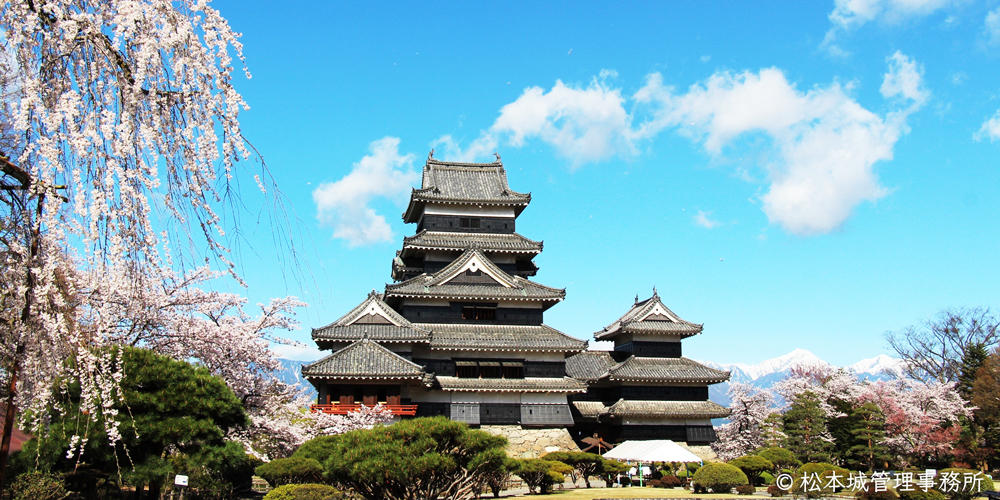 Located in the center of Matsumoto, Matsumoto Castle has beautiful white and black lacquered walls. Around the castle, a historical town with old storehouses remains. In the springtime, the remaining snow in the mountains surrounding Matsumoto creates a beautiful backdrop for the Matsumoto Castle. We will introduce some spots where you can take great pictures of them.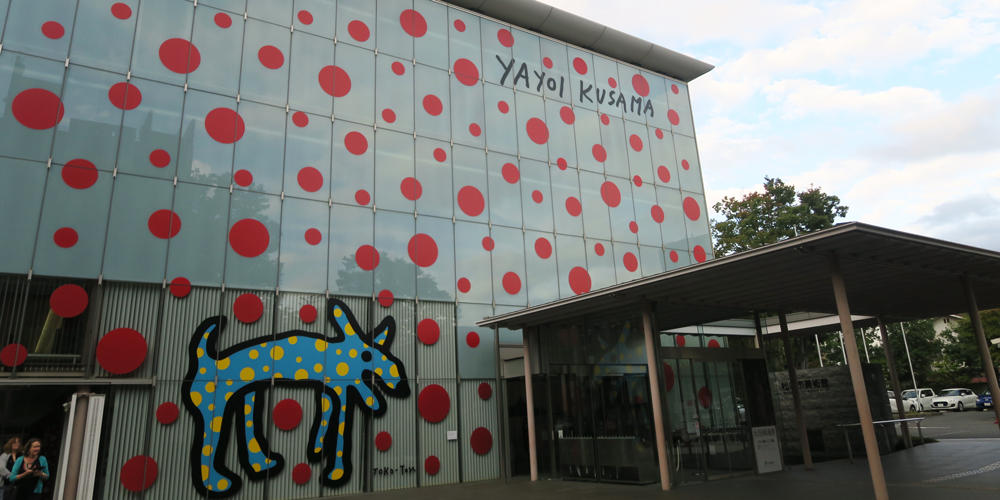 Matsumoto is the birthplace of a world-famous contemporary artist, Yayoi Kusama. Huge artwork with polka dot designs, one of the unique features of Yayoi, is a symbol of Matsumoto City Museum of Art. It is displayed outside the museum so you can enjoy it as you walk around.
Matsumoto Castle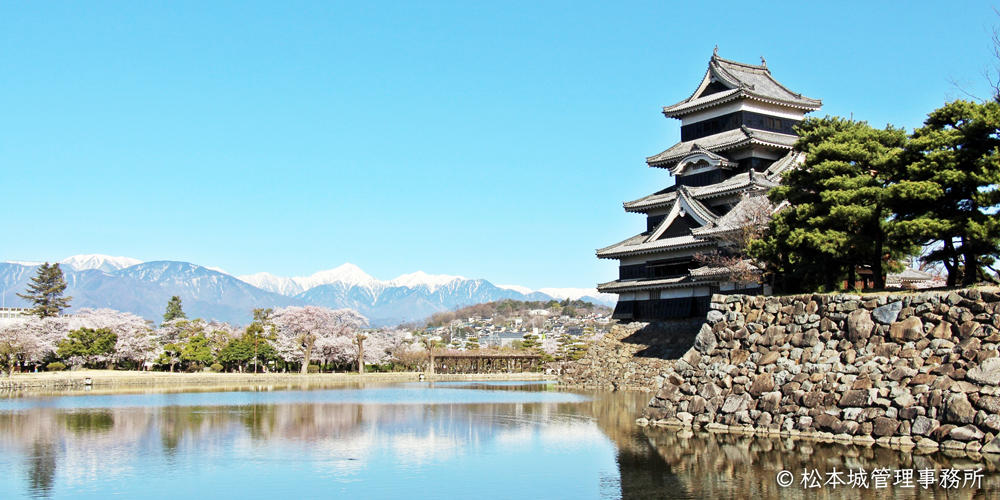 Matsumoto Castle is known as the Crow Castle because of its unique black exterior. It was built during the Warring States Period and was originally called Fukashi Castle. There are only two castles with their original five-story keeps remaining in Japan—Matsumoto Castle and Himeji Castle. Matsumoto Castle is also listed as a National Treasure of Japan.
The outside of inner moat is the best place to see the keep with the Japanese Alps slightly covered with the remaining snow. Also, the guide signboard of Matsumoto Castle tells you about the best photo spots!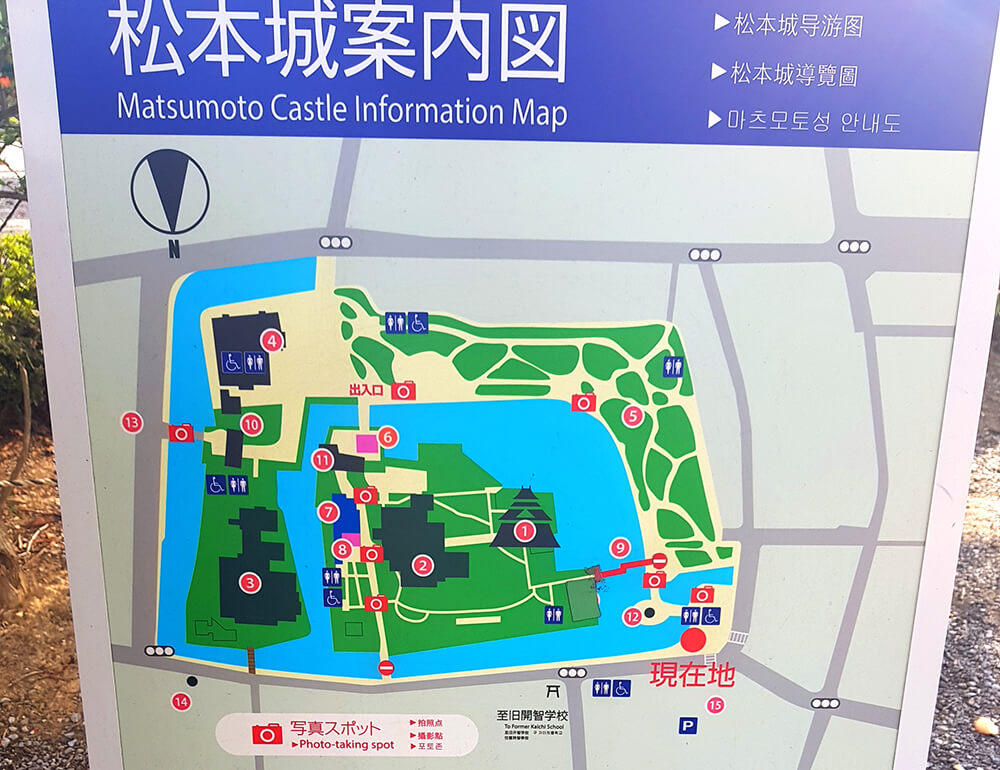 Nakamachi and Nawate Street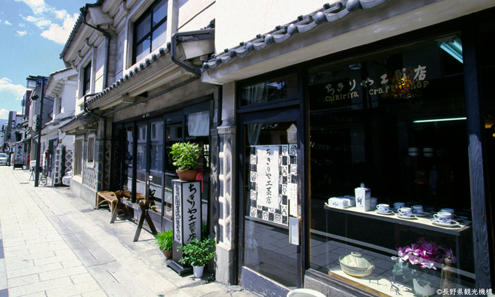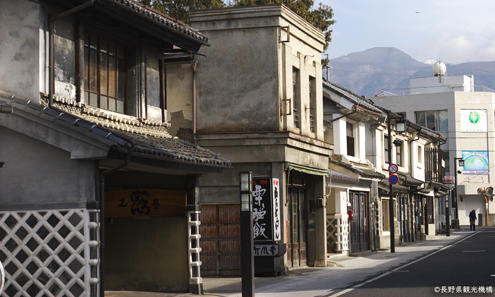 Nakamachi and Nawate Street are major areas of the castle town, about a 10-minute walk from JR Matsumoto Station. Namako Walls, uniquely designed fireproof walls, still remain. A massive fire during the Edo period was the reason why these fireproof walls were made.
Starting from Chikiriya craft shop, built by the owner of Matsumoto Folk Art Museum, Maruyama Taro, there are many craft shops, art galleries, restaurants, and souvenir shops. You can shop and dine while enjoying the view of this quaint old town.
Cafés and restaurants built using old warehouses are also recommended tourist spots.
Matsumoto City Museum of Art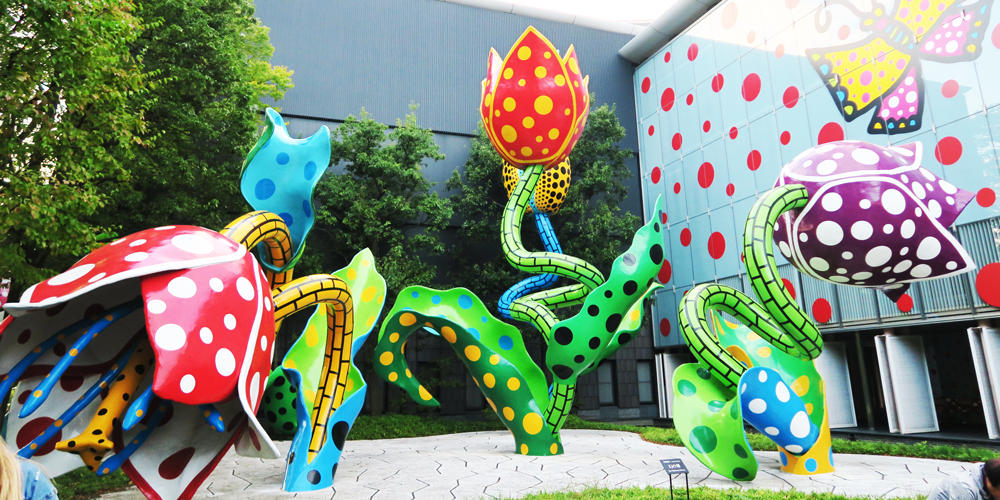 It is just a 10-minute walk from JR Matsumoto Station. Matsumoto city is a birthplace of world-renowned artist, Yayoi Kusama, and the museum has a collection of her works. As you walk toward the museum, you will find a piece of polka dot artwork called Maboroshi-no-Hana by Yayoi Kusama in the museum square.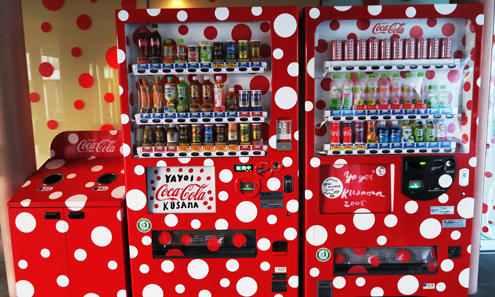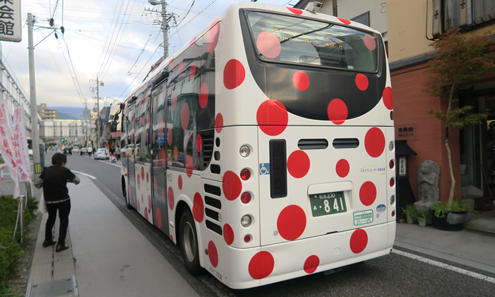 The shop in the museum also sells her original items. Polka dot trash cans and benches inside and outside the museum will surely take you to the world of Yayoi Kusama!
Asama Hot Springs
Asama Hot Springs is the nearest hot spring town from Matsumoto city. It takes 15 minutes by taxi from JR Matsumoto Station and 25 minutes by Alpico Kotsu bus from Matsumoto Bus Terminal. The source temperature is about 50°C, so you can take a bath without adding hot water.
One of the great things here is the environment surrounded by rich nature. There are three hot spring facilities available for day-trippers, as well as many accommodations with hot springs where you can stay and relax.
Tourism around Matsumoto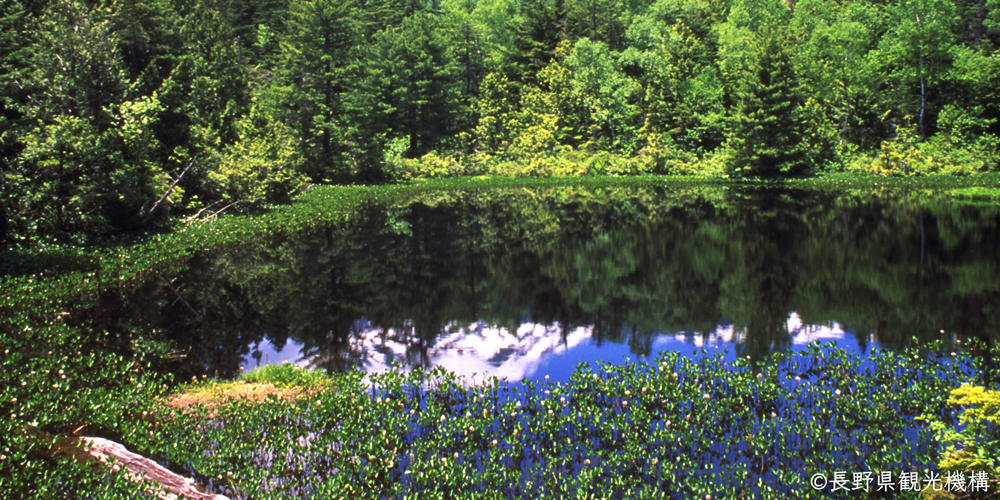 Matsumoto is located in the center of Nagano Prefecture. In the west side of Matsumoto, there are the northern Japanese alps, also known as Japan's roof. In the east, there is Utsukushigahara Plateau. The whole city is surrounded by rich nature such as Kaimikochi and Norikura Plateau.
When cherry blossoms are blooming in town, you can still see the magnificent view of the snowy Japan alps. Norikura Plateau offers a casual hiking course and Shirahone Hot Spring, located near Matsumoto, provides milky-white hot water which enhances your natural healing ability. Recommended for those who wish to enjoy a taste of nature.
Norikura Dake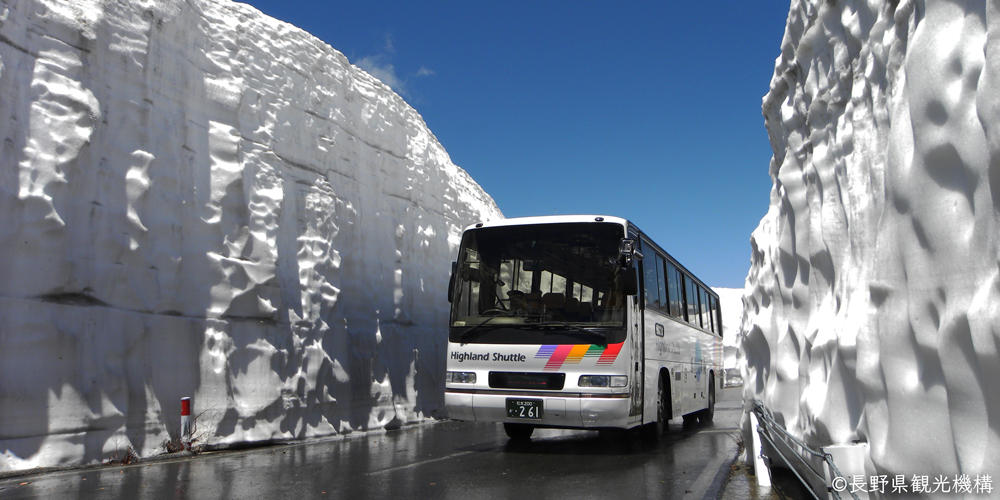 To Norikura Kogen Tourist Center from the central areas of Matsumoto is about one hour by Alpico Kotsu Bus. At Norikura Kogen Tourist Center, the Norikura Haruyama Bus runs for a limited time from the end of April to the end of June. This area is covered with snow even in the springtime, and the snow corridor which is made while snowplowing can be seen. Enjoy the spectacular view which is similar to the snow wall of the popular Tateyama Kurobe Alpine Route from the bus.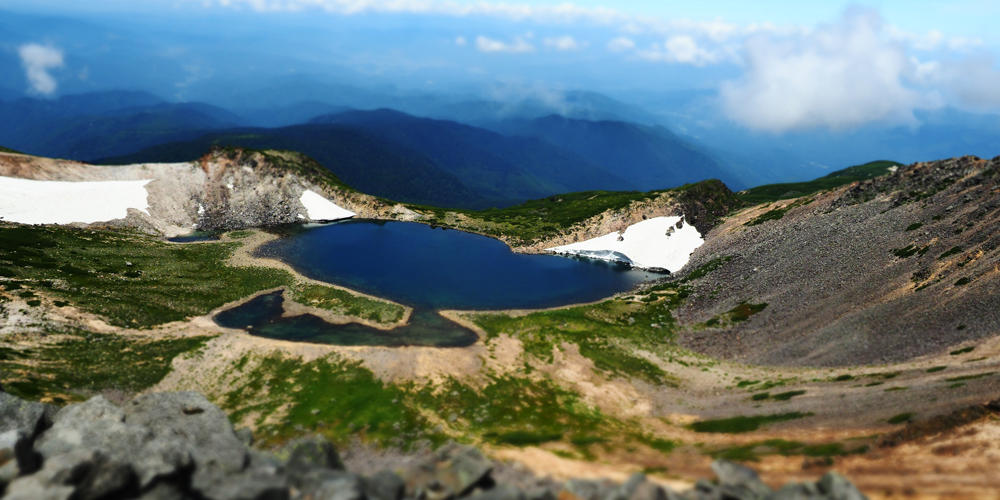 Shirahone Hot Spring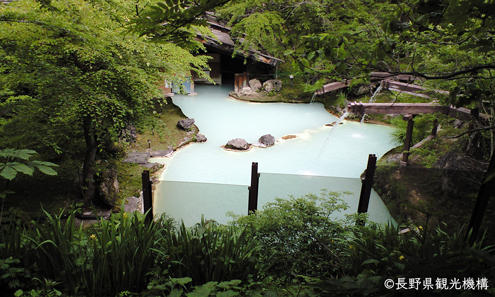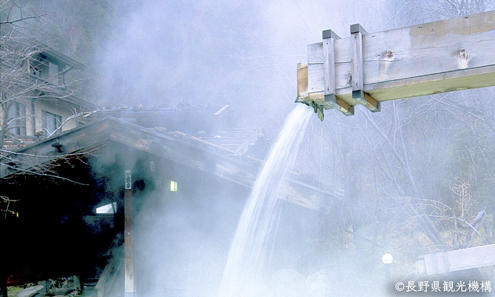 Located in the eastern mountainside of Norikuradake, Shirahone Hot Spring is about 90 minutes by Alpico Kotsu Bus from Matsumoto Station. The source water here is clear, but it turns milky-white when it gushes out and oxidizes. There is a saying that you'll never catch a cold if you bathe in Shirahone hot springs at least three times a year. It is a popular hot spring among tourists and locals.
Getting to Matsumoto
Getting to central Matsumoto and JR Matsumoto Station by public transit
Getting there by Chubu Centrair International Airport
To Meitetsu Nagoya Station from the Chubu International Airport station which is directly connected to Centrair takes approximately 35 minutes using the μ-SKY express train. From JR Nagoya station to Matsumoto Station is about 2 hours by JR Limited Express Wide View Shinano. Although the Wide View Shinano is a limited express train, there are no in-car sales. Pick up some snacks before getting on the train.
Direct Route from Takayama
The bus runs from Takayama Bus Center near JR Takayama Station to Matsumoto via Hirayu Onsen. As introduced at the beginning of this article, Shoryudo Bus Free Ticket is available. It takes about 2 and a half hours. Reservations are not necessary. The seats are limited though, so you will not be able to get on if there are no available seats. Make sure to get to the station well before your departure.
Wrap-up
In addition to Matsumoto, Kanazawa is another popular travel destination along with Takayama and Shirakawago.
Stretch your trip to Nagoya, the center city of the Chubu region, after exploring the nature, culture, and history on the outskirts of Chubu. Savor unique local cuisine, go shopping in the city, and enjoy more at Centrair, the most fun airport in Japan right up until the last minute of your trip.
Sponsored by Chubu Centrair International Airport