|Mark McDonald
Fireworks Festivals
Summer in Japan. What do you think when you read these words?
Some people will say "swimming at the beach". Others will say "festivals". These are indeed part of summer in Japan. Today, though, we would like to present another side of the Japanese summer : flower fires.
What?
Ah, sorry. Not "flower fires". "Fireworks".
In Japanese, the word for fireworks is 花火, literally "flower fire". It is quite a poetic name, and it often suits the patterns made by the fireworks as they explode in the sky.
There are a number of fireworks festivals every year in this area. We would like to tell you about three of them, and at the same time give you some advice for photographing them if you are interested in trying to get some pictures.
Okazaki fireworks festival (August 4th)
The fireworks festival in Okazaki is a big event. This year it will take place on August 4th (Saturday) from 6:50 PM until 9PM.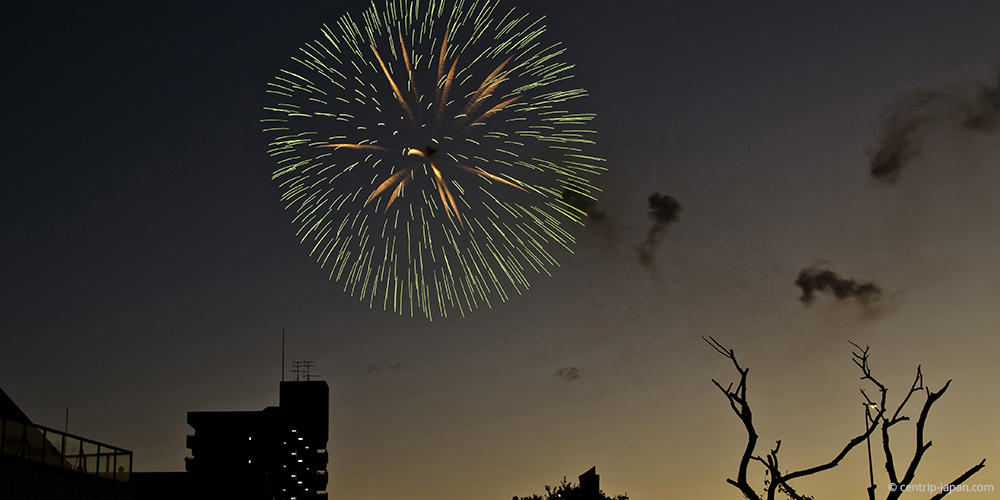 It is held on the banks of the river near the castle, and it is a five-to-ten minute walk from Higashi Okazaki station on the Meitetsu line. From Nagoya, a single trip costs 650 yen and takes around 25-30 minutes by express train. It will be almost impossible to miss on the day. Just follow the crowds. Typically, the city puts up large wooden seating structures, but you will find people viewing the fireworks all over the area.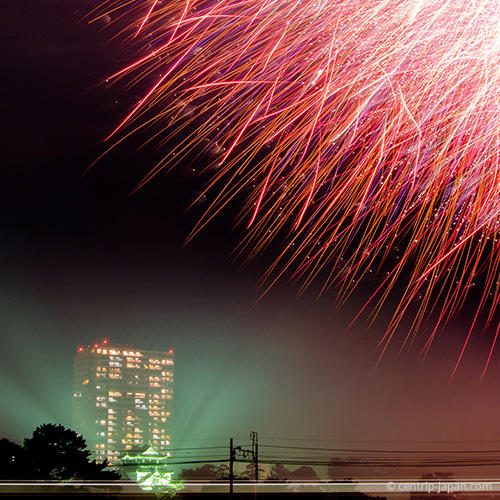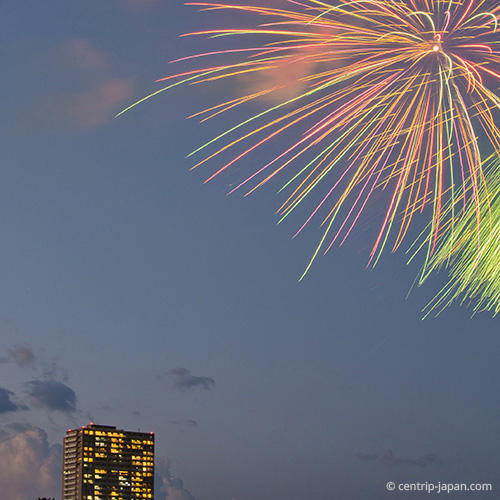 If the crowds are too much for you (and it can get very crowded) then you can still see the fireworks from a distance. Try moving out of the main area a little.
Lastly, if you come to Okazaki by train, be prepared for a large queue on the way back. If you need to get back quickly, consider leaving a little while before the end of the fireworks. Otherwise you will get caught up in the huge crowds.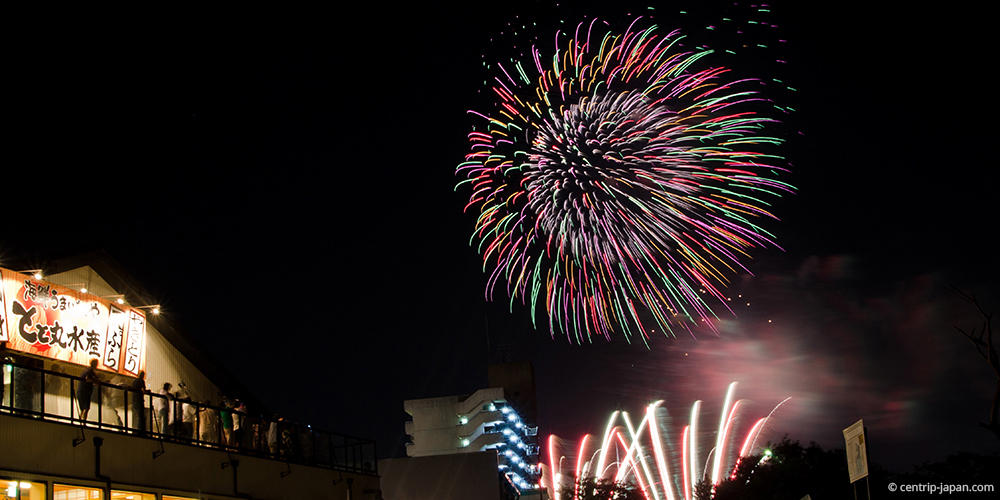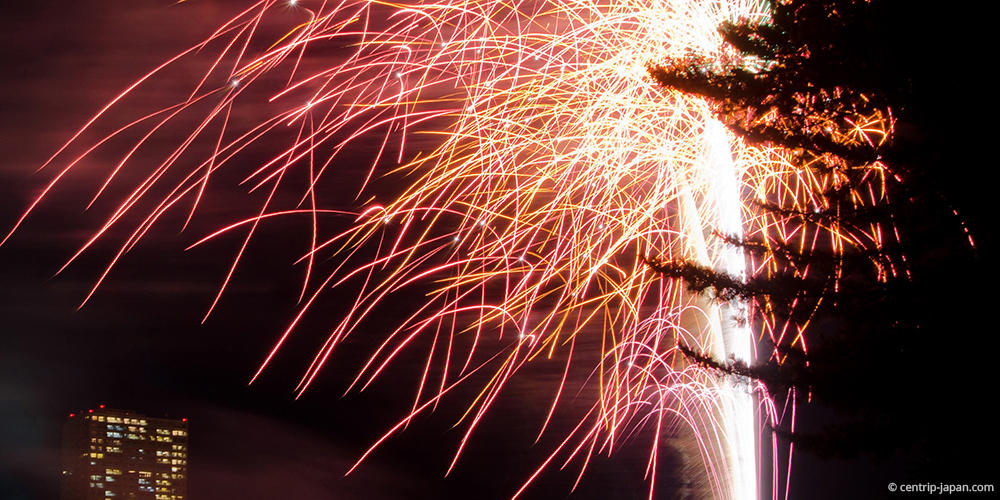 For more information, please go to the Official Website
Gamagori fireworks festival (July 29th)
Gamagori is another city with a large-scale fireworks display, which is part of the 2-day Gamagori festival. The fireworks display this year will take part on July 29th from 7.30 PM until 9 PM.
To get to the firework area, you need to take the JR line to Gamagori. From JR Nagoya a single trip costs 970 yen and usually takes around 40 minutes. Much like in Okazaki, you can reach the viewing area by taking a short walk from the station. Again, if you don't know the area, just follow the crowds.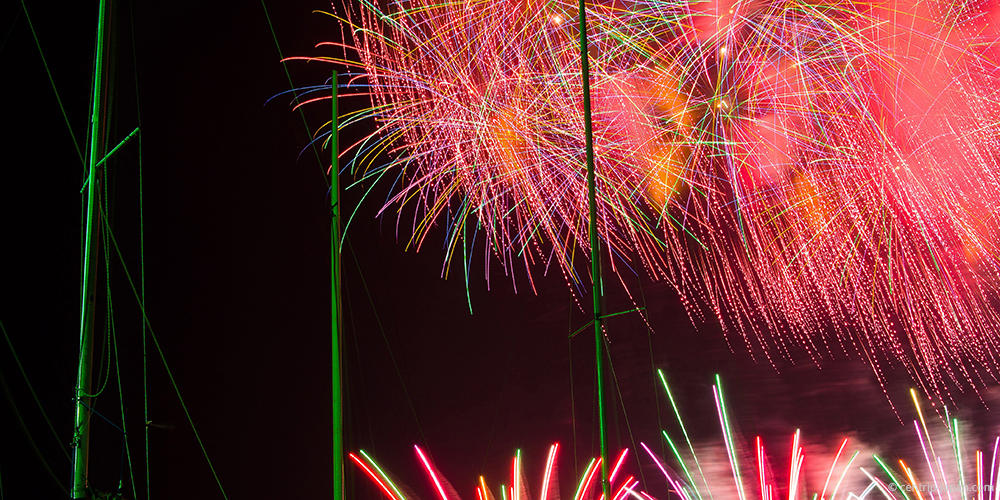 The display in Gamagori is by a small port-type place, so you will often get boats in the picture.
As with Okazaki, if you need to get home quickly, it is a good idea to go back to the station a little before the main display is over. The crowds can be very large indeed.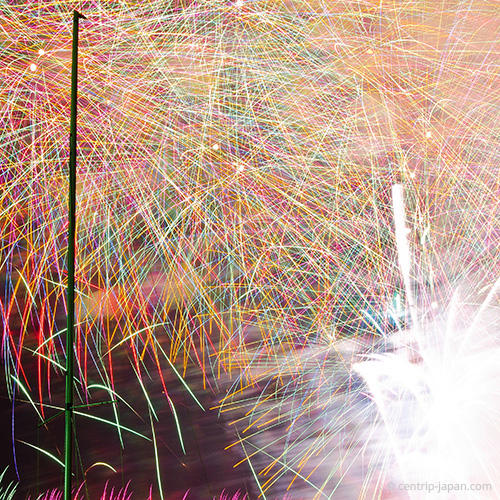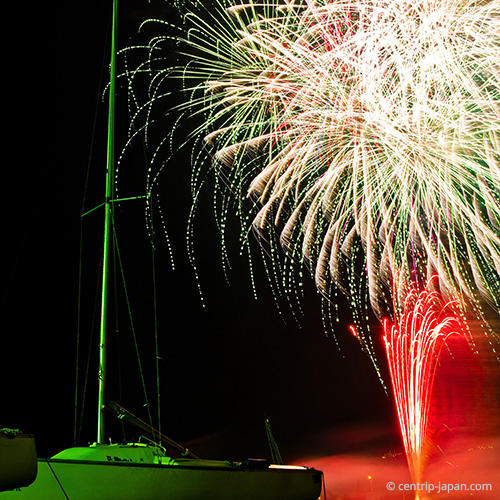 For more information, please go to the Official Website
Inuyama fireworks festival (August 10th)
Set against the backdrop of Inuyama castle, the fireworks display here will take place on August 10th from 7:30 PM until 8:20. Note that the recommended station is Meitetsu Inuyama-Yuen, not Inuyama itself. A single trip from Meitetsu Nagoya to Inuyama-Yuen is 600 yen and takes about 25 minutes.
There are various places to enjoy the display from, so choose an area which gives you a nice view and where you can find a place to sit or stand.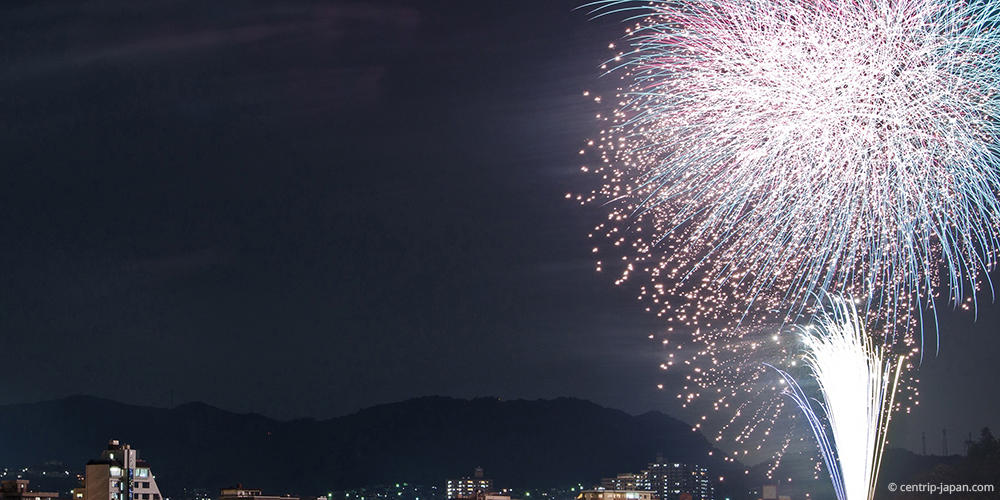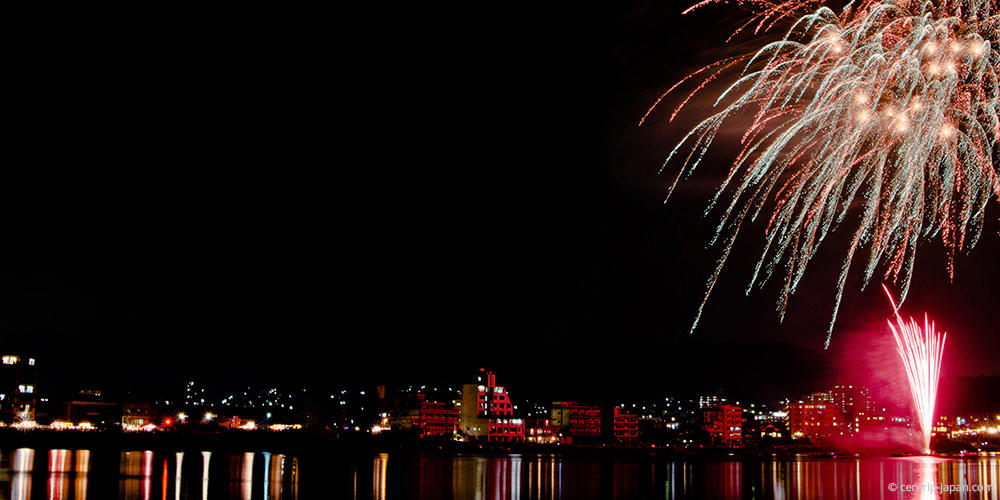 One of the highlights of the Inuyama fireworks festival is the lights reflecting off the river.
And, as with the other festivals, if you need to go back in a hurry, leave before the end.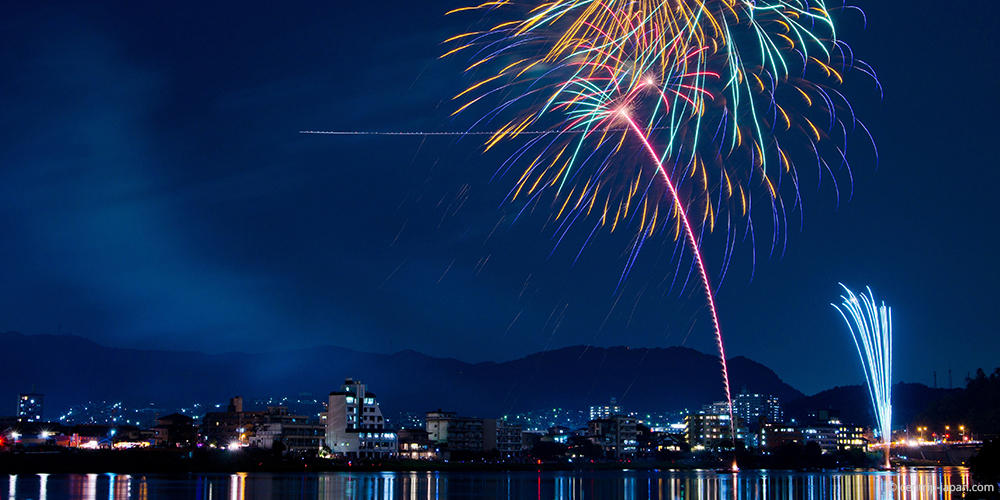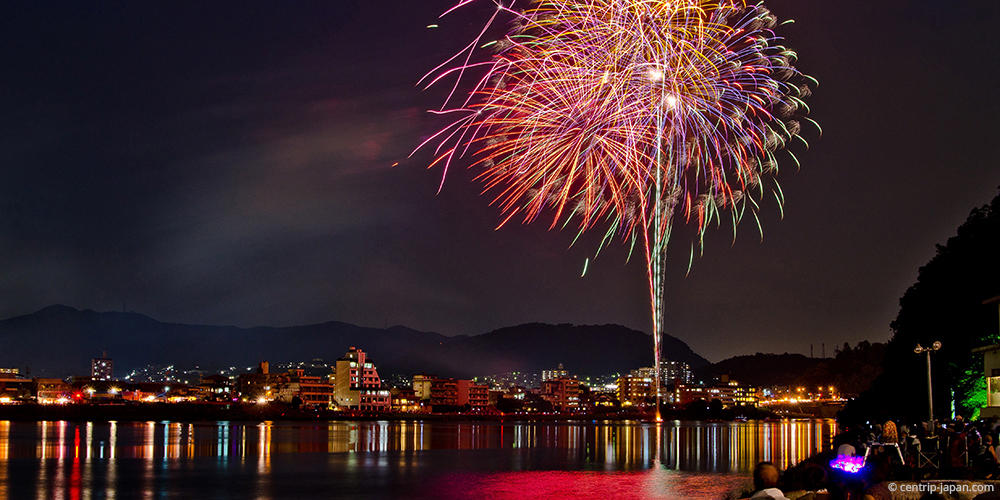 For more information, please go to the Official Website
Bonus : Photographing fireworks
As almost everyone has a smartphone these days, and many people have a camera, photographing fireworks is popular. However, if you want to get good results, we would like to offer a little advice.
1) Use a tripod or some other way of keeping the camera still. You will be making exposures of several seconds in length - sometimes tens of seconds. Without a tripod, it is nearly impossible to get clean exposures at these shutter speeds.
2) Set your ISO to its lowest level. For most cameras this will be 100.
3) Set the focus to manual and close to infinity (or actually at infinity)
4) Set your aperture to somewhere around f8 to f11. Adjust for your sensor size (i.e. if you are shooting micro 4/3 or smaller, you can probably use f5.6 - 8). You basically want a reasonably large depth of field.
5) If it is possible, trigger the shutter remotely. If not, use the timer and be prepared for a lot of missed shots!
6) When the fireworks start going up, take a few test shots. Start at somewhere around 2 to 3 seconds. Check your picture. If the fireworks are not in focus, adjust your focal length. If you want longer trails, make the shutter speed longer. I have personally gone as far as 10 seconds and over.
7) Getting the timing right will take practice. Sometimes the sound of the fireworks can help : as they get higher, the sound gets higher too. Then you know that they are about to explode.
8) If you are going to use a smartphone, you will need software which allows you control over shutter speed and, if possible, ISO.
We hope that you will enjoy some of the fireworks displays this year, and maybe come away with some good pictures of your own!