| Centrip Editorial Board
The Schedule of World Cosplay Summit
【This event has already finished】
At the "Cosplay Championship", the cosplayers perform on the stage to decide who is the winner and are judged on their clothing and acting. The "World Cosplay Summit" is perhaps the highest level of competition in the world of cosplay.
Jul. 29th (Sat), LAGUCOS @LAGUNA TEN BOSCH 10:00-next day 6:00
If you want the background of your photos looks like architectures abroad, join the Photography session in the theme park "LAGUNA TEN BOSCH" .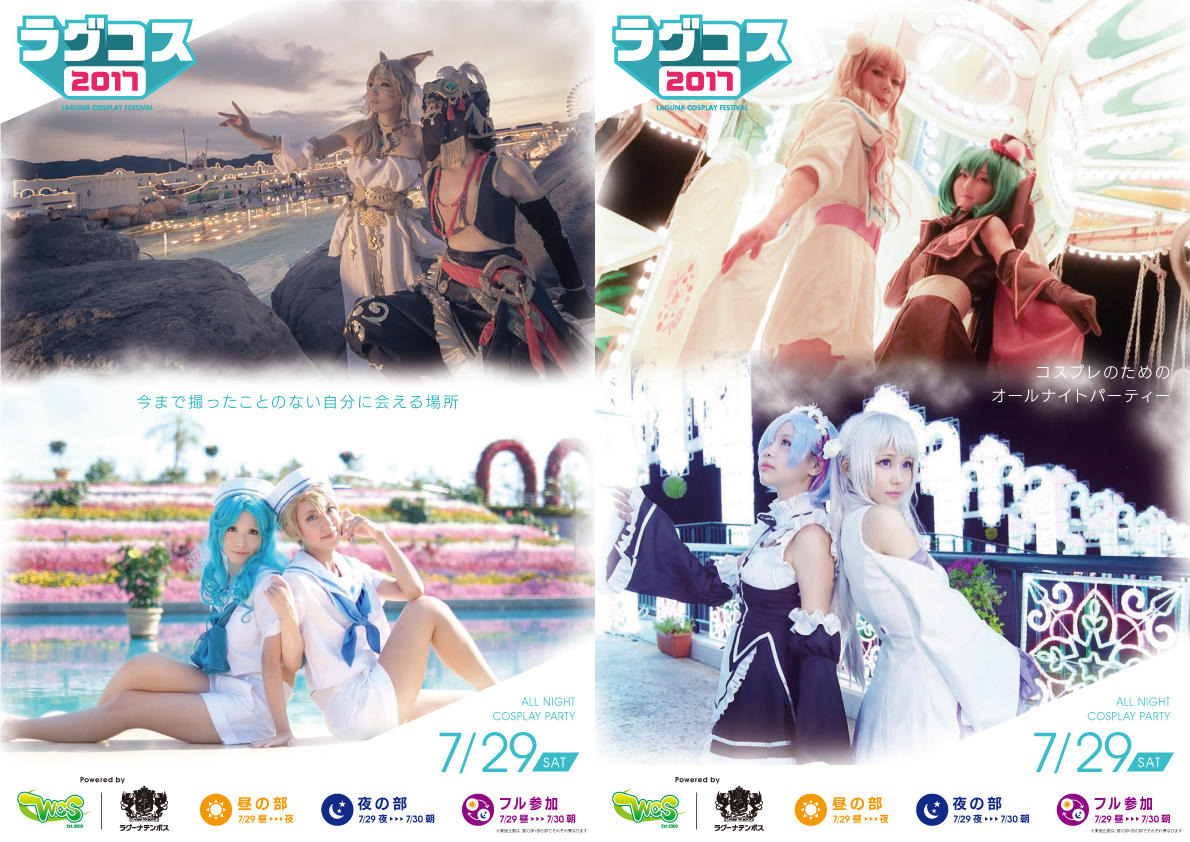 Aug. 3rd (Tur), Meiji-Mura COSPLAY @The Museum Meiji-mura 10:00-17:00
Taking photos with important antique buildings in the Museum Meiji-mura as background is like stepping back in Meiji period.

Aug. 4th (Fri), Wedding hall photo party @Blel Leman Nagoya 13:00-18:00
Want to take a photo in wedding hall? This is the Blel Leman Nagoya nearby Nagoya Station.

Aug. 4th (Fri), Central Park Cosplay Parade @ Hisaya-odori 19:00-
There is a grade parade in the street underground of the Central Park one night before World Cosplay Summit.

Aug. 5th (Sat), World Cosplay CHAMPIONSHIP 1st stage & ANISON FES @Aichi Arias Center 15:00-

Aug. 6th (Sun), OSU Cosplay Parade @Osu 11:00-

Aug. 6th (Sun), International Symposium WCS Academic Advisory Board @International Hotel Nagoya 2F 15:15-

Aug. 6th (Sun), World Cosplay CHAMPIONSHIP 2nd stage @Aichi Arias Center 17:00-

Aug. 5th-6th (Sat, Sun) Cosplay Area - Oasis21, Nagoya TV Tower, Flare

---
Other collaboration events
Jul. 29th-Aug. 15th, WCS × Okazaki Park & Okazaki Castle
Take your photo in front of the castle with Okazaki Bushotai.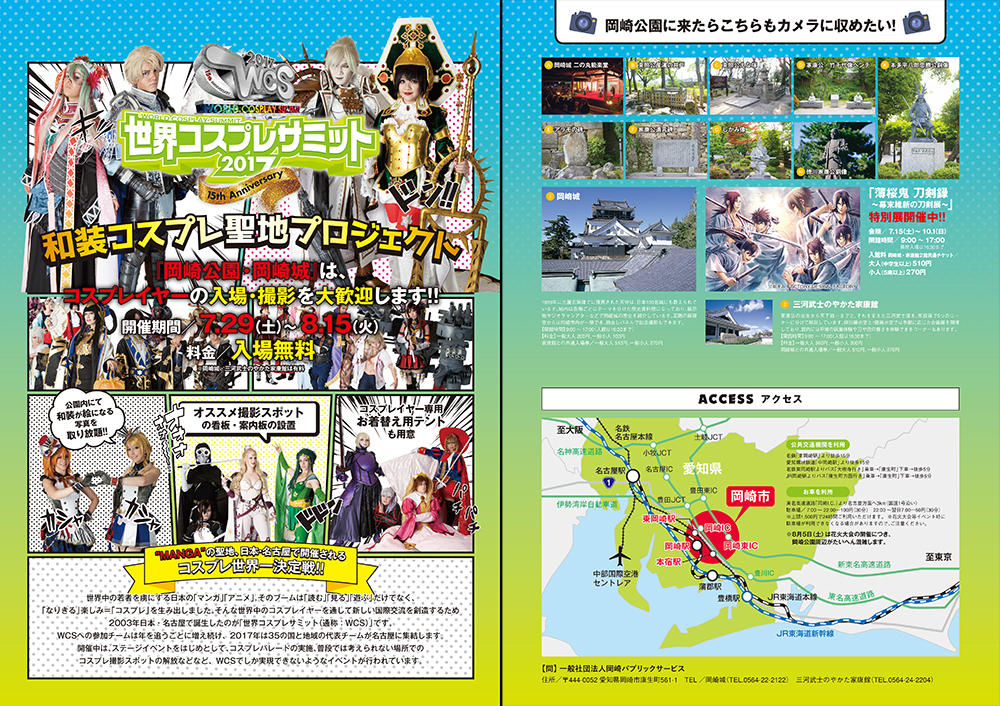 Aug. 5th-6th (Sat, Sun), Itasya Exhibition in SAKAS Square

Aug. 5th-6th (Sat, Sun), WCS × X-HALL ANISON DJ

◆8/5 (sat) ...kz(livetune+/livetune)、八王子Plolipop(2D M3NTiON)、DJイケメンくん(ANI★VERSARY)、かのんびーつ (聴覚彼女)、seazq (VocaPopSquare / 2DM3NTiON)、DJ CHIAKI、MUKAI (アダマス / ナゴライブ)
◆8/6 (sun) ...チャーリー (アニメソング中毒 / アダマス)、lolipop (2D M3NTiON)、かのんびーつ (聴覚彼女)、seazq (VocaPopSquare / 2DM3NTiON)、S☆N (2DM3NTiON / アニ○D)、ちゃんみお! DJ CHIAKI MUKAI (アダマス / ナゴライブ)
---
For more information, please check HERE