Address
1-1, Hommaru, Naka-ku, Nagoya 460-0031

〒460-0031 愛知県名古屋市中区本丸1-1

Directions

SUBWAY
Meijo-Line, Shiyakusho (市役所). 5 minute walk from exit 7.
SUBWAY
Tsurumai-line, Sengen-cho (浅間町). 12 minutes walk from exit 1.


Contact

Tel: 052-231-1700

Websites
Official Site (Japanese)http://www.city.nagoya.jp/kurashi/category/15-4-4-0-0-0-0-0-0-0.html
An artificial river made 400 years ago, when the land was opened along with the construction of Nagoya Castle. The Hori River runs from Nagoya Castle to Nagoyakō (Port of Nagoya). It once flourished with peddlers transporting wooden materials and more, and the areas around Horikawa, including the Endōji shopping street, Shike-michi, and Naya-bashi, are still bustling today. The riverside boasts great cherry blossom sightseeing spots and is also the home of kingfishers, making it one of the few oases of relaxation in the city. Additionally, there are many historical spots around the Hori River, such as the Matsushige Kōmon, Miya-no-watashi park and others, which many of the local residents enjoy visiting.
Nagoya Castle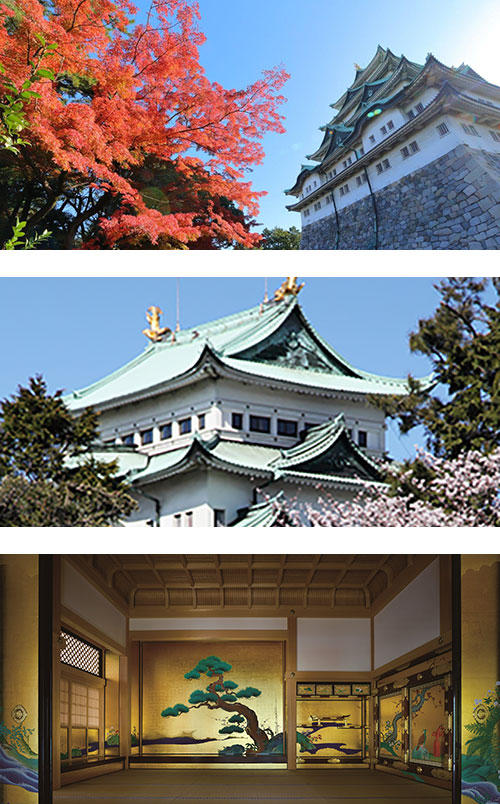 Nagoya Castle is famous for the golden dolphins, the biggest in Japan, said to cost approximately 1to 2 billion yen. In June 2018, Japan's best "Honmaru Goten" (former residence), which has been honored with the visits of many shoguns (generals), will be restored to just as it was 400 years ago.
Shike-michi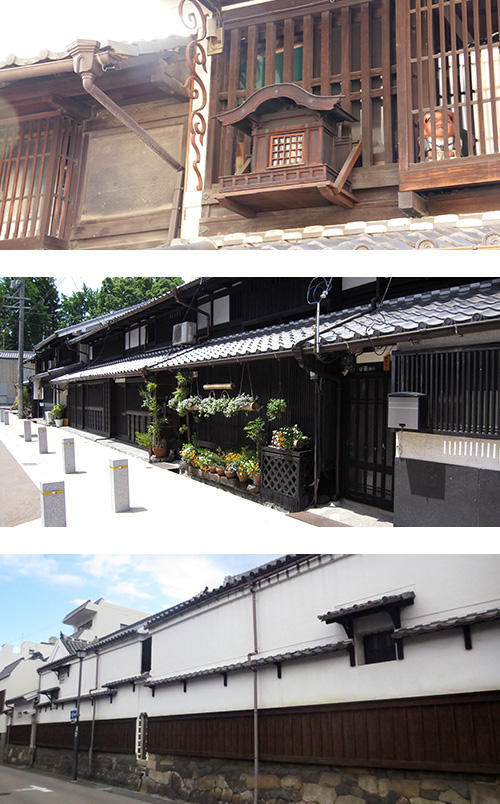 A merchant's town made along with the construction of the Nagoya Castle. The dozo (storehouse) and traditional architecture still standing in the town show that the area was once a town for merchants.
Endōji Shopping Street & Endōji Honmachi Shopping Street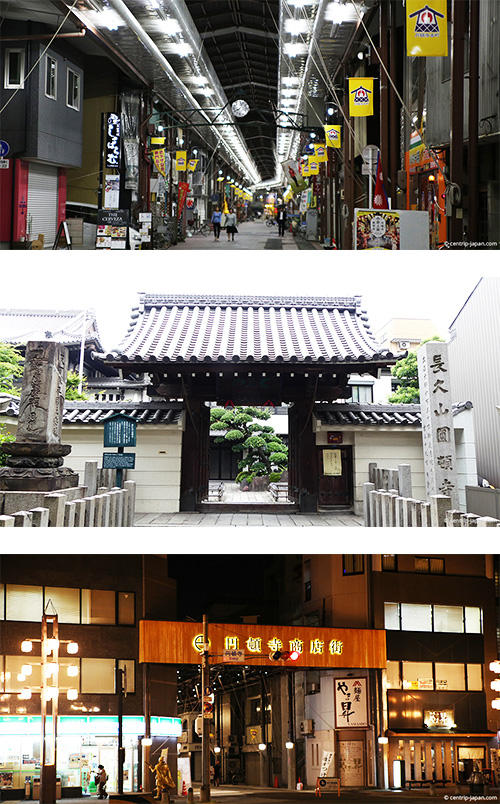 The Endōji Shopping Street is Nagoya's oldest shopping street, and the Endōji Honmachi Shopping Street is an area which you can enjoy "tabearuki" (manner of eating while walking). They both still have a sense of tradition in its atmosphere. Besides tradition, there are also newly opened modern shops as well!
Naya-bashi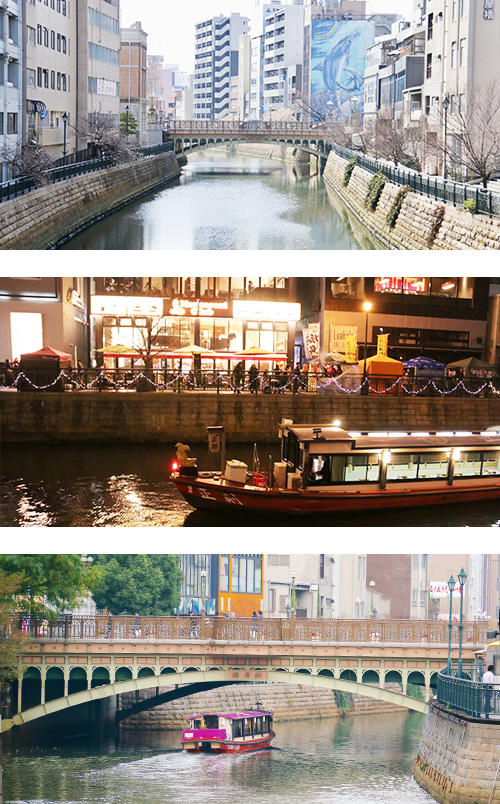 One of the seven beautifully arched bridges over the Horikawa, boasting a handrail made of bronze cast iron, made in 1921. Local organizations hold events in the area frequently.
Miya-no-Watashi Park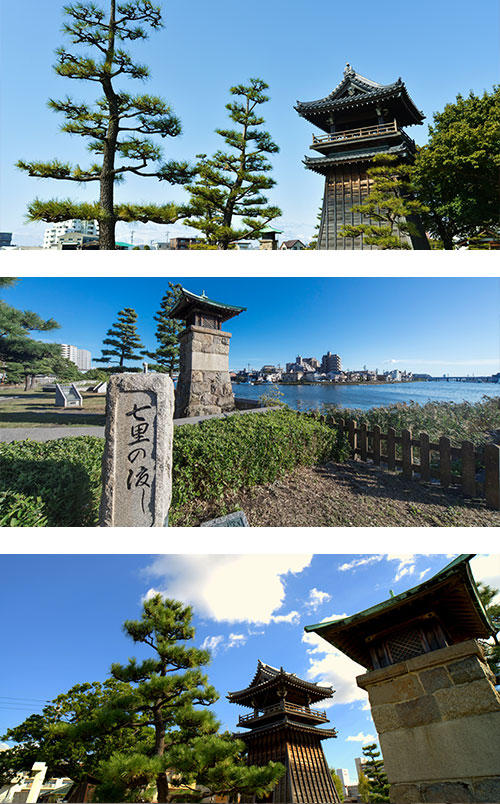 The "Shichiri-no-Watashi" was once the only sea lane in the Tokai region, connecting "Miya-no-Shuku" with "Kuwana-no-Shuku". The "Miya-no-Shuku" and the dock of the "Shichiri-no-Watashi" have been maintained to become the "Miya-no-Watashi Park", a historical park maintaining the harbor remains, which still feature the characteristics of the area.
Me-guru Bus Stop "Shike-michi"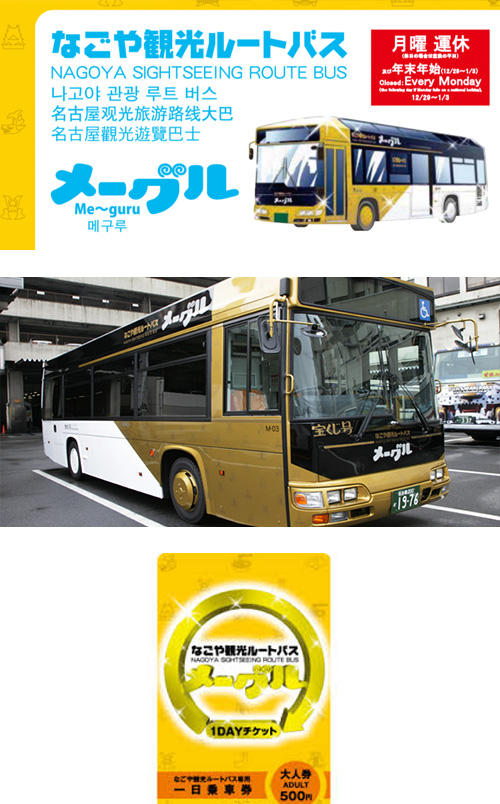 A tourist route which you can ride to get to the tourist spots in Nagoya City. There is no need to transfer. The one-day open ticket is a great discount if you are planning to travel the whole day! The "Shike-michi" bus stop was newly made on March, 2018.