| Centrip Editorial Board
2020-2021 Japan Travel Guide 2
JR Kyushu
Everyone's Kyushu Ticket (Mizunna no Kyushu Kiboushi)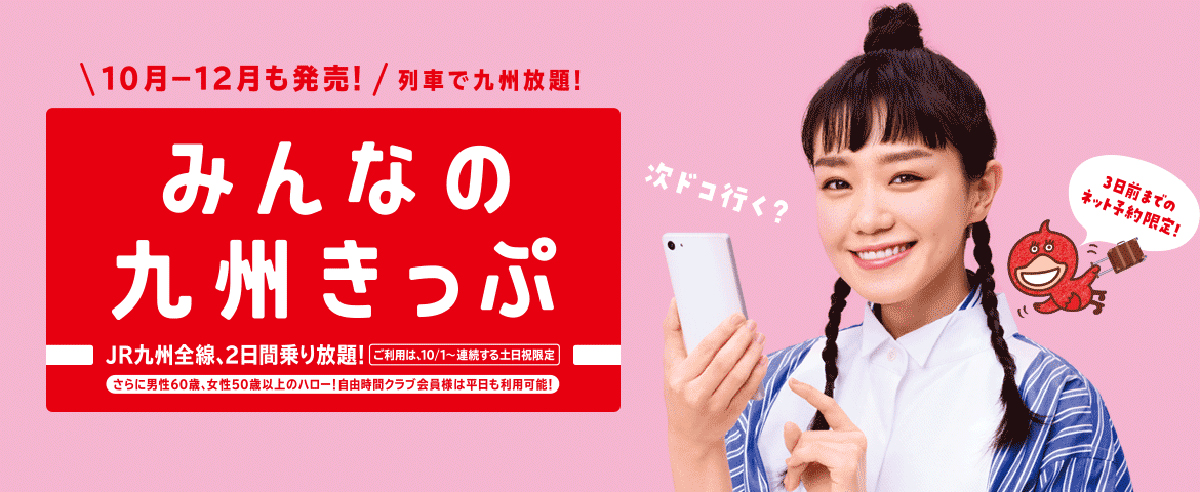 Credit:JR九州
Details: Purchasing a ticket allows unlimited rides on Kyushu Shinkansen and limited express trains for two days. There are two types of discount tickets: the All Kyushu Version and the Northern Kyushu Version.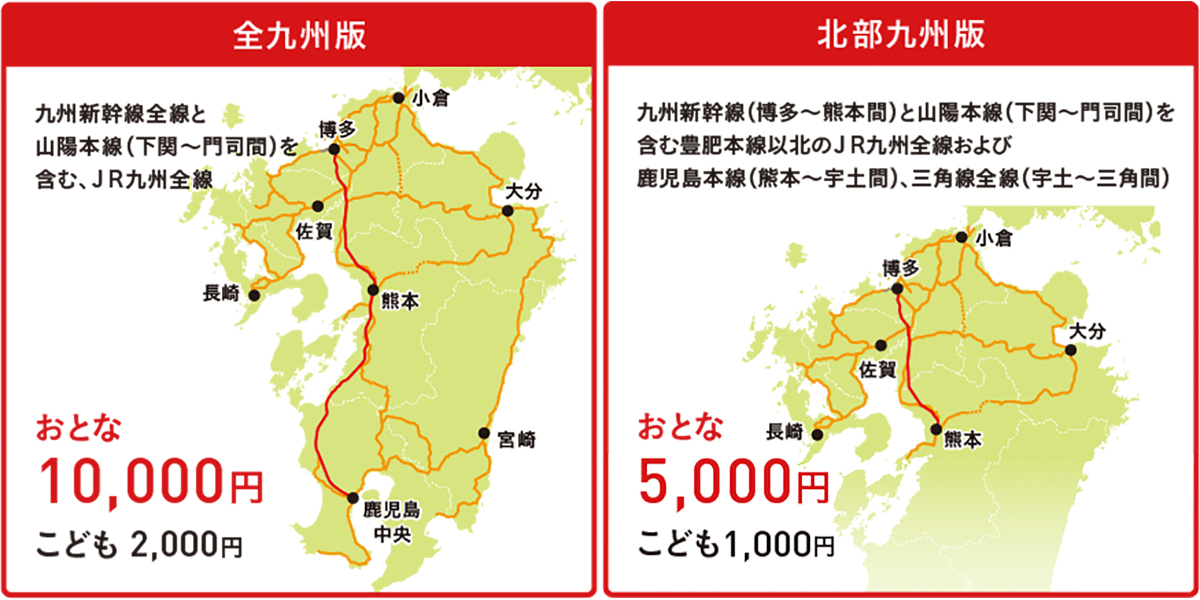 Credit:JR九州
The All Kyushu Version allows rides on all JR Kyushu lines, including the entire Kyushu Shinkansen Line and the Sanyo Main Line (Shimonoseki to Moji). The Northern Kyushu Version allows rides on all JR Kyushu lines to the north of the Toyohime mainline, including the Kyushu Shinkansen (Hakata - Kumamoto) and Sanyo mainline (Shimonoseki - Moji), as well as the Kagoshima mainline (Kumamoto - Uto) and all JR Kyushu lines including the Misumi line (Uto - Misumi).
Price:
The All Kyushu ticket is ¥10,000 and ¥2,000 for child tickets.
The Northern Kyushu ticket is ¥5,000 and ¥1,000 for child tickets.
Period of Use: Two consecutive days between October 1, 2020, and December 27, 2020, both of which must fall on Saturdays, Sundays, and holidays. However, men over 60 years old and women over 50 years old who are using the Hello Open Time Grab member are not subject to this restriction and can use it on weekdays during the period.
Sale Period: September 18, 2020, to December 13, 2020
JR Kyushu Web Membership is available for purchase on the JR Kyushu Train Reservation Website three days in advance after registration and then picked up at designated vending machines at major JR Kyushu and JR West stations or the JR Kyushu ticket booth.
Note: This ticket is valid for unlimited rides on JR Kyushu Shinkansen, limited express, rapid and regular trains, with a maximum of six riders in reserved seats.
Official website information
JR Shikoku
Shikoku Tour Package Special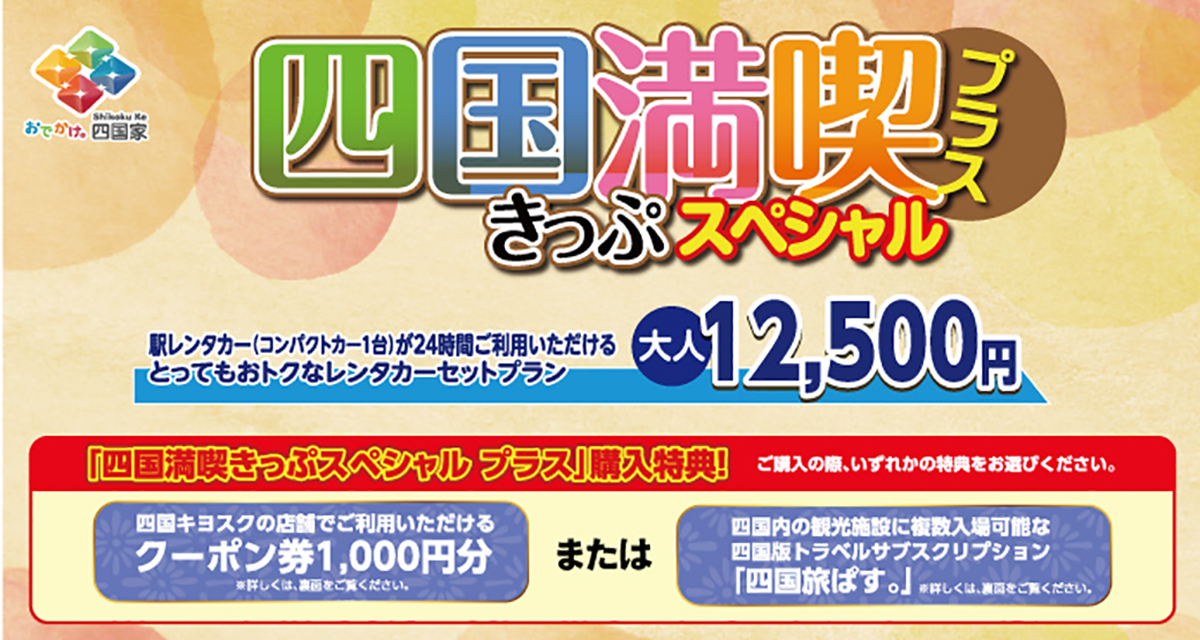 Credit:駅レンタカー四国
(Details) The discount is valid for three consecutive days, including Saturdays, Sundays, and national holidays, on the JR Shikoku Line, the Tosa-Kuroshio Railway, and the Asa Kaigan Railway, as well as on the JR Shikoku Bus Line. Also, there is a 24-hour car rental discount, which makes for a great deal.
Price: ¥10,500 for adults, ¥12,500 with the rental car package. Child fare is ¥3,000.
Period of use: Three consecutive days from October 8, 2020, to January 31, 2021, and must include at least one Saturday and Sunday or a holiday.
Period: October 1, 2020, to January 23, 2021.
Purchases are available from 1 month up to 6 days before the departure date.
How to buy: Go to JR Shikoku Tours.
Please note: If you need to take a reserved seat or green car, you will need to pay the price difference.
Official website information
JR Hokkaido
Hokkaido is a popular travel destination, and the 7-day Hokkaido Open pass from JR Hokkaido is perfect for those who want to visit Hokkaido by train!
Enjoy Hokkaido in 7 days: Hokkaido Free Pass (Hokkaido Free pass)
Details: Using this ticket entitles you to unlimited rides for unreserved seats on non-stop limited express trains within JR Hokkaido and some JR Hokkaido lines for up to 7 days. A maximum of 6 rides with reserved seating allowed.
Price: ¥27,430 for adults.
Period of use: Year-round (not valid from April 27 to May 6, August 10 to August 19, December 28 to January 6)
Sale Period: All year-round. Purchases can be made from one month before the expiration date to the day of purchase.
How to purchase: Information on how to buy tickets can be found at designated ticket vending machines, ticket booths, travel centers, and major travel agencies at JR Hokkaido and major JR stations nationwide. You can also purchase tickets by scanning the QR code provided on the information page of the JR Hokkaido website.
Note: The pass is only for the person named on it. For more details, please check the website.
Official website information
Choose your ticket from your travel destination.
It's a bit overwhelming to see the wide variety of offers from so many companies, isn't it? Don't worry we have got them sorted for you.
I. Chubu:
Aichi & Mie: 3-Day Free Pass launched by Kintetsu.
For areas such as Toyama and Ishii, the Open Pass offered by JR West covers a wide variety of locals.
II. Kansai::
Osaka, Nara, and other areas: the Kintetsu 3-Day Free Pass covers all lines.
Shiga, Keihanjin, Keihanna and Wakayama areas: Open Pass
III. Kanto:
Sightseeing in Kanto, Tohoku, and Nagano: JR East Welcome Rail Pass 2020
From Tokyo to other areas: Check the Early Bird Special and e-Ticket Early Special 14 in advance to see if they're available.
IV. Chugoku:
Open Pass allows you to choose different regions.
V. Kyushu Region:
For sightseeing in Kyushu, use the JR Kyushu Pass.
To visit more areas including Kyushu, use the JR Kyushu, JR Shikoku, and JR West Passes.
VI. Shikoku:
You can choose between the Shikoku Tour Package Special or the Any Door Open Ticket.
VII. Hokkaido:
The Hokkaido Free Pass is a tailor-made offer! Of course, if you're heading to Hokkaido, you can check the Early Bird Special to see if any passes are suitable for you.
Wrap-up
In conjunction with Go To, the offers from various companies are great! But many of the discount tickets need to be purchased in advance, so it's time to take action and get planning that trip you've wanted to take. Don't let these discounts pass you by!
Click here to get the latest information on Central Japan.Centrip Japan - Nagoya and Chubu Information