|Centrip Editorial Board
A Goshuin adventure in Japan: Ikemen Goshuin & Art Goshuin are waiting for you!
Omamori(御守), Japanese amulets, are a popular choice for a souvenir at Japanese Shinto shrines or Buddhist temples. But have you noticed that many people also bring a small book to the shrine or temple and ask the temple or shrine staff to write calligraphy and stamp a seal on it?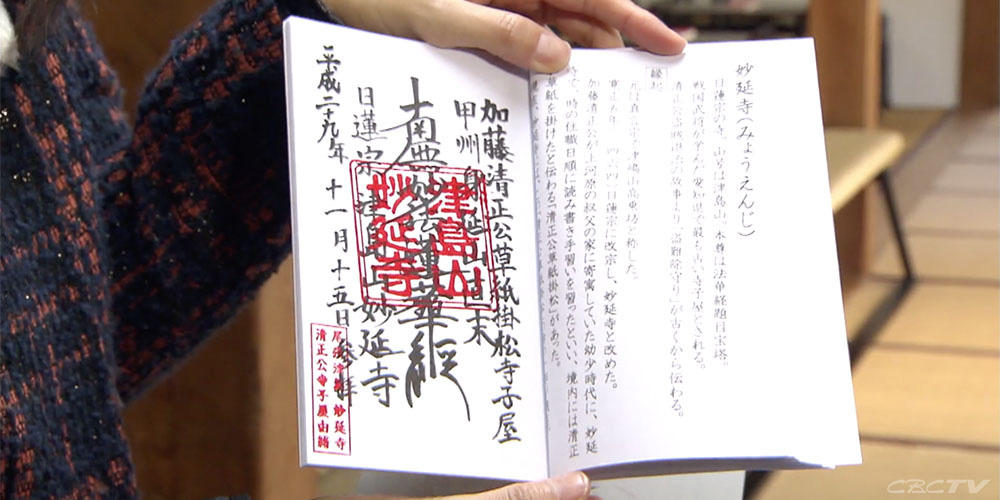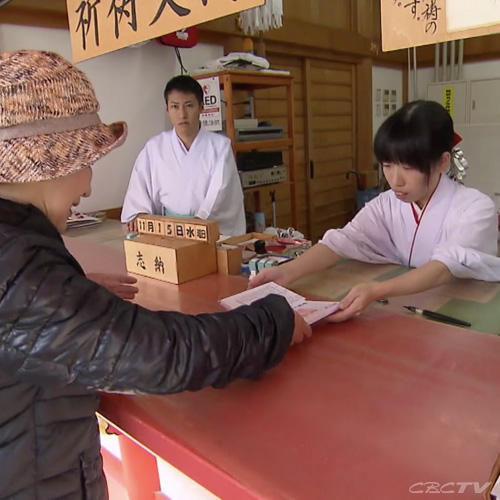 This is called Goshuin(朱印). You can get it if you have a Goshuinchō(朱印帳), a book for collecting goshuin. To create the goshuin, the staff will write the name of the shrine or temple, the day of your visit, etc, with black ink, using one or more large stamps unique to the shrine or temple. goshuin is not just a souvenir; it is also regarded as the avatar of deities. goshuin is just like another kind of omamori which is written in a book. There are many Japanese who are keen on collecting goshuin.
However, today what we want to introduce to you is not the normal goshuin; rather it is something so special that it even surprises the Japanese!
So what are these special goshuin and goshuinchō in Aichi? Let's have a look!
Variety of goshuinchō
1. Just like a work of art! "Wisteria Flower Embroidery Goshuinchō" at Tsushima Shrine.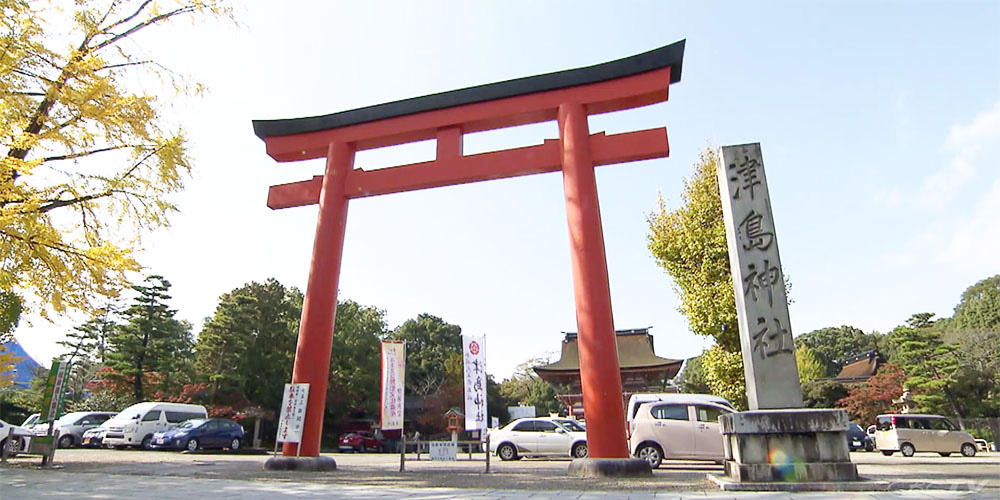 With over 1400 years history in Aichi, Tsuhima Shrine is well known to Japanese goshuin collectors.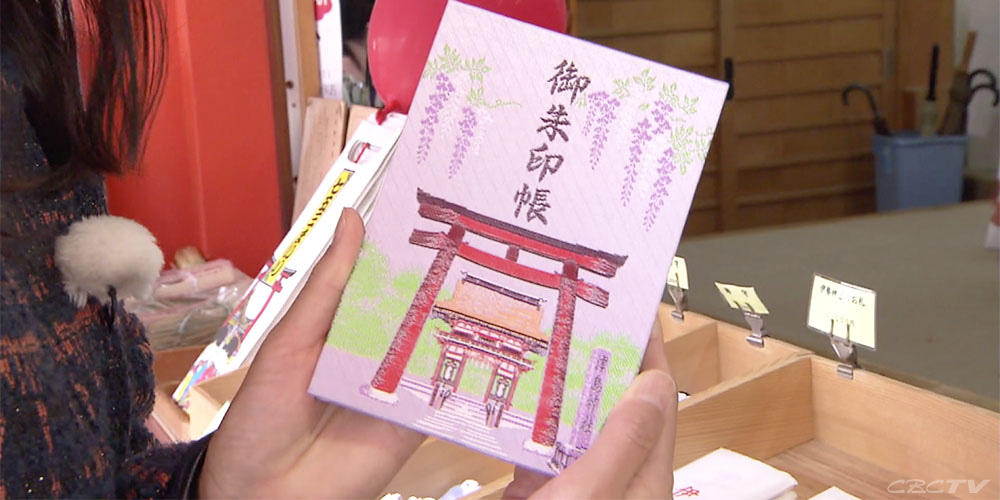 The reason for its popularity: "Wisteria Flower Embroidery Goshuinchō"!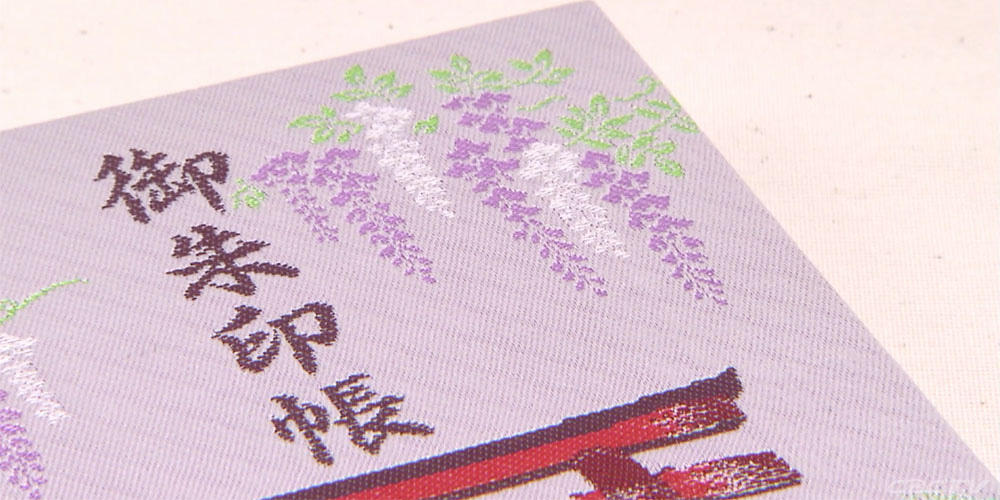 The original goshuinchō with exquisite embroidery and cute purple design, which started selling 2 years ago, attracting numerous collectors. Look, even torii is embrioidered.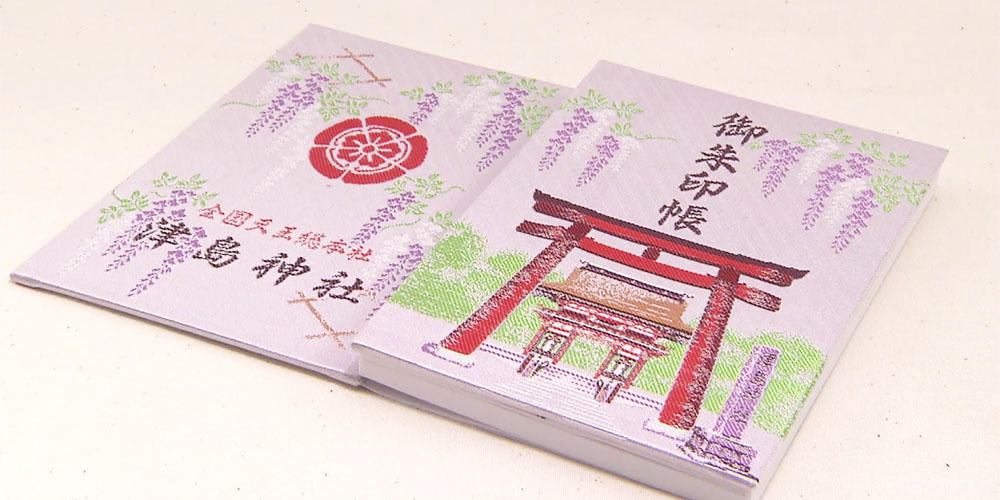 Many visitors come here from far away for this alone! Sometimes 20 or 30 are sold in one day! Isn't it exquisite? Don't you want to buy one?
*Tsushima Shrine
Address: 1 Shinmei-chō , Tsushima-shi, Aichi
Tel: 0567-26-3216
Transport: Take Meitetsu Tsushima-line train at Nagoya Station to Tsushima Station(津島駅), 15-minutes walking from the station.
2. A collection shop with over 700 kinds of goshuinchō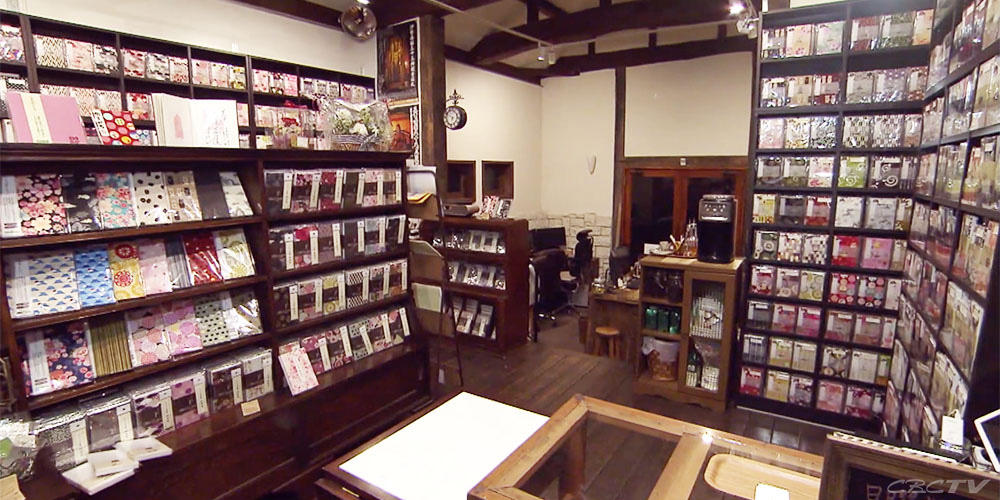 When there are many goshuin collectors, there will naturally also be goshuinchō collection shops.
Like this one, "Holly Hock ", a goshuin colletion shop with over 700 kinds of goshuinchō. When you enter the shop, it's goshuinchō as far as the eye can see!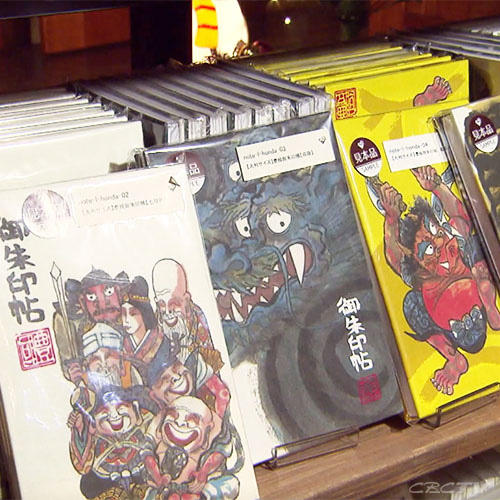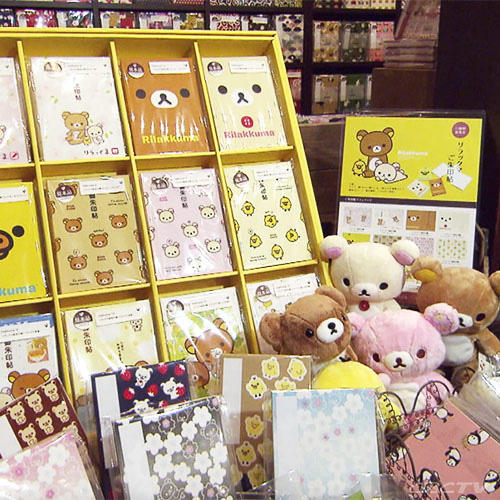 The goshuinchō you can find here are not only in the Japanese traditional style, but you can also find some featuring cute cartoon characters like Rilakkuma.
What's more, you may find goshuinchō with some unexpected characters! Shopping here is like a treasure hunt!

*HollyHock
Address: 224-1 Okamoto-chō, Matsusaka-shi, Mie-ken
Tel: 0598-67-9065
Office Hours: 9:00~18:00 (closed on weekends & national holidays)
Special goshuin that even surprised Japanese people!
Today's focal point! The special goshuin which even surprised Japanese people! What exactly des it look like? Come and have a look!
Sightseeing tour of sacred places in Tsushima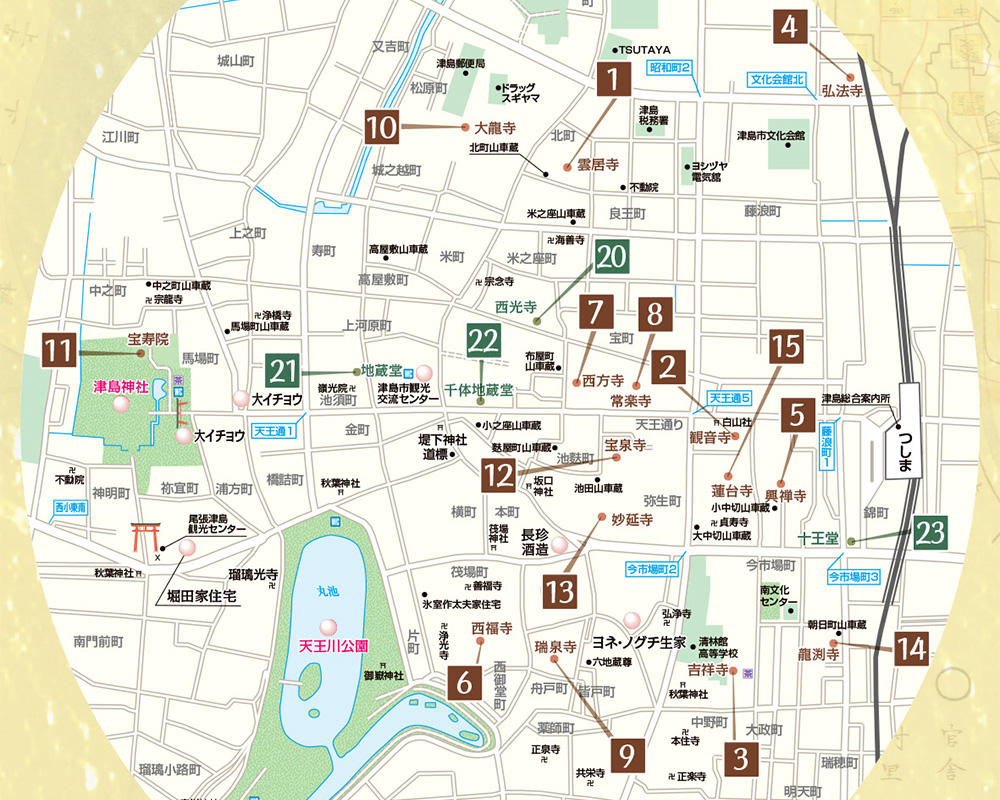 Most of the goshuin we want to introduce today are in Tsushima. There is a "Tsushima Sacred Places Map" offering a route on which you can visit 19 shrines or temples and collect their goshuin all in one day.
In Japan, sacred place (in Japanese: 霊場) often means Shinto shrine or Buddhist temple.
We will introduce the details of 4 temples.
1. Kannon-ji Temple: Ikemen Goshuin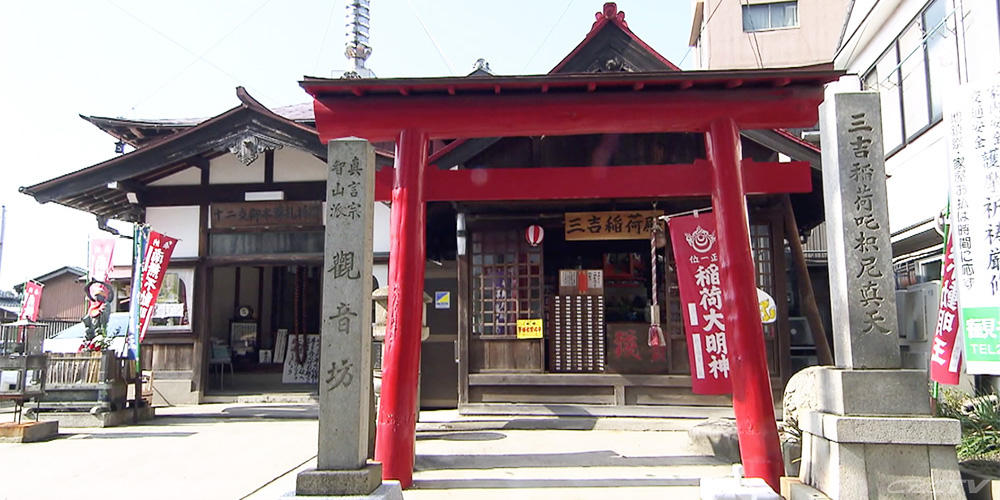 Kannon-ji Temple offers some normal goshuin. But this one is (quite literally) more attractive: Ikemen Goshuin! "Ikemen" in Japanese means "good-looking guys".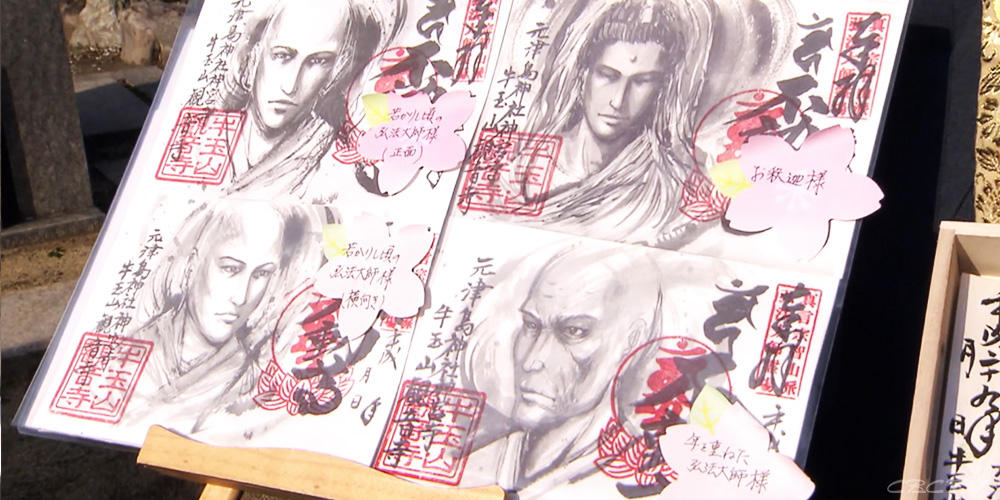 Like normal goshuin, the temple's name and seal will be one part of it. But the other part is what makes it special: hand painting of Buddhist dieties like Kõbō-Daishi(弘法大師) and Gautama Buddha. They are painted as ikemen here. No wonder it is popular among girls!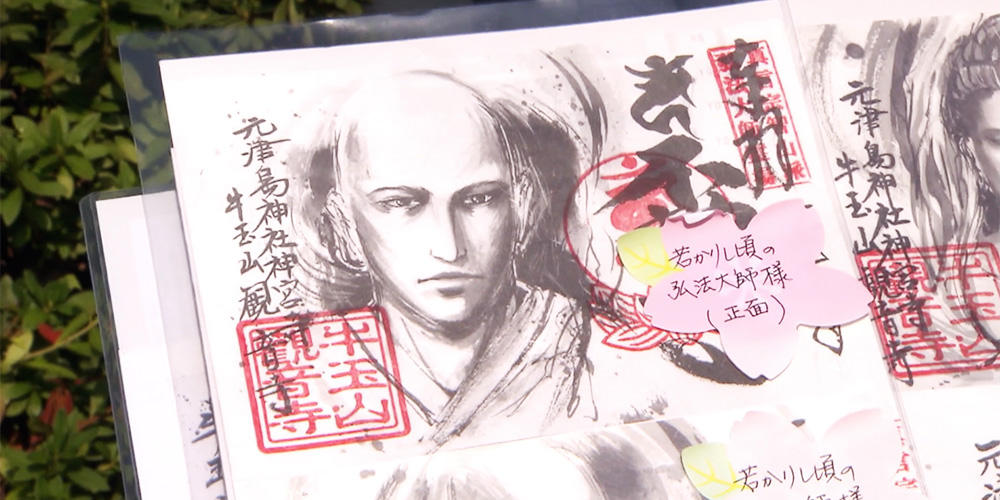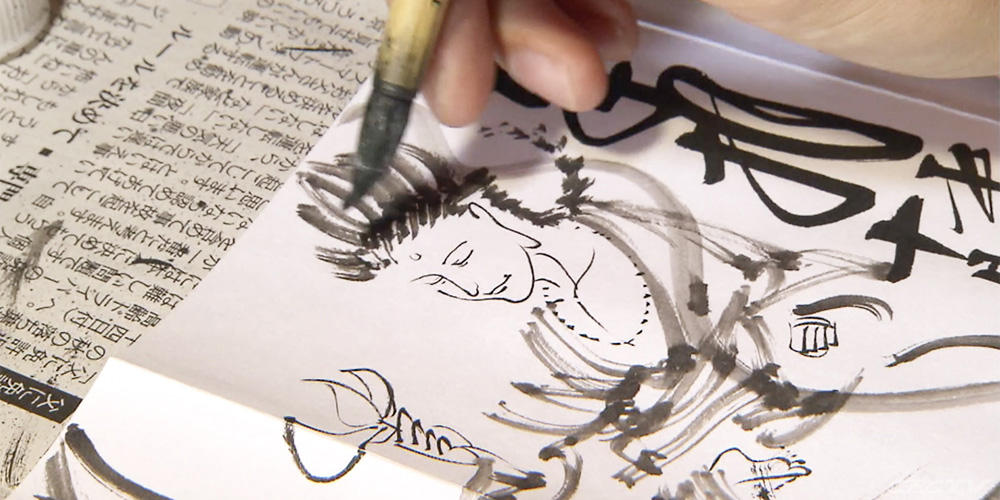 All the paintings are painted by the Vice-Abbot of Kannon-ji Temple. Over 1 hour is required for painting each goshuin, which is why it is very difficult to get one. Even with a reservation you need to wait more than 2 months.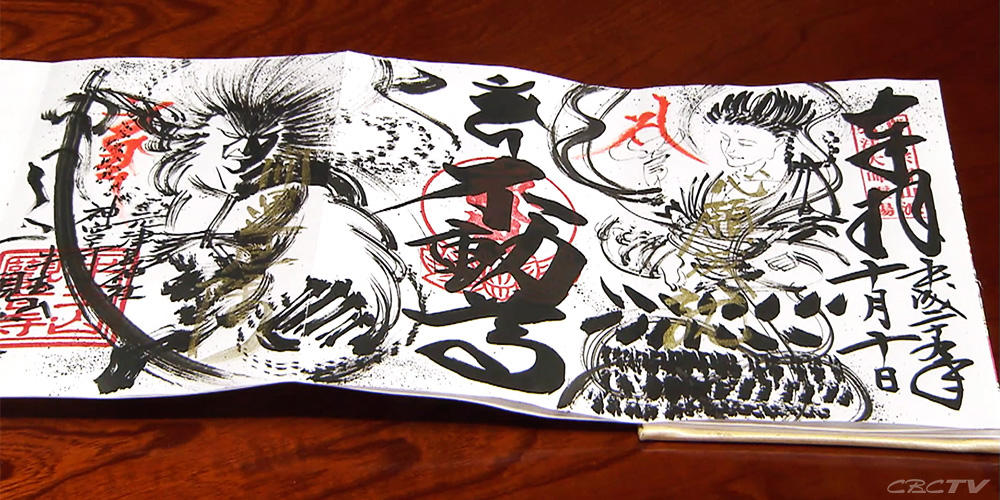 Look at the luxury 3-page goshuin! On the left is Kannon (Goddess of Mercy) who is sitting on a lotus with a kind expression. The right is Fudō Myō-ō (Wisdom King Acala) who looks powerful and angry. What a work of art!
The world of goshuin is developing!
*Goouzan Kannon-ji Temple
Address: 6-43-1 Tenoudōri-street, Tsushima-shi, Aichi
Transport: Take Meitetsu train at Nagoya Station to Tsushima Station, 3-minutes walk from the station.
2. Ryūenji Temple: Colored Kannon Painting Goshuin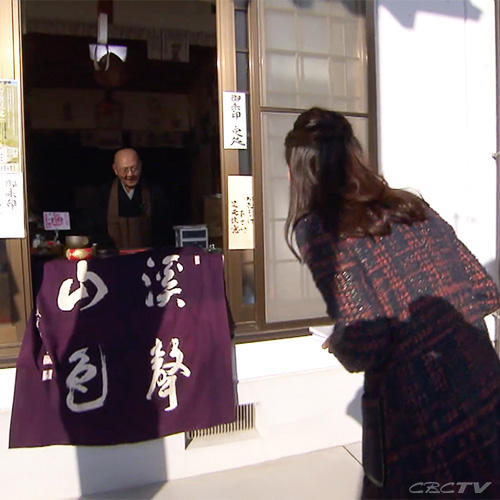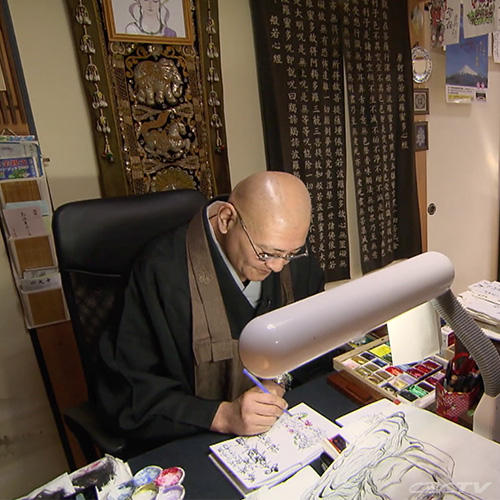 The abbot of this temple is a specialist in painting, so you can ask him to paint a special goshuin in front of you.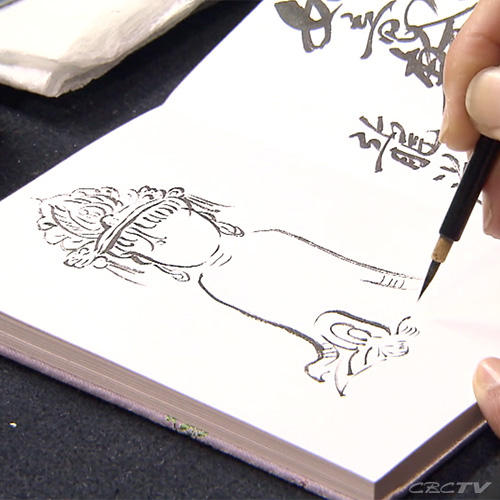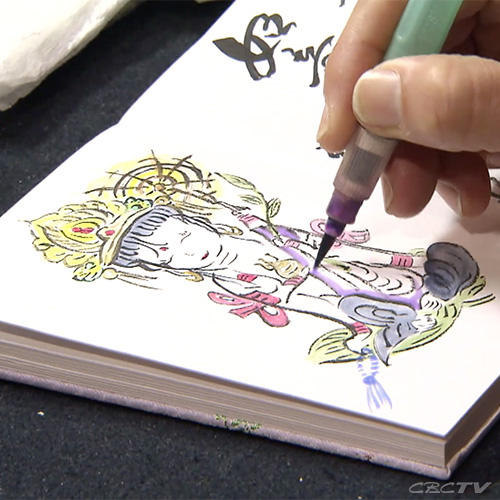 Not only does he paint a cute Kannon with black ink, but he also colors it at the same time.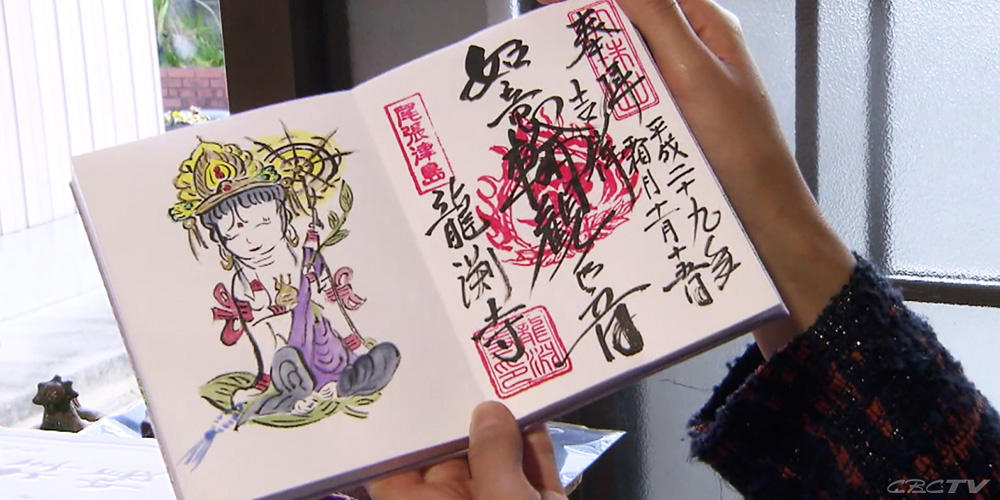 Finished!
Wow, our first colored goshuin!
*Ryūenji Temple
Address: 1-8 Mizuho-chō, Tsushima-shi, Aichi
Transport: Take Meitetsu train at Nagoya Station to Tsushima Station, 4-minutes walk from the station.
3. Hōjyuin Temple: Limited Cute Medicine Buddha
This time it is a kind abess who welcomes us.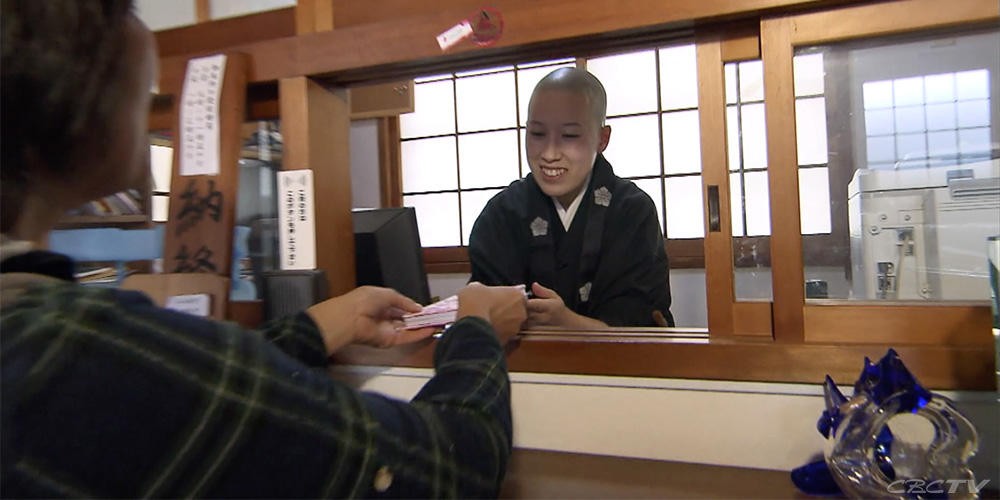 The special goshuin here is this: colored cute Medicine Buddha which is only on sale for 3 days and limited to 30 paintings per month.
In this goshuin, the lotus in aqua blue can calms people down and the light is gold-colored. Maybe you will feel a sense of peace when you see it?
"Medicine Buddha is a deity who can cure both the human body and soul. I am trying to reflect it in my painting." the abess said.
Colored cute Medicine Buddha is not available now.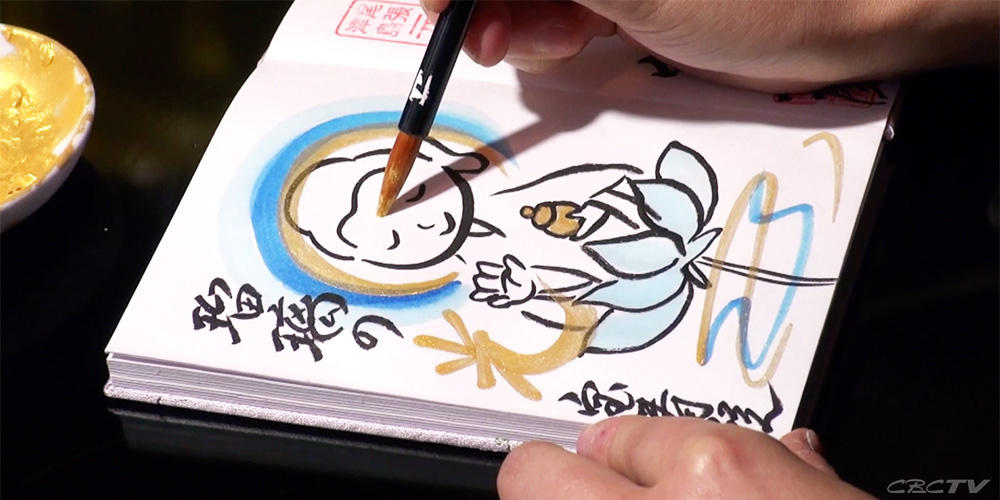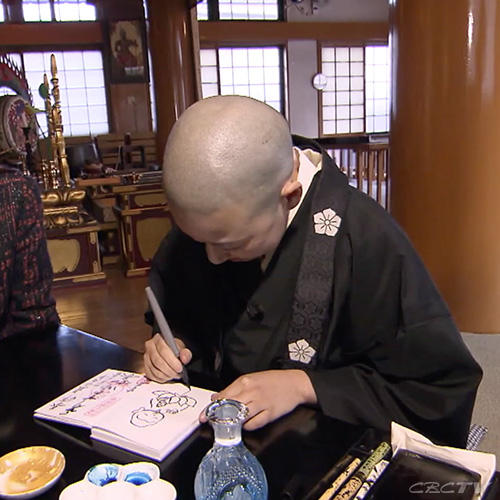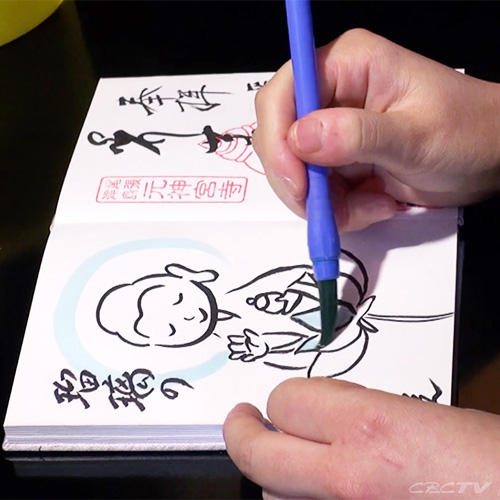 *Hōjyuin Temple
Address: 2 Shinmei-chō, Tsushima-shi, Aichi
Tel: 0567-25-4154 (8:00~16:00)
Transport: Take Meitetsu train at Nagoya Station to Tsushima Staion, 15-minutes walk from the station
4. Ryugakuin Temple: Secret Goshuin that will surprise you every month.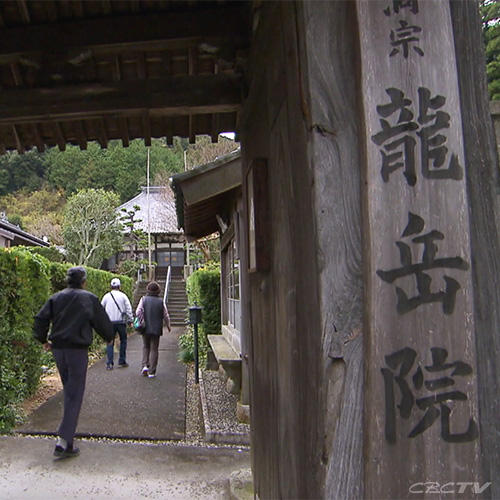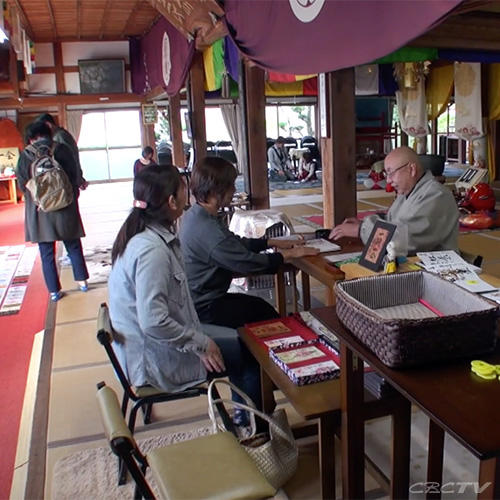 Ryugakuin Temple is not one of the temples which is on the tour map and its location is in Shinshiro is a little far away from Tsushima. But still there are always a large number of goshuin collectors coming from all over Japan. Some of them even come here every month! Moreover, there are always many people waiting in a line for goshuin. At the busiest time, you are looking at a two hour wait. Then we have to ask why it attracts so many people?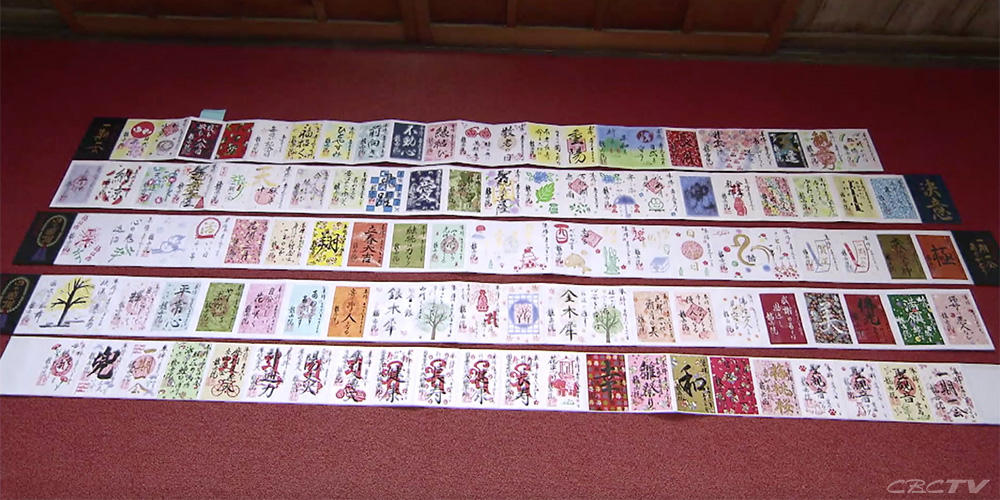 The answer is, secret goshuin! It changes every month and there is no way to know what's coming next.
The goshuin, which is changed every month, is as colorful as a colored, painted letter paper. The theme will depend on the season, such as red leaves in the autumn and red color during new year.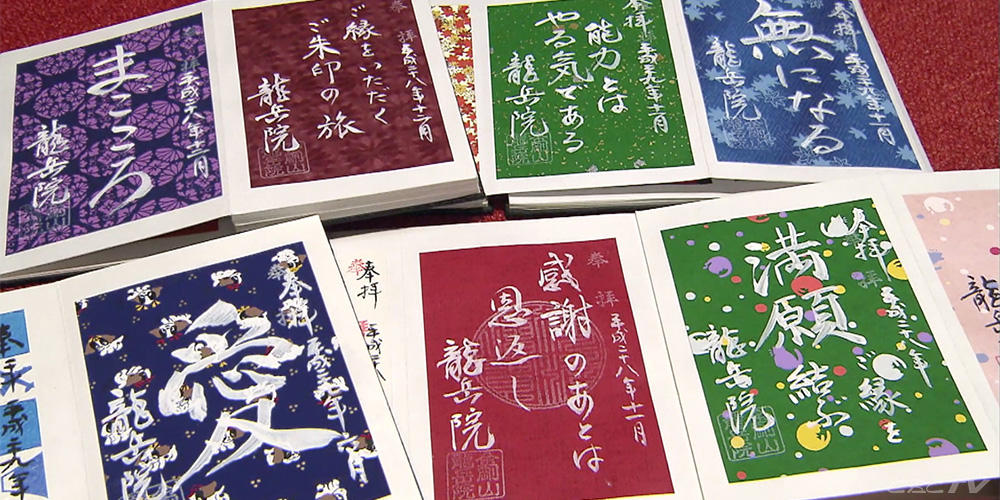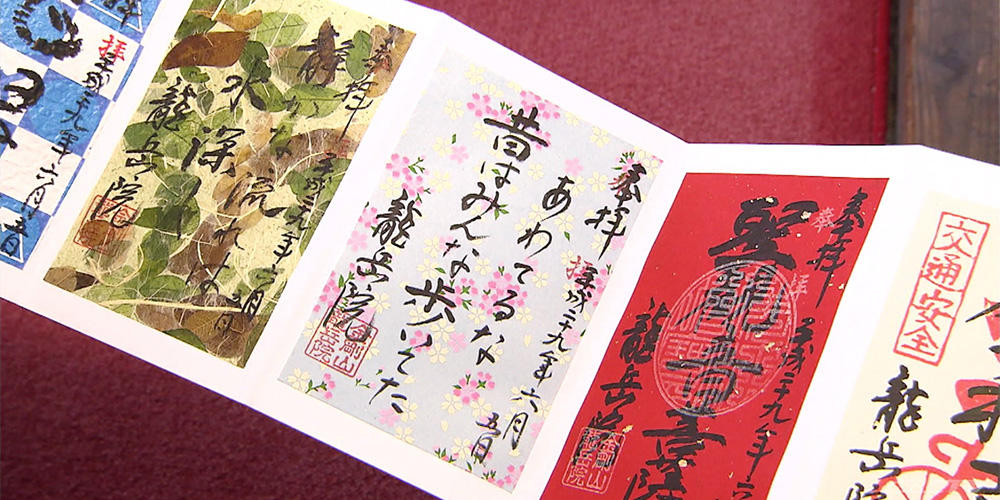 Moreover, the profound words it contains are another reason for its popularity. It is the abbot who creates these words. Look at this one: "Don't be restless, persons walked to their destinations in the past".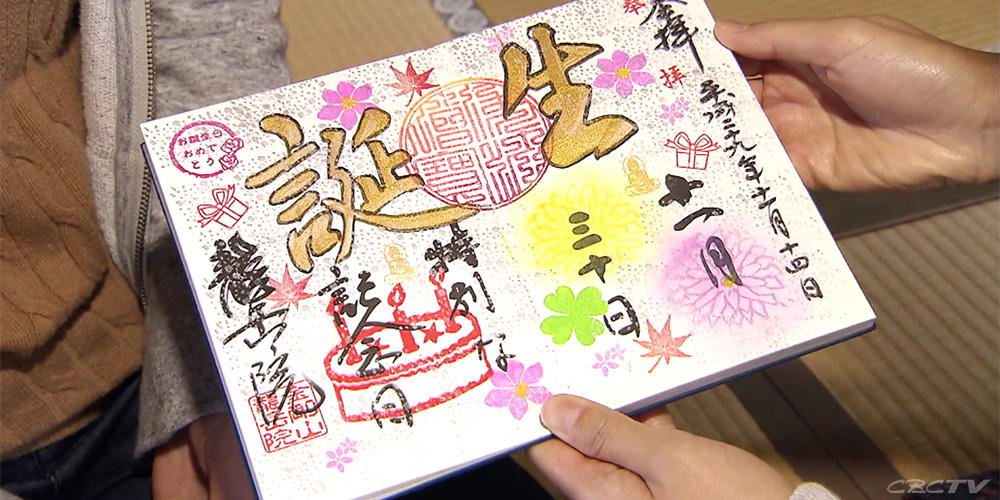 This is not all! There even may be a goshuin designed just for you! For example, the girl from Chiba coming here every month, getting her "Happy Birthday" goshuin in her birth month!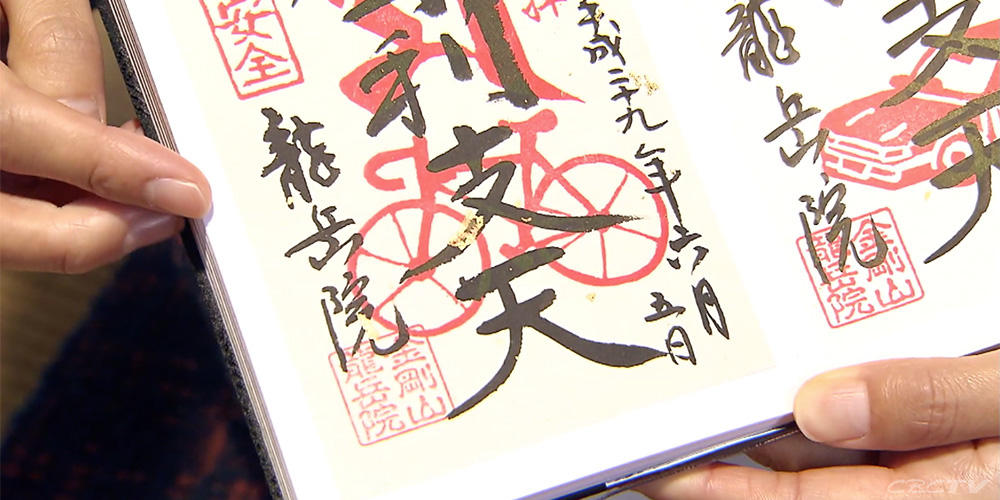 Another example, a man coming here by bicycle got a "bicycle" goshuin!
It brings the visitors and the temple closer together.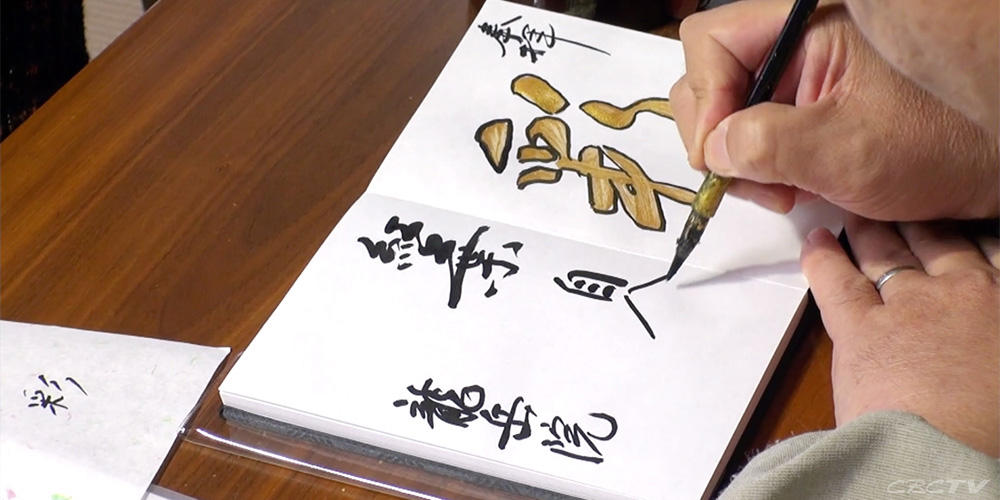 To make a goshuin at Ryugakuin Temple, firstly the Abbot writes the words for that month.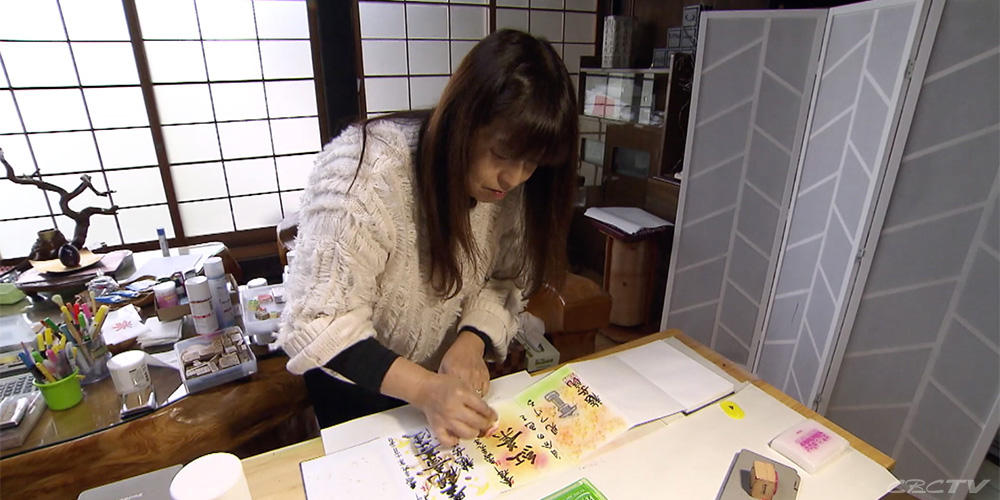 Then the Abbot's wife will color it.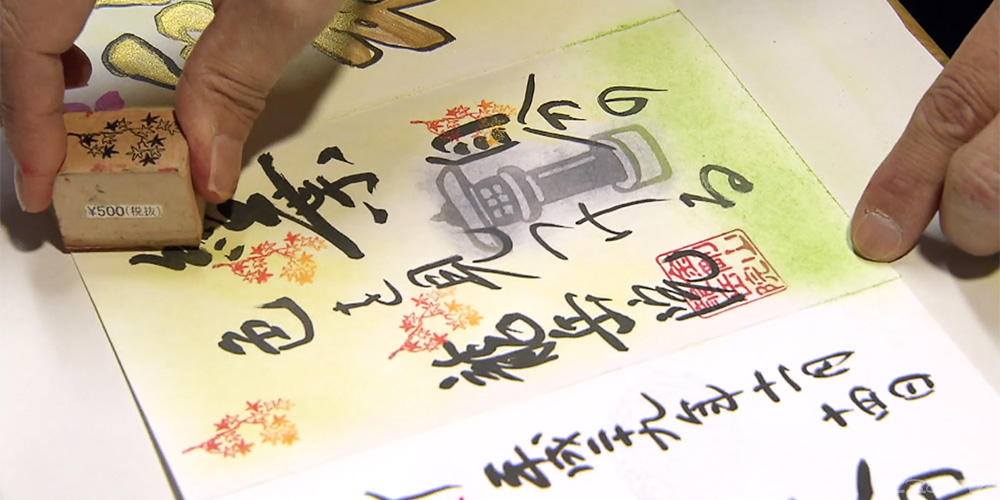 Next, they add the seal and some decorations.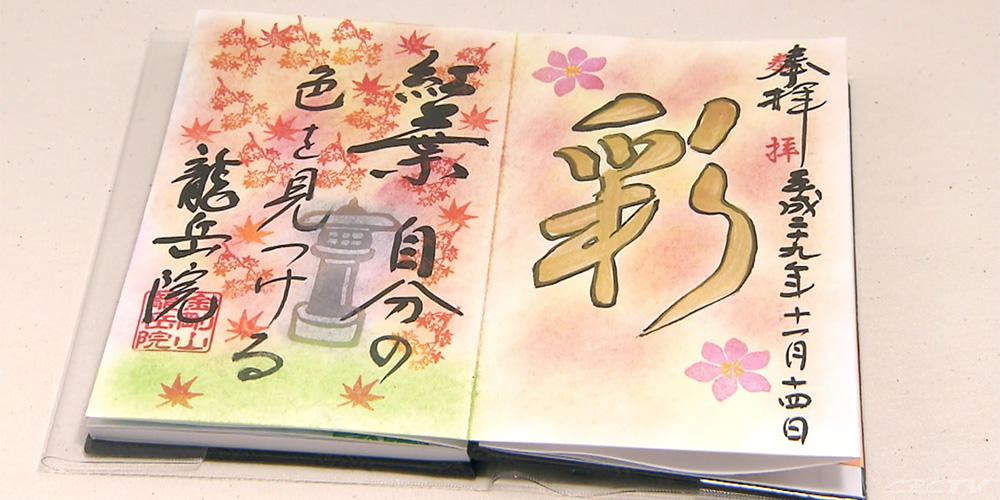 The finished product! Special "red leaves" goshuin!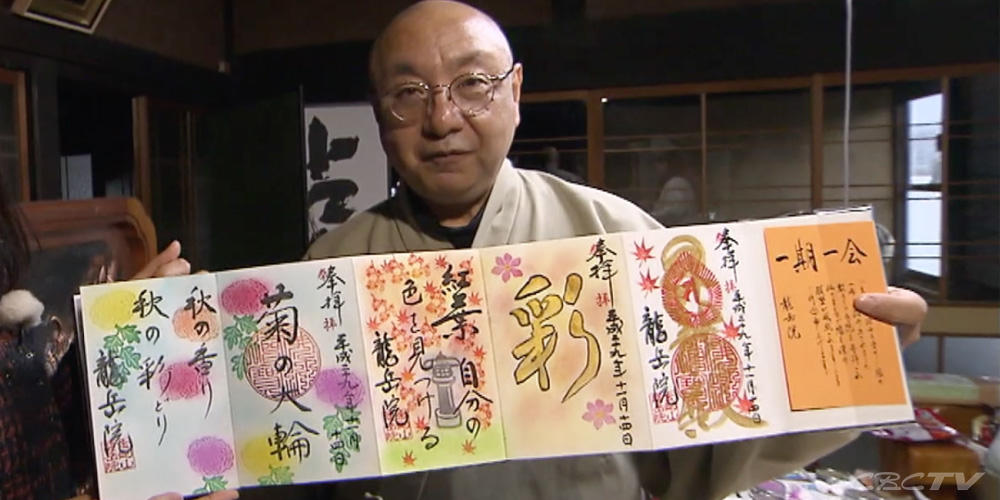 Look! All the goshuin designed for this month by the Abbot. And next month, they will all be different again. We can't wait to know what next month's goshuin will look like!
Finally we can understand why the Japanese goshuin collectors are so enthusiastic about it that they come here every month from far away.
*Ryugakuin Temple
Address: 21-1 Minamiueda, Niwano, Shinshiro-shi, Aichi
Tel: 0536-22-1844(8:00~23:00)
Transport: Take Meitetsu train at Nagoya Station, transfer JR train to Shinshiro Staion at Toyohashi Station. 30-minutes walk from Shinshiro Station.
In conclusion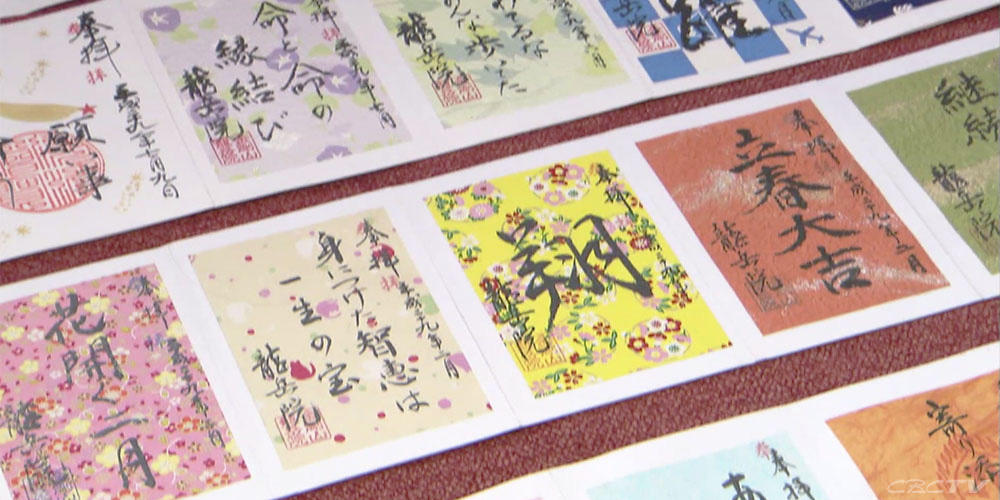 After looking at these interesting goshuin, what is the next step if you find yourself taking an interest in it?
Aichi is the prefecture where you can find most temples in Japan. And it may be the best place to collect goshuin.
Next time when you visit Japan, it can be a good idea to buy a goshuinchō as a beginning of your goshuin collection adventure!