| Centrip Editorial Board
LEGOLAND® Japan Resort 2-Day Tour Part 2: You've never seen a hotel like the LEGOLAND® Hotel before!
Can you imagine a hotel where everything from decorations to meals is designed for children—a hotel where children never want to leave once they check in? LEGOLAND® Japan Hotel is such a magical hotel!
LEGOLAND® Japan, a theme park which attracts numerous visitors (especially families), should get a boost in popularity from 2018. Next to it, LEGOLAND® Japan Hotel and SEA LIFE Nagoya are now open! In LEGOLAND® Japan!2-day tour at LEGOLAND® Japan Resort: SEA LIFE Nagoya, we explored SEA LIFE Nagoya, a special aquarium decorated with LEGO bricks. This time our destination is the LEGOLAND® Japan Hotel.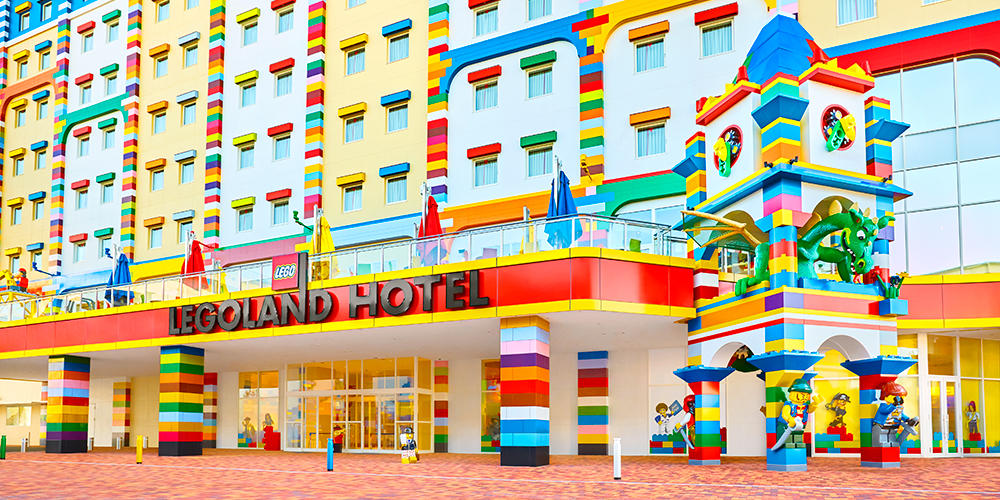 A hotel? "There's nothing special about a hotel, no matter how comfortable the rooms are or how beautiful the swimming pool is." That's what you are thinking, isn't it? Not in this case! LEGOLAND® Japan Hotel is totally different! You can find a lot of amazing things here; children will be too excited to sleep! LEGOLAND® Japan Hotel is beside SEA LIFE Nagoya, a few minutes away from it.
Counter, Elevator, External facilities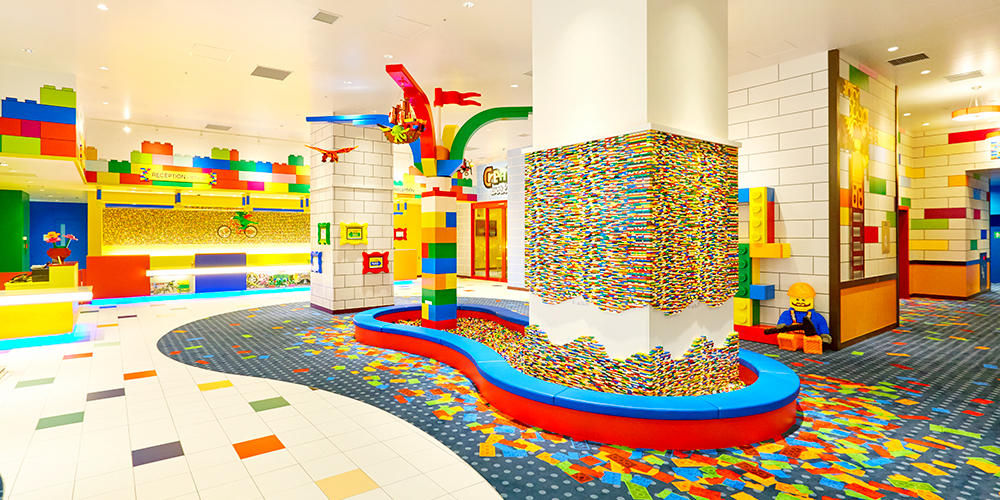 Once you enter the hotel, you're in another world, a different reality. Here, colorful LEGO designs are waiting for us! In particular, the LEGO area on the right will surely excite all children. While their parents check in, children can play with lego bricks by themselves and they even can play in the LEGO pool after taking off their shoes.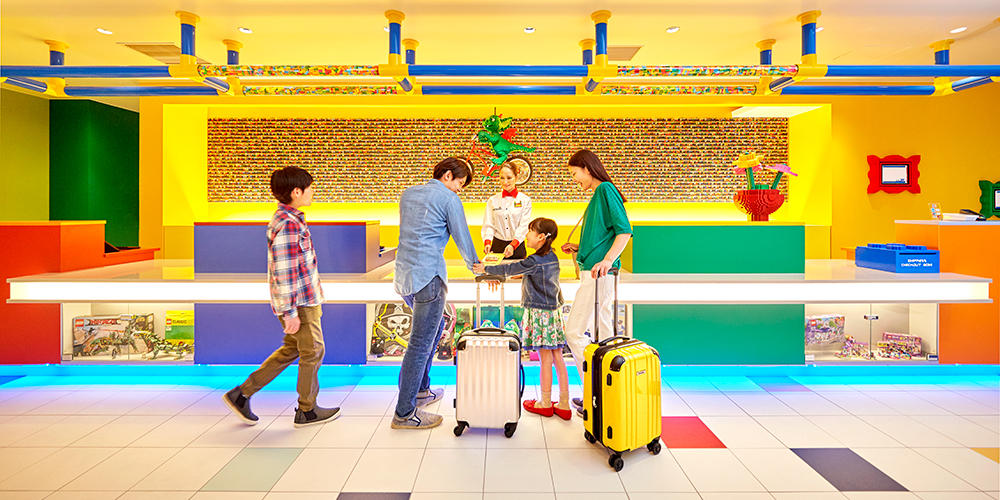 For parents, the check-in process does not have to be boring. Look at the behind wall of the counter - there is something which will surprise you!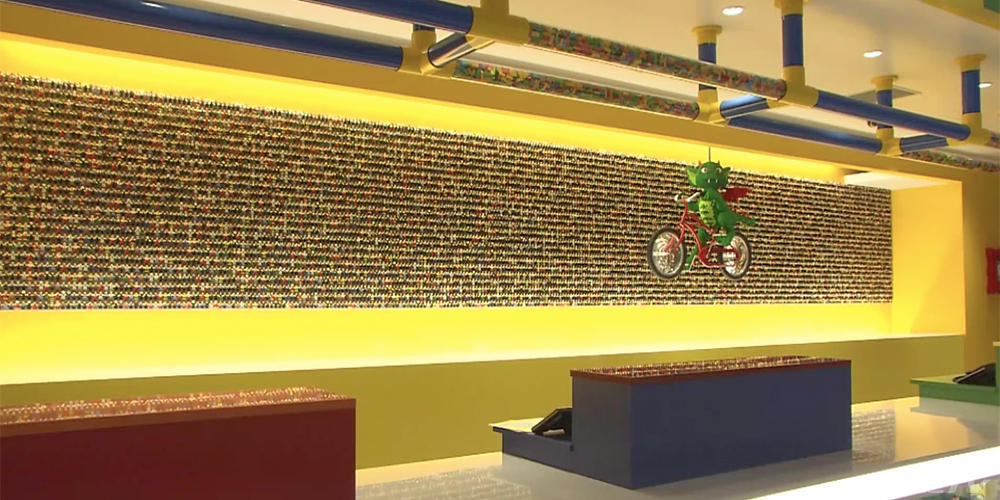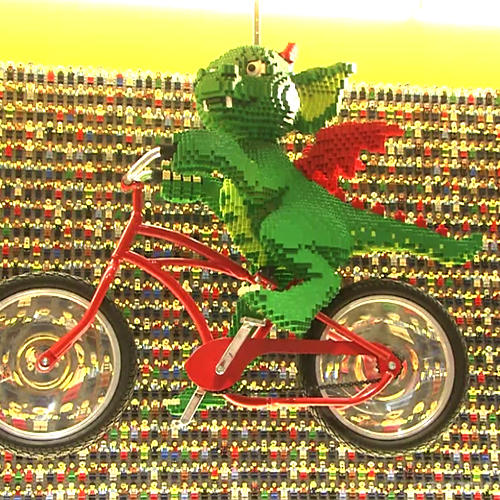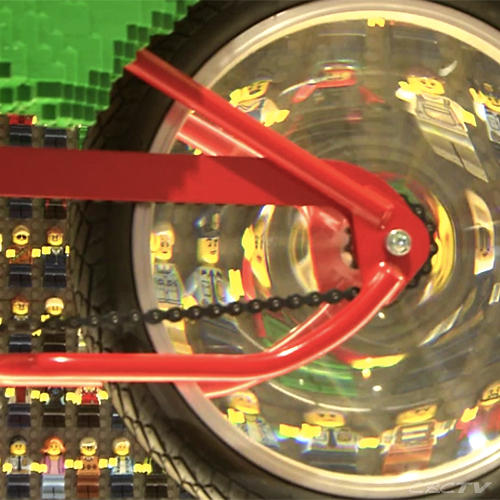 Yes, all of them are made of LEGO minifigures, 7,872 in total. There is a dinosaur riding a bike moving back and forth. The bike's wheels act as a magnifier. Thanks to this, the details of the figures can be seen clearly.
At LEGOLAND® Japan, all children are VIPs. All the attractions here are designed for kids. Let's have a look at the designs which everyone, including adults, will find amusing.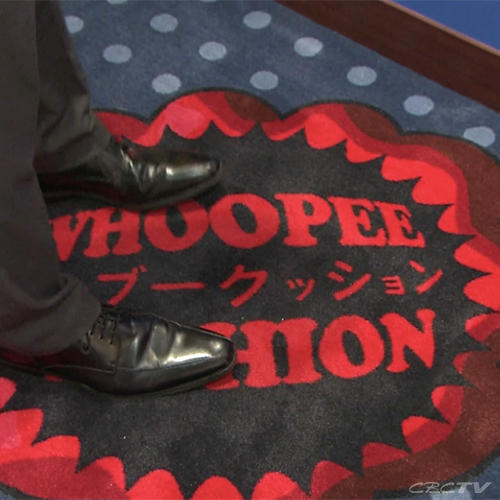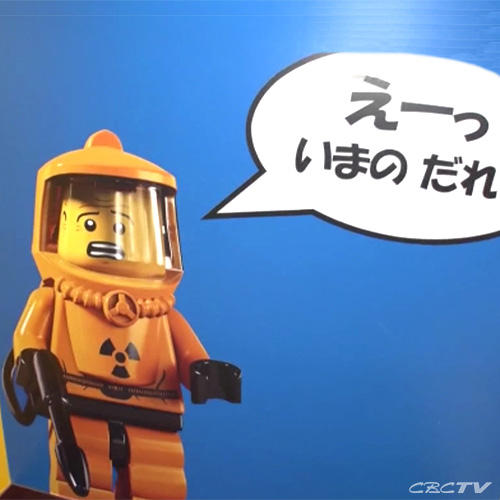 Let's begin with the "whoopee carpet". If you step on it, it will make a big noise which sounds rather like someone breaking wind! The words on the LEGO figures behind it say "Hey! Who did that?" It is said that the harder your step, the louder the noise will be.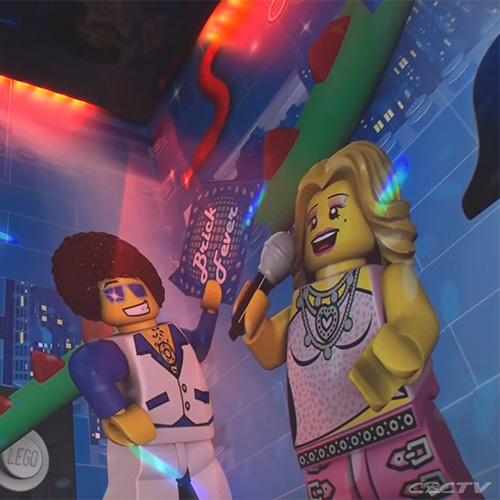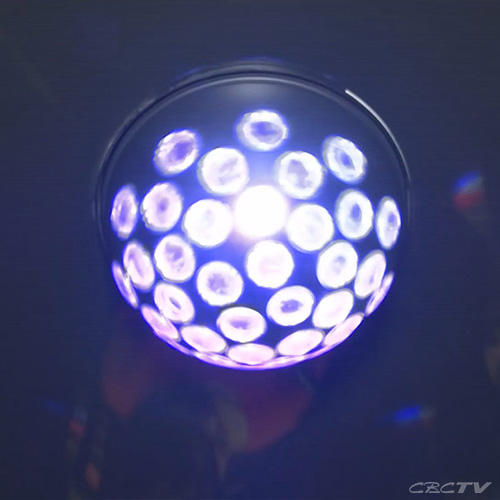 Even the elevator is fantastic! While the elevator's door is closed, colorful neon lights shimmer and disco music can be heard as this is a stage center. Do you need any more reasons to take the elevator?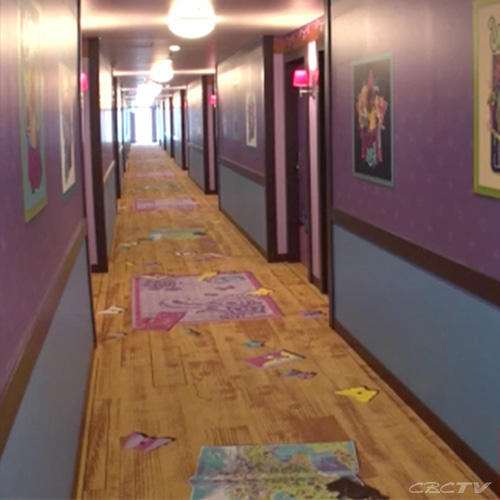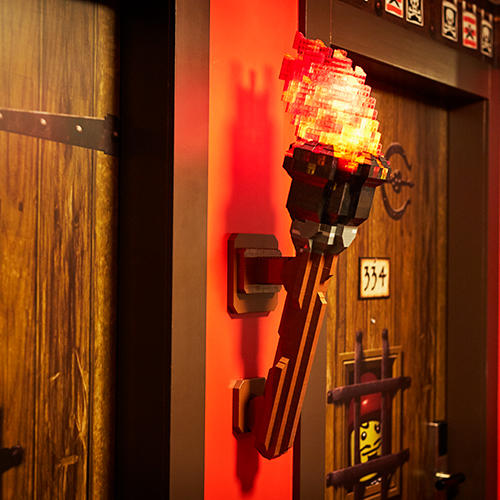 There are 8 floors and 252 rooms, and each floor is designed with a unique theme. Here are some examples: LEGO Fashion for girls, LEGO Ninja (based on Asian culture) and so on. For the European-themed area, there are LEGO torches outside the rooms. The warm orange lights flash like real fire.
5 choices of themed rooms
Kingdom-themed room: being a king in your own royal castle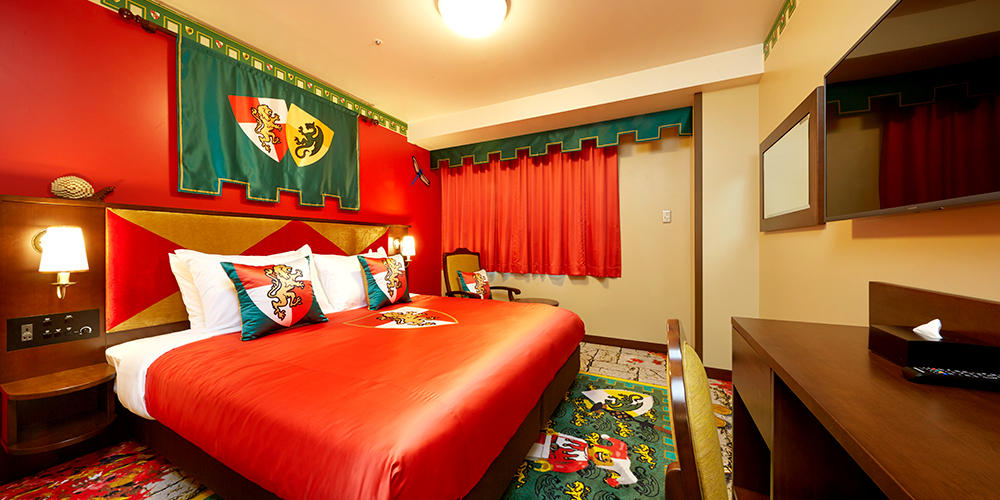 Coats of arms, shields and LEGO figures on horseback ready for jousting—you are the king here.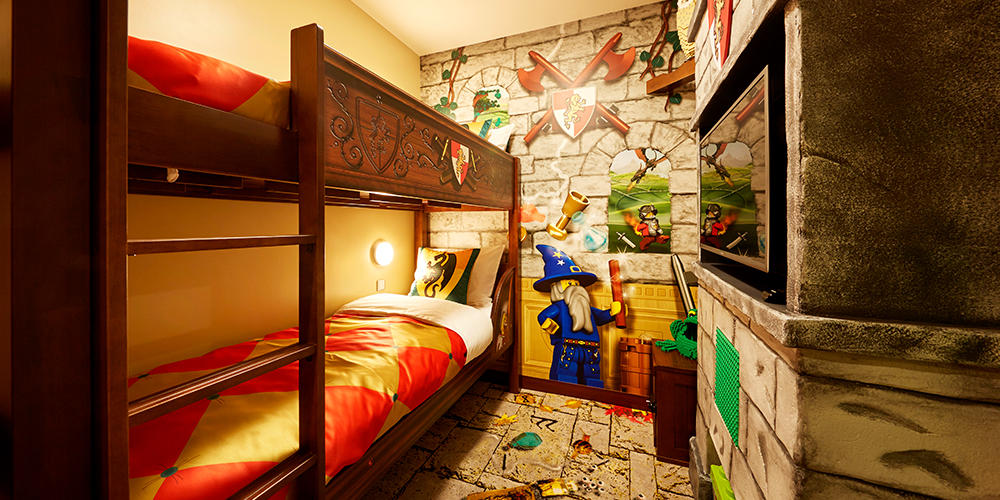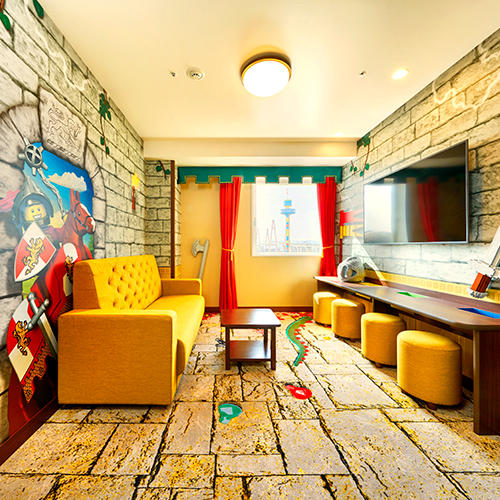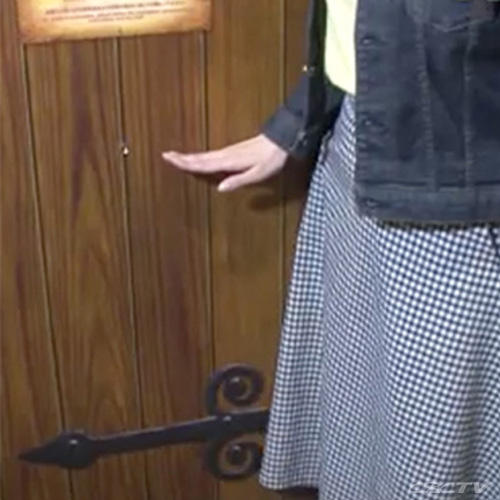 In LEGOLAND® Japan Hotel, there is a kids' room within every room, equipped with a television and LEGO. All of this comes from their concept: every child is a VIP!
The game room is big enough for children to run, jump or roll on the ground. The most interesting thing is the peep hole on the door. There is not only a peep hole at normal height for the adults but also one more peep hole below it for the child.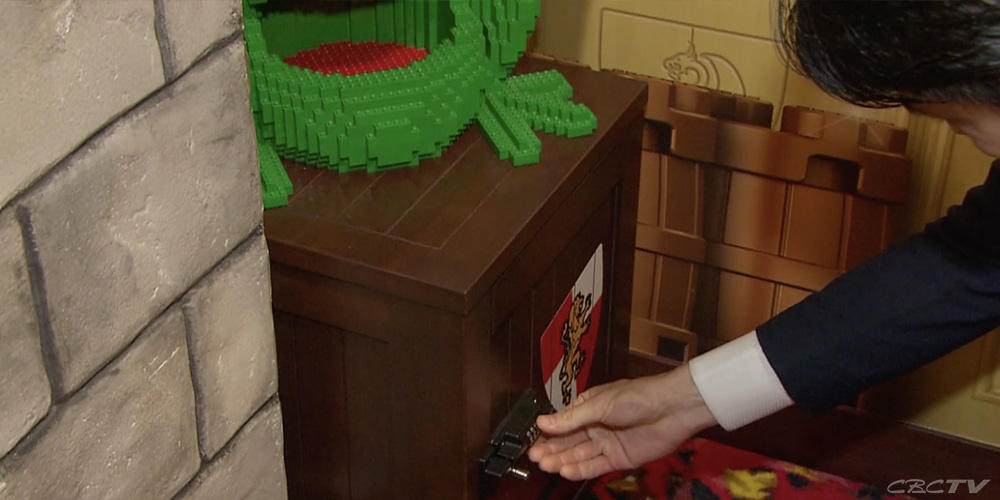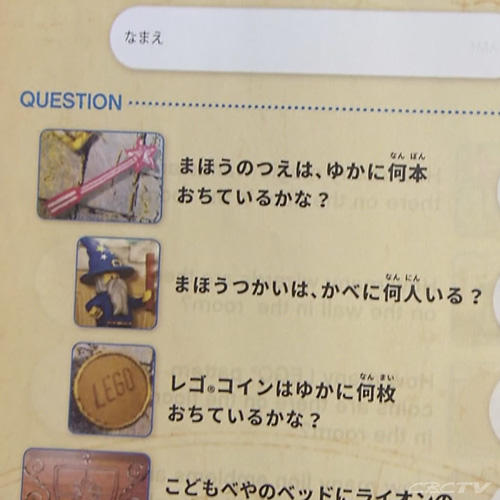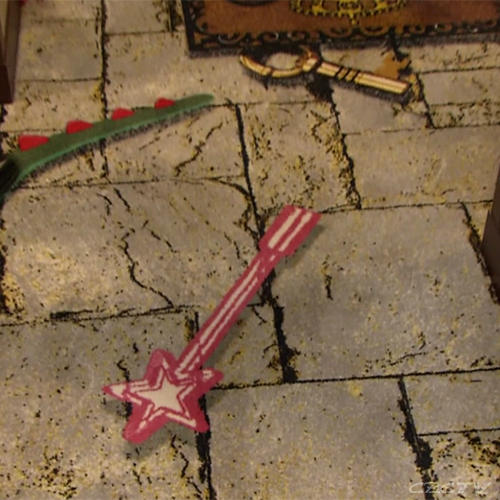 In every child room, there is a treasure box full of gifts! But, wait a minute—the boxes are all locked! Oh, there is a question guide. If you follow the instructions on it (don't worry, there is an English question guide), you can learn the passwords for the locked box. As for the gifts…come and find out!
LEGO® Friends: a fantastic and lovely area for girls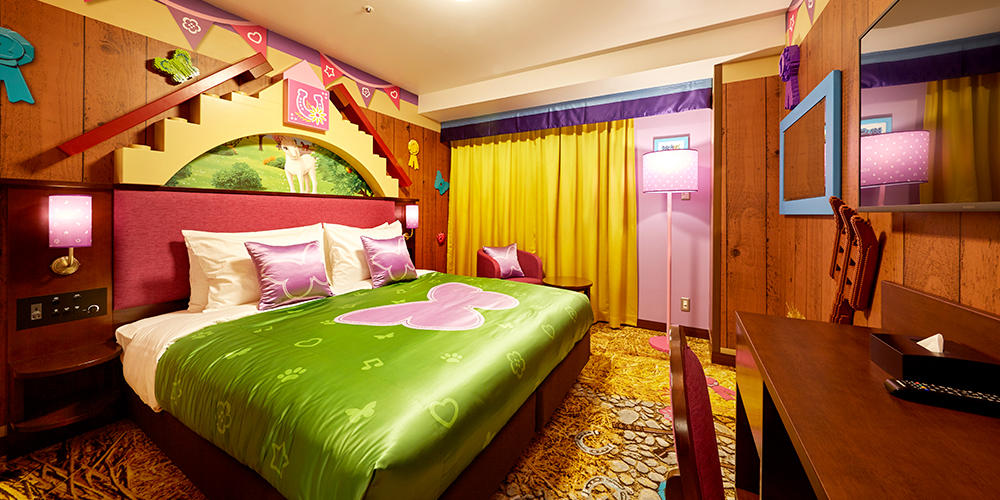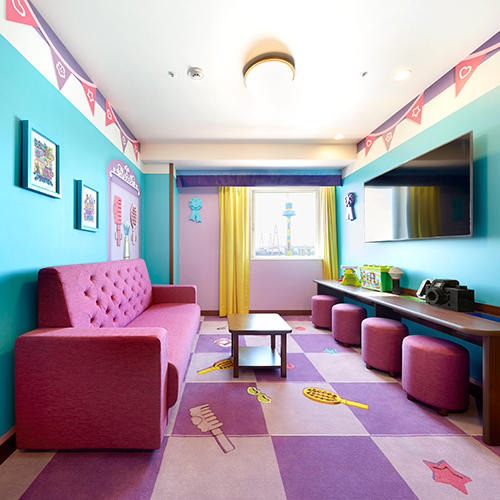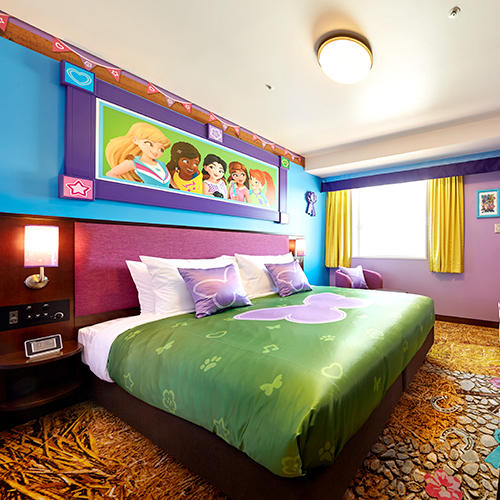 Some parents may be worried about that all the themed rooms are aimed more at boys so that the girls can't have as much fun as the boys here. LEGOLAND® Japan Hotel says, "don't worry"!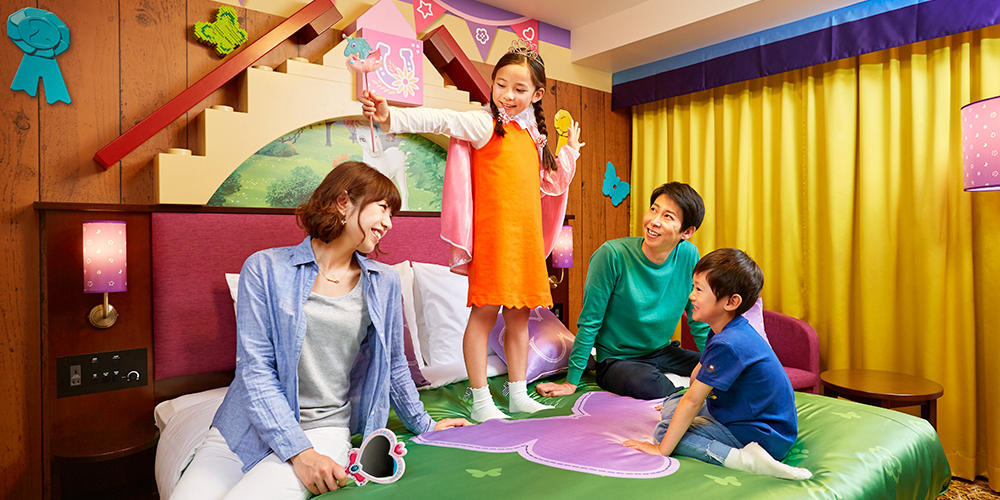 This is decorated precisely in the style of the five friends from Heartlake City. It's filled with bright colors like purple and pink, cute pets like puppies, kittens and little birds, and decorations shaped like combs and stars!
LEGO® NINJAGO® : show your Ninja power here!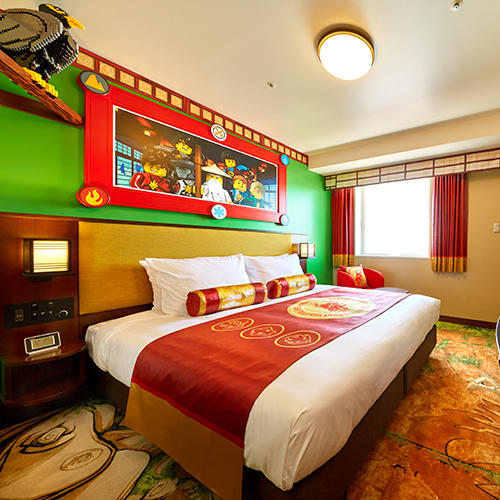 Ninja themed rooms are decorated with dragons, swords and LEGO® NINJAGO®. The Ninja is not only a Japanese Ninja but also a Ninja with great Kung Fu skills!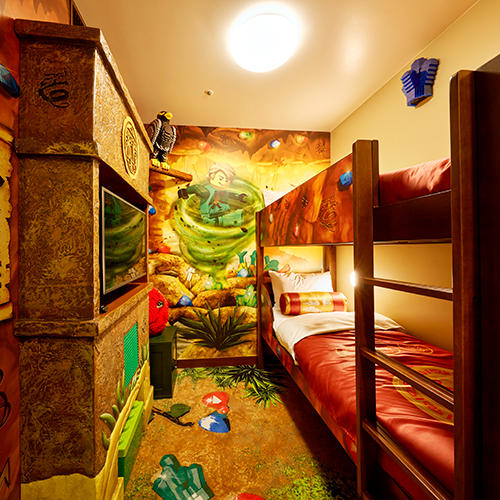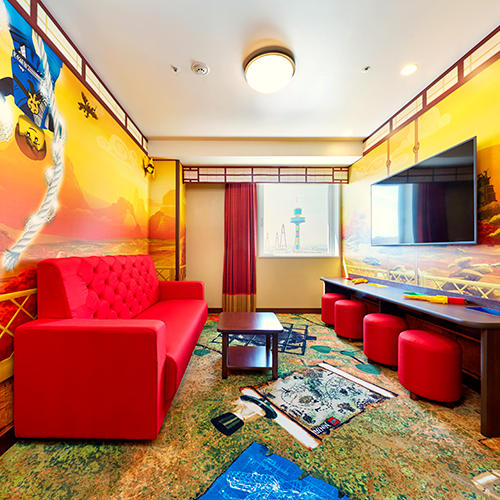 Show your power through water, fire or swords with LEGO® NINJAGO®!
Pirate themed room: Pirate dream comes true!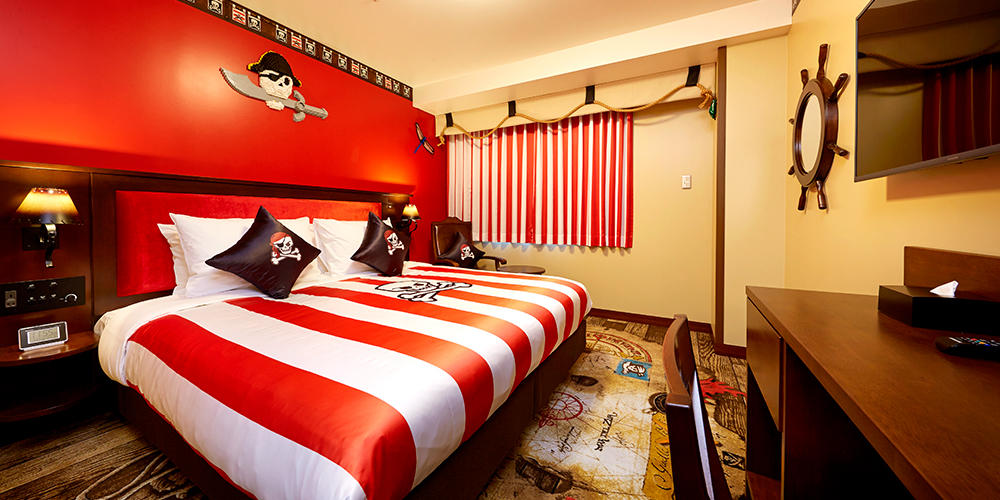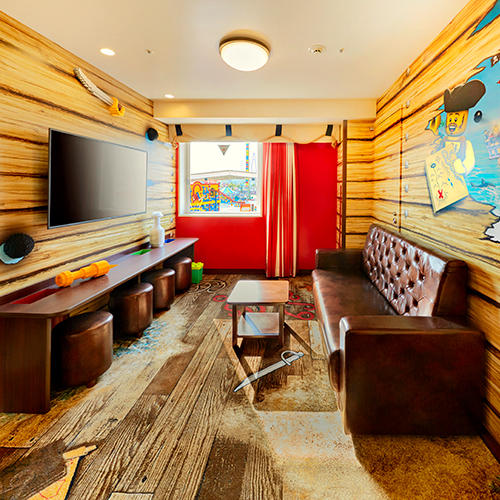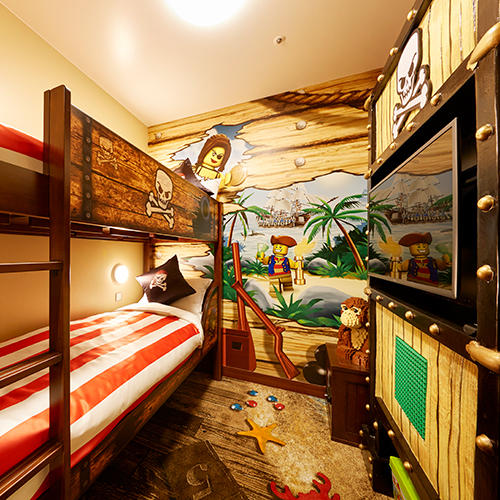 Even the adults will agree that this is pretty cool: treasure maps, skulls and forests are waiting for you! If you are a fan of One Piece, you will have a lot of fun here!
Adventure themed room: enter the Kingdom of Egyptian Pharaohs!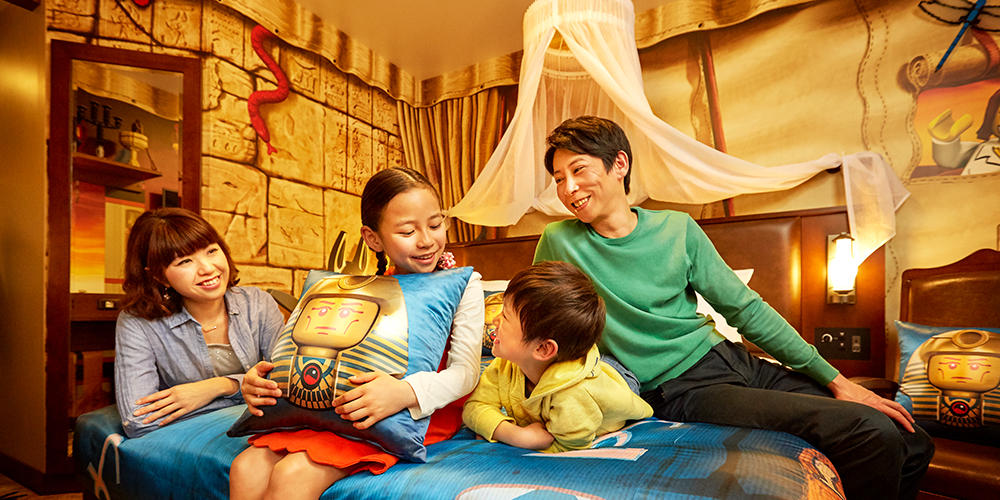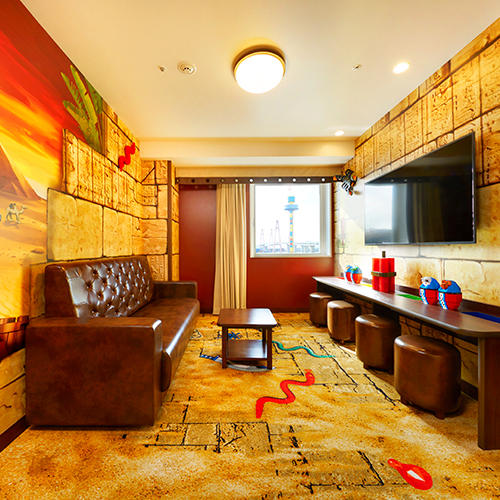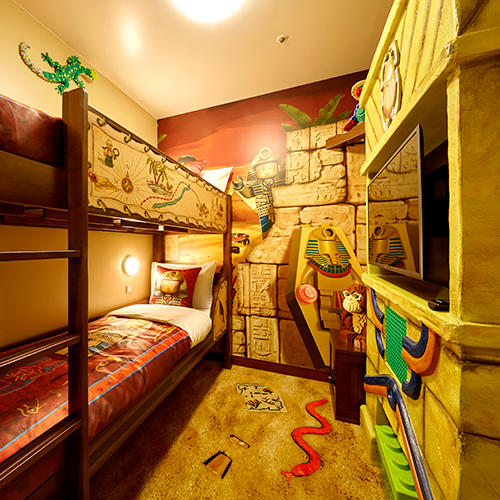 Desert, LEGO Pharaohs, beetles…welcome to the Kingdom Of The Pharaohs, where adventure is waiting for you! Look at the white curtain above the bed—you'll feel like an Egyptian prince or princess!
A Restaurant the Kids Will Love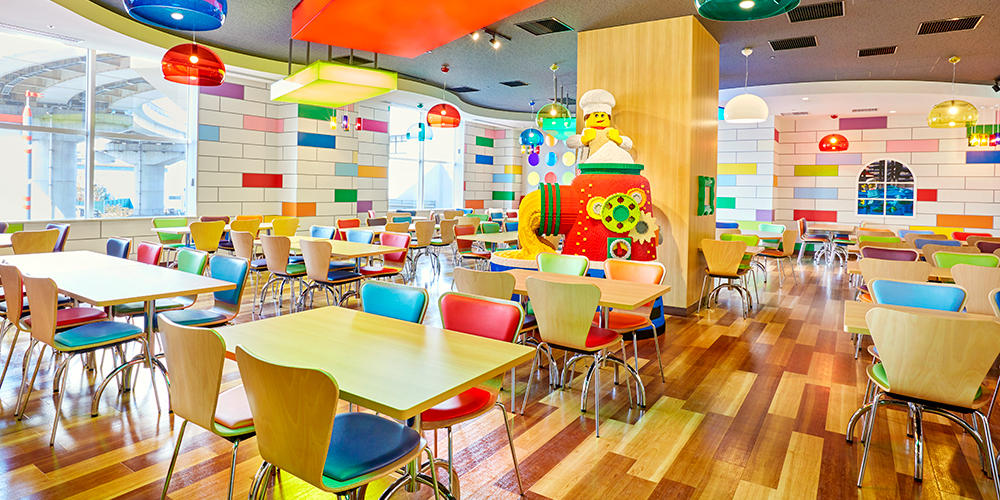 You can have dinner at the LEGOLAND® Japan Hotel restaurant whether you are a hotel guest or not. There are more than 100 kinds of food in the buffet including Chinese, Japanese and Western dishes.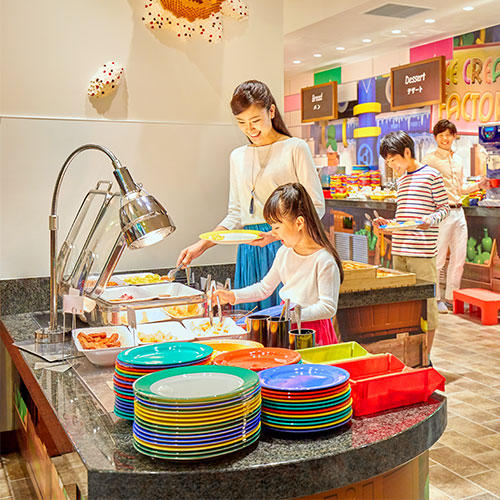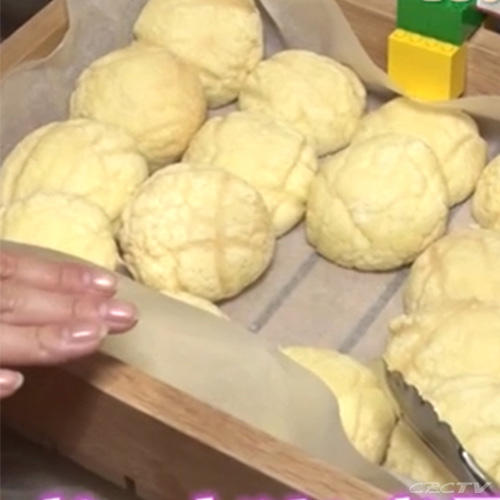 The restaurant is also designed around the concept of "every child is a VIP". There is a little bar for 60-cm-tall children so that the kids can get their food by themselves. And the bread products, donuts, etc. are mini-sized for children.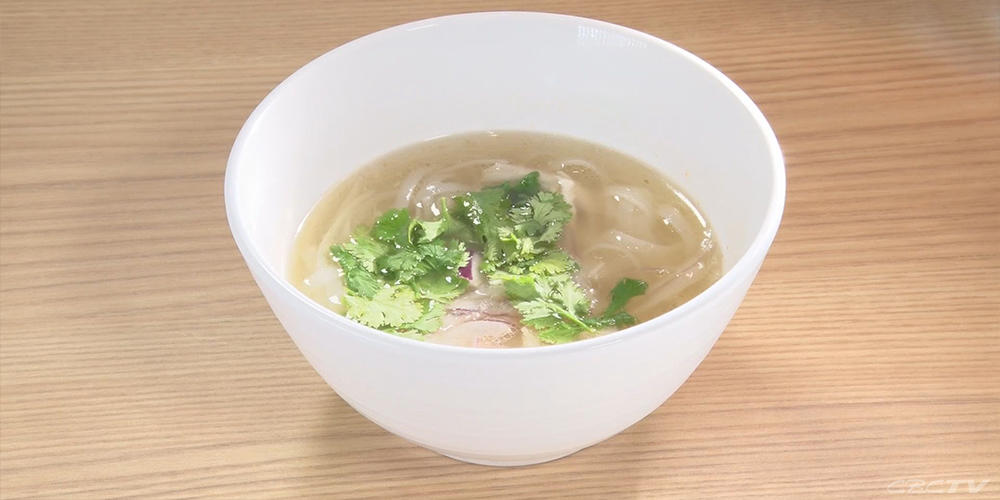 It's no surprise to find Nagoya cuisine at the LEGOLAND® Japan Hotel Nagoya. The staff recommended Vietnamese noodles cooked with Nagoya cochin chicken. It was delicious!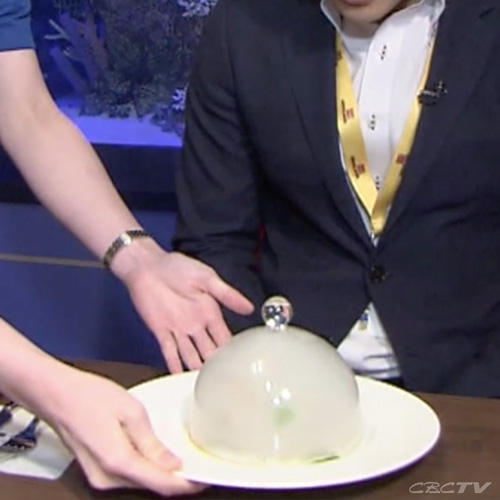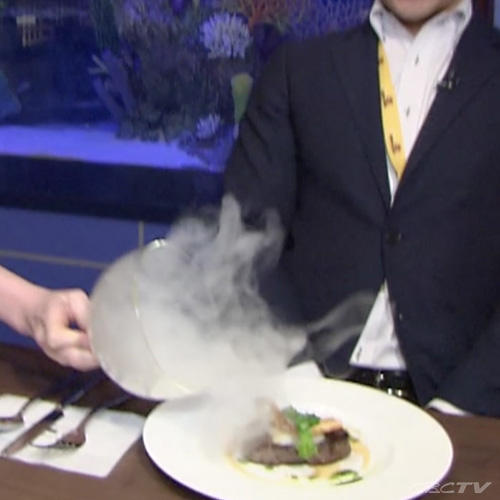 My favorite item was the ninja-smoked Angus steak. The smoke billowed out whenever I opened the cover like a ninja using ninjutsu! The smoke is not only for effect but for taste as well.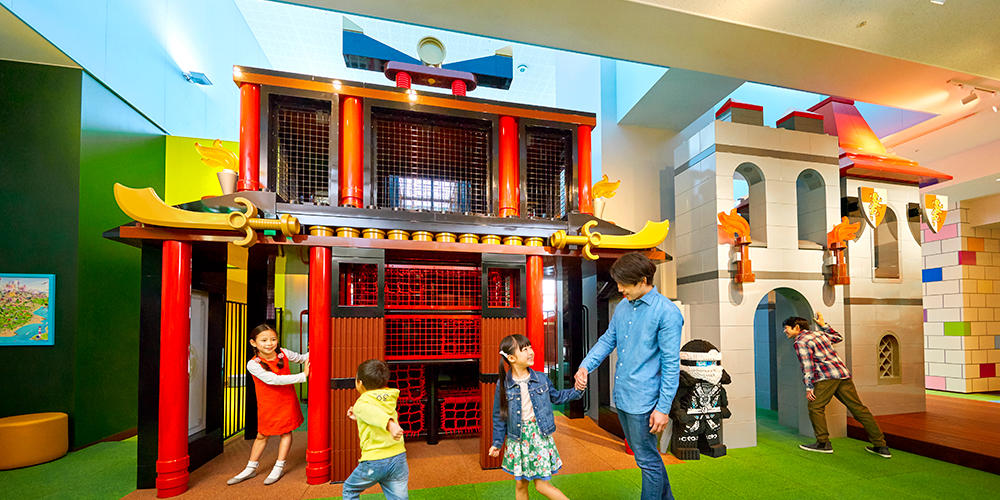 The play area next to the dining area is a kid's paradise. While children are playing, parents can take their time and enjoy their dinner!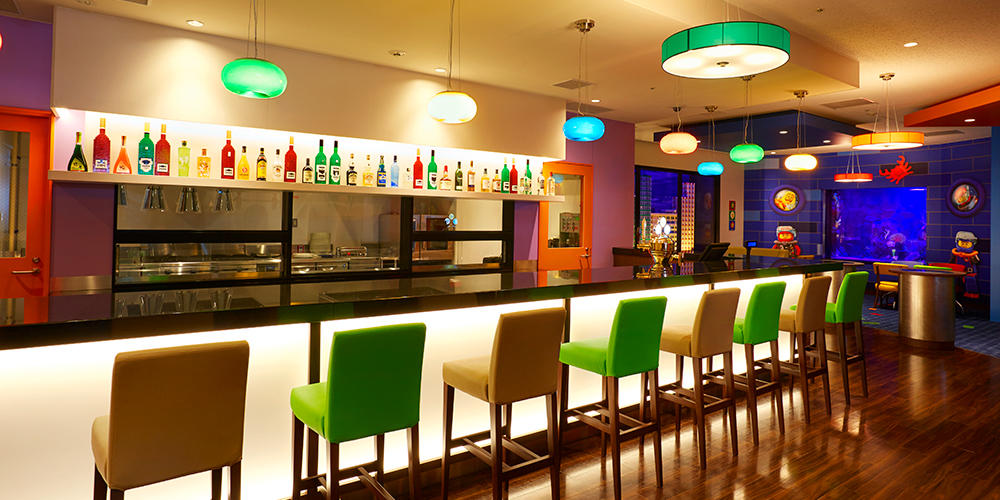 Nearby, the Skyline Bar is there for the adults to relax.
LEGOLAND® Japan Hotel restaurant price information
■ breakfast
children ¥1200 (tax included)
adults ¥2400 (tax included)
■ dinner
children ¥2000yen tax included)
adults ¥4000yen tax included)
Water Play Area and Creative Workshops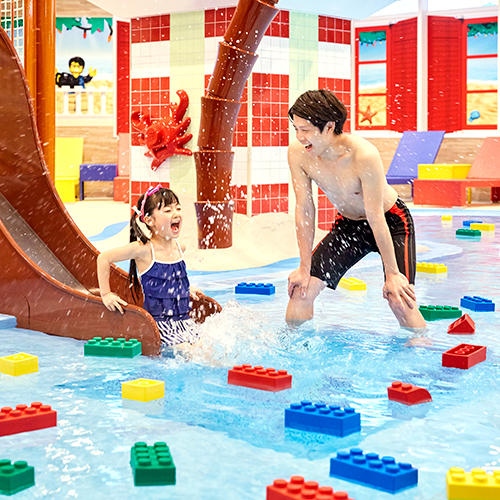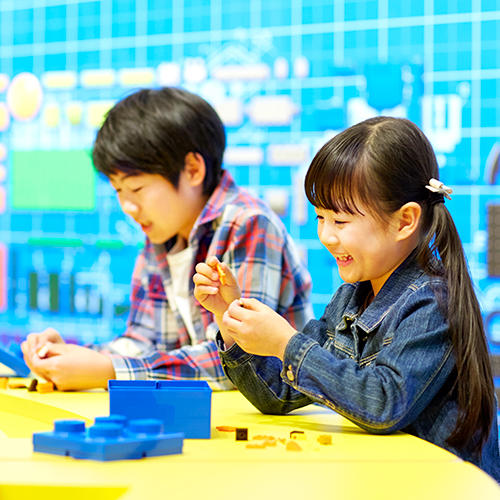 You can swim and play with LEGO bricks at the same time in the water play area, so don't forget your swimsuit. You can also make a reservation at our Creative Workshop where you learn how to build with LEGO bricks alongside one of our LEGO instructors.
Summary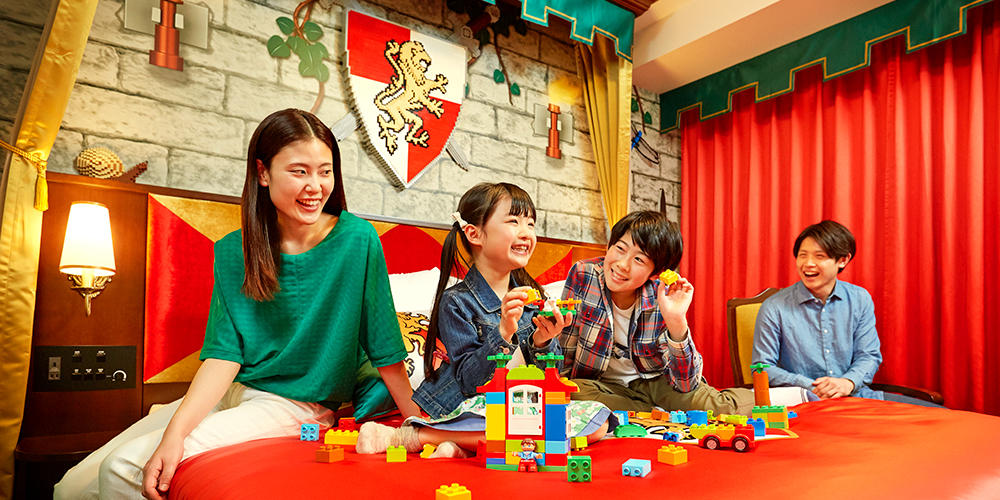 LEGOLAND® Japan Hotel is not just a LEGO-themed hotel. Kids are VIPs everywhere. With five kinds of themed rooms and play areas everywhere, it's a paradise for kids! I will definitely come back to LEGOLAND® Japan Hotel when I have kids someday! How about you?