| Centrip Editorial Board
Super Sentos in Nagoya and its Suburbs
Soak Yourself in Japan
In Japan, people enjoy bathing almost every day. They fill their bathtubs and soak their bodies up to their shoulders. People not only bathe at home, but they enjoy bathing while traveling. Many people travel just because they want to have a unique bathing experience.
Whether you are in the city or the rural area, there are many facilities that provide a bath and leisure. Baths are separated for women and men, but the resting space is for everybody; you can spend your time with your family and friends. You will find daily lives of Japanese people at public baths or Super Sento (スーパー銭湯/Suupaa sentou - all-inclusive public bath).
Bath, Sento, and Super Sento Theme Park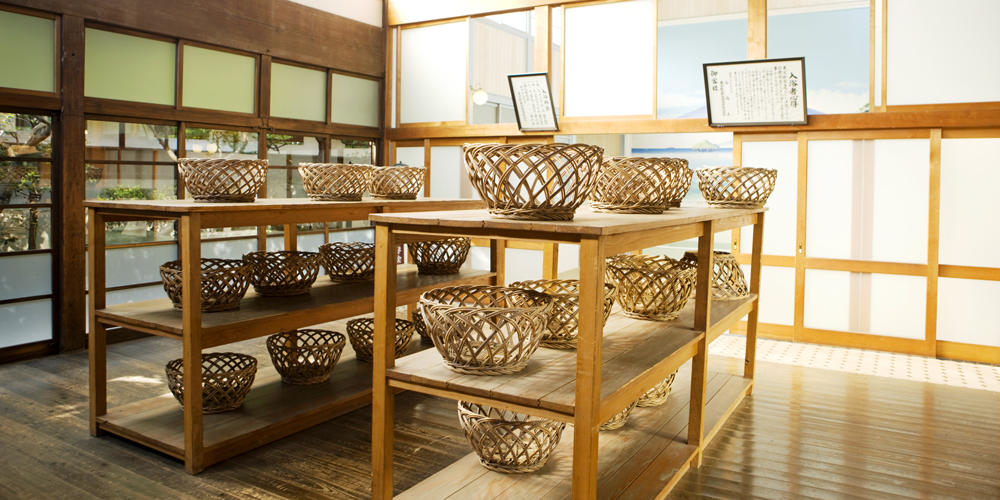 There is a big difference between Sento (銭湯/Sentou - public baths) and Super Sento. Sento are facilities usually with only a large bath and you need to bring your own towels or purchase them.
On the other hand, Super Sento are like bathing theme parks with a variety of baths. You don't need to bring your own towels. There are also saunas, relaxation facilities, and restaurants. You can spend the whole day relaxing. Nagoya is said to be the birthplace of Super Sento, and there are more facilities here than in Tokyo or Osaka.
Enjoy Yourself at Super Sento
1. Tenku Spa Hills Ryusenjinoyu Nagoya-Moriyama: Experience the Latest Equipment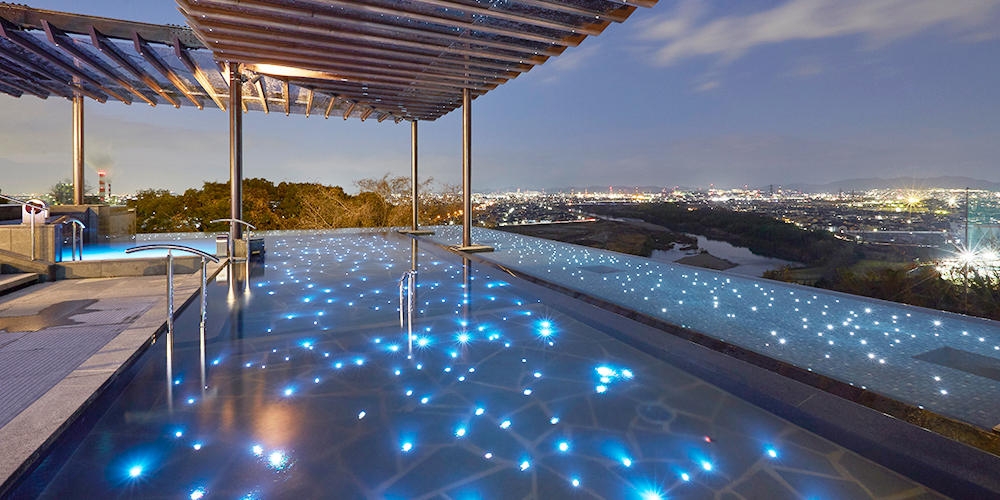 This was said to be the first super sento (スーパー銭湯/Suupaa sentou - all-inclusive public bath) in Japan, but it has been completely rebuilt with the latest facilities. The baths are great and it also has a superb night view of Nagoya city from the open-air bath (露天風呂/Rotenburo - open-air bath). There are many "fantasy" baths such as an illuminated bath made to look like stars are floating in the tub while bathing.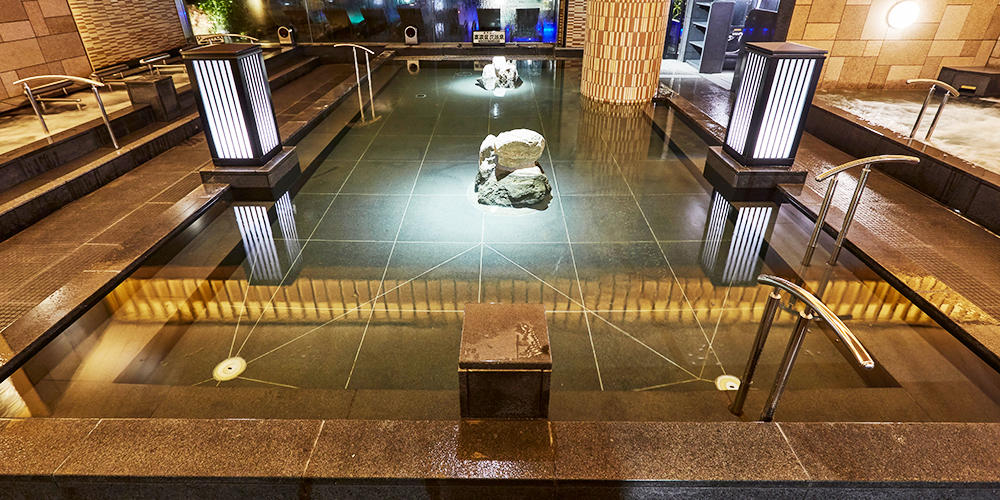 The special characteristic of its water is the high concentration of carbonated water (高濃度炭酸泉/kou noudou tansansen). The carbonated water in the spring will make you feel like you bathing in the champagne! The bubbles will stick to your body and warm it thoroughly.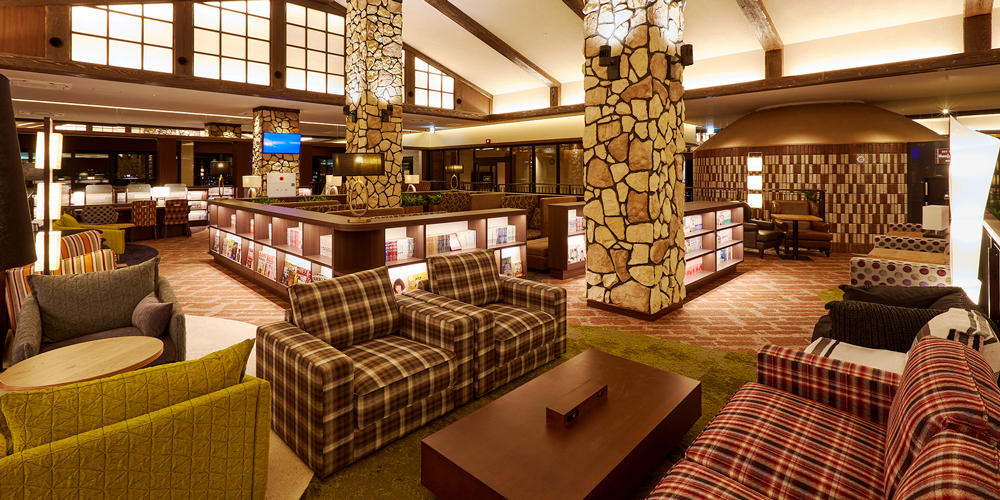 There are 13 types of baths and 2 types of saunas as well as relaxing facilities with recliners, couple seats, and sofa beds. There are also restaurants and cafes. For an additional charge, a lodge-style hot stone bath (岩盤浴/Ganban'yoku) is available. You can read comics and magazines to your heart's content in the space exclusive for hot stone bath users.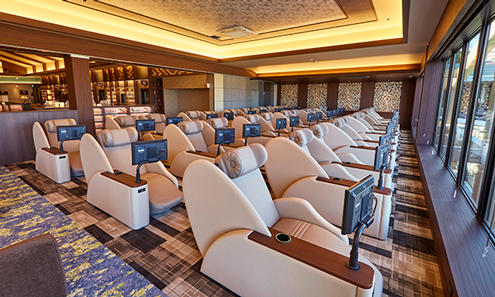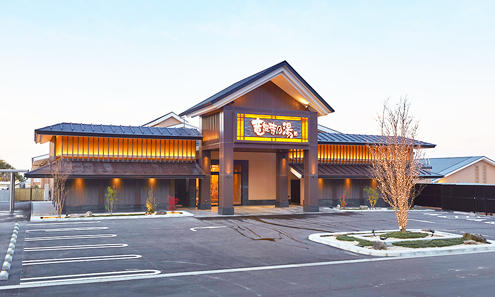 Fee
Adults (junior high and up) ¥700
Morning bath: Adults (junior high and up) ¥600
Hot stone bath (Forest villa): Adults (junior high and up) ¥500
2. SPA&LIVING Urban Quar: Relax in a Large Resting Space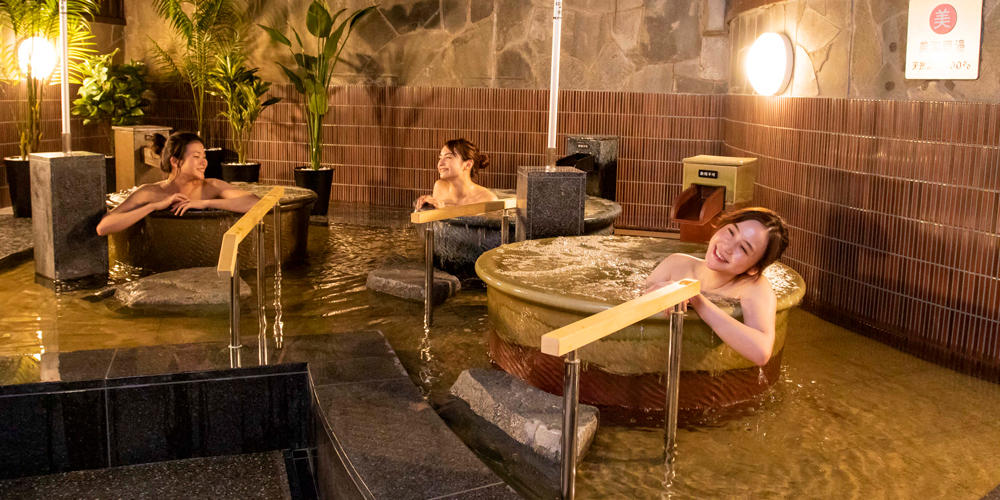 15 minutes away from Nagoya Station by subway. The natural hot spring sprung out from 800 meters underground. There are 11 kinds of baths including carbonated springs and jet baths as well as two saunas. There is even a hot stone bath.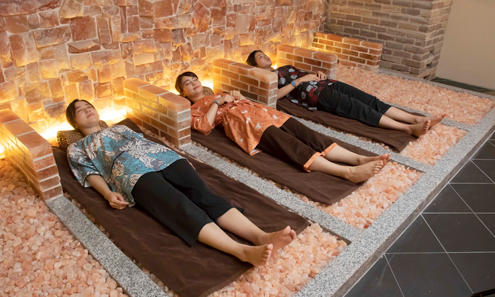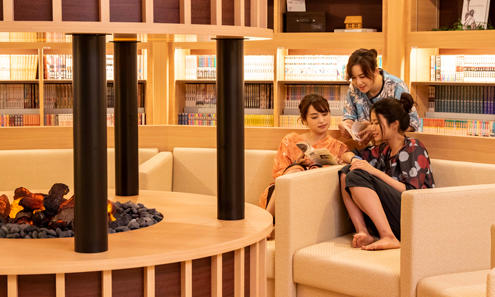 The spa's theme is, relax as though you were in your living room. The spacious rest area has a comfortable sofa and a private enclosed space. Hot drinks such as coffee are free of charge. Massage machines, computers, comic books, and magazines are also available. They also offer aromatherapy massage and Akasuri (アカスリ/akasuri - Korean body scrub).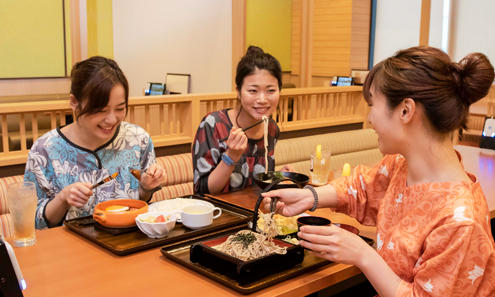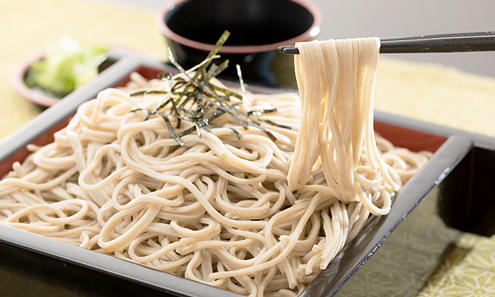 The food is especially satisfying. Among the dishes are Soba noodles which will give you an authentic feeling of Japan. Their Soba noodles use 100% Soba flour known as Juwari Soba (十割蕎麦/じゅうわりそば-Soba made using only Soba flour). Even in Japan, this dish is typically only found in Soba specialty stores. You can experience real authentic Japanese tastes.
Fee
Bath 3 hour course (except Hot stone bath) weekday ¥880 Holidays ¥980
Onkatsu (温活/Onkatsu) 3 hour course (including Hot stone bath) weekday ¥1,080 holiday ¥1,180
Onkatsu (温活/Onkatsu) free course (unlimited time usage including Hot stone bath) weekday ¥1,480 holiday ¥1,580
3. Canal Resort: Food & Relaxation Menu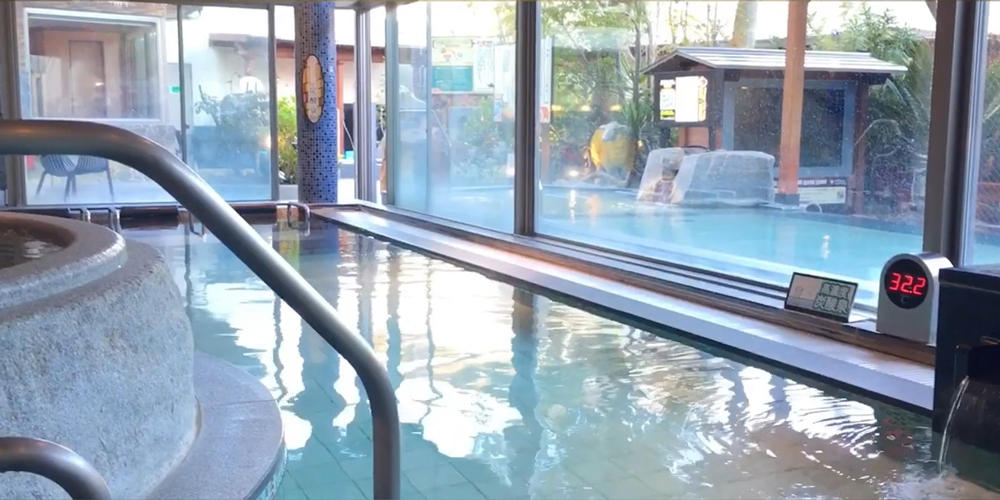 Located a little out of the way, there is a shuttle bus available from Kanayama Station. There are 4 kinds of baths as well as an open-air bath (露天風呂/Rotenburo - open-air bath) where you can enjoy the natural hot spring. A high-temperature Finnish sauna and a sauna with salt are also available.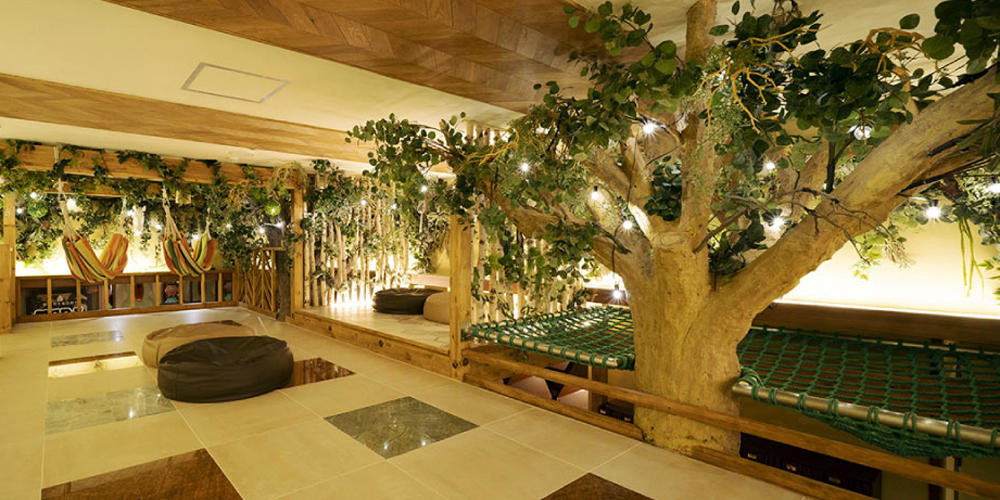 There are 6 kinds of Ganban'yoku (岩盤浴/Ganban'yoku - hot stone bath) for an extra charge. You can enjoy the baths in many different styles; with forest fragrance, lighting, and more.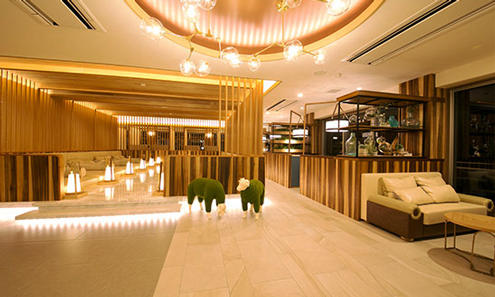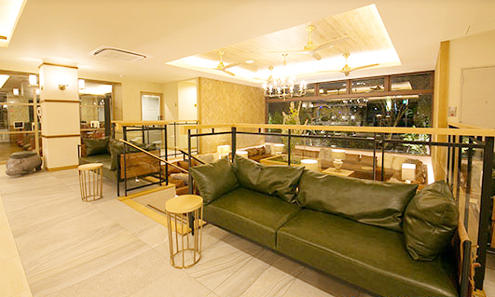 They also have a variety of ways to relax such as chiropractic, aromatherapy, body treatment, and Thai traditional massage. You can also enjoy authentic dishes using fresh fish delivered directly from the fish market as well as dishes from the cafe. The lounge is exclusive for hot stone bath (岩盤浴/Ganban'yoku) users, has seats for pairs and private seats to watch movies without care.
Fee
Admission fee: Adults (junior high and up): weekdays ¥700 Sat, Sun and Holidays ¥800
Hot stone bath admission fee: Adults (junior high and up): weekdays ¥700 Sat, Sun and Holidays ¥800

4. UTOPIA TAKARA: Close to the station Nagoya's Largest Bath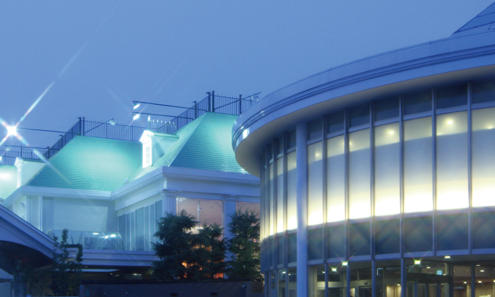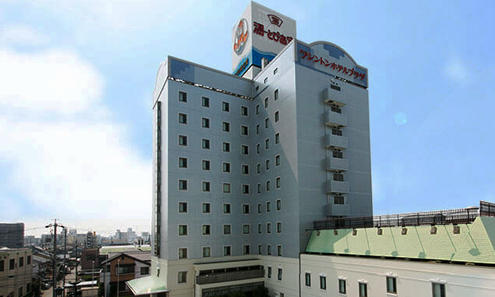 Only 11 minutes by train from Nagoya Station. Even though it is in Kasadera it is only a short train ride away, and it is a super sento (スーパー銭湯/Suupaa sentou - all-inclusive public bath) attached to a hotel, making it the largest facility in central Nagoya. Open 24 hours a day. Admission after 5 o'clock is only half the price of daytime admission. (The baths are closed from 3 am to 6 am for cleaning.)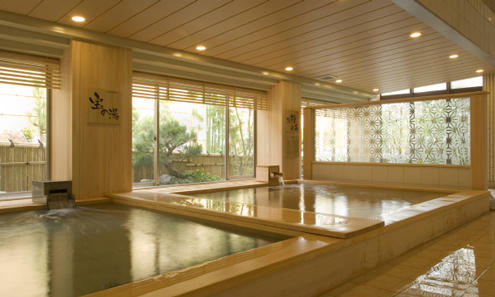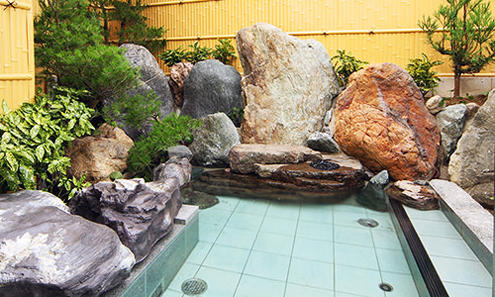 「The 30 types of baths include a bubble bath (泡風呂/AwaBuro), a cypress bath (檜風呂/HinokiFuro) and a medicinal bath (薬風呂/KusuriBuro) and there are also 8 types of saunas are available. There are many reclining seats and sofas with a TV, and there is a resting space exclusively for women and a nap room for men. Unwind from your travels and relax here.
There are areas with more than 12,000 manga as well as areas with games for kids. There is also a restaurant and an open cafe where you can enjoy authentic foods including local cuisine.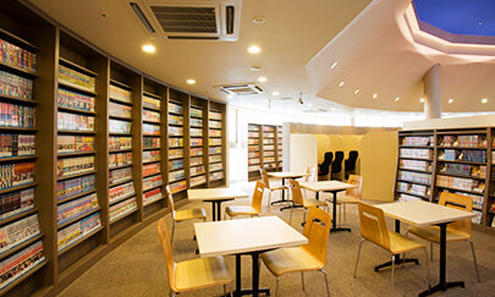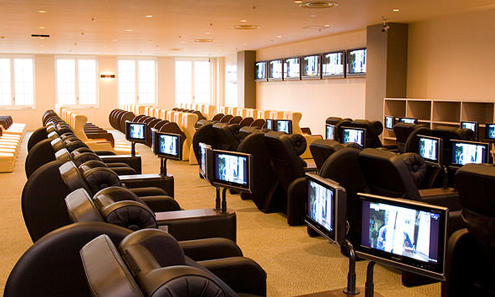 Fee
From 6 am to 2 am: Adults (13 years old and up) weekdays ¥1,760 weekends and holidays ¥1,980
From 5 pm to 2 am: Adults (13 years old and up) weekday ¥880 Saturdays, Sundays, and holidays ¥990
Late night surcharge: after 2 am: Adults (13 years old and up) any day ¥1,840
Wash Your Sweat Away in the Casual Bath.
5.Sumino-Yu (Charcoal Bath): a New Sento within a Walking Distance from Nagoya Station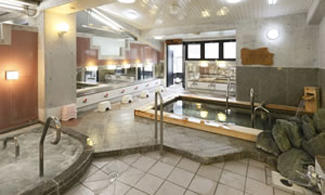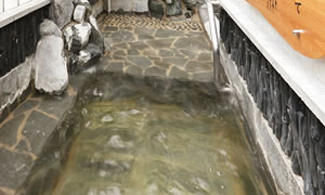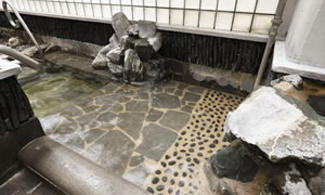 A public bath attached to a hotel with an old-fashioned atmosphere. It has been beautifully renovated. One of the great things about this bath is its convenient location; it is located within walking distance from Nagoya Station. Their charcoal bath is said to be gentle on the skin and warm because of the far-infrared charcoal.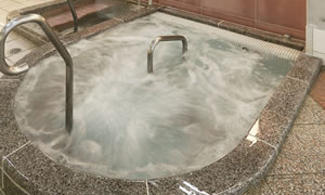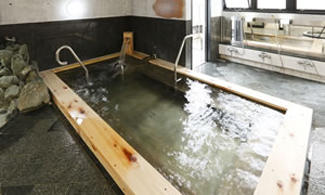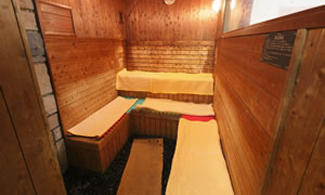 There is an open-air bath (露天風呂/Rotenburo - open-air bath) to relax in as if you were in a private space.
There is also a cypress bath (檜風呂/HinokiFuro) which has a relaxing fragrance. A Jet bath is also available as well as a galvanic bath (電気風呂/DenkiBuro) which uses a low-frequency current of electricity in the water, long loved by people in Nagoya. After taking a bath, try to place one hand on your waist, and have a cold drink with the other in the Japanese Sento style. Enjoy your Japanese experience!
Fee
Adults: ¥440
Bathing set (shampoo, conditioner, soap, and towel): ¥280

6.Bathhouse with a View: "Fu No Yu": a Bath at the Airport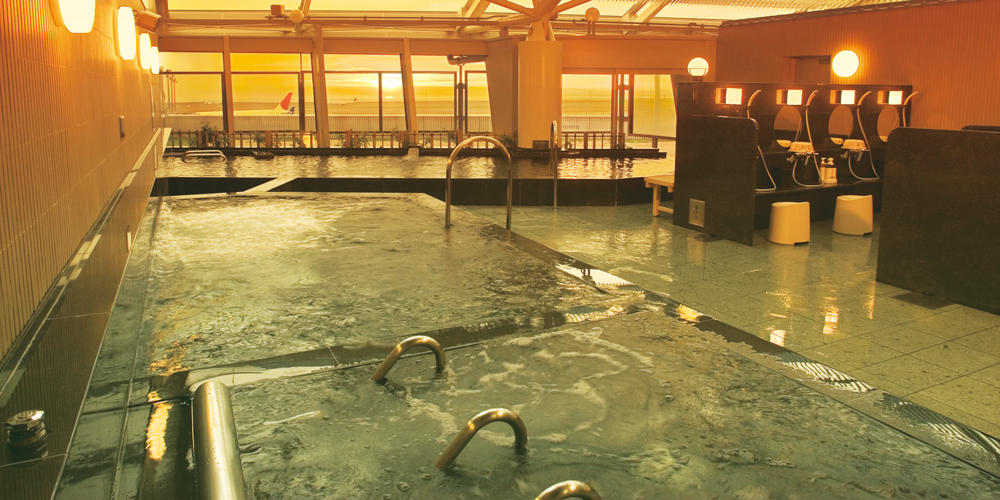 A public bath uniquely located at the airport. You can use it while waiting for your boarding. It is also popular among Japanese people because you can bathe while listening to the sound of jet engines and watching airplanes.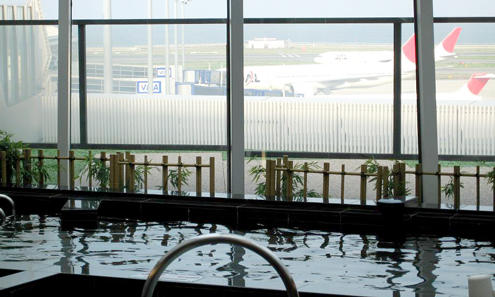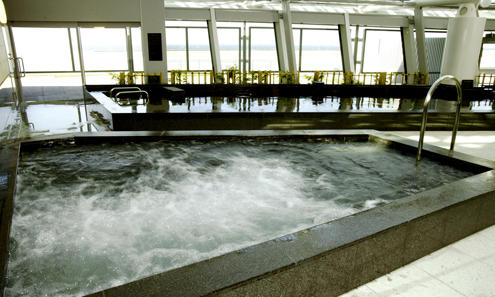 There is also a sauna, a resting space, massages, a head spa, and a restaurant. The rental fee for towels is included in the admission fee.
Fee
Adults: ¥1,030
Notice: there are some rules you should follow when using Sento or Super Sento
There are some unique rules when using Japanese public baths and super sento (スーパー銭湯/Suupaa sentou - all-inclusive public bath):
• Persons with tattoos cannot use the baths. However, some baths may permit it. Please check with the facilities.
• Completely undress before taking a bath. You can not wear a bathing suit or underwear etc. before entering the bath.
• Rinse your body with hot water and wash the dirt off your body prior to getting in the bath.
• Do not put towels in the bathtub. Don't wash your body in the bathtub.
• Do not wash your clothes etc in the shower.
• Put your wash bowl and chair back in their original places after using them.
• Wipe your body dry after your bath to keep from dripping water on the floor.
Wrap-up
We introduced 5 super sentos and 2 public baths that you can enjoy in Nagoya. Bathing is a very important part of life for Japanese people. Bathing facilies are places where you can see Japanese people going about their daily lives, you can create stronger friendships through conversation, and sometimes you can even communicate with strangers. Taking a bath will help you unwind from your travels. Enjoy the Japanese atmosphere and have a relaxing time!