| Centrip Editorial Board
Enjoy the Drive from the Airport in Your Rental Car! Aichi's Top 5 Hot Springs
In this article, we'll be introducing you to the most beautiful hot springs in Aichi. Located in the center of Japan, between Tokyo and Kyoto, Aichi is a convenient place to begin your travels. Right here in Aichi, you'll find some of Japan's most famous hot springs.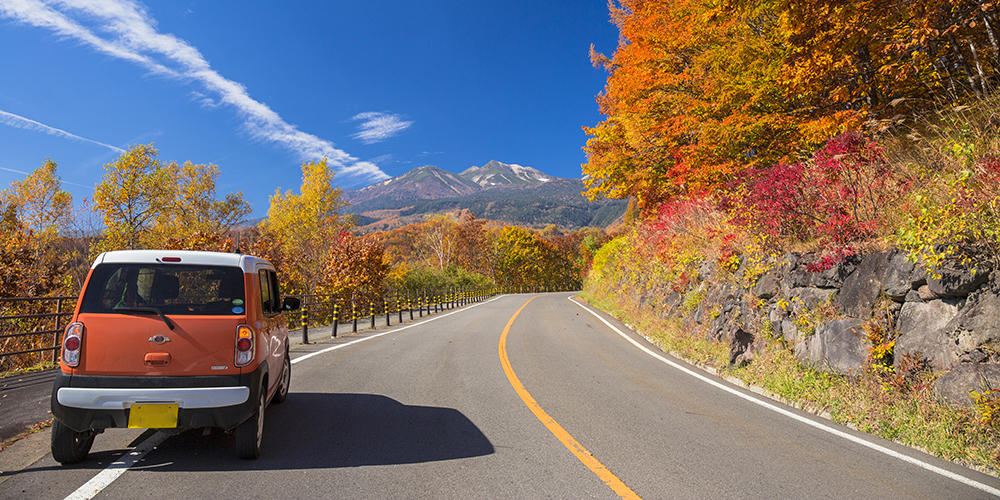 Enjoying a Drive Through Aichi
Aichi is the home of Toyota Motors and Aichi residents are quite proud of this fact. The prefecture is known for having a "car-culture". While you may think of trains when you think of Japan, if you don't have a car here, you'll miss out on a lot of Aichi's most interesting spots.
Renting a Car at the Airport Is Convenient
Renting a car at Chubu Centrair International Airport is really easy—even for foreign travelers. There's a rental counter right next to the airport and it's easy to return your car on your the day you return back home. You can use the rental car to carry all your luggage, there's no need to worry about transit connections, transporting families or large groups becomes easier and you can hit a hot spring in short time from the airport.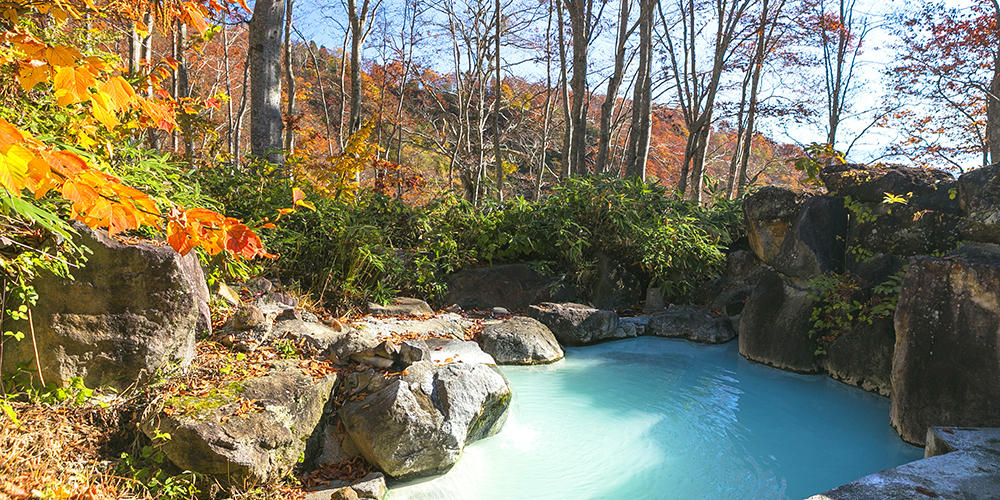 One of the great joys of traveling in Japan is the seasonal variety to be found here. The changing leaves of November and December are particularly lovely. You can definitely enjoy them as you're taking your car for a drive. Just one hour away from Centrair you'll find hot springs were you can drink Japanese saké, see the ocean and enjoy the changing colors of autumn. We've rounded up the five best in Aichi, so pour yourself a cup of something yummy and read all about them!
Quick Tip
Did you know you can look up places on your car's GPS by phone number? Just press one of the red "Spot Info" buttons to check phone numbers.
1. Take a dip in the naturally radon-infused waters of Sanage Hot Spring. (Toyota, Aichi)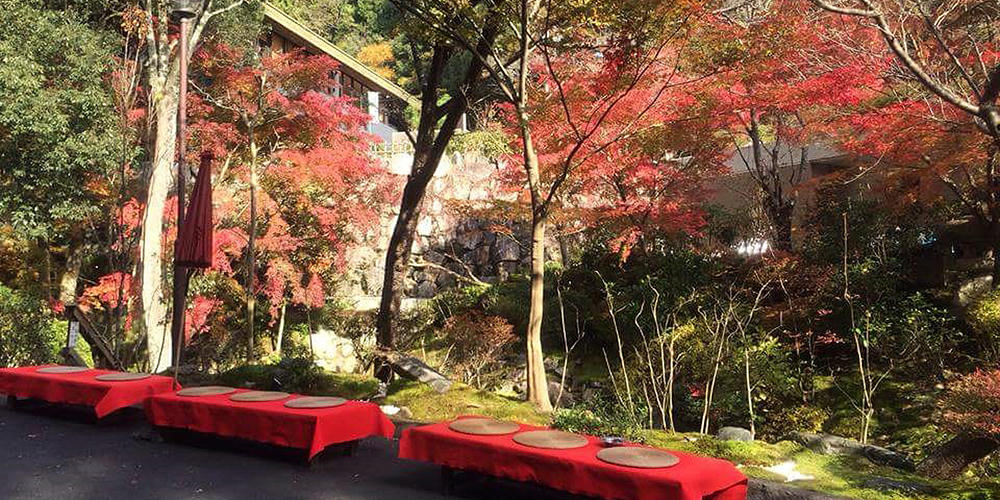 Credit :愛知県の公式観光ガイドAichi Now
There is a picturesque hot spring area at the foot of Mt. Sanage located in Aichi Kōgen National Park. The park contains radon hot springs, which are quite rare in Japan, and the trace amounts of radon in the water is said to have numerous health benefits including increased metabolism and immune function. These waters are also rare for hot springs in that you can drink them.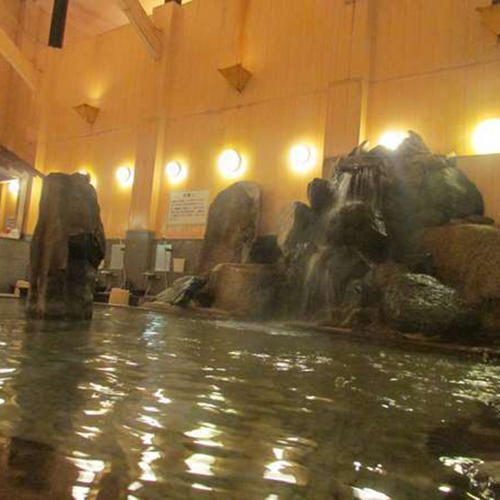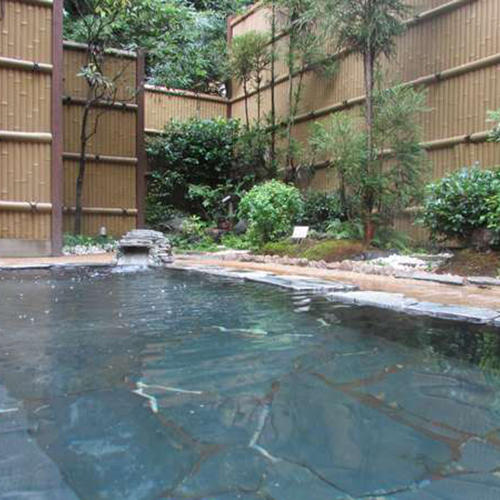 The source of the hot springs lies 1200 meters below the surface and has received the nickname "Medical Water" due to its healing properties. Many people gather at these hot springs to take a dip in the water and also take a drink in order to rejuvenate themselves.
Hot Spring Quality & Health Benefits
Radiated Hot Spring (Radon Water)
Hyperuricemia (gout), articular rheumatism, Ankylosing spondylitis, nerve pain, back pain
How to get there
About 1 hour (66km) from Centrair by car
Kourankei—Tokai's #1 Place for Autumn Leaves
About 20 minutes on the Sanage Green Road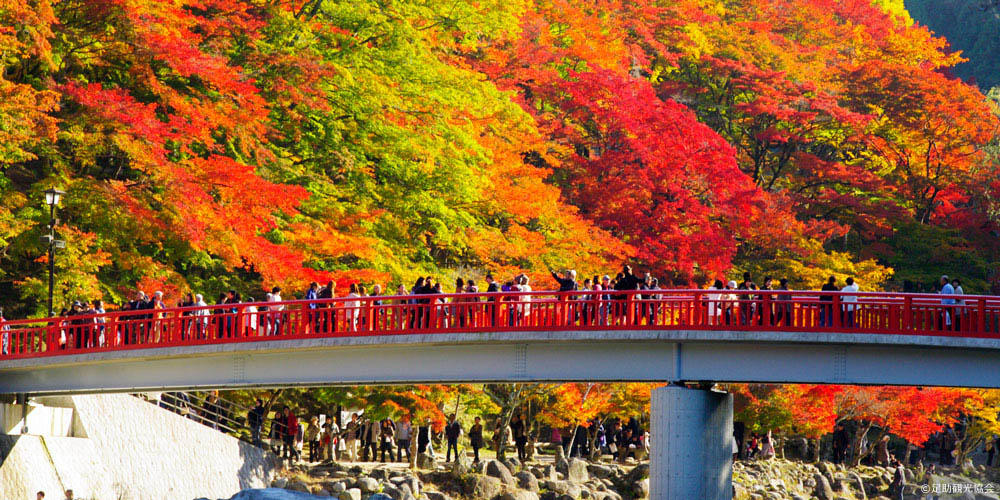 Located in the corner of the Aichi Kogen National Park is a valley created by the Yahagi River Rio Tributary. When you think about famous spots to check out the leaves in autumn, Kourankei is first in everyone's mind. You'll find 4,000 trees consisting of 11 different types that paint the landscape in gorgeous yellow and crimson.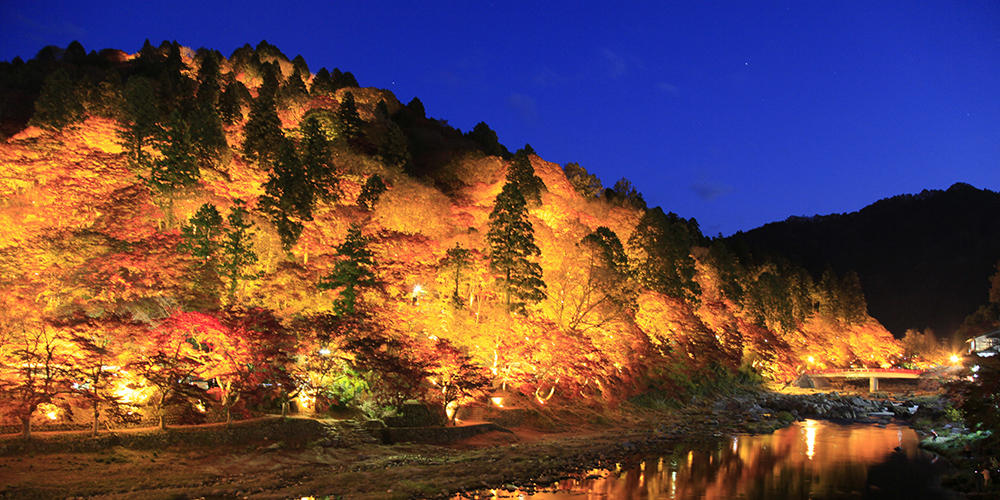 Credit: 足助観光協会
The best time to visit Kourankei is November. The mountainside is lit up until 9PM each night, but even in the afternoon it's a gorgeous place to be and you can get a lovely view of Kourankei's symbol—the Taigetsukyou [Samurai Moon Bridge].
2. A Relaxing Hot Spring Village in the Green of Mt. Sangane
Katahara Hot Spring (Gamagori, Aichi)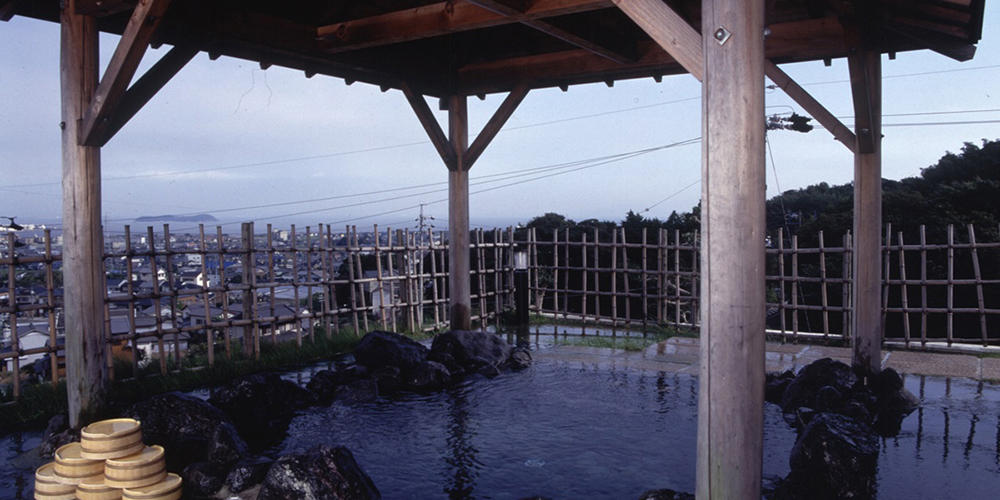 The quiet and relaxing Katahara Hot Spring, far from the hustle and bustle of the city, is nestled in the Sangane Skyline and from here, you can look out over Mikawa Bay.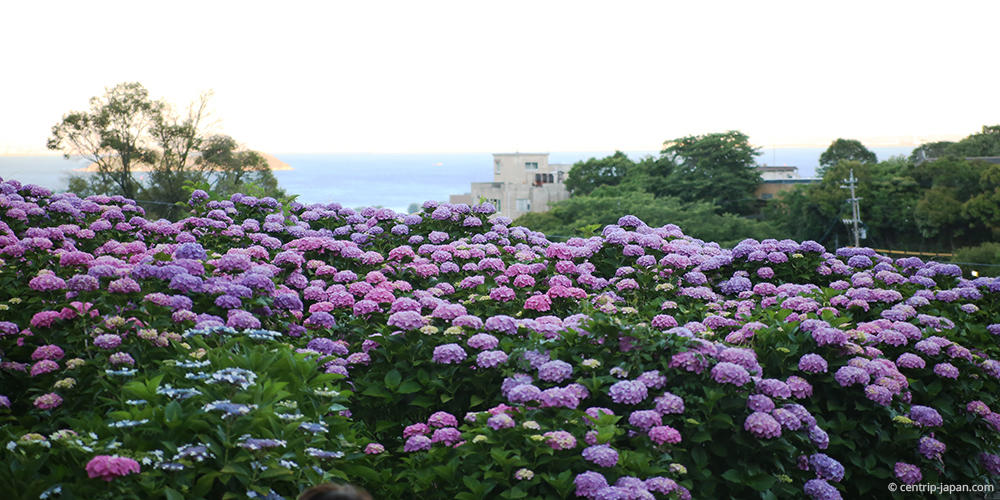 From long ago, its water have been famous for their smoothing effects on the skin and have been called "Beauty Water" by the locals. In June of each year, the area's hydrangeas are in full bloom and the area became known as "Hydrangea Village".
Hot Spring Quality & Health Benefits
Pure Hot Spring, Sulfur Pool
nerve pain, rheumatism, intestinal pain, menstrual pain
How to get there
Around 1 hour (44km) from Centrair by car
Hodaji Temple—A hydrangea paradise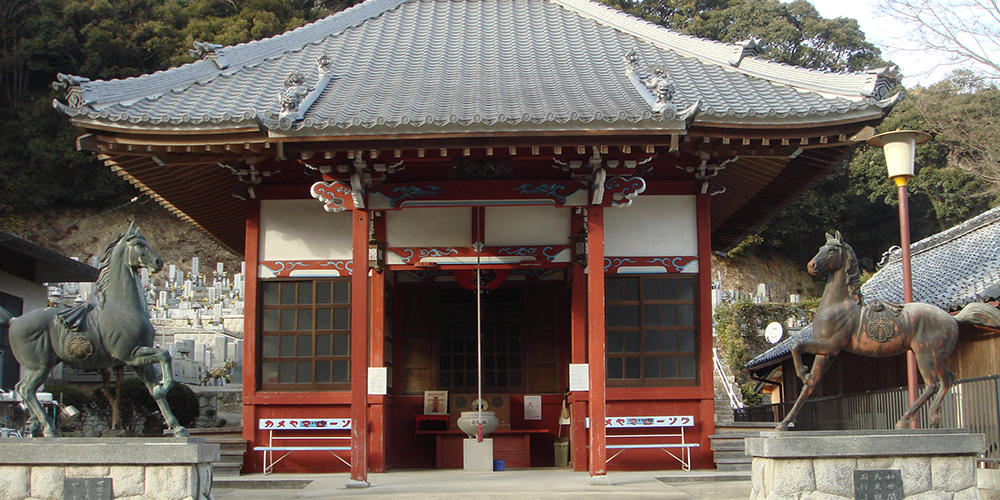 If you come to Katahara Hot Spring, be sure to visit Hodaji Temple!
Around 500 years ago, a priest of Hodaji Temple found Katahara Hot Spring and the temple became the spring's keeper. The area is famous for its hydrangeas with about 50,000 blooming there in great concentration. The temple welcomes about 80,000 visitors per year.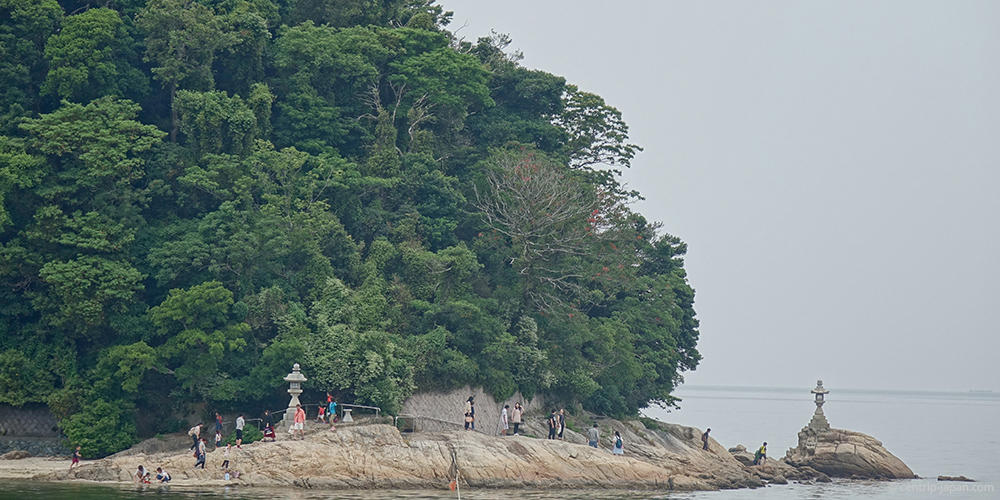 From Katahara Hot Spring, Takeshima is just 5 minutes (5km) away by car. It's a nice spot to get close to the ocean and after you've gone to the sea, you can relax in the hot spring back at Katahara.
3. Look out over the sea with a 360° Panorama from this Hot Spring Town That's Beloved Poets
Nishiura Hot Spring(Gamagori, Aichi)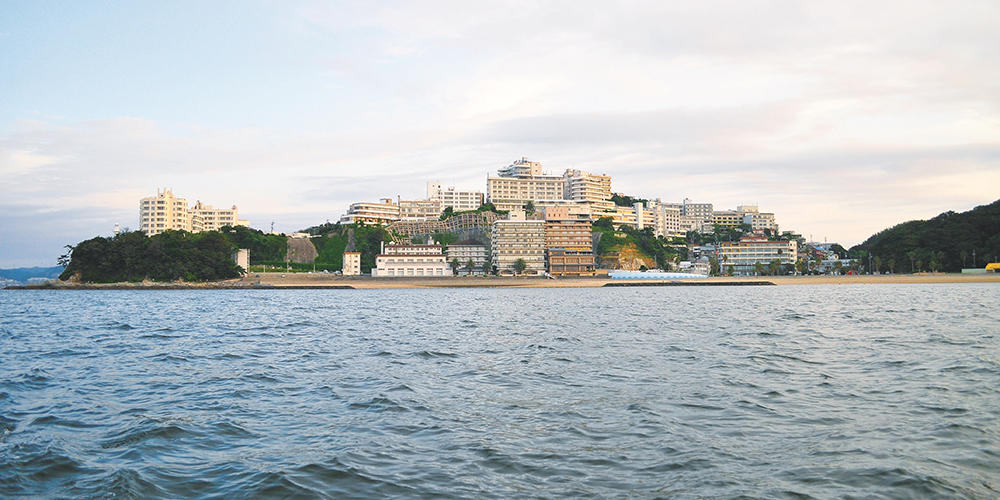 Credit: 西浦温泉観光協会
Interested in looking out over the sea while enjoying some time in a hot bath? Nishiura Hot Spring is a resort area where you can look out over Mikawa Bay and where all the hotels have superb views.
Situated on the tip of the Nishiura Peninsula, Nishiura Hot Springs has been a popular spot for a while with many poems written about it. To celebrate the 50th anniversary of the opening of hot springs in 2006, there was a statue erected in town for luck and prosperity. The area is popular with summer guests fresh from swimming in the nearby sea and when summer ends, you can still enjoy the hot baths while you look upon the autumn splendor.
Hot Spring Quality & Health Benefits
Alkaline Hot Spring, Iron Pool
Cuts, Chills, Nerve Pain, Muscle Pain, Joint Pain, Hemorrhoids
How to get there
Around 1 hour 40 minutes (96km) from Centrair by car
A grand view to enjoy!
Manyo Road—Morning Bell Hill (Hope Bell)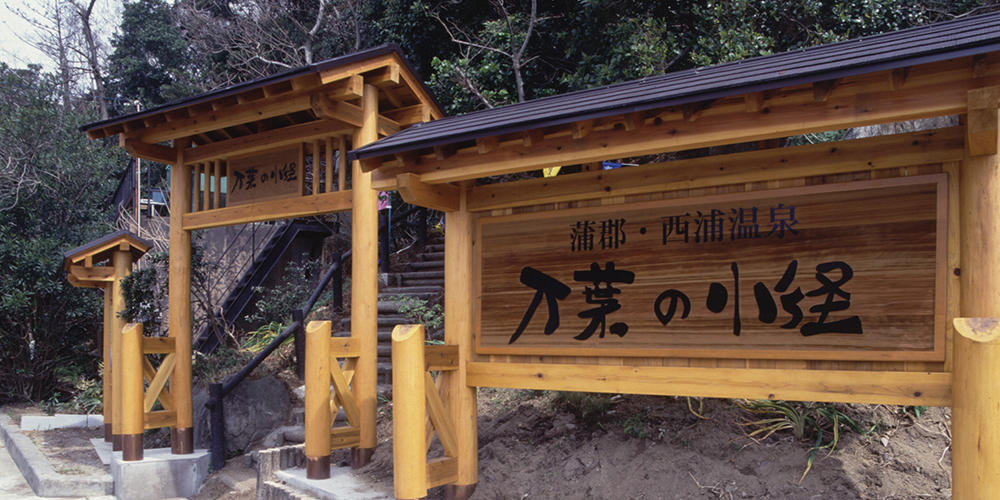 Right next to Nishiura Hot Spring Palm Beach is the Manyo Road. It's a short road with a length of about 500 meters that passes through Inamura Shrine. The road was made famous by manyo poets espousing the beauty of Mikawa Bay in their works.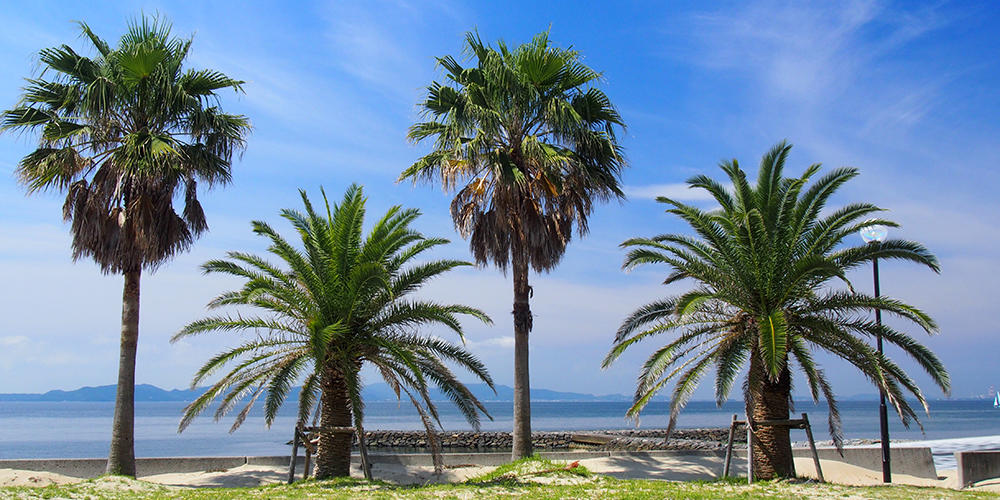 Along the way, you will find the observation deck built in honor of the 50th anniversary of the hot spring's opening and a hill that sparkles in the morning light. Atop this hill sits the "Hope Bell", one of the three "wish" bells in Gamagori. Ringing this bell is said to bring good luck in business and health. It's also a great place to look out over Mikawa Bay and see the sunrise out over the ocean. If you ring this bell, you're sure to have good luck.
4. Yuya Hot Spring—A 1300-year-old hot spring (Oku Mikawa/Shinshiro)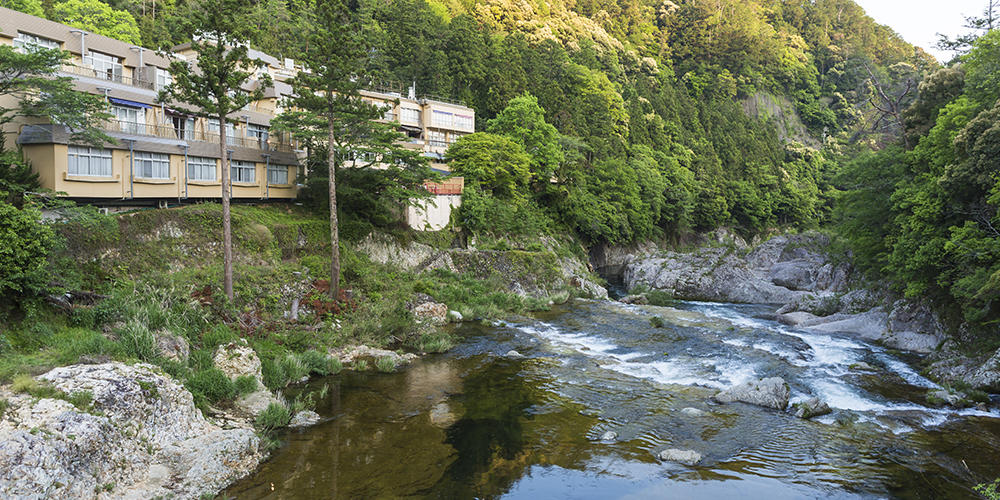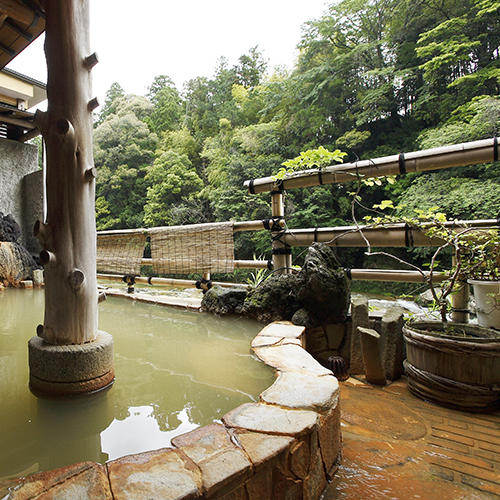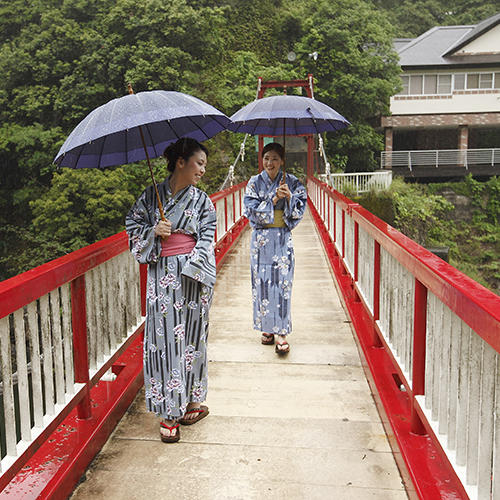 The dark brown waters of this hot spring make it a very rare pool indeed!
The source of Yuya Hot Spring is Mt. Ryozen and Mt. Horai and its waters have been said to have 10,000 healing effects since days of old. The hotels that line the Itajiki River are great for both overnight stays and day-trips alike. Take a dip in its dark brown waters and enjoy the scenery.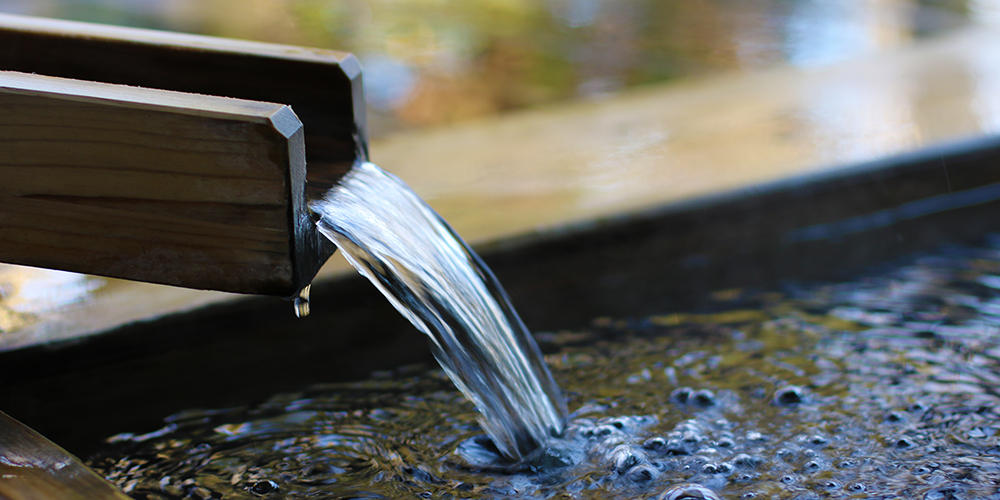 There is also a free-to-use foot spa located the entrance to the hot spring village's main street. It's wonderful to dip your feet in while you're out for a stroll.
Hot Spring Quality & Health Benefits
Sodium and Calcium Chloride Hot Spring weakness, cuts, burns, skin conditions, rheumatism, menopause, menstrual pain
How to get there
Around 1 hour 40 minutes (111km) from Centrair by car
Enjoy the autumn leaves at this awsome spot! Mt. Horaiji—The whole mountain is a place of great beauty!
About 10 minutes using Route 439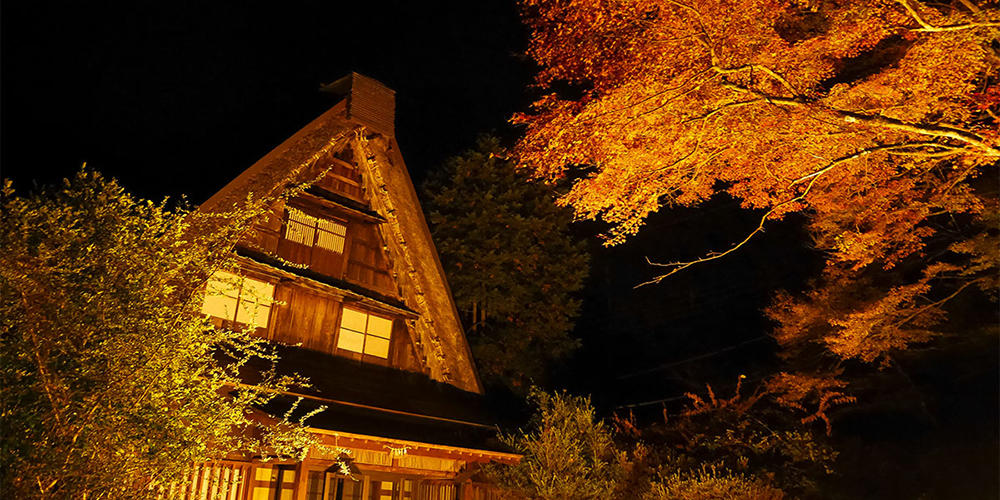 Credit: 愛知県の公式観光ガイドAichiNow
I would definitely include Mt. Horaiji in the list of Aichi best places to see the autumn leaves.
Halfway up the side of Mt. Horaiji sits the ancient Horai Temple . The whole mountains is designated as a nationally-recognized nature preserve and it's a treasure trove of natural beauty. There are trees well over 800 years old and Japan's tallest "umbrella" cedar tree. As you climb the mountain, stone by stone, a world of relaxation and refreshment await.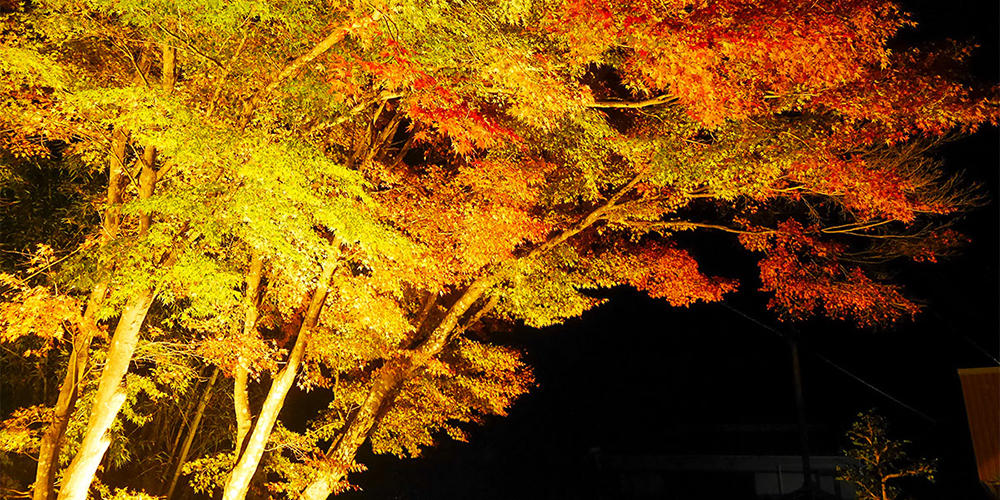 The best time to see the autumn leaves here is the middle of November. Horai Temple will host an autumn leaf festival from November 7, 2018–November 30. While you're there, be sure to try the charcoal roasted goheimochi [roasted glutinous rice smeared with a sweet sauce].
5. Minami Chita Hot Spring—Just 30 minutes from Centrair (Chita, Minami Chita, Aichi)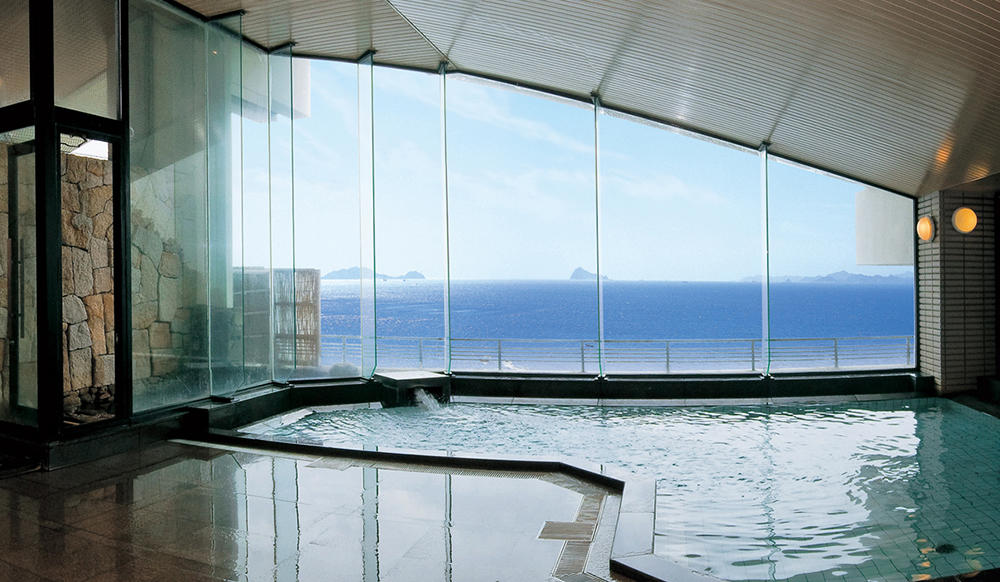 Credit: 愛知県の公式観光ガイドAichiNow
How about one more hot spring before your journey home? There's a famous beachside hot spring that's really close to Centrair called Minami Chita Hot Springs!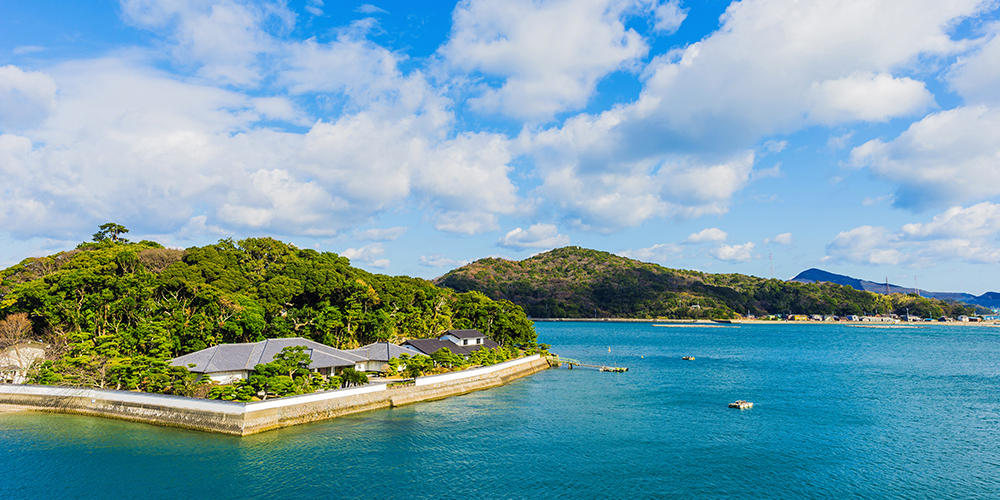 You'll find yourself holding your breath as the sun goes down and paints Ise Bay in red it's so beautiful. In addition to being a spot where you can see all of Ise Bay, there are also a lot of fresh seafood restaurants and shopping spots here. It's close to Centrair, easy to get in and out and it's beautiful. As a final memory for your trip to central Japan, you can't beat the beach and a hot spring!
Hot Spring Quality & Health Benefits
Sodium and Calcium Chloride Hot Spring weakness, cuts, burns, skin conditions, rheumatism, menopause, menstrual pain
How to get there
About 30 minutes (35km) from Centrair by car
Enjoy the autumn leaves at this awesome spot!
See the Mihama Orange Line Maple Tunnel!
About 10 minutes from the Minami Chita Road Mihama Interchange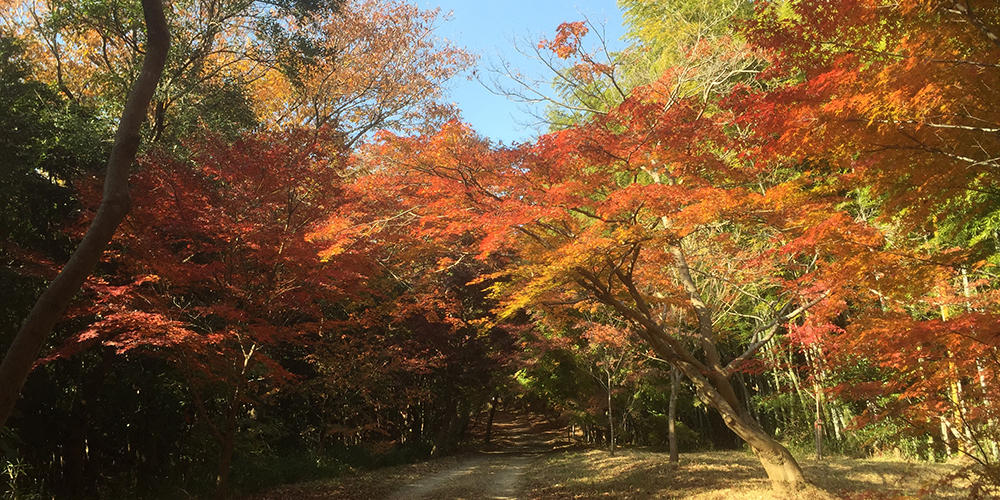 Credit: 美浜観光協会
Stretching 11km and spanning the edges of Ise Bay and Chita Bay is a hiking course with a special spot called the Autumn Leaf Tunnel. The best time to visit this area is the middle of November. On a clear day, you can see both Ise Bay and the Suzuka mountain range along with a vast amount of natural beautiful and enjoy some great bird watching.
Sponsored by Chubu Centrair International Airport