| Willow Lu
An Invitation from the Hydrangeas in June
The season of the plum rains in Japan always reminds me of the city in southern China where I was born, with the smell of the earth filling the air. It is always the colorful hydrangeas blooming in the corner of paths which keep me in a cheerful mood.
The character used for hydrangea in Chinese means "Hope". But in the same way that it changes its color with the pH of the soil, in Japan it is much more like a lovely but unpredictable girl who changes her mood every day.
It is not only on the paths where we can see hydrangeas. Sometimes they bloom all over the mountains and plains, just like in a fairytale world.
When you travel in this area, there are some dreamlike hydrangea spots which can be reached easily by public transportation. In this article, I will introduce you to the unique characteristics of the lovely hydrangeas there.
Wanna post some impressive photos on social media? Head to Mimo Shrine!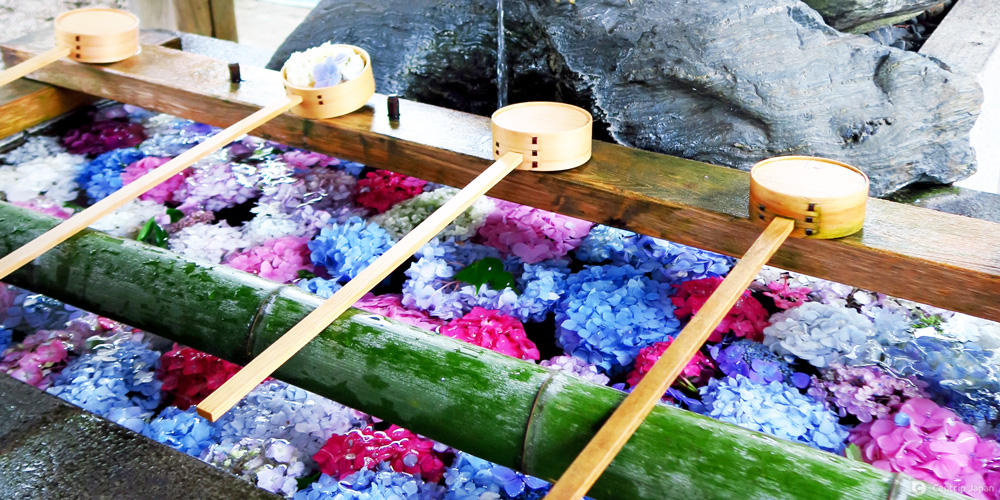 Mimo Shrine in Ichinomiya-shi, Aichi, blew up on social media recently because of "Temizuya" (a Shinto water ablution pavilion for a ceremonial purification rite known as temizu) that's full of colorful hydrangeas.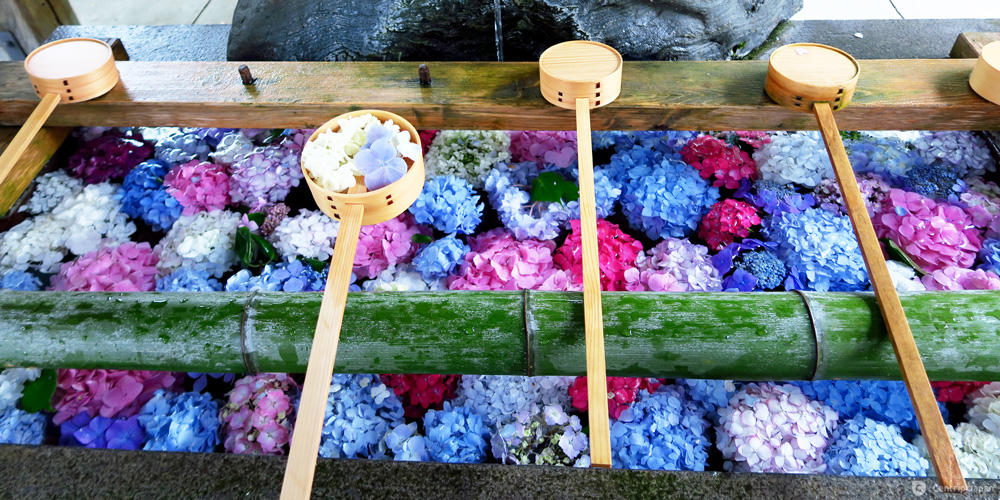 Visitors can wash their hands in front of the shimmering hydrangea pool. This place is so beautiful that it's no wonder that pictures with the Temizuya keep popping up on social media. Your best bet is to check out the photos others have uploaded to get an idea of what kind of shots you can get.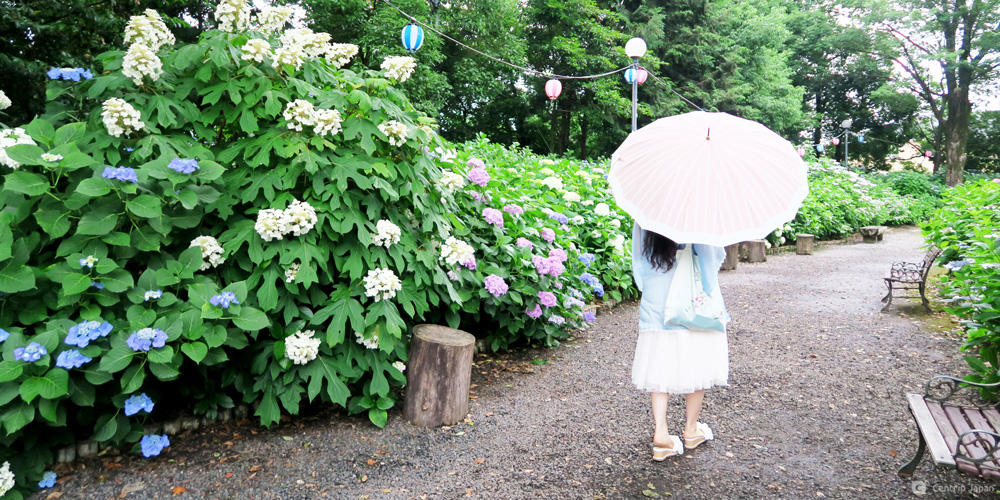 Mimo Shrine has about 70 species of hydrangeas, totaling around 8,000, and is home to the "Bisai Hydrangeas Festival (Bisai Ajisai Matsuri)" every year. The festival includes events such as lighting installations, a hydrangea seedling market, and tea rooms. For 2022, the festival runs from June 11th–12th.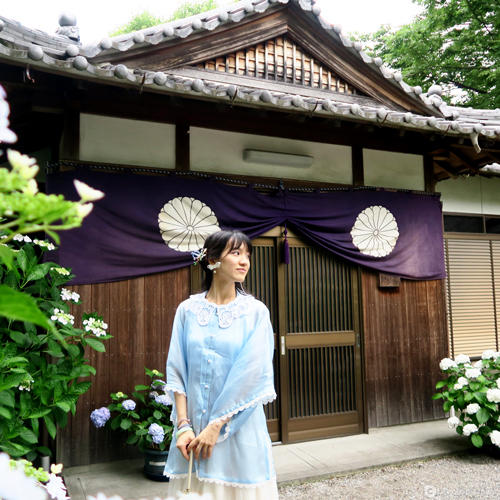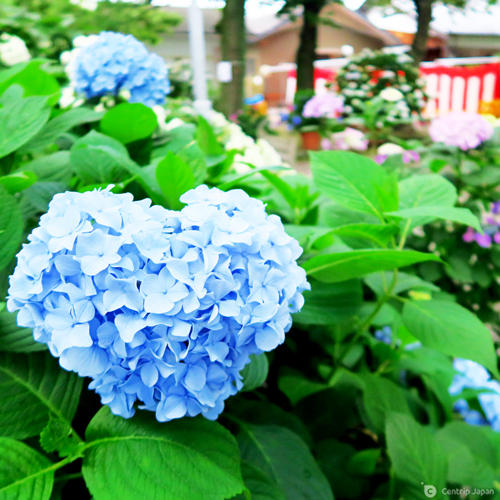 It's not just the hydrangeas that are beautiful, but also the architecture of Mimo Shrine. Lucky visitors to the shrine might even find a heart-shaped hydrangea. If you can't find one, the helpful staff will be happy to help!
Rainy day: the hydrangeas in Otsuka Shokaiji Temple
After taking a 15 minute train ride from Nagoya, we will arrive at Inazawa, a small city with few claims to fame. However the Inazawa Hydrangea Matsuri (稲沢あじさいまつり), which is organized by Otsuka Shokaiji Temple (大塚性海寺) from June 1st every year, is a popular event in central Japan. Because of this event, some people even call Otsuka Shokaiji Temple "Hydrangea Temple".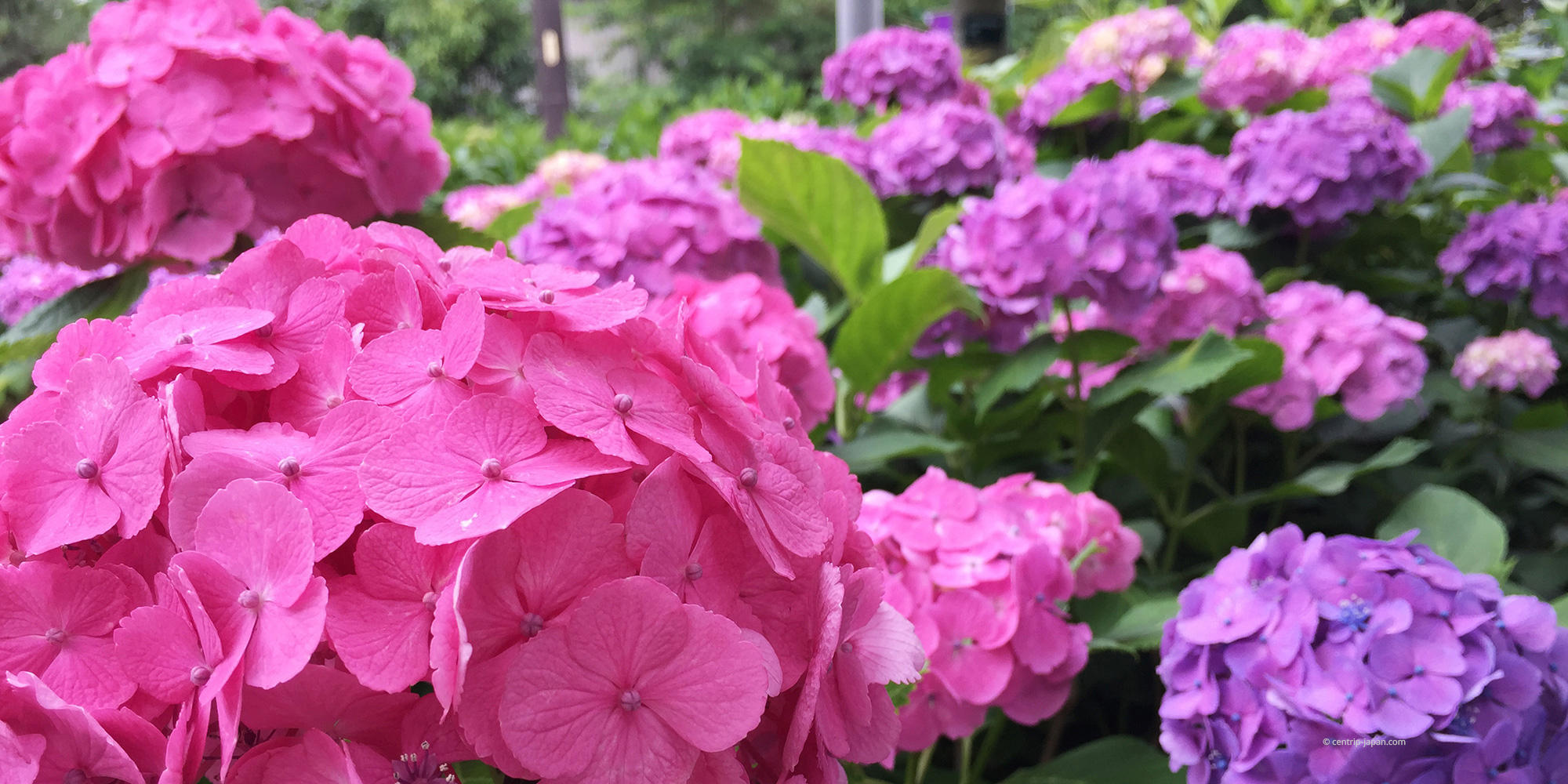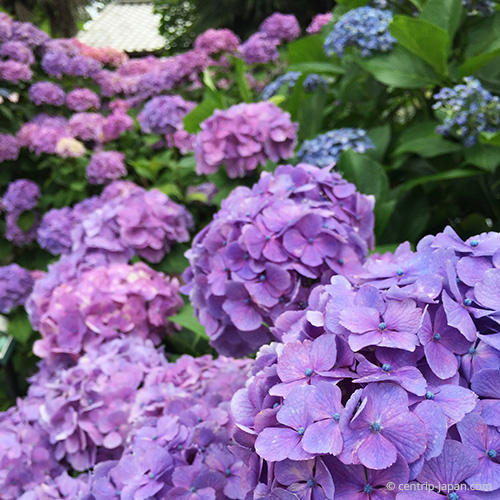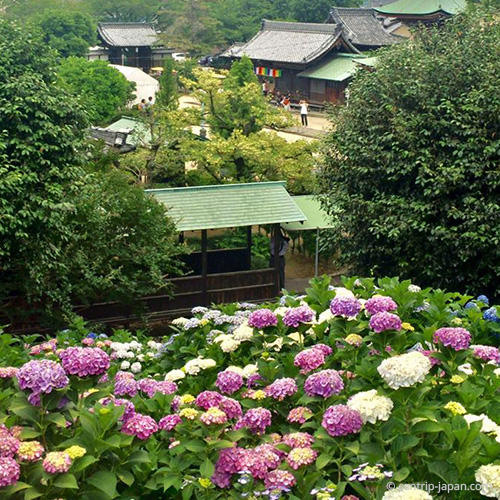 Shokaiji Temple has maintained various cultural properties. You can enjoy culture, history and nature blended into a harmonious whole.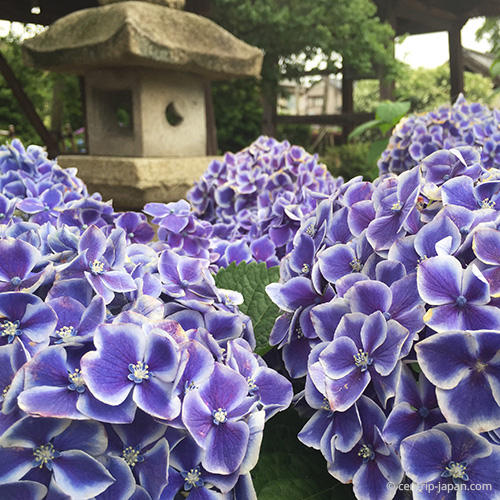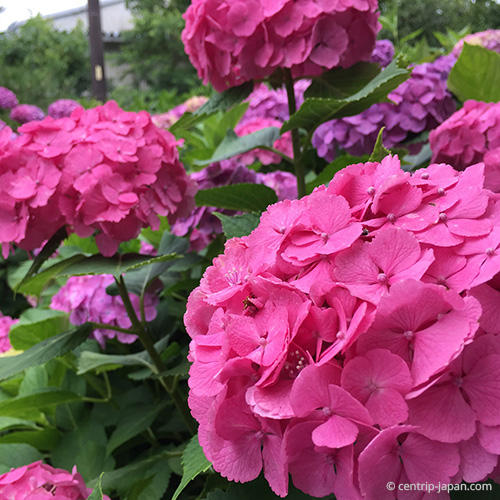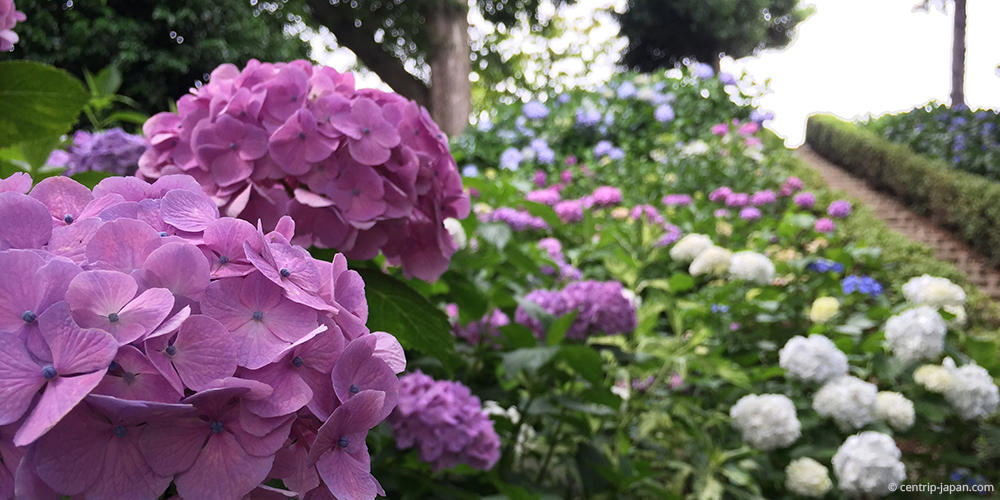 The main hall, pagoda and Taho-pagoda are important cultural properties of Japan. As well as these, there are many important cultural properties of Aichi prefecture and Inazawa city. If you prefer to enjoy the beauty of hydrangeas in a temple setting, Shokaiji Temple will be a good choice.
Sunny day: the hydrangeas in Chayagasaka Park
Chayagasaka park (茶屋ヶ坂公園) in Chikusa ward, Nagoya is the biggest resort where you can see hydrangeas.
After walking 5 minutes from Chayagasaka subway station, we arrive at the entrance to the park. The pond and grove here will give you that "back to nature" feeling. Isn't it surprising to find such a green, relaxing park in the center of downtown?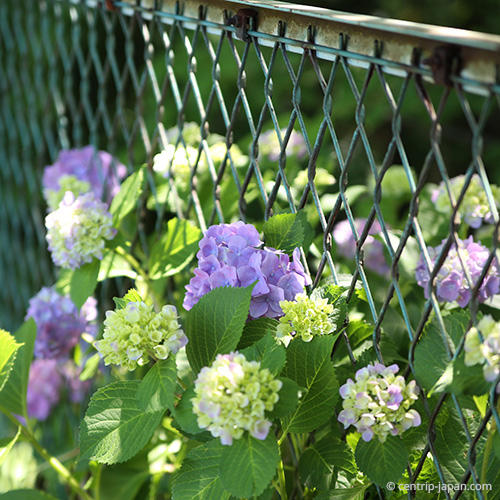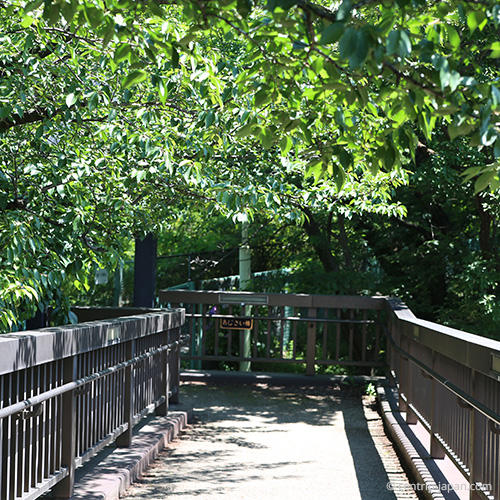 Crossing a bridge named Ajisai Hashi(あじさい橋), and following a road, you will find a "sea of hydrangeas". As far as the eye can see, it is nothing but hydrangeas. There are no words to describe how amazing it is.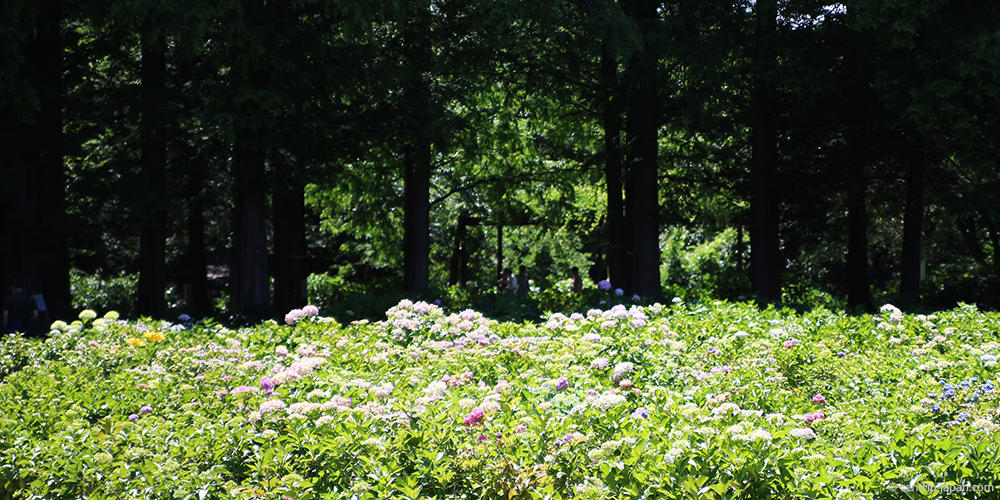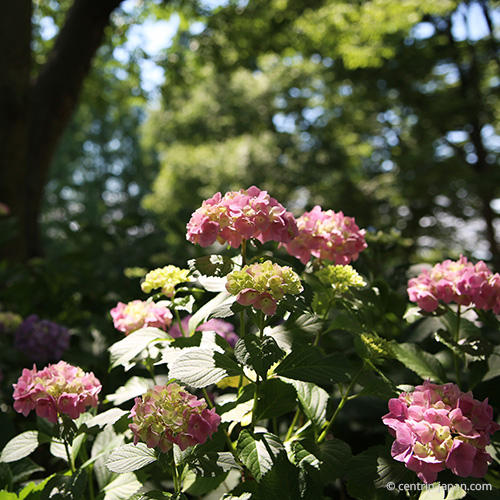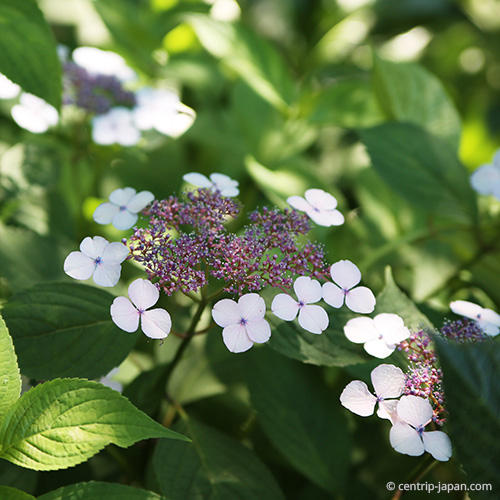 According to the information, there are more than 4000 hydrangeas. This sea of hydrangeas, which is so magnificent, makes the park feel more like the ones in Europe than in Japan. If the weather is good, we can meet some artists drawing pictures.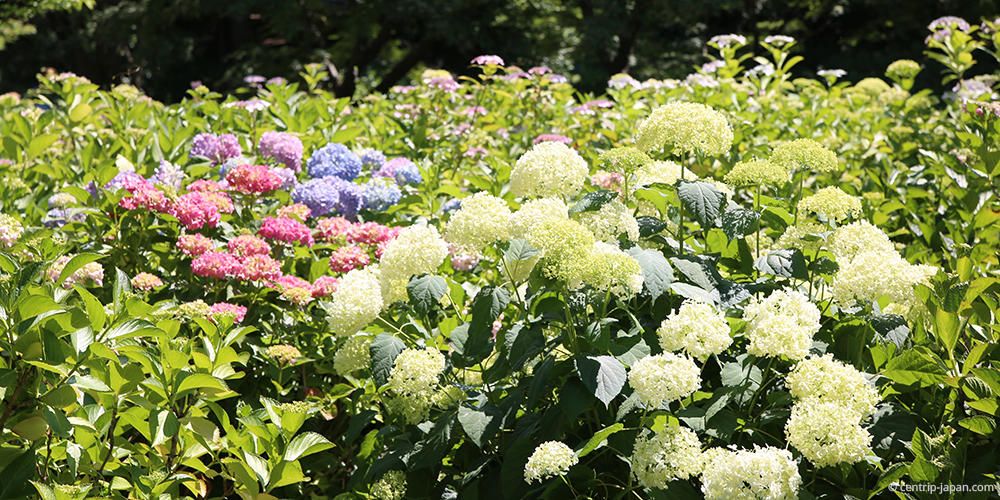 Evening: the hydrangeas in Katahara Onsen
At Katahara Onsen (形原温泉) in Gamagori city, Nagoya, there is a hydrangea town. Not only can you enjoy good views of hydrangeas and the bay, but you also can take part in the lighting-up event which is held every June evening.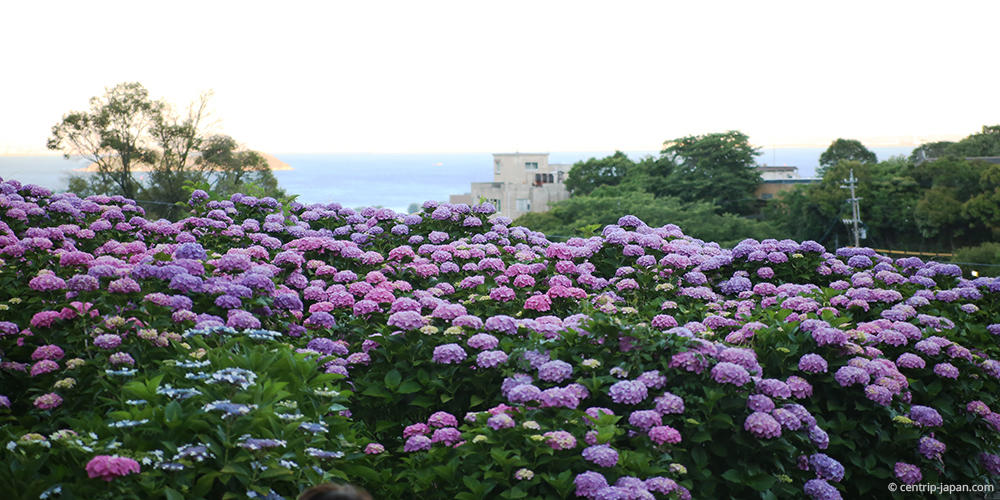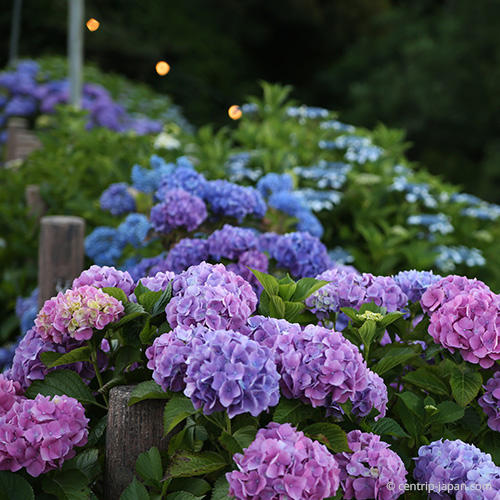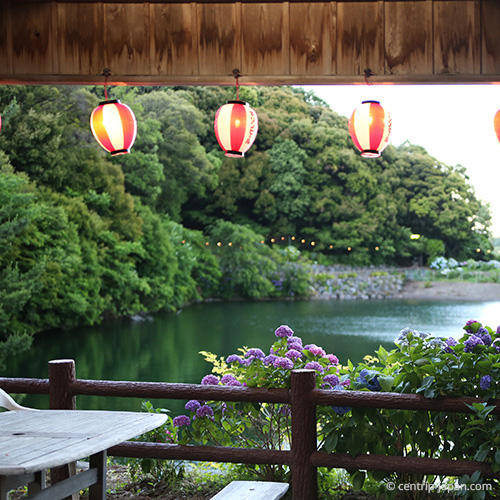 There are over 50000 hydrangeas. Starting from one point on the hill, all the way to the top, hydrangeas are everywhere. You will probably also find many photographers looking at the hydrangeas. Hydrangeas are always an inspiring topic for them.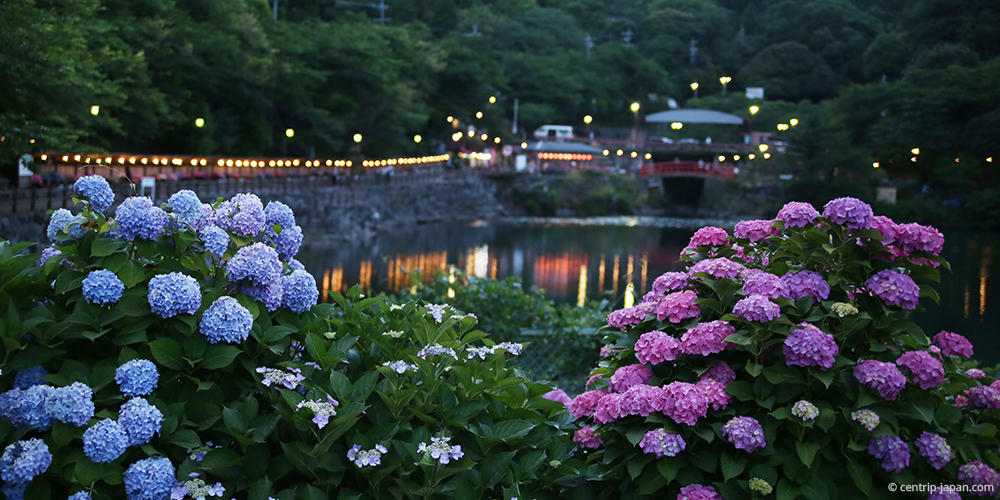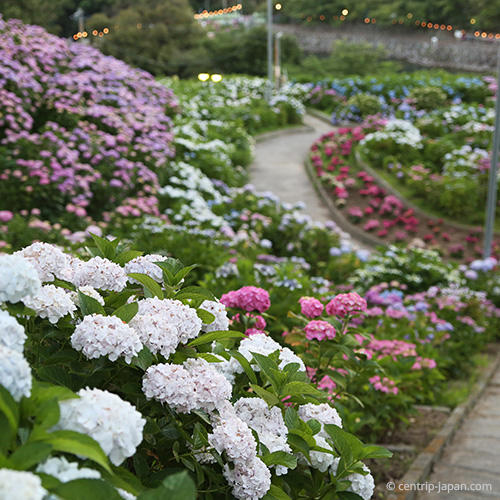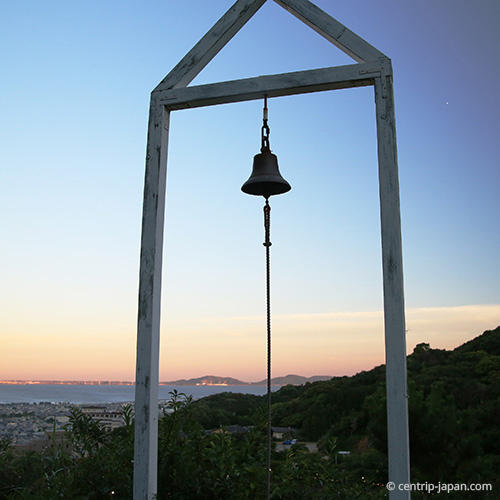 With the hazy light on the lake, melodious Japanese music and fragrance of the dango (だんご, Japanese dessert made of rice) coming from the surrounding houses… it is just like a scene to signify the opening of summer. If you are lucky enough, you can even find fireflies. Walking up from the foot of hill, ringing the lovers' bell on the top while standing inside the sea of hydrangeas - don't you think this is such a romantic summer scene?
A Closer Choice: Tsurumai Park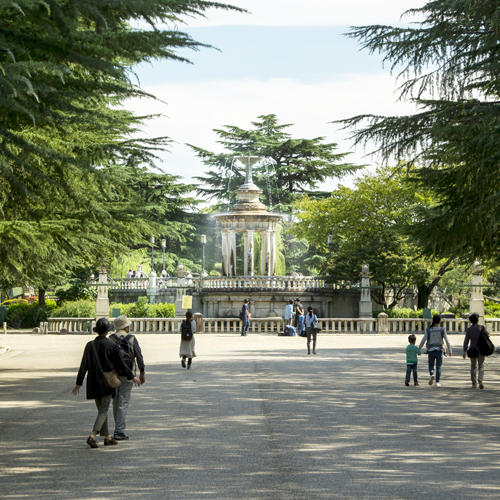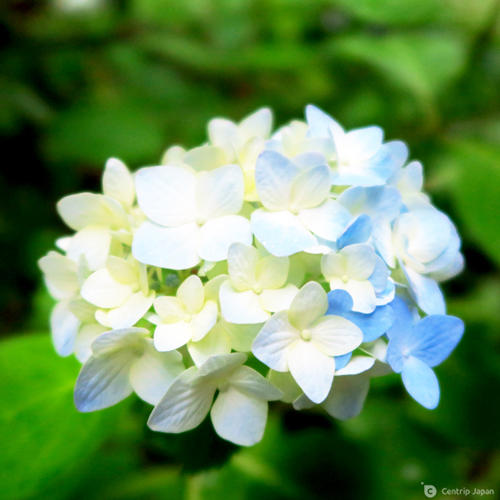 To get to Tsuruma Park, it's just a seven-minute subway ride from Nagoya Station, which is a popular spot to see cherry blossoms in bloom. It is also a great place to enjoy hydrangeas.
In the southern section of Tsuruma Park, there is a road near the baseball field named Hydrangea Walkway. 2,300 hydrangea flowers bloom here during the month of June.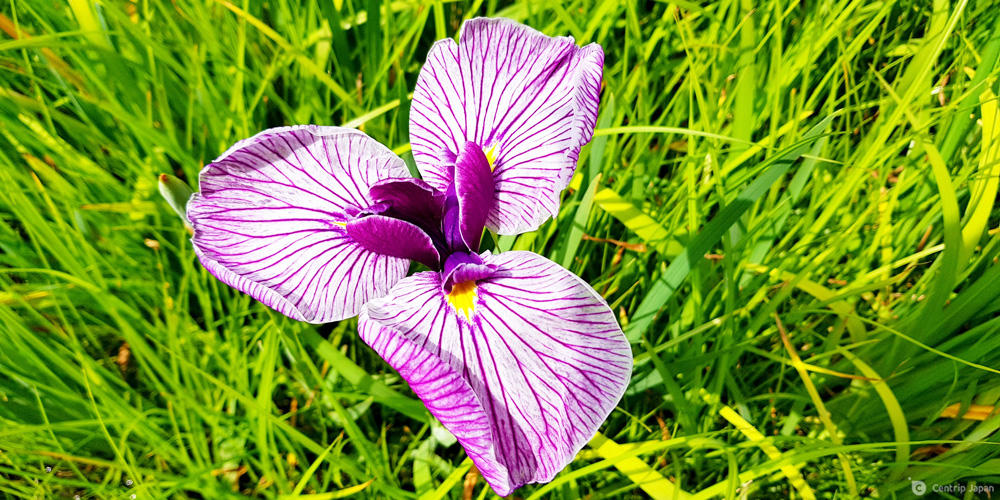 Japanese irises also bloom here at the same time. Enjoy the magnificent site of 20,000 Japanese irises alongside the hydrangeas!
Although there are fewer hydrangeas in Tsuruma Park compared to other places, because of Tsuruma Park's location, it is still a good choice if you want to enjoy the hydrangeas without spending a lot of time getting to them.
Even if it is during the plum rain season, we hope the hydrangeas in central Japan can still bring you some special pleasures.