| Centrip Editorial Board
Gamagori: Nagoya Day-Trip Sightseeing Series 9
Gamagori
Gamagori is one of the largest hot spring areas in Chubu. In addition to hot springs, you can visit the beautiful scenery of Takeshima, go fruit picking, experience traditional arts, and see the fantastic nighttime lights of Lagunasia. Gamagori has many opportunities for sightseeing.
The route from Chubu International Airport is also very scenic.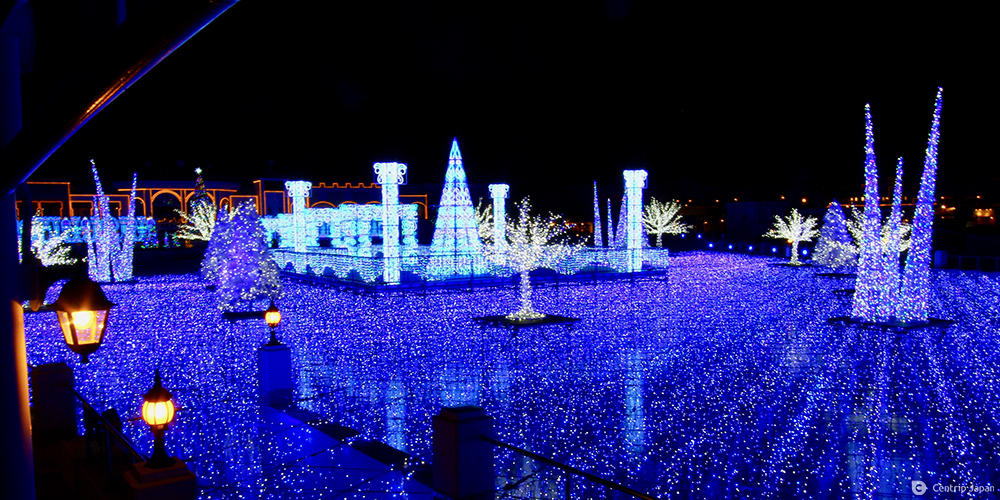 How to get to Gamagori from Nagoya
If you are taking the train from Nagoya to Gamagori, take the JR Tokaido Line Rapid Express from Nagoya Station and you'll get there in about 40 minutes and best of all no changing trains. The total cost comes to ¥990.
Going by car is easy too. There are many scenic routes you can take, so we recommend picking up a rental car at the airport or in Nagoya and taking a drive down to Gamagori.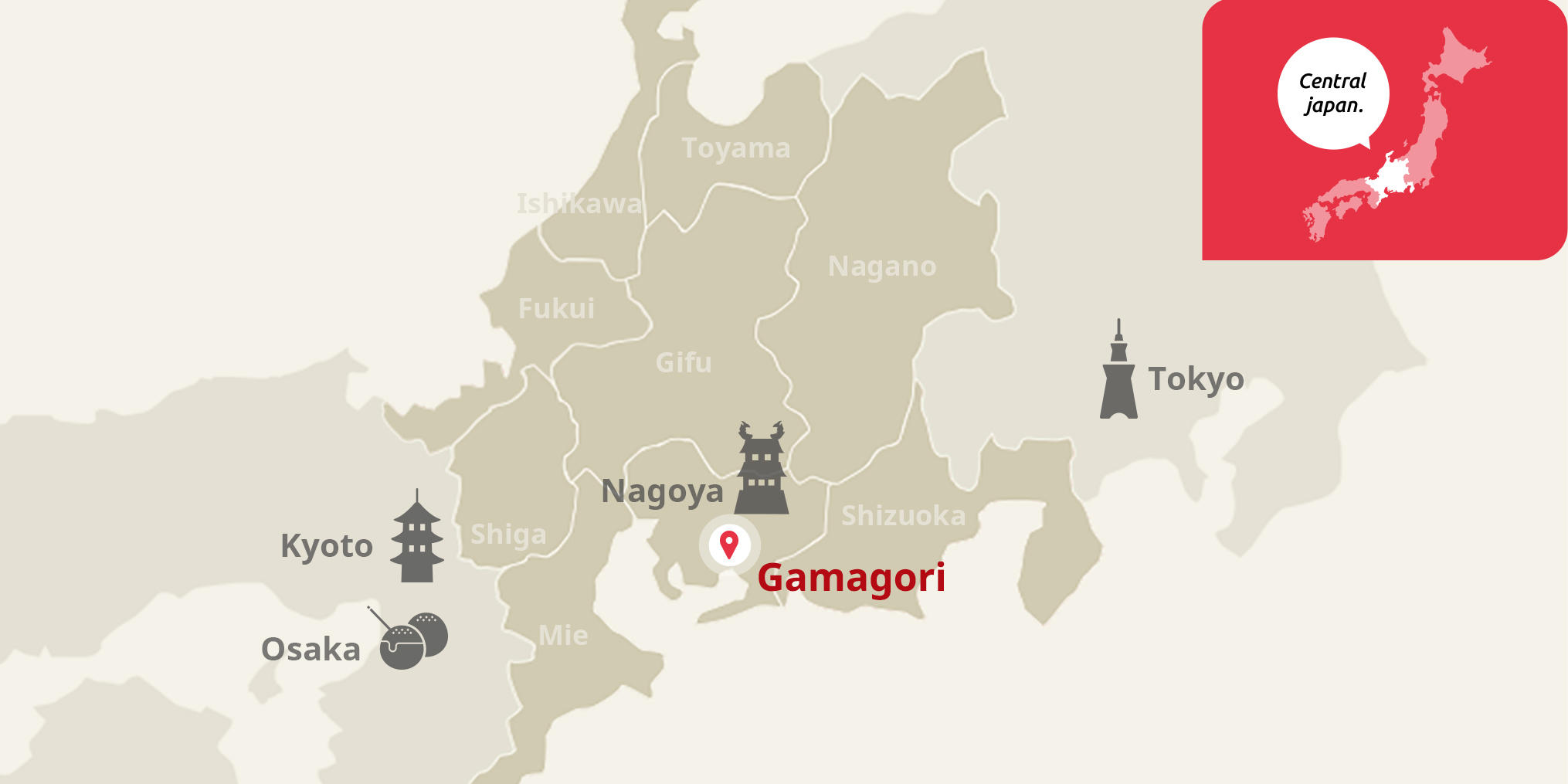 Gamagori Sightseeing Day Play
Gamagori Station and Navi Terrace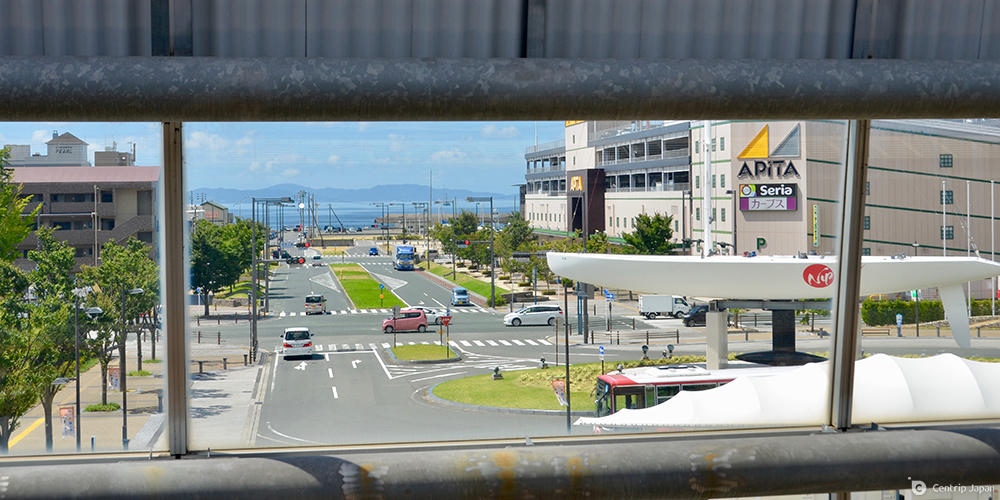 After stepping off the train at Gamagori Station, stop and take in the ocean view from the train platform and feel the atmosphere of the seaside city of Gamagori.
After exiting out the ticket gate, you'll see the tourist information center called Navi Terrace.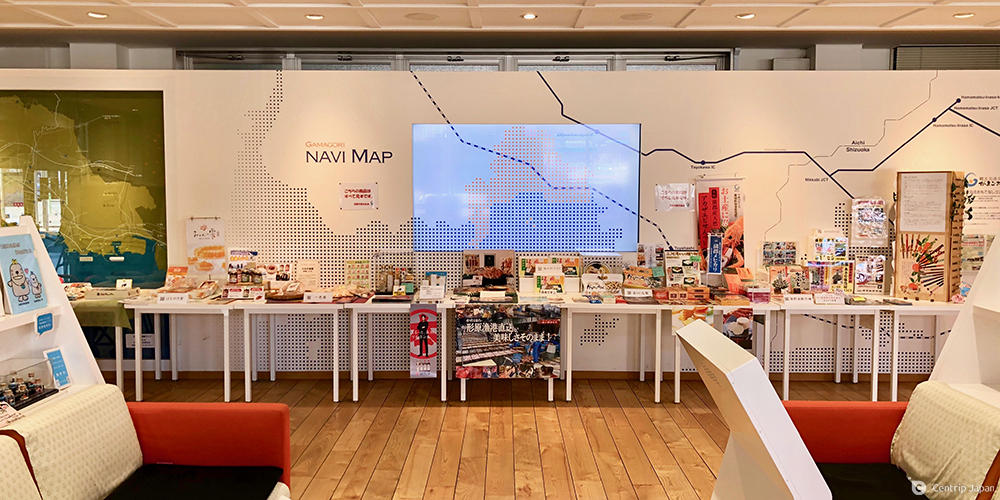 Navi Terrace is for tourists to Gamagori and opens from 9:30 am to 4:30pm. The terrain in Gamagori is very hilly, so e-bike rental is recommended for all the uphill rides.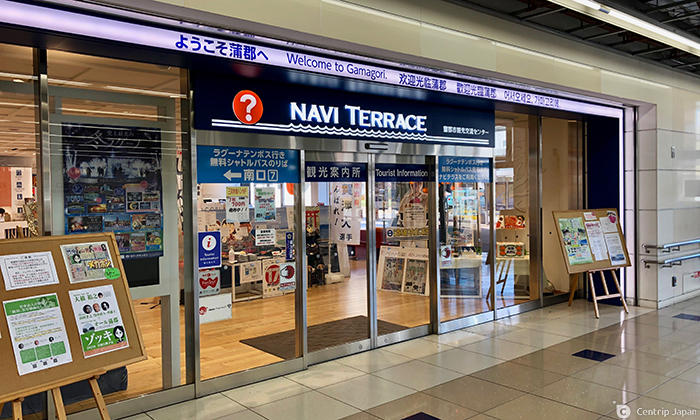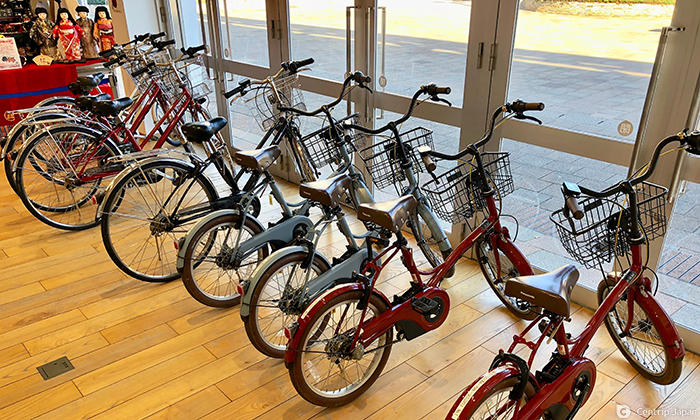 Gamagori Orange Park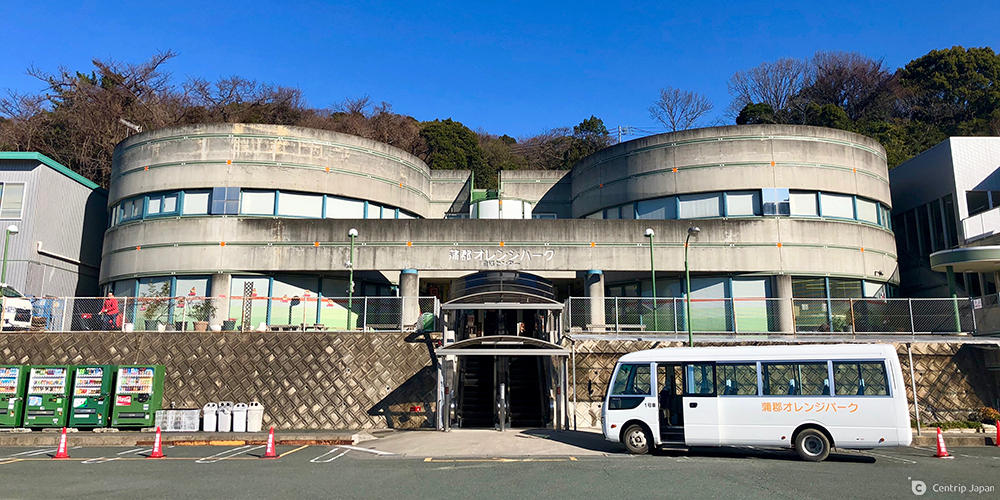 If you rented a bike at Navi Terrace, start heading towards the mountains. Gamagori Orange Park is a large fruit picking area, about 5 km from the station and should take you about 30 mins by bike.
Many kinds of fruit can be picked here depending on the season. You can pick strawberries from the beginning of January to the beginning of May, Honeydew melons from the middle of June to the end of September, grapes from the end of June to the start of September, and Satsuma oranges from the beginning of October to the end of December. Be sure to take a moment and enjoy the views of the Mikawa bay from the mountainside.
Reservations are required for fruit picking and can be made on the Orange Park Facebook page.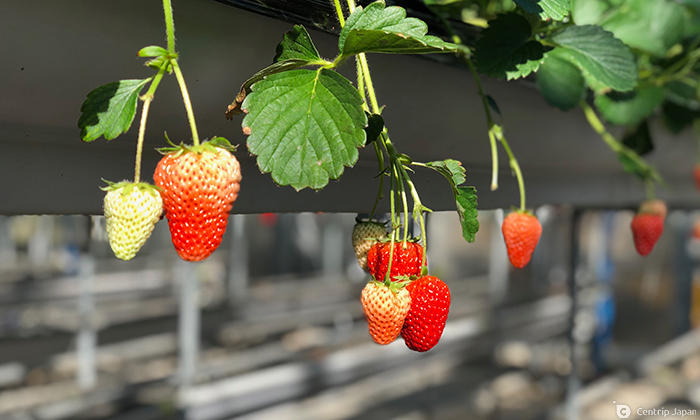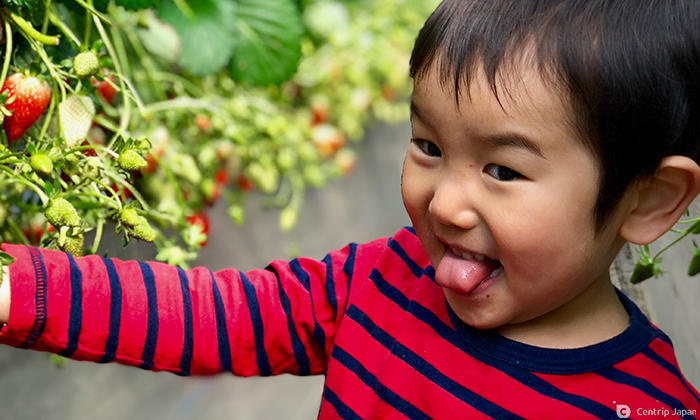 The restaurant facilities at Orange Park are top-notch, with a delicious seafood BBQ as the main course.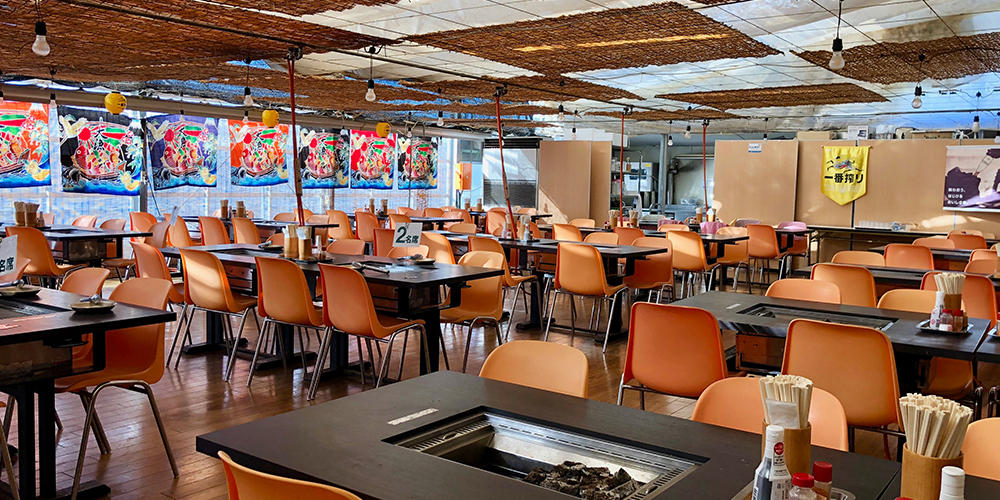 Orange Park Restaurant
Mikawa Bay and Takeshima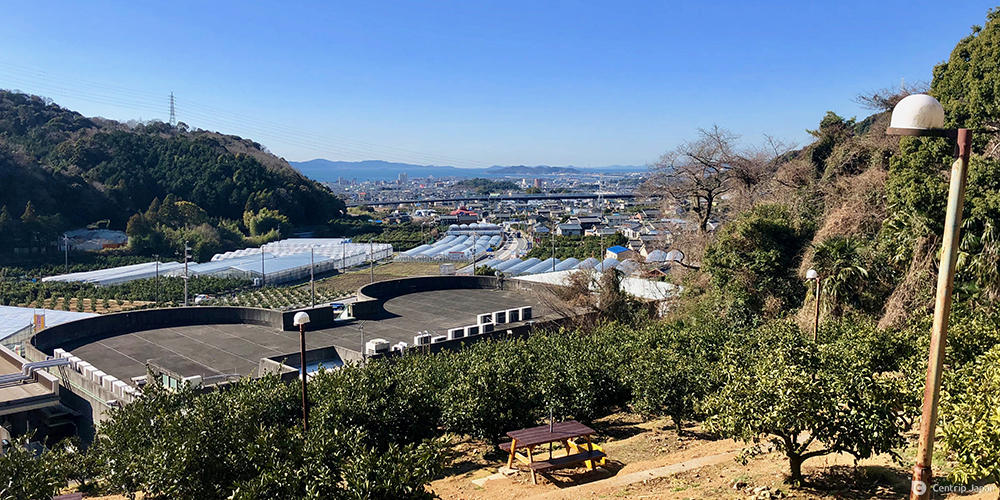 From Gamagori Orange Park, you can see Mikawa Bay and Takeshima. When you've finished picking fruit, take the road back to the station and continue past it, heading towards the sea. You'll reach the entrance to Takeshima in no-time. Here you'll find several facilities, such as a hotel, an aquarium, and a traditional craft workshop.
Takeshima Aquarium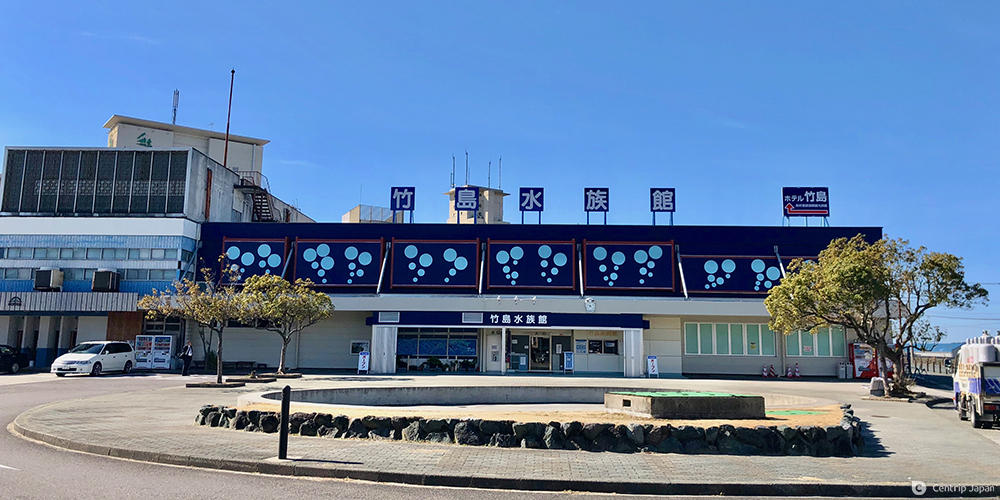 Takeshima Aquarium is a small aquarium, but host to the largest number of deep-sea creatures on display in Japan. The low ¥500 entrance fee makes a visit a no-brainer. Stop by and experience life under the sea.
Takeshima Craft Center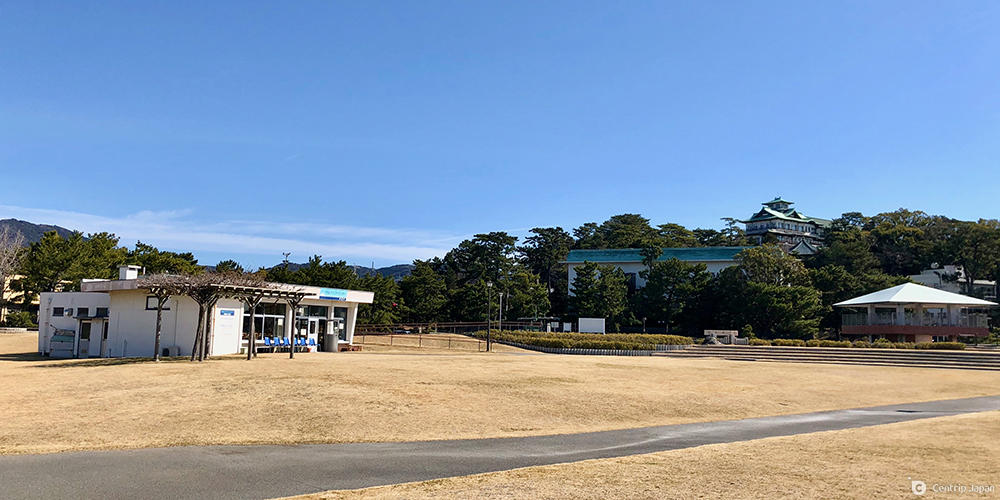 Before taking the long trek across the bridge to Takeshima, there are few spots you'll definitely want to check out like the Takeshima Craft Center. At Takeshima Craft Center, you can get hands-on experience making Gamagori's traditional wool crafts and learn about their weaving industry.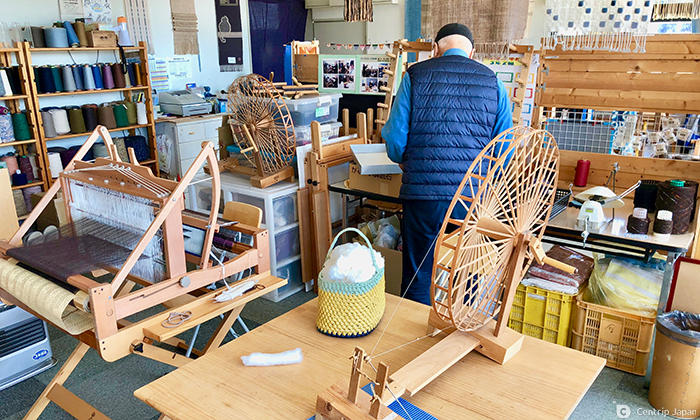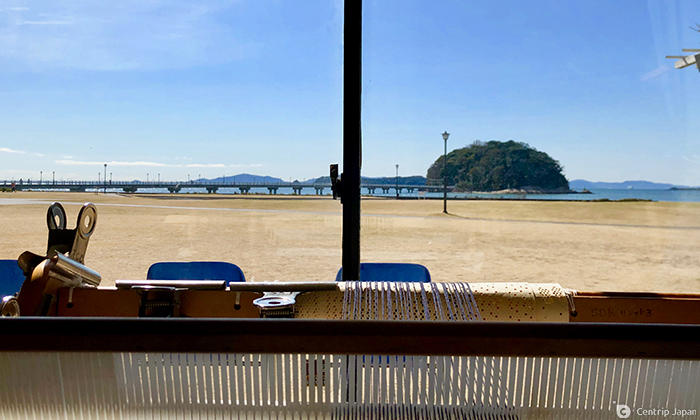 This area is said to be where cotton was originally introduced to Japan, more than 1200 years ago. Afterward, the Gamagori area flourished with the wool trade.
At the Craft Center, instructors will teach you how to weave cotton yarn and also about the process of turning cotton into yarn. Services for foreign visitors are available.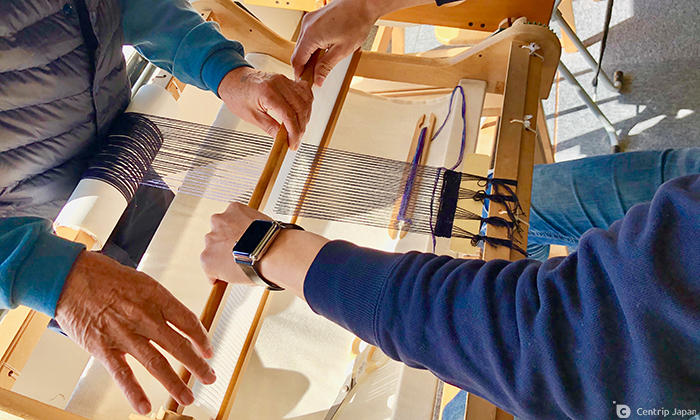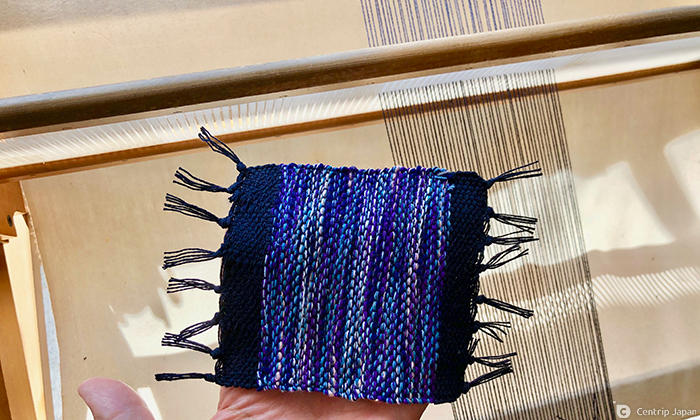 Coaster making is the simplest of the hands-on experiences and takes about 30 minutes for¥800. The best part is, when you're done you'll have a great take-home souvenir. Reservations aren't required, but it's best to check with the Craft Center before going to make sure they are open.
A Stroll around Takeshima and Yaotomi Shrine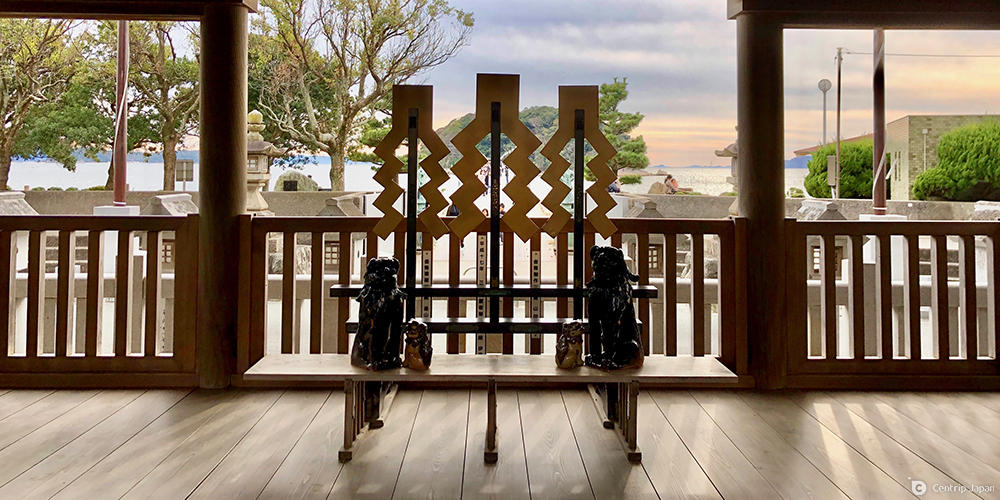 After experiencing Gamagori's traditional crafts, it's time to take a walk to Takeshima. Takeshima lies on a small island situated in the Mikawa bay and can be reached by crossing a 387m-long bridge.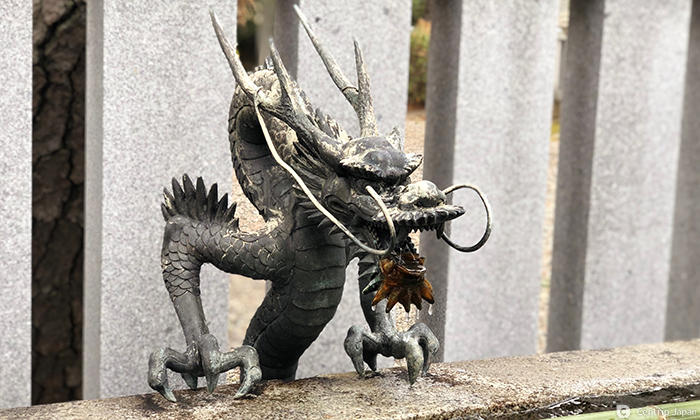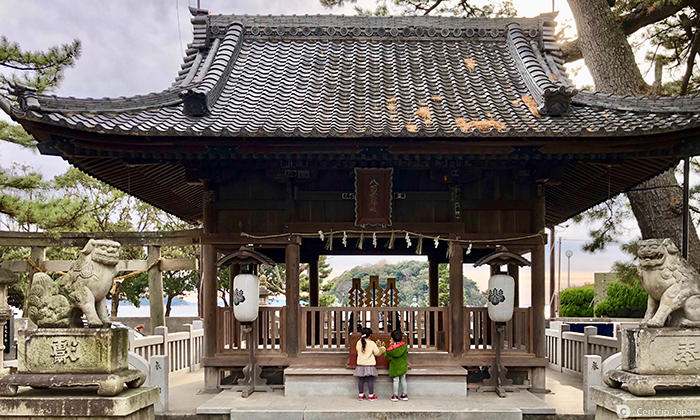 Takeshima island and its bridge are symbolic images of the area. Takeshima island and the grounds of the Yaotomi shrine are designated as protected areas. The designation helps to protect the natural beauty of the area and is also designated as a Japanese natural monument.
Before you head back across the bridge, check out Yaotomi Shrine. It's a popular photo spot, and from here you can see views of Takeshima and get a unique feel of Japan.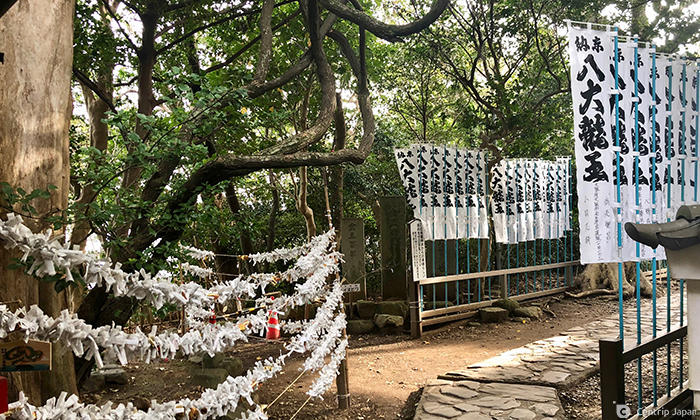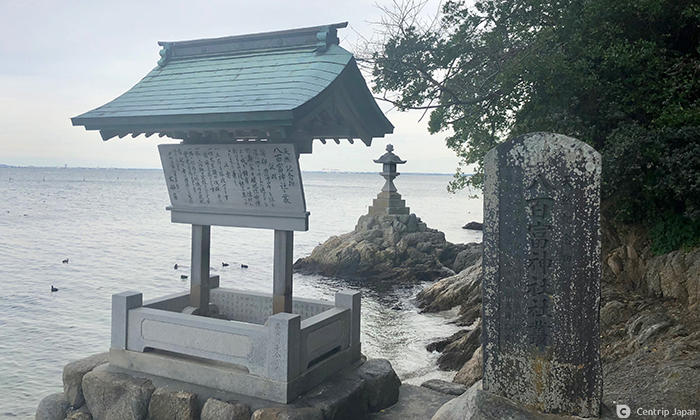 After crossing through the grounds of the shrine, you will come to a promenade that extends around the island. The walk takes about 30 mins on average, and the views across the bay of the Gamagori Classic Hotel are beautiful.
Gamagori Classic Hotel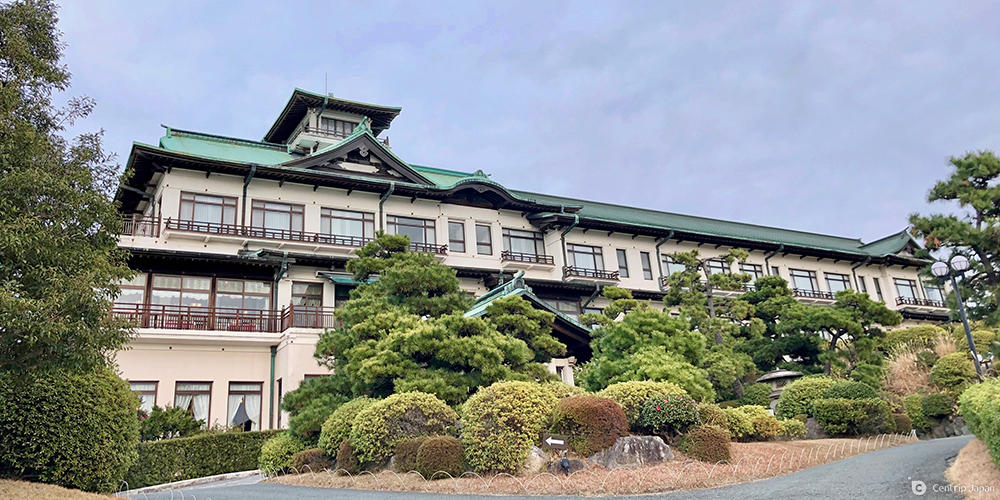 Gamagori Classic Hotel is a historic and prestigious hotel, that was built as an international tourist hotel before World War II. The hotel is located on a hill with wonderful views of Takeshima. The hotel's roof looks like the roof of a Japanese castle and is easy to spot from long distances. The on-site Japanese garden is beautiful and famous for its gorgeous azaleas in May.
A lounge is located on the second floor, and is available for guests and non-guests alike. The view from here at sunset is particularly spectacular.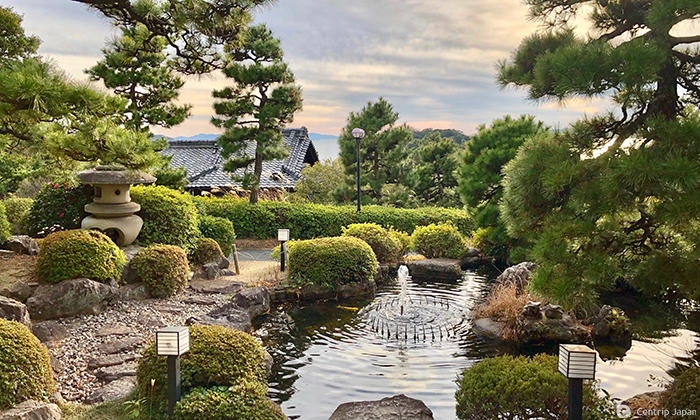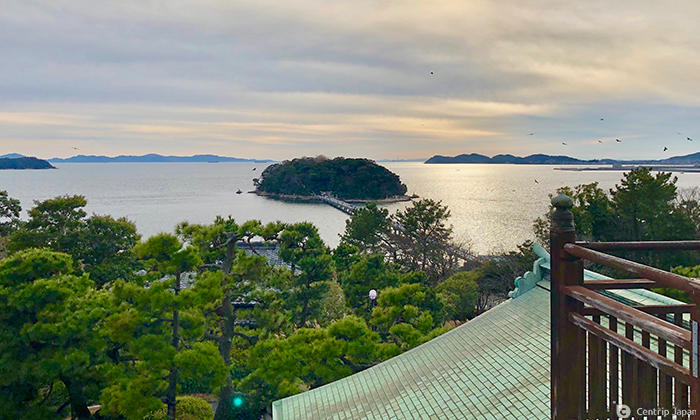 Lagunasia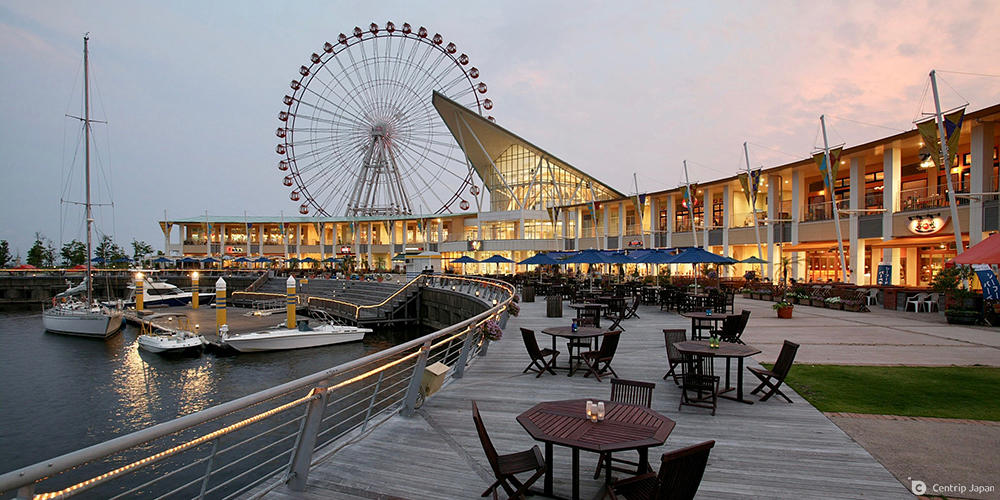 To reach Lagunasia go back to Gamagori Station, return your bicycle to Navi Terrace, then hop on the bus to Lagunasia. The shuttle bus to Lagunasia is free and you can catch it at bus stop #7 at the station.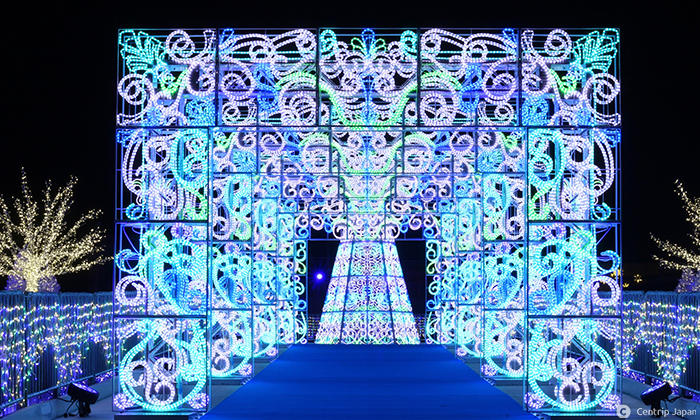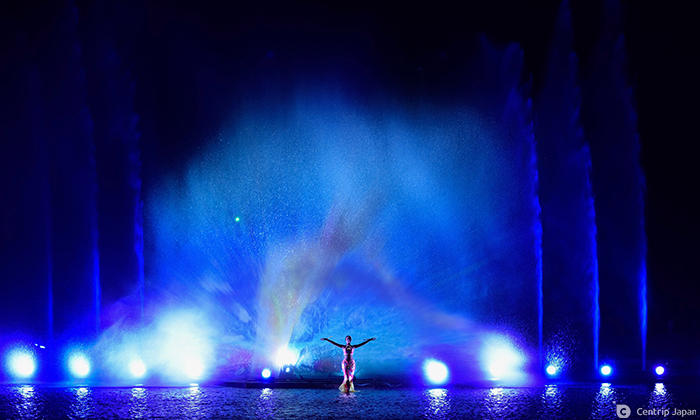 Lagunasia is a theme park with an ocean theme located in Laguna Ten Bosch, a resort complex that consists of a marina, a market, and hotels. There are many places here where you can enjoy swimming, and the attractions of the theme park are fun to try out but don't miss nighttime light-ups, they are fantastic and very popular. The complex covers a large area and has many great places for you to take photos.
If you only want to see the night light-up, cheap tickets are available and can be redeemed after 4 pm.
Wrap-up
Gamagori is one of Chubu's top 4 hot spring resorts, and a traditional place for people looking for a leisurely vacation. Ease of access, alongside Gamagori's plethora of activities, makes it an attractive stop-over on any trip to Japan. It's only 40 minutes from Nagoya, so take your time and spend a relaxing day in Gamagori.
Click here to get the latest information on Central Japan.Centrip Japan - Nagoya and Chubu Information