| Centrip Editorial Board
Okazaki and the Tokugawa: Nagoya Day-Trip Sightseeing Series 5
About 400 ago, in what was called the Sengoku Period (Period of Warring States) in Japan, various daimyo (Japanese feudal lords), leaders of various small provinces fought over supreme control of Japan. The three main historic figures of this era are Oda Nobunaga, Toyotomi Hideyoshi and Tokugawa Ieyasu—all from what it is now modern-day Aichi Prefecture. Oda and Toyotomi were from the area known as "Owari", covering Nagoya and the regions towards Gifu, while Ieyasu was from "Mikawa" which lay to the east, spreading out towards current-day Okazaki. Let's take a trip to Okazaki, home of Tokugawa Ieyasu.
The History of Okazaki and the Tokugawa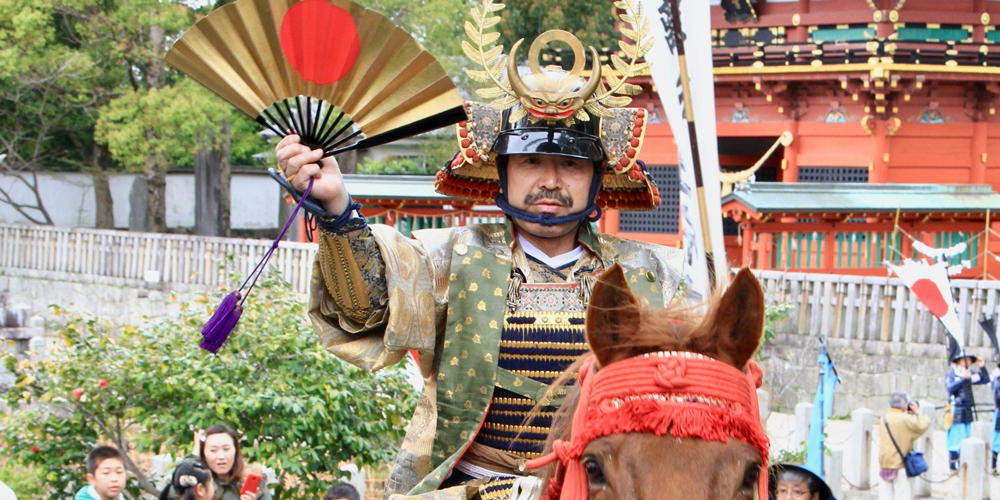 The Edo Period, which would last 265 years, began in 1603 when Tokugawa Ieyasu established his capital Edo (modern-day Tokyo), shifting power away from Kyoto.
Ieyasu, the first of the Tokugawa shogun, was born in Okazaki in 1542. Okazaki remained an important place for the Tokugawa and flourished as one of the foremost post stations on the tōkaidō. Even to this day, the people of Okazaki remain proud that a son of Okazaki rose to such great heights.
Nowadays, Okazaki is an industrial town, but numerous buildings relating to the Tokugawa still stand, including the symbol of the Tokugawa, Okazaki Castle. You'll find the Tokugawa family crest littered throughout the city—a constant reminder of the city's glorious past.
Getting to Okazaki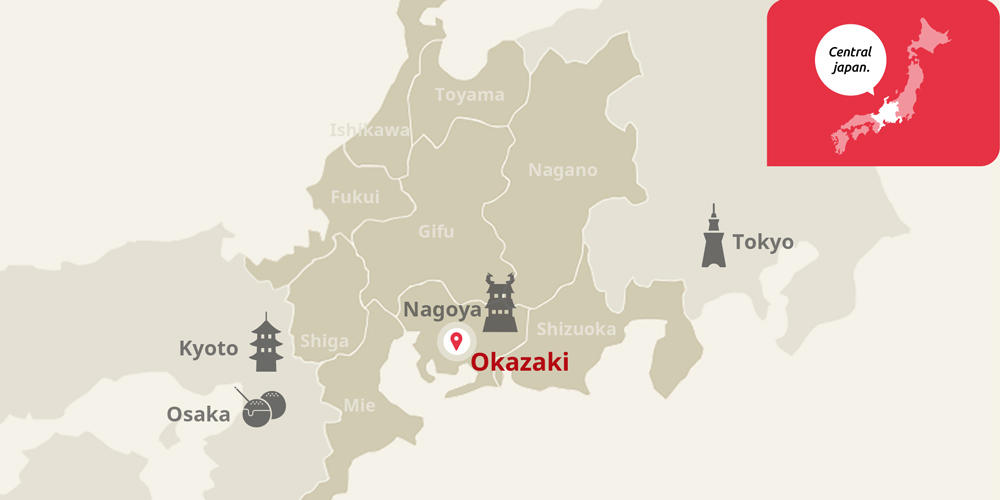 From Nagoya
A one-way trip from Meitetsu Nagoya Station to Higashi-Okazaki Station takes 30 minutes and costs 680 yen. You can also take the Tokaido Line from JR Nagoya Station, adjacent to Meitetsu Nagoya Station, to Okazaki Station but for sightseeing purposes, the Meitetsu trains are more convenient. JR Okazaki Station and Meitetsu Higashi-Okazaki Station are quite a bit aways, making it infeasible to walk back and forth between them. Higashi-Okazaki Station and its surrounding area have undergone large-scale redevelopment, including new hotels, making it a convenient base for sightseeing.
From Chubu Centrair International Airport
If you're coming from the airport, hop on the Meitetsu Airport Line towards Nagoya, changing trains at Kanayama. Take the train heading towards Toyohashi and disembark at Higashi-Okazaki Station. The whole trip should take about an hour and costs ¥1,270.
Tokugawa-Related Sightseeing
Okazaki Castle and Okazaki Park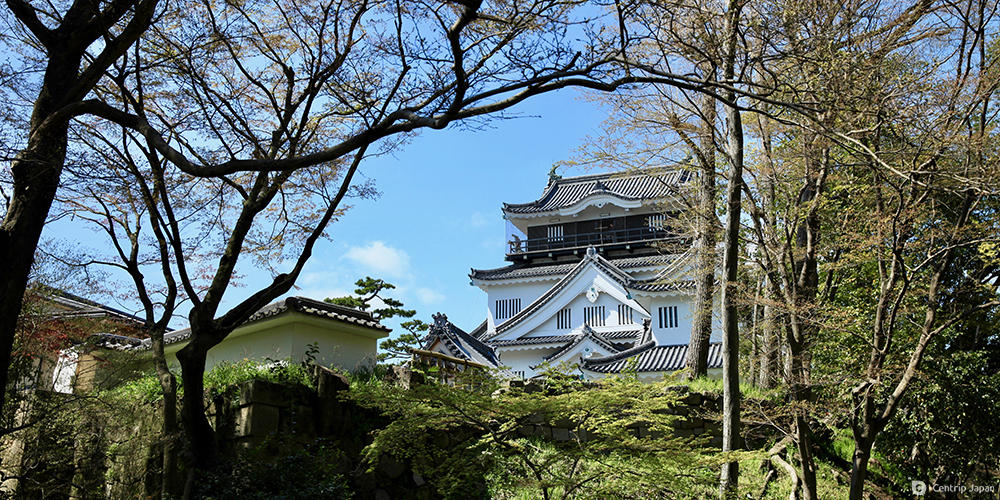 Go out the north exit of Higashi Okazaki Station and go straight until you come to Otogawa. Cross the bridge, walk along the river to your left and you will soon see Okazaki Castle. The area encompassing Okazaki Castle is Okazaki Park. The castle tower has been restored to its original state and it overlooks a river. It was also selected as one of Japan's top 100 castles. Okazaki Castle and the surrounding park are famous as cherry blossom viewing spots, but you can enjoy the beautiful wisteria even after the cherry blossoms have fallen and the beautiful autumn leaves, in the fall. There's something to enjoy all year round.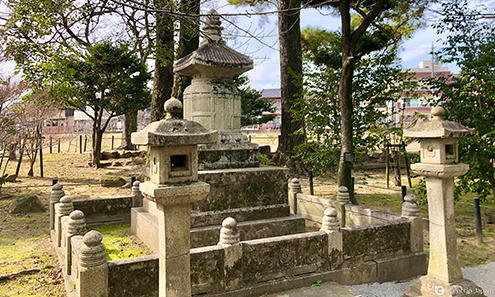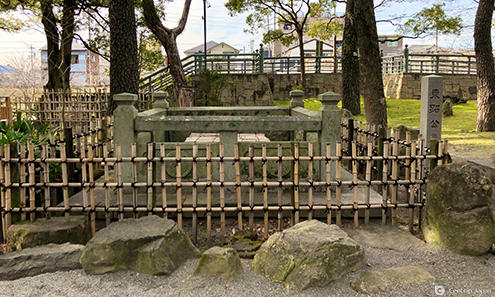 Those lucky enough to visit the castle will be able to see not only the well they used to bathe Tokugawa Ieyasu for the first but also the hill where they buried his umbilical cord!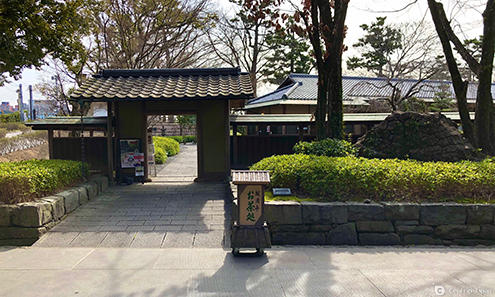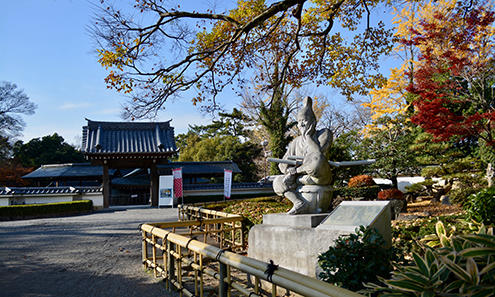 The castle has statues of Ieyasu depicting him all the way from childhood through his adult life. There's a particularly famous one of him scowling. It's said that when the temperamental lord would lose a battle, he'd have a painter paint his face to illustrate his feelings at the time. He liked to remember, but not be reminded of his own defeat.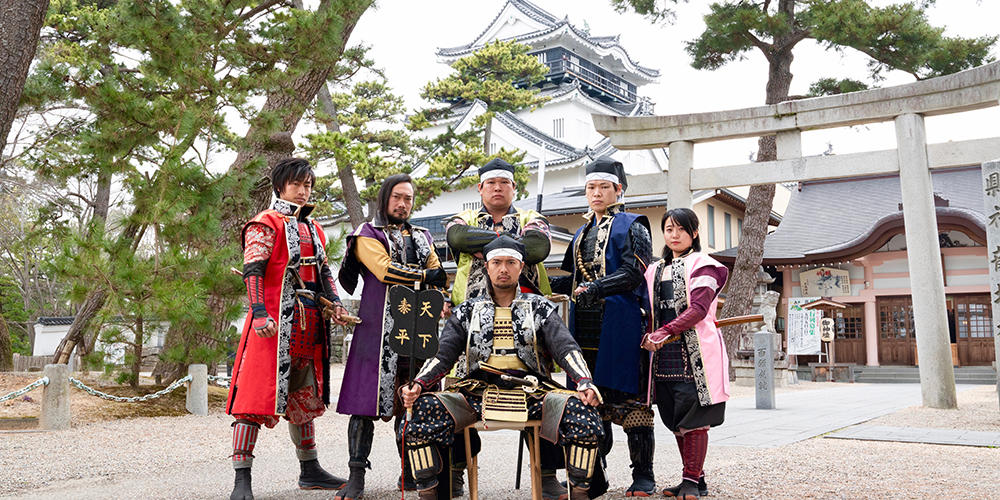 If you head to the castle on a weekend, you can see actors dressed up as Tokugawa Ieyasu and the warlords who supported him.
At Jonan-tei in Okazaki Park, there is also an experience plan where you can walk around the park wearing a kimono and have a Japanese-style lunch at the adjacent Okazaki New Grand Hotel.
Tatsuki Shrine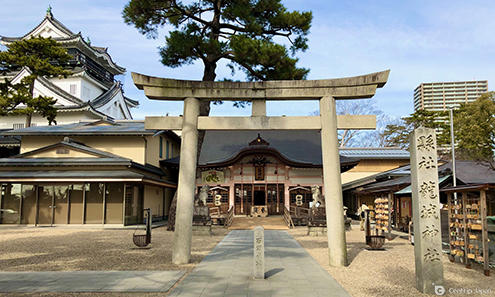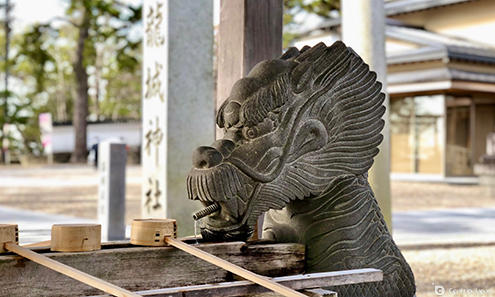 Inside the park, just below Okazaki Castle's keep is Ryujo Shrine. It's not very large, but there's a legend that a golden dragon appeared here on the morning of Ieyasu's birth and water shot out of the well, up into the sky. Some people believe this story and consider the location a spiritual and lucky place.
Rokusho Shrine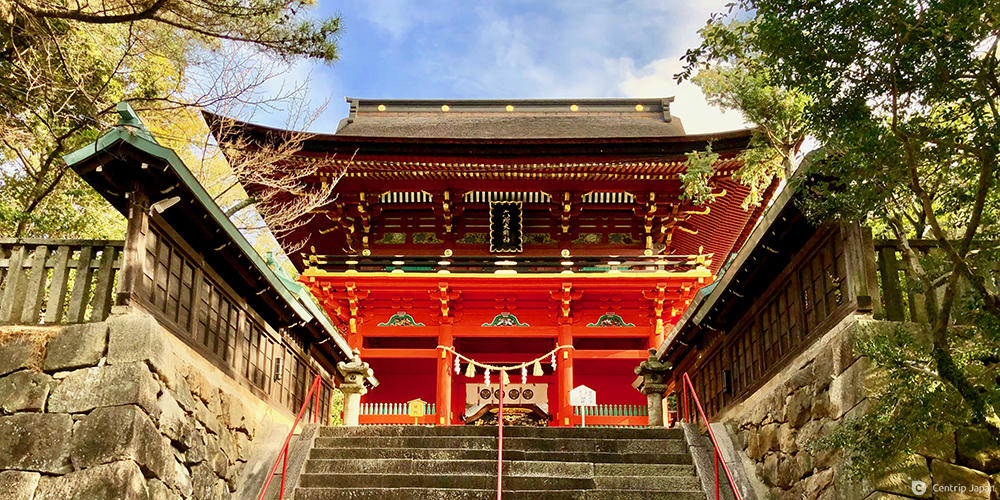 Rokusho Shrine is just 2 minutes from the south exit of Meitetsu Higashi Okazaki Station (opposite Okazaki Castle). It is said to have been built by Matsudaira Kiyoyasu, the grandfather of Tokugawa Ieyasu, and has been cherished by the Tokugawa ever since. Even today, it is worshipped by people as the god of gentle births.
Passing through the first gate and walking straight up to the shrine, you will find a chozuya [purification fountain] to wash your hands before you visit the shrine, and there is also a statue of a horse with the Tokugawa family crest. There is a steep stone staircase on the left, and beyond that you can see a bright red temple gate.
In the past, only daimyo above a certain scale were allowed to climb these stone steps. Now anyone can climb the stone steps and take a walk around the grounds. The colors and sculptures of the main shrine, which are painted red just like the temple gate, have been restored to their Edo period states and are very beautiful. The main shrine and temple gate are designated as Important Cultural Properties of Japan and are highly valuable buildings.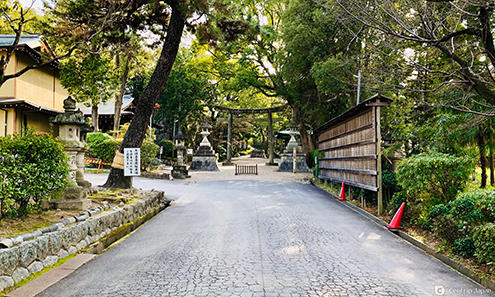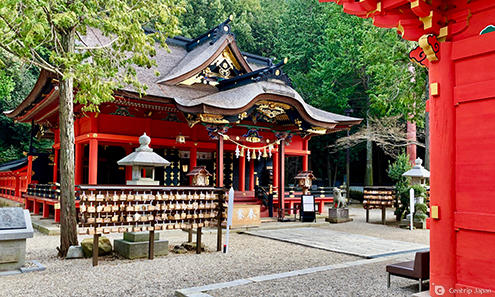 Iga Hachiman-gu Shrine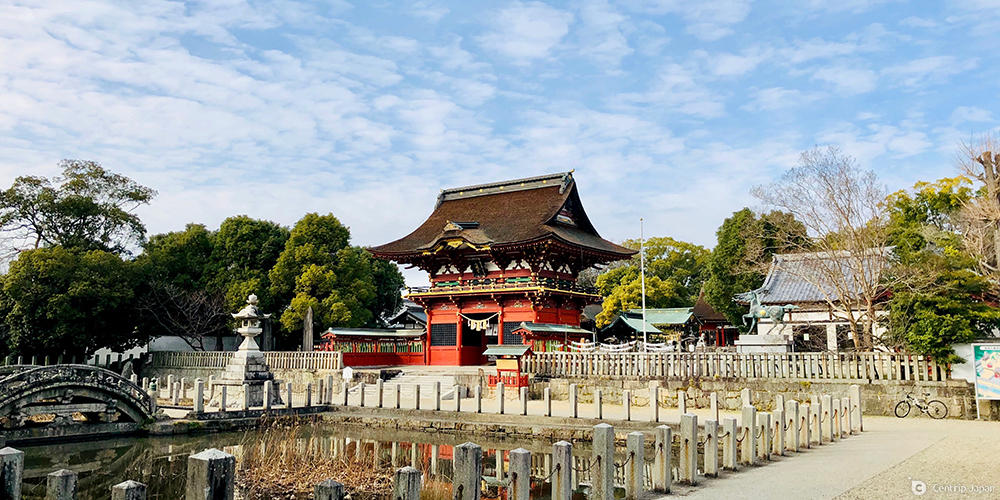 Iga Hachimangu Shrine was built to safeguard the Tokugawa and they maintained it with great care. It is said that Tokugawa Ieyasu also visited the shrine whenever there was a big battle. Iemitsu, Ieyasu's grandson, extended Iga Hachiman-gu Shrine to enshrine Ieyasu as a god.
Visitors can experience the beauty of Japan at the shrine's pont and the silhouette of the stone bridge inside the shrine's grounds. While it's beautiful in any season, July is particularly lovely when the pond is filled with pink lotus flowers.
Every spring Ieyasu would start his lordly procession and you can see still a celebration held each year to commerate these campaigns.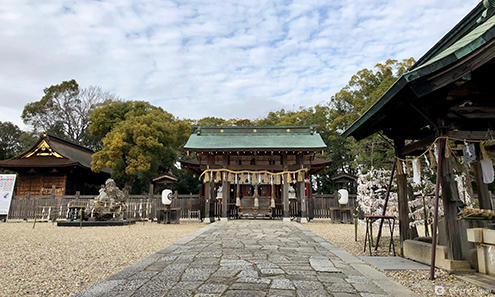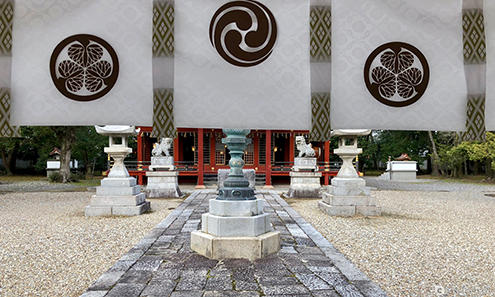 Daiju-ji Temple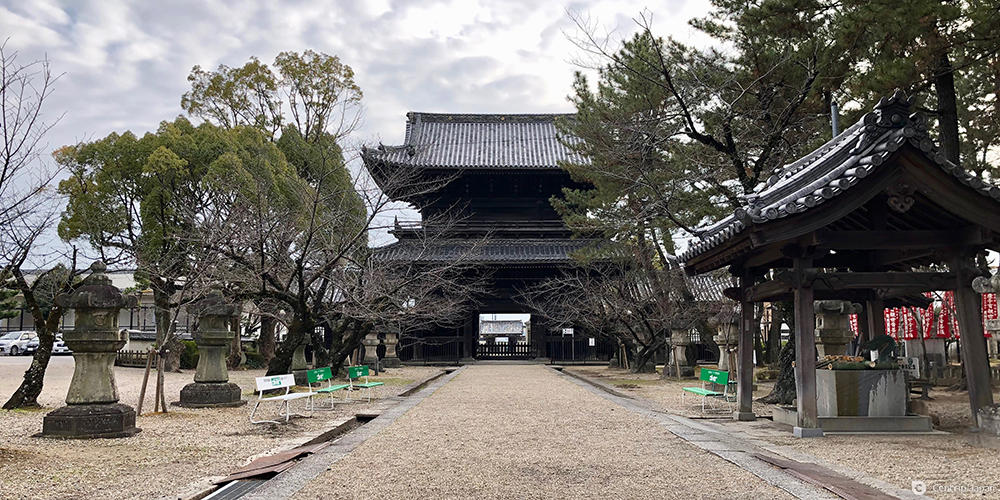 Let's hit up some places connected to the Tokugawa and then take a Meitetsu bus from Higashi Okazaki Station to the Daiju-ji bus stop.
Daiju-ji Temple was an especially important temple for the Tokugawa and houses tablets for each successive family head and shogun. It is interesting to note that the tablets for each shogun are as tall as they were. For example, the mortuary tablet of Tokugawa Ieyasu is 159 cm.
When Tokugawa Ieyasu was young, he lost a battle he was involved in, and ran back to this temple and attempted suicide but a priest urged him not to. If Tokugawa had killed himself then and there, the Tokugawa shogunate may have never existed.
If you face the gate from inside Daiju-ji Temple, you'll clearly see Okazaki Castle 3 kilometers in the distance. This view has been purposefully maintained for the past 370 years. The important of both these locations to the Tokugawa is evident.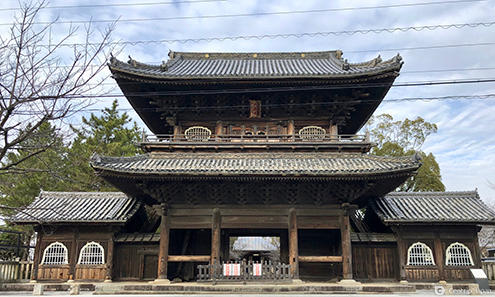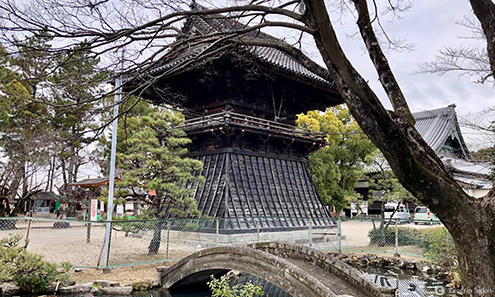 Tokugawa Ieyasu's Beloved Okazaki Cuisine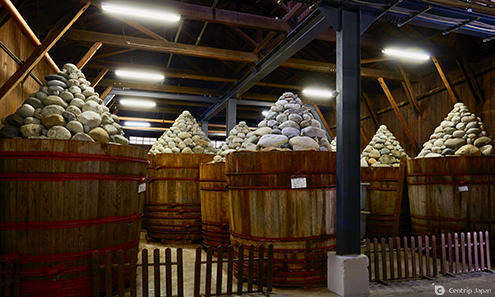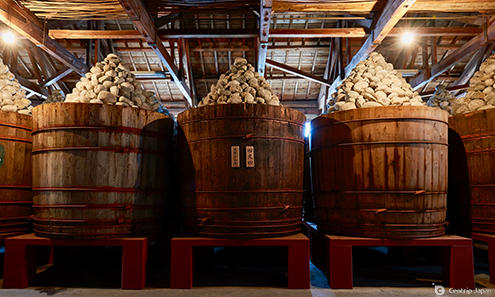 In Ieyasu's day, the average life expectancy was 37 or 38 years old, but he managed to hang on until 75. It's said that his secret was barley rice and miso. The local miso of Okazaki is known as "hatcho miso" because it was made at Hatcho, just 870 meters from Okazaki Castle. There are two local producers sticking to traditional productions even now and you can visit their storehouses free-of-charge.
If you're looking to kick things up a notch, check out the tour of the miso storehouse, which comes with lunch made with hatcho miso, dishes made using locally-raised chicken from Okazaki, and Japanese saké.
Wrap-Up
You can get to Okazaki from Nagoya in just 30 minutes. The cherry blossoms in spring and the fireworks in summer are world-class and tourists flock to see both. These are definitely the best times to visit Okazaki, but there is still lots to do in the city at other times as well. If you're a history buff, Okazaki's worth the trip for all the Tokugawa Ieyasu goodness. Check below for other Okazaki tourism info prepared especially for foreign visitors.