| Centrip Editorial Board
Gujo Hachiman: Nagoya Day-trip Sightseeing Series 3
If you head north from Nagoya you can reach several famous sightseeing spots like Takayama, Shirakawago, and Kanazawa. But did you know that even before you reach Takayama there are several must-see spots that show off the beauty and allure of Japan? Join Centrip as we introduce you to the beautiful sights of Gujo Hachiman and the relaxing hot springs of Gero.
What is Gujo Hachiman?
Nestled in the middle of the Chubu region, in the center of Japan, is Gujo Hachiman. Approximately 200 meters above sea-level this mountain town is host to both a castle and a beautiful river that flows through the mountain town.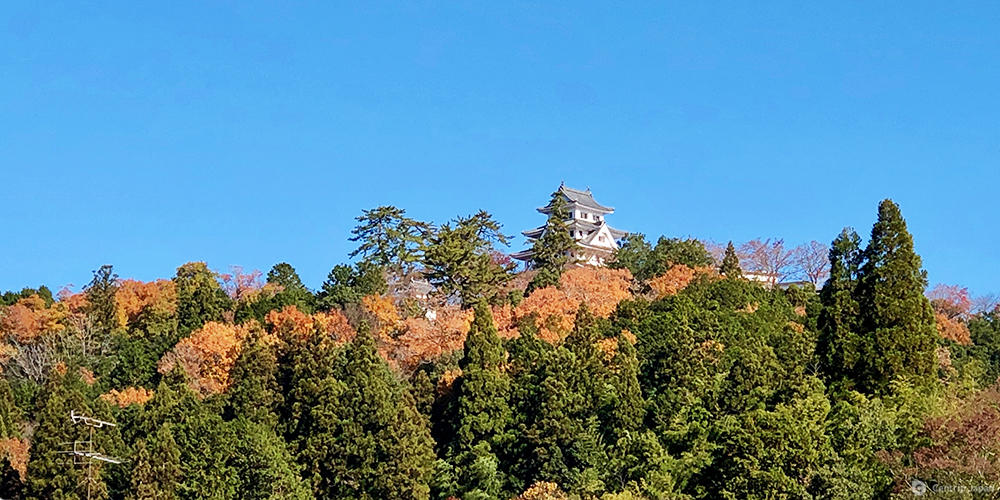 If you ask other Japanese people what they think of when they hear Gujo Hachiman they first thing they will say is Gujo Odori (Gujo Dance). Gujo Odori takes place every year from the middle of July to the beginning of September and is one of the largest Bon Festivals, especially in the middle of August when they dance all night for several days.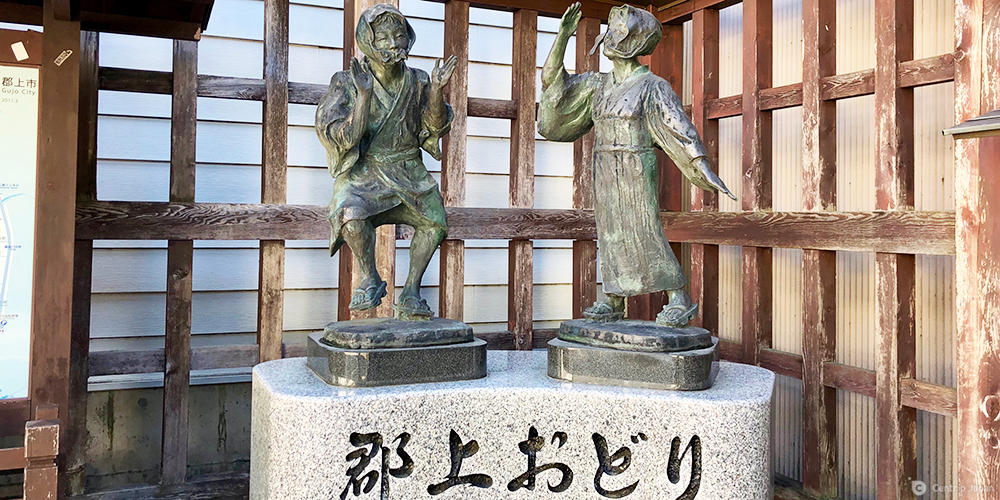 If you missed Gujo Odori, don't worry, Gujo Hachiman has many sights to see. The town goes by many names, such as Little Kyoto, Water Town, Food Sample Village, among others, and each name points to the various charms this town has to offer.
How do I get to Gujo Hachiman?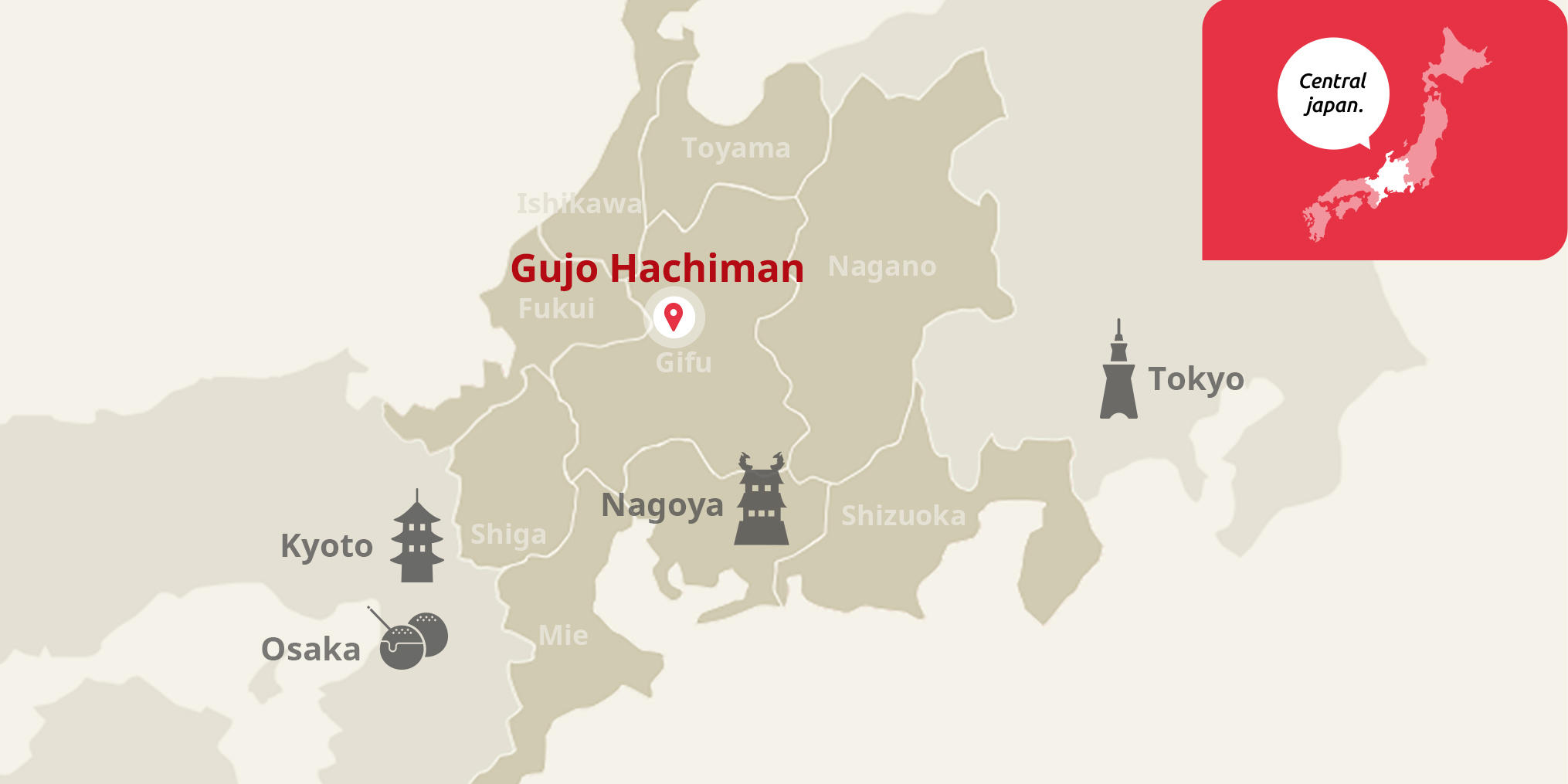 When coming by rail, take the train from Nagoya Station to Gifu Station on the JR Tokaido Main Line, then go from Gifu Station to Minoota Station on the JR Takayama Main Line. From there, take the Nagaragawa Railway to Gujo Hachiman Station. The fare is ¥2,550 one way and should take takes about two and a half hours. If you take the limited express wide view from Nagoya Station to Minoota Station, you'll arrive a little earlier, but be aware that it will cost you a bit more.
When coming by bus take the Gifu Bus, High-Speed Nagoya Gujo Hachiman Line from Nagoya Station to Gujo Hachiman Castle Town Plaza. You'll be dropped off near Gujo Hachiman Castle, and it costs ¥2,260 or ¥4,100 for a round-trip ticket. Altogether it takes about an hour and a half. There are other buses available but they require transferring to a taxi to reach the city.
From April 2019, the Shoryudo Free Bus Ticket added the route from Nagoya to Gujo Hachiman to Takayama. If you are looking for more than a day trip you can use this ticket to visit a combination of other sightseeing spots like Takayama, Shirakawa-go, and Kanazawa starting from Nagoya. See the following article on the Shoryudo Free Bus ticket.
Renting a car is also a good idea, if you take the expressway from Nagoya, you can reach Gujo Hachiman in about 70 minutes.
Gujo Hachiman's Main Attractions
Gujo Hachiman Station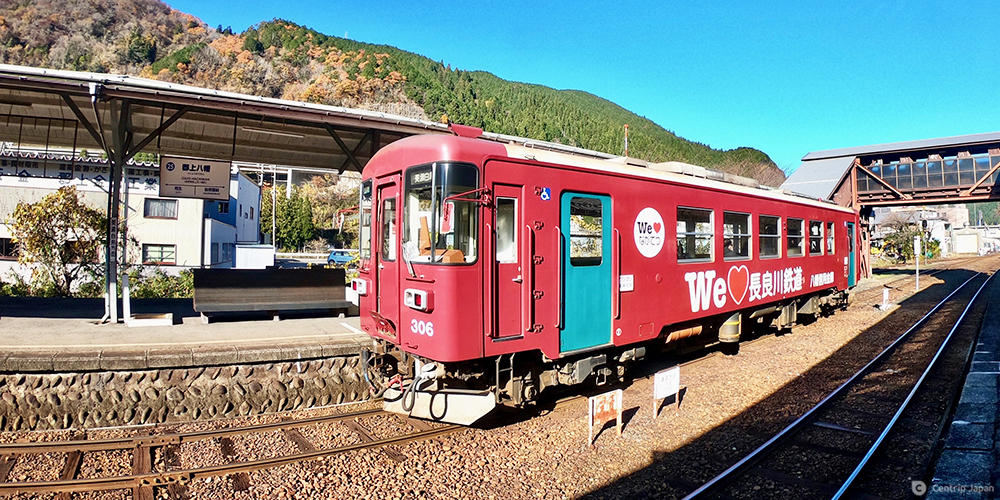 If you don't take a train you won't have many chances to visit Gujo Hachiman, however, a ride on the Nagaragawa Railway is well worth the trip. Many people travel there for the express purpose of riding the one car red retro train.
At Gujo Hachiman Station there is a tourist information center that also serves as a cafe, so you can enjoy a coffee while waiting for your train. Bicycles are also available here for rent.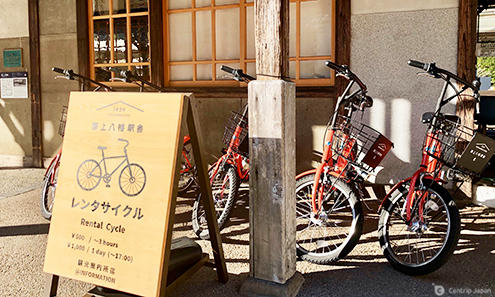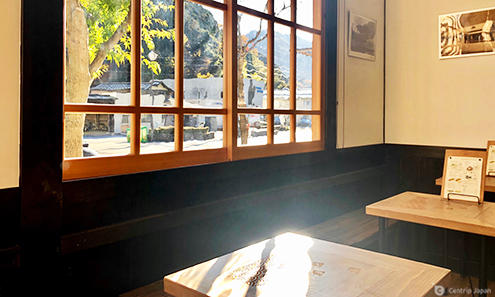 Castle Town Plaza
Gujo Hachiman is a small town, you can walk to all of the tourist destinations, and there is also a convenient bus you can take in the town. Castle Town Plaza is located in the center of the city and is the starting point for sightseeing in the area. The bus is ¥100 to ride around town.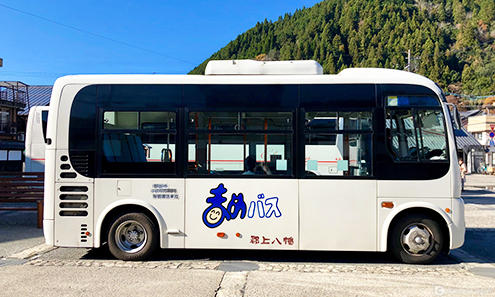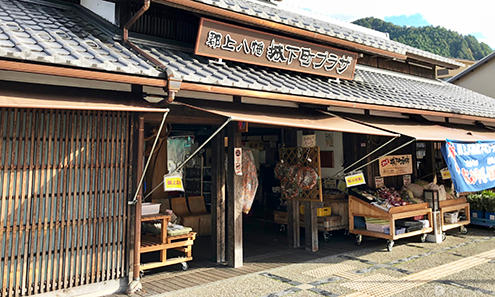 Gujo Hachiman Castle
Starting at Castle Town Plaza and climbing up the hill, you'll come upon Gujo Hachiman Castle. In Japan, there is an idiom "Naijo no Kou" similar to the English expression "Behind every successful man is a strong woman". The roots of this idiom come from stories of Chiyo the wife of Kazutoyo Yamauchi who rose from the position of ronin (masterless samurai) to daimyo (feudal lord) with the support of his wife. The story credits Kazutoyo's success to the support he received from his wife Chiyo who is said to be from Gujo Hachiman.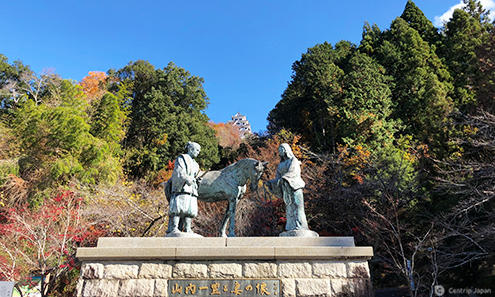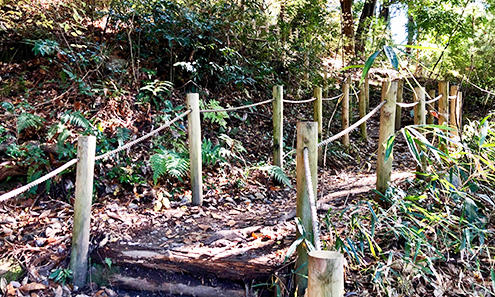 As you approach the castle you will see a statue of the married couple.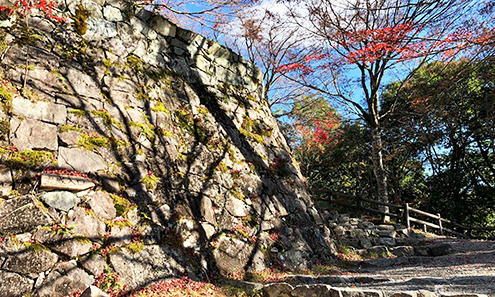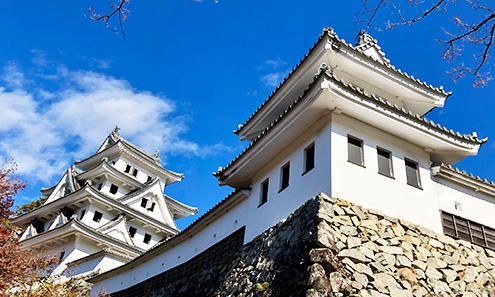 After walking up the steep mountain trail for about 15 minutes, the stone walls and the beautiful castle tower will come into view. The castle tower was rebuilt in 1933, but it is the oldest wooden castle in Japan.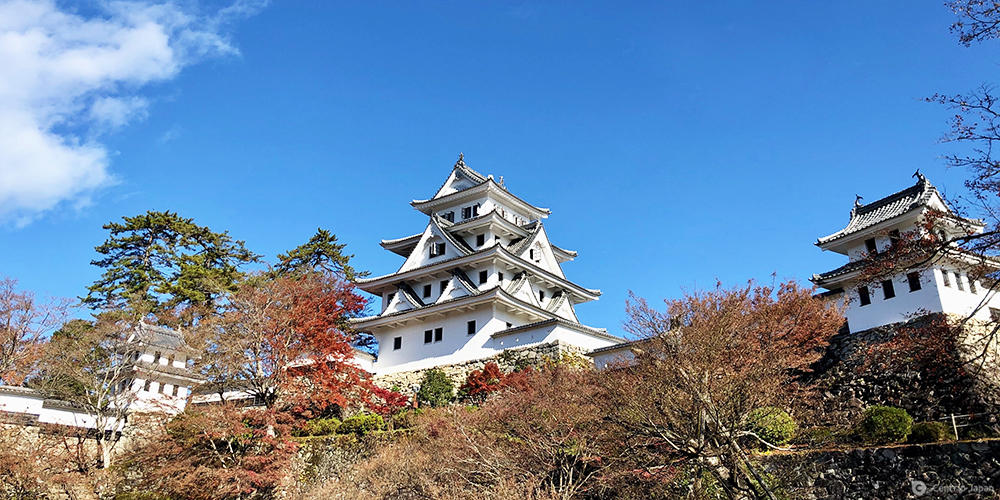 While Gujo Hachiman Castle is not a big castle, the combination of the castle, towering on the top of the mountain, and the views of the town from the castle are wonderful. You will understand why the famous Japanese novelist, Ryōtaro Shiba called Gujo Hachiman Castle "the most beautiful mountain castle in Japan".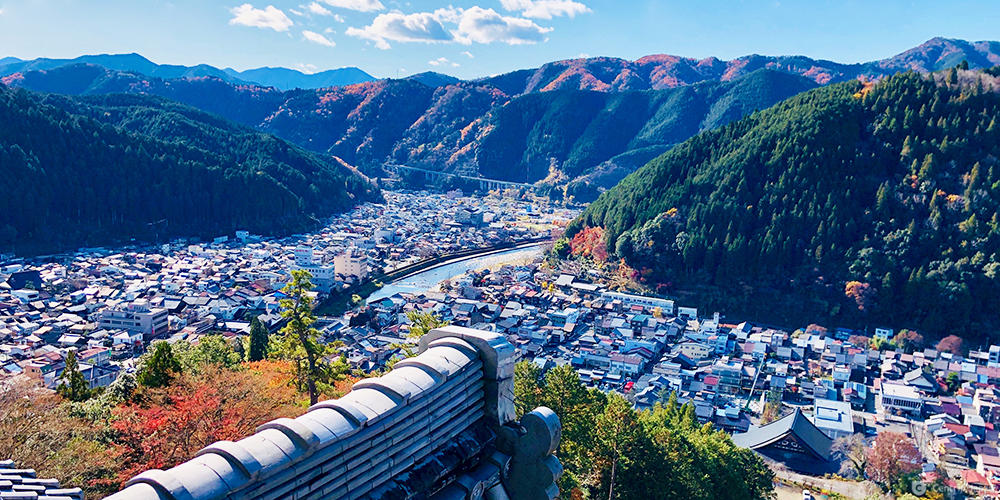 Gujo Hachiman on Foot 1: Historical Temples and Shrines
Gujo Hachiman is said to have an atmosphere similar to Kyoto and has earned the title Little Kyoto from the National Kyoto Conference, on a list of 44 other little Kyoto's found around Japan.
As one would expect from a little Kyoto, the town is filled with many temples and shrines. There are 13 temples and shrines in total and you can get to all of them within an hour. The magnificent gates the temples and shrines, as well as the large bells they house, will leave an indelible impression on tourists who have come seeking old Japan.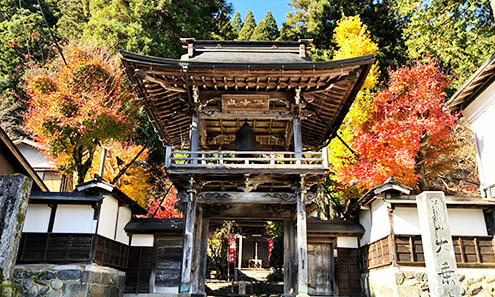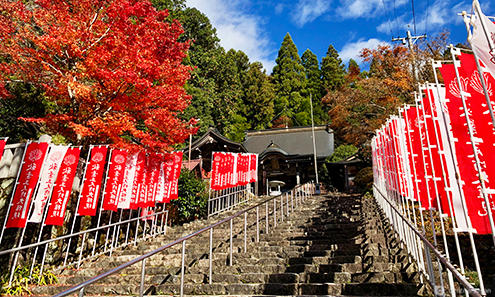 Take in the atmosphere of this historic town, as you walk the streets, checking out the old temples and shrines.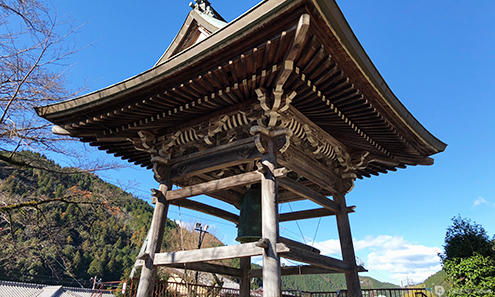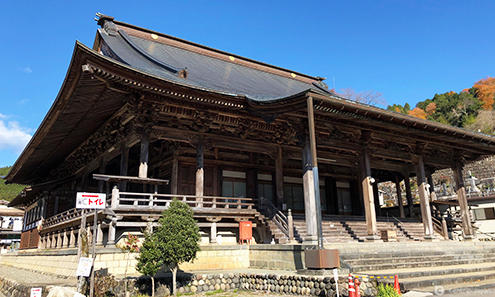 Gujo Hachiman On Foot 2: Water Town
Gujo Hachiman is known as a town of water. The clear waters of the Yoshida river flow through the town, and the sounds of flowing water echo throughout the town. The views of Gujo Hachiman Castle from the Miyagase bridge over the Yoshida river are breathtaking. While walking around the town, you can enjoy Gujo Hachiman and the soothing sound of water.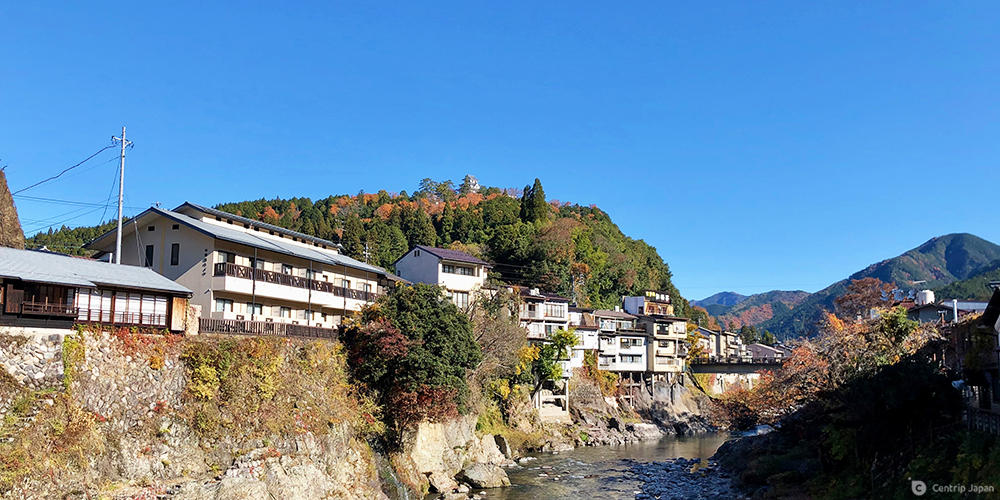 Sogi Spring is a symbol of the clean waters of Gujo Hachiman. The historic spring water is carefully preserved by the people of the town and is one of Japan's top 100 Famous Waters as selected by the Ministry of the Environment. Enjoy a drink of the spring's water!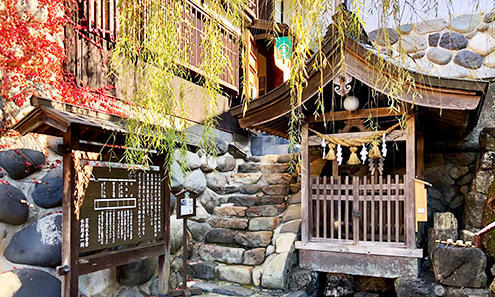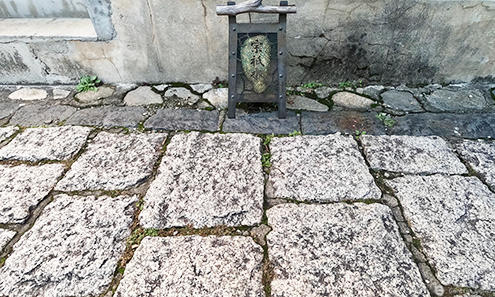 After drinking from Sogi Spring, go south and cross Miyagase Bridge. After crossing the bridge, head right at the intersection, and you will immediately see a waterway called Komichi and a beautiful cobblestone path. Next to the path is a small art museum and an old renovated house, where you can also drink matcha in a traditional Japanese-style room.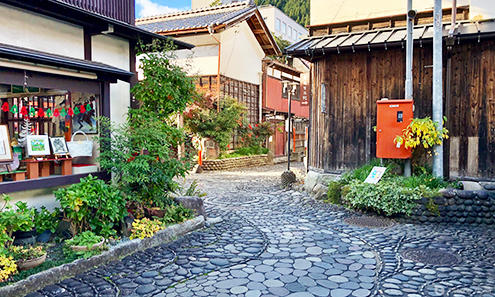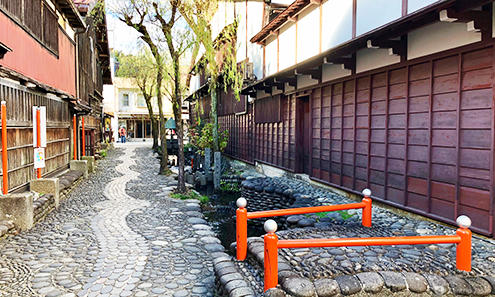 If you cross the Miyagase Bridge in the opposite direction to Komichi, you will find the Gujo Hachiman former Government building Memorial, which also serves as a tourist information center. You can also feed the Nishikigoi (colored carp) swimming in the waterway. This quiet path is popular with tourists and is often used in the filming of TV commercials.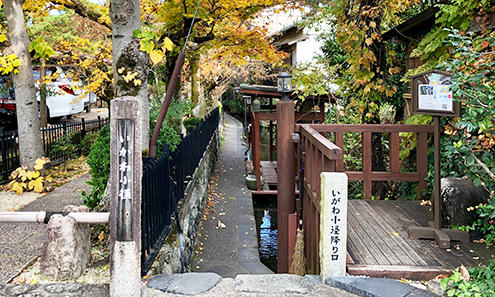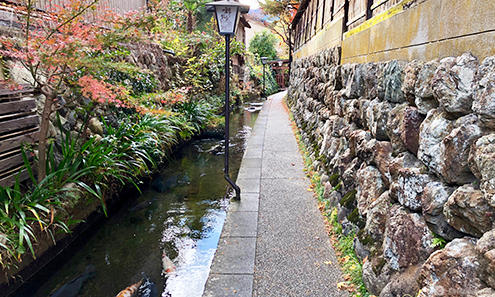 Check out the atmosphere of Igawakomichi in the video. It was taken at the end of November, so expect some seasonal changes when you go.
Experience Local Industry: Silkscreen Printing and Food Samples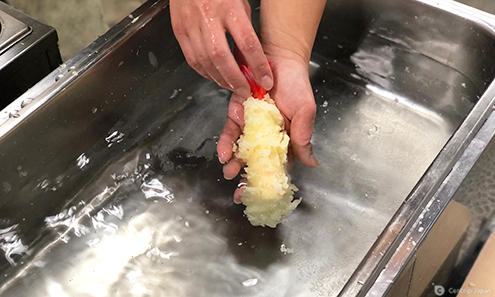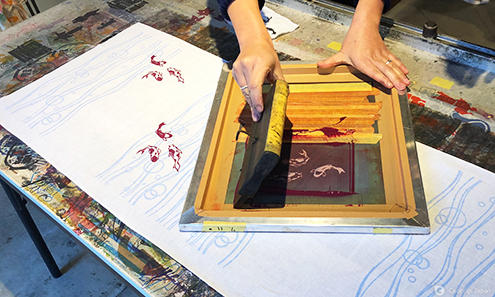 Gujo Hachiman is home to many unique industries, such as silkscreen printing, and manufacturing food samples. You can try your hand at both so why don't you pay a visit to a workshop? Silkscreen printing can be found at the Takara Gallery Workroom just beyond Igawakomichi, and food sample manufacturing can be experienced at multiple facilities found throughout the town.
Gujo Hachiman Cuisine
When you feel like taking a load off, check out Gujo Hachiman's food. Much like Takayama, Hida beef is widely available, but between May & October, they recommended you catch Ayu (sweetfish) in the river near Gujo Hachiman. Unfortunately, missed the fishing season, so I tried another Gujo Hachiman specialty, soba.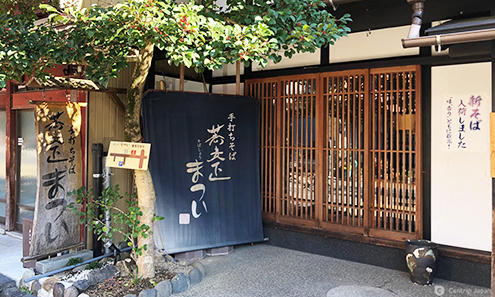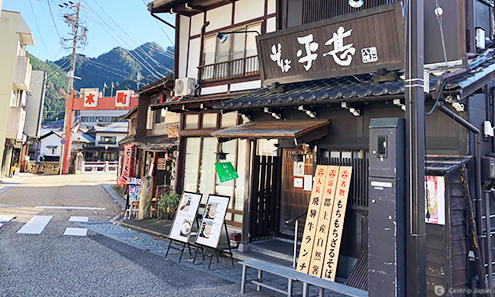 Around the Yoshida River, many delicious and popular soba shops can be found. You can have a single serving of soba for about ¥1,000.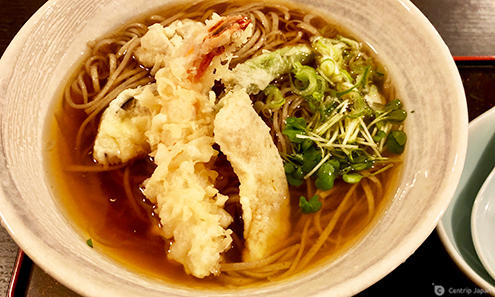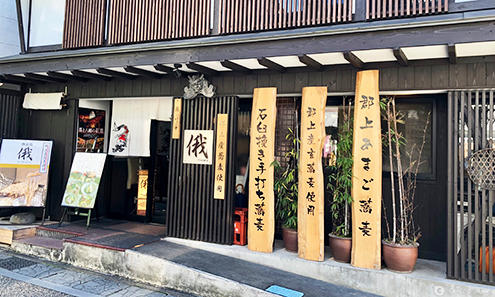 Wrap-up
Now you know all about Gujo Hachiman. It is very surprising to find so many attractions concentrated in the center area of a small town. The castle, temples and shrines, water attractions, workshops, and soba shops are all within walking distance. All you need is one day to enjoy Gujo Hachiman. Gujo Hachiman is a great city to visit for a day trip from Nagoya or to see as part of a larger trip.