| Dan Lewis
Cycling off the Beaten Path in Shinshiro: Unwrap yourself and relax in Shinshiro's beautiful Yuya Onsen area!
Living in the midst of the coronavirus pandemic has forced all of us to make many changes in our day to day lives. We wear masks in public, we wash our hands repeatedly, and there are plastic barriers everywhere we go. It's enough to drive you crazy!
Barbie might think life in plastic is fantastic, but I'm getting tired of seeing it. Ever since the onset of the coronavirus, it feels like we see it everywhere, separating us from others. It feels unnatural and unfriendly. I suspect many foreigners living here in Aichi (and around Japan) likely feel the same.
I consider myself fortunate to have not contracted the disease (knock on wood) and I try to keep things in perspective. It can be frustrating when you're trying to protect yourself from something that might not be there - and if it is, when you can't see it! I understand the necessity of all the precautions - the plastic, the masks, wiping things down with alcohol - but it adds up. Add to this the stuffy heat of summer in Aichi Prefecture and it's easy to feel stress if you don't have a way to get rid of it!
I don't have to be like Barbie's boyfriend Ken and "party" all the time to relax, but I was definitely ready for a break from my normal routine! But how could I maintain social distance, - and follow the governor of Aichi's request that we don't travel outside the prefecture at the same time? I decided to go to Shinshiro, Aichi, a mostly mountainous area tucked between Toyohashi, Aichi, and Hamamatsu, Shizuoka Prefecture.
I read online that Shinshiro City has a bicycle rental system and provides "recommended routes" for visitors to take while exploring the area around Yuya Hotsprings. It sounded great to me, so off I went!
It's important to note you can get to Yuya Hotsprings by train as well, but I was in the mood for driving - and it's definitely the better choice if you're trying to maintain social distance. And if you go on the expressway, it's about an hour and a half (about 30 minutes faster than the train) to get there from Nagoya.
With the AC on high, and my favorite tunes pumping from the car speakers, I already felt like the coronavirus and "life of plastic" was far away. Cruising down the expressway on a sunny day always puts me in a good mood! Okay, I admit it - I felt a bit like Ken while flying down the highway with my favorite tunes blasting away.
Once you're off the expressway, it's only a 20 minute drive up National Route 151 to Yuya Hotsprings. Along the way, you'll enjoy the green mountains and the sparkling Ure River. Coronavirus was the last thing on my mind.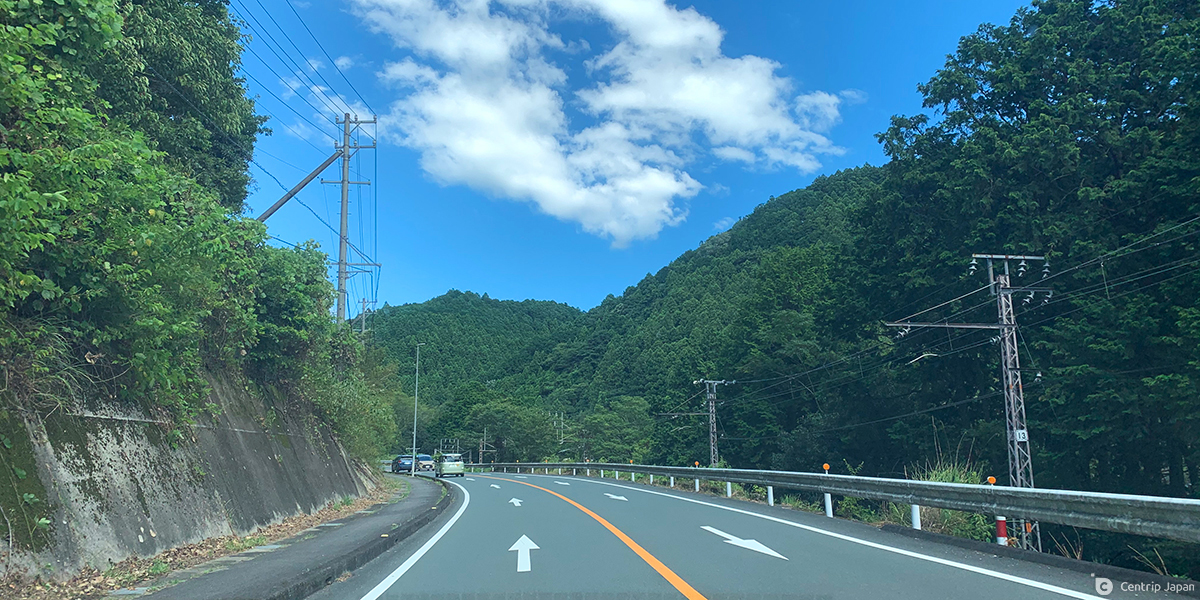 After crossing the river a couple times, I passed a large, public parking area on the left and suddenly, the road was much narrower as I entered the Yuyaonsen village. The JR Iida Line runs along the Ure river and crosses the road just south of Yuyaonsen Station. As I approached, the cross guards came down and a small two-car train lumbered past. Once it cleared, I drove about 400 meters until coming to the parking lot of the Yuya Kanko Hotel.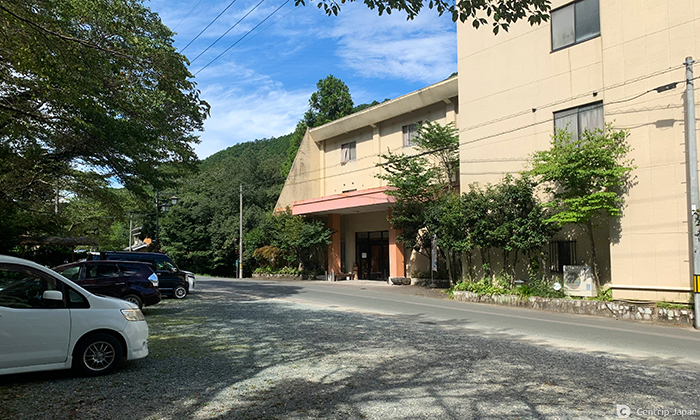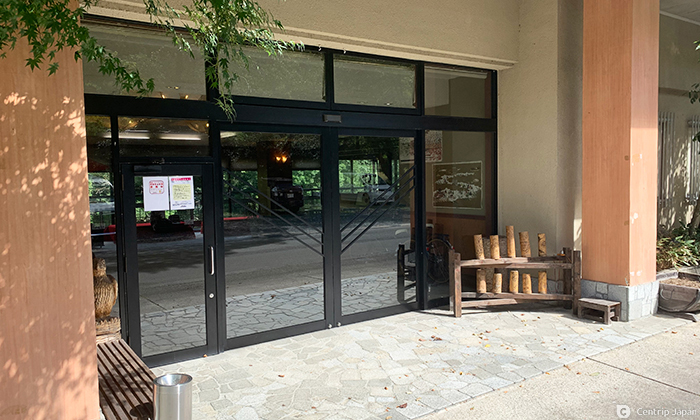 There is plenty of space to park, but be sure to ask the staff where you should park. If there is no space at the hotel, you can park a few hundred meters down the road. It's all free.
Inside, friendly staff greeted me and were very helpful in getting me set up with a bicycle. An older gentleman even spoke in simple English to explain things to me, but quickly switched to Japanese once he realized I spoke.
To rent a bicycle, just fill out a simple form, pay 500 yen and you're good to go!
The "electric assist" bicycles are super easy! When you start pedalling, ZOOM!! The bicycles take off almost effortlessly and you can focus more on your beautiful surroundings! You should note that they are not built for high speed, and tend to top out around 20 km/h, but that's more than enough for getting around this small hamlet. Just make sure you turn it on before you ride.
Riding around the small village is quite enjoyable. There are great river views! One guest house stood out: The Hoo Hoo Guesthouse had a footbath and hammock that looked so relaxing! I thought I would like to stay here if I came for the night.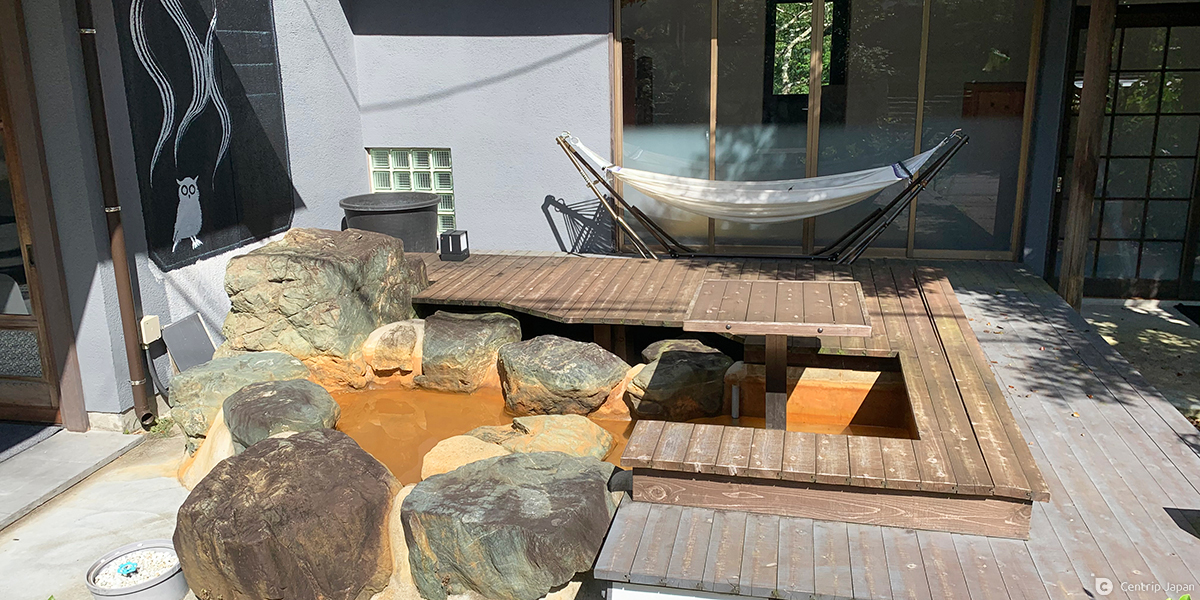 Next, I passed by the JR Yuya-Onsen Station. I love these small stations where there are no staff. You just walk in and walk out! (Don't forget to buy a ticket tho!) Seeing such a small platform with a single track just felt relaxing for some reason.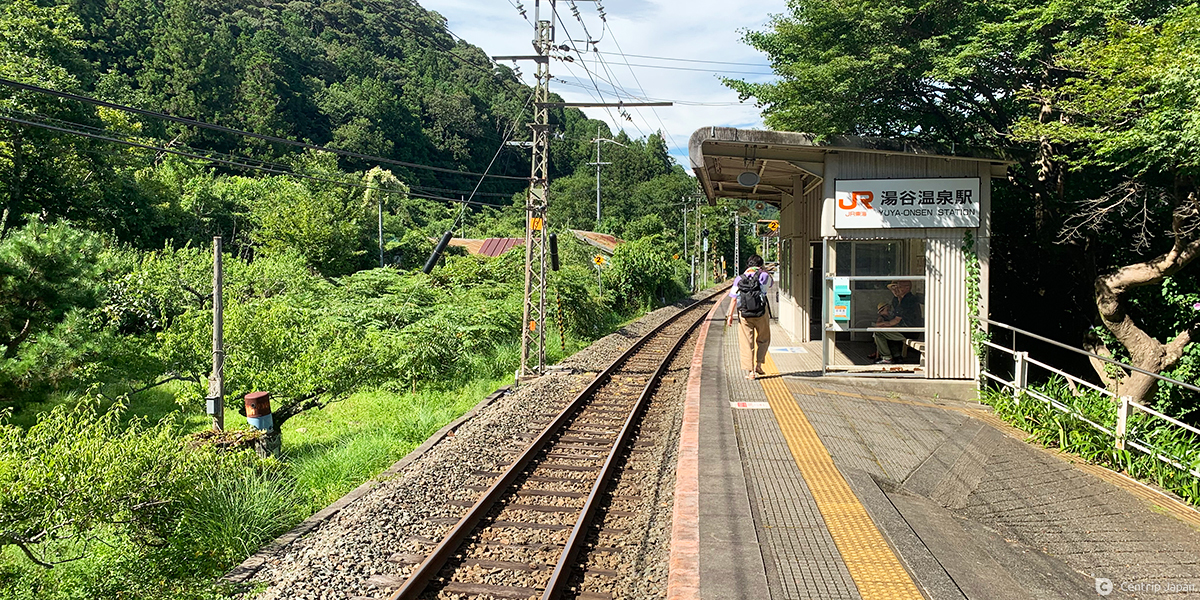 There are a couple of giant maps that highlight all the sights in the area, so if you come by train, just snap a photo of these and you're ready to explore!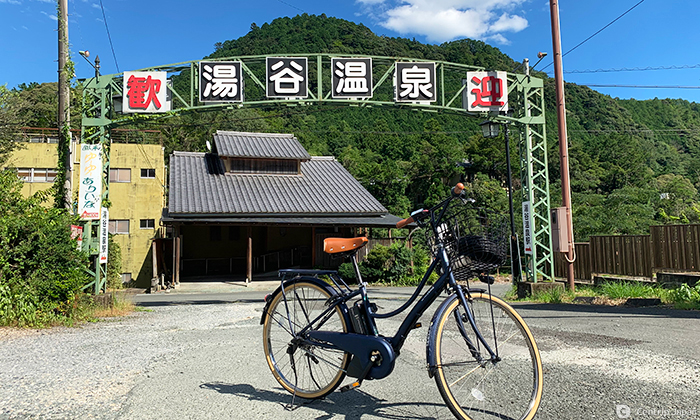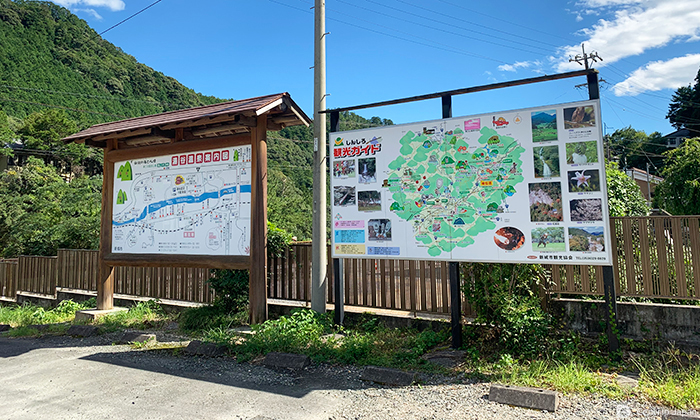 The road is next to the river, allowing a view of the interesting rock formations within it. Nearby, a parking lot had a great view of the water rushing through and over the rocks. The sound was so soothing.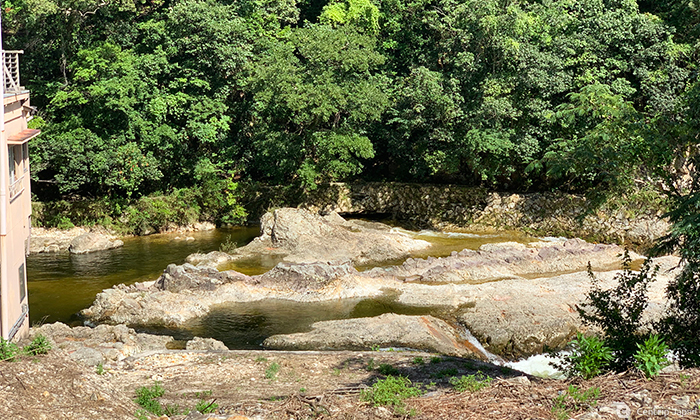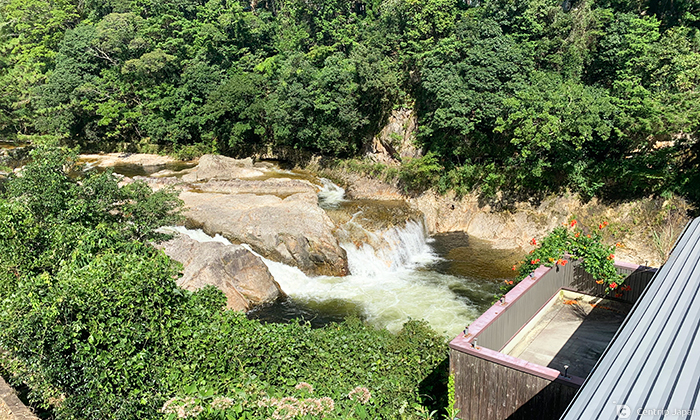 The map I picked up at the bicycle rental area showed some paths going down to the river where you can relax. They were just south of the railroad crossing, which, with the restaurant just behind it, had a nostalgic, old-time feel.