| Centrip Editorial Board
Out of quarantine? Stretch your legs and check out these six trendy open-air restaurants in Nagoya.
As a result of self-isolation and social distancing orders, people are staying at home in droves. With the state of emergency ended in Japan, why not take a refreshing break with some outdoor dining. Enjoy the urban scenery, fresh air, and stay out of infection-prone environments. As always, please remember to practice responsible social distancing protocol, wear a mask, wash your hands, and stay up to 2 meters apart.
Join us while we explore Nagoya's outdoor dining options.
Restaurants
1. Beer Garden Maiami: A Rooftop Campground
During the Japanese summer, there are a few must-do activities: watch fireworks and go to a beer garden! Beer Garden Maiami is a roofed open-air restaurant located on the rooftop of a department store in downtown Nagoya. It's like an urban campground where you can BBQ your food at your table while enjoying a tall beer. After a busy work week, many office workers head here in groups to chat with friends while enjoying a cold brew and some delicious grilled food with a cool summer breeze. If you want to rub shoulders with the locals, be sure to visit a beer garden.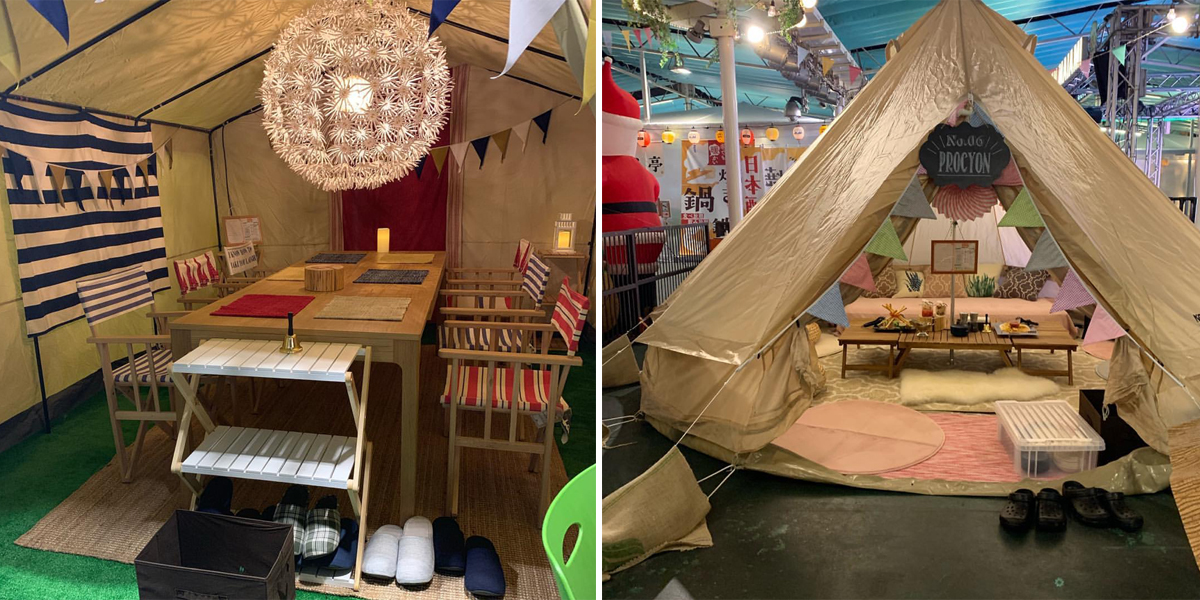 Credit: @rinya00
Beer Garden Maiami is on the top of the Mitsukoshi department store in Sakae, downtown Nagoya. It's easily accessible by public transportation and a great break from the busy streets below. In addition to the general area, there is a "Glamping" section, where you can enjoy your food and drinks in a private tent. They even have a stage for performances, like singing, magic, and juggling.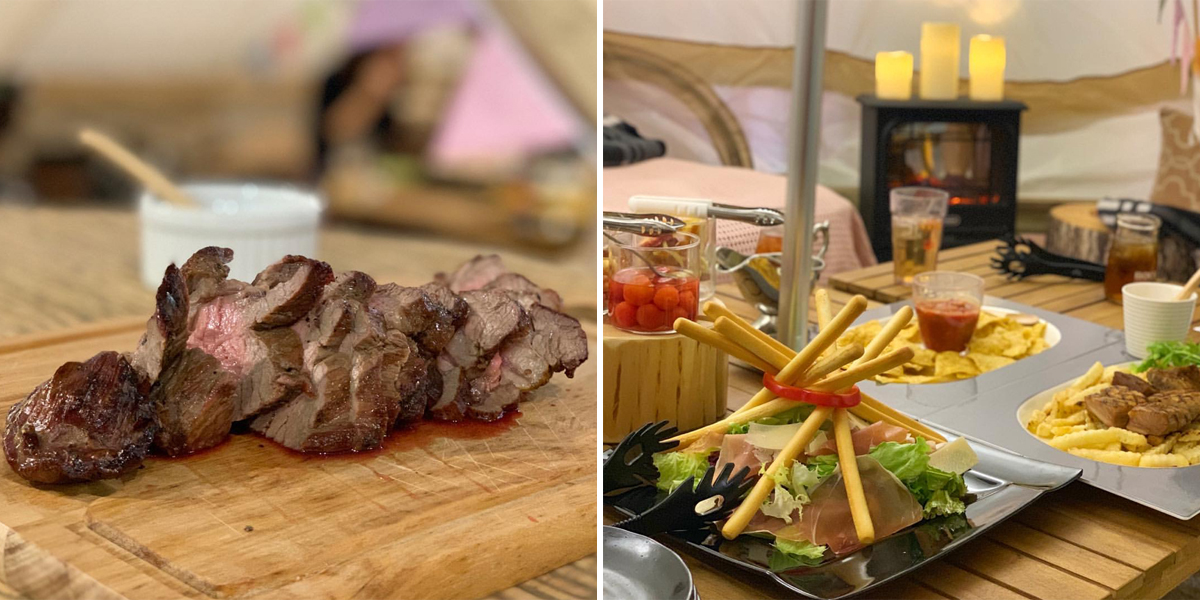 Credit: @rinya00
13 kinds of beer, a variety of shochu, wine, and more are on offer. If you've never tasted it before, we recommend the fruit-flavored shochu, for its refreshing taste and fruity fragrance.
The food on offer matches beer wonderfully: grilled beef, chicken, pork, many kinds of skewers, fried chicken, and french fries. Try the Nagoya miso skewers, a local delicacy. You can also get the BBQ option to enjoy cooking up your food without the hassle of ordering every time you want something new.
In the hot summer evening, take a break from the hubbub of urban travel and have a beer with friends. It makes for an unforgettable summer memory.
2. Giraffe Bistro Nagoya Station: Great Food & Atmosphere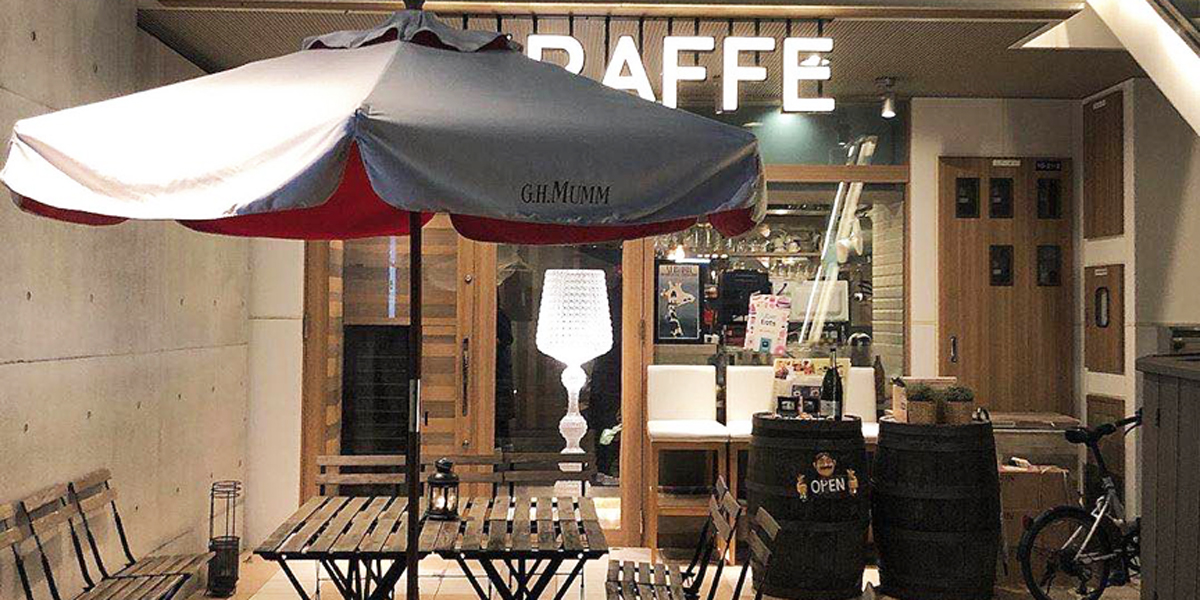 Credit: @hinao27
Diners at Giraffe Bistro often praise it for the elegant decor, and it's easily accessed by public transportation, only 6 mins on foot from Nagoya station.
Don't let the simplistic modern design fool you this bistro is for serious foodies. They have a mixture of Western and Asian inspired dishes: cheese fondue, steak, braised lamb, grilled pork, wasabi seasoned tuna with avocado, and creamy annin tofu desserts. And if you'd like an aperitif, try the shochu or beer they have on tap. Giraffe Bistro is a perfect place for friends to gather or hold an international business lunch. Giraffe Bistro always has a dish for the most discerning of tasters.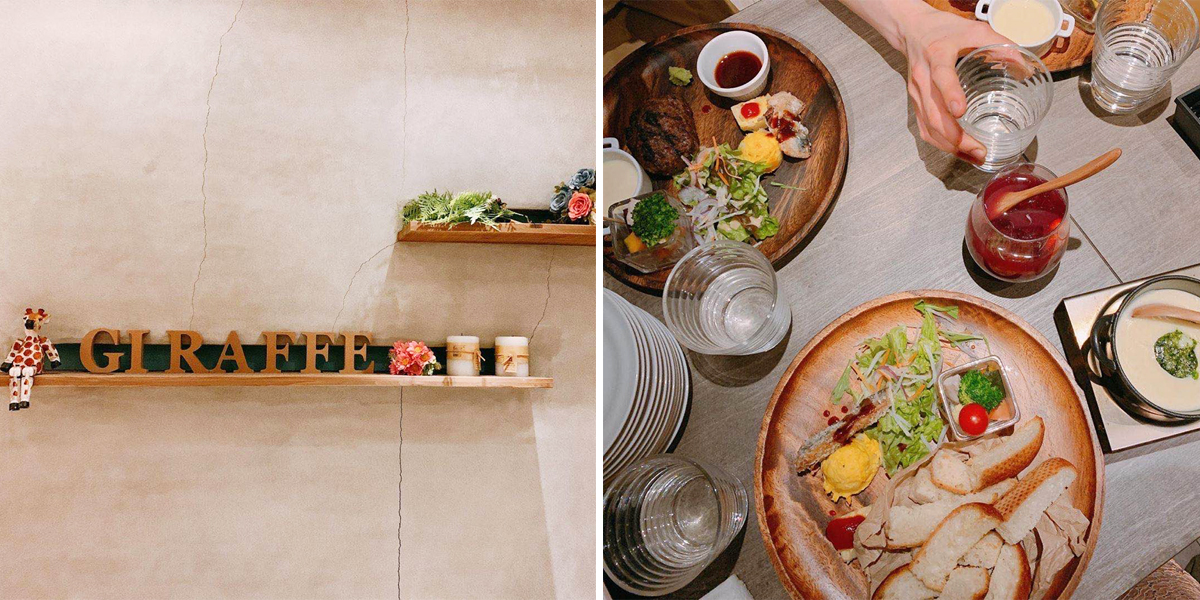 Credit: @ㅅㅌㅋ
Giraffe Bistro also has a special anniversary menu, offering specially made cakes and plates decorated with personal messages to that special someone. The anniversary package is available for same-day reservations. So if you need something in a pinch, it's a great place to arrange an amazing surprise.
Their cheese fondue comes highly recommended. Imagine fresh vegetables, and crisp bread dipped and covered in gooey-meltingly delicious cheese. The combination of bread and cheese is sublime, and their pork, grilled on a lava stone is also worth a taste. The Kuroge Wagyu and leg of lamb are specialties of the chef, who studied cooking in France for 10 years.
3.HIROBAs: 2020 Newest Attraction! A Leisure Plaza in the heart of Nagoya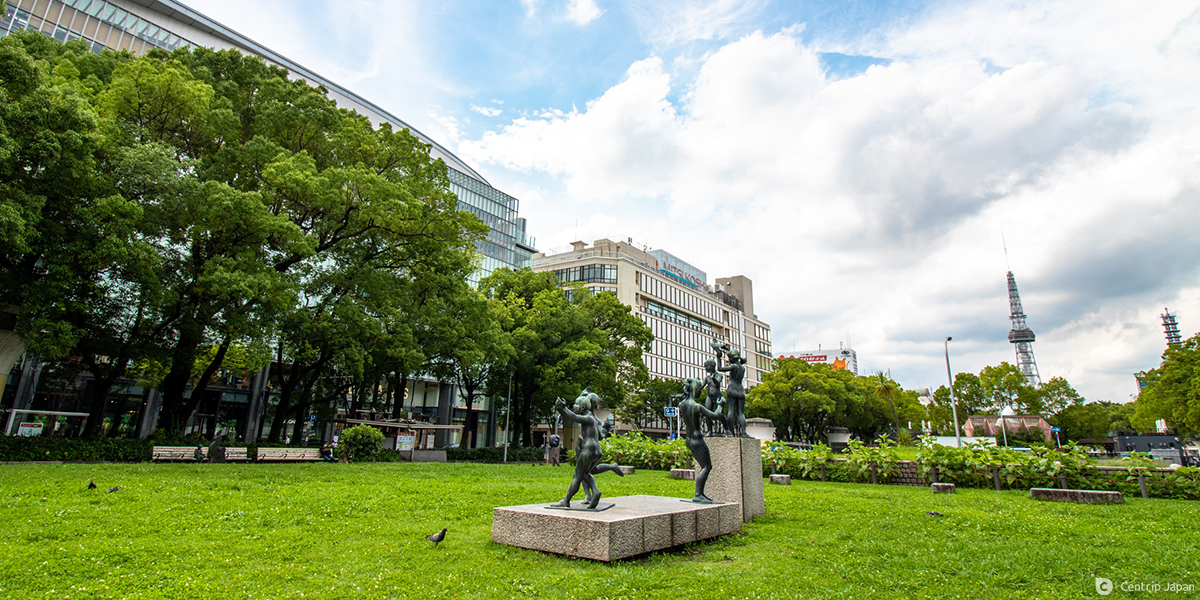 Sakae is one of the most prosperous commercial centers in Nagoya. In the center of Sakae, there is a 2km long park, Hisaya Odori Park. A variety of events are hosted here throughout the year, such as Oktoberfest and the Ramen Festival.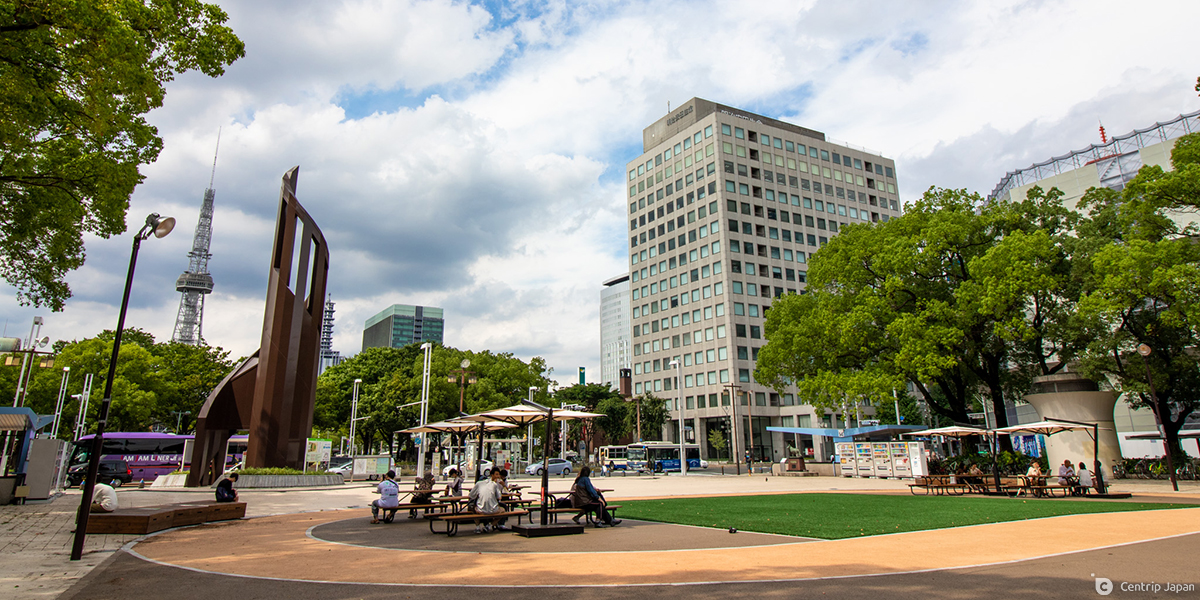 In early 2020, the area of Hisaya Odori Park in front of the Mitsukoshi Department Store was changed, from a bus terminal, and developed into an urban park: HIROBAs! In addition to outdoor spaces where visitors can relax, there are shops, food carts selling snacks, and a new restaurant to Nagoya, the popular Italian restaurant TOKYO MERCATO.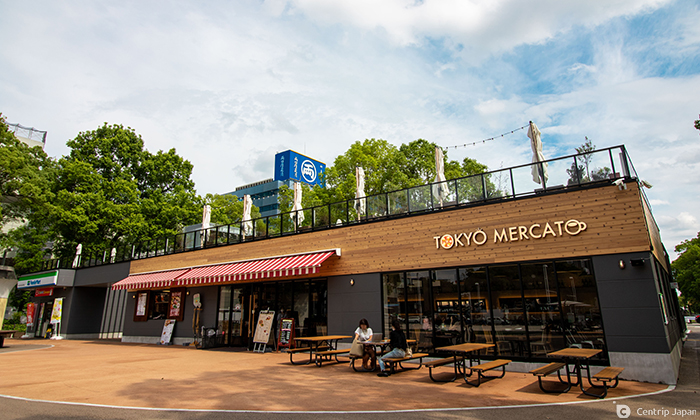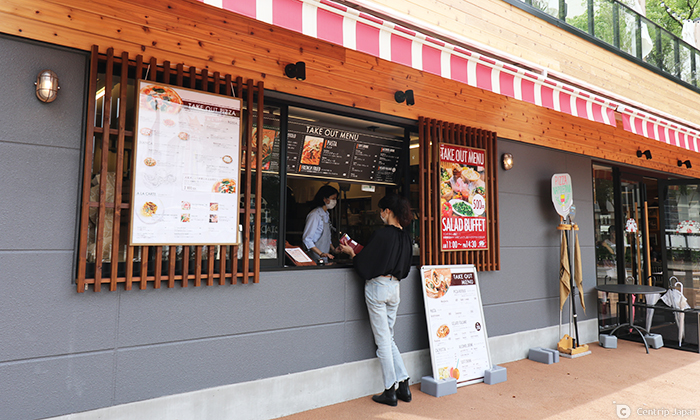 The Italian restaurant Tokyo Mercato offers a variety of steaks, pizzas, pasta, and desserts. T-bone steak is a popular choice among steak lovers, and comes highly recommended, because of its texture.
In addition to outdoor seating, Tokyo Mercato has an outdoor grill on the 2nd floor for use in the summer. You can enjoy your meal while looking out at the Nagoya TV Tower.
HIROBAs is to planned to be open for 3 years, before being converted into another facility.
Cafes
1. Rivage Moncher: River, Flowers and Sweets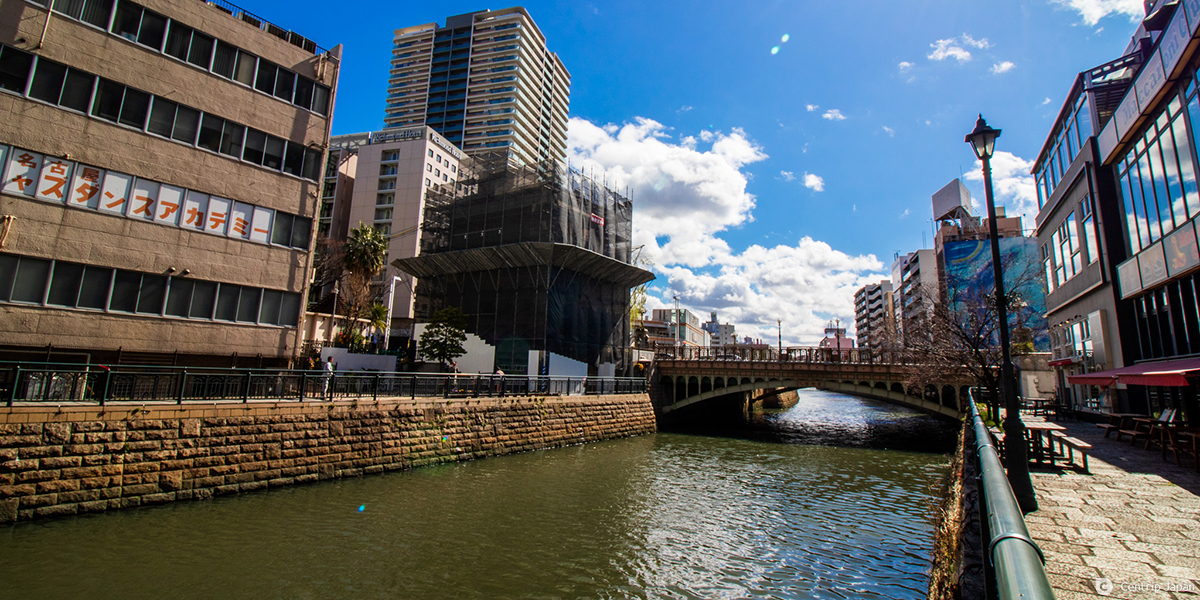 A short 15-minute walk from Nagoya station is an area called Nayabashi. Located between Nagoya stations busy business district and Sakae's busy shopping district, Nayabashi remains a calm oasis in the city. The river divides the area with both banks lined by various restaurants & cafes. In spring you can observe the cherry blossoms and the changing of the leaves as summer fades into autumn. The Nayabashi area is highly rated among younger people as they can achieve a moment of tranquility here, away from the bustling urban life.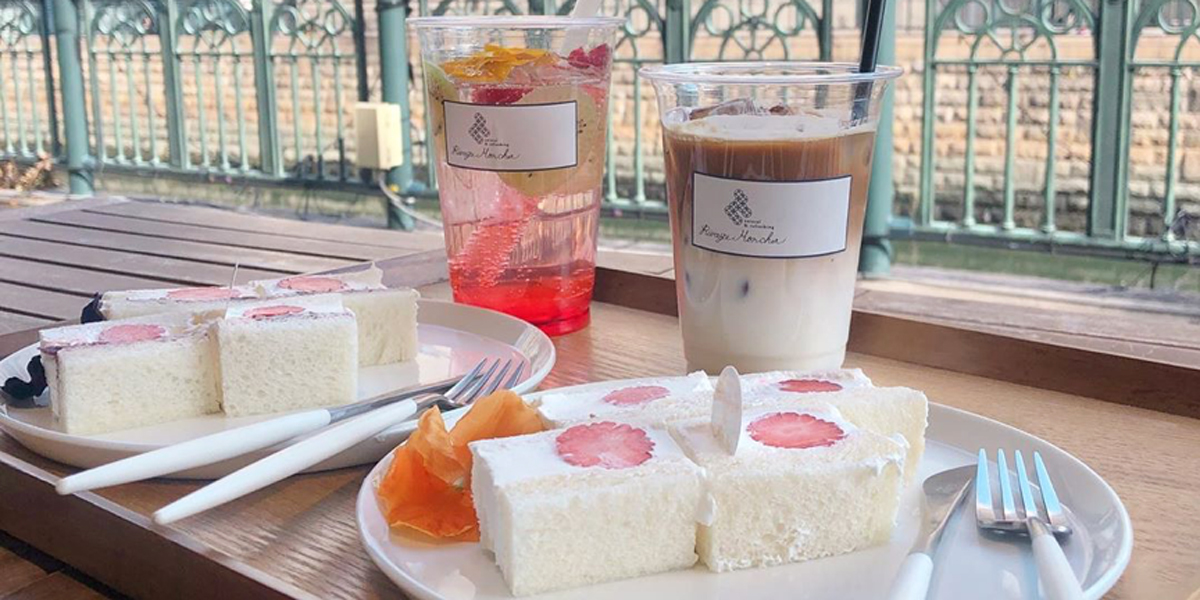 Credit: @야카 やか
Rivage Moncher is one such cafe in Nayabashi. Here you can listen to the flowing water of the river as you enjoy your meal and take in the beautiful urban landscape. Outdoor seating allows diners to become fully immersed in the tranquil atmosphere.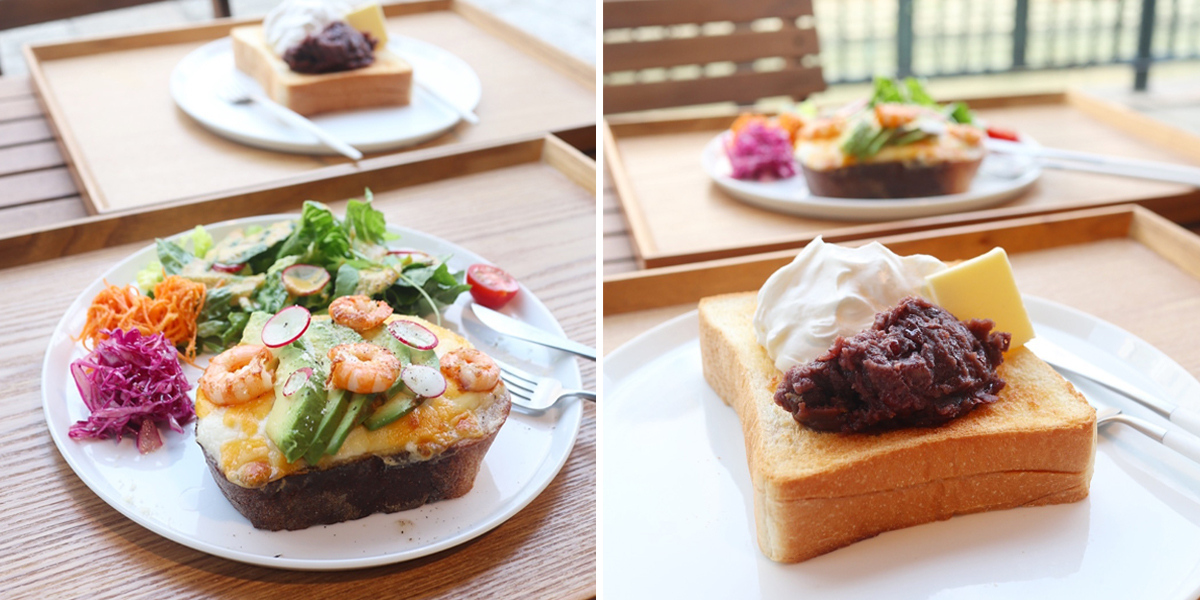 Credit: @maki_1129_
The cafe deals mainly in dessert sweets, such as choux pastry and sponge cakes. The flavor of the cake is changed to match the season treating your palate and your eyes. Light sandwiches filled with creamy salmon, chicken, and tomato are also great if you are feeling a bit peckish.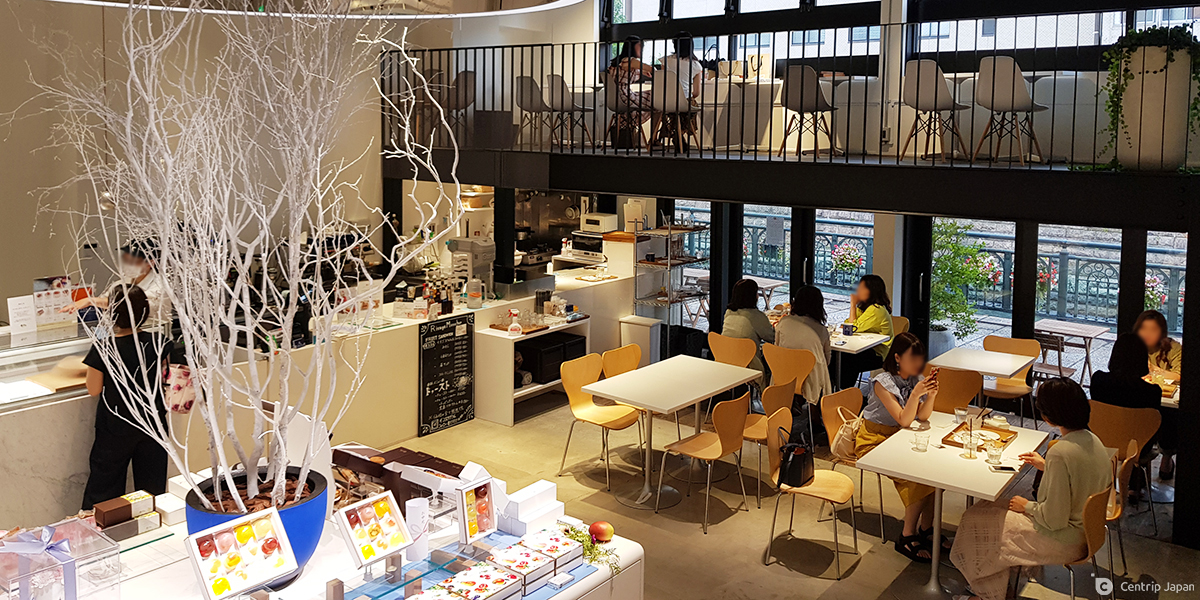 Rivage Moncher also has spacious indoor seating. The high roof creates a well-lit atmosphere, and the windows are large enough that you can enjoy a panoramic view of the outdoors. The decor is minimalistic, leaving customers the opportunity to focus on the food in front of them, the beautiful outdoor scenery, and conversations with friends.
2. Coffee Buriko: A Trip in Time & Taste.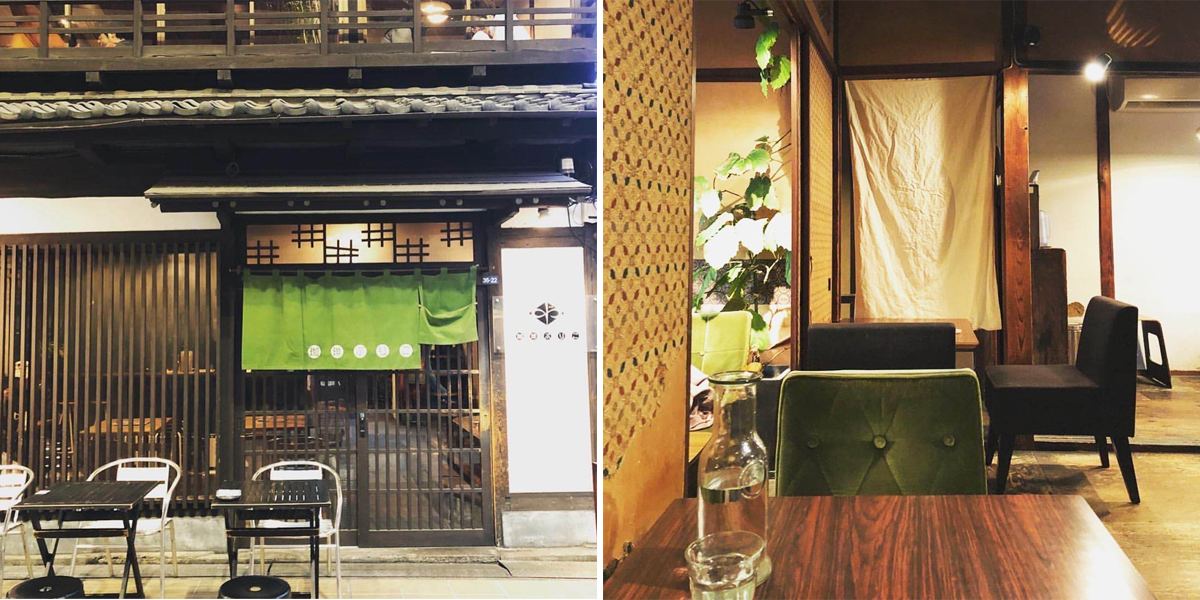 Credit: @micky01020
Coffee Buriko is in Nagoya's trendy Osu district. The cafe itself is a renovated domicile with a history of over 70 years. Every nook and cranny exudes a sense of time and history.
The cafe has two floors and outdoor seating. The second floor overlooks the bustling crowds of people shopping in Osu. The energy of the district is subdued when entering the cafe, and if you are feeling a bit stressed from the busy crowds, it makes for a relaxing place to take break and rest.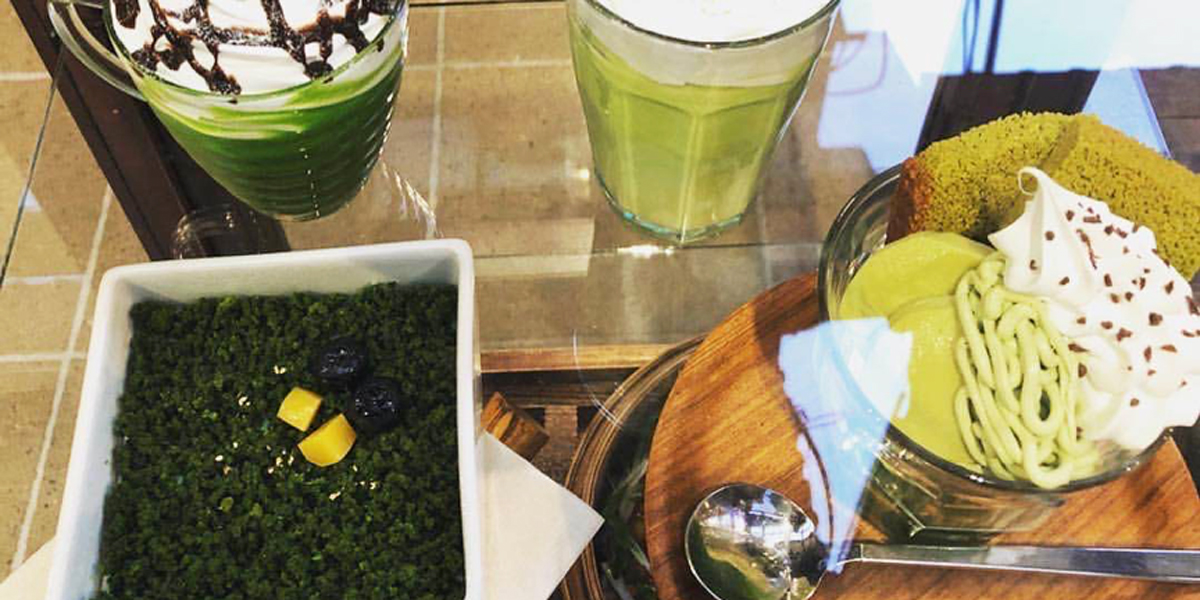 Credit: @micky01020
Who doesn't love a Japanese-inspired matcha dessert? Coffee Buriko has matcha parfaits, matcha lattes, and other matcha desserts that you can find all over Japan. In the summer, they even offer a matcha milkshake! Sweet and sour grapefruit is mixed with the bitterness of matcha to tantalize your tastebuds with the freshness of summer.
Coffee Buriko also offers many dishes. Burgers, locally sourced steamed chicken, and Okinawan-steamed pork. The steamed pork set with seasonal vegetables is light and refreshing and a taste you cannot forget. If you want to try a legendary Nagoyan dish, check out the Takikomi rice bowl. It is made with savory and sweet Hatcho miso.
3. Air Café: A Serene Urban Garden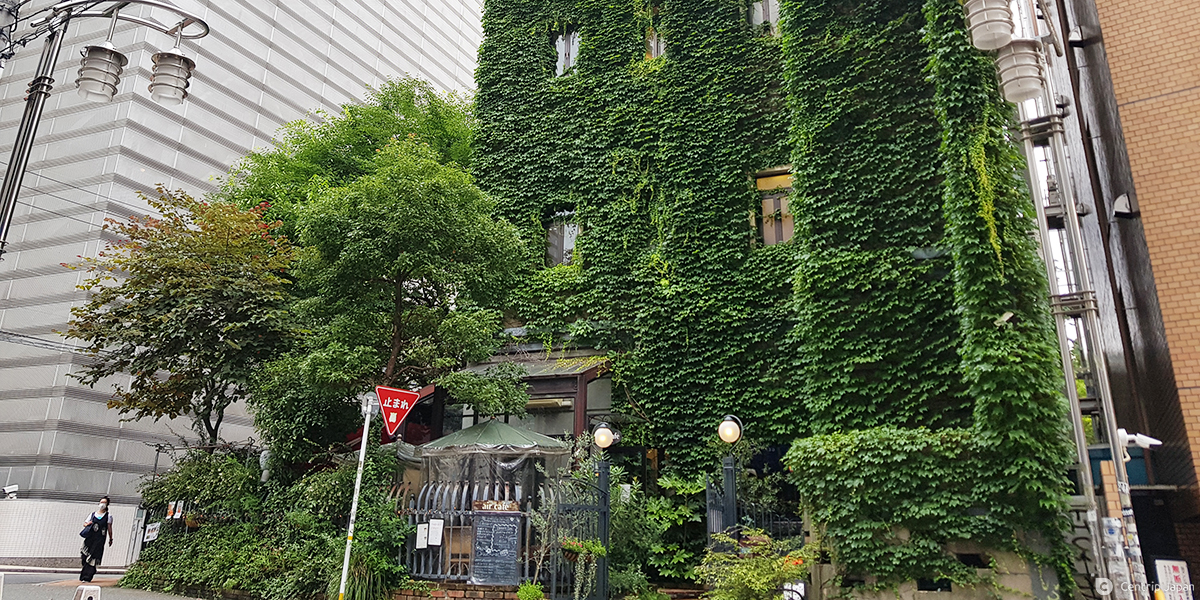 Air Café is in the shopping district of Sake. It's a 3-minute walk from Yabacho station and located near Nagoya's largest department store. The cafe is in an old brick building that looks as if it was reclaimed by nature, with massive vines spread out along the walls. The appearance alone is enough to beckon any curious traveler inside for a look at what mysteries it might hold.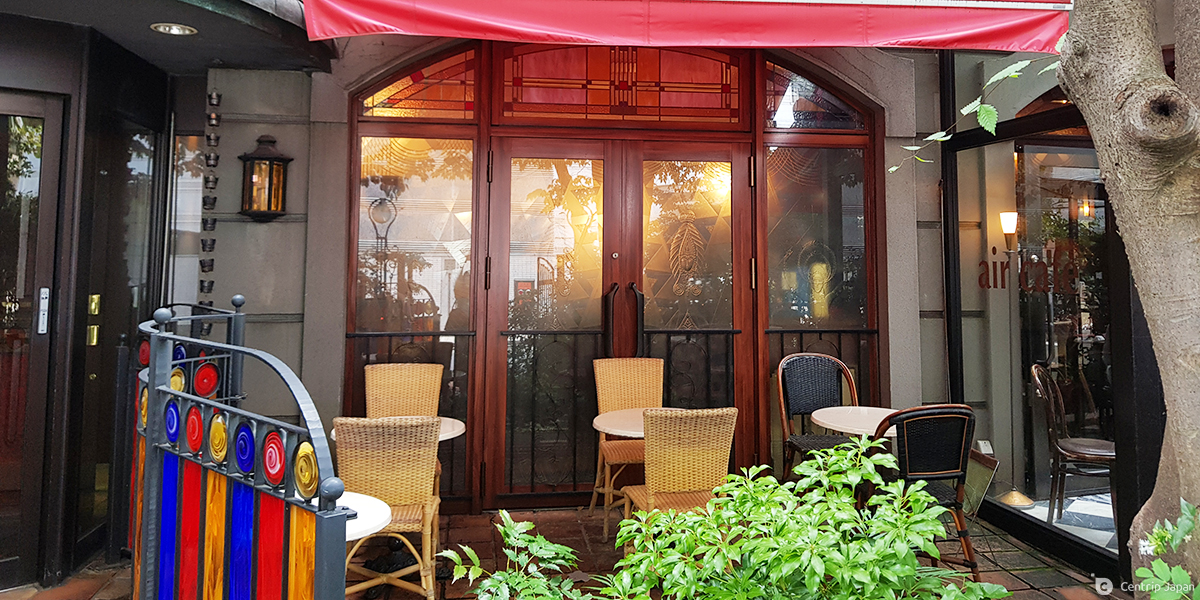 Air Café is famous for its outdoor seating. Despite being in a busy downtown area, it feels like a serene garden. Lush greenery, soothing music and gentle rays of sunlight peeking through the branches of the trees make it a magical place to take a rest.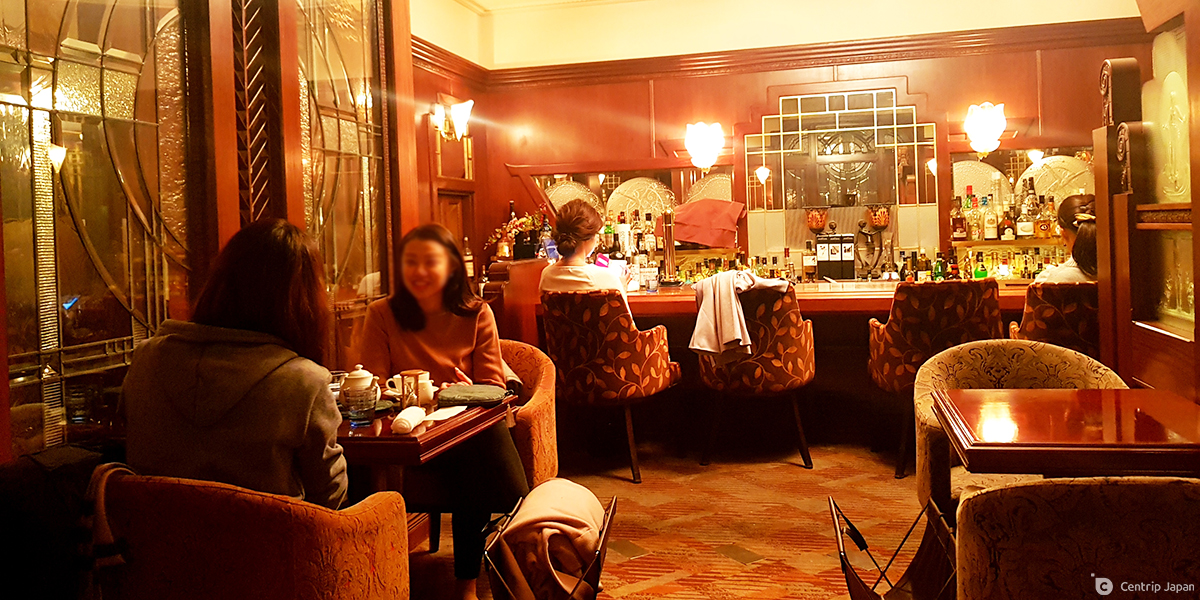 A monthly lunch set is available that includes salad, pasta, and dessert. If you need a break from shopping, you can also get an energizing dessert set with some drinks.
Wrap-up
Outdoor dining is a great way to take in the charms that a city has to offer. Whether it's a lively BBQ, a quiet city oasis, or a gentle garden, you'll get a feel on the pulse of the city. So why not stretch your legs and come out to enjoy a drink and some good food while feeling the terrific summer breeze.
Click here to get the latest information on Central Japan.Centrip Japan - Nagoya and Chubu Information