| Centrip Editorial Board
Food? Shopping? Nagoya Station has food to die for!
Nagoya Station is the main transportation hub for central Japan, and one of the busiest shopping areas in the city crowded with people looking for a good deal. Here you can find department stores, bookstores, pharmacies, almost anything you desire. And don't forget to have a bite to eat at all the great restaurants!
Nagoya Station alone has around 50 restaurants in the 4 major restaurant areas at the station, called Umaimon-dori. They are located near Hirokoji-guchi, Chuo-guchi, Ekimen-dori, and Taiko-dori. There are so many great choices before even leaving the station! It's the perfect place to have your first taste of Nagoya or to enjoy your final meal before your trip home. Let's get started!
How can I get to Umaimon-dori?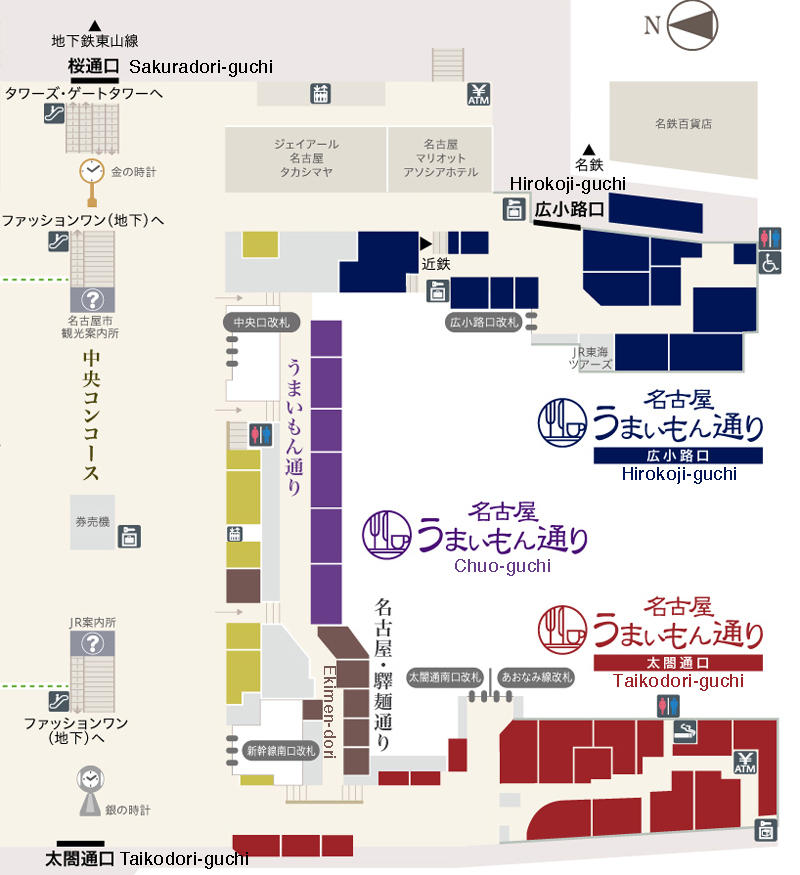 1. Umaimon-dori, Hirokoji-guchi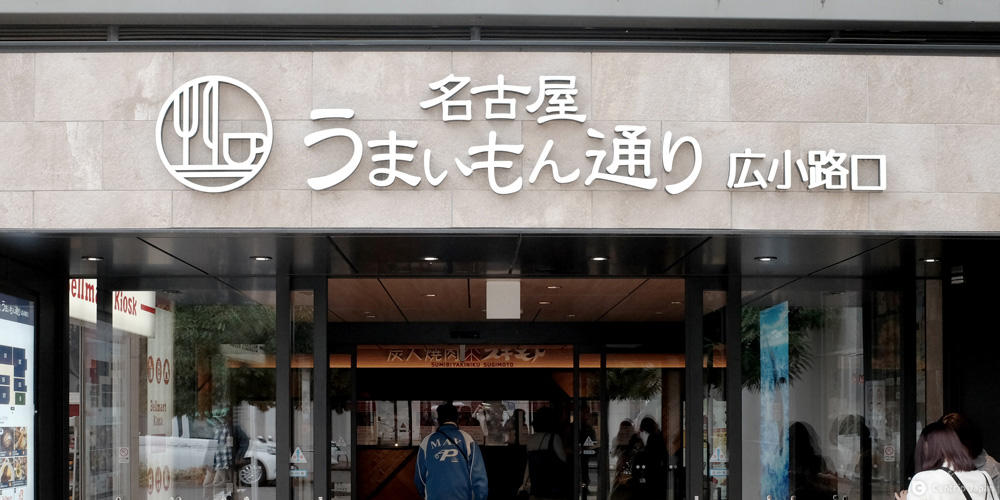 The blue area on the map is Umaimon-dori, Hirokoji-guchi, as the name suggests they are located near Hirokoji-guchi.
There are 3 ways to reach Umaimon-dori, Hirokoji-guchi.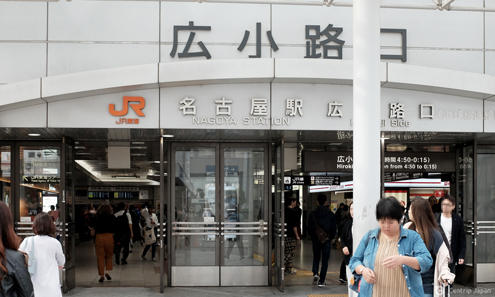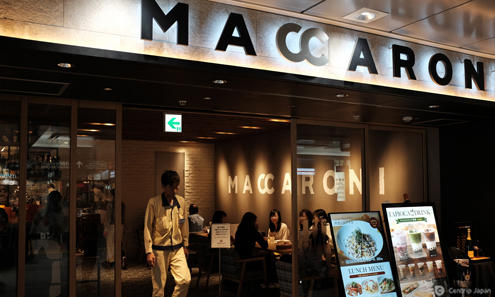 1. From outside the station enter at Hirokoji-guchi, and you will see the Italian restaurant MACCARONI immediately on your left.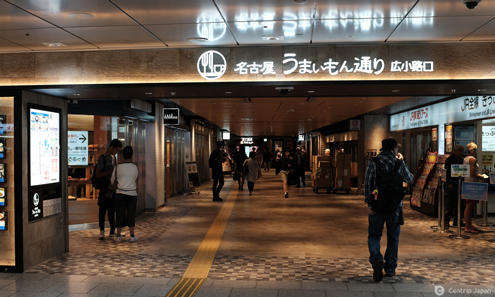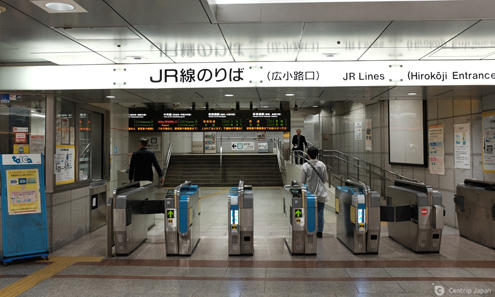 2. If you are coming by train, take the exit Hirokoji-guchi on the JR Line and Umaimon-dori will be on the opposite side.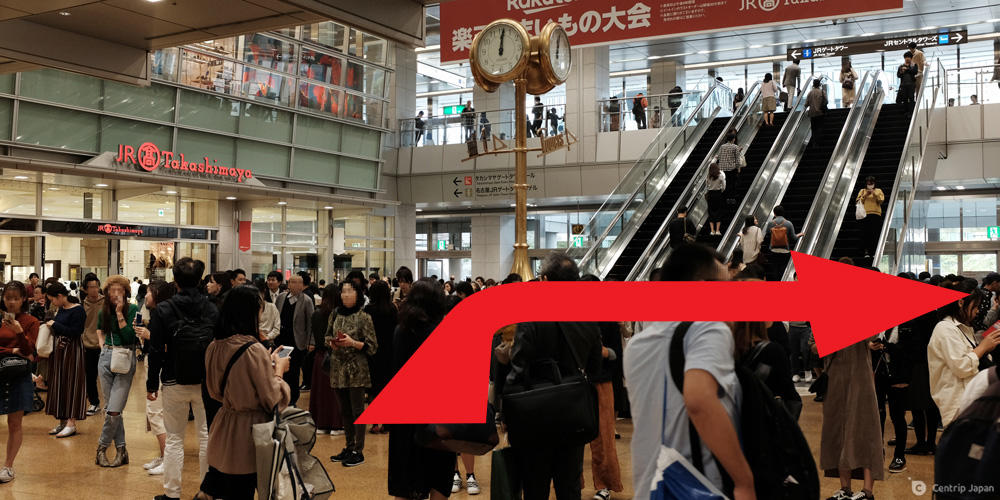 3. If you are in the Gold Clock area, turn right at the entrance to Sakura-dori and go straight.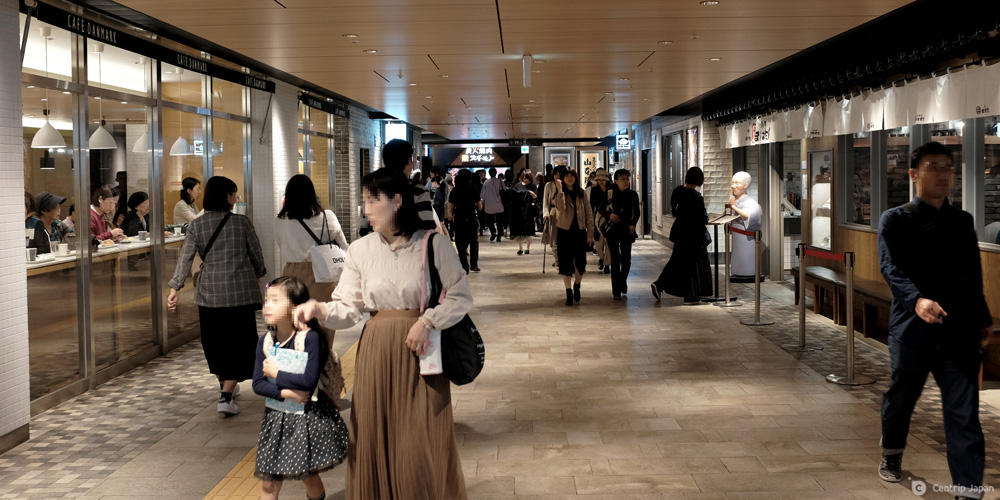 Umaimon-dori, Hirokoji-guchi is a very open area so it doesn't get crowded with lines. A wide variety of shops can be found such as diners, bakeries, Italian restaurants, and convenience stores.
2. Umaimon-dori, Chuo-guchi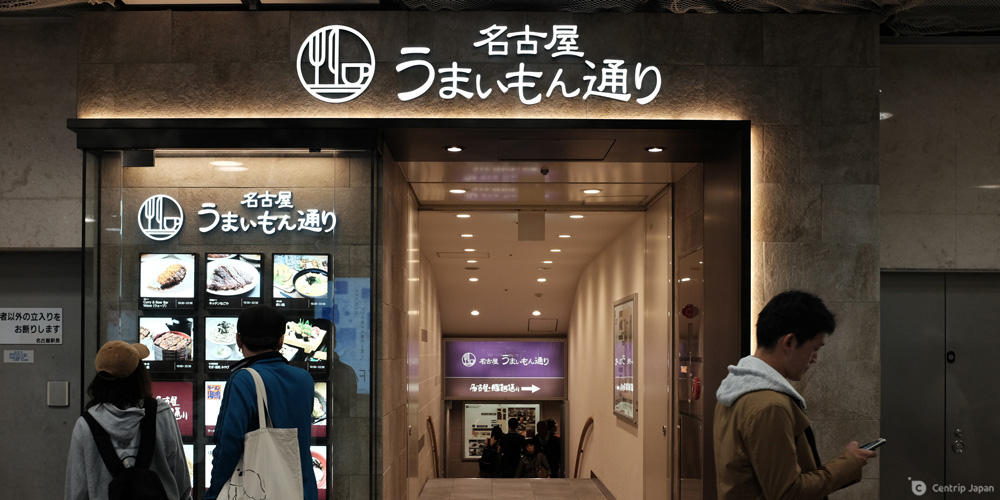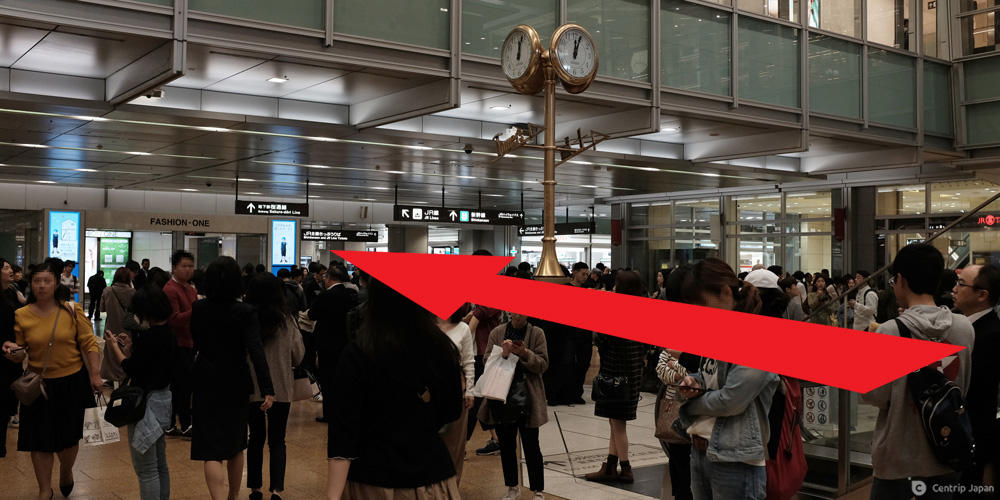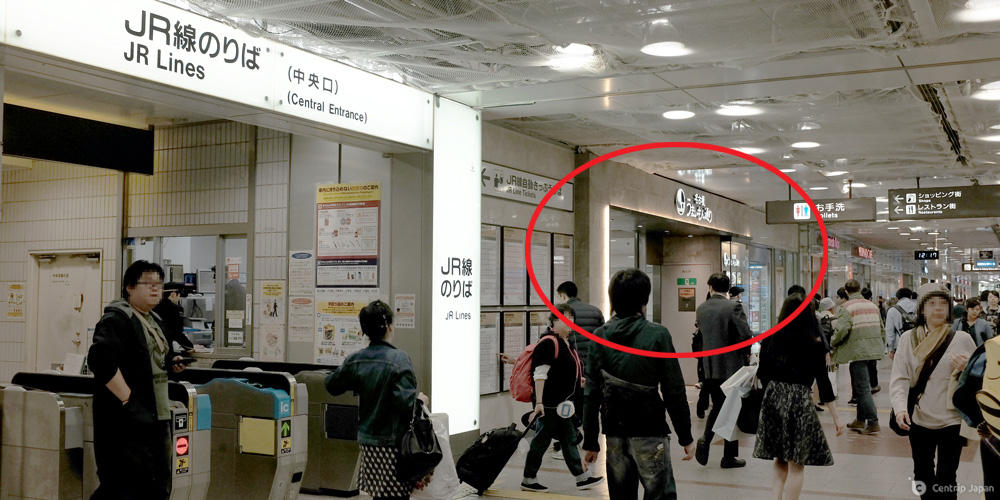 Umaimon-dori on the Chuo-guchi side is the area marked in purple. If you start from the Gold Clock area head towards the Chuo Concourse and you will see the entrance on your left. If you came by train exit at the JR Line Chuo-guchi and you will see the entrance if you go left or right. To enter just go down the stairs.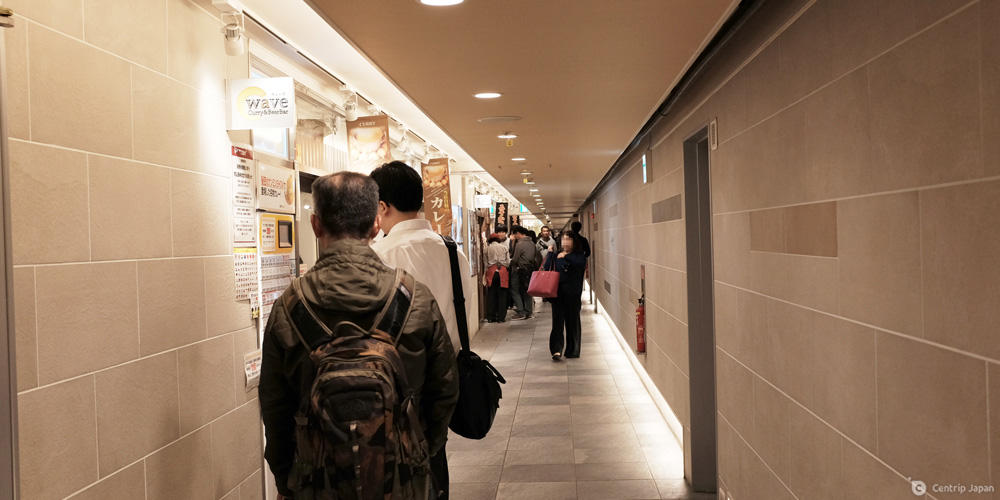 Umaimon-dori, Chuo-guchi is a very narrow hallway with enough space for about 2 people walking side-by-side. During peak times for lunch or dinner, it can get very crowded. Only 6 shops are located here and the focus is mainly on Japanese food averaging around ¥1,000 for a meal. It is also connected to Ekimen-dori.
3. Nagoya, Ekimen-dori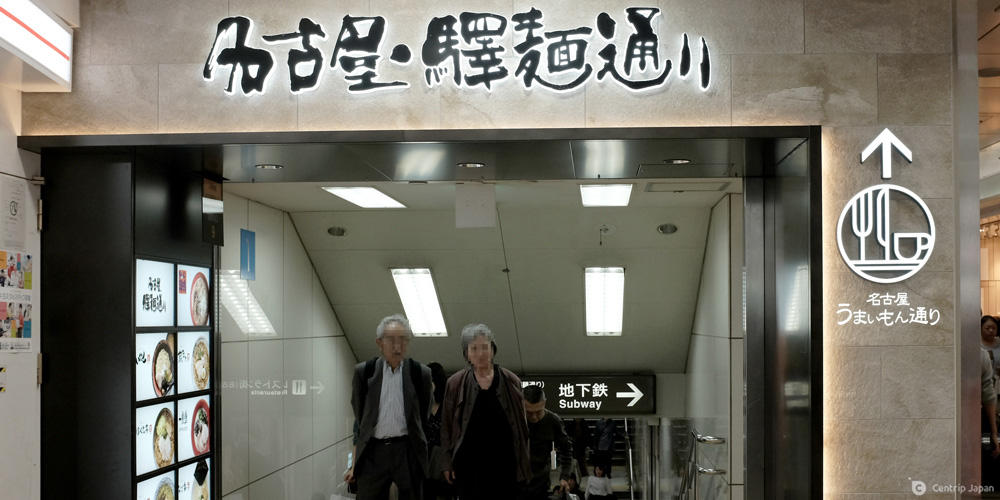 The brown area on the map, between Umaimon-dori, Chuo-guchi, and Taikodori-guchi, is Ekimen-dori.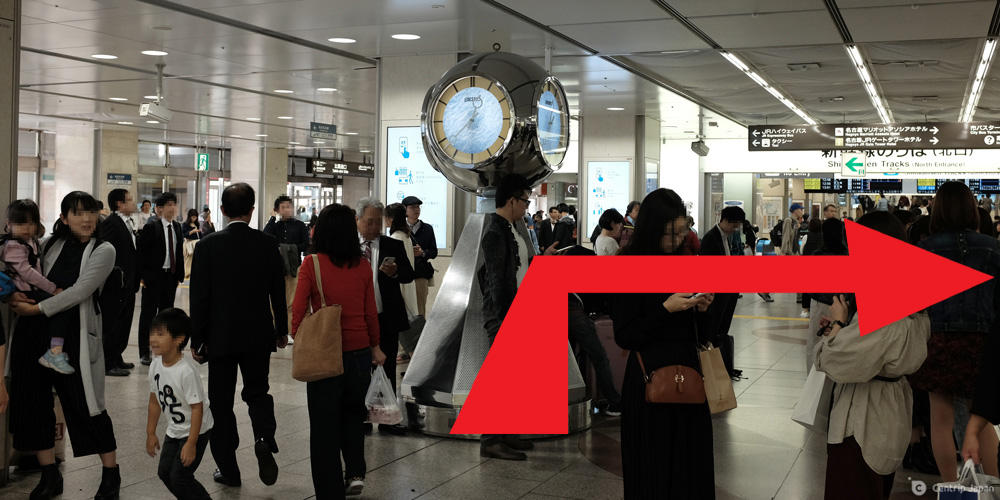 When entering Nagoya Station through Taikodori-guchi you are in the Silver Clock area and will find the entrance to Ekimen-dori on your right, down the stairs. Inside there are 7 different Ramen restaurants, one of which has special limited-time ramen available.
4. Umaimon-dori, Taikodori-guchi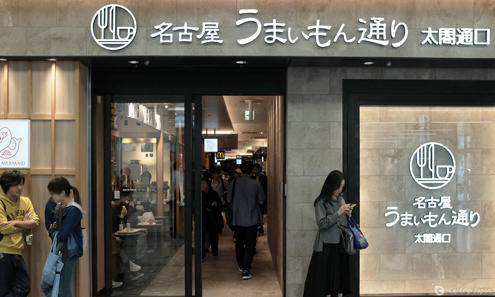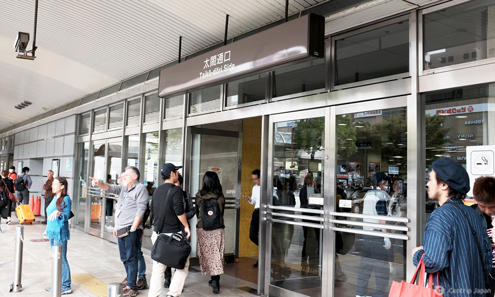 Umaimon-dori, Taikodori-guchi is the area marked in red. When you enter Nagoya Station from Taikodori-guchi in the Silver Clock area to the right you will discover a wonderful restaurant area.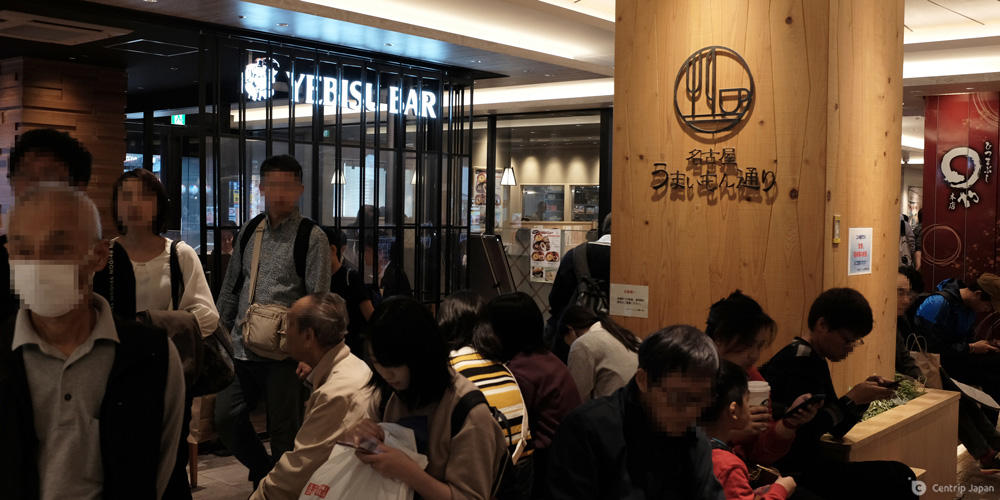 Of the 4 Umaimon-dori, this one sees the most foot traffic. There is a Starbucks, McDonald's, and other famous chain stores. Umaimon-dori has benches for you to rest on however you shouldn't eat while sitting on them or stay for too long. This area has the most shops in all 4 areas and so many different types of stores to choose from, even a drug store.
Umaimon-dori, More Recommendations
1. Umaimon-dori, Hirokoji-guchi
I recommend Piyorin Shop, Maruha Shokudo, and Yamamoto-ya Honten. Check out the range of foods on the Umaimon-dori, Hirokoji site (Japanese Only).
1. Piyorin Shop - Chick-shaped Custard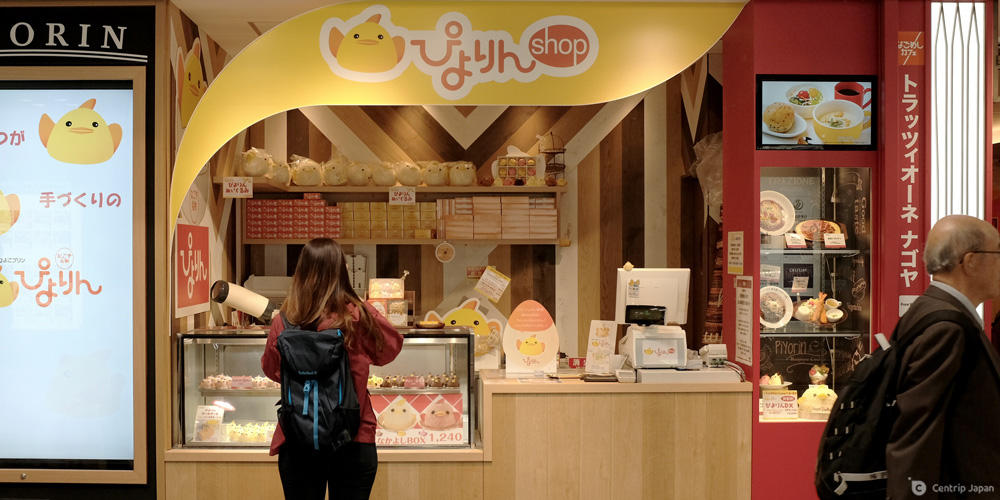 Piyorin Shop is located in the hallway on the way to Hirokoji-guchi from the Gold Clock area. You can order take out from the counter or eat-in.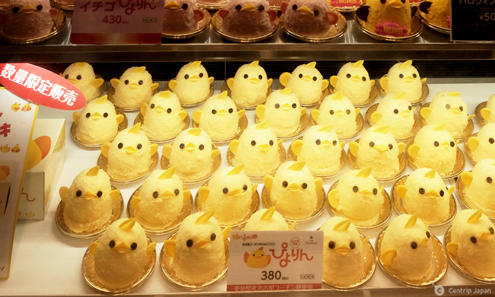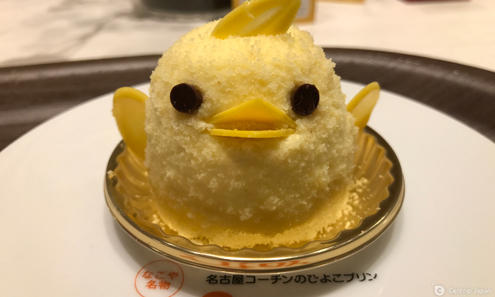 The store is famous for its chick-shaped custard pudding. It's soft, fluffy and extremely cute, and makes for a tantalizingly delicious dessert.
The chick-shaped custard pudding is small but it is very elaborate to make. There are 3 layers, the outside, and the bottom layer is made from sponge cake and the body is sprinkled with cake crumbs, to give it a fluffy texture; inside is a melt-in-your-mouth rich Bavarian cream custard. And lastly, wrapped in the cream is a creamy smooth egg pudding, made from Nagoya Cochin eggs. And for a final accent, the black eyes of the chick are made of chocolate.
The chick-shaped custard pudding comes in 3 regular flavors: plain, strawberry, chocolate, and a limited-time Halloween flavor. For souvenirs, the shop sells chick-themed tape and stuffed animals.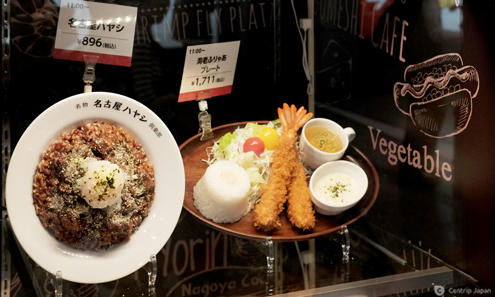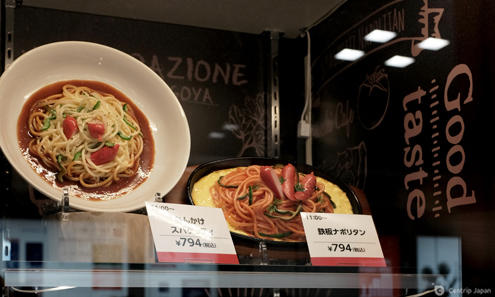 In addition to the pudding, they also have pasta and omelets with rice on the menu.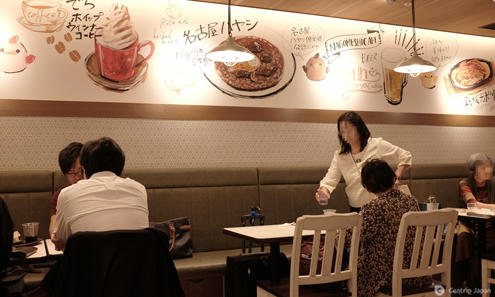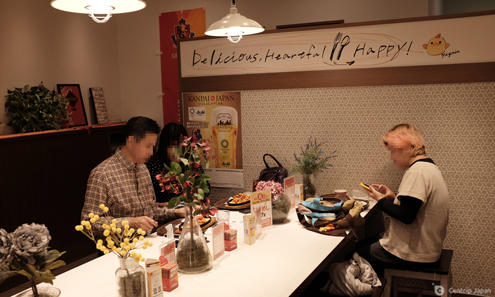 The store's decor shows off its many dishes. Seating is abundant, so feel free to come on your own or with friends.
2. Maruha Shokudo - Kaisen, Sashimi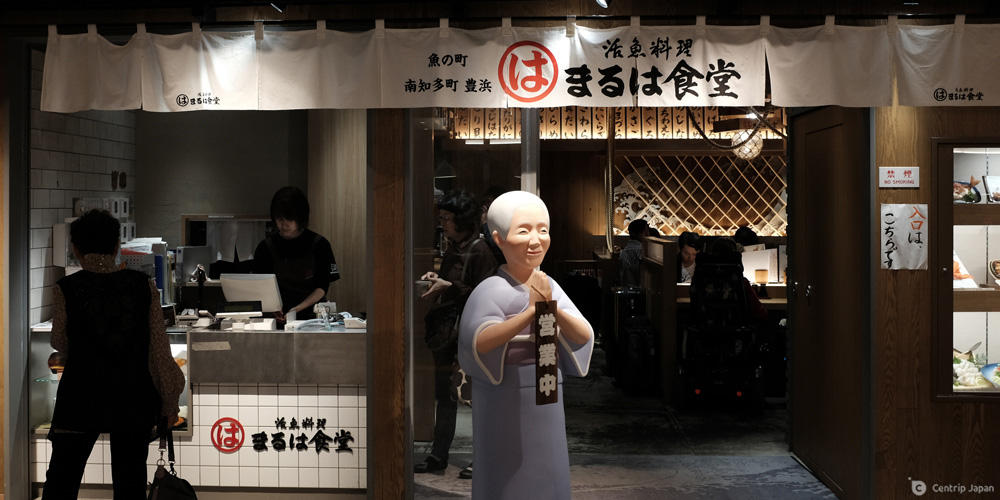 Maruha Shokudo is a live-seafood restaurant that originated in Minami Chita, Aichi, with daily servings of fresh fish, shellfish, and shrimp.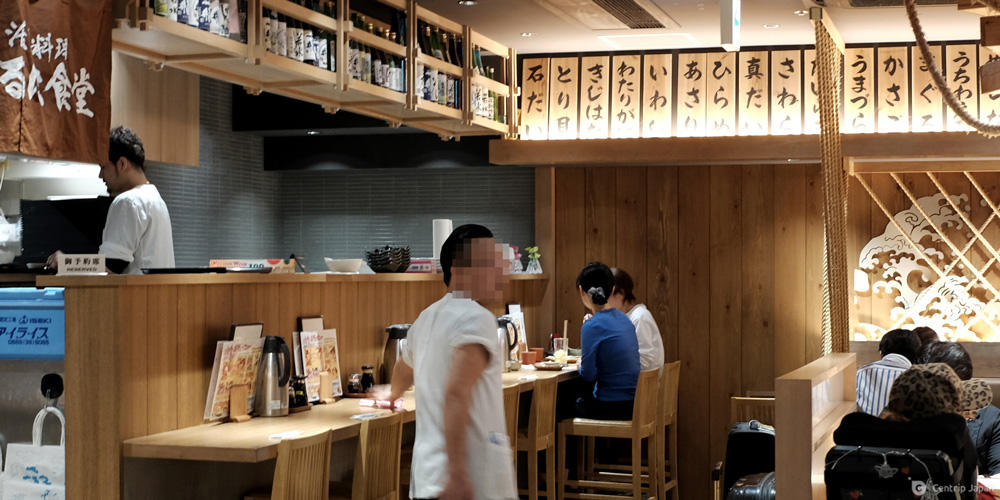 There are many tables as well as counter space, so come on your own or with friends.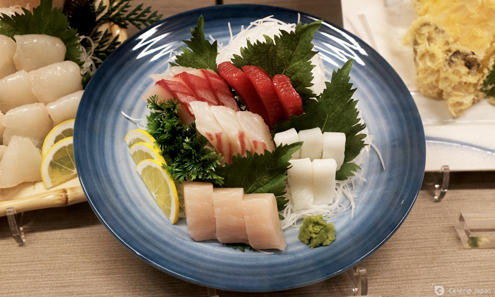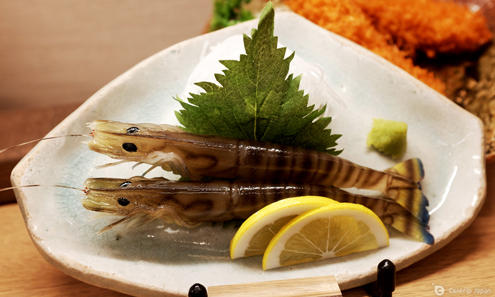 Popular dishes include fried shrimp, sashimi, and clams, and single items or set meals are available. Try the Fisherman's Bowl which is eaten, with shirasu and shrimp topped with soft boiled eggs.
3. Yamamoto Honten - Miso-stewed Udon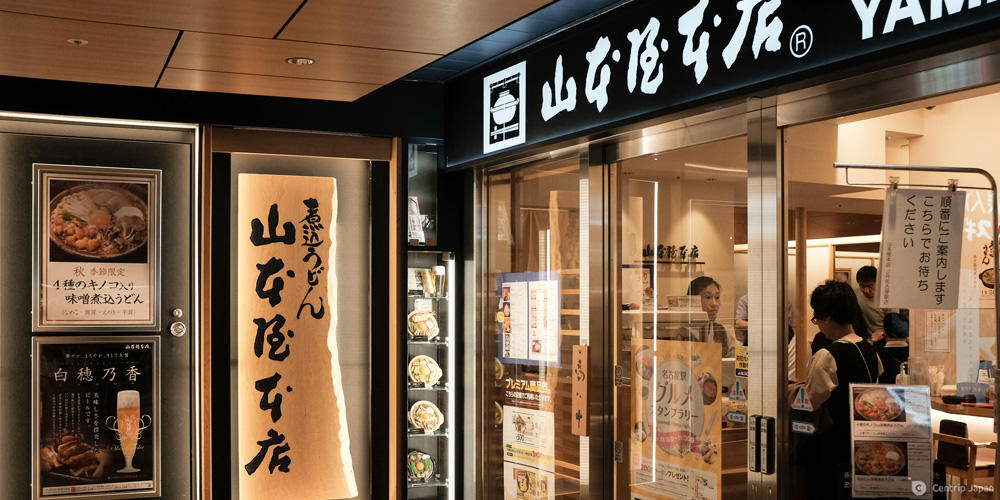 Yamamoto Honten's specialty is miso-stewed udon.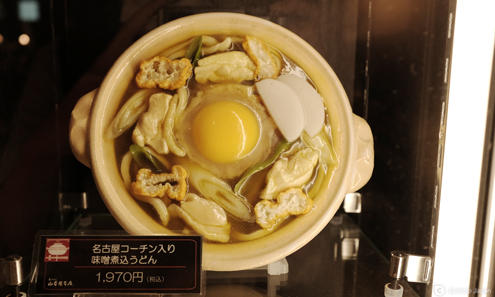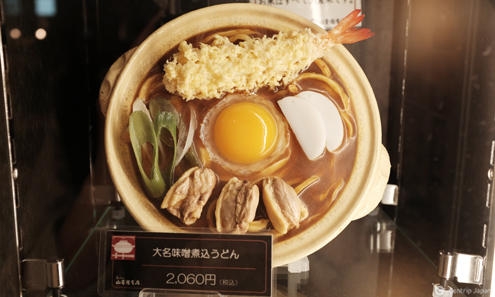 Miso-stewed udon is one of Nagoya's local dishes and differs from other Udon in Japan with their use of Hacho Miso as a base.
At first, there is a gentle scent of miso, but once you open the lid the aroma quickly fills the room. The pot is filled with egg, salmon, Nagoya Cochin, leeks, fried shrimp, and more. The miso soup is rich in ingredients, and the udon noodles are thick and tasty.
2. Umaimon-dori, Chuo-guchi
There are 6 restaurants in Umaimon-dori, Chuoguchi. I recommend Kitchen Nagoya and Akai Tori. Check the Umaimon-dori, Chuo-guchi site for more details (Japanese Only).
1. Kitchen Nagoya - Miso Cutlet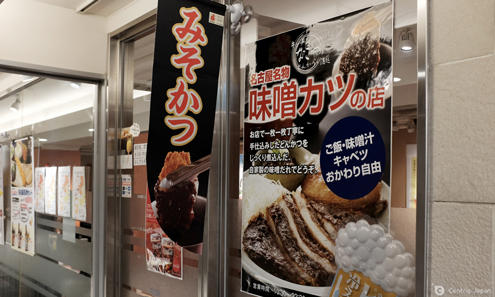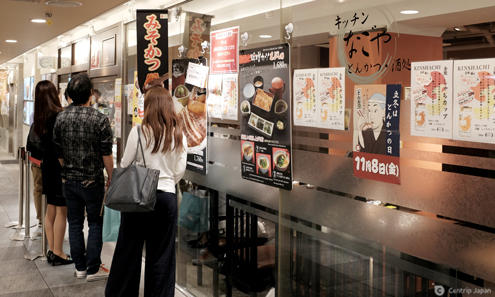 Kitchen Nagoya is very popular and there are always people lined up and ready to eat. This is the place to get authentic Nagoyan miso cutlets.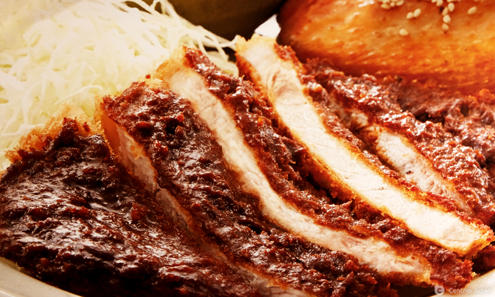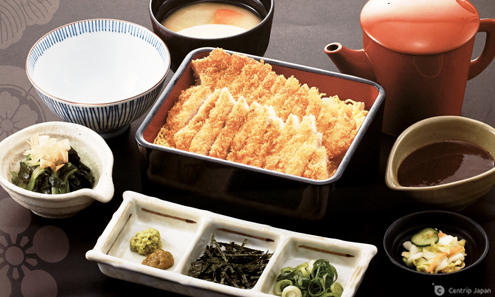 Miso cutlets are made by breading pork and deep-frying it to a golden brown, with a drizzle of delicious miso sauce on top. The sauce is made by adding mirin, sugar, and soup stock to the miso creating a sweet and tangy taste. The most popular items on the menu are the miso cutlet, chicken wings, doteni (stewed beef tendons) and there is a set that includes all 3 for ¥1,760.
2. Akai Tori - Chicken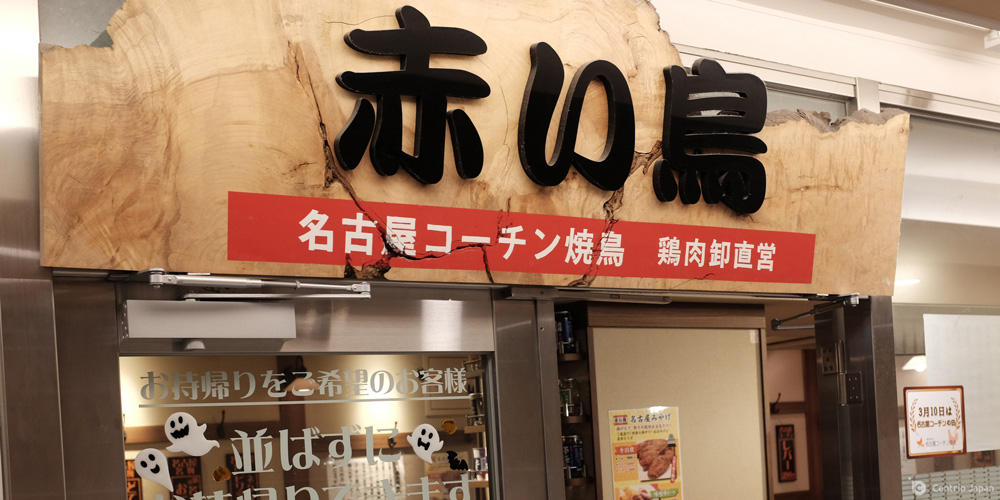 Another of Nagoya's regional dishes is Nagoya chicken, known as Cochin.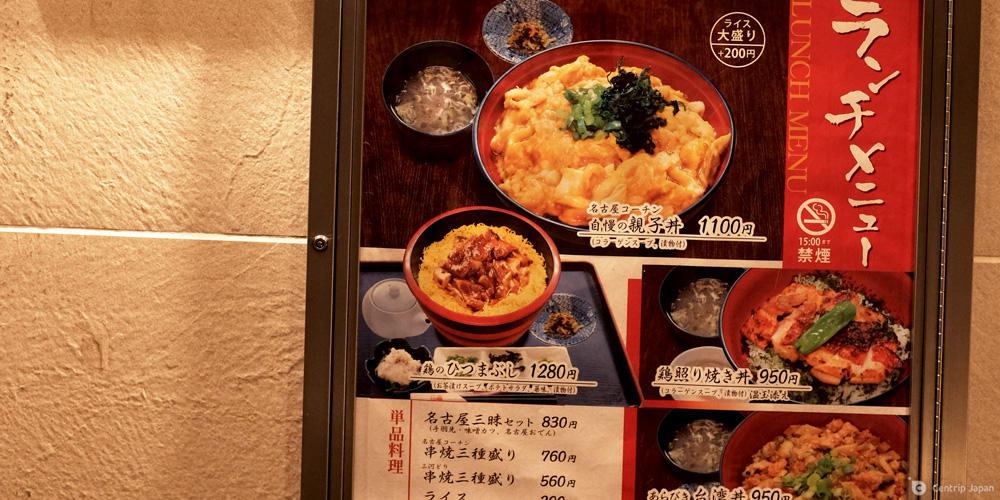 They have two sumptuous dishes, Nagoya Cochin Oyakodon & Chicken Hitsumabushi (Eaten 3 ways, plain, with seasoning, and steeped in tea). There are many tables and counter space, so come on your own or with friends. Smaller portion-sizes are available if you only need a light meal. The restaurant is ready for foreign visitors with both Chinese and English menus available.
3.Umaimon-dori, Taikodori-guchi
Compared to the other Umaimon-dori areas the one near Taikodori-guchi has many different types of stores. Restaurants, cafés, boxed lunch stores and more. I recommend are Spaghetti House Ciao, Maruya Honten, and Misen. Check the Gurume Machi Taikodori-guchi
site for more information (Japanese Only).
1. Spaghetti House Ciao - Ankake Spaghetti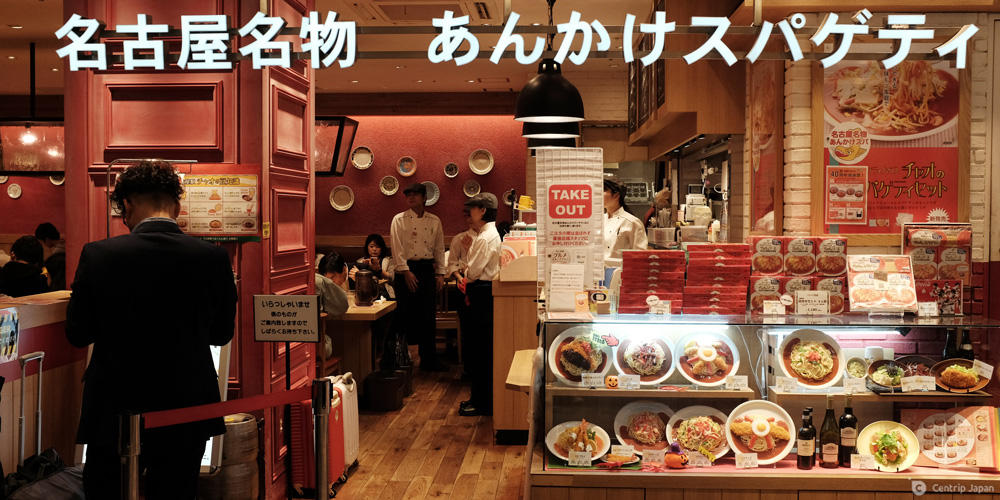 Spaghetti House Ciao makes one of Nagoya's famous dishes, Ankake Spaghetti. It is located right next to McDonald's so you can't miss it. Thick spaghetti is boiled and root vegetables are stir-fried, then a spicy sauce is poured over it all. It's a very flavorful dish.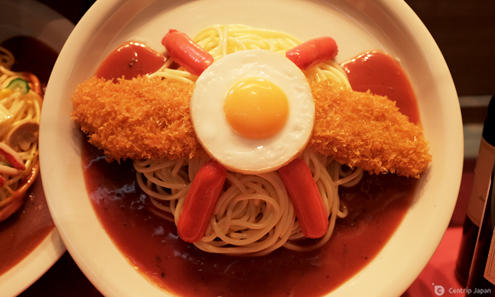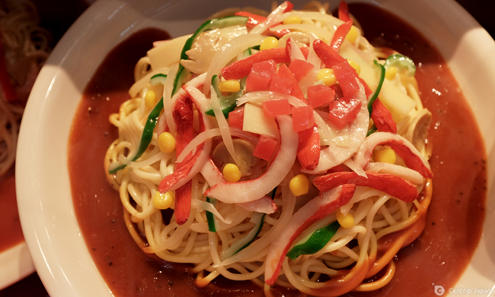 The restaurant's most popular menu item is Mirakan, which serves a pasta topped with sausages, onions, green peppers and more. There are more than 20 types of ingredients to choose from, such as corn and deep-fried shrimp. Pasta comes in 3 sizes, S (200g), R (300g), and J (480g).
2. Maruya Honten - Hitsumabushi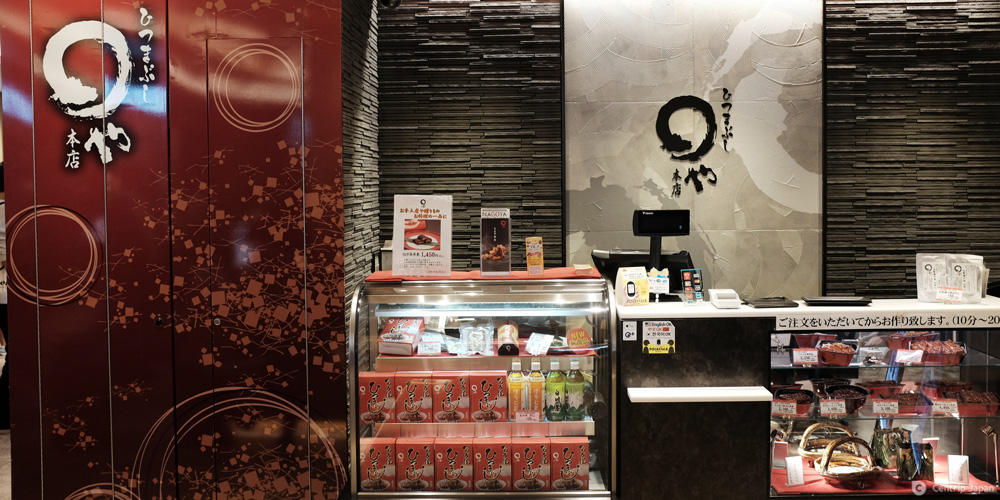 Maruya Honten is an extremely popular Hitsumabushi restaurant, with a wait of over 1 hour for a table! Thankfully if you don't want to wait for a table you can order take-out and enjoy it without wasting time!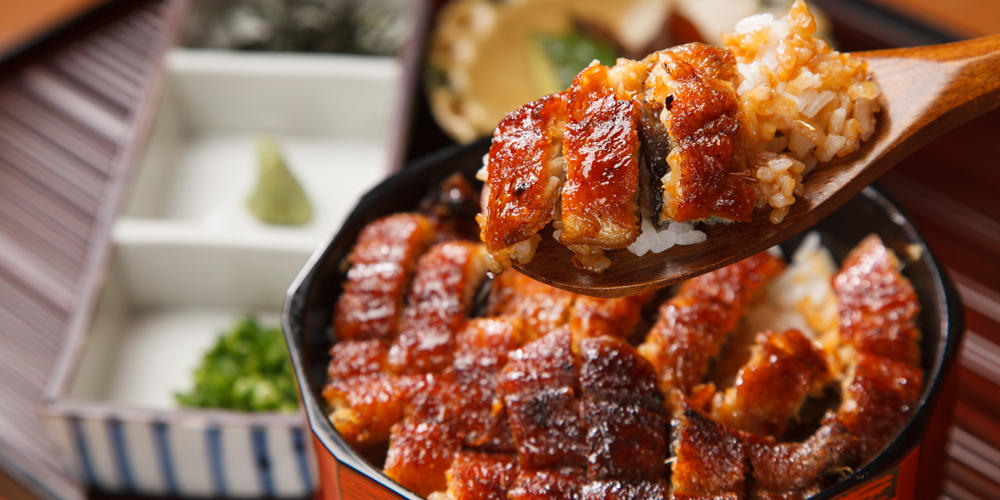 Nagoya's Hitsumabushi is served in a lacquer bowl, with rice topped with eel and covered in a delicious Tare sauce. This is Nagoya's #1 dish. The skin of the eel is served crisp, while the meat is tender and savory, this dish radiates elegance.
Nagoyan natives eat Hitsumabushi in 3 steps. First, you try the eel as is to perceive its original flavor. Next condiments like wasabi and green onions are mixed in for a more stimulating taste. Finally, either green tea, dashi broth, or hot water (depending on the restaurant) is poured over the dish and enjoyed as Ochazuke.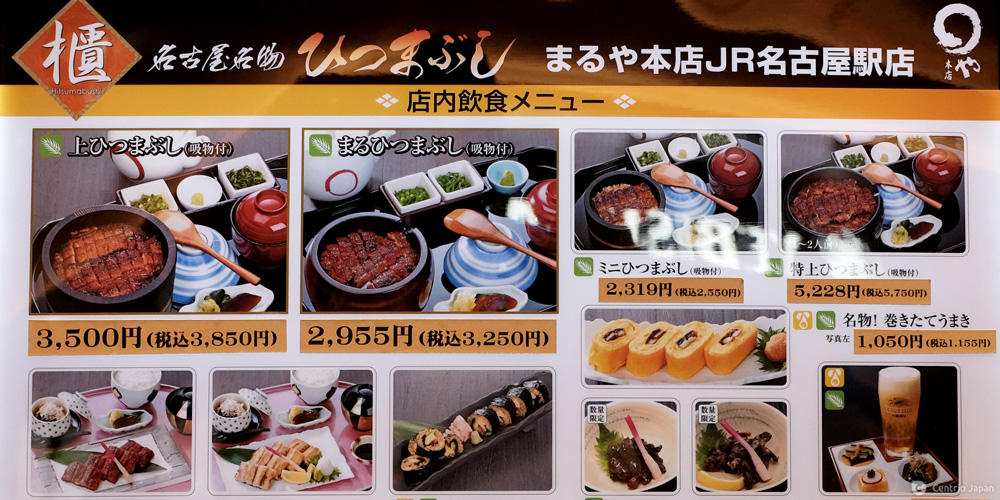 In addition to Hitsumabushi, they offer sushi wrapped in eel, fried eel innards, and eel wrapped in egg.
3. Misen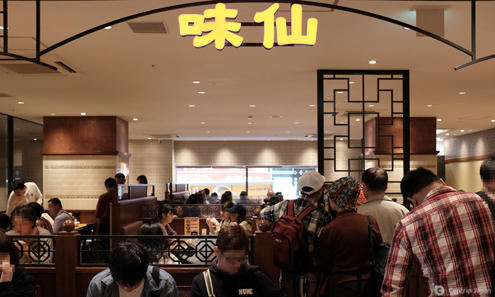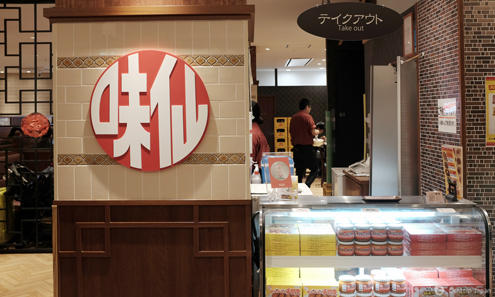 Misen is famous for creating Taiwan ramen and is a chain restaurant operated in many areas of Nagoya. Taiwan ramen has a soy sauce base with a uniquely Nagoyan flavor. The ramen is topped with spicy pork to create a dish you'll have to stop yourself from wolfing down. If you want to have a taste of Nagoyan cuisine that is popular even in Japan don't miss trying out Misen's Taiwan Ramen.
Wrap-up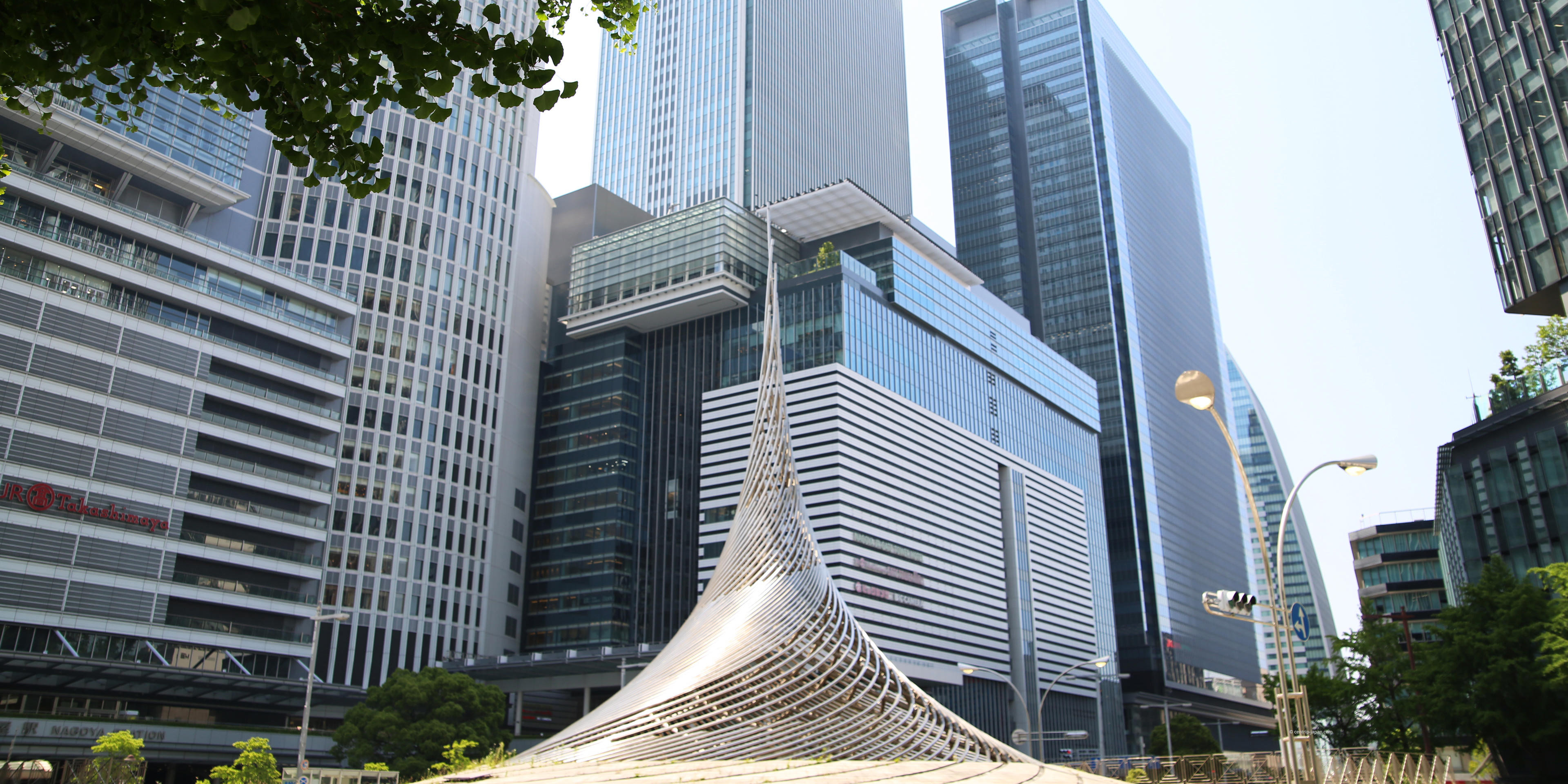 Now you know everything there is to know about Nagoya Station's Umaimon-dori. Whether you need a first meal or a final one, please enjoy everything Nagoya Station has to offer!