| Hannah Tsai
Nagoya's Sakae District: The Ultimate Underground Shopping Guide!
Are you ready to come to lively Nagoya and begin shopping? Before you do, it is necessary for you to understand one of Nagoya's special points: the underground street. Otherwise, you will miss out on a lot of shopping fun!
This time the editor of Centrip Japan, who is almost at Sakae every day, will show you the most complete Sakae Shopping Street Map. It not only includes underground & aboveground store guides but also helps you to understand the three underground streets which are known as the Underground Maze. Moreover, it lists the stores you never want to miss and guides you through the underground street shopping malls.
Why are there many underground streets in Nagoya?
The Nagoya underground street is well-developed and said to be the birthplace of Japanese underground streets. One of the reasons for this is that Nagoya was designed as a "Car City". The roads were made wide for cars, which resulted in people taking more time to cross them. Because of this, the pedestrian-only underground street was born.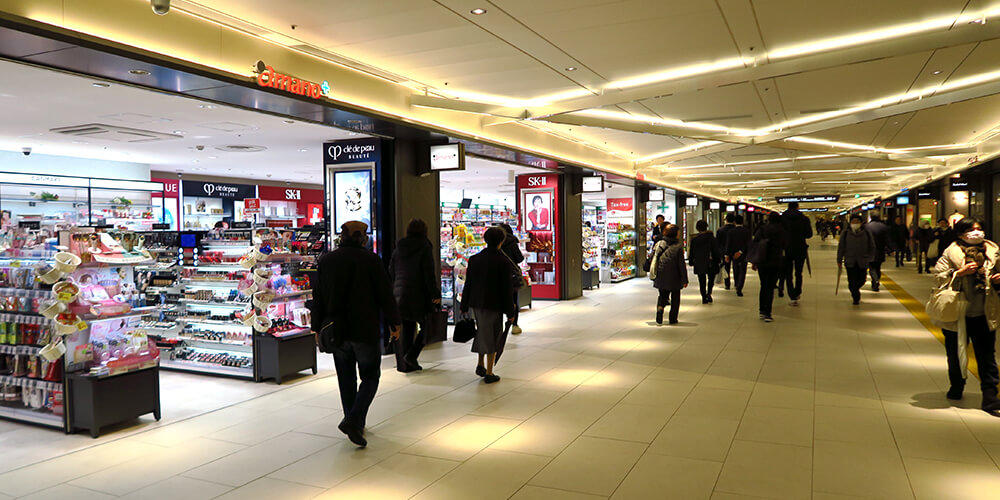 The underground street is comfortable for shopping no matter the weather. It is particularly suited for Nagoya's winter, which is colder than other places. In addition, the Nagoya underground street connects all major department stores, and you even can go shopping on your way to them. Shopping time begins as soon as you get off the subway!
The underground streets in Nagoya are found primarily in 2 districts, Nagoya Station and Sakae. Today, Centrip will introduce you to the Sakae District.
Sakae Shopping Map
Before shopping at the underground street, let's take a comprehensive look at the Sakae Shopping Map.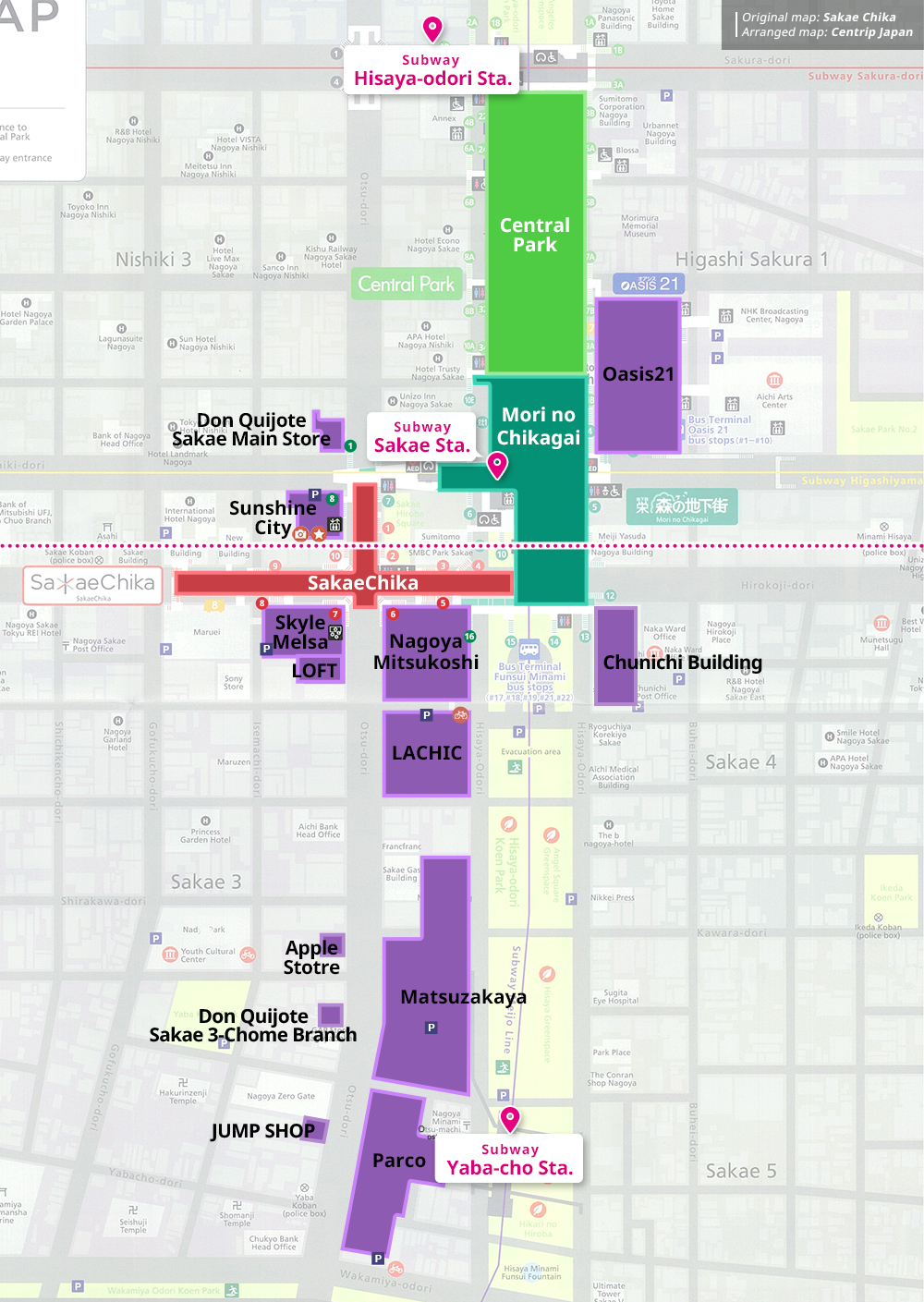 Sakae's underground street is divided into 3 areas: Sakae Chika, Central Park, and Mori no Chikagai. Each one has its specialty.
1. Underground Street: Sakae Chika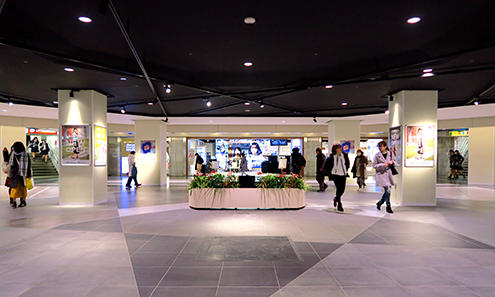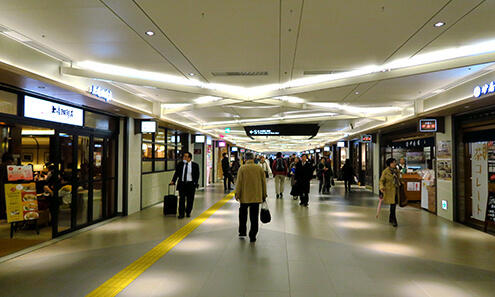 Sakae Chika is popular among the general public, especially young people. The stores here mainly are fashion shops, restaurants, and cafes. It is also the only underground path to the department stores. So they are always crowded with people. On holidays almost every restaurant will be full.
Business hours: 10:00-20:00 (Hours of operation may vary)
Official Site
Recommended stores in Sakae Chika
Lattice
¥300 accessories shop (necklaces, earrings, hair accessories, etc.)
tutu anna
Socks store
3 pairs of socks for ¥1000, cheap and cute.
Tenma
Curry and Curry Bread shop
It never lacks customers, the curry bread is the most famous.
Shogetsu
Eel rice specialty store
How to go to Sakae Chika?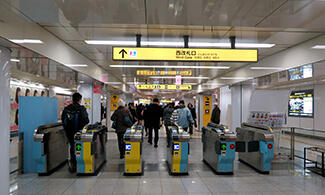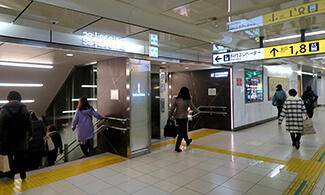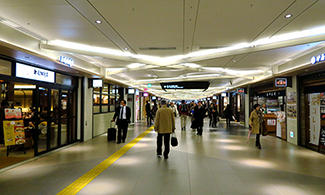 Recommended department stores and shops which you can enjoy at the same time.
You can go shopping at Sakae Chika and the stores in the Yasakacho area (the south part of the map) at the same time. They are both must-visit places in Sakae.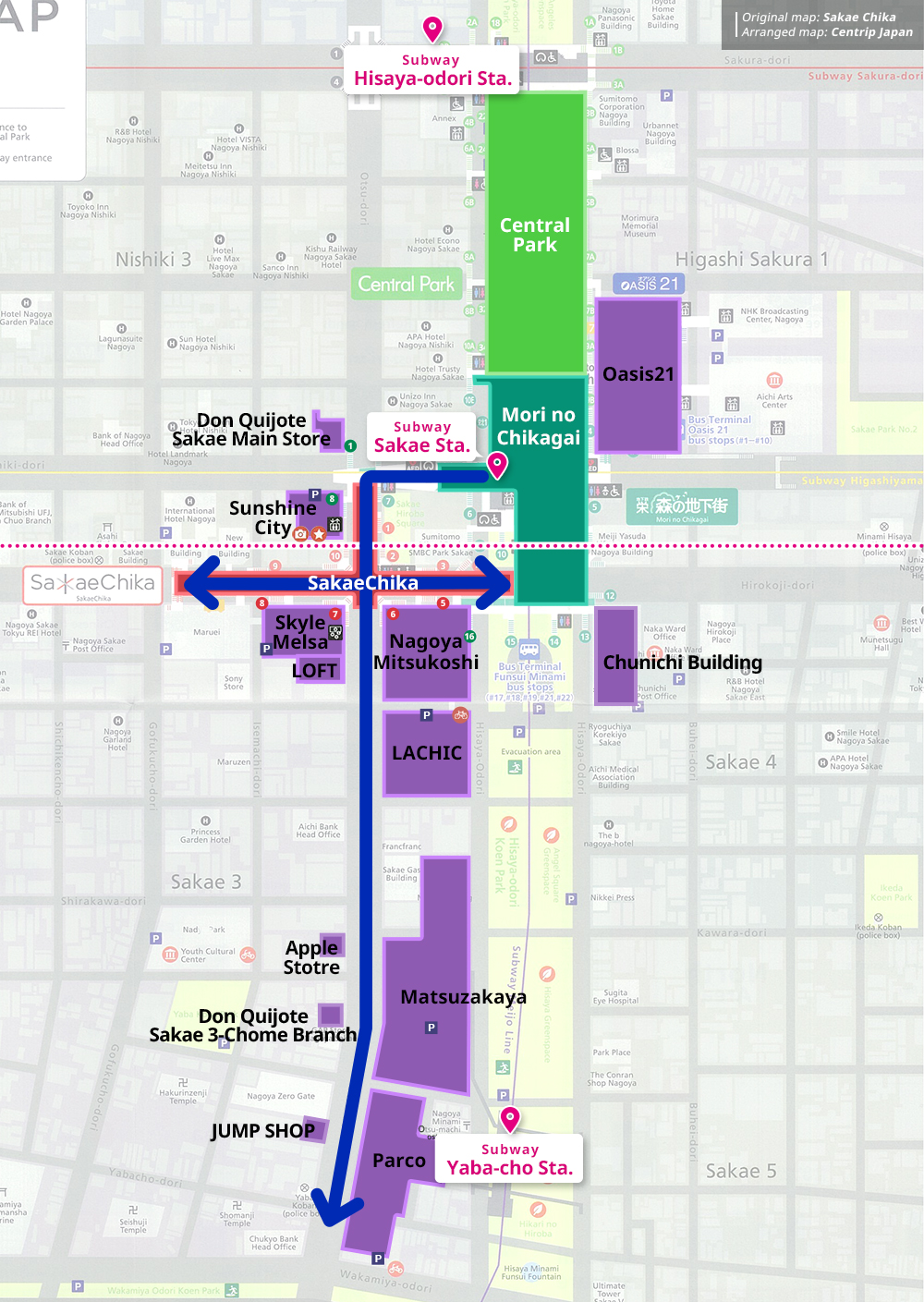 If you follow the directions of the arrows, you can walk to Sakae Chika and the four major department stores in Sakae: Mitsukoshi, LACHIC, Matsuzakaya, PARCO, LOFT, Apple Store, and more. They are all in the same district. If you continue walking, you even can arrive at Osu in about 25 minutes!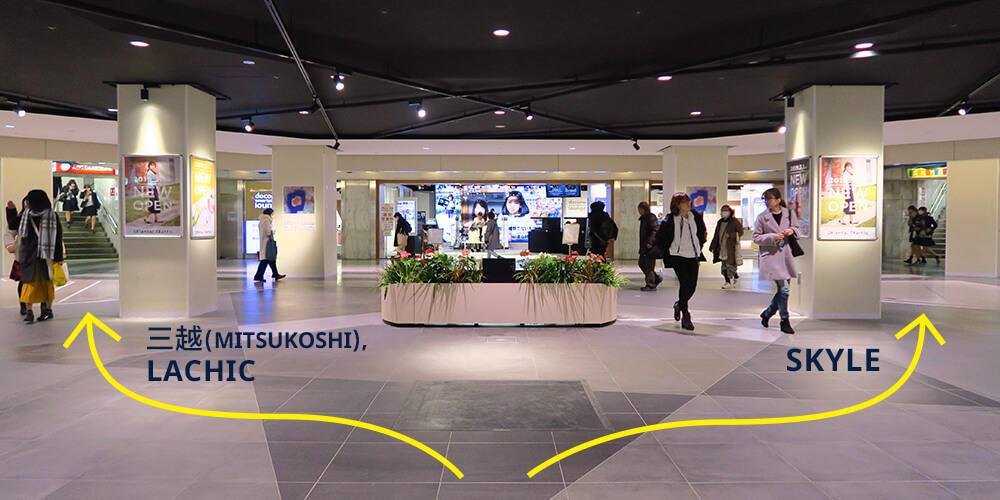 What else? At Sakae Chika, there is a way into Mitsukoshi Department Store and SKYLE Mall (please refer to the picture above). It is not necessary to walk outside. Thanks to this design, you can have a comfortable shopping time even during rainy weather, cold winters, or hot summers!
2. Underground Street: Central Park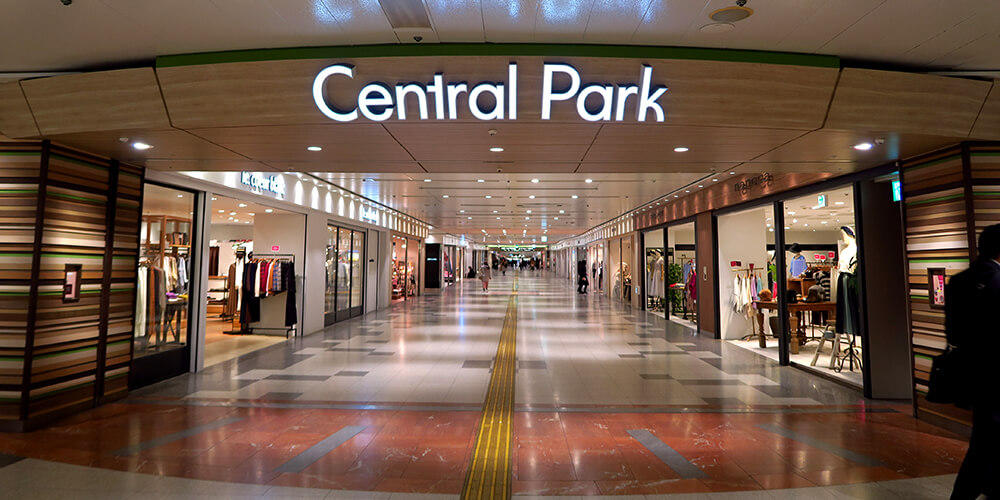 Central Park is the most extensive of the three underground streets, connecting Sakae Station and Hisaya Odori Park, Nagoya TV Tower, and Oasis 21. The stores here are mainly fashion shops and variety stores. The brands are more mature and high-grade, and the customer base is mainly 25-30 years old.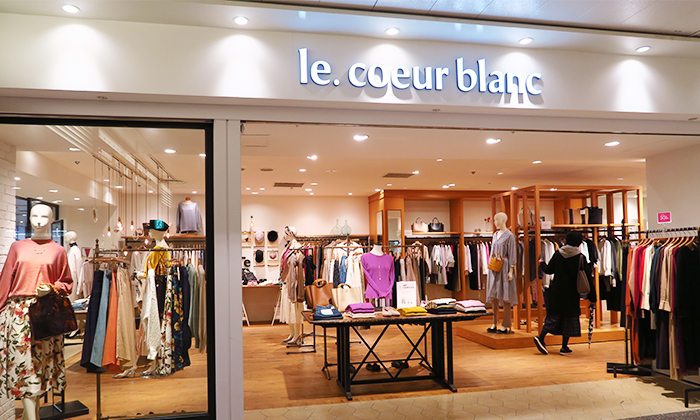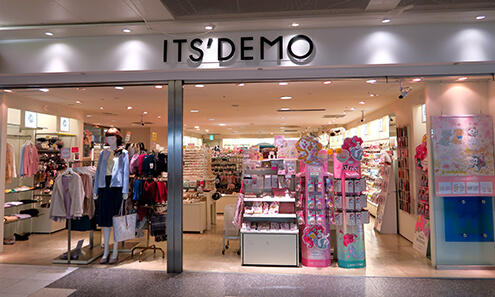 Here you can find clothing brands such as index, ROPÉ, 100-yen store Can Do, and many more. When you are tired, there are about 18 restaurants and cafes waiting for you.
Business hours:
Monday to Saturday 10:00-21:00 (restaurants until 21:30)
Sunday, National Holidays 10:00-20:00 (restaurants until 20:30)
(Hours of Operation may differ)
Official Site
Central Park recommended stores
High-quality Variety Goods & Clothing: décor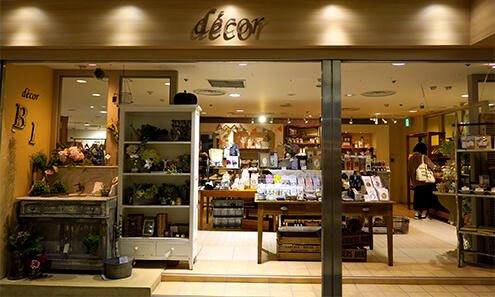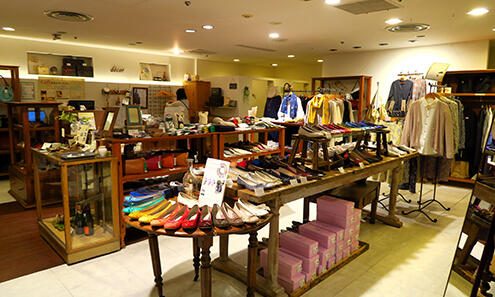 décor is a chain of stores, famous for the originality, diverse patterns, and the unique cultural feeling that their products impart. Although it is a chain store, the shops are concentrated in Nagoya. It can't be found in Tokyo or Osaka! They sell a wide range of goods, from clothing, accessories, handbags, home slippers, blankets, and even delicately wrapped foods. Everything has a good design sense!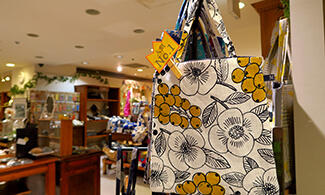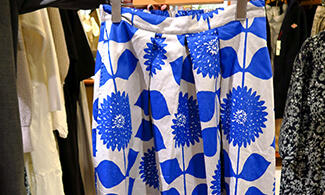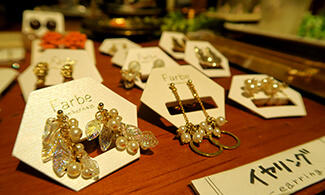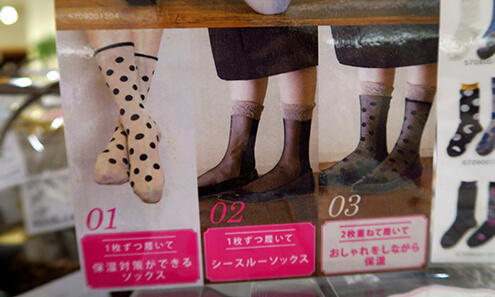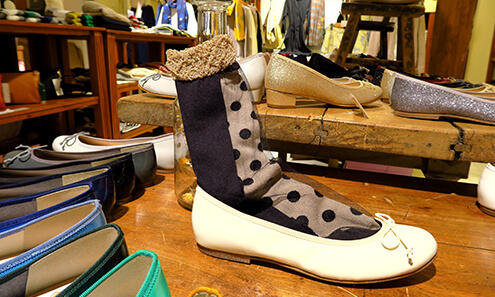 My favorite is the Japanese-made Three-Purpose Socks. One set comes with two pairs, both of which can be worn alone. One pair is a sock containing squalene, a kind of moisturizing ingredient, and the other one is translucent. The two pairs can also be worn together (your other socks also be used!) to create a unique Japanese fashion.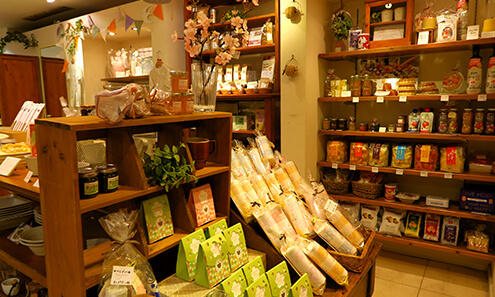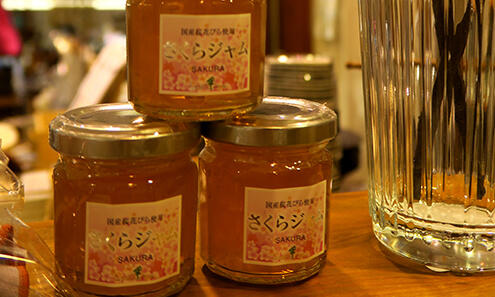 For food, there are often season-limited products. For example, recently there are Japanese cherry blossom petals on sale for the spring!
décor customers are aged between 20 to 80! On the day of my visit, I saw an older person who was elegantly strolling in the store. I believe that no matter your age, you can find what you love in this tasteful store.
Popular clothing: VIS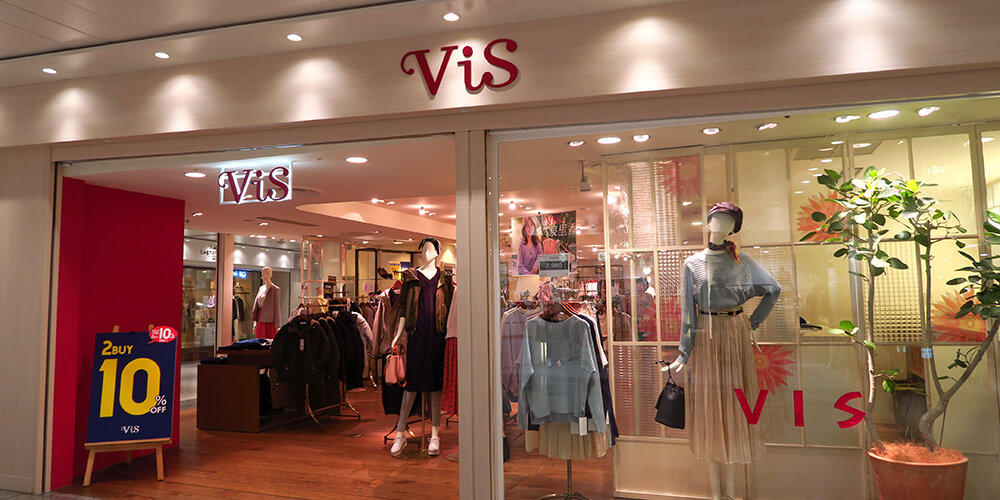 The style of VIS is simple and light. Its customer base is women aged 20 to 40. Their prices are mid-range, with good textures, suitable for any office worker.
Other recommended stores
Charlotte by ABC-MART
A ladies shoe store, with various goods, a subsidiary line of famous shoe store ABC-MART
ITS'DEMO
A makeup shop
Products not carried in drugstores (such as Disney's cooperative products) can be found here.
How to get to Central Park?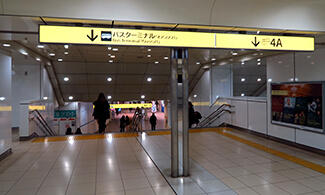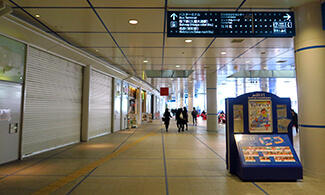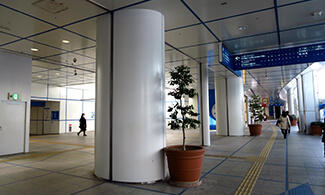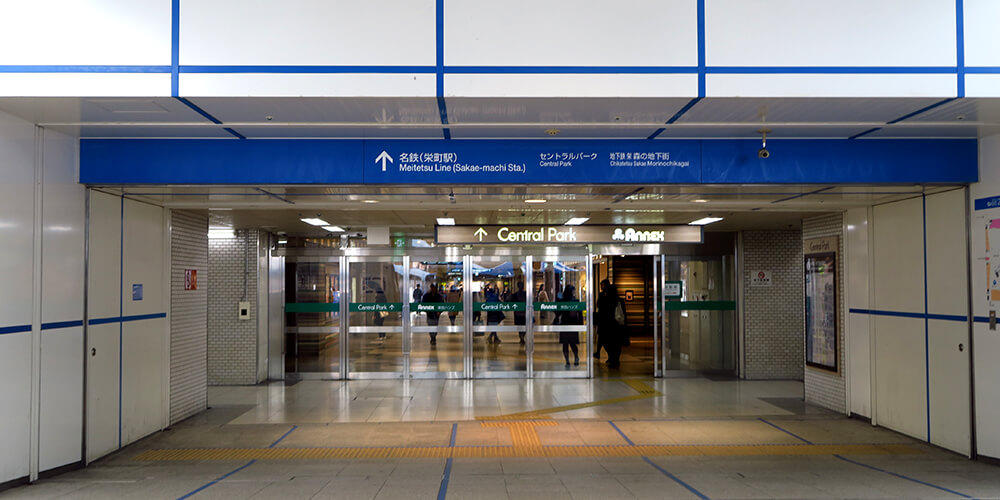 Turn around and you will see Central Park.
Recommended department stores and shops which you can enjoy at the same time
It's recommended that you take the underground street Central Park, and Mori no Chikagai, which will be introduced later, and aboveground Oasis 21, Don Quijote, and Sunshine Sakae (the north side of the map) together. Or you can walk to the TV tower. Go straight down to Central Park, you even can arrive by Hisaya Odori subway station!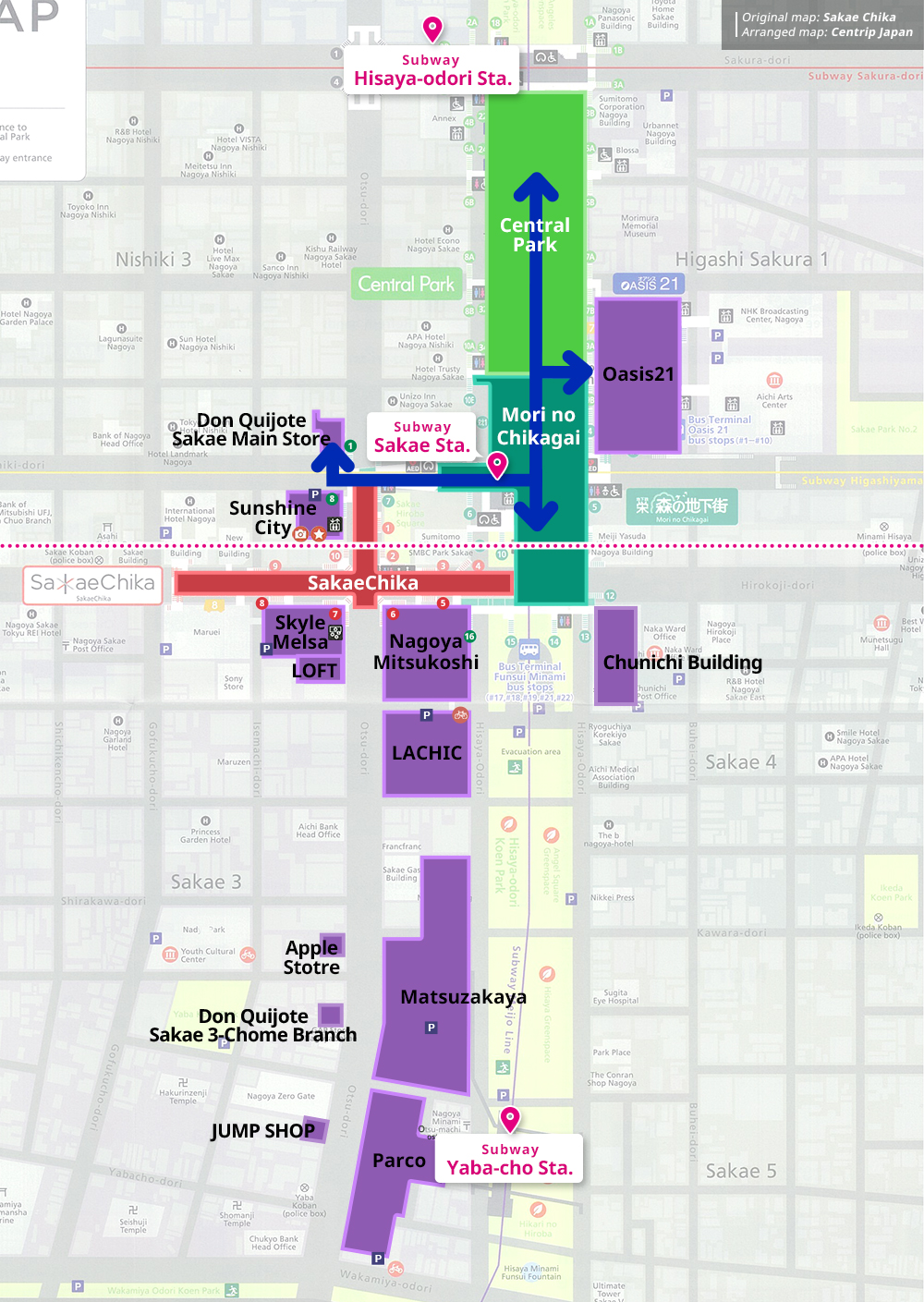 3. Underground Street: Mori no Chikagai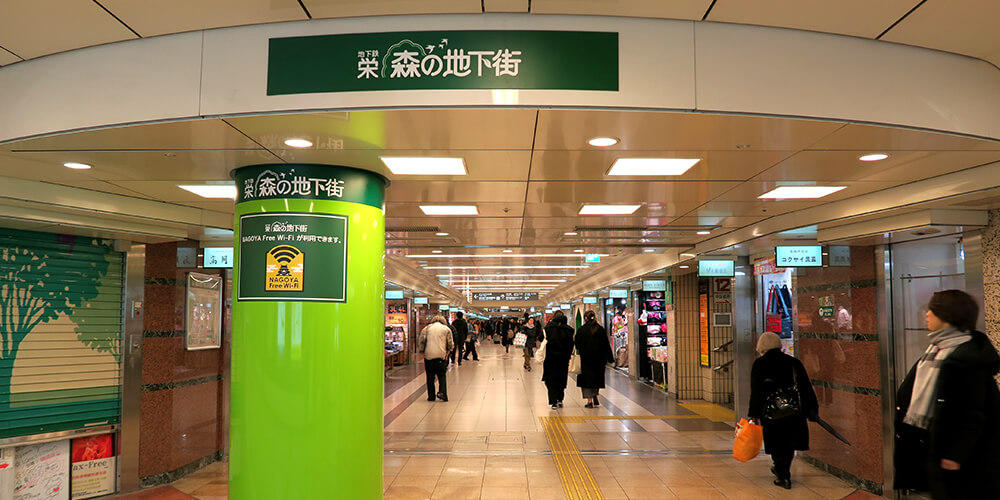 The main customers here are in their 40s or above. There are clothing stores, Konparu, a tea shop with Nagoya characteristics, and an Izakaya (Japanese bar) named Sakatsu-ya. If you want to experience the atmosphere of local Nagoya, Mori no Chikagai is waiting for you!
Business hours: 10:00-20:00 (depending on the store)
Official Site
Mori no Chikagai recommended shopping
KONPARU
A Nagoya cafe with more than 70 years of history.
Their fried shrimp sandwich is very famous.
Sakatsu-ya
A 50-year Izakaya (Japanese bar) selling local Nagoya foods.
Suzunami
Try the Japanese seafood set.
How to go to Mori no Chikagai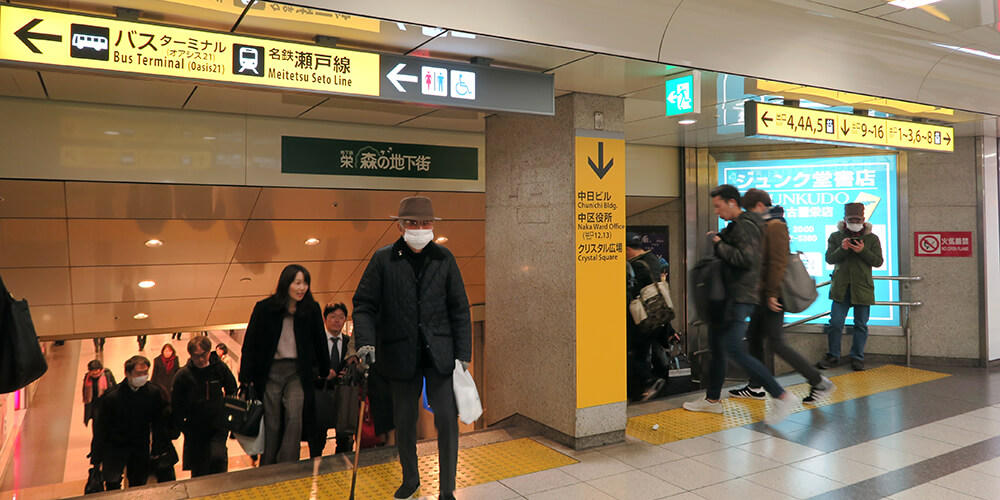 After coming out of the subway station, go straight to exits 4 or 5.
Summary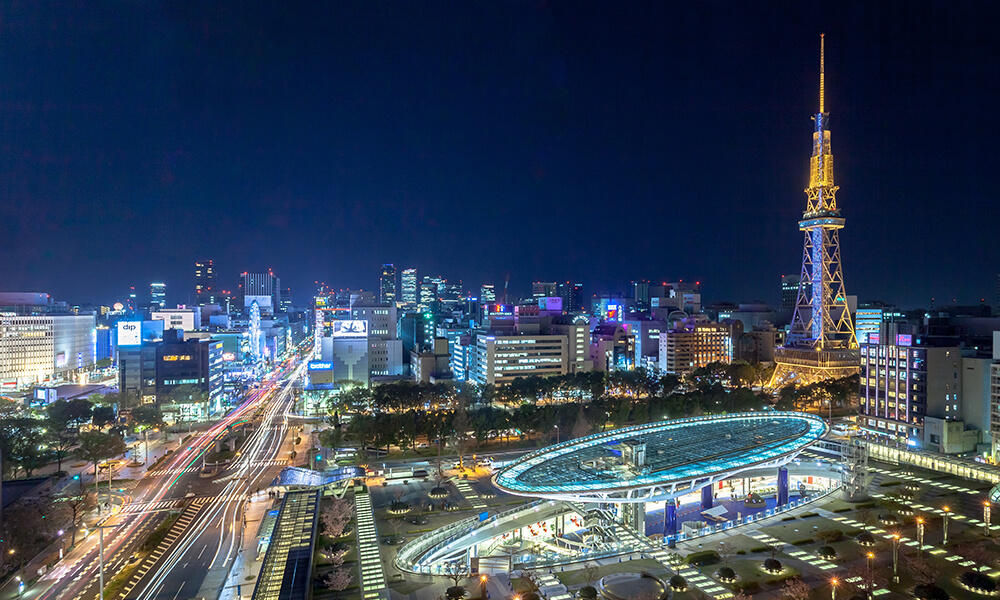 If you want to go shopping through the entire Sakae area, I am afraid that you will not be able to finish in one day! These three underground streets alone will take a long time. Don't forget to arrange ample time for Sakae!
Many people think that for shopping Nagoya is not as good as Tokyo or Osaka. As someone who has lived in all three cities for some time, I believe that Nagoya's advantages outweigh the others. Nagoya has wider roads, fewer people, and large shops, in addition to many popular brand stores. It is a comparatively more comfortable and better place for shopping. I hope that readers of this Don't Miss the Sakae Underground Shopping Guide can also discover the charm of Nagoya which strikes a good balance between prosperity and quality of life.