| Centrip Editorial Board
Birthplace of the "Cosplay Summit": Taking a "Food Walk" Through Osu, Nagoya's Famous Shopping Street
Many people visit Osu when traveling to Nagoya. It is within walking distance of Sakae (the commercial center of Nagoya city). As a shopping, dining, anime, manga, and electronics quarter, you can enjoy pretty much anything at Osu.
And yes, it is the birthplace of the "Cosplay Summit"!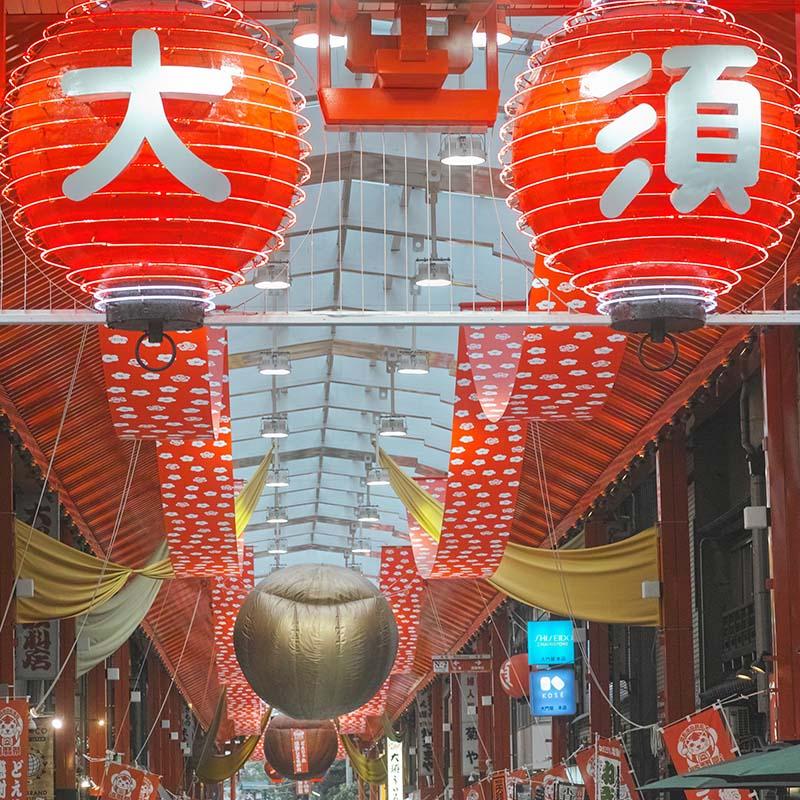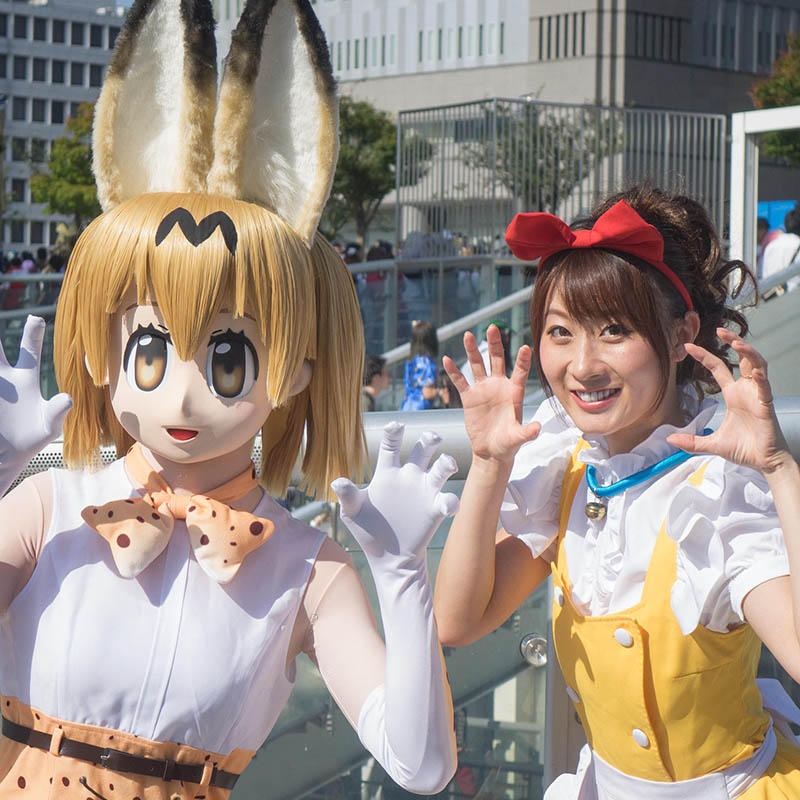 Today, Kuriko (Long Meng Rou) from China will be enjoying a "food walk tour" with us at Osu.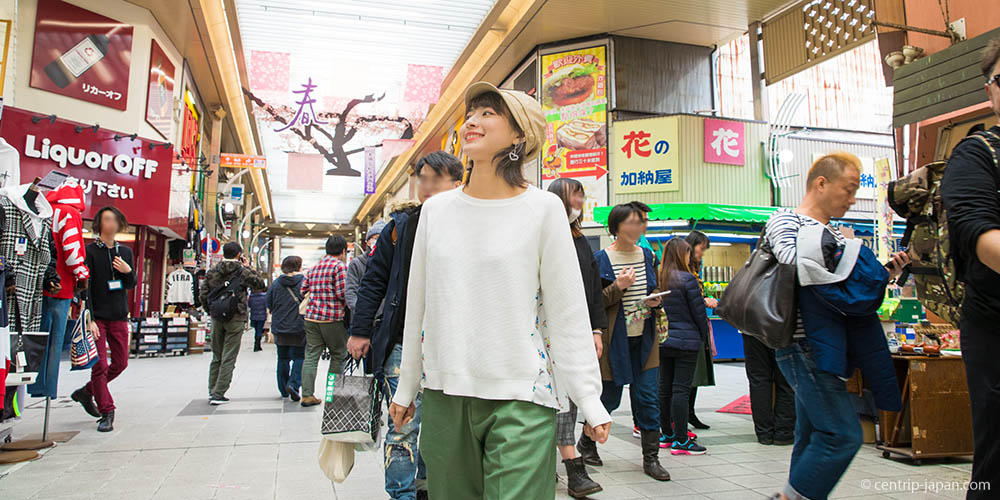 Take a photo with an Osu landmark!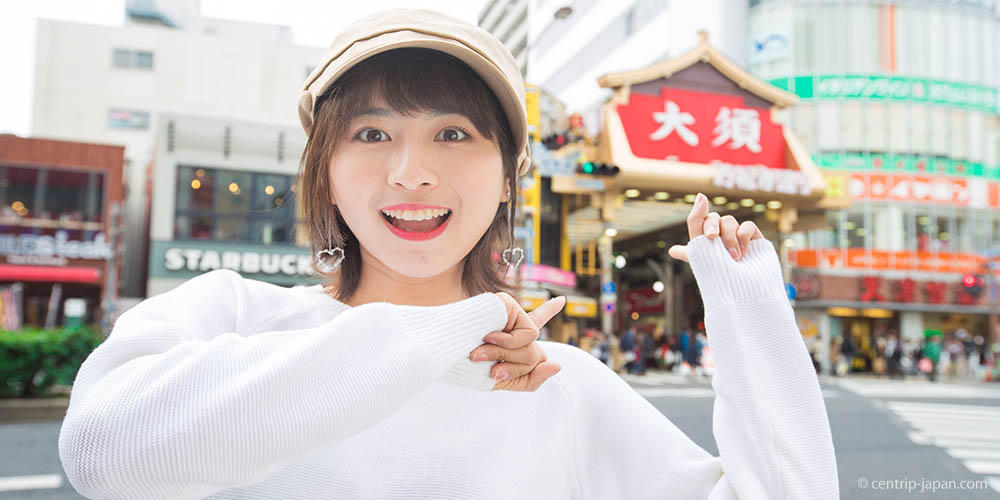 Find the red arcade with the letters "大須" (Osu) written on it at the Osu Banshoji Street, and take a photo! Straight to the "Fureai Plaza"!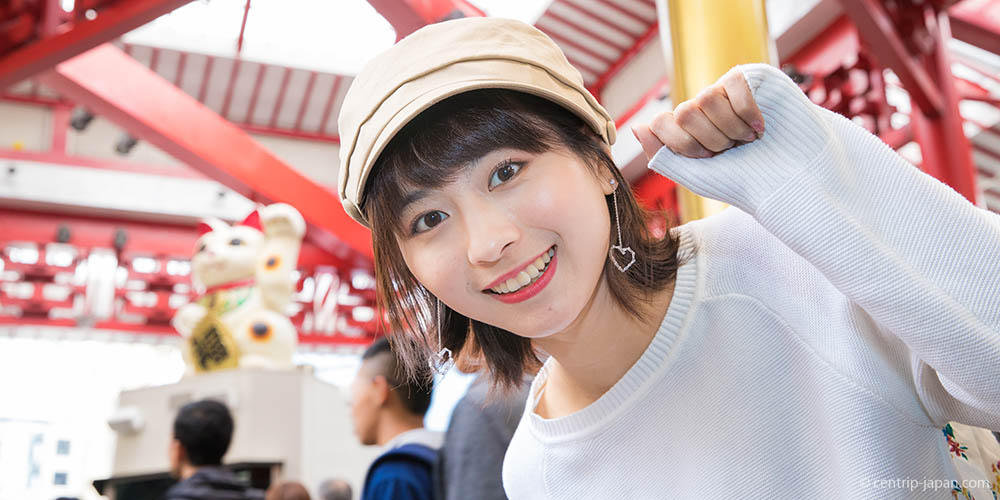 The giant maneki-neko (beckoning cat), 2.2m high, is a symbol of the Osu shopping district. The beckoning cat is a symbol of a flourishing business in Japan. Now, make your cat pose and take a photo!
Start your "food walk tour"
1. "Gaburi chicken" : gold medalist for 6 consecutive years at the "kara-age Grandprix" (fried chicken contest) in Japan!
Our first visit is to Gaburi chicken, Osu 3-chome branch, near the giant beckoning cat.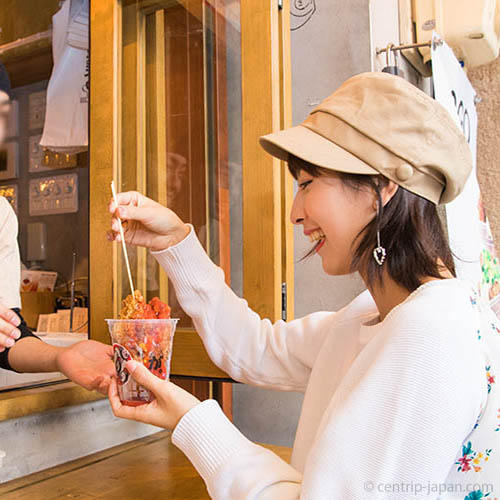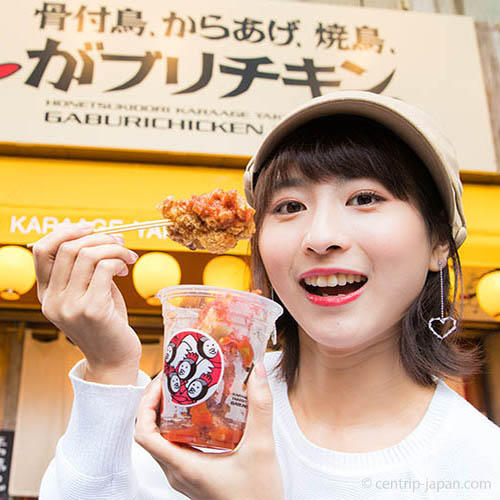 Gaburi Chicken is a new face in the highly-competitive area of fried chicken, yet it is always doing a roaring trade.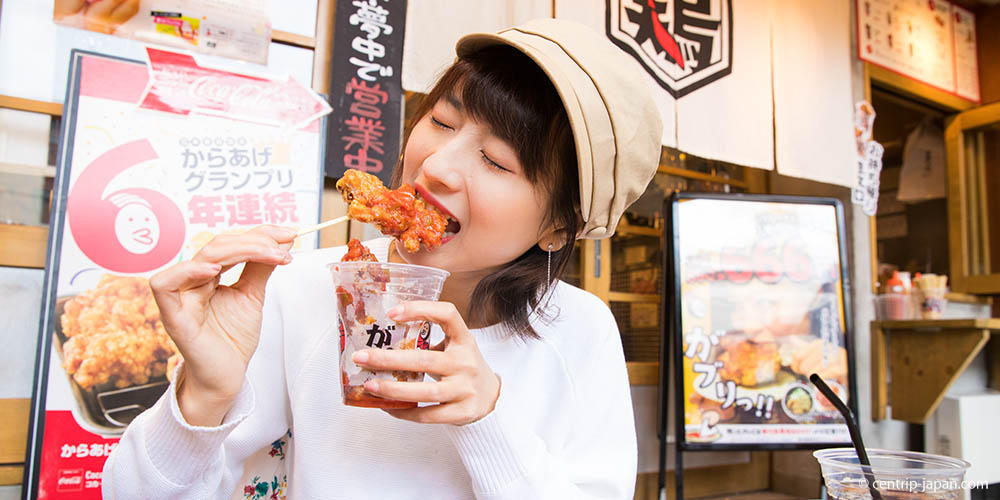 Kuriko, in the mood for spicy food, ordered the chilli tomato flavor (486 yen including tax). The chicken is huge, but it is served inside a cup so there is no need to worry about how to carry it. Share it around!
2. Get some "ageman-bo" (fried bun stuffed with red sweet beans, on a skewer) at "Bansho-an" - it's perfect for the food walk tour!
Next up is the Nayabashi Manjuu: Bansho-an, Osu Banshoji street. A Japanese-style café managed by a long-established (over 100 years) speciality sweets store.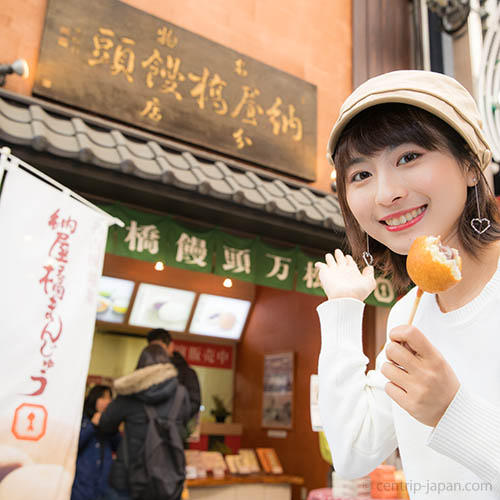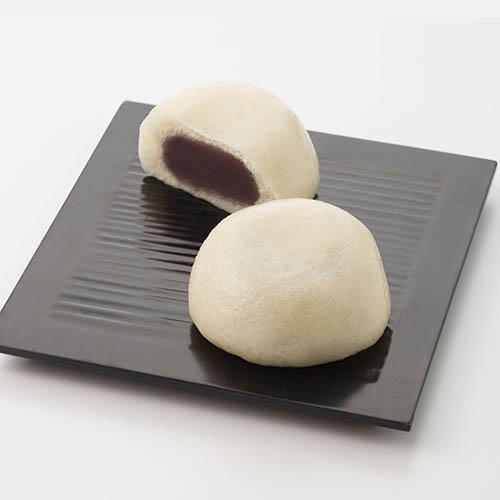 The Nayabashi Manjuu is a Japanese sweet associated with Nagoya. It is made by wrapping baked red beans with thin buns made of sake lees.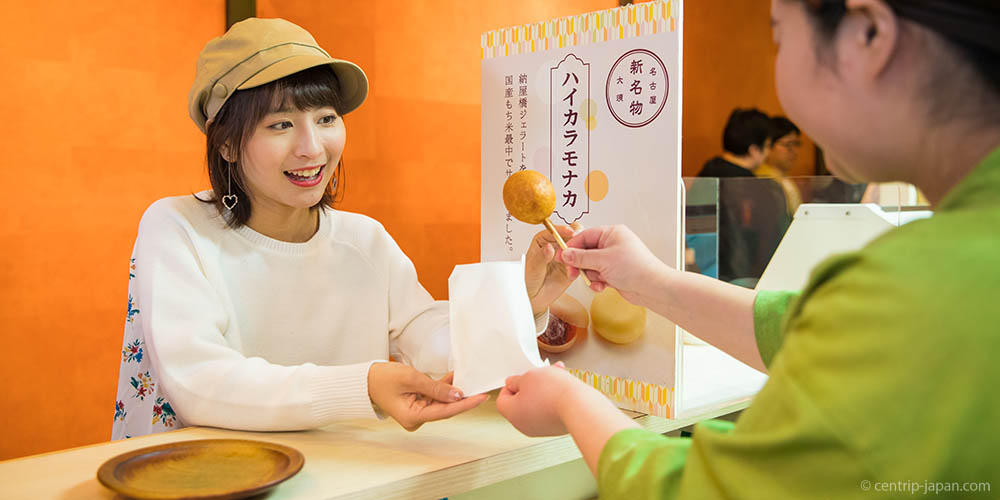 Wondering what Kuriko has in her hands? It is an ageman-bo (150 yen includng tax), a fried bun stuffed with red sweet beans on a skewer.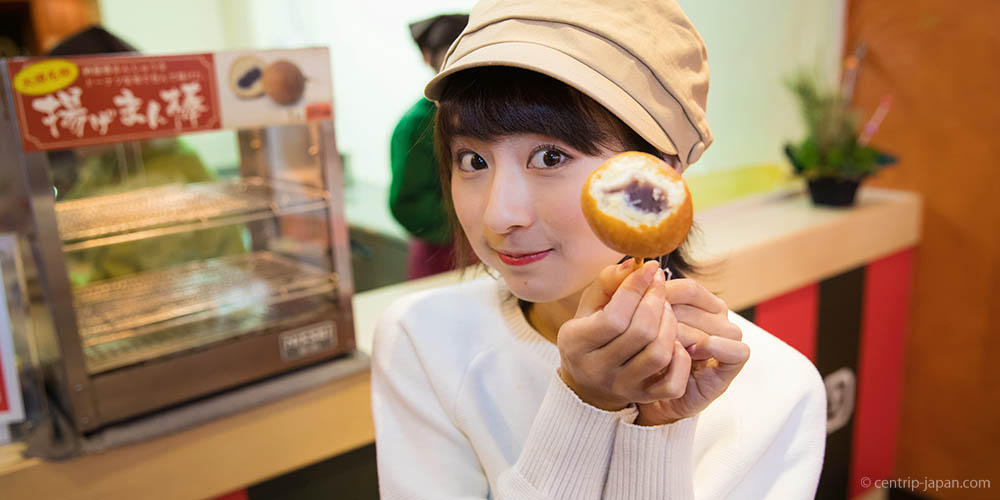 If you go to the Osu shopping district, you just have to try this.
3. A big hit in Asia and Europe! Try the "Taiwan Mazesoba" (spicy soupless noodles) at FUJIYAMA 55!
Our next stop is at "FUJIYAMA 55", a popular restaurant serving "Taiwan Mazesoba" (spicy soupless noodles). As well as in Europe and other parts of Asia, FUJIYAMA 55 has restaurants all over Japan, and this restaurant was the first to open!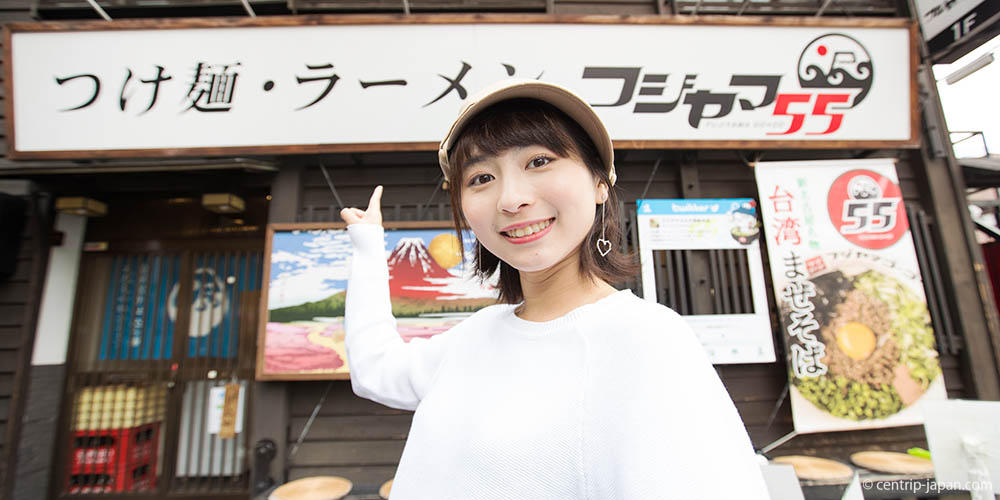 Even though Osu is a competitive place for ramen noodle shops, FUJIYAMA 55 maintains its popularity. Many people come back to FUJIYAMA 55 for the amazing taste which you cannot forget!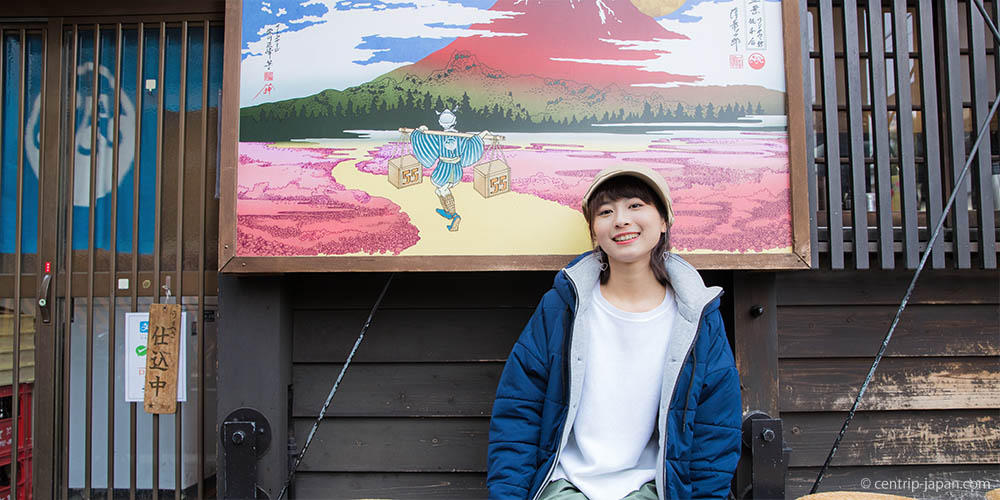 There is a stylish billboard outside the restaurant, with a red Mt. Fuji painted on it. While waiting, make sure to take a photograph!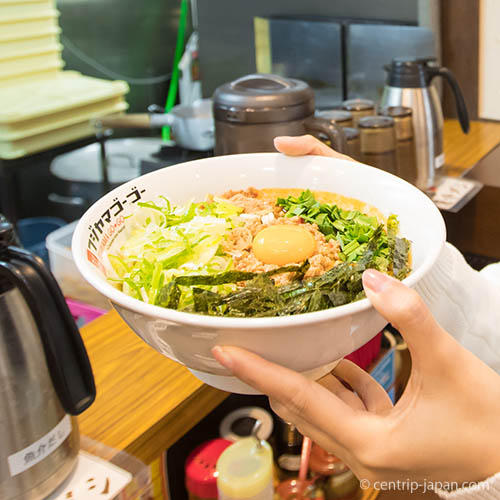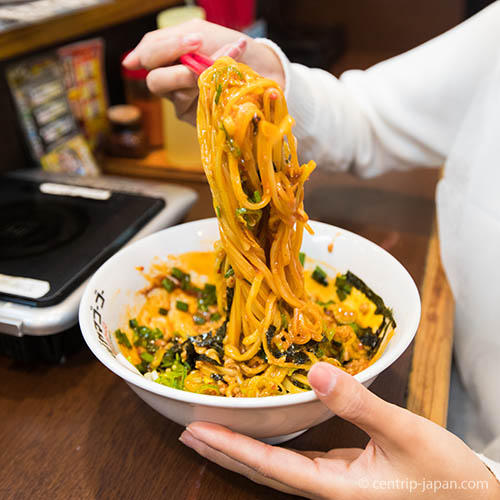 We ordered the "Taiwan Mazesoba" (830 yen including tax). You could try out different seasonings such as mayonnaise, Japanese pepper, chili oil, vinegar, and more.
Mix, mix mix… the more you mix, the tastier it becomes!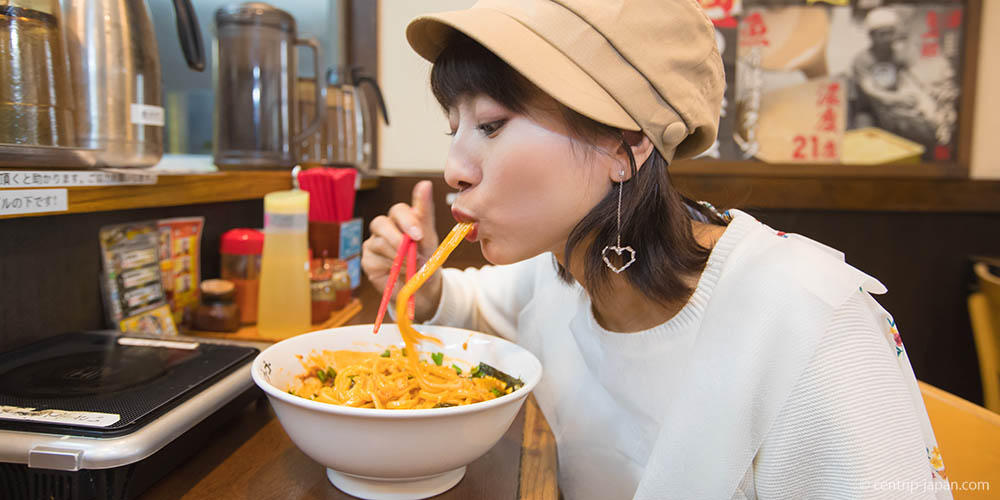 It has become popular throughout Japan as a local specialty of Nagoya. Kuriko was fascinated by the noodles!
4. Sweet Treats for adults!  Champagne Parfait from the very popular shop, "PERFECT BREAK TIME"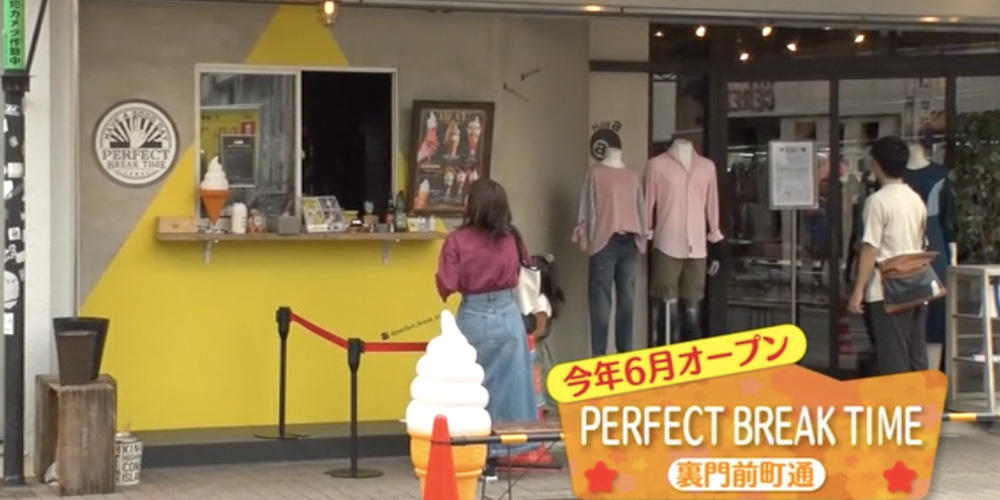 An ice cream shop, "PERFECT BREAK TIME" in Osu became super popular since its opening in June 2018.  You have to wait in line to buy an ice cream, and sometimes, it takes two hours just to buy this particular sweet treat. Why are people so crazy about this??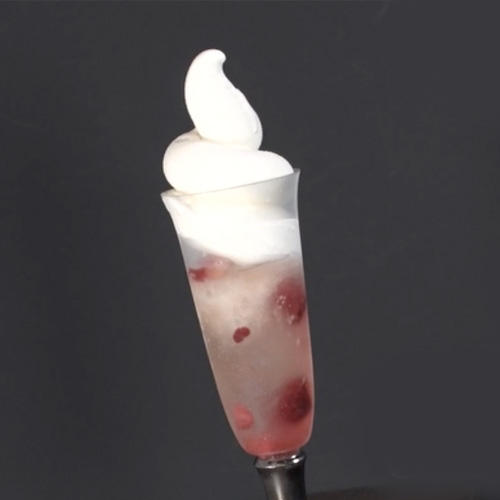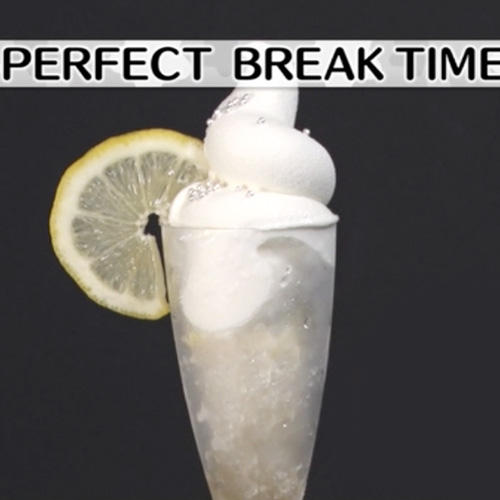 Let's find it out!
I got it!  This is what people are talking about! "Champagne Parfait!," a perfect dessert for adults! This is the most famous menu at PERFECT BREAK TIME: There is thick vanilla ice cream served on top of champagne with mixed berries.  Sweet and sour berries go perfectly with this thick sweet ice cream!  It is perfect for adults to enjoy!
This parfait got 38,000 "likes" on social media and it does not only look good, but also tastes great! 
PERFECT BREAK TIME is located near the specialty boutique, "PLUS a."  The shop manager at "PLUS a" wanted to offer his customers some place to have a little break after shopping.  So, he decided to have an ice cream shop as the rest area. That's how PERFECT BREAK TIME started. Very nice, isn't it? It is a place for adults to shop and also enjoy delicious sweets!  
The Osu shopping district is not just about food, but is also known for used clothes, goods, and shopping! We checked out "plus a", a shop selling imported clothing.
It has a wide variety of accessories as well. With the shop's great atmosphere and unique fashion items, you can enjoy shopping to your heart's content!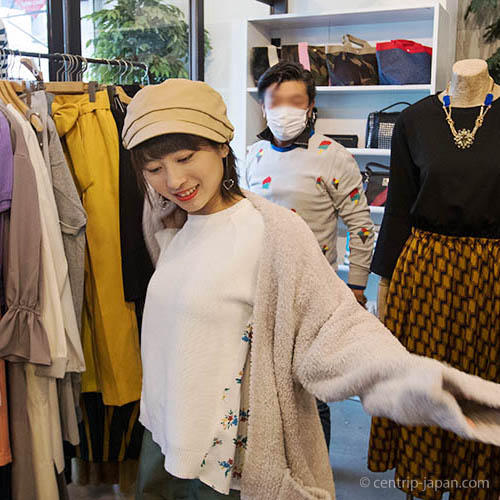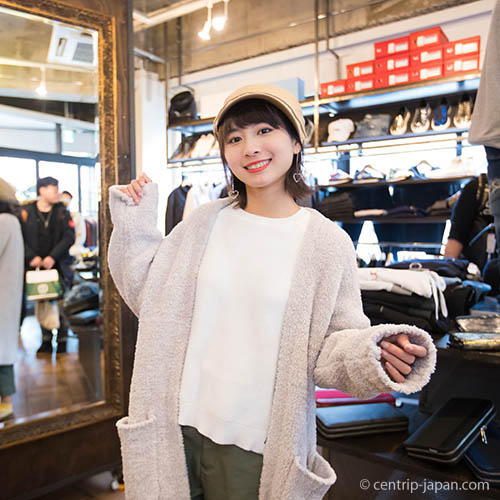 Kuriko found her favorite cardigan! A quick change into her spring clothes!
5. Feel the buzz with "Popping Waffle" : A sweet for the instagram age
Don't forget your dessert after filling up with all the other dishes! "Popping Waffle" is a shop that opened this Febuary, in front of Osu Kannon.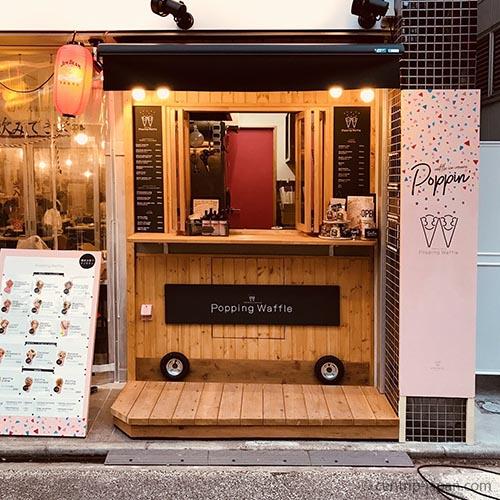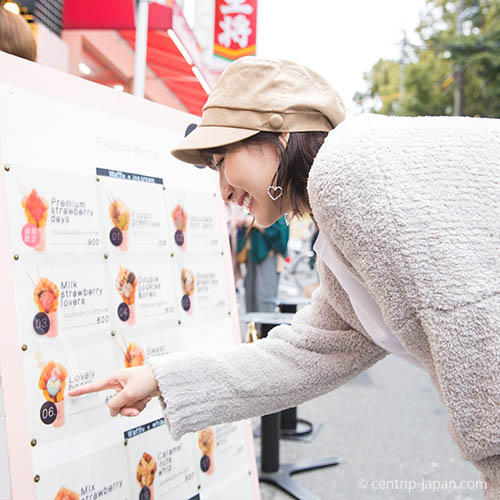 Try the "鶏蛋仔" (egg waffle), a sweet imported from a street stall in Hong-Kong. The waffle is crispy on the outside, and soft on the inside. It is great to have a variety of toppings as well!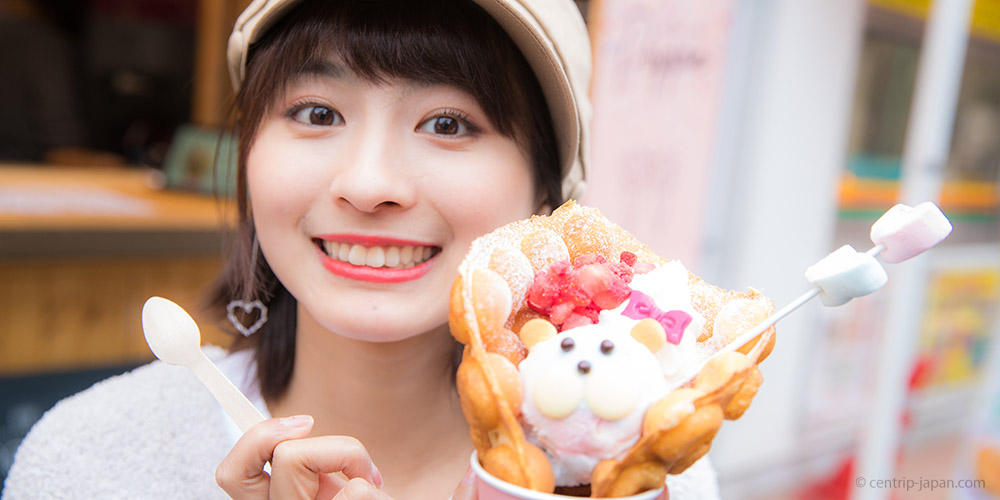 The "Lovely bears" (600 yen including tax) is one of the most "instagrammed" items.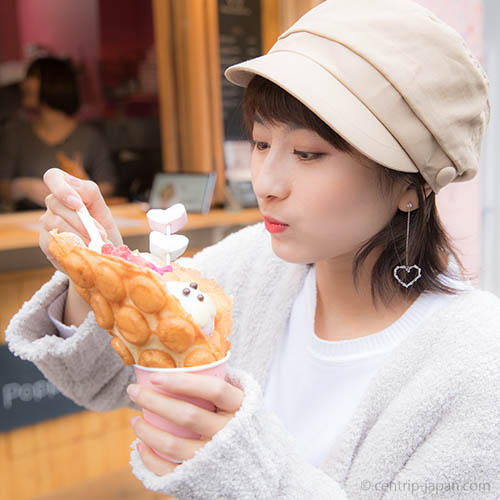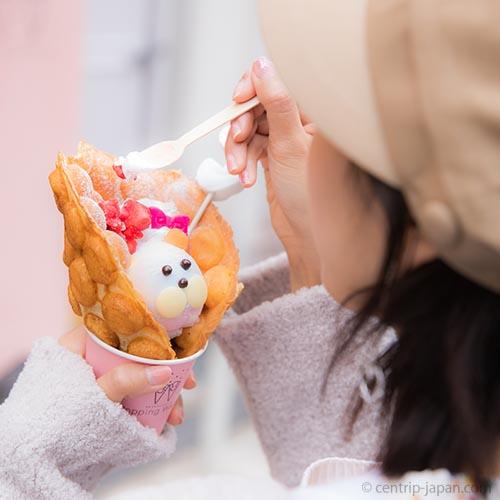 Awwww! For people who love cute sweets, we recommend this one.
When visiting Osu, one spot you will regret not going to is Osu Kannon.
Seriously, a must-see.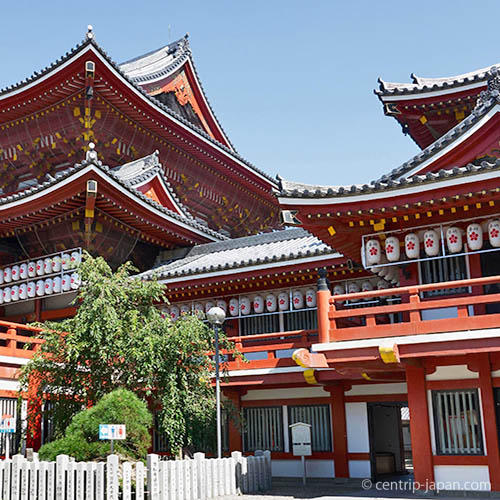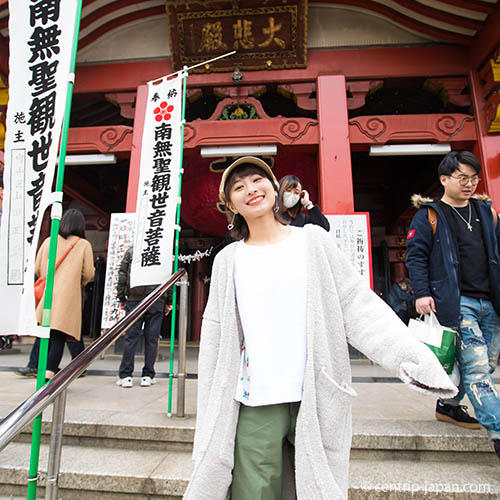 "Hotei" (one of the seven deities of good luck) is housed inside a sacred place within Osu Kannon.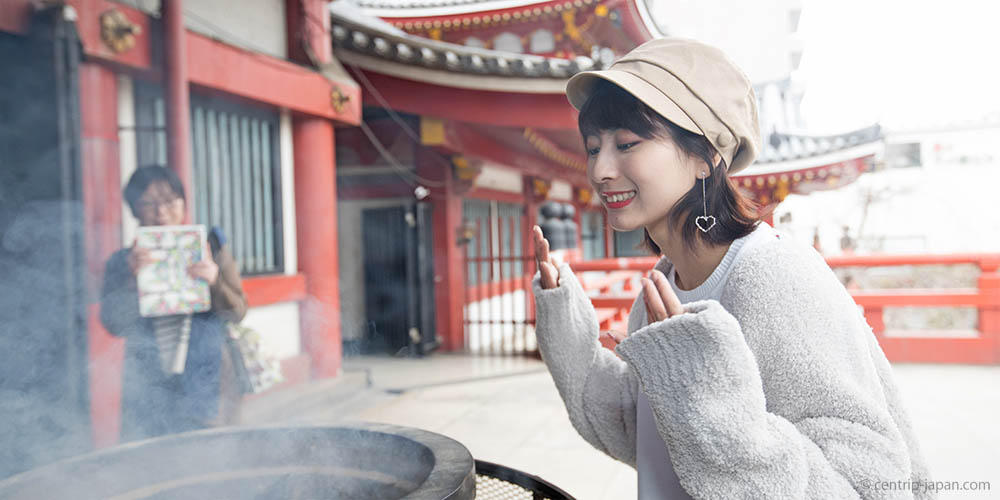 "Jyoukourou" is an incense burner, and the smoke is used to purify your mind and body before praying. It is also said that allowing the smoke to drift over an ill or injured body part will heal that part of the body.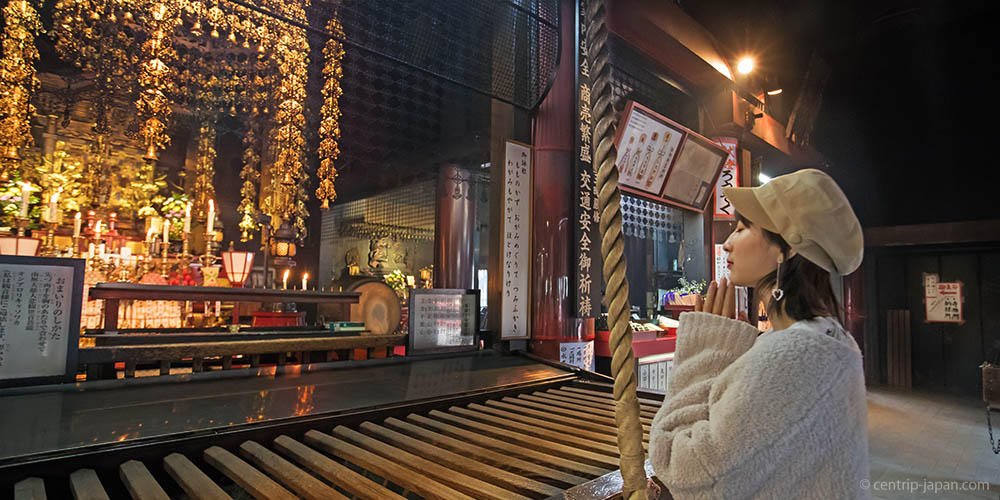 Unlike shrines, where you clap twice before praying, prayers in temples are performed quietly. Do not forget to enjoy the Japanese culture as well besides shopping and dining!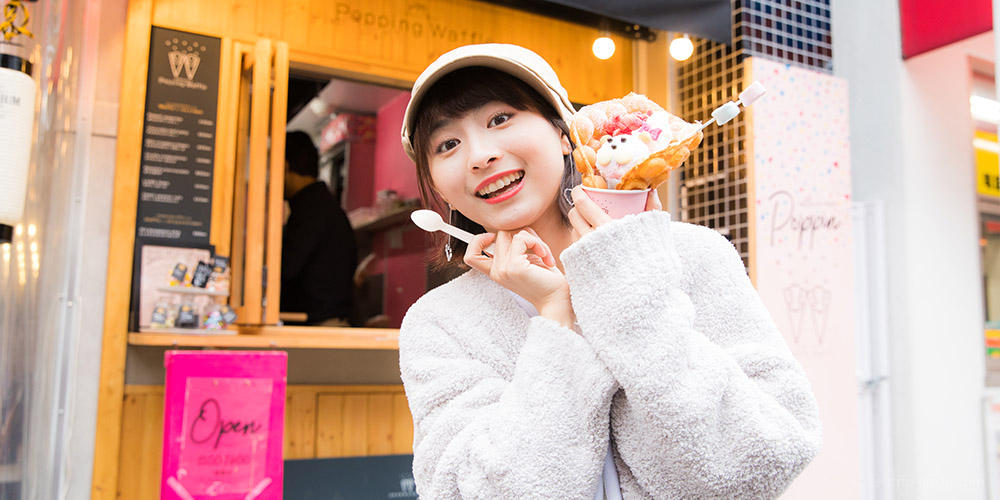 The Osu shopping district has many more dining opportunities to try out! Many people come to enjoy this great food. Now, it's your turn!