| Centrip Editorial Board
Nagoya Ramen Street: Taste Regional Ramen all in One Place
Did you know that there is a place where you can eat ramen from all over Japan at JR Nagoya Station? It's called Nagoya Ekimen-dori. From the ticket gate of the Shinkansen, you can get there by taking a short walk down the hallway of the station. Once there you can choose and compare any ramen you want without having to travel all over Japan! It is also fun to upload pics of the various styles to the Gram or Facebook. But which ramen should you choose with so many types to pick from? Read on as we introduce the many flavors of ramen that Nagoya Ekimen-dori has to offer!
How to get to Ekimen-dori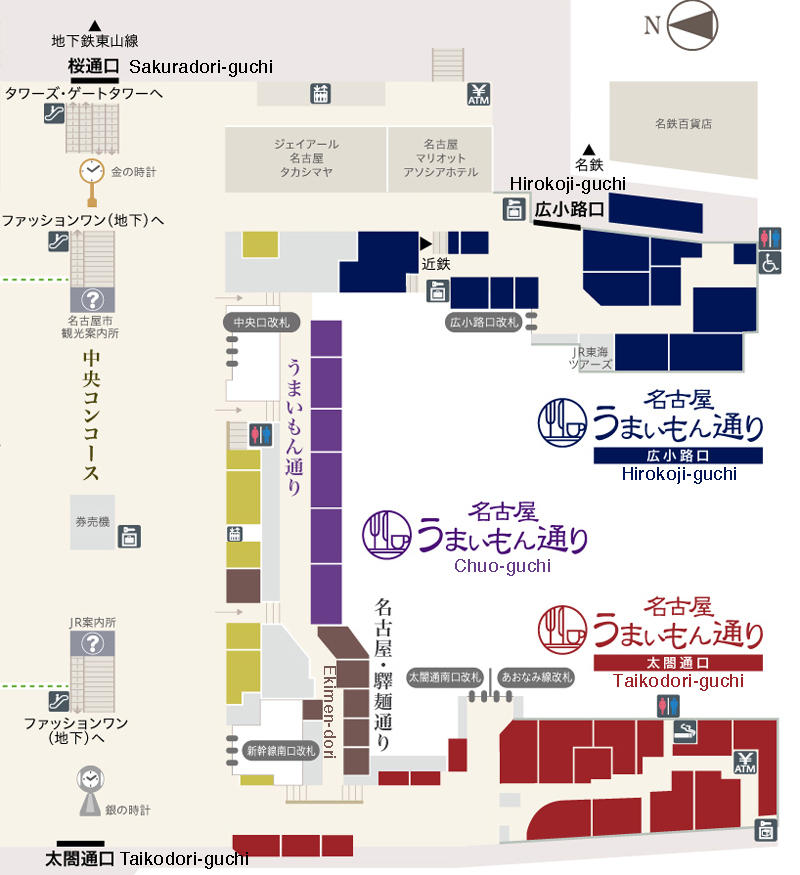 There are four Gourmet Streets in Nagoya Station, and Ekimen-dori is one of them.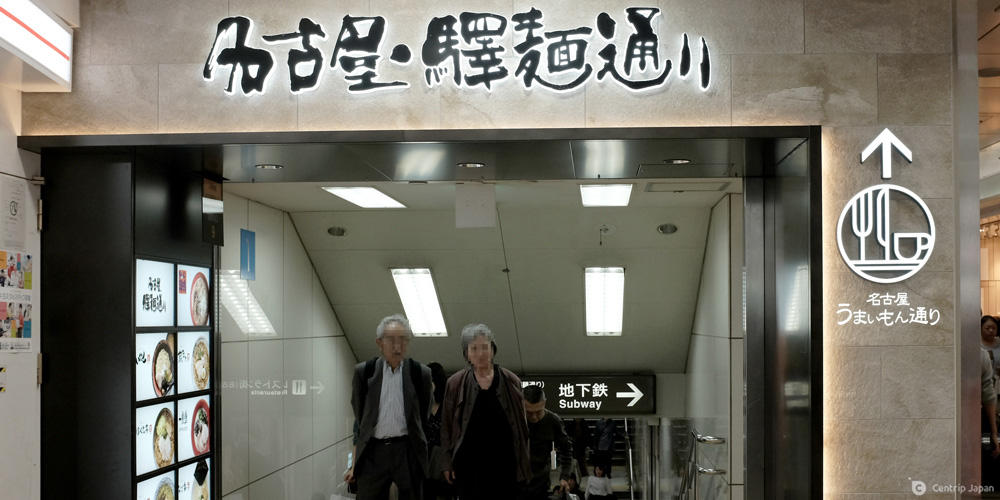 For people coming by Shinkansen exit at the Shinkansen South Gate and you can find Ekimen-dori right next door.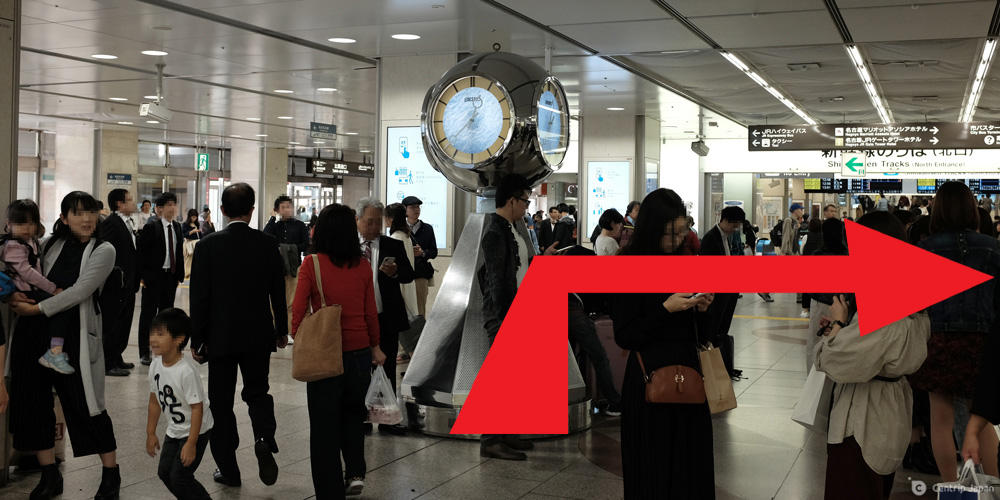 Another way to get there when entering Nagoya Station through Taikodori-guchi you are in the Silver Clock area and will find the entrance to Ekimen-dori on your right, down the stairs. Inside there are 7 different Ramen restaurants, one of which has special limited-time ramen available.
Introducing Ekimen-dori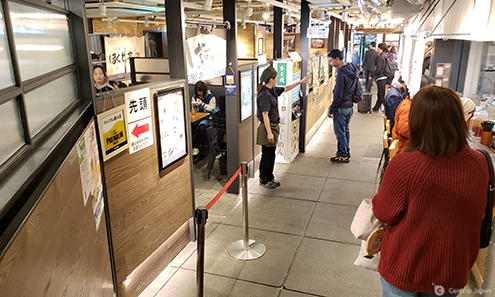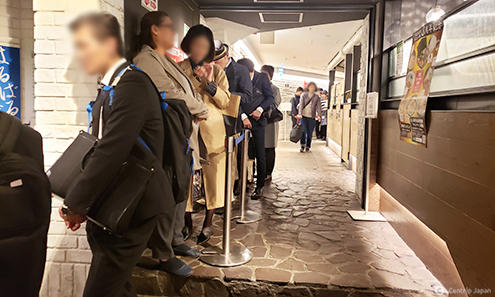 Nagoya Ekimen-dori is very narrow, there is only enough space for two people to walk abreast. Despite the small size, there are 7 famous ramen shops from all over Japan located here. There aren't many seats in each shop, so you'll be lining up for every store, but don't worry the store's turnover rate is high, so you'll be sitting down to a bowl of noodles in no time!
The store, Nagoya, is open from 10:00 to 23:00, but the other ramen stores open from 11:00 to 22:00. Next, we will introduce each ramen, so you can find the shop that right for you
Nagoya (Nagoya Ramen)
Do you like chicken? Check this out! This ramen uses a chicken special to Nagoya.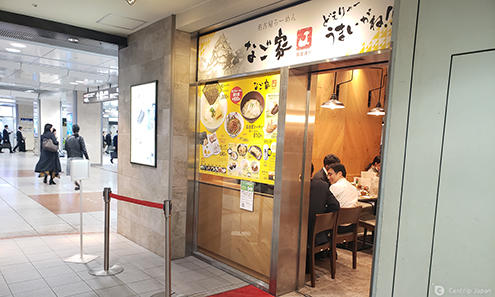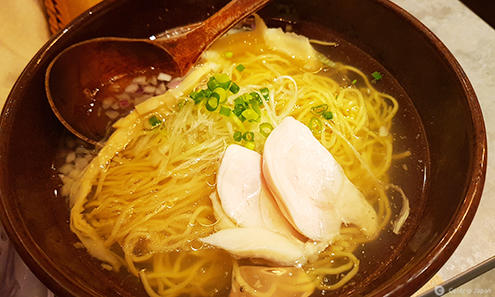 Nagoya Kochin is a local soup that proudly shows off Nagoya's local ingredients. It is carefully simmered and the broth has a rich chicken flavor. Nagoya Cochin Shio Ramen will warm your cockles. Pepper is added to bring out the taste, so it's recommended for people who like spicy taste of pepper. Ingredients include leeks and menma (seasoned bamboo shoots). The chashu (sliced meat) is made from Nagoya Kochin breast meat which is juicy, elastic and delicious. Don't miss Nagoya Kochin Paitan Ramen. If you'd like a more intense flavor, order this and you'll be satisfied with its thick broth.
Inayo (Tokyo Ramen)
For thick and firm noodles, check out Inayo!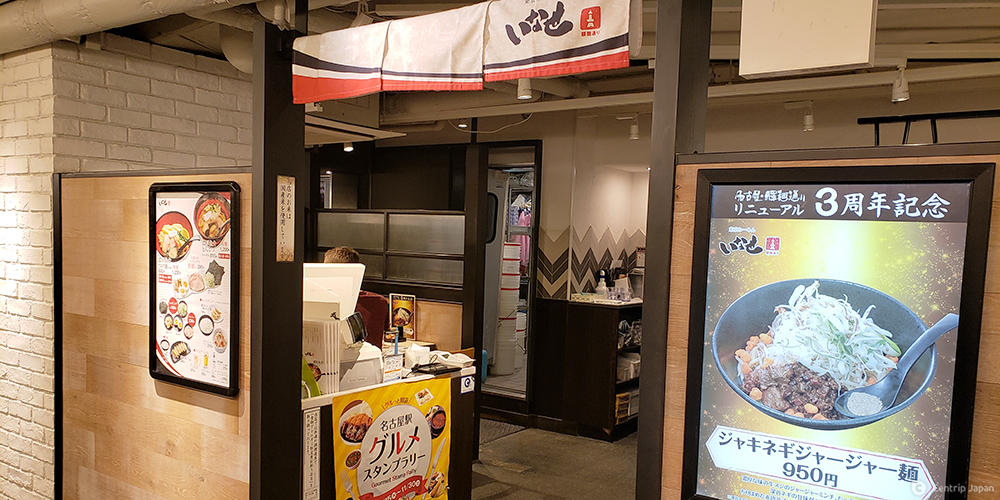 Here they serve two types of noodles: ramen and tsukemen. The broth is a pork base with a strong taste of seafood, and thick, chewy noodles, so you can savor the ramen as you enjoy the texture of the noodles along with the rich ramen broth. If you are trying tsukemen, add a twist of lemon for a flavorful accent. Try the additives one by one to create your favorite flavor. Adding a seasoned soft-boiled egg to this rich ramen is recommended! If you want to have strong, intense ramen, try Inayo in Nagoya Ekimen-dori!
Goryo (Hakodate Ramen)
For those who enjoy a simpler taste.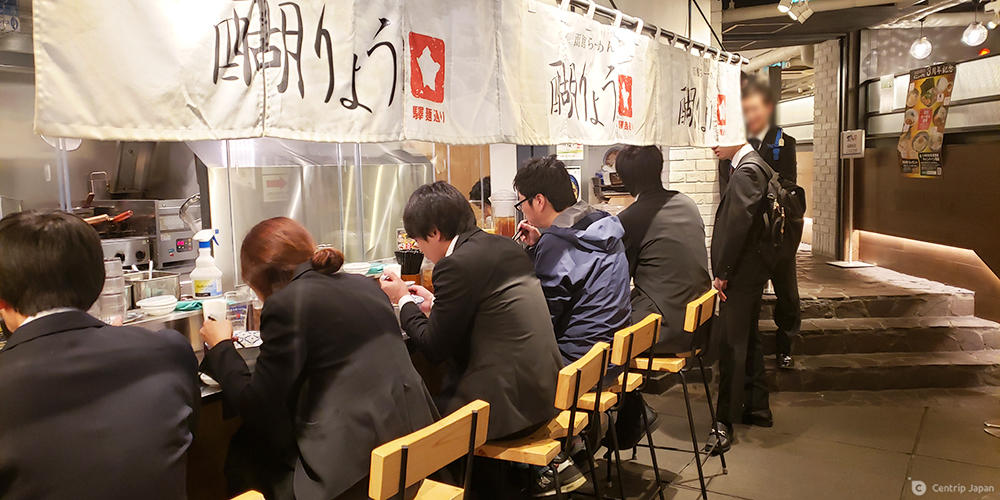 This shop offers Hakodate Ramen originated in Hokkaido. But why go all the way to Hokkaido for authentic Hakodate ramen, when you can try it here in Nagoya!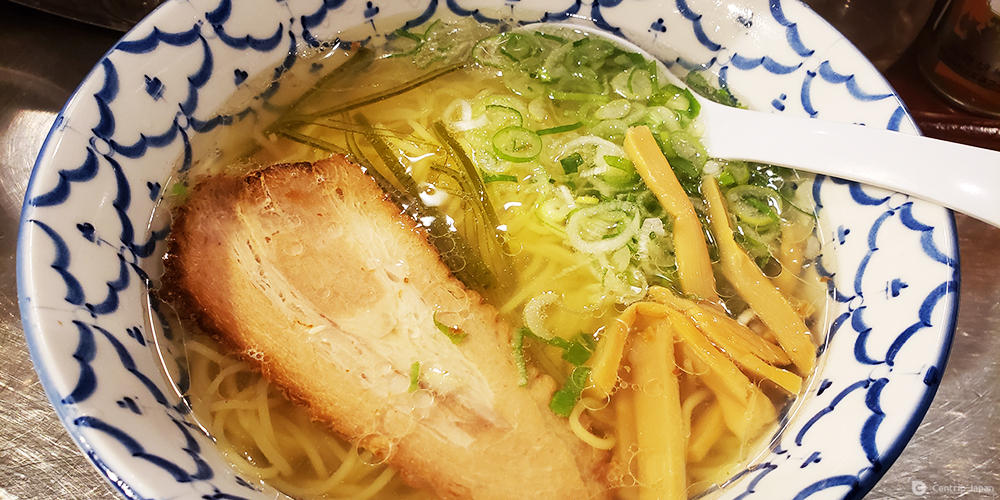 They have are various broths to choose from, but we chose standard shio (salt) ramen. The soup is made from makonbu (kelp from Hokkaido) and scallops. This Japanese-style ramen is accentuated with a flavorful golden broth, you could easily drink to the last drop.
Shoyu (soy sauce) ramen is another great choice. The soup is made from pork and chicken broth with makonbu. It is rich and tasty, the noodles are flat and unique to Hokkaido, and this ramen is best suited for a meal post-drinking. The shop has 8 counter seats and usually requires a short wait in line, but it is definitely worth the wait!
Kuramachi (Kitakata Ramen)
Experience Japanese nostalgia with this shoyu ramen.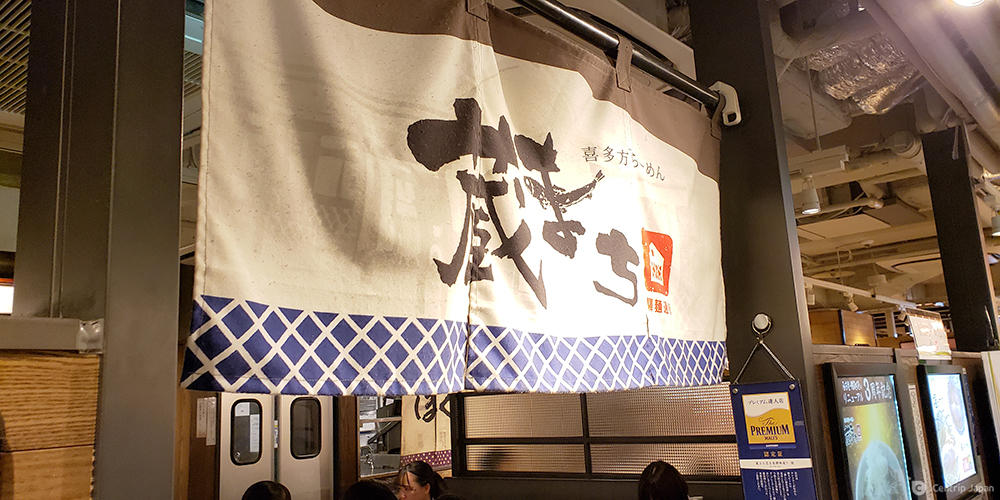 The shoyu ramen offered here leaves locals with an intense feeling of nostalgia. At Kuramachi you can eat, Kitakata ramen, one of Japan's top three ramen.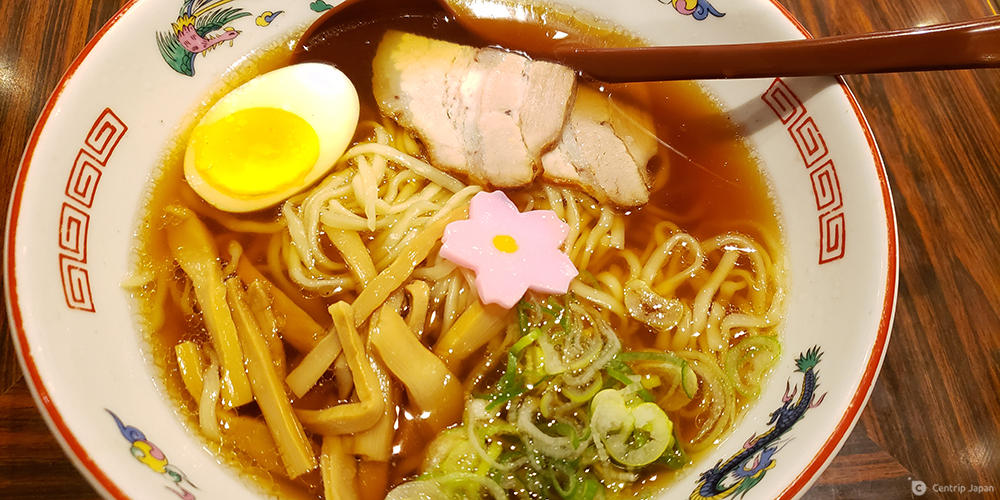 The broth is made from niboshi (dried sardines), which give it its clear and rich taste. The noodles are chewy and thick with a uniquely addictive texture. Ramen with extra pork slices if filling and popular among businessmen.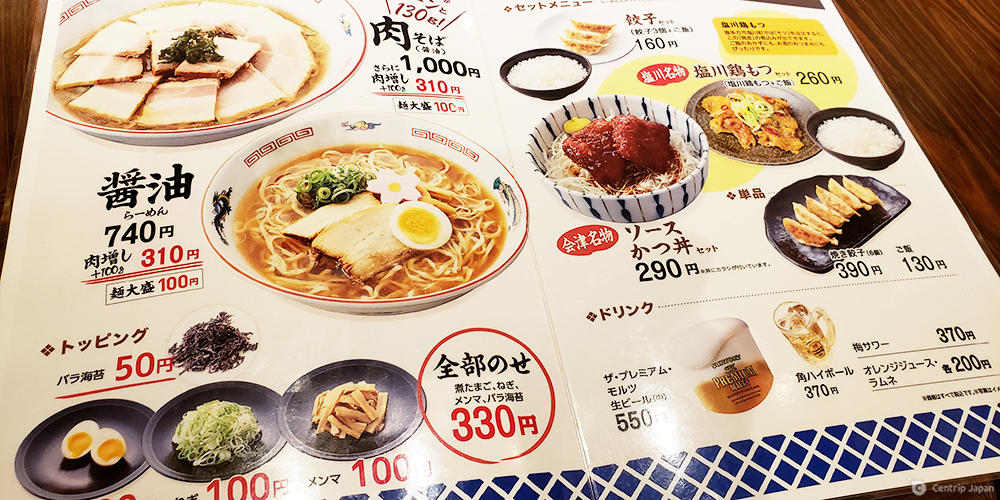 As a side dish, try the deep-fried pork cutlet rice bowl for only ¥290. If you are eating with a group of people, the dish is great to split among you. Table seating is ample here, so you can go with a large group.
Hokutotei (Sapporo Ramen)
The aroma of miso and onions is irresistible!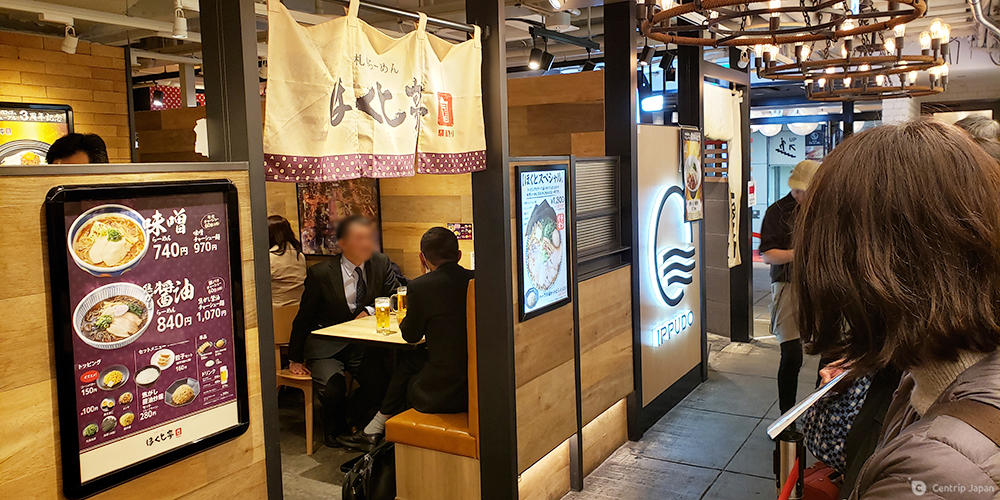 Miso ramen, Hokutotei's signature dish, is a rich miso broth made with Hokkaido miso soup and garnished with deep-fried onion lard. When it comes to Hokkaido ramen, miso is what you want. The taste of miso will warm you up when it's cold outside. The ramen is served piping hot, so be careful not to burn your tongue. The noodles are a medium-thickness and great with a soft-boiled seasoned egg or buttered corn as a garnish. Be aware that egg or corn will be served with the ramen unless you specify otherwise. If you want to try them separately, do not forget to let the staff know. Caramelized shoyu ramen is available as well. It includes ma-yu, sesame oil with browned garlic, to give it a flavor different from other shoyu ramen!
Ippudo (Hakata Ramen)
Ippudo ramen lightly aromatic with a silky smooth taste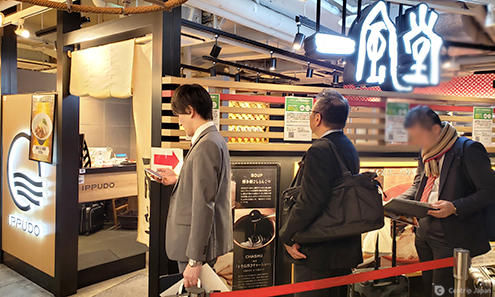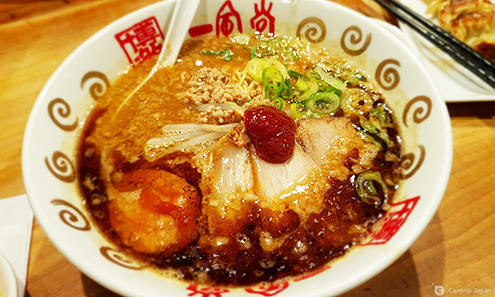 You might be wondering whether you should have Shiromoru classic or Akamaru modern. Shiromoru classic has been handed down since the shop's inception. Traditional ramen made through improving iterations of the broth over the years. It doesn't feel excessively oily, so it's also popular with women and older people. It's also delicious with an all-you-can-eat spicey beansprout namul. Akamaru modern is richly flavored with soy sauce and multiple spices are added to the pork. Add home-made flavored oil and spicy sauce for a change in taste. Mentaiko rice is recommended with the ramen! Even if you think you can't eat anymore when you realize how delicious this is you'll want to make room. This shop is popular with many locals so be prepared to queue.
Wrap-up
At Nagoya Ekimen-dori, there are 7 shops open regularly. We introduced 6 of them as the 7th shop is only open for a limited time. Every year, it houses a different style of ramen, so please check before you visit. From November 7, 2019, ramen from the Tsugaru region (northeast of Japan) is being served. The ramen is called Nagao Chuka Soba with chicken and pork-based paitan (white) soup with dried sardine broth. Try various kinds of ramen here for a whole new ramen experience! Since the hallways are narrow and there are not many seats available at the shops in Nagoya Ekimen-dori, be mindful of other customers and your baggage while you wait in line. It's also recommended not to stay too long at your table after you finish eating.