| Centrip Editorial Board
Characteristics of Kanazawa Cuisine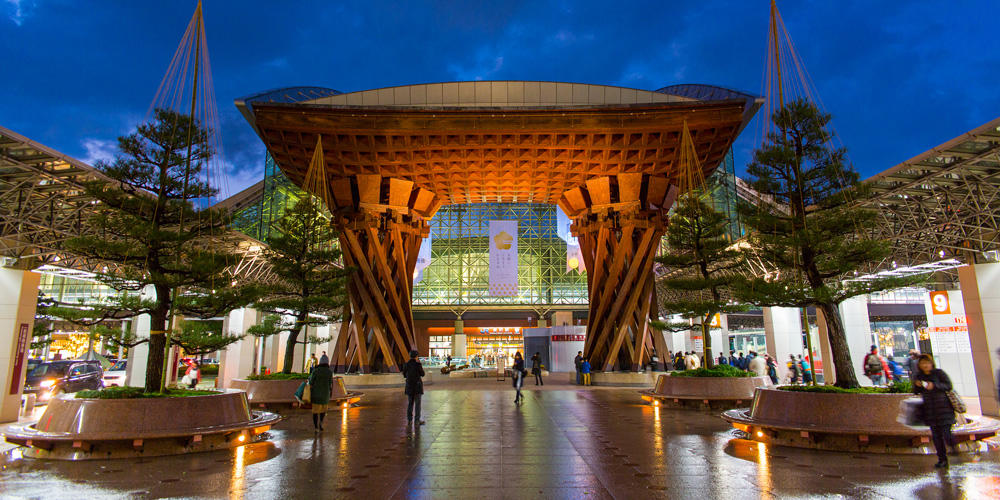 写真提供:金沢市
Kanazawa in Ishikawa Prefecture is the largest city in the Hokuriku area. Known as little-Kyoto, Kanazawa still retains the feel of old Japan and you can see it through the old cityscapes, and traditional art. If you are traveling to Kanazawa don't miss Kenroku-en (兼六園-Kenrokuen park) and the Higashi Chayagai (ひがし茶屋街 - A teahouse district), and enjoy all the culinary delights it has to offer!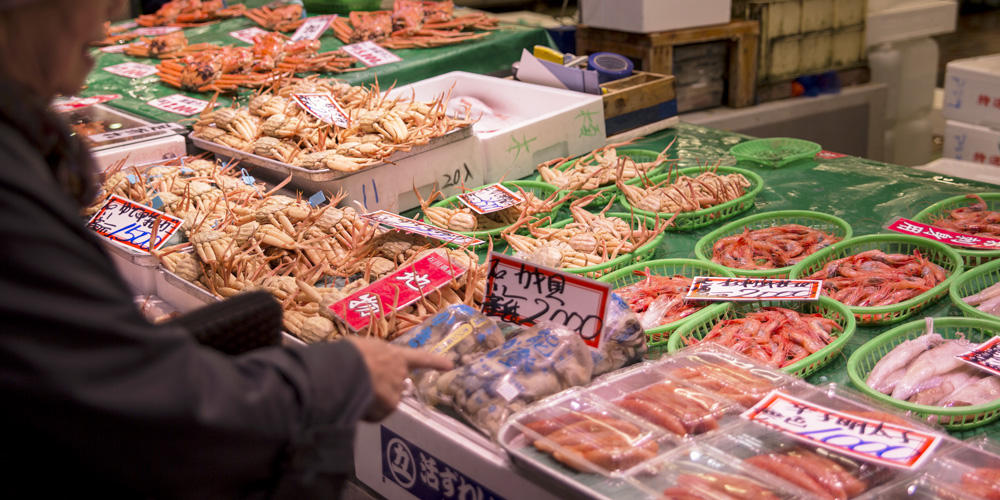 写真提供:金沢市
Kanazawa faces the sea of Japan and is rich in ocean resources, the history of rice cultivation, as well as the delicious food to move the hearts of people. The most recommended local foods in Kanazawa are conveyor-belt sushi (回転寿司/Kaitensushi), seafood, curry, oden (おでん-stew), dumplings (餃子/Gyoza). Kanazawa's famous gold leaf ice cream is another must-try.
But what kind of allure does Kanazawan cuisine have? Where should I go to get REAL Kanazawan food? Let me tell you.
6 Kanazawa Dishes
1. Conveyor-belt Sushi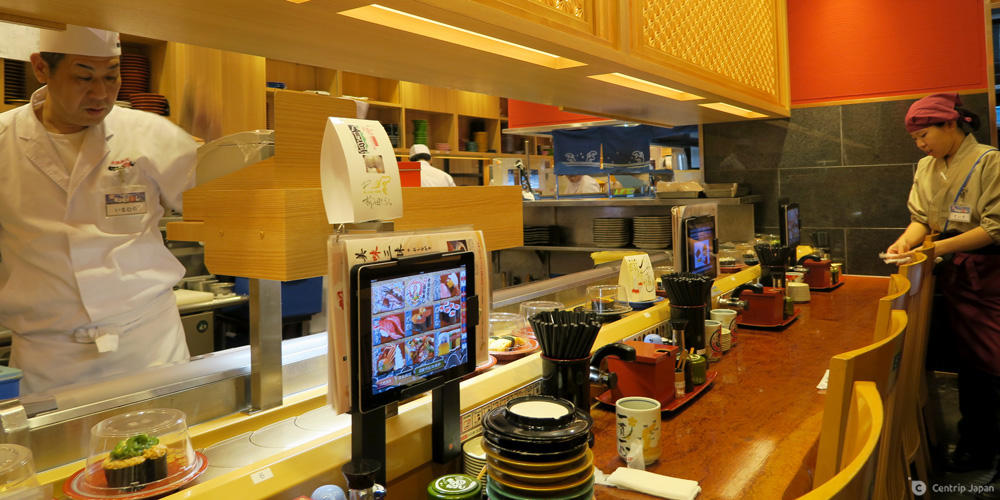 Kanazawa is rich in seafood, as well as many types of sushi, so you can eat lots of luxuriously delicious conveyor-belt sushi for a reasonable price. Kanazawa sushi often includes black-throat seaperch (のどぐろ/Nodoguro) and Gasu ebi (ガスエビ - shrimp). Black-throat seaperch is known as the king of whitefish, the fish is very delicious, and is full of healthy fat and is one of the best examples of sushi, it is commonly eaten raw but is good when roasted with a bit of salt. Gasu ebi is Hokuriku's special product, the shell is brown, and it has a sweet flavor and is popular, it is very sweet as sashimi. The freshness is hard to maintain so it can't be shipped over long distances, and so is typically only eaten in its production area, it's one of the flavors that Hokuriku people enjoy.
Recommended: Morimori Sushi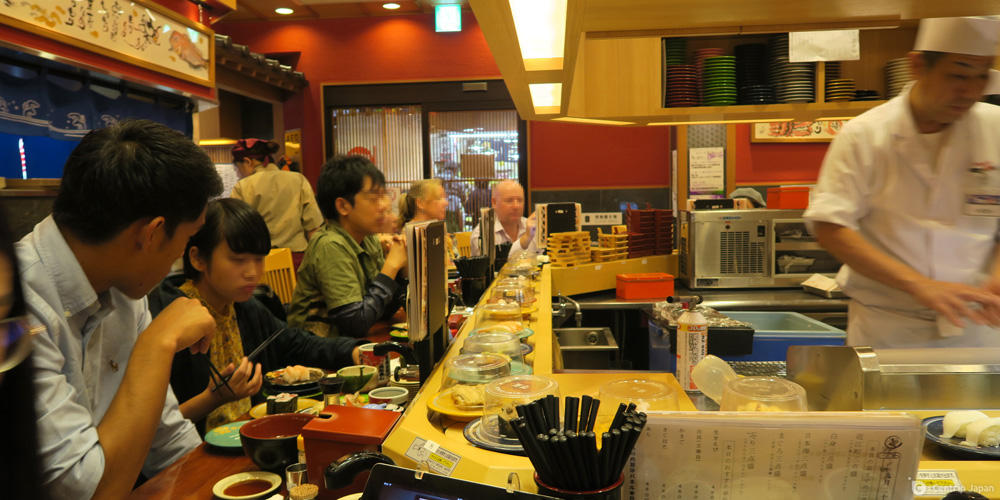 If you want to experience conveyor-belt sushi we recommend Morimori Sushi. There is a shop next to Kanazawa station and Omicho Market (近江町市場/Omicho Ichiba) that is very popular. This is the place to try conveyer-belt sushi, made fresh by sushi chefs on-site.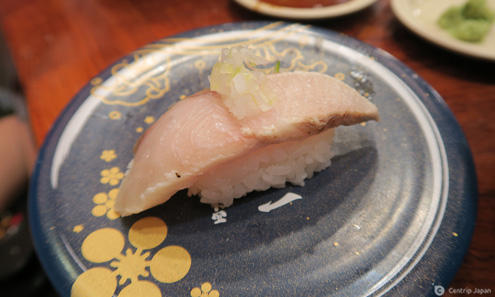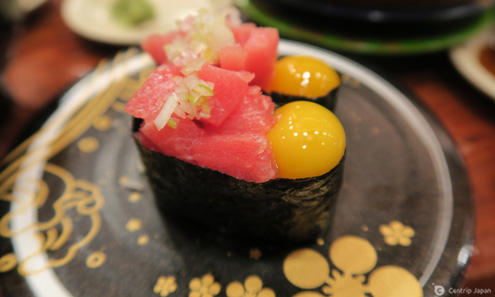 The three items you should order at Morimori Sushi are black-throat seaperch, 3 pieces of Hokuriku Shrimp, and the three-piece Kobako Crab Gunkan sushi (香箱がに軍艦/Kobako kani gunkan zushi) and firefly squid (ホタルイカ/Hotaru ika). The 3 pieces of Hokuriku Shrimp includes raw sweet shrimp, Gasu ebi, and Toyama white shrimp. Kobako Crab is snow crab gathered in the Hokuriku area. The outside part has miso and the inside orange part is delicious. The firefly squid of Toyama bay is very famous, and are used in sashimi. At Morimori Sushi, you can also taste fatty yellowtail, savory mussel, and soft abalone.
2. Seafood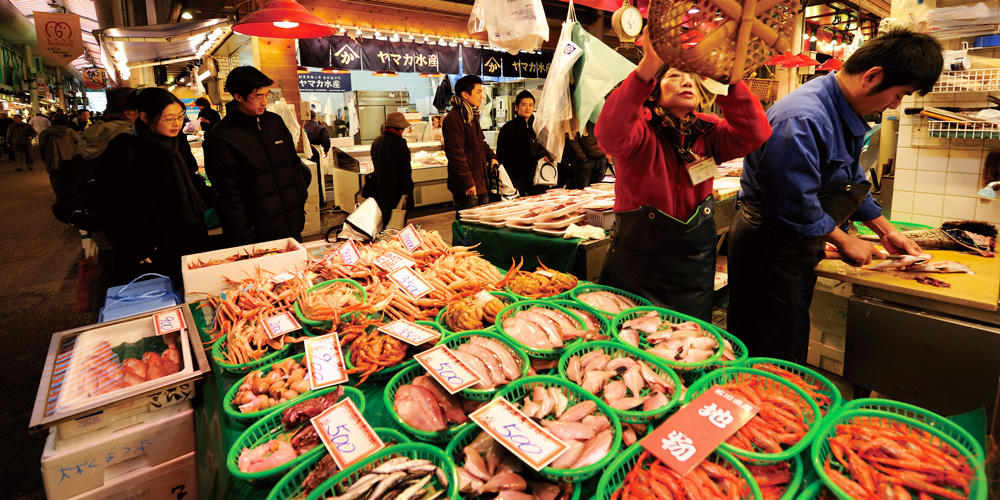 In the waters around Ishikawa, both warm and cold currents mix, tropical and cold water fish live side by side, the fishing grounds are perfect for a variety of ocean life. Kanazawa inherited a rich food culture from the Hansei Period (藩政時代/Hansei Jidai), ingredients of the highest quality and refined processing techniques, Kanazawa's seafood is vivid and uses delicate and solemn containers for its presentation. If you are looking to buy fresh seafood, the Omicho Market, established in 1721, is the place to go. Omicho Market has over 300 years of history and is known as the people's kitchen of Kanazawa. You can get seafood from all over the country here in Kanazawa.
Recommended: Itaru Honten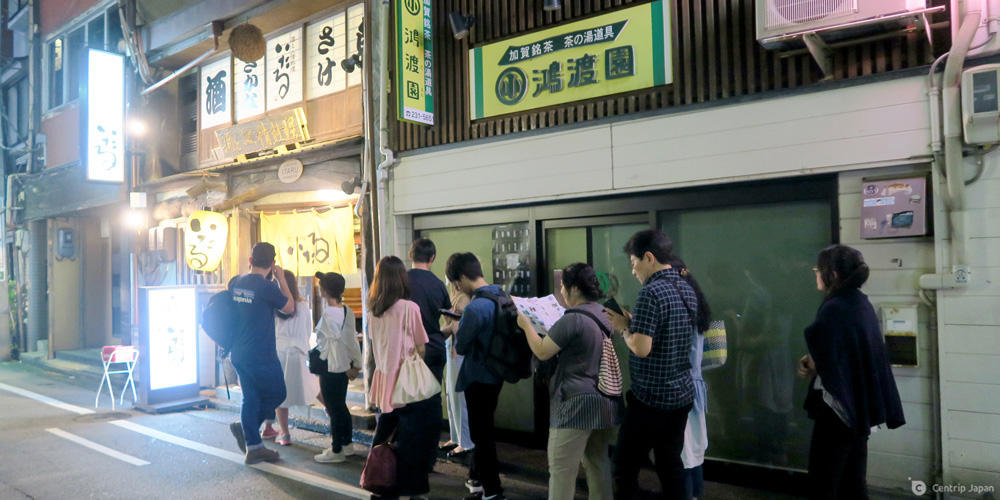 If you are looking for a place to try out seafood we recommend Kanazawa's best Izakaya, Itaru Honten. Established in 1988, It is well known for alcohol and food, delicious meat and a relaxing quiet atmosphere it is popular among the locals and enjoyed by many tourists.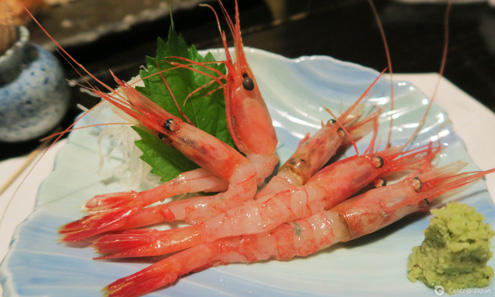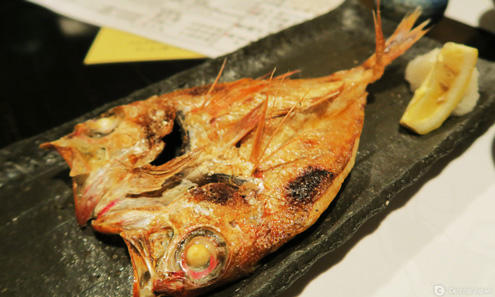 Itaru Honten's seafood is sent from Kanazawa, Shinminato, Ushitsu fishing harbors daily, and is the freshest you can get. There aren't many set items as the dishes change based on the seasons if you let a little time pass you can try new delicious flavors. In addition to the bounty of the ocean, Itaru has many good Kaga (加賀 - a region of Ishikawa) vegetable dishes. Kaga vegetables are a specialty of Ishikawa and popular ones include Kinjisou Spinach (金時草) and Gensuke Daikon radish (源助大根).
Itaru's traditional dish is sashimi platter from the sea of Japan. Many kinds of seasonal seafood will get your heart pounding with excitement. Black-throat seaperch is another big menu items, fresh black-throat seaperch sliced on top of rice, fried and sprinkled with salt when you open the lid the aroma will whet your appetite.
3. Kanazawa Curry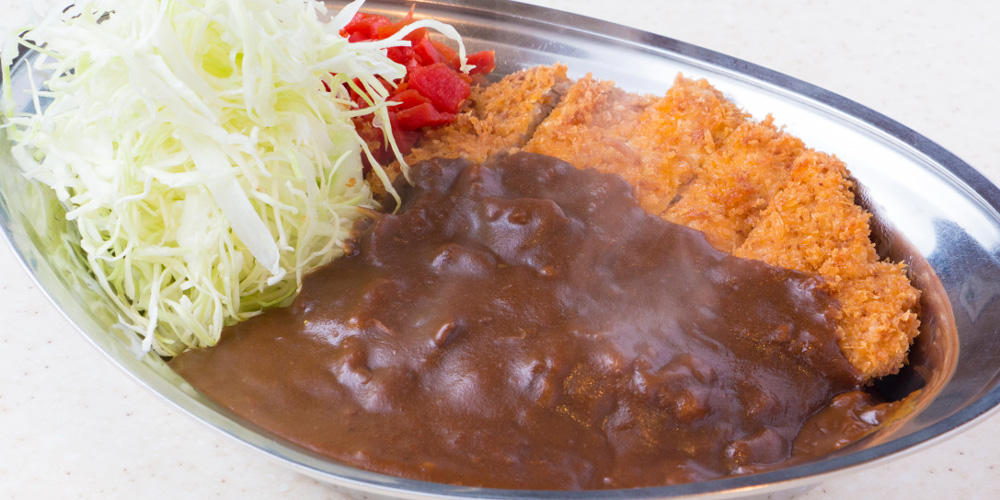 写真提供:金沢市
Kanazawa Curry originated in Kanazawa and has a differs from other local curries. The roux is rich and thick and is arranged so that the white rice beneath is not visible. As a garnish, shredded cabbage is included and the dish is served on a stainless steel plate.
Recommended: Champion Curry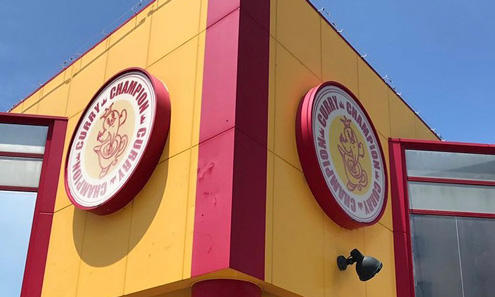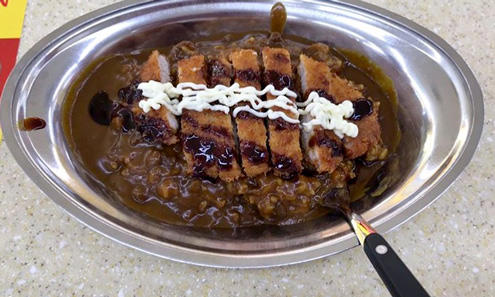 For authentic Kanazawa curry, go to Champion Curry. They boast at having the original Kanazawan curry. Champion Curry was created in 1961 in Kanazawa Curry and for over 50 years, they have been making curry, using fresh ingredients. Champion Curry has an unforgettable taste but the secret is in the special sauce, moderately spicy, rich and deep, it spreads into the rice and the taste will leave you wanting more. If this is your first time going to the store, please try the original Kanazawan curry, L cutlet curry (¥790). The chicken cutlet curry, fried shrimp curry, and cream croquette curry are also recommended.
4. Oden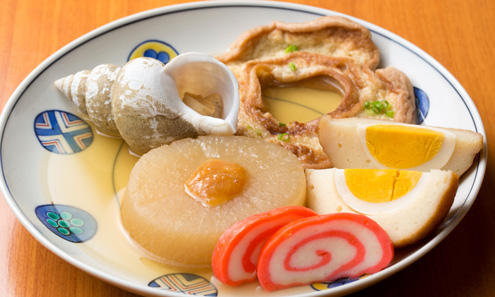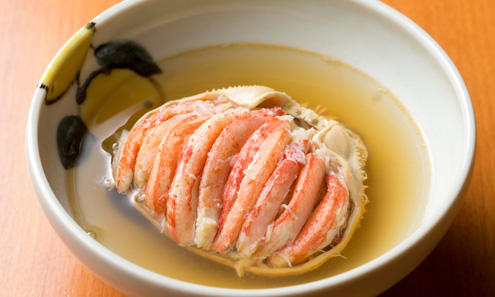 Kanazawa's oden is sold all year round and uses several ingredients unique to Kanazawa, such as kurumabu (車麩), akamaki (赤巻き), and sazae (サザエ - horned sea snail).
The classic items of Kanazawa Oden are crab noodles and Sazae. Crab noodles are made from Kobako crab. Crab shells, crab miso, and crab meat are placed in the crab shell, and the crab shells are dipped in the soup. It is the jewel of Kanazawa Oden and is a dish only offered in winter. Sazae is usually used in sashimi and sushi, but in Kanazawa, there are a variety of ways to eat it. The texture and distinct flavor pair perfectly with oden soup.
Recommended: Amatsubo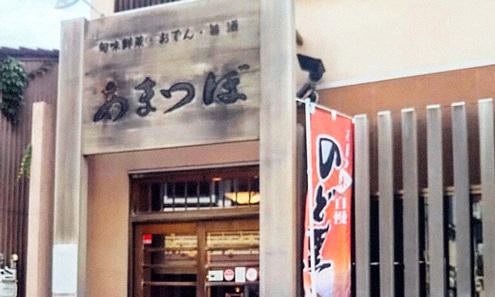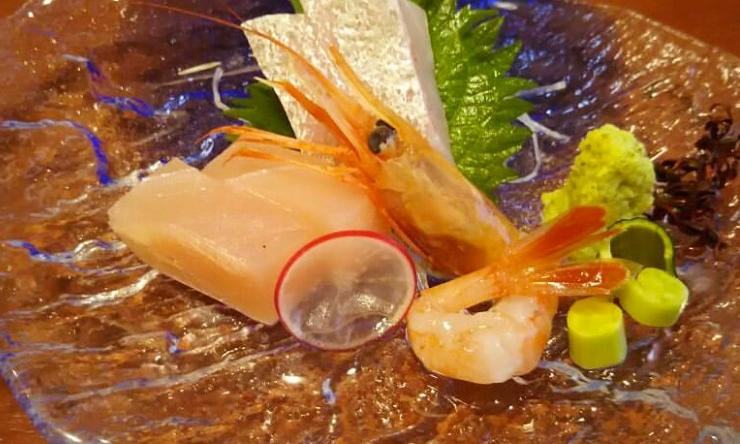 Izakaya Amatsubo the place to go for Kanazawa Oden. A traditional Kaga restaurant with a half-century of history, serving seasonal cuisine and delicious sake. Amatsubo's ingredients are sourced directly from the Omicho market and they focus on seasonal ingredients with an emphasis on quality and freshness. They feature a wide variety of ingredients totaling near 40, from Kanazawa's unique ocean life such as namafu (生麩 - wheat protein), iwadako (岩だこ - octopus), and manjugai clams (万寿貝). Taste the richness of kelp steeped in water for a rich and deep flavored broth.
5. Dumplins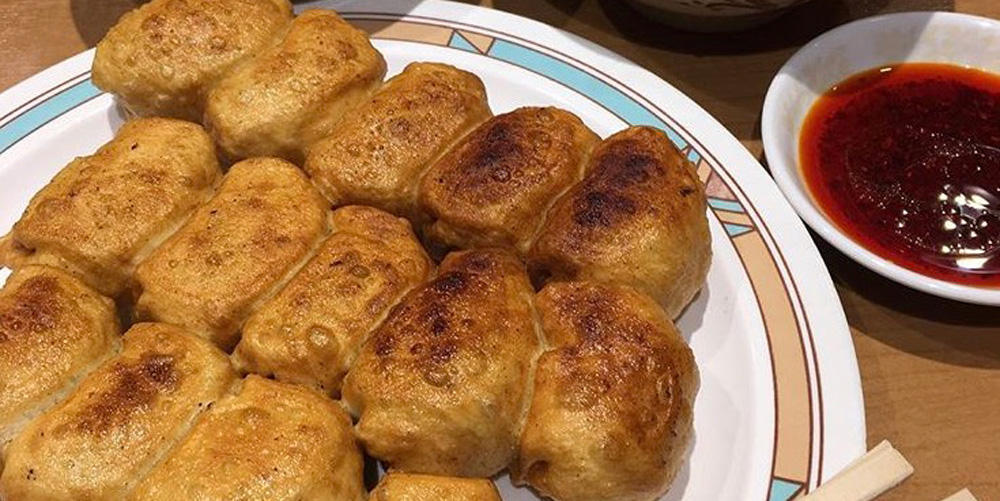 写真提供: minuano68
Dumplins are another must-eat in Kanazawa. There were 7 dumpling stores in the beginning, but now only numbers 5, 6, & 7 remain. The most famous is the 7th Gyoza store.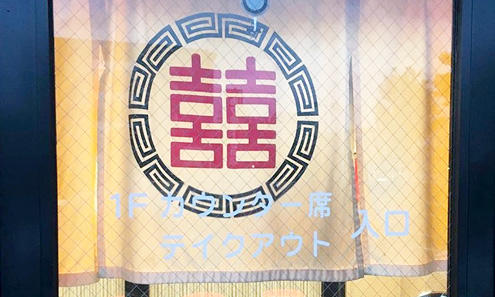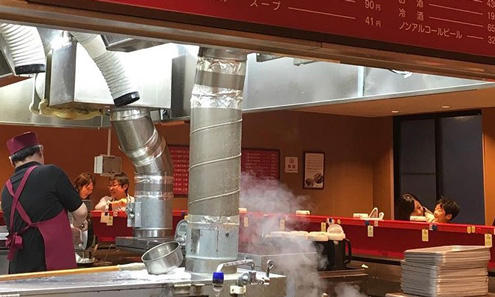 No.7 Dumpling Restaurant is extremely popular in Kanazawa many people say "Let's go to 7th". Why is it so popular? The reason is the white dumplings unique to our shop. The shopkeeper learned how to make white dumpling, from a Chinese chef by the name of Mr. White. Unlike Chinese dumplings, white dumplings have different characteristics. They are put in a large bowl and baked with plenty of oil until they become crispy. White dumplings contain more than 40 kinds of cabbage and onion are first boiled with plenty of hot water. Then they are left for about 15 minutes to let any remaining water evaporate, and baked to a delicious golden brown. The skin is both crisp and soft to chew and the fragrant scent will stimulate your appetite.
6. Kanazawa Soft-serve Ice Cream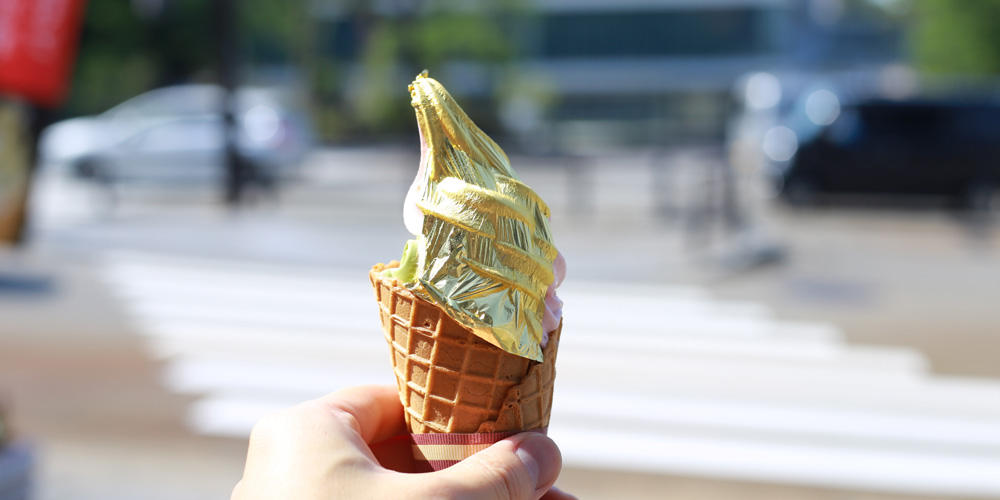 Gold leaf foil is produced in Kanazawa and often displayed on chopsticks and plates, but did you know that it can be used in ice cream? Yes, gold leaf soft-serve ice cream is another special product of Kanazawa. The white soft-serve ice cream is covered in thin gold leaf.
Recommended: Hakuichi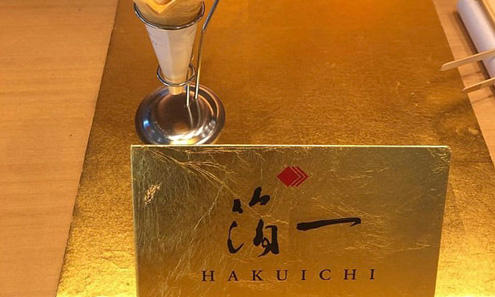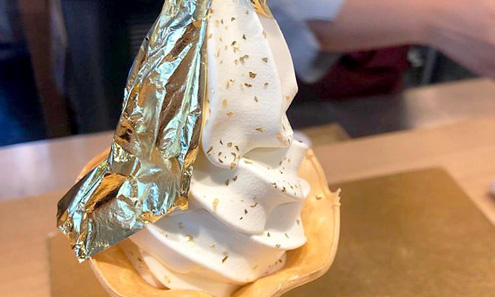 Hakuichi (箔一) is one of the most famous gold leaf ice cream shops. A square of gold leaf is about 10cm in length, it is placed on a piece of white paper, the craftsman then sandwiches both with bamboo chopsticks, lightly applying it to the ice cream. The white paper is then removed and the gold leaf remains on the ice cream. It leaves an impression of clouds floating on water. If you were curious the gold leaf itself has no taste. This delicate and luxurious gold leaf ice cream is only ¥891, so don't miss it!
Wrap-up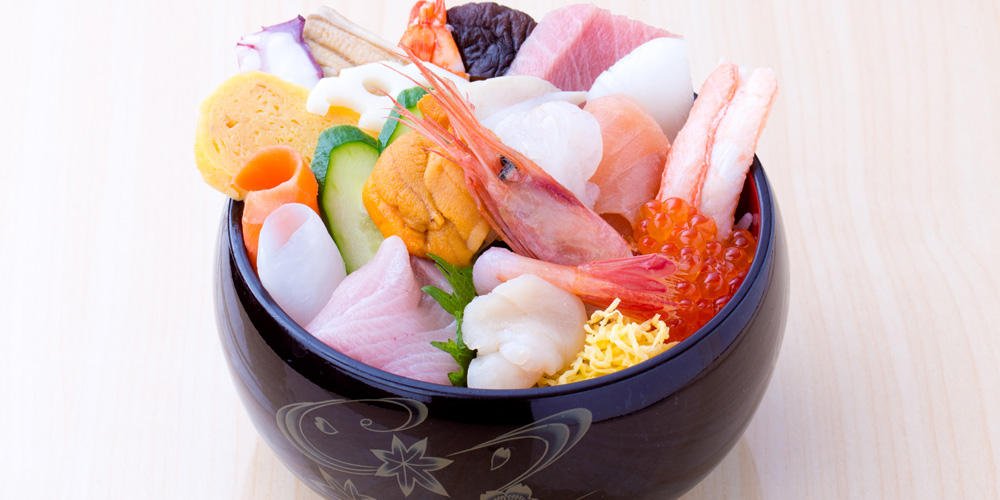 I bet you can't wait to try all this great food out! In addition to the great food mentioned above, countless other gourmet food is waiting to be discovered in Kanazawa!