| Centrip Editorial Board
Enjoy Spring in Kanazawa along with Takayama and Shirakawa-go
Another Little Kyoto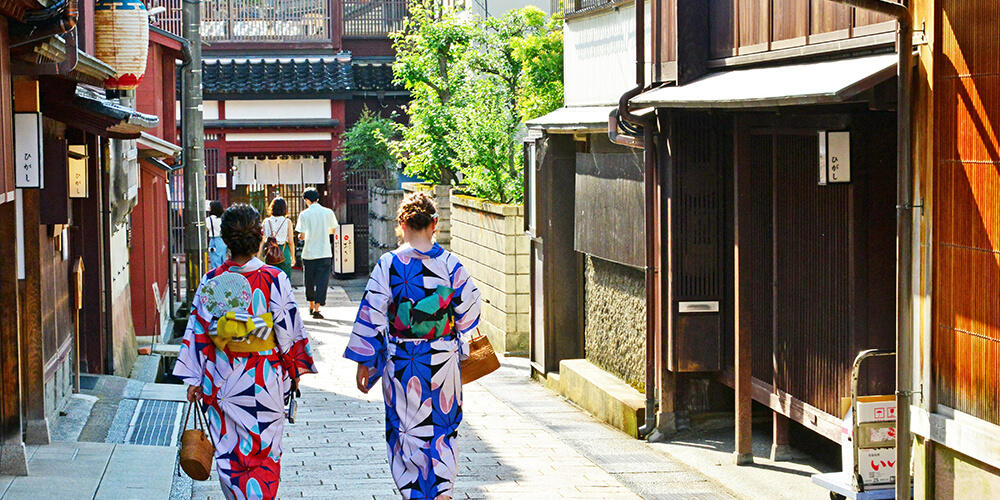 Kanazawa, located near Hida-Takayama and Shirakawa-go, is a popular travel destination in the Chubu area for both foreign and Japanese tourists. Formerly a castle town, it offers historical Japanese cityscapes, traditional arts & crafts, modern art, and unique food culture—oft referred to as a "Little Kyoto", just like Takayama. Seeing the difference between these two little Kyotos during your trip might be interesting. In the springtime, Kanazawa's cherry blossoms blend beautifully with the picturesque townscape. There's no better time to experience the wa [harmony] of Japan.
Visiting Kanazawa Along the Way to Takayama and Shirakawa-go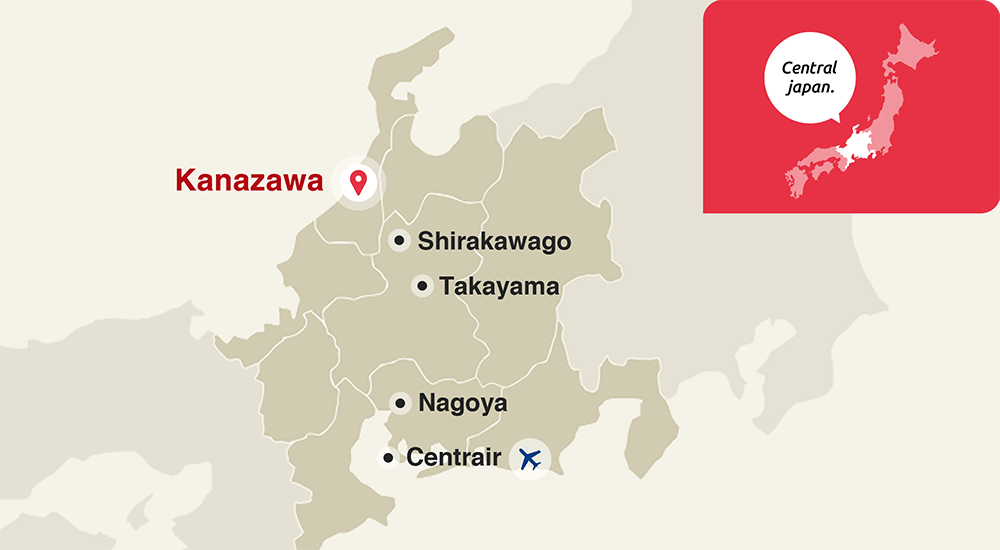 Kanazawa is located in the center of the Chubu region, lining up with Nagoya and Gifu (Hida-Takayama and Shirakawa-go). The easiest way to get to Kanazawa is by bus and the most convenient airport to get you there is Chubu Centrair International Airport.
If you use Centrair as your port of entry, visiting Nagoya along the way is easy. It's a great way to see the countryside and the city. The airport itself a lot of fun things to do, so spending time there can also be a blast!
Recommended Kanazawa Wa (Japanese) Spots
Kimono Experience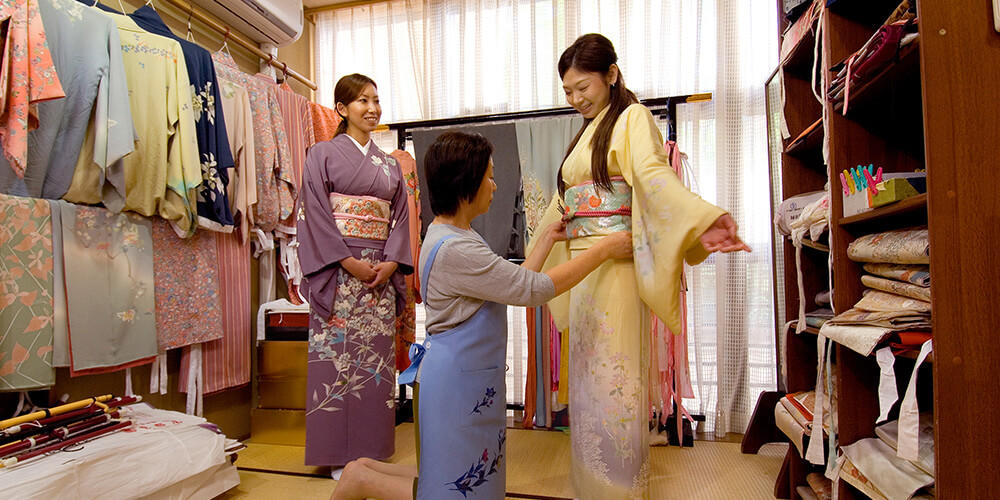 Ever wanted to step back in time and take a stroll through traditional Japan in a kimono? Kanazawa is just the place to do that.
Most kimono rental shops allow customers to wear the kimono for as long as they want, provided they return it to the shop by the end of the business day.
Our recommended kimono rental shop? KIMONO Rental shop Kanazawa Kirara.
They have everything you need and the professional staff to make your kimono experience a great one. They've sweated the details so you don't have to. Their one-day plan starts from ¥ 5,400 and they even offer a next-day return plan as well. For the ultimate experience, they offer a plan including professionally-shot photographs and a rickshaw ride too!
Store Information
Official Website (Availabe in English and Chinese)
Higashi Chaya District Main Store
Address: Wafukan-Shiki 1F, Higashiyama 1-3-18, Kanazawa, Ishikawa 920-0831
Open: 9:00am-6:00pm
Closed Wednesdays (open if Wednesday is a national holiday and closed the following day)
TEL: 076-252-4931
Meitetsu M'za Store
Address: Meitetsu M'za 1F, Musashi-machi 15-1, Kanazawa, Ishikawa 920-0855
Open: 10:00am-7:00pm
Closed: 4 days a year (TBD)
TEL:076-256-1388
Recommended Kimono Rental Shop: Kimono Rental shop Kokoyui
Just bring yourself! Check out this Kanazawa sightseeing kimono course. Enjoy your trip by taking it easy in a kimono (Aya Plan), starting from ¥ 5,400. Plans with a professional photographer and/or an interpreter (Chinese, English) are available. Check their site for more detail.
Stroll around Chaya District with a View of Sakura
The best part of Kanazawa's old townscape is the "Chaya (Teahouse) district." It wasn't a place for tea, but a popular spot where Kanazawa's elite gathered drinks and to enjoy the art of Geisha. To be accepted as a member of this club, you had to be more than being wealthy. Only the most sophisticated were allowed. The Chaya district was THE place for high-society in the Edo Period.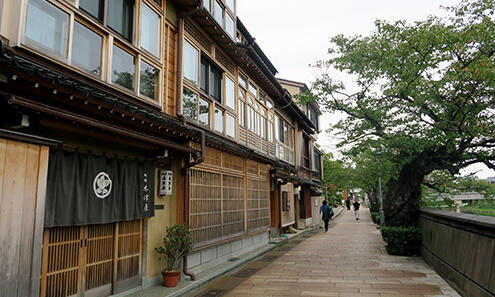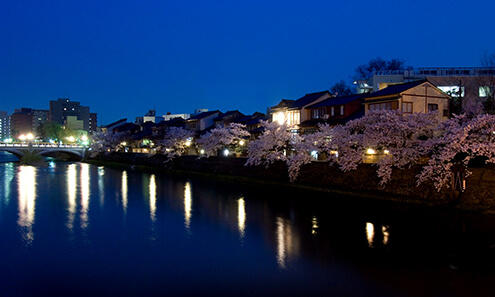 Kazue Chaya district once held the house owned by Tomita Kazue, the warlord of Kaga and used to reign the area. On the main street along with Asanogawa River, small restaurants, Japanese-style cafés, bars are giving the vibe of old Japan and most of these buildings have been renovated retaining most of the old Chaya architecture.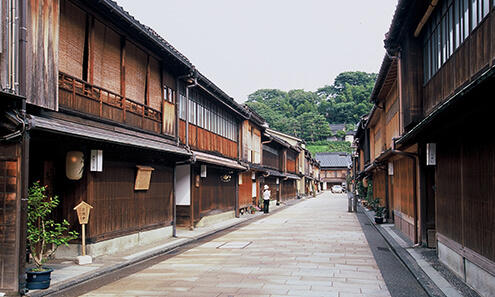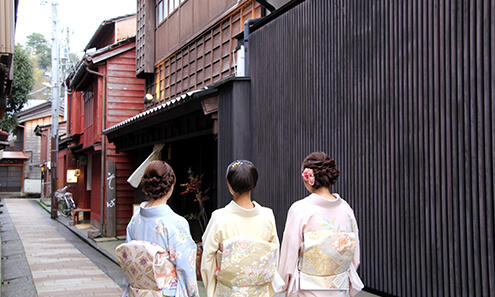 Higashi Chaya Street, designated as a site of Important Traditional Japanese Architecture, is typically brimming with tourists. Sweet shops, knick-knack sellers, traditional craftspeople, and cafés are everywhere. The quaint atmosphere is perfect for shopping and dining.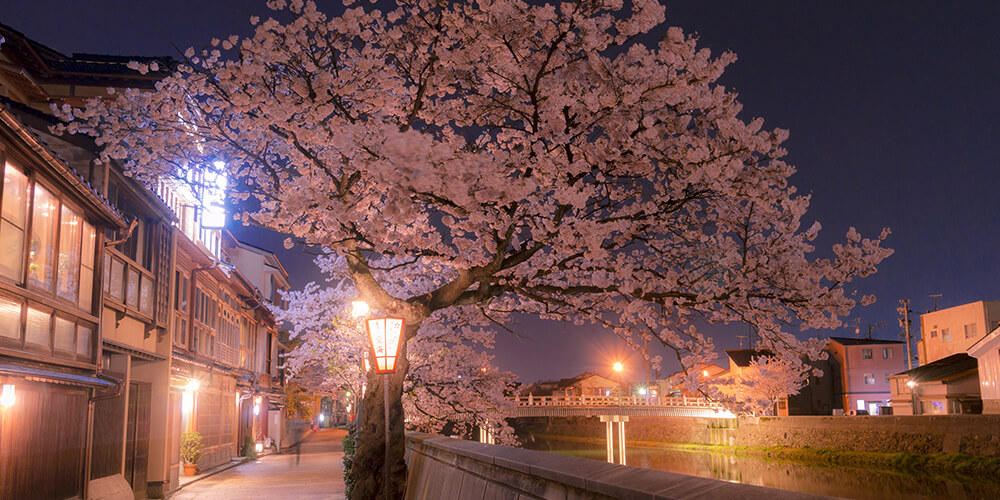 Old stone streets and houses with latticed windows perfectly match the beautiful cherry blossoms in spring. Delicate cherry blossom petals drift slowly through the air like snowflakes from the end of March to the beginning of April.
There are lots of cafés where you can take a break and relax in the Higashi Chaya district. Eating on the street is not allowed though, so you'll have to eat-in.
Traditional Japanese House and Garden at Buke-Yashiki(Samurai Residence)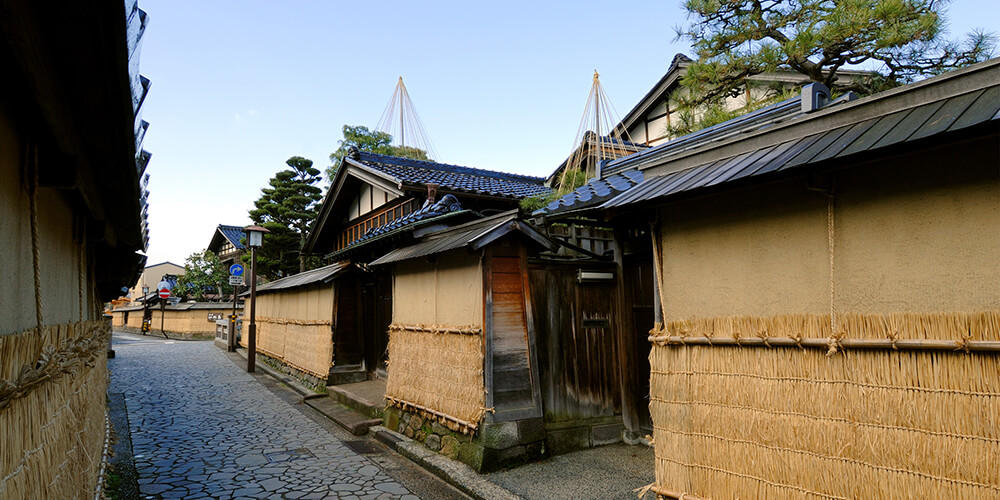 The castle town in Kanazawa was once a town for samurai warriors. There is a place called "Nagamachi," where the samurai of Kaga used to live. Compared to the gorgeous Chaya districts, Nagamachi looks as it was in olden times. You'll feel like you might run into a katana-toting samurai warrior.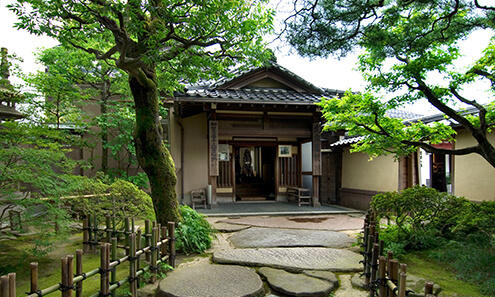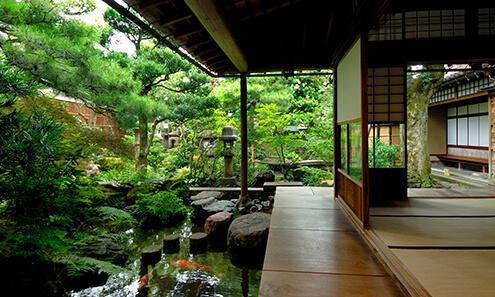 At Nagamachi, the garden and the house of Nomura Family Samurai Residence is open to the public. Get a good look at the traditional Japanese house and its furniture. There is a tea room on the second floor where you can have matcha and Japanese sweets.
Make Your Own Gold Leaf Items
Kanazawa makes over 90% of Japan's gold leaf. One could say that it is a town of "gold leaves." The locals craft gold-leaf items like lacquerware, folding screens, Buddhist altars, etc. Kanazawa's traditional crafts are outstanding. Workshops for making your own gold leaf items are available.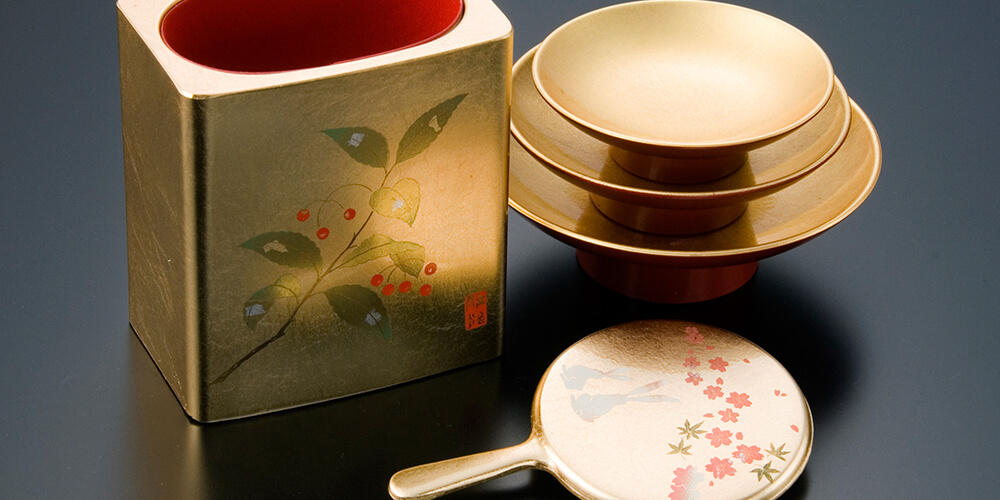 A gold leaf is as thin as 1/1000th of a millimeter. One breath can easily blow it away. There is a workshop where you can try making items such as postcards, chopsticks, accessory boxes, small mirrors, and the like with gold leaves. Gold leaf craftwork is not as expensive as you might imagine—making your own original postcard starts from ¥ 500.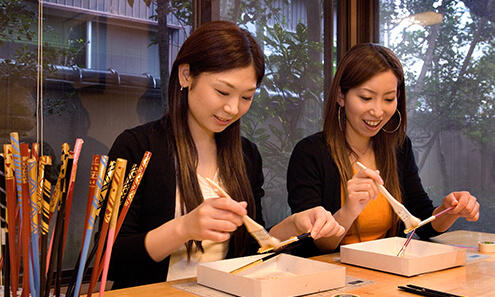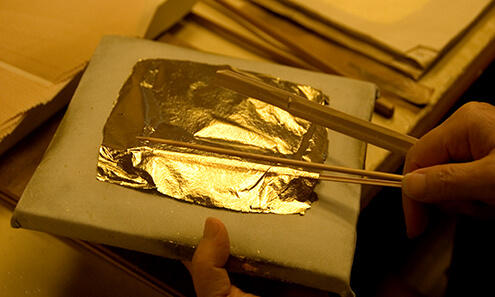 There are many stores which offer gold leaf workshops in Kanazawa and many of them are available in English and Chinese.
Find a store that fits you. Websites available in English and Chinese are listed below.
Gods for Finding Your Soulmate: Ishiura Shrine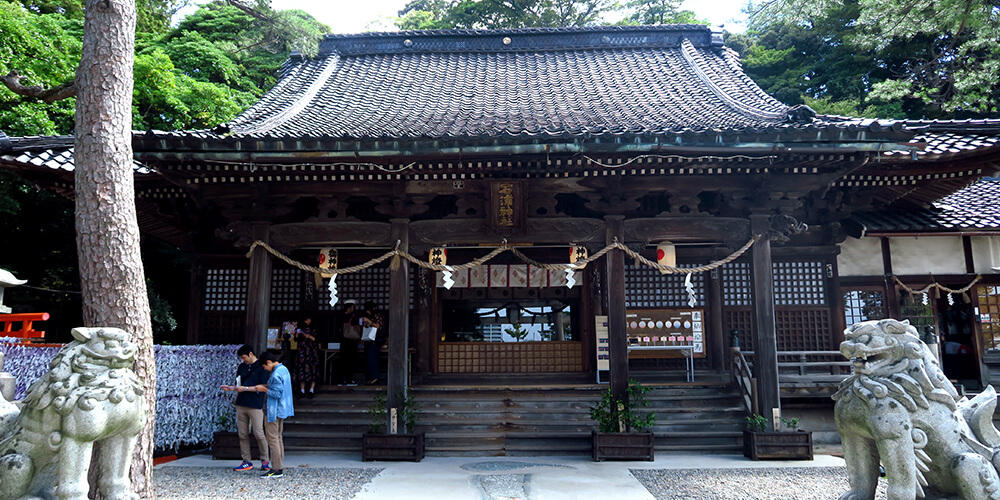 Ishiura Shrine has been long loved by the locals as the oldest shrine in Kanazawa. The uniqueness of charms and Goshuin sold here is the reason for it being so popular as well as its fame as a power-spot for finding your soulmate. This shrine has an original mascot called Kimachan and it is drawn on many charms and ema (good luck placard) sold here.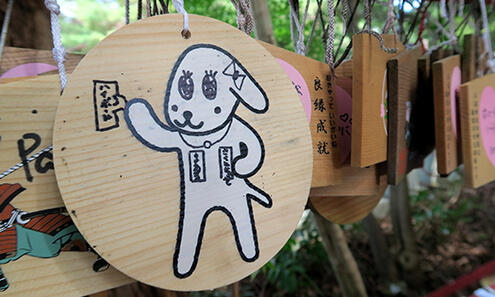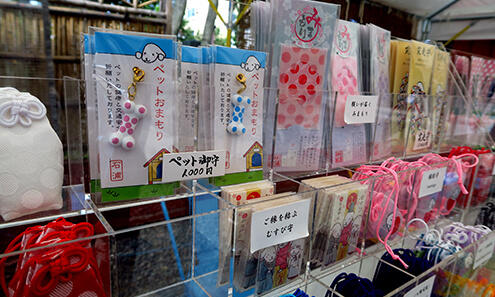 Also, polka-dot charms are popular especially for women because it is easy to wear and also dots (round-shaped) in Japan means "all is well." Pick out Omikuji (fortune telling paper) and test your luck!
Omicho Market
It is Kanazawa local's kitchen with a history of over 300 years. In this market, plenty of fresh seafood and vegetables are available every day. Also, strolling around the market gives off a real Japanese vibe. There are 170 stores in Omicho market, and you can buy fish, vegetables, meat, fish sausages, pickles, cooked food, flowers, sake, snacks, clothes, misc. goods, etc—literally, everything.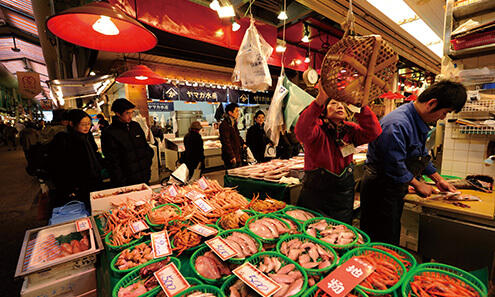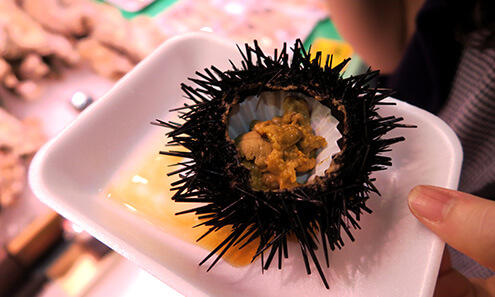 Stores here serve foods ranging from casual items like croquettes and oden to exquisite shrimps, oysters, and fish. Take a stroll and snack on fresh seafood. There is a place called "Omi-cho Ichiban-kan" nearby where you can find various restaurants such as Japanese, Chinese, and French, curry, ramen, and a bakery.
Sushi Train
Kaiten-zushi is a casual and reasonable kind of sushi restaurant where sushi circles the restaurant on a conveyor belt. Kanazawa was said to be a birthplace of this conveyor-belt sushi system. Since Kanazawa is famous for its fresh seafood, you will find high-quality sushi even at these casual Kaiten-zushi restaurants!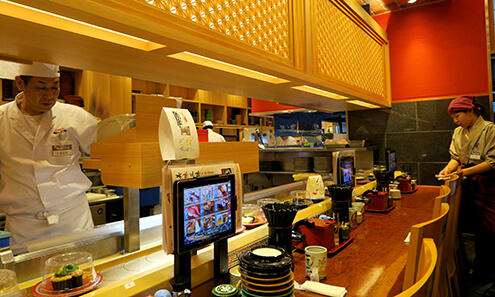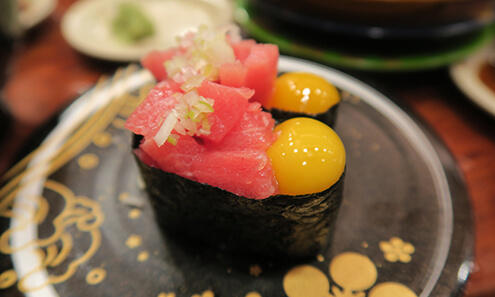 Mori-Mori Zushi, a famous chain-restaurant that originated in Kanazawa, is very popular among foreign tourists because of the high-end fish and sushi are served here at very reasonable prices. Don't miss your chance to try the amazing the shrimp and crab here! This restaurant is popular with locals as well. Check out all the tasty treats that Kanazawa has to offer! Nodoguro (rosy seabass) and Kobakogani (female snow crab)-miso are must-eats when you are in town!
Kenrokuen Garden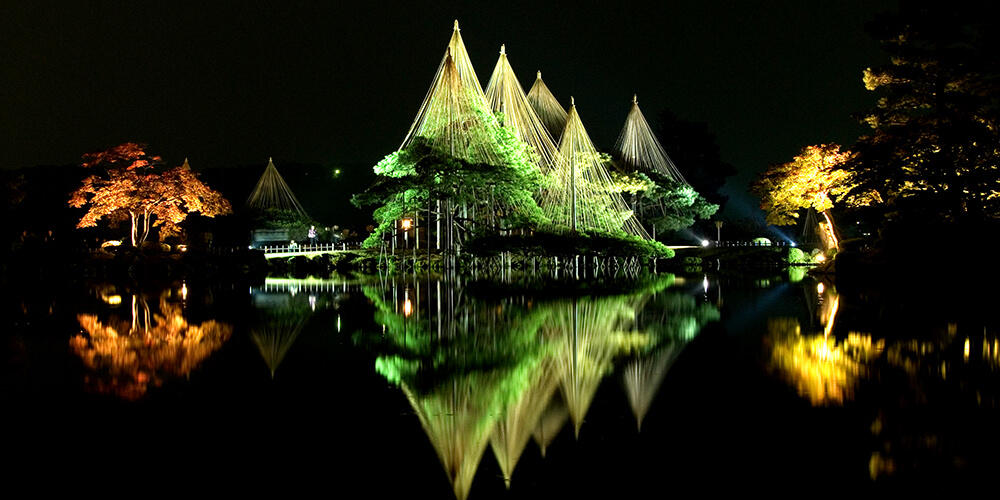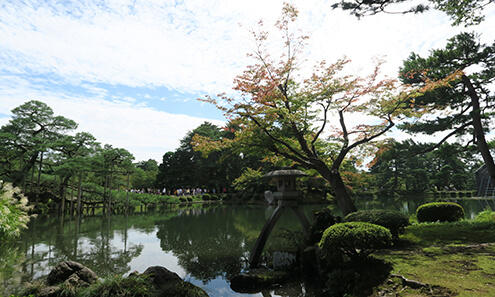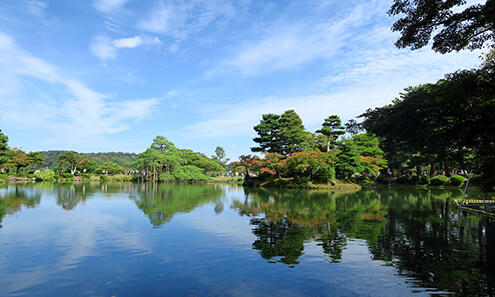 Kenrokuen garden, designated as a Special Place of Scenic Beauty, is one of the three famous Japanese gardens in an area of 11.7 hectares. An iconic Kotojitoro lantern, a large Kasumigaike pond, and Karasaki pine tree that provides shelter from the snow are famous in this elegant garden.
Kenrokuen is very popular among foreign tourists and it ranked 6th in "Popular sightseeing spot ranking 2018 for foreign visitors" according to the TripAdvisor.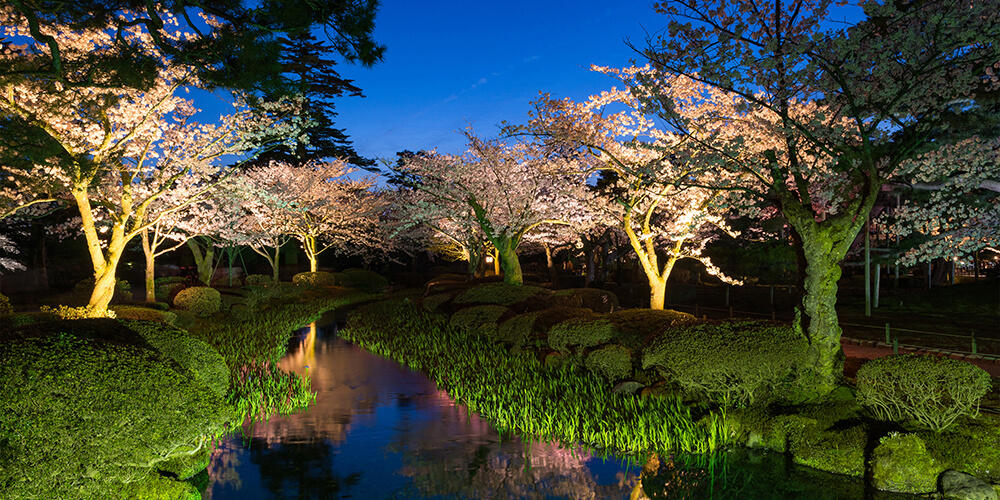 At Kenrokuen, you can see the changing of the seasons—snowy winters, colorful autumns, cherry blossom-filled springs, and verdant summers. It is open to the public for free during cherry blossom season, and there are 40 different cherry blossom trees to see. The garden is lit up each night, and the reflection of the cherry blossoms on the surface of the nearby pond is breathtakingly beautiful. Night in Kenrokuen has an otherworldly atmosphere.
Best time for cherry blossoms: April
Number of cherry blossoms: about 420 (around 40 kinds)
Light up time: from sunset–9: 30 pm (when the park is open to the public for free)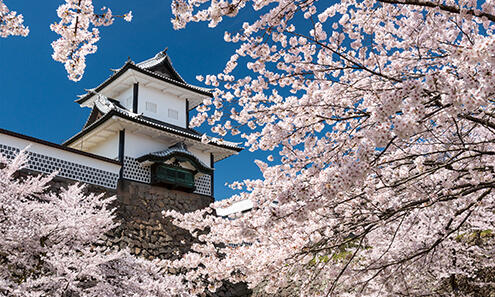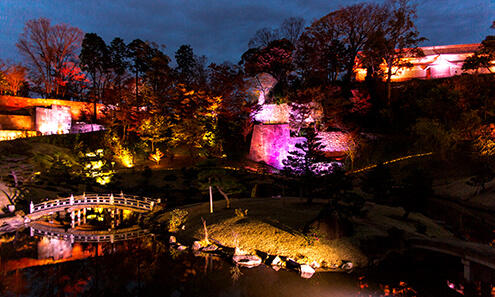 If time allows, walk to Kanazawa Castle next to Kenrokuen to see the cherry blossoms planted along the moat within the castle walls surrounding Ninomaru Plaza. Kanazawa castle is also lit up at night in the spring and you can enjoy the two best cherry blossom spots in Ishikawa Prefecture all at once.
To Kanazawa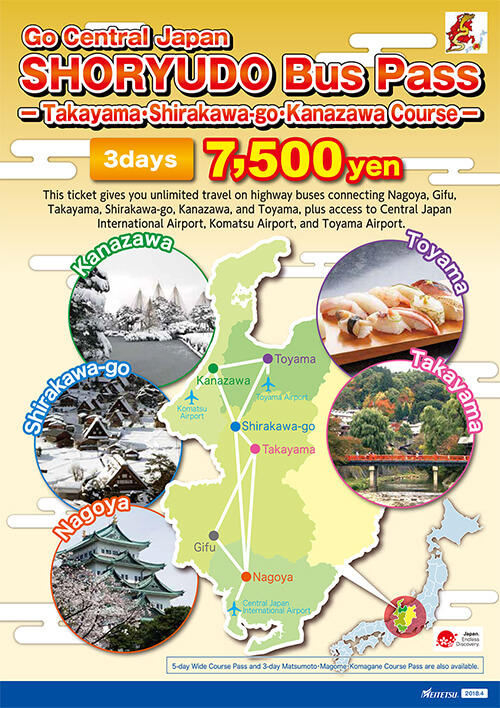 Shoryudo Freepass Ticket: Takayama, Shirakawa-go, and Kanazawa Course
The best way to get around Takayama, Shirakawa-go, and Kanazawa.
Three-Day Expressway Bus Deal: three-day ride for 7 route buses connecting Nagoya, Gifu, Takayama, Shirakawa-go, Kanazawa, and Toyama for three days. Also, buses for Nagoya/Gifu to Chubu Centrair International Ariport, from Kanazawa to Komatsu Airoport, from Toyama to Toyama Airport are included.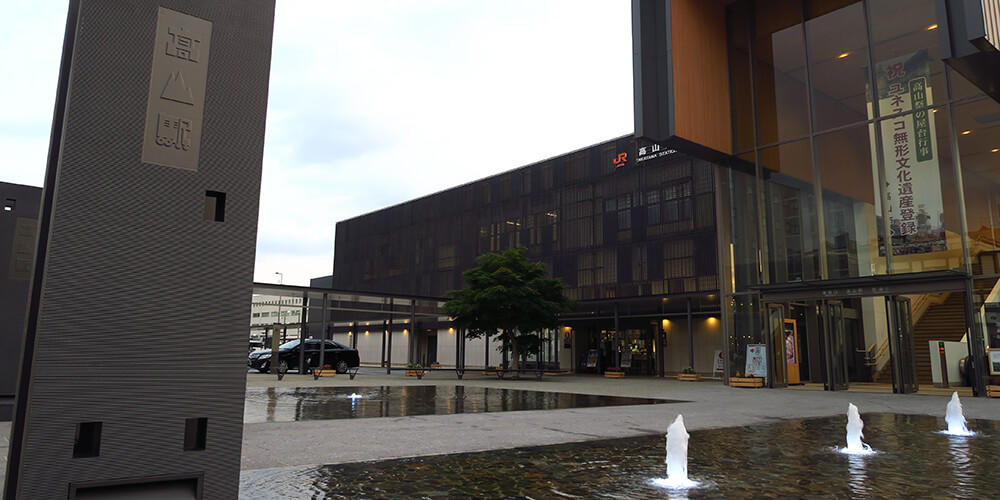 Takayama /Shirakawago
highway bus runs every day. It takes about 2 hours 15 minutes from Takayama Station and 1 hour 15 minutes from Shirakawago.
There is a way to go to Kanazawa from Takayama using JR local trains, but it takes 3 hours 30 minutes. The bus is recommended.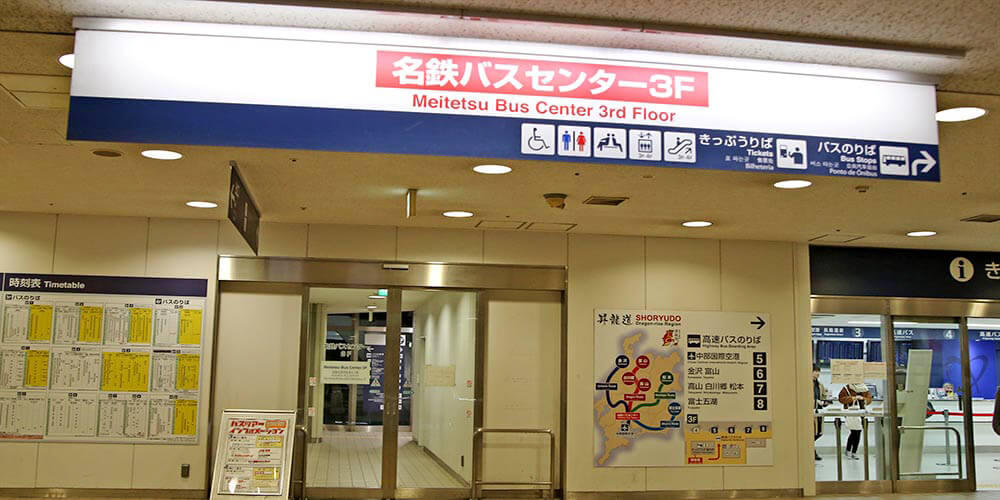 Go DIrectly to Kanazawa from Nagoya
From Nagoya Station to Kanazawa Station: it takes 2.5 hours on the JR limited express train (Shirasagi). The ticket costs about ¥15,000
· You can take the Shinkansen to Maibara Station, but it only shortens 30 minutes of your travel time. Considering all the trouble of changing trains and waiting in lines, the Shiragi is the better option.
· The highway bus runs from Nagoya Station to Kanazawa Station every day. It takes 4 hours, a one-way ticket is ¥ 4,180 (discount round-trip ¥ 6,700). In terms of time and cost, a highway bus is also a good option.
Wrap up
With one Shoryudo free pass ticket, you can also travel to Nagoya, Gifu, Takayama, Shirakawa-go, Toyama, Matsumoto, Shinhodaka, Gero, Gokayama, Takaoka, and the airport after fully having enjoyed Kanazawa.
Sponsored by Chubu Centrair International Airport