| Centrip Editorial Board
Kanazawa Jam-Packed with Winter Goodness
Kanazawa, a historic castle town in the north of Central Japan, is an attractive tourist destination with locations all within a stone's throw of each other. It is excellent for a quick one-day trip or a relaxing two-day trip. Conveniently located in both Tokyo and Central Japan, Kanazawa throngs with tourists all year round, and winter is Kanazawa's most attractive season. In midwinter, the temperature rarely drops below freezing, but when it does get cold, get ready to enjoy Kanazawa's unique winter sights. Sights include Yukizuri (ropes bind the branches of trees to protect them from snow) and Dobeko-komogake (straw coverings on mud walls), which protect against the occasional snowfall. And be sure to sample seasonal foods such as crab and sweet shrimp, which are just a sample of the local delicacies.
Recommended Sightseeing Spots
Kenrokuen Garden and Kanazawa Castle Park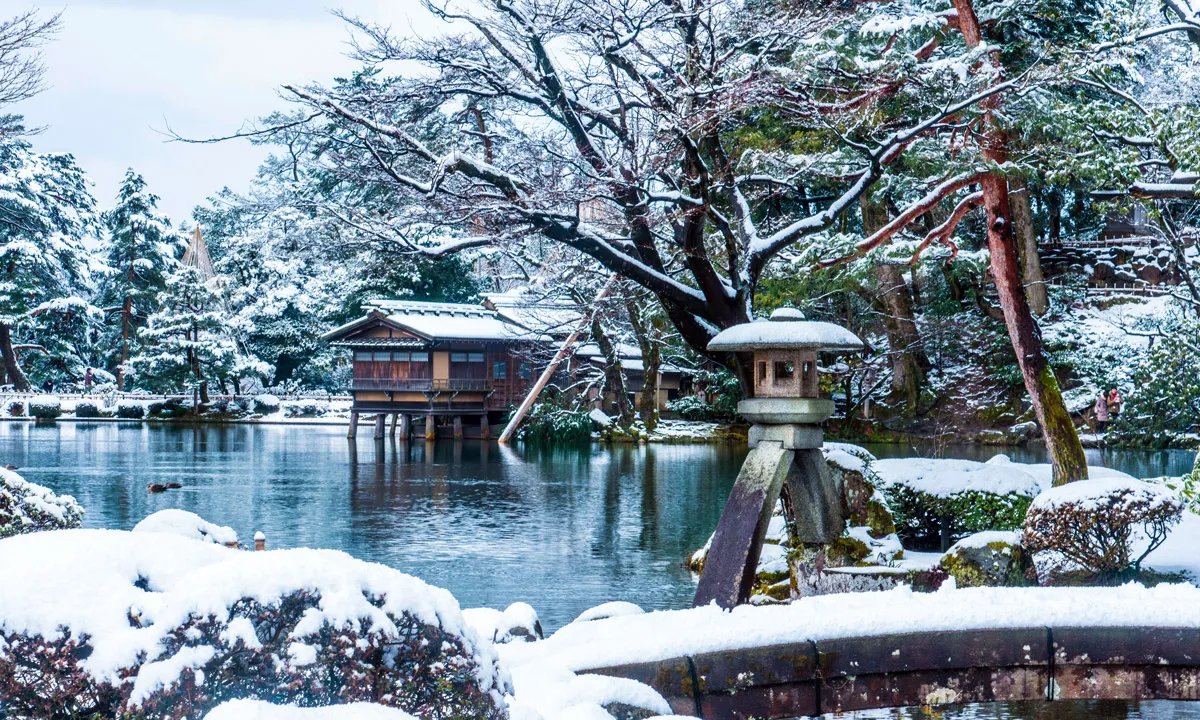 Kenrokuen Garden
In the center of Kanazawa, Kenrokuen Garden is one of the three famous gardens of Japan. The garden's spacious grounds showcase the beauty of nature in each of the four seasons. Cherry and plum blossoms in spring, autumn leaves in fall, and Yukizuri in winter are spectacular.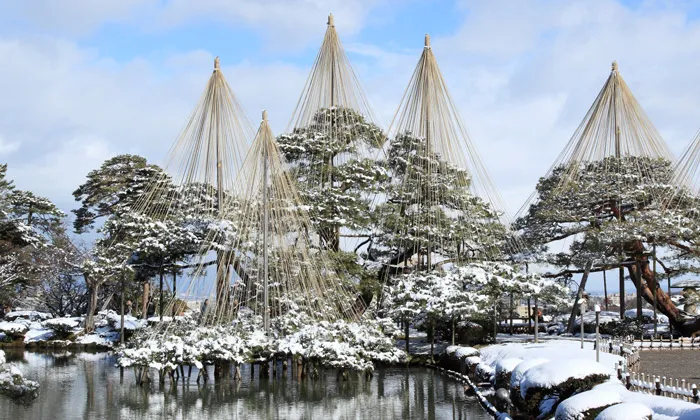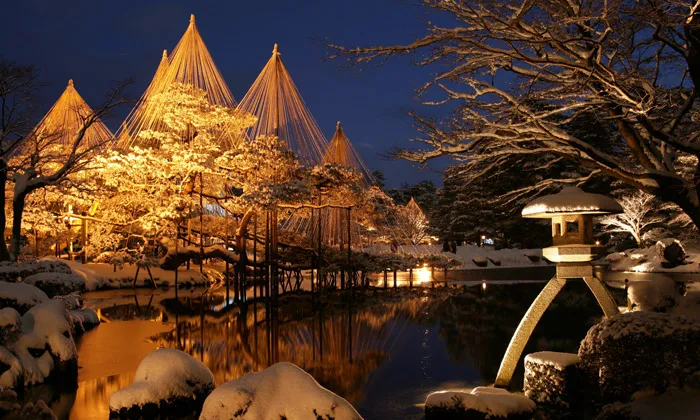 Every year from November to mid-December, skilled gardeners stretch ropes over hundreds of pine trees and azaleas to prevent their branches from breaking under the weight of wet snow, known as Yukizuri, a unique feature of this region. When snow falls on the beautifully conical snow-covered trees, they light them up in the evenings creating a magical atmosphere. Trees with Yukizuri are around until mid-March.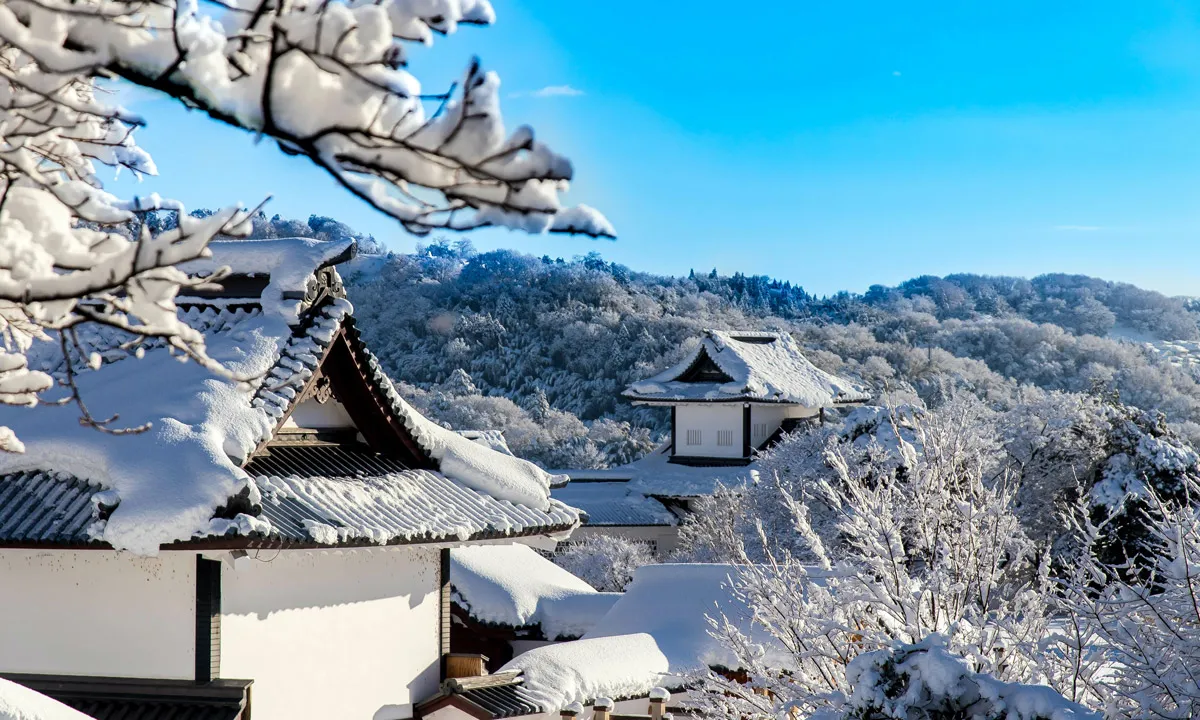 Kanazawa Castle
Kanazawa Castle Park is next to Kenrokuen Garden and is a great place to experience Kanazawa's history and traditions. There are many highlights like Hishi Yagura, a watchtower faithfully restored from the original, the Hashizume-mon Tsuguzuki Yagura, which served as a watchtower, and the Gojiken Nagaya, which was a military warehouse, as well as the castle's stone walls and gardens.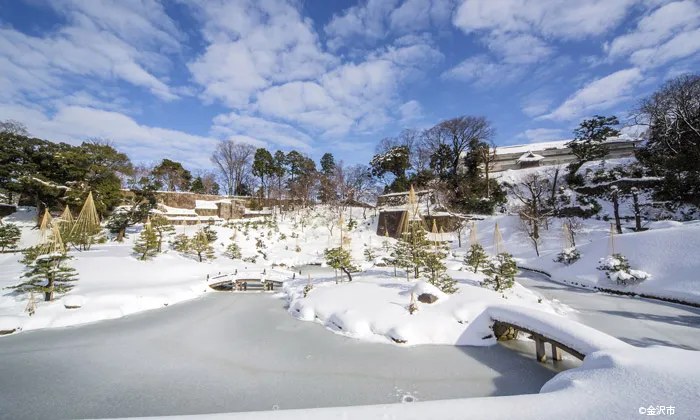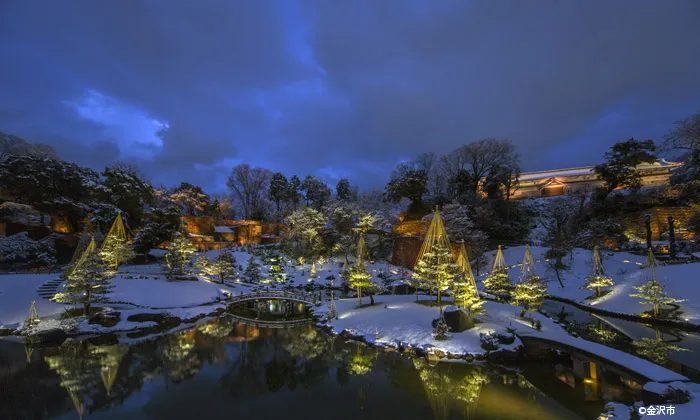 Winter lightup at Kanazawa Castle Park and Gyokusen'inmaru Garden
Nagamachi Buke Yashiki District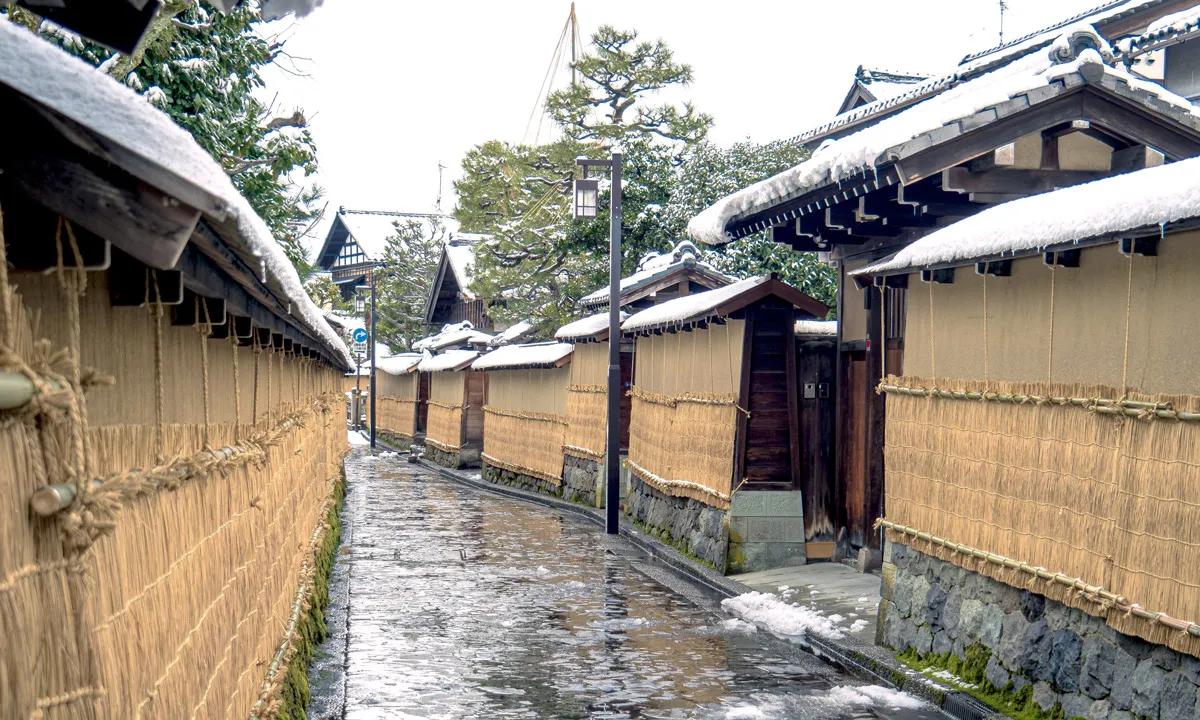 Nagamachi Buke Yashiki District
A 10-minute walk from Kanazawa Castle Park brings you to the Nagamachi Buke Yashiki District, which has the atmosphere of a castle town. On each side of the streets are restored samurai residences of the Edo period (1603-1867), surrounded by well-maintained earthen walls.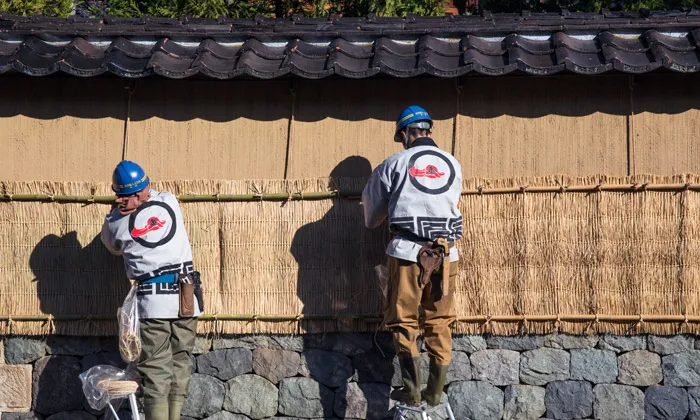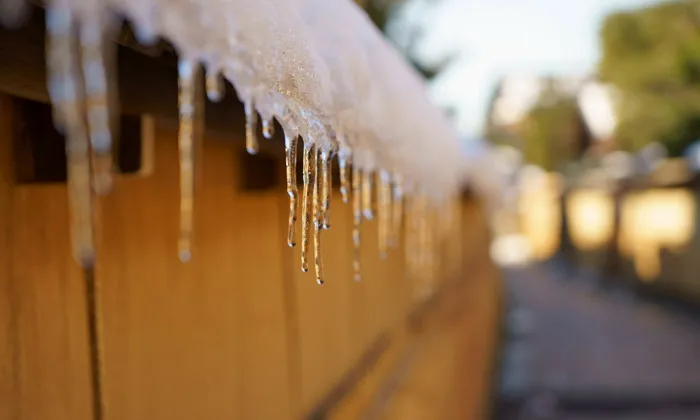 Every December, craftspeople weave straw mats and hang them from the eaves to cover the walls to protect the earthen walls from the snow and freezing. This process is called komogake and is a winter tradition in Kanazawa, along with yukizuri. As you walk, experience the scenery along the narrow cobblestone roads and imagine the samurai of old walking the same winter streets. Komogake covers the walls until mid-March.
Higashi Chaya District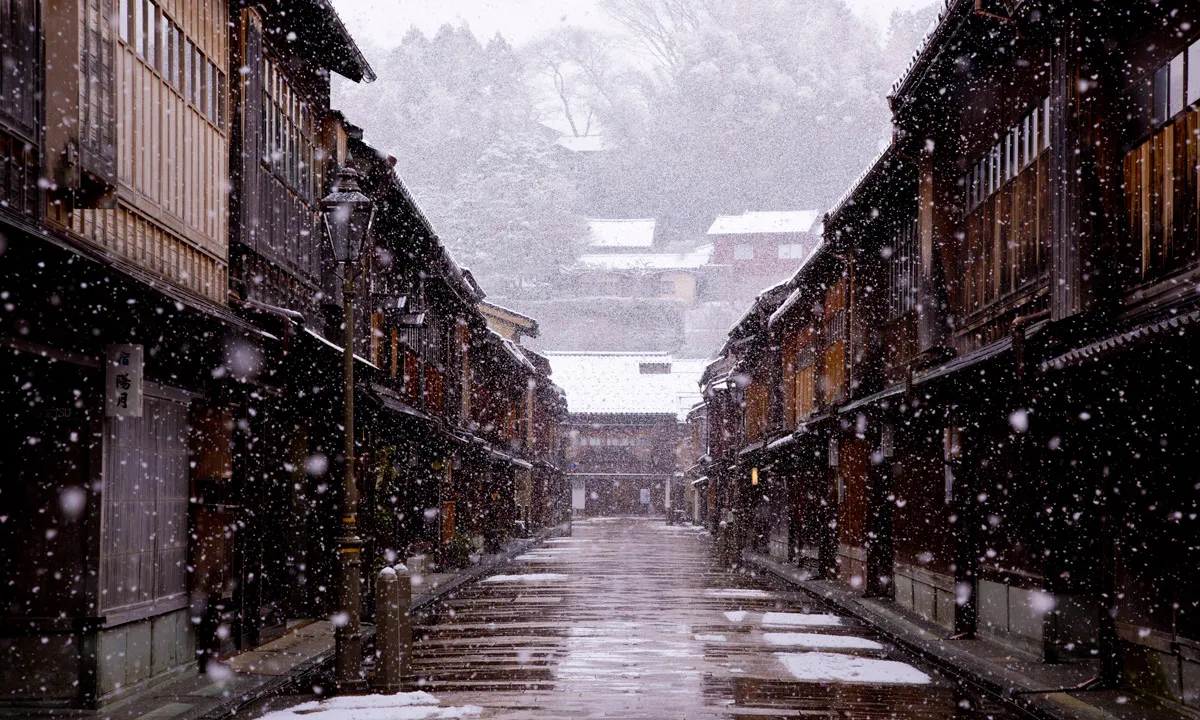 Higashi Chaya District
Higashi Chaya District is a must-see location in Kanazawa, and the atmosphere is even more charming when covered with snow. Photographs in this area look great and even better with a rental kimono, with the elegant townscape in the background taken on the slightly widened street called Hiromi, look great on social media and make for a memory that will last a lifetime. You may also want to take pictures along the Asano River and on the bridges in this area.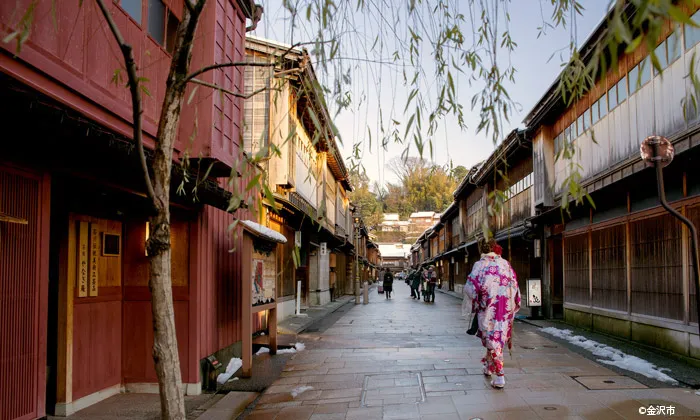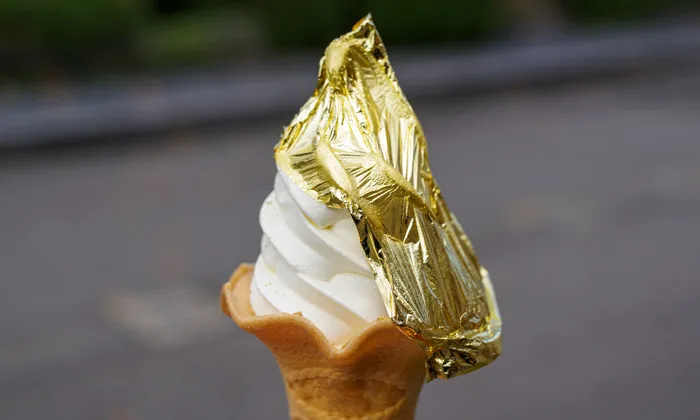 Higashi Chaya District, stop by a café and refuel with gold leaf-covered soft-serve ice cream and Japanese sweets before looking for souvenirs.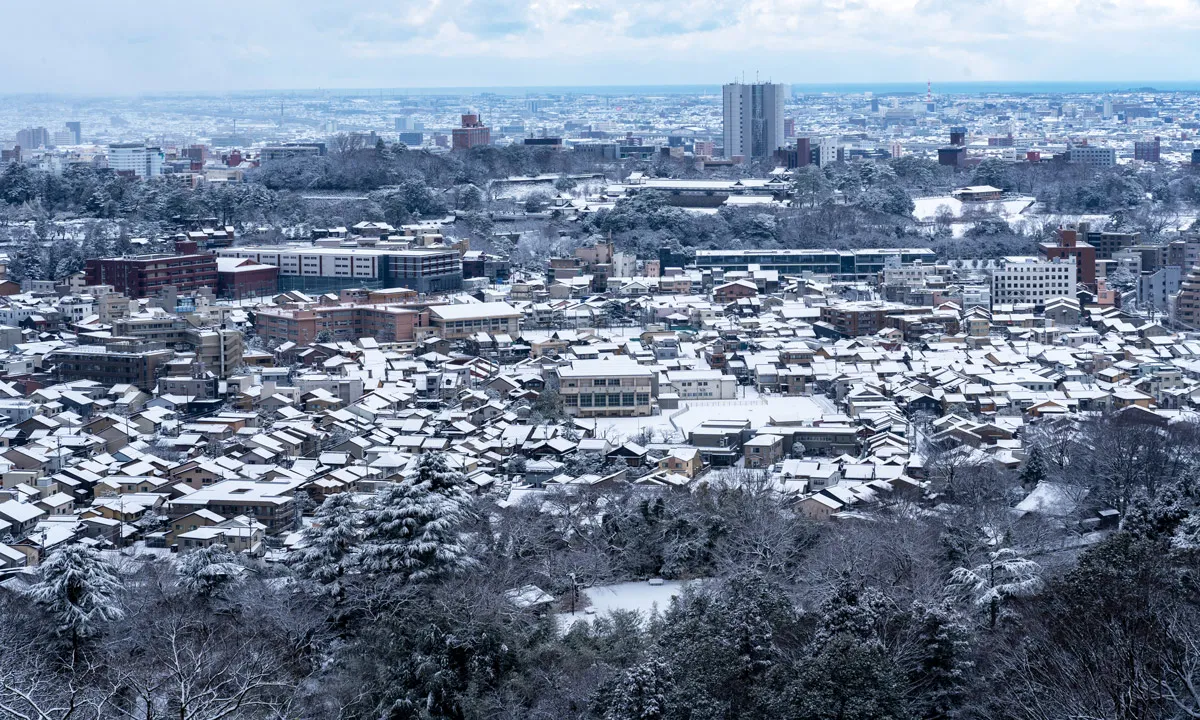 The view from Mt. Utatsu
Mt. Utatsu is just behind Higashi Chaya District and is a must-see spot. From here, the panoramic view of Kanazawa City looks like an etching, contrasting between the black roof tiles and the white snow resting on top. The mountain is only 140 meters above sea level, so it is an easy hike.
Recommended Winter Eats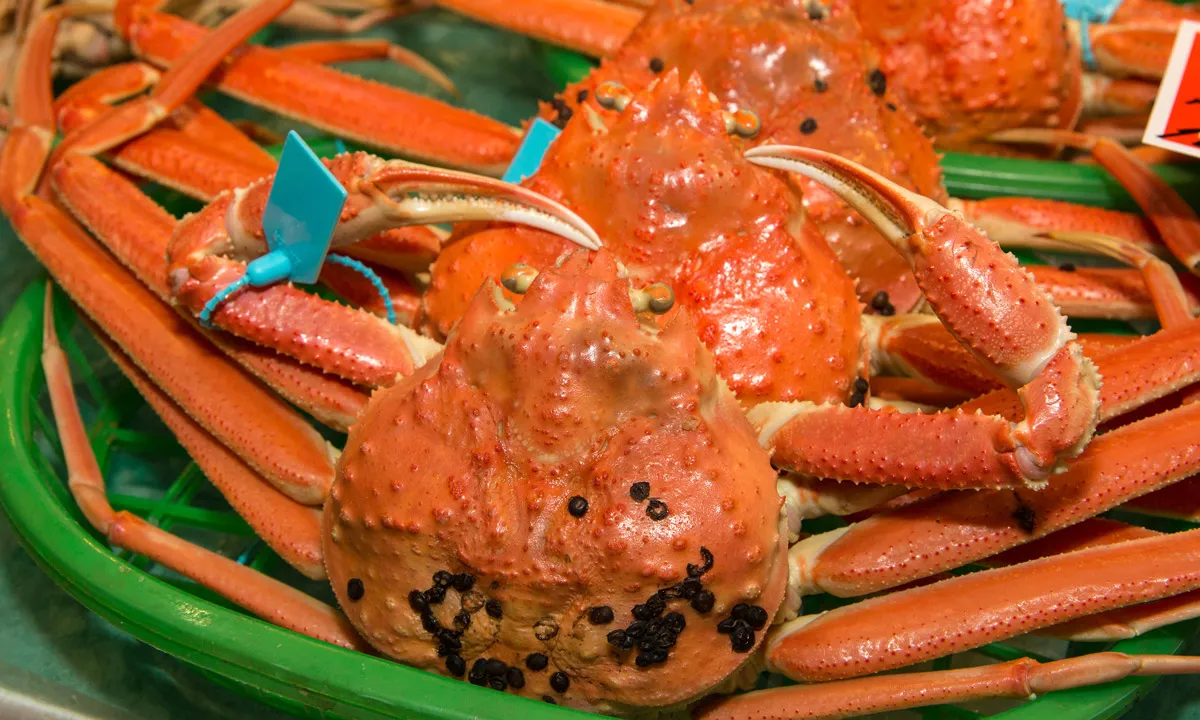 Kano crab with a blue tag
Kanazawa is famous for its snow crabs, called kano crabs in Ishikawa Prefecture, and marked by the blue tags attached to their legs. The smaller female crab is called kobako crab and is a valuable delicacy caught only during a short period from November to late December.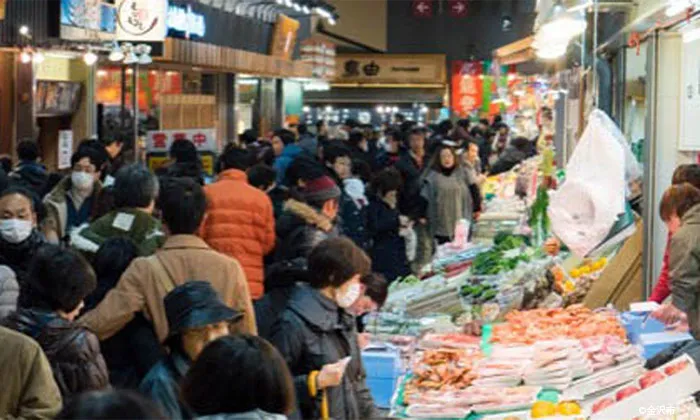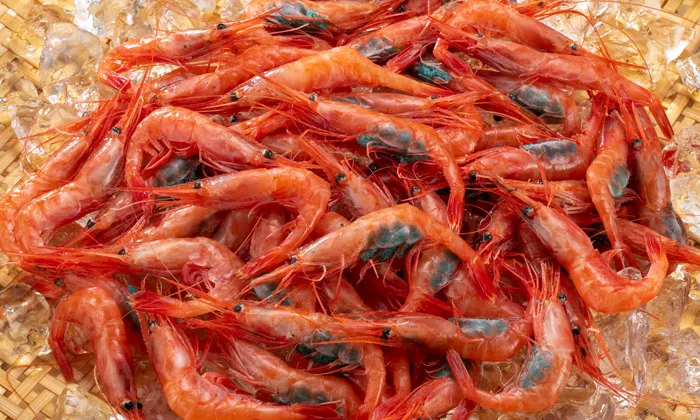 Winter is also the season for delicious sweet shrimp and winter yellowtail. Located a 10-minute walk from Kanazawa Station, Omicho Market has supported the culinary life of Kanazawa citizens for more than 300 years. Here you can enjoy seafood bowls and sushi with fresh seafood from the region. When you stop by the market, don't miss the Kinpaku Kirara, a colorful and brightly-lit night festival held at various places in central Kanazawa.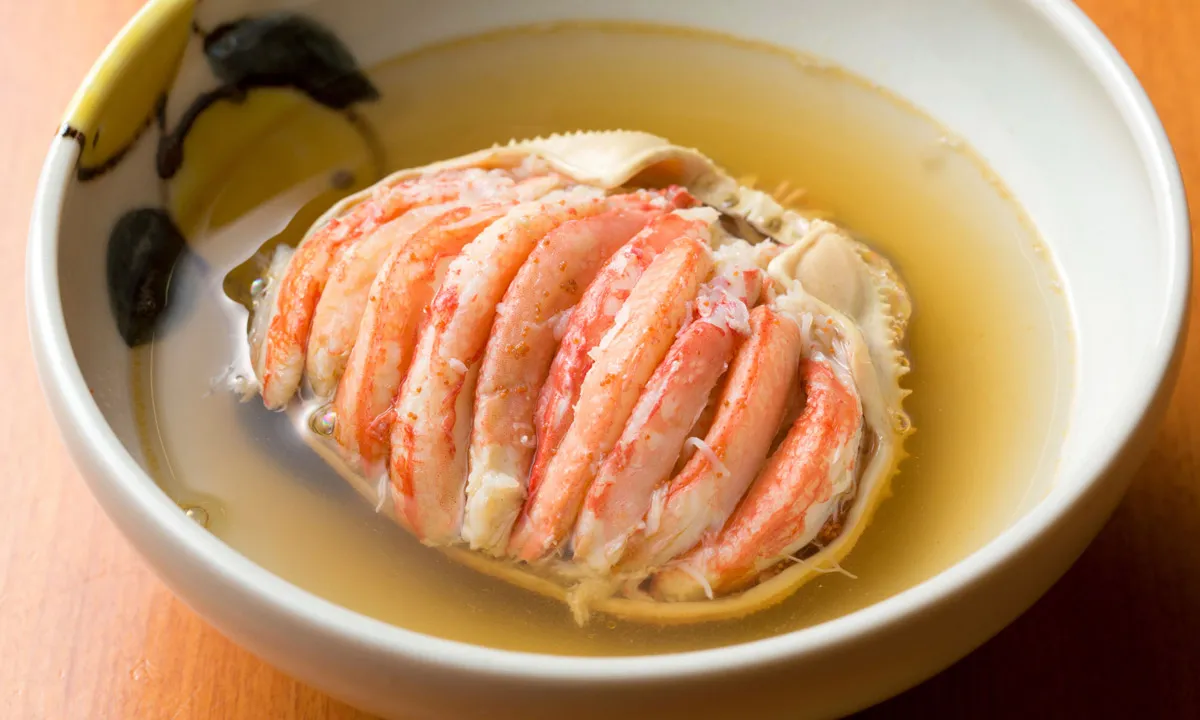 The king of Kanazawa oden, kanimen, a crab shell stuffed with crab meat
Kanazawa's signature oden is also perfect for a cold day. Ishikawa Prefecture is known for its love of oden, with the most oden restaurants in Japan. Oden is served year-round, but in winter, the previously mentioned kobako crab is an ingredient called kanimen. Enjoying the mashed roe, crab innards, and crab meat neatly arranged in layers, together with soup stock and a glass of locally brewed sake, is guaranteed to make for a perfect night out. For other recommendations for dining in Kanazawa, read this article.
Accommodation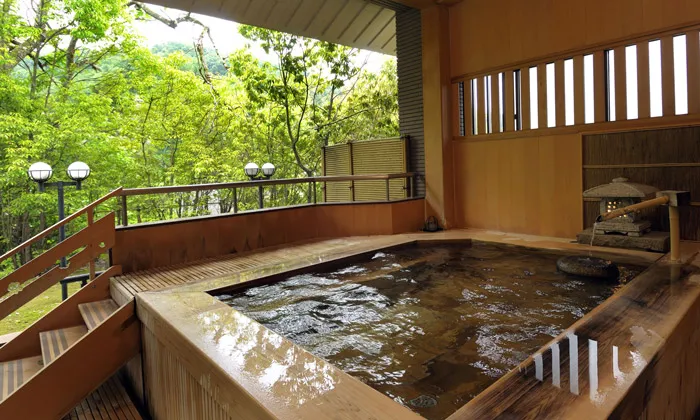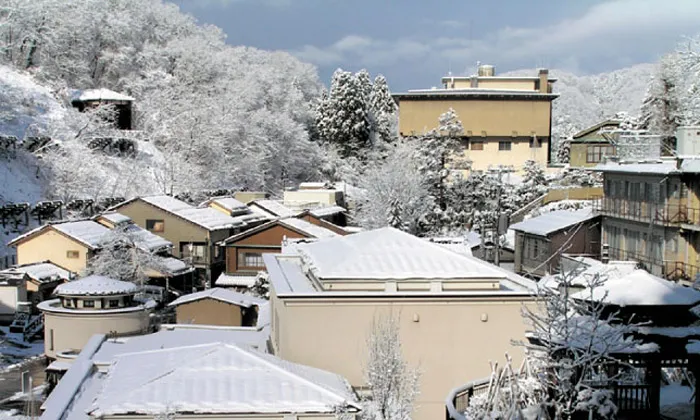 Although Kanazawa is a compact sightseeing area that makes a great day trip, if you want to end the day with oden and local sake, you may want to stay overnight and relax. Yuwaku Hot Spring is a famous hot spring located in a mountainous area rich in greenery about 20 minutes by car from Kanazawa City and ideal for overnight stays. Yuwaku hot spring once served the Kaga Clan, and you can choose your favorite one from among nine inns with a rich atmosphere and enjoy a relaxing hot spring bath. It's the perfect way to recover from the cold and fatigue of travel.
Directions to Kanazawa
The most efficient and easiest way to get to Kanazawa from Tokyo is by Hokuriku Shinkansen. It takes approximately 2 hours and 30 minutes from Tokyo Station to Kanazawa Station. It takes about 3.5 hours from Chubu International Airport to Kanazawa by car. Or you can take the highway bus to Nagoya and then take the Shinkansen or the limited express Shirasagi from there. Check out this article for detailed information, including how to get to Kanazawa from Nagoya using the Shoryudo Pass.
Wrap-up
From October 2022, international border control measures regarding new coronavirus infections were relaxed, making it easier to enter Japan, with tourists gradually returning to Kanazawa. Incorporate the many recommendations in this article into your favorite plan, and visit Kanazawa in winter!
Click here to get the latest information on Central Japan.Centrip Japan - Nagoya and Chubu Information