| Centrip Editorial Board
A Winter Trip Around Lake Suwa: Snowshoes and Sake
Lake Suwa is in the center of Nagano Prefecture, surrounded by high mountains. When several climatic conditions coincide in the winter, the mysterious lake presents a spectacular sight known as Omiwatari or The Crossing of the Gods. Around the lake are many activities, such as snowshoeing, sake brewery tours, and hot springs, perfect for a winter trip to Japan. Below are some of the highlights and recommended activities around Lake Suwa.
Kirigamine Snowshoeing
Kirigamine, known for its beautiful flowers in summer, is the ideal field for snowshoeing in the winter. The gently sloping terrain with minimal differences in elevation makes for easy walking, and the meadows with only a few tall trees provide a sense of openness when exploring the snowfields.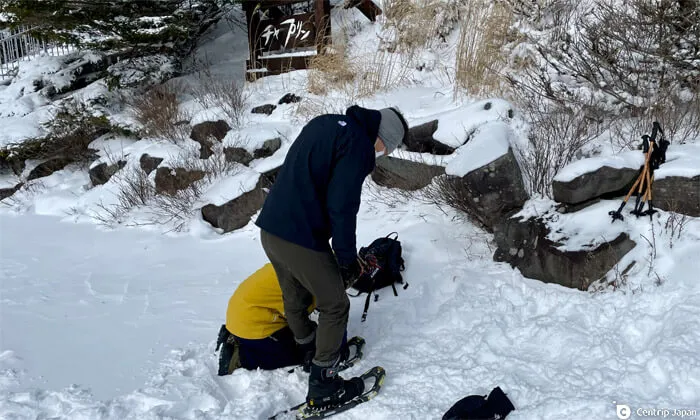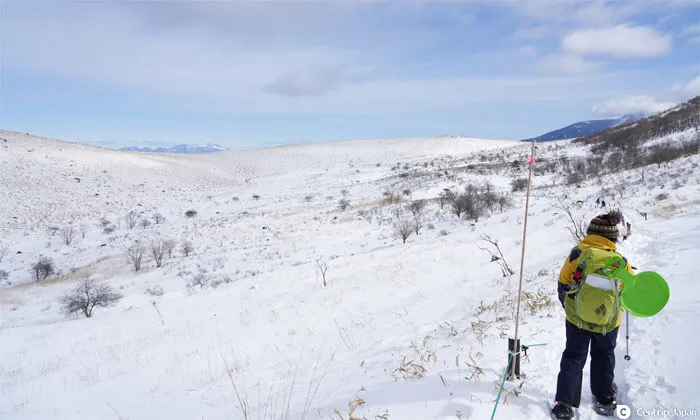 Snowshoes allow you to walk on the snow without sinking. They require a little getting used to but take no time to learn. There is a certain freedom in exploring snowy terrain without sinking.
Several companies offer guided tours in Kirigamine. Guides give detailed lectures on how to use snowshoes and provide valuable information about the nature of Kirigamine, including plants that thrive in the snow and animal footprints.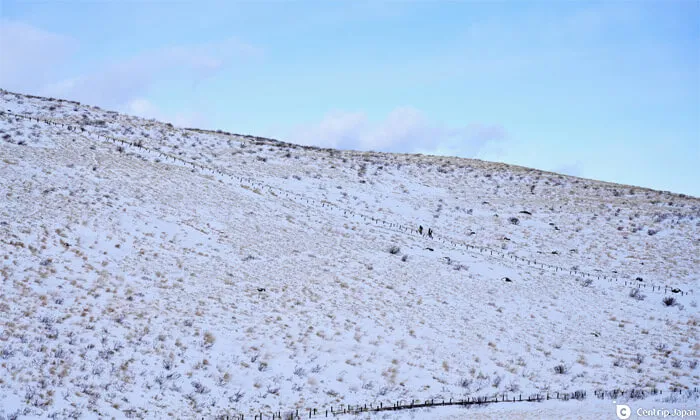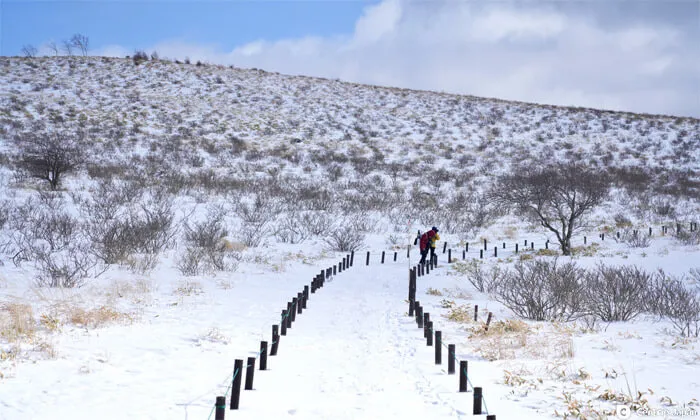 The snowshoeing course we enjoyed that day started from the Kurumayamakata and took us through the snow-covered Kurumayama wetlands to the summit of Chouchoumiyama. For environmental protection, ropes are on both sides of the route, keeping people from wandering into the delicate marshland, and they serve as a guide so you don't get lost. The ascent to Mt. Chouchoumiyama is gentle, and dangerous spots are few and far between.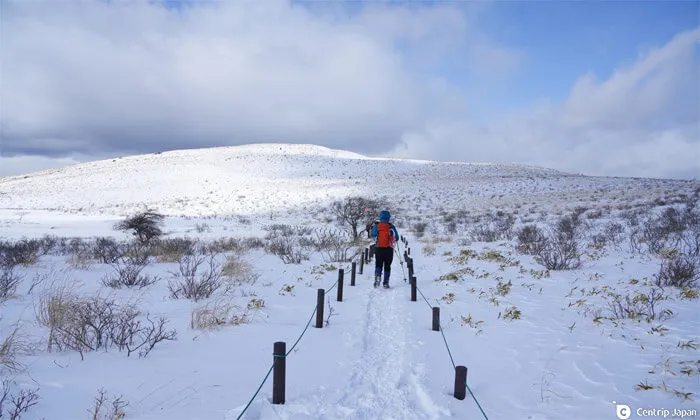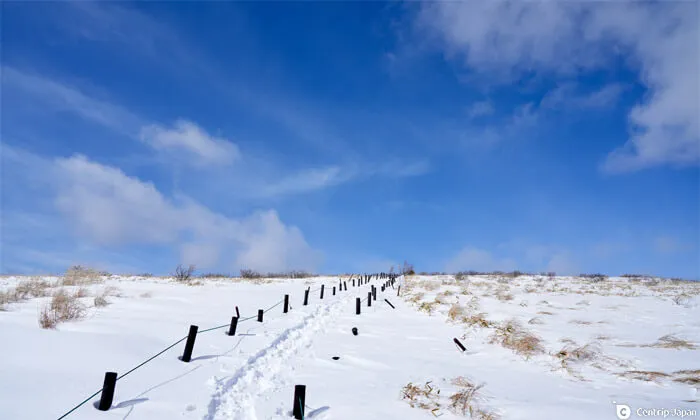 The snowfield is covered in pure white snow as far as the eye can see. We stepped on fluffy powder snow as we continued, step by step, looking toward the summit at a blue sky beyond the snow. We reached the summit and were exhausted, but we could see the surrounding snowfield and the snow-capped mountains.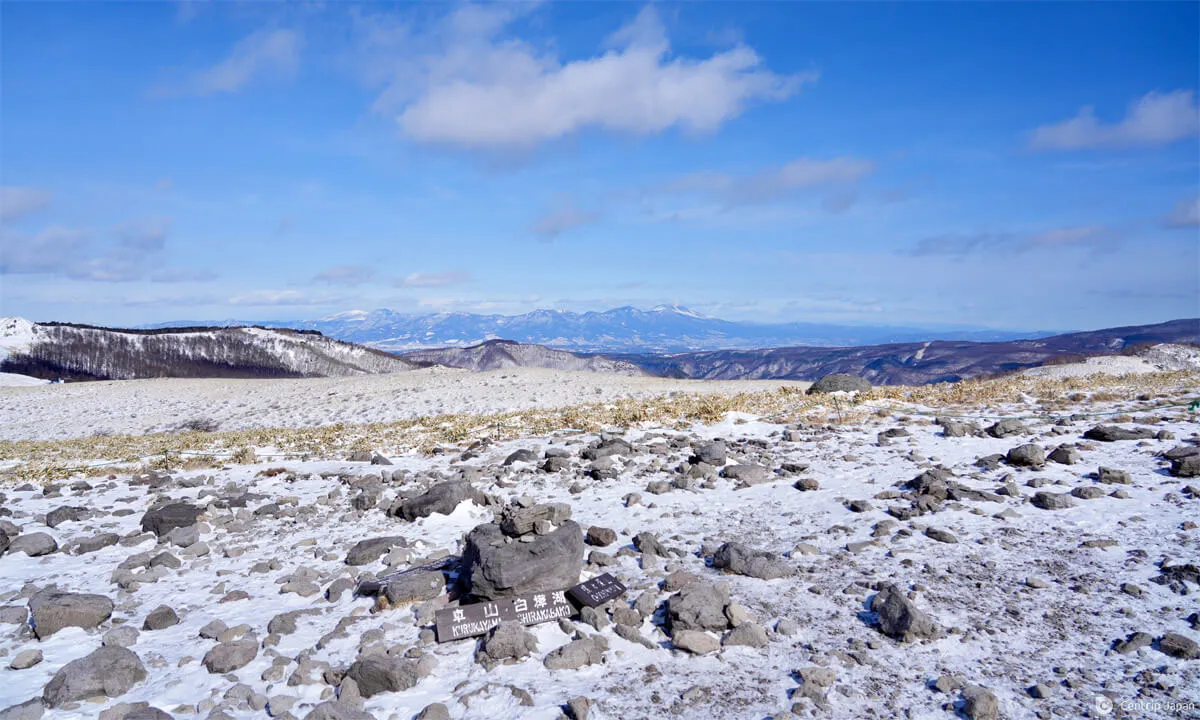 From the summit, Mt. Asama rises in the north
A snowshoe tour on the snow-covered rolling fields of Kirigamine is a perfect winter activity, as it is risk-free and enjoyable for all. However, because of its altitude of 1,800 meters, the temperature is low (-5 to -10ºC in winter), and the wind is strong, depending on the weather, so it is necessary to keep yourself bundled up against the cold. Bring winter wear like a warm jacket, warm clothes, a knit hat or something to keep your head warm, and mitts or gloves. You can rent Snowshoes, poles, and snow boots for guided tours.
Suwa Tourist Information Homepage(JPN)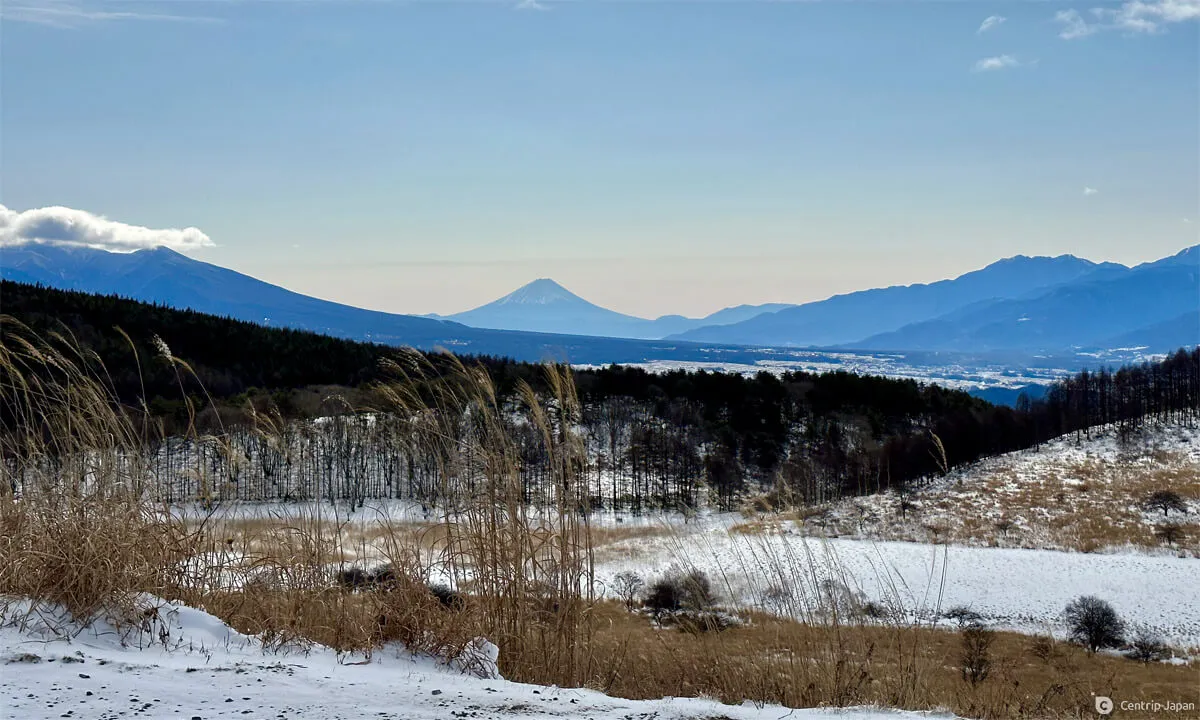 Kirigamine also has many spectacular spots with a view of Mt. Fuji
As a rule, only cars can park in the Kurumayamakata in winter. Snow tires are a must, as the road from the Suwa City to Kirigamine is icy, and some snow remains. Please be cautious and safe, and take care when driving. There are several spots along the way for picturesque views of Mt. Fuji.
Five Suwa Gokura Sake Breweries
After Kirigamine, another activity recommended in the Suwa area is visiting a sake brewery. Sake, like wine, tastes different depending on the producer. Many of the sake producers are small businesses, and their volume of distribution is not that large. As a result, several prized sake varieties are only available at these breweries. One of the pleasures of visiting Japan is comparing the tastes of different sake producers to find your favorite one.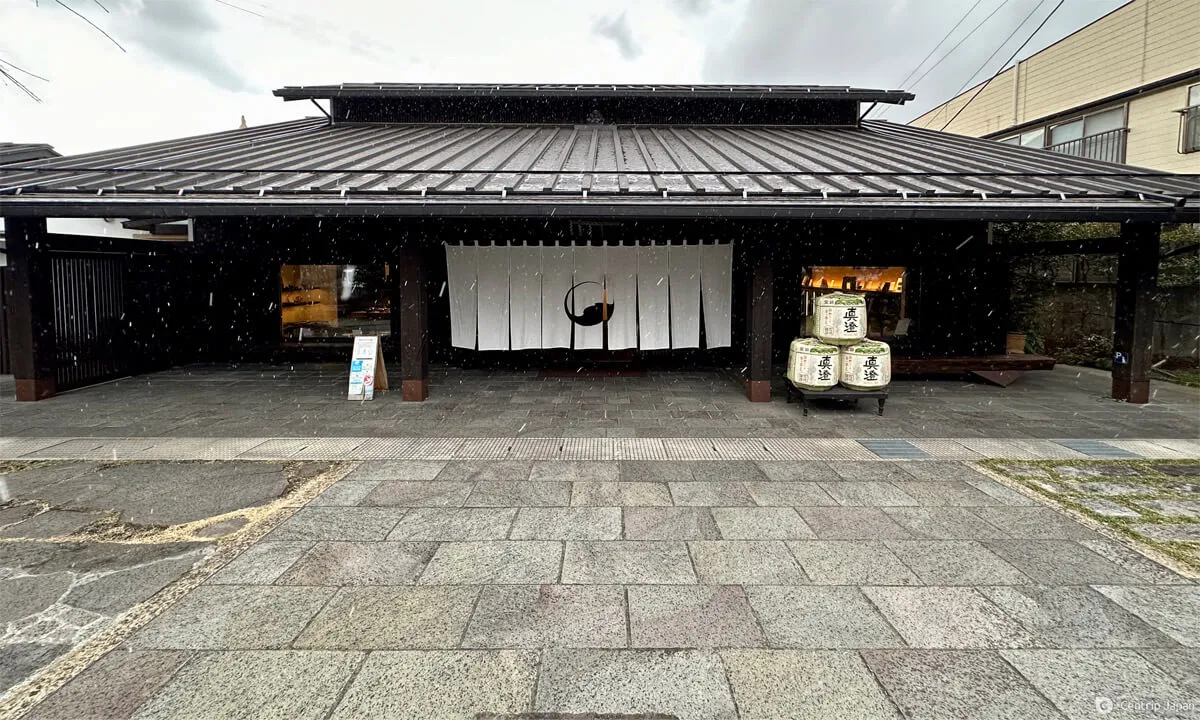 Miyasaka Sake Brewery, one of Suwa's leading sake breweries, is known for its brand Masumi
Suwa is a region with clean air, a cold climate, and high-quality groundwater from the Kirigamine Mountains. The Suwa area meets all the conditions for producing delicious sake, and sake brewing has thrived since olden times. Five sake breweries cluster around Kamisuwa Station in a short 400-meter section along the road. There is no better place to visit and sample sake than this area.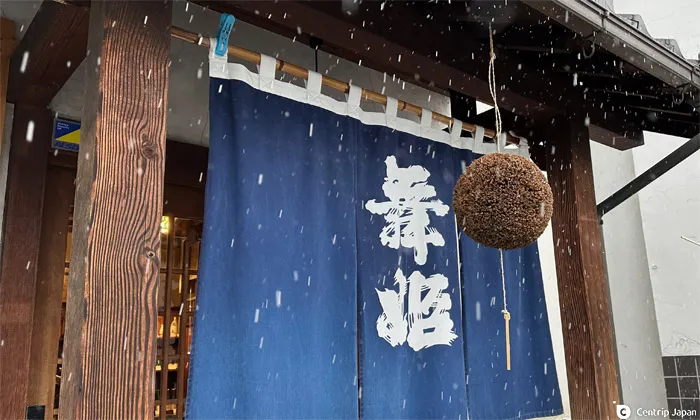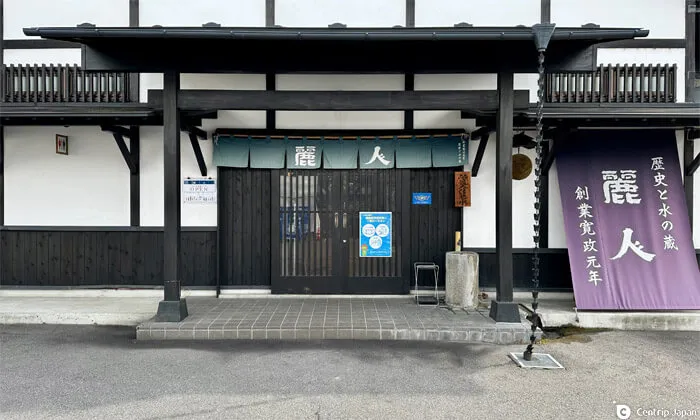 The five Suwa breweries worked together to create a special-tasting course between each other. For ¥2,500, you get a tasting cup and a stamp card. (*Tastings are done with disposable cups as of February 2023)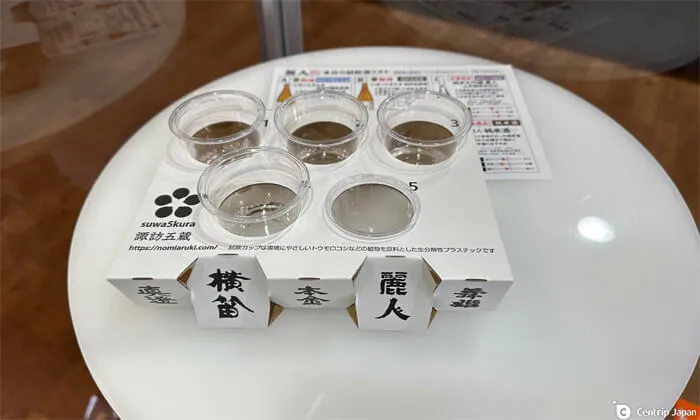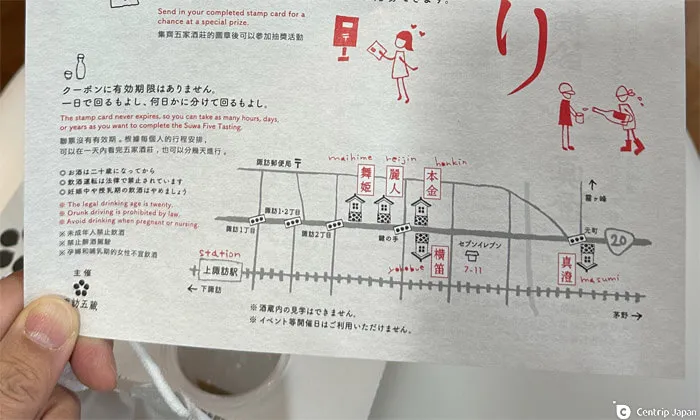 Show your stamp card at each brewery and get the brewery's stamp and five coins to use at their sake dispenser. Ready your cup, and put in one of your coins for 20 ml of sake. Each brewery has several different types of sake for you to sample.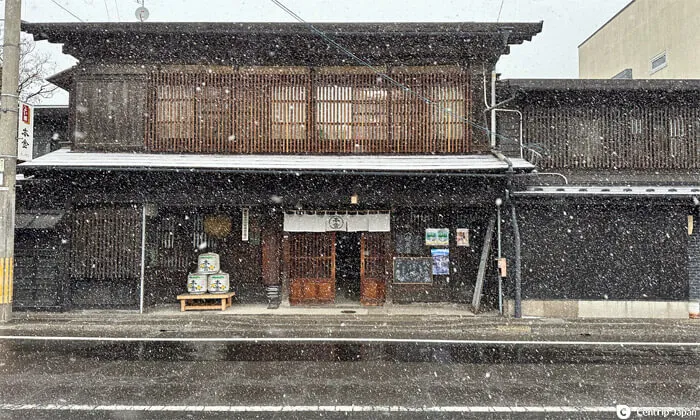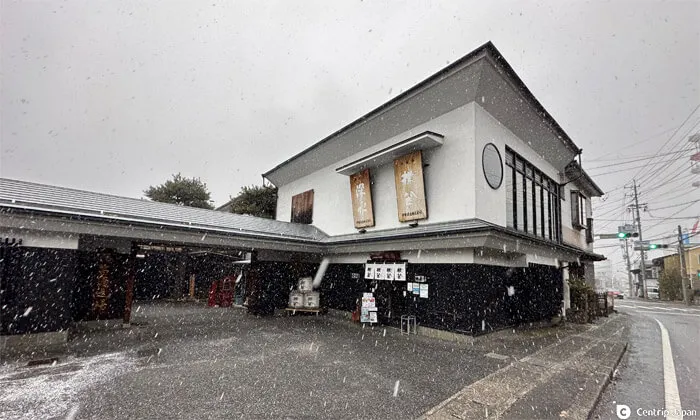 Each brewery is a magnificent and atmospheric building. The brewery's history is displayed near the tasting area, including slips from the Edo period (1603-1868). Looking outside, the townscape with its snow-covered breweries is beautiful. Sake tastes even better in the cold of winter.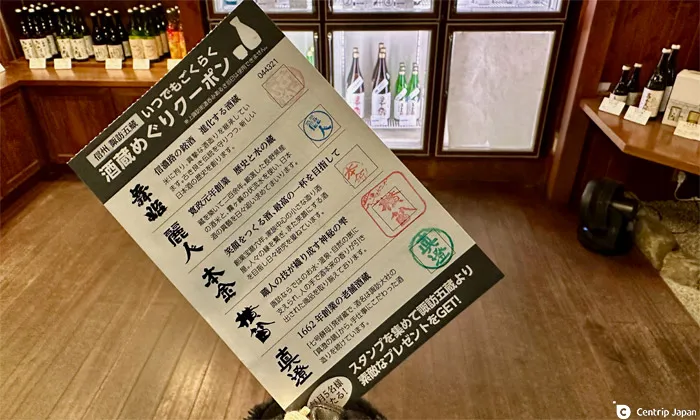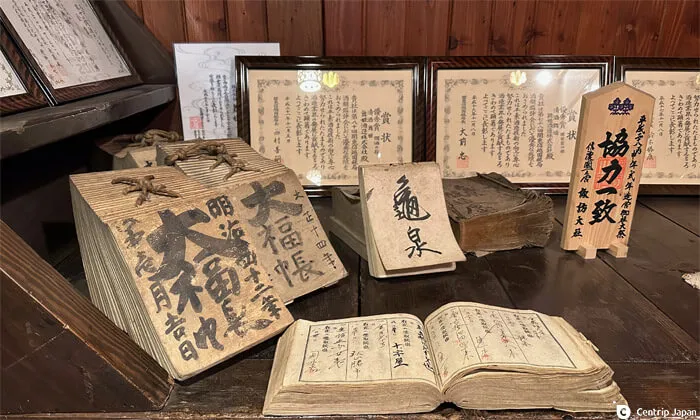 If you drop off a stamp card with five stamps, you will be entered into a draw to win a free bottle of sake (*domestic shipping only). It takes about 2 to 3 hours to visit the five breweries. If you like any of the sake you've tasted, you can buy it. Find your favorite bottle and make it a lasting memory of your trip.
Captivating Sightseeing Spots around Suwa Lake
Once you've finished snowshoeing and tasting your way around the sake breweries, there are still plenty of other things to see and do around Lake Suwa. The area around Lake Suwa is also known as a hot spring resort, and many hot spring inns line the shores of the lake.
Omiwatari at Lake Suwa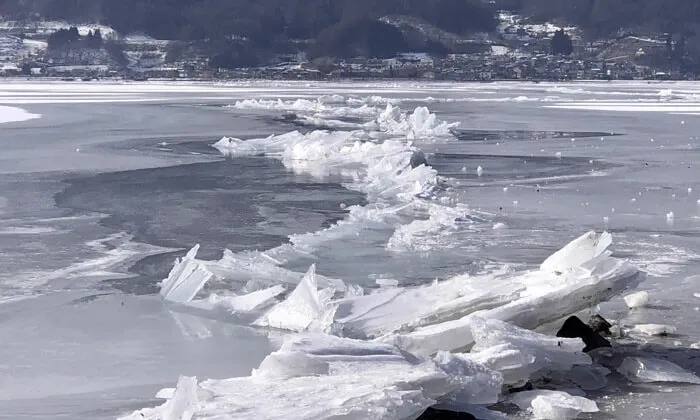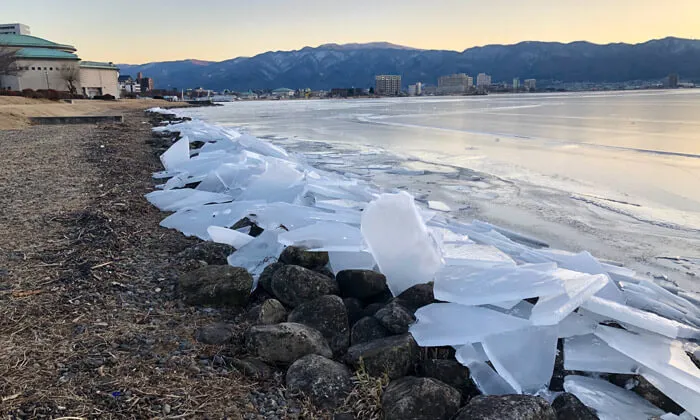 The most famous wintertime tradition at Lake Suwa is a phenomenon known as Omiwatari or Crossing of the Gods. When the entire lake freezes, cracks in the ice appear, and a line of ice runs from the southern to the northern shore. This mystical sight is said to be the path of the gods' crossing. Unfortunately, as the years get warmer, this frozen scene cannot always be seen, but if you are lucky, it is unforgettable.
Fishing Wakasagi (Japanese Pond Smelt)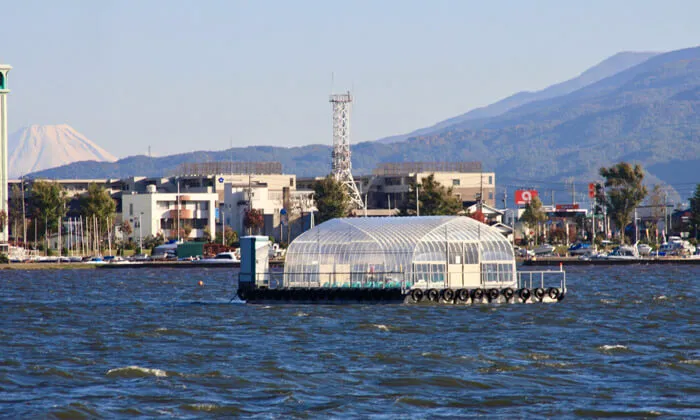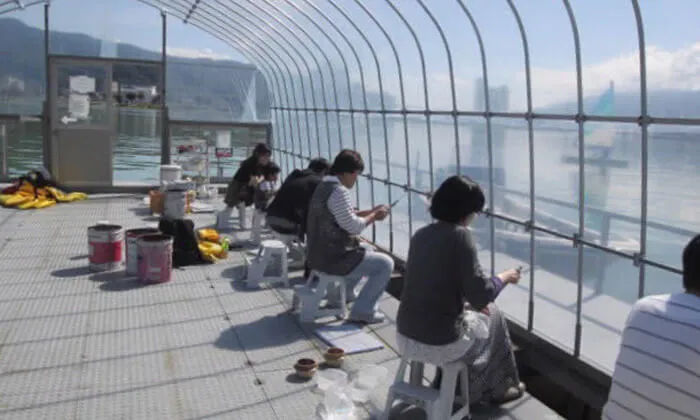 Wakasagi fishing is a popular activity on Lake Suwa in winter. They are small freshwater fish that live mainly in the lake and are very tasty as tempura or sashimi. Although it is freezing cold on the lake, you can easily fish for wakasagi on a warm domed boat on Lake Suwa. How much fish you can catch depends on the day's conditions, but you can get over 100 fish in two hours. Fishing equipment is also available for rent.
Suwa Sightseeing Ferry Homepage(JPN)
SUWA Glass Village
Beautiful glass artwork is on display at the museum. You are also free to take pictures.
SUWA Glass Village is a museum that features beautiful glass artifacts from around the world. It also has a store selling glass products and a restaurant with a lake view. There is also a hands-on workshop where visitors can make original glass goods, such as glass beads and stamps.
Suwa Glass Village Homepage(JPN)
Suwa-Taisha, Kamisha Honmiya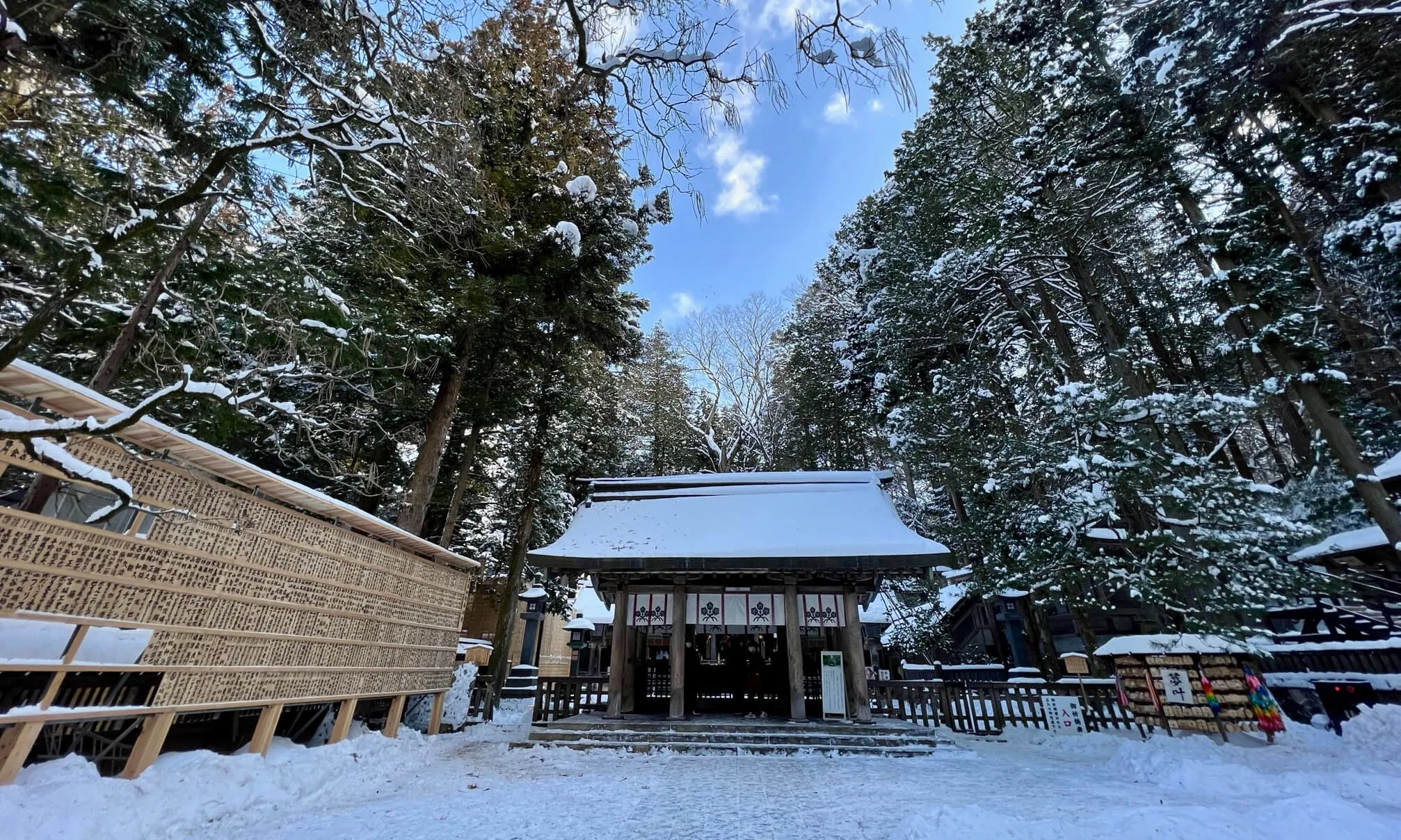 The snowy scenery of Suwa-Taisha Kamisha Honmiya
Suwa-Taisha is the collective name for four shrines scattered around Suwa Lake. Suwa-Taisha is considered one of the oldest shrines in Japan and represents Japan as a place of spiritual energy. Of the four shrines Kamisha Honmiya, on the south side of Lake Suwa, has the most structures remaining, including the Shikyakumon Gate, donated by Ieyasu Tokugawa, and many other valuable items. If you are interested in Japanese history and culture, this is the place to visit.
Kamisuwa Onsen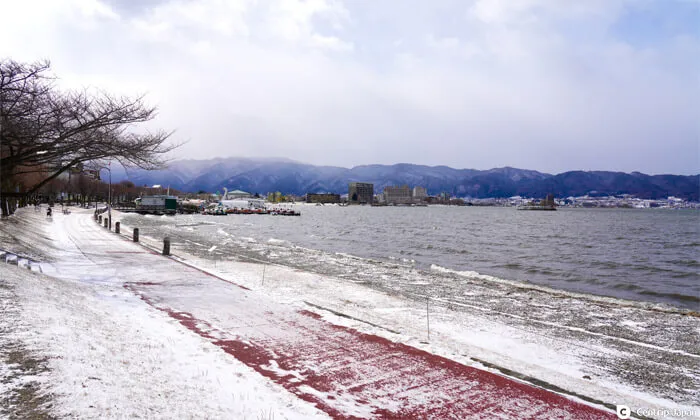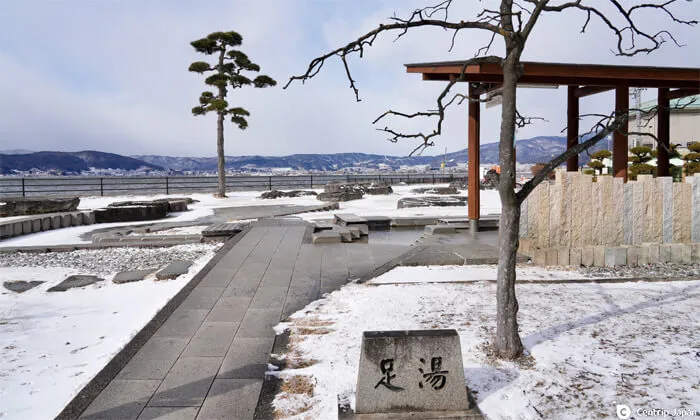 Kamisuwa Onsen, on the southern shore of Lake Suwa, is a hot spring resort with spring water, so much so that an anecdote has it that if you dig anywhere in the ground, hot spring water would gush out. Along the lakeside is a line of hot spring inns offering the local cuisine of Shinshu Nagano. The inns are near JR Kamisuwa Station, making a perfect base for the sightseeing described in this article. Taking a soak in the footbath in the lakeside park is recommended.
Wrap-up
Although the Suwa area is in the interior of Japan, you can reach it easily using public transportation and a short trip from Chubu Centrair International Airport or Nagoya.
Take the Wide View Shinano limited express train from Nagoya Station and get off at Shiojiri Station. From Shiojiri Station, transfer to the Chuo Main Line and get off at Kamisuwa Station. The trip takes about 150 minutes. If you come by car, it takes about 120 minutes from the Nagoya IC to the Suwa IC on the Chuo Expressway and then another 15 minutes down the road to Kamisuwa Onsen (It takes about the same time from Tokyo as it does from Nagoya).
Snowshoeing on a deep snowy highland, visiting sake breweries in the winter, and taking a hot spring bath to ward away the chill are just a few things to do in the Suwa area. The area is at its best in the winter, and we hope you visit on your next trip to Japan.
Click here to get the latest information on Central Japan.Centrip Japan - Nagoya and Chubu Information