| Centrip Editorial Board
Matsumoto: Snow-draped Castle, Ice Sculptures, and Snowshoeing
Winter Walks in Matsumoto City and Matsumoto Castle, a National Treasure
Matsumoto Castle in Winter
To begin your Matsumoto city winter sightseeing, start with the city's symbol, Matsumoto Castle. It is one of a few famous castles designated as a national treasure in Japan; the contrast between the white and black castle walls provides a breathtaking sight. In winter, the mountains of the Northern Alps serve as a perfect backdrop for the castle, creating a truly remarkable scene.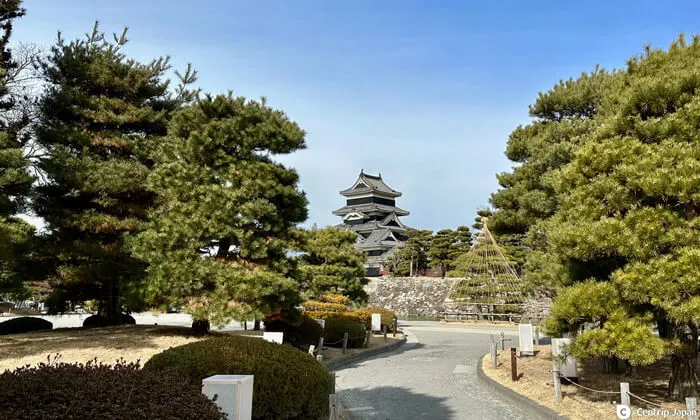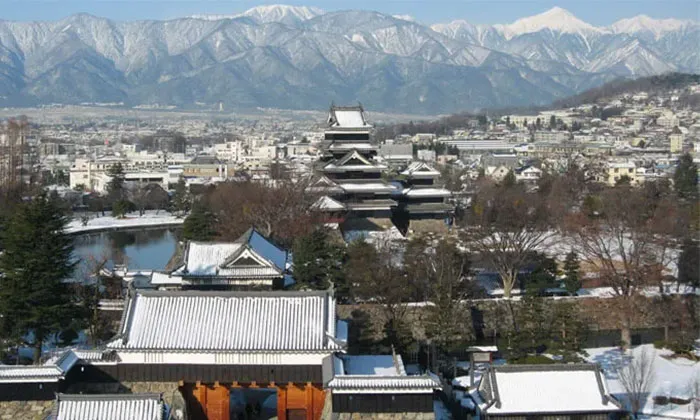 For a unique viewpoint, head to the observation room on the roof of Matsumoto City Hall, located on the castle's east side. It's a little-known gem and is open to the public for free.
To reach Matsumoto Castle from Matsumoto Station, take the North Course of the city tour bus. You can catch the bus at the Matsumoto Station Castle Exit bus stop in front of the station and get off at the Matsumoto Castle/Shiyakusho-mae stop. The ride typically takes around 10 minutes, but if you have some spare time, it's well worth taking a leisurely 20-minute walk to enjoy the beautiful sights of the town along the way.
Nawate-dori (street) and Nakamachi-dori
After visiting Matsumoto Castle, head towards Matsumoto Station and discover two unique streets right between the two, Nawate-dori and Nakamachi-dori.
Look for the entrance to Nawate-dori, marked by a slightly mysterious frog object. This narrow pedestrian-only street features retro rowhouse-style shops. You'll find shops specializing in rice crackers and unique stores that sell nothing but frog-themed items.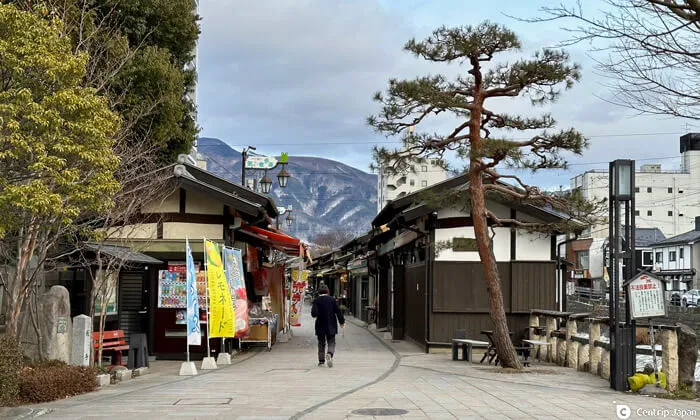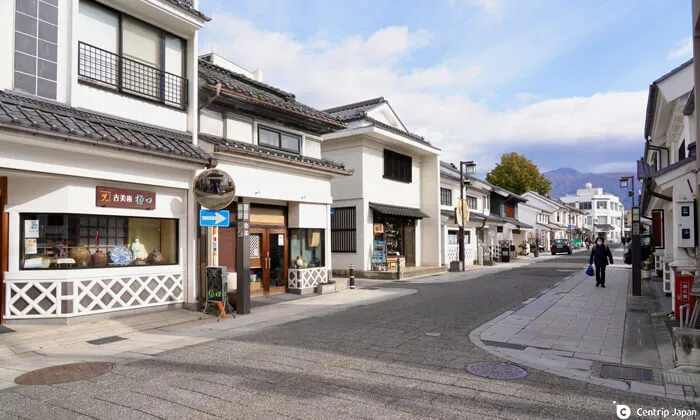 Cross the bridge from Nawate-dori to Nakamachi-dori on the other side of the river. It is home to traditional Japanese warehouses that lend the area a unique and special atmosphere. Many old warehouses have been transformed into shops or cafes that retain their original exteriors while boasting beautifully modernized interiors, creating an intriguing contrast.
Whether you're in the mood for some sweet treats, souvenir shopping, or a relaxing walk, both Nawate-dori and Nakamachi-dori have plenty to offer.
Recommended Matsumoto Lunch in the Fat Winter
When you're feeling hungry after strolling around, it's time for lunch!
In Matsumoto the winter dish you must try is Tojisoba - cold soba (buckwheat) noodles dipped into warm soup filled with wild vegetables. The unique experience of eating soba by placing the noodles in a small basket and dipping them into a steaming hot pot is not only engaging but also helps to warm you up after being out in the cold.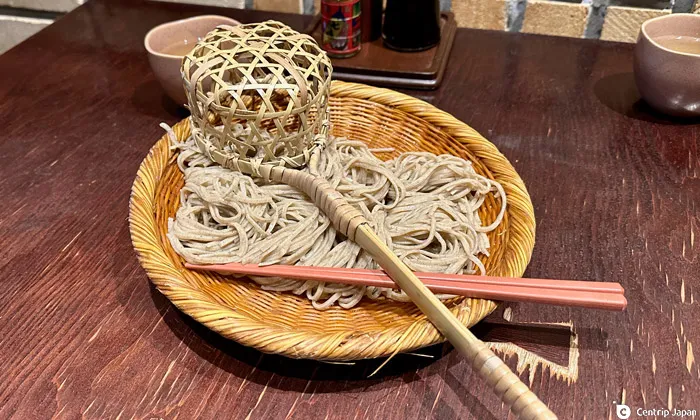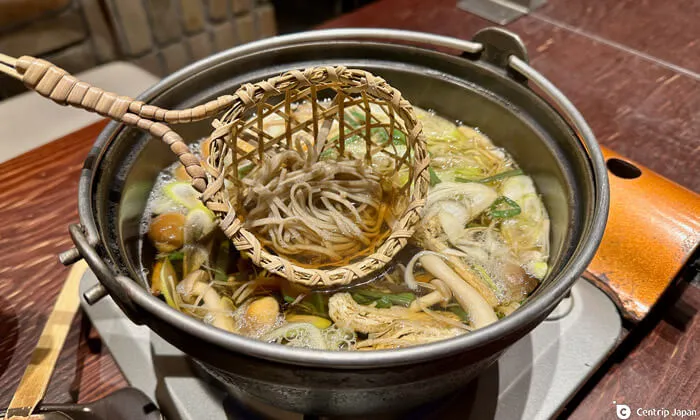 If you're looking for another recommended dish for lunch in Matsumoto, try Sanzoku-yaki. It's a large, uncut piece of chicken meat that's marinated in a ginger- and garlic-based sauce, then deep-fried. Although the portion size may surprise you, it's a great way to refuel after a day of sightseeing.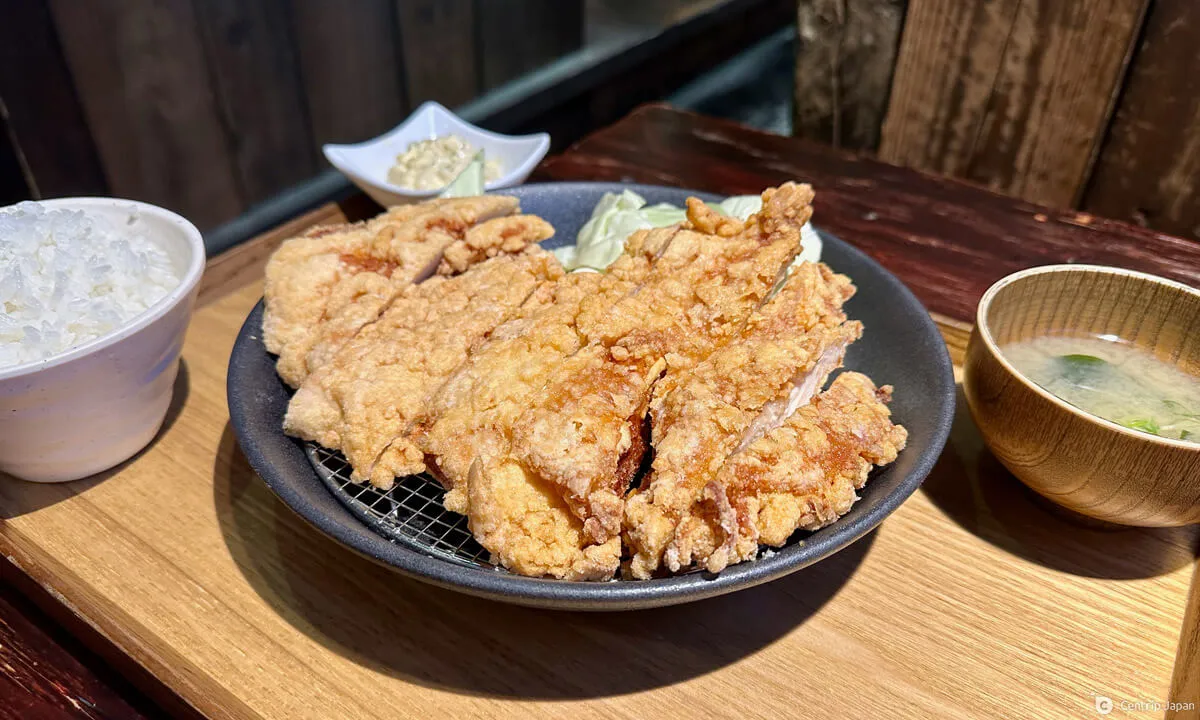 Don't miss the chance to try Sanzoku-yaki and see for yourself how big it really is!
Matsumoto City Museum of Art
After filling up delicious food, go to the Matsumoto City Museum of Art, one of the must-visit destinations in Matsumoto, alongside the Matsumoto Castle. It's just a 15-minute walk from both Matsumoto Station and Matsumoto Castle.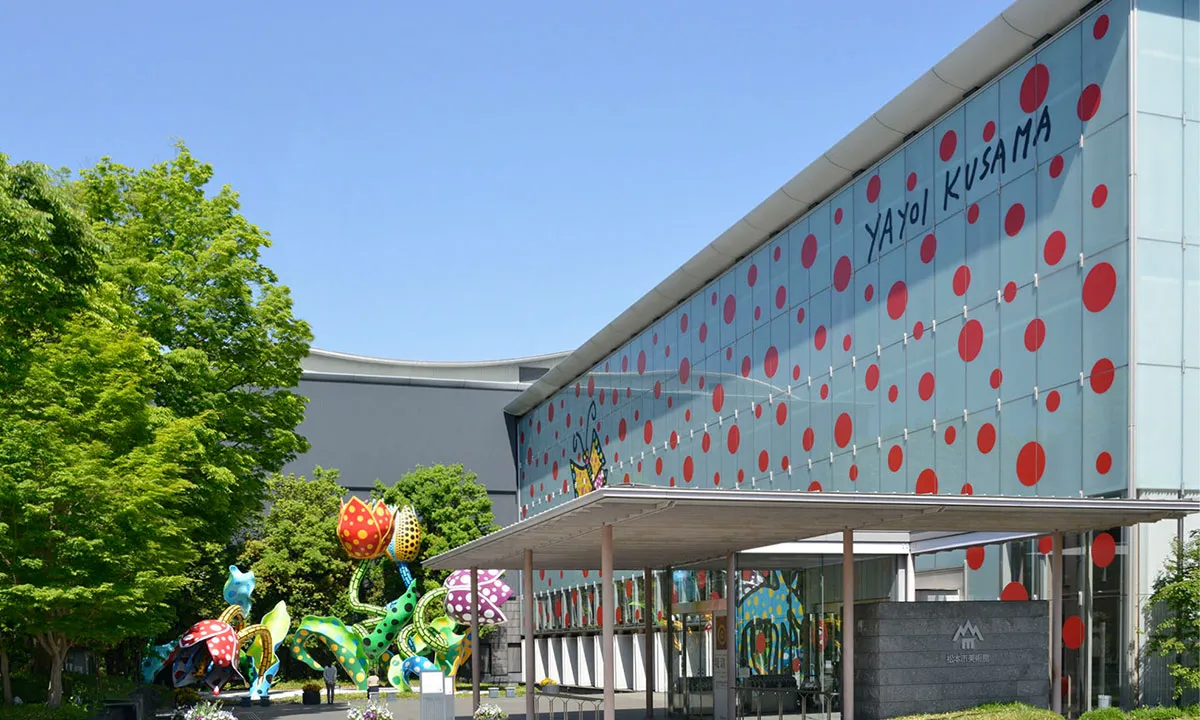 Matsumoto City Museum of Art Phantom Flower
The Matsumoto City Museum of Art boasts a diverse range of exhibitions. But the highlight is undoubtedly the permanent exhibition of Yayoi Kusama's Where the Soul Sits, showcasing the work of the world-renowned artist who hails from Matsumoto. The museum is awash in the unique style of Kusama, with the enormous Phantom Flower sculpture on display in front of the building and red polka dots adorning everything from the mirrors in the restrooms to the vending machines. A visit to the museum is a journey into the distinctive world of Yayoi Kusama.
Matsumoto City Lights Up
There is a lot to see in Matsumoto during the winter evenings. As the sun sets, the city lights up, offering a different atmosphere from the daytime. Bundle up as the temperature often drops below freezing after sunset.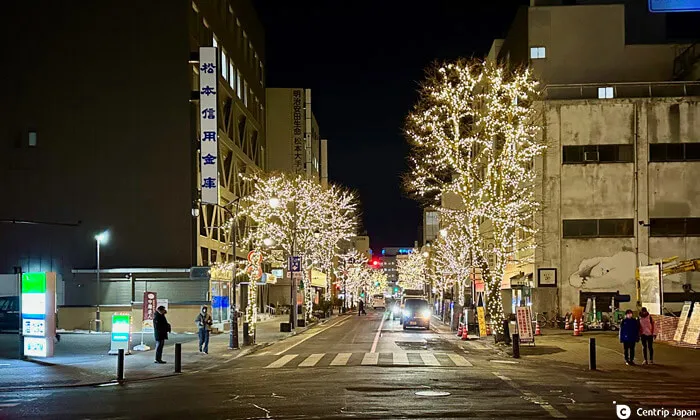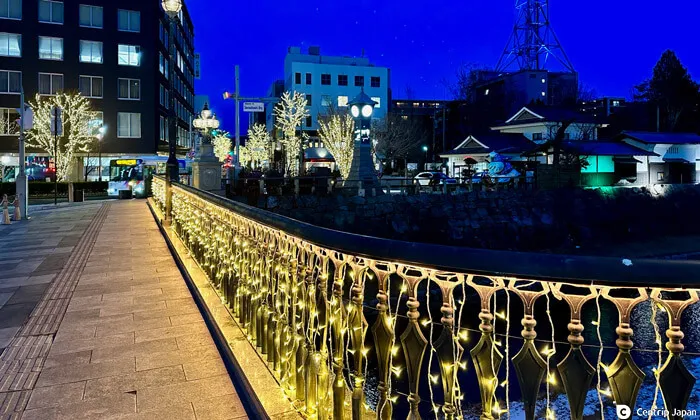 National Treasure Matsumoto Castle Laser Mapping and Ice Sculpture
For a stunning finale to your night-time stroll in Matsumoto, make your way back to Matsumoto Castle. In the evening, the castle is illuminated by andon (traditional paper lanterns), transforming its appearance.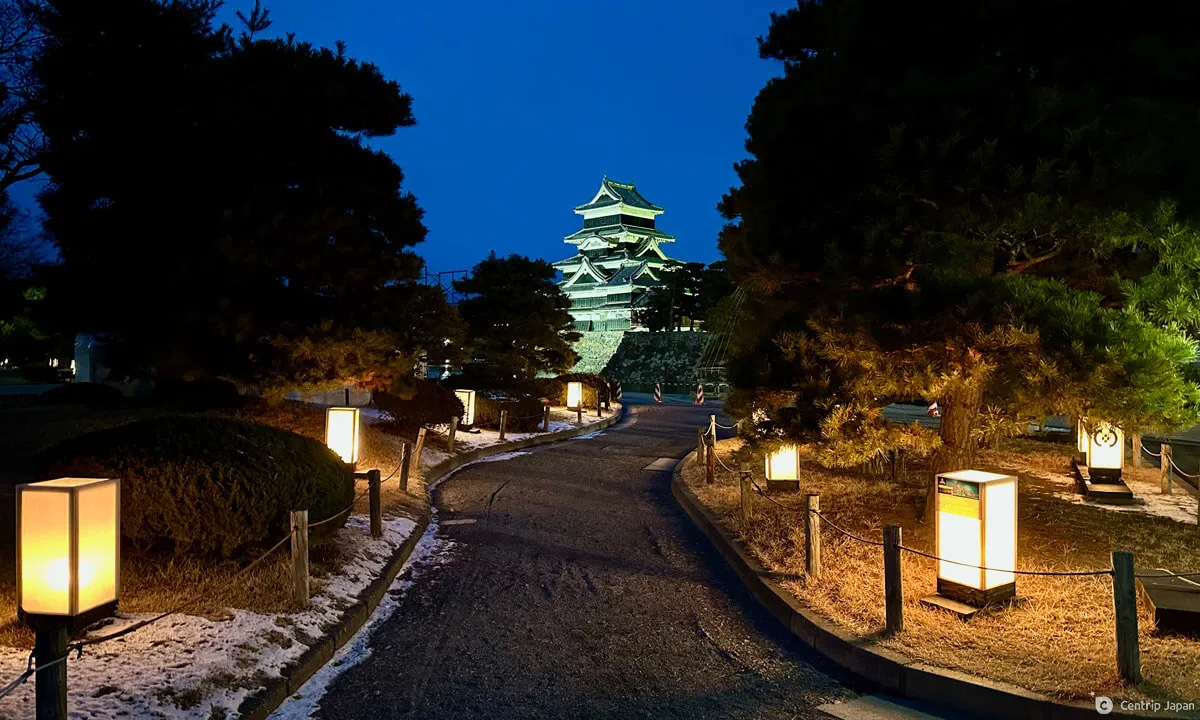 At the foot of the road leading to Matsumoto Castle, the paper lanterns create a warm and inviting glow.
From December to February, the castle holds a laser mapping show. The show runs from 6 pm to 9 pm, with each program lasting approximately 15 minutes. The dazzling display showcases the historical castle, a national treasure of Japan, illuminated with colorful lights, creating a breathtakingly beautiful sight. What makes this event special is that it can be enjoyed from various viewing areas free of charge.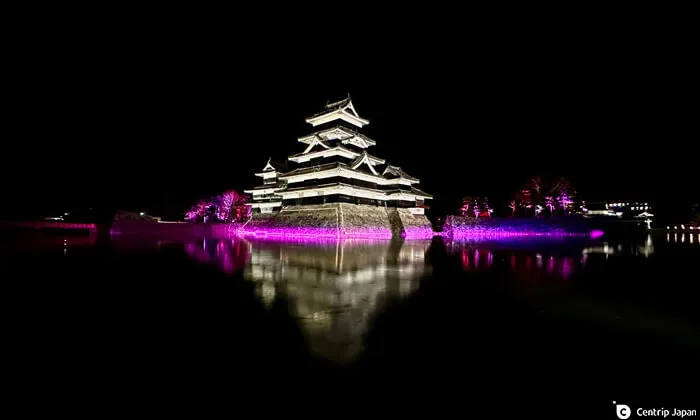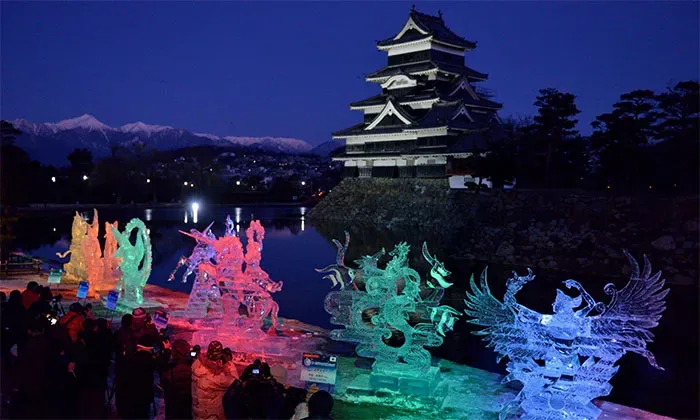 The Ice Sculpture Festival is held every year on a weekend in late January, and ice sculptures are displayed at Matsumoto Castle and several other locations in the city. Enjoy the fantastic winter in Matsumoto, where the lights dance with the stunning works of skilled ice carvers from all over Japan.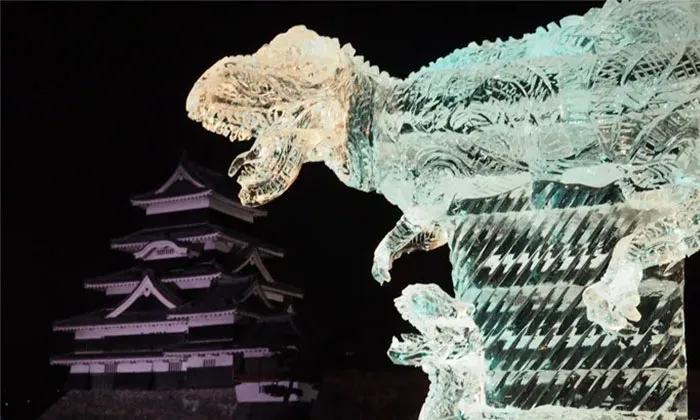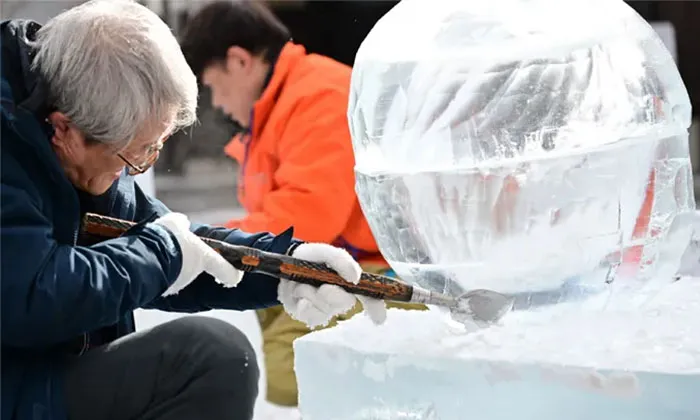 Snowshoeing to the Frozen Zengoro Falls
If you want an authentic winter wonderland experience in Matsumoto, exploring the city's outskirts is a must. Matsumoto City is home to world-renowned highland resort areas like Kamikochi and Norikura Kogen.
Zengoro Waterfalls and Snowshoe Tour
The Norikura Kogen area offers a variety of snowshoe and backcountry tours. To get to Norikura Kogen from Matsumoto Station, take the Matsumoto Electric Railway Kamikochi Line to the last stop, Shin-shimashima Station, and then a bus bound for Norikura Kogen to the Norikura Kogen Tourist Center (about 30 minutes by train and 50 minutes by bus). You can rent a car in the city, but be extremely cautious, even if with snow tires, because the area is slick and accidents are common.
Visit an icy waterfall on a snowshoe trip for the ultimate winter fun. You can find various tour businesses at the Norikura Kogen Tourist Center. It is near the bus stop and lodging facilities and guesthouses around Norikura Kogen with tours.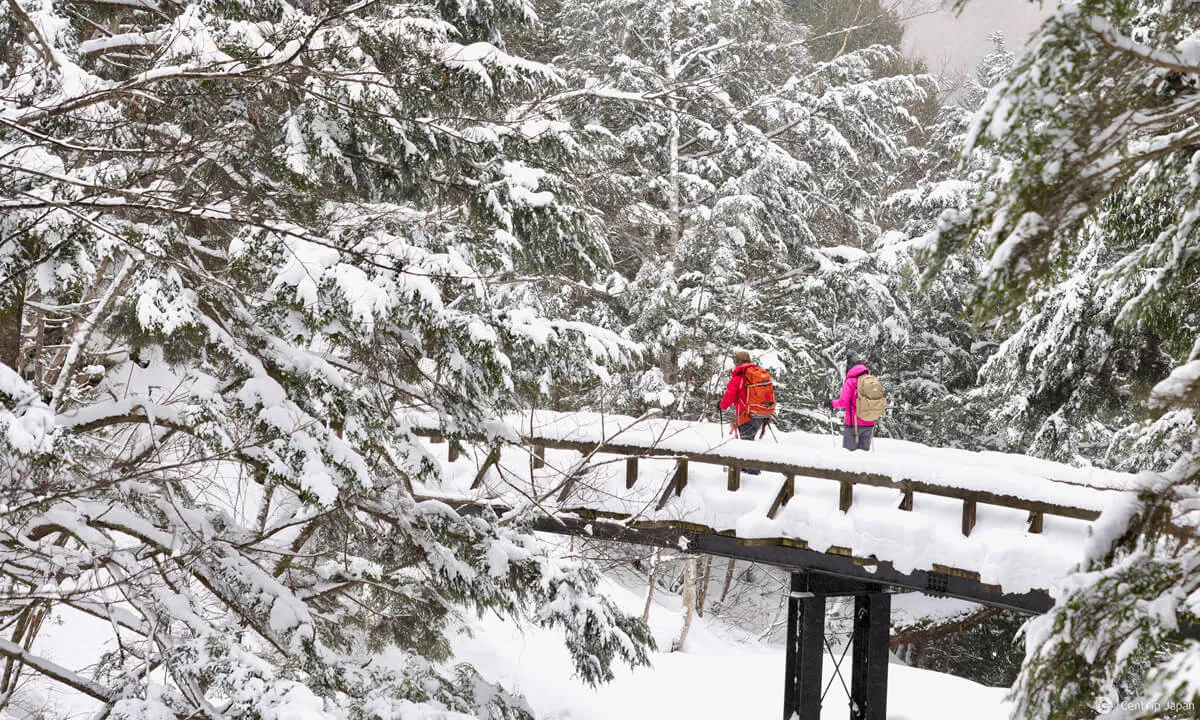 Walking on snowshoes in deep snow is a once-in-a-lifetime experience.
You can rent most gear, including snow boots, snowshoes, and poles, but you need your own winter wear, so bring as much warm clothing as possible. Temperatures can drop to -10ºC.
There are half-day, full-day, and night tours available for snowshoeing. A full-day tour is ideal if you have the time, but a half-day tour of 2 to 3 hours is also enjoyable and quite strenuous.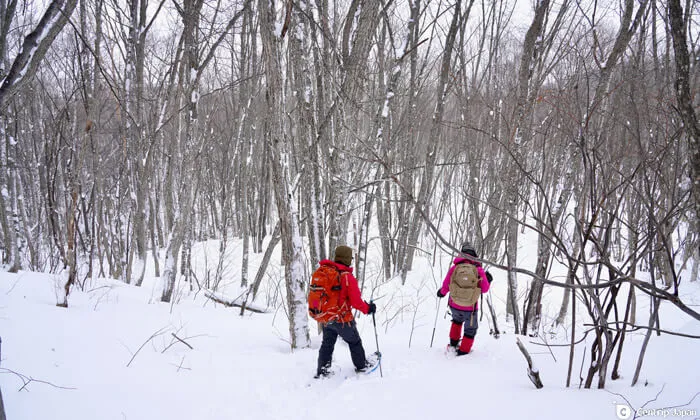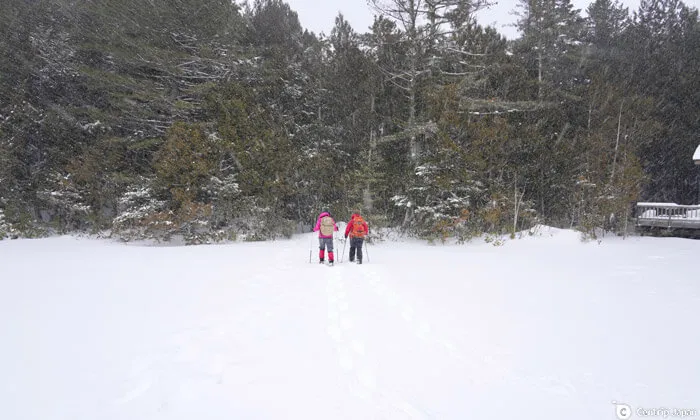 The tour begins with a brief instruction on how to use snowshoes (which isn't too difficult once you get used to them), followed by some warm-up exercises. The exact itinerary depends on the day's weather and snow conditions, but the goal is Zengoro Falls.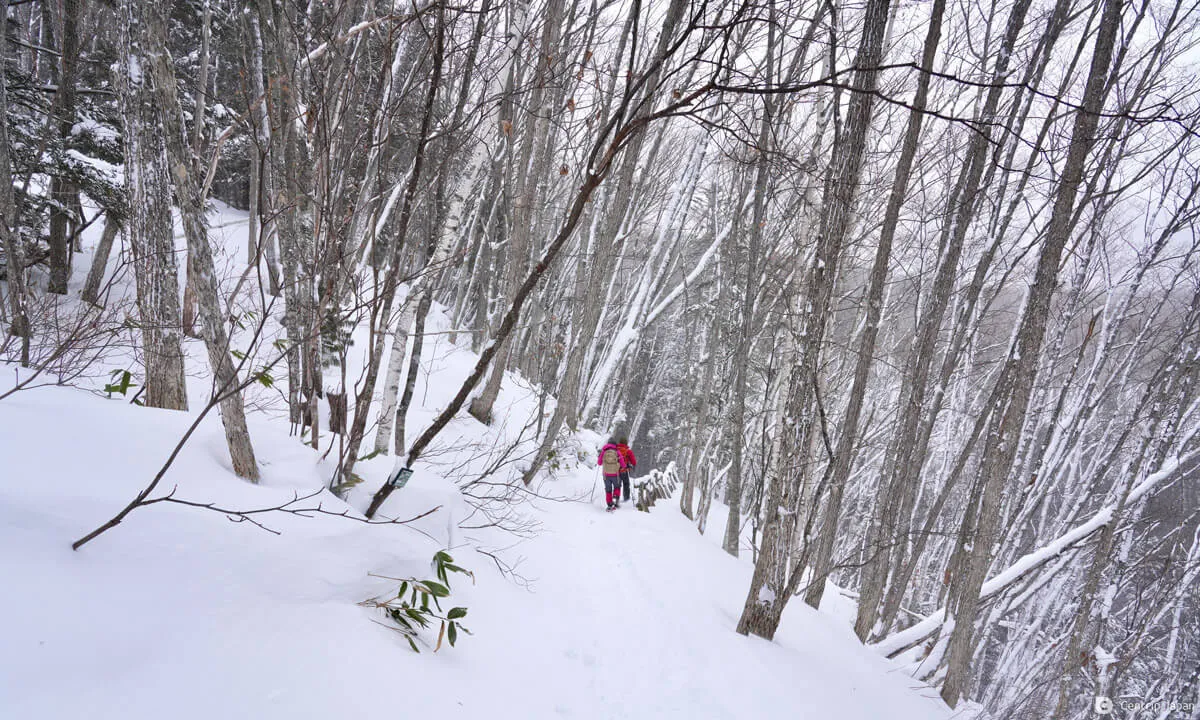 To get closer to the waterfall, we'll wade through the fluffy snow and walk down the slope.
Walking across the completely frozen and snow-covered pond, through the snow-white trees, and across the snow-covered wooden bridge, we eventually get to witness the magnificent frozen waterfall that has ceased flowing. We pose for a photo in front of the waterfall, and our tour guide serves us hot cocoa. Being in what's likely the coldest weather I've ever experienced, the hot drink tastes terrific!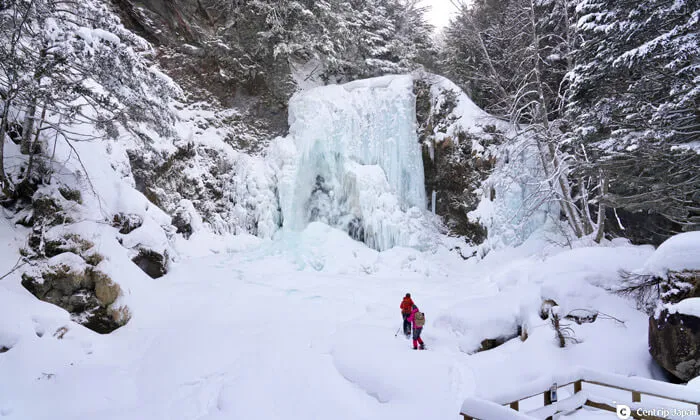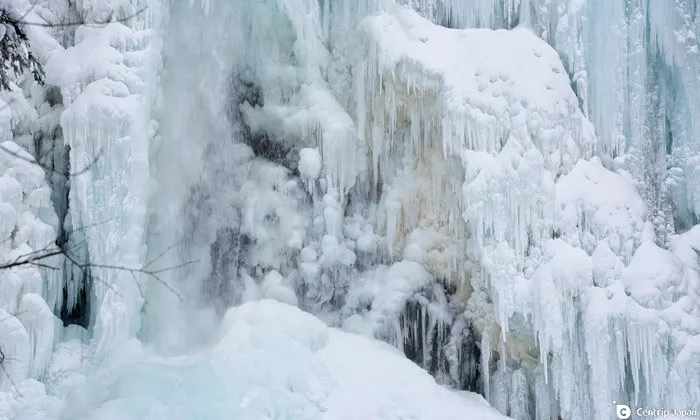 Zengoro Waterfalls and Nearby Hot Springs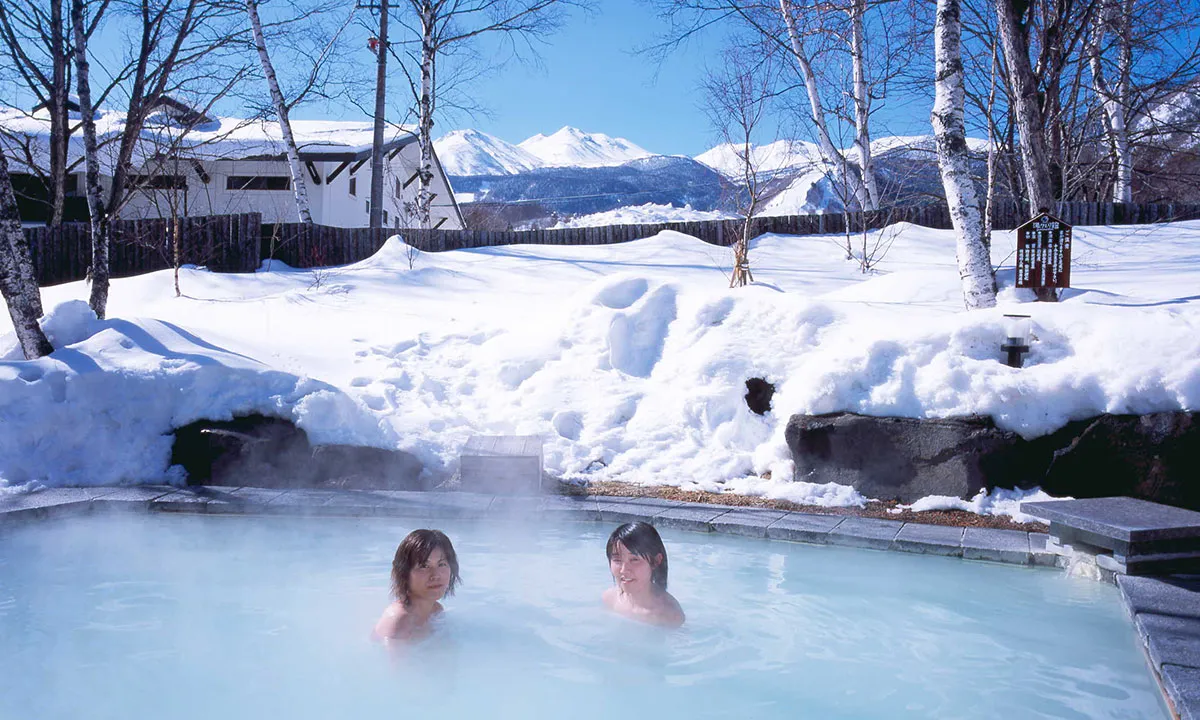 Norikura Yukemuri Kan
After enduring the coldest day of your life, there's nothing quite like soaking in a hot spring to bring a sense of bliss.
If you're seeking an effortless way to enjoy a day trip to a hot spring, consider visiting Norikura Yukemuri Kan, located near the Norikura Kogen Kanko Center. On clear days, you can bask in the hot spring waters while taking in the majestic view of the snow-capped Norikuradake mountain. It also houses a restaurant inside the building for your convenience. You'll also find a variety of small lodging facilities and guesthouses in the area, many of which feature their own hot spring baths.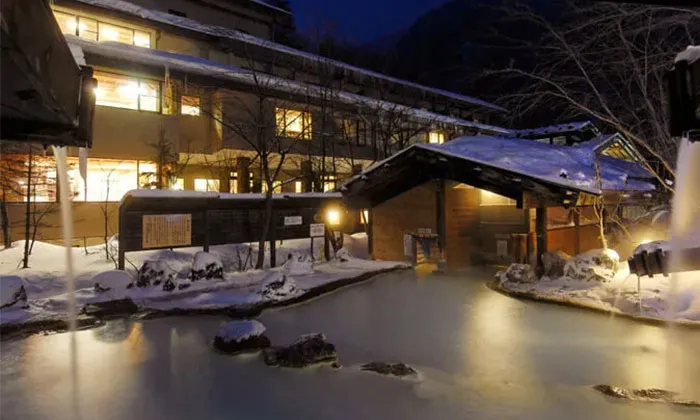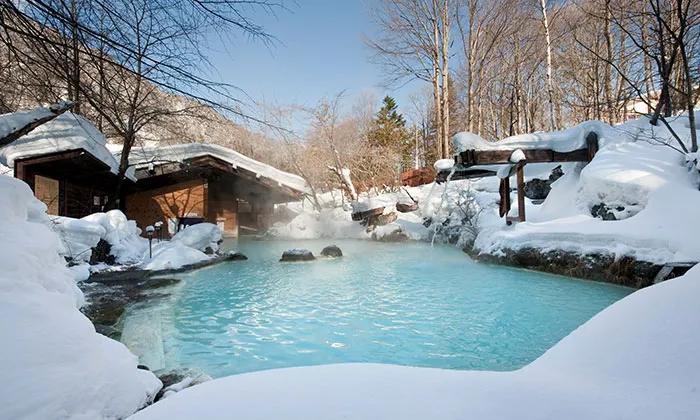 Shirahone Onsen, a well-known hot spring resort, is located just a short distance away from Norikura Kogen. The unique combination of the murky white water and the enigmatic name, which translates to white bones in Japanese, has made it a beloved destination of many renowned Japanese cultural figures. To get there, take a bus from Norikura Kogen Tourist Center, transfer once at Sawando Bus Terminal, and get off at Shirakone Onsen (approximately 30 minutes including transfers).
Wrap-up
Matsumoto is easily accessible by public transportation, with a travel time of about 2 hours by taking the Wide View Shinano from Nagoya Station to Matsumoto Station. Once in the city center, you'll find a variety of tourist attractions within walking distance, such as the national treasure Matsumoto Castle and the Matsumoto City Museum of Art. If you venture a bit further out, you can enjoy real snow activities at Norikura Kogen and Kamikochi, with nearby hot springs offering a relaxing way to warm up after a fun day in the snow. We hope you'll add this area to your next travel itinerary.