| Centrip Editorial Board
Donburi: Do the Don! 6 Donburi dishes you can only get in Chubu!
Have you ever had Donburi/Don? Don is one of Japan's staple foods. It's a simple dish of rice topped with a variety of different foods! For Don lovers, the arrangement of rice, toppings, and sauce draw out that elusive 5th taste, Umami, for a harmonious microcosm of flavor!
Japan abounds with lovers of Don. Katsu-don and Oyako-don make up the two most common flavors, and many local areas have their local Dons. Join us on our journey to explore the Dons of the Chubu area, this is an offer you cannot refuse!
Nagoya miso cutlet & Nagoya cochin oyakodon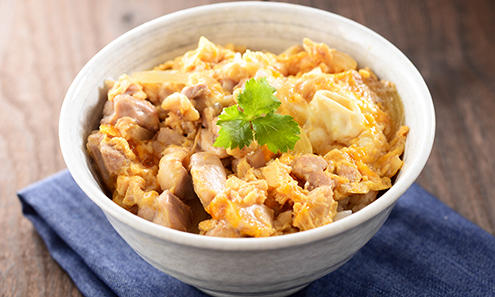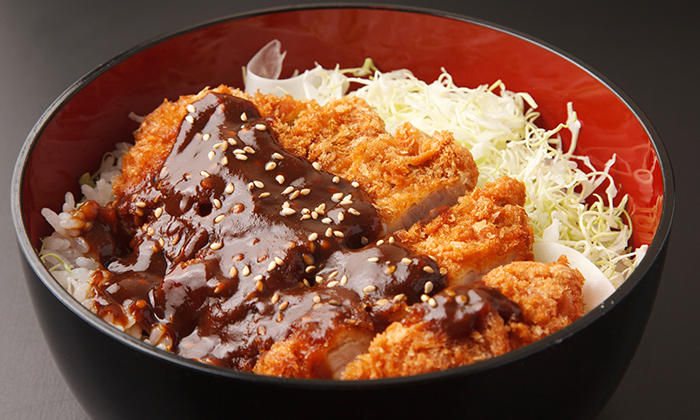 A balance between urban and local. & "Great quality of life." are just some of the things people say about Nagoya in Aichi. Aichi's famous Hacho Miso and Nagoya Cochin (chicken) are combined for an unbelievable Don that tastes like home.
Our Recommendation
Ajidokoro Kanou: Ganso Miso Katsu-don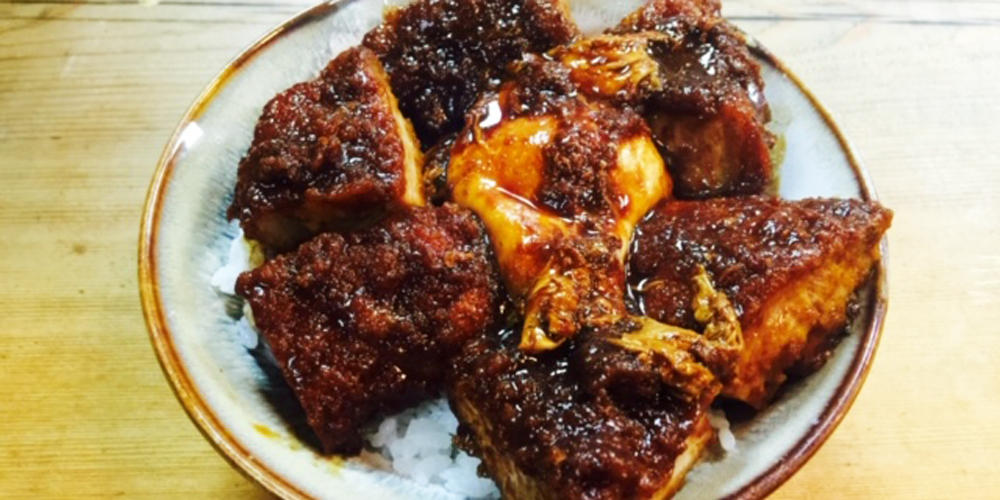 Miso Katsu is one of Nagoya's famous dishes. It's made by dredging a pork cutlet in a mix of flour, eggs, the panko breadcrumbs, then deep-fried and dipped in sweet & spicy Hacho miso. The cutlet having absorbed the deliciousness of the miso is then placed on a bowl of rice to make the aromatic and delicious Miso Katsu-don. Ajidokoro Kanou is located a mere 3 mins from Sakae station and is the birthplace of this delectable dish. Founded in 1949 many people have fallen in love with Ganso Miso Katsu-don, so don't let this chance pass you by!
Address: 4-110 Sakae, Naka-ku, Nagoya, Aichi
Business Hours: 11am–2:30pm, 5pm–8:30pm
Closed: Mondays
Directions: Take the subway to Sakae station and it's a 3 min walk from the station.
Torikai Souhonke: Nagoya Cochin Oyako-don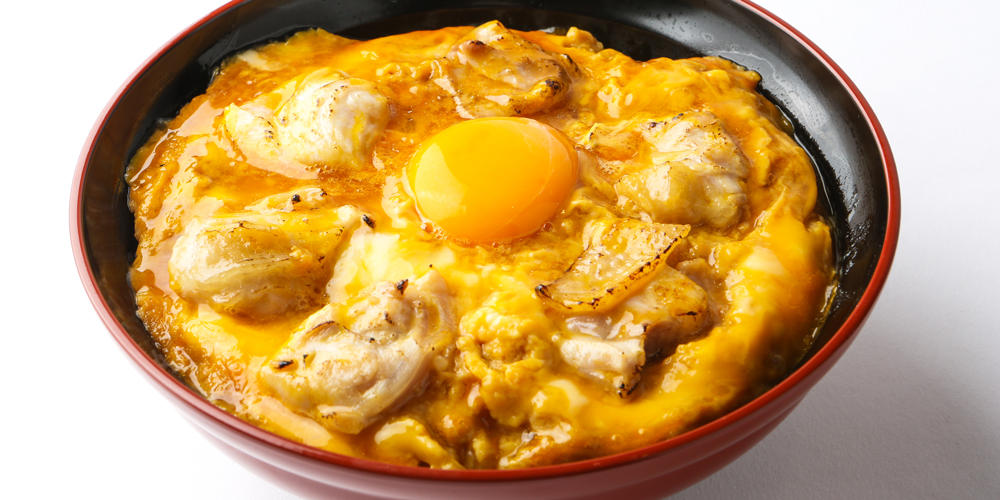 Nagoya's Cochin chicken is known for its elasticity and juicy fat, and the eggs have a deep golden color with rich flavor. So watch out! If you've never been to Torikai Souhonke before the richness of flavor might overwhelm you! Alongside the chicken and eggs, exquisite rice is served, soaked in a special sweet and spicy sauce. Three Torikai Souhonke locations in Nagoya serve this dish: the Nagoya Station Esca shop near Nagoya Station, Sakae La Chic shop in the Sakae area, and the Nagoya Castle Kinshachi Yokocho shop. Be sure to stop by one of these locations for a taste of this decadent dish.
Nagoya Station Esca Shop
Address: Esca Underground Shopping Center north exit floor, 6-9 Tsubaki-cho, Nakamura-ku, Nagoya, Achi
Business Hours: 11 am–10 pm (Kitchen closes at 9:30 pm *No reservations)
Holidays: Open all year round
Directions: About a 2 min walk from Nagoya station's west exit
Mie's Matsuzaka Steak Gyu-don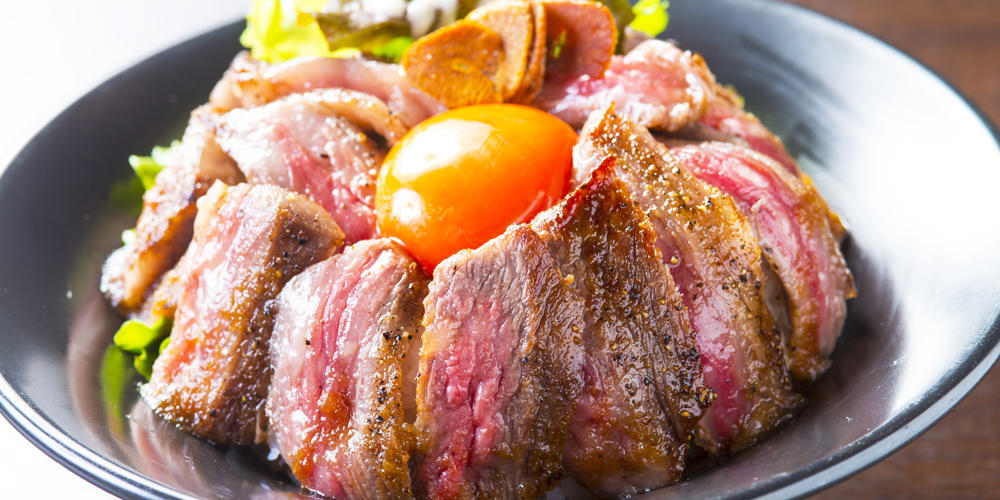 The cows of Matsuzaka are the pride of Japan. Raised in the environs of Matsuzaka city in Mie. The characteristics of the beef are a sweet yet savory taste and a melt-in-your-mouth feeling. It is known among beef lovers as "A work of art" and has touched the hearts and tounges of many an epicurean. Once you've tried the rich and deep flavor of Matsuzaka beef you too will fall in love.
Our Recommendation
Nikoudou Houraitei: Matsuzaka Steak Gyu-don
Naikumae Oharaimachi is located in front of Ise Shrine in Ise, Mie. Houraitei's Naikumae Oharaimachi shop can be found among the many ancient souvenir stores. Houraitei steak gyu-don is made from a tender piece of Matsuzaka sirloin with a special aromatic soy sauce-based Tare sauce, that will whet your appetite. To top it off the juices from the rendered fat are perfectly matched with the soy sauce-based Tare sauce.
Address: Nikoudou-nai 60 Ujiimazaikecho, Ise, Mie
Business Hours: 10 am–5 pm (Kitchen closes at 4:30 pm)
Holidays: Open all year round
Directions: After arriving at Ise-shi station, take the bus and get off at Naiku Mae (about 13mins) and then walk for about a minute.
Matsuzaka Maruyoshi Kamada Honten: Matsuzaka Steak Gyu-don
Matsuzaka Maruyoshi is a butcher shop that specializes in Matsuzaka beef. Two restaurants in Matsuzaka city are operated by Matsuzaka Maruyoshi. I recommend Kamata Honten, about a 10-minute walk, out the north exit of Matsuzaka station. Ease of access is only one reason I recommend this restaurant: it also has a special menu with large portions only available here. The size of the Matsuzaka steak gyu-don and the Matsuzaka sirloin gyu-don will make your eyes pop! If you want to eat Matsuzaka beef to your heart's content this is the place to go. Just watch the time, the store operates from 10 am and closed after the 30th plate is served, and reopens at 5 pm until 10 plates are served.
Address: 239-2 Kamada-cho, Matsuzaka city, Mie
Business Hours: 10:00–9:30 (*Kitchen closes at 8:30 pm)
Holidays: Closed Wednesdays (Open on holidays)
Directions: About a 10-minute walk from the north exit of Matsuzaka station.
The Real Nagano Wasabi-don!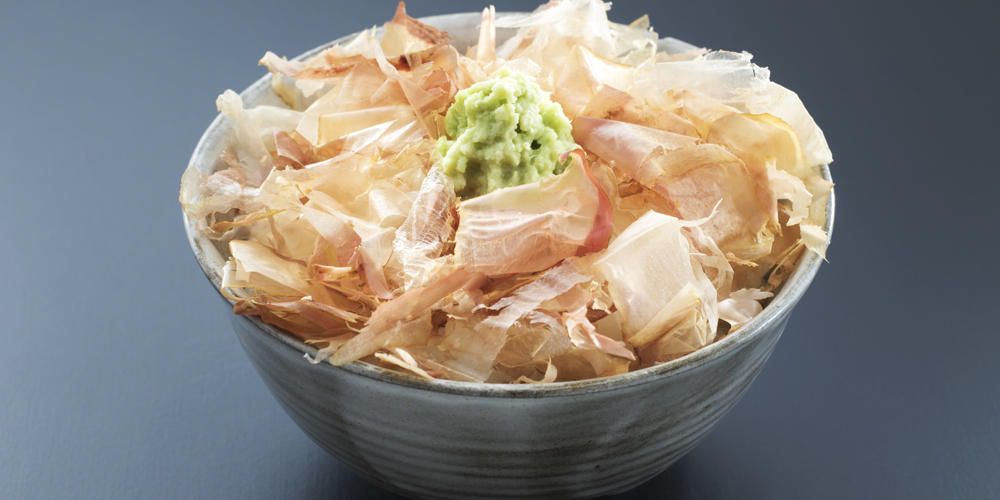 The wasabi of Azumino in Nagano is famous for being raised in the spring water of the northern Japanese Alps. The sinus cleansing effect of wasabi will leave you feeling refreshed. If you are looking to recharge your batteries in the verdant nature of Japan, then Azumino is the place to go.
Our Recommendation
Daio Wasabi Nojo Restaurant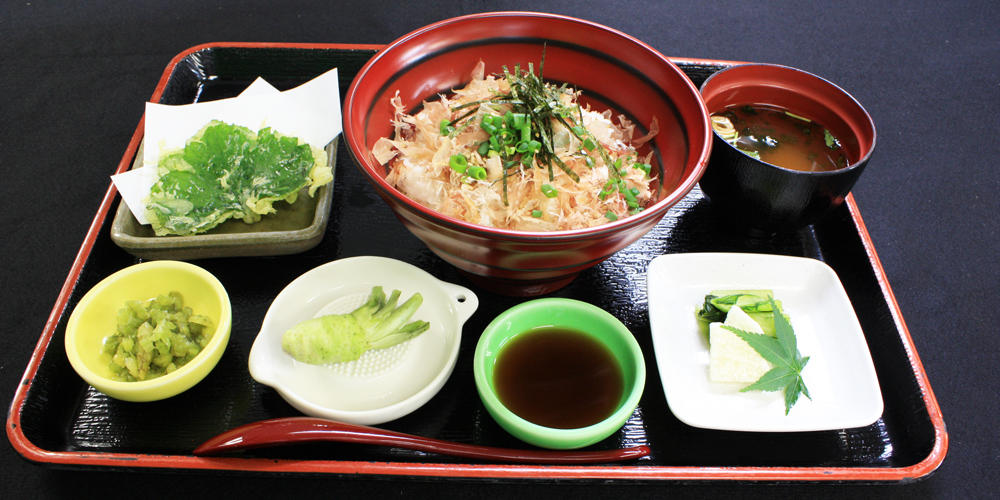 Daio Wasabi Nojo is Japan's largest wasabi farm. From Nagoya take the Wide View Shinano No.1 Limited Express train to Hotaka station. From Hotaka take a taxi or bus (Eastbound Daio Wasabi Nojo line). When you order you'll get a bowl of rice full of wasabi pickles, topped with bonito flakes, seaweed, leeks and a side of grated wasabi. Take the side of freshly grated wasabi, dissolve it in soy sauce and pour it over the rice and enjoy the fantastic sensation of a wasabi-don.
Address: Daio Wasabi Nojo, 3639-2 Hotaka, Azumino, Nagano
Business Hours: 10:30–3 pm (Kitchen closes at 2:30 pm)
Holidays: Open all year round
Directions: Take the JR Oito line to Hotaka station and then hop on a bus for 10 mins.
Shinshu Bozu Honoka
Take the JR Chuo line Wideview Shinano No. 1 Limited Express from Nagoya station to Matsumoto station. At Matsumoto station transfer to the JR Oito line and get off at Azusabashi station. Then hop in a taxi for 7 minutes until you arrive at the restaurant Shinshu Bozu Honoka. Their Wasabi-don is made from Azumino grown wasabi and homegrown organic rice. At this hidden gem, you can taste the flavors brought to life by the natural beauty of Azumi.
Address: 781-3 Shimoiida, Toyoshinatakibe, Azumino, Nagano
Business Hours: 11:30–2 pm (Kitchen closes at 1:45 pm or when supplies run out)
Holidays: Mondays & Tuesdays (*See the webpage for special holidays)
Directions: A 7-minute taxi ride from Azusabashi (About a 35min walk)
Toyama Shiro Ebi-don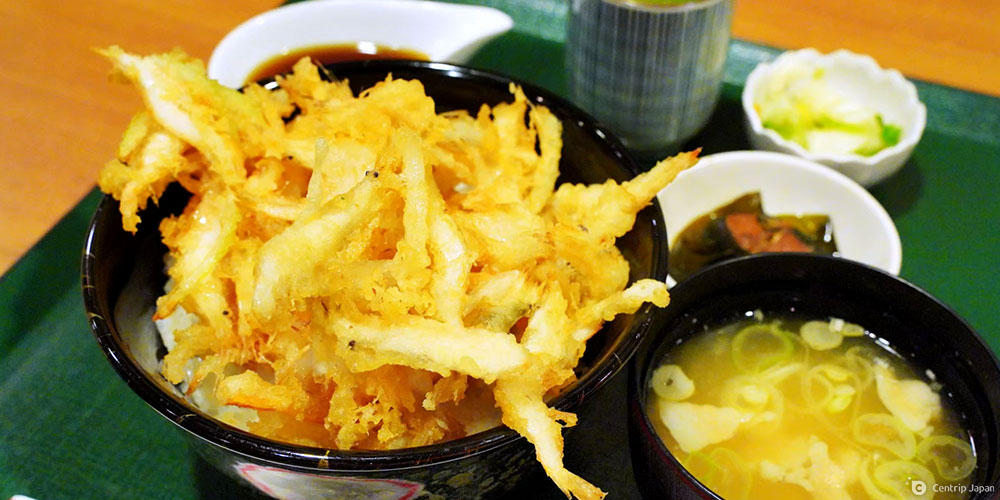 Shiro Ebi (white shrimp) are endemic to Japan, and can only be fished in the bay of Toyama. While white shrimp are small they pack a big punch, full of sweetness and the elusive 5th taste, umami, they aren't just delicious they are full of nutrition! The period for fresh sashimi is April–November so is sure to have a taste, but don't worry the Shiro Ebi Kakiage-don is available all year round.
Our Recommendation
Shiro Ebi Tei, Shiro Ebi Sashimi-don, Shiro Ebi Kakiage-don
On the first floor of JR Toyama Station, inside the souvenir and market, Kitokito Ichiba, Toyamarushe, you can find Shiro Ebi Tei. The specials are Shiro Ebi Ten-don and Shiro Ebi Sashimi-don. Shiro Ebi Ten-don is the perfect match for the savory fried white shrimp tempura and the sweet and spicy tempura sauce! And with the Siro ebi sashimi-don, you can enjoy the melt-in-your-mouth flavors.
Address: Kitokito Ichiba, Toyamarushe, 1-220 Meirincho, Toyama city, Toyama
Business Hours: 10:00–9:30 pm (Kitchen closes at 9 pm)
Winter Season (mid-January–end of February) 10–8:30 pm
Holidays: Closed on New Years Day, shorter hours over New Years' holidays and the Winter season.
Directions: A minute walk from Toyama station
Kittokito-tei's Shiro Ebi Osashimi-don & Shiro Ebi Zukushi Gozen set
Restaurant Kittokito-tei is located in Shinminato Kittokito Ichiba. Shinminato Ichiba is a seafood market located about 45 minutes from Toyama Station by the Toyama Furikani Bus. The Shiro Ebi Osashimi-don is loaded with white shrimp, and the Shiro Ebi Zukushi Gozen set, which comes with white shrimp kakiage-don and some white shrimp sashimi, is recommended.
Address: Located in Shinminato Kittokito Ichiba, 1 Kaiomachi, Imizu, Toyama 934-0023
Business Hours: 11–4 pm
Holidays: Closed for New Years
Directions: An 8-minute walk from Higashi Shinminato station
Kanazawa's Kaisen-don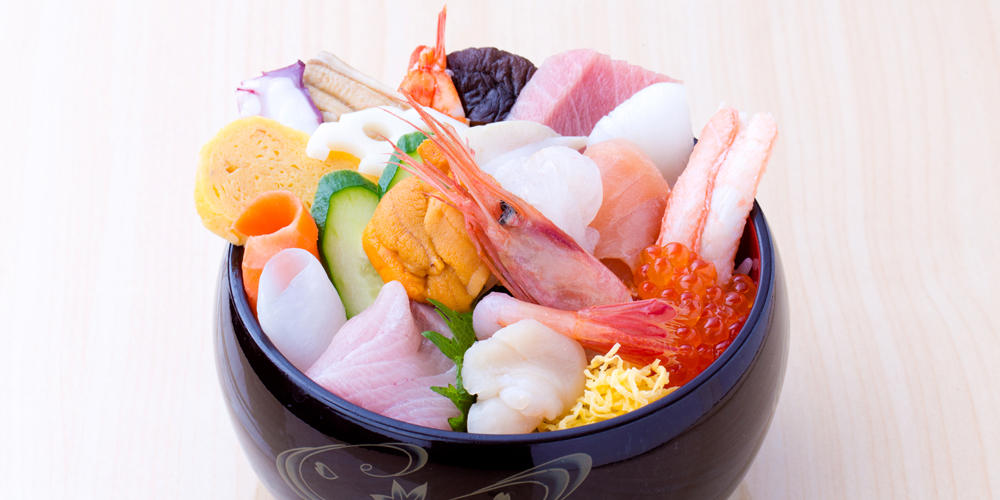 Credit:金沢市観光公式サイト
Ishikawa's offshore areas are great for fishing and full of many kinds of marine life. The warm Tsushima current and cold Liman current intersect here creating the perfect habitat. Don't miss Ishikawa's fresh Kaisen-don (seafood rice-bowl).
Our Recommendation
Ikiiki-tei Don
Omicho Fish Market is known as "The Kitchen of Kanazawa", here you can get a large variety of fresh seafood and vegetables. It takes 5 mins by bus to get here from Kanazawa station and is worth the visit. Ikiiki-tei can be found inside and specializes in Don topped with fresh seafood straight from Kanazawa port. WIth 14 types of fish, the Ikiiki-tei-don the most popular item on the menu. If you want to eat extravagantly this is your chance! Try Tokusen Hokuriku-don, or if you aren't too hungry to have a taste of the Mini Kanazawa-don, you can't go wrong with either.
Address: Omicho Fish Market 1F, 88 Aosagusacho, Kanazawa, Ishikawa
Business Hours: 7–3 pm (*or until supplies last)
Holidays: Wednesday
Directions: A 15-minute walk from the east exit of Kanazawa station.
Yamasan Sushi Honten: Kaisen-don
You can also find Yamasan sushi-honten in Omicho Fish Market. Yamasan has 30 seats, with your choice of counter or table seating compared to the mere 10 at Ikiiki-tei. The Kaisen-don is their specialty with 18 kinds of fish arranged in a gorgeous patina of color making it a feast for your eyes as much as your mouth. In addition to the local catch, rice and seafood are made locally.
Address: Located in Kanazawa Omicho Fish Market 68 Shimoomicho, Kanazawa, Ishikawa
Business Hours: 7 am–Until supplies last (*Not open at night)
Holidays: Open all year round
Directions: After arriving at JR Kanazawa Station, on the Hokuriku main line, go ou the east exit and walk for 10 minutes.
Wrap-up
Don is a popular dish with a down-to-earth charm. You get a helping of Japanese white rice and there is such a multitude of toppings you'll never grow tired of trying out a new Don.
These Don can only be had in Chubu. So remember when in Chubu, the Don is a dish that tastes best when served hot.
Click here to get the latest information on Central Japan.Centrip Japan - Nagoya and Chubu Information