| Centrip Editorial Board
The new big thing in Nagoya! "Kinshachi Yokocho"(Gourmet Town): Shopping and dining, it's all here!
Who would come to Nagoya and not visit the castle?
The castle is located in a quiet district with public institutions such as the prefectural office and municipal office… which also means that there are not many cafés and restaurants around. Hmm. What should we do when it comes to taking a break?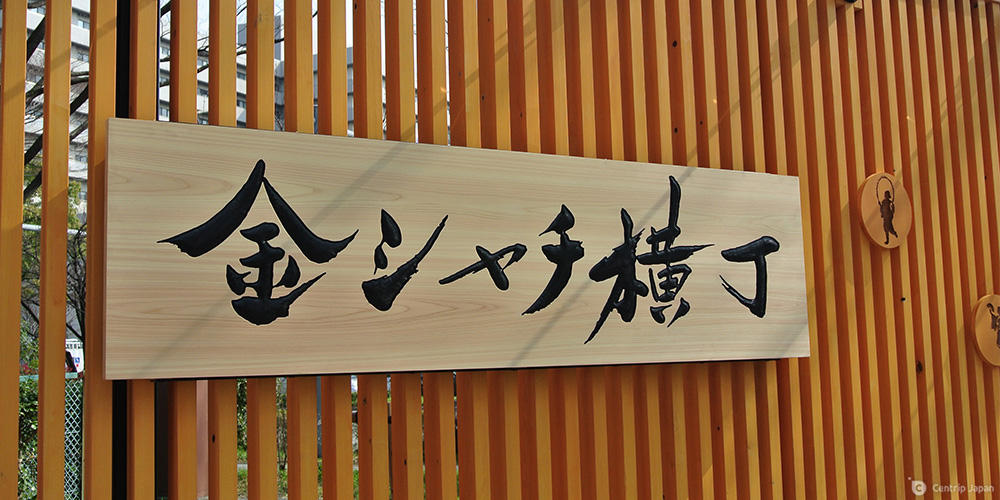 To serve people visiting the Nagoya Castle, as a dining spot featuring the local food of Nagoya, the "Kinshachi Yokocho" announces its grand opening.
"Yokocho" usually refers to traditional-style alleyways where the small bars are adjoined in rows along the narrow lanes. But Kinshachi "Yokocho" is more like a small gourmet street with many dining and shopping spots.
What is "Kinshachi"?
"Kinshachi" means "golden carp" in Japanese.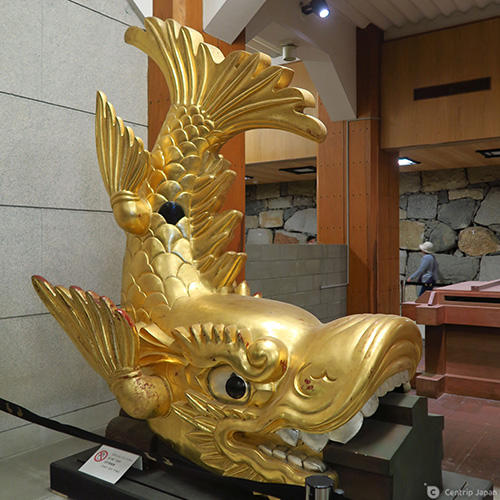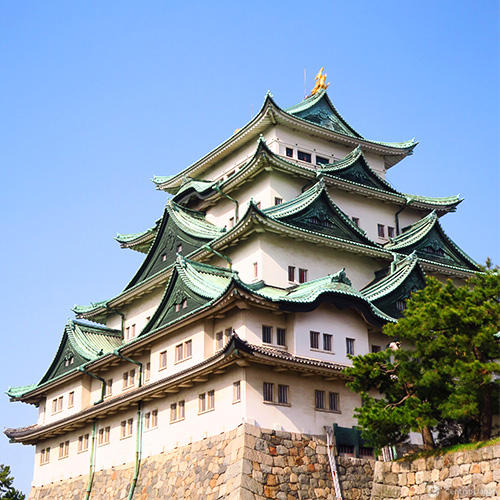 The carp are mythical creatures with a head of a tiger attached to the body of a fish. Their tail fins are always sticking up into the sky, and they have sharp spines on their backs. Since they are known for shooting water out of their mouths during a fire, they are thought of as guardians of buildings and houses. Therefore, they are often used as decorations for buildings as a symbol of protection.
Look up at the Nagoya Castle, and you'll find the golden carp on the roofs.They are one of the symbols of Nagoya.
Ok. You've learned all about "Kinshachi" and you know what "Yokocho" means. Now, let me introduce you two main areas in Kinshachi Yokocho : the "Yoshinao Zone" and the "Muneharu Zone".
Yoshinao Zone: All about shopping and dining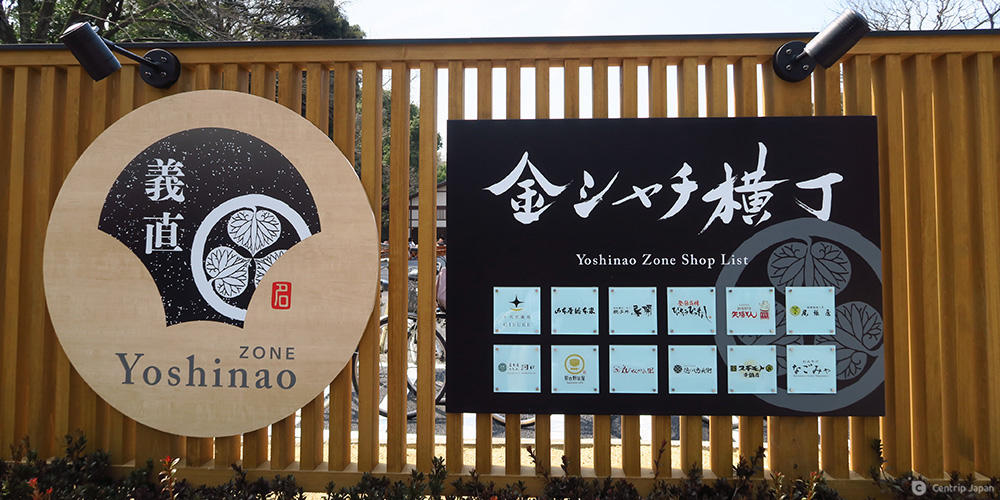 Right in front of the Nagoya Castle lies the "Yoshinao Zone", for a true sense of Nagoya's traditions.
Yoshinao was one of Tokugawa Ieyasu's sons. He founded the Owari domain, and had a huge impact on the development of Nagoya city by setting out laws, proposing flood control, and more.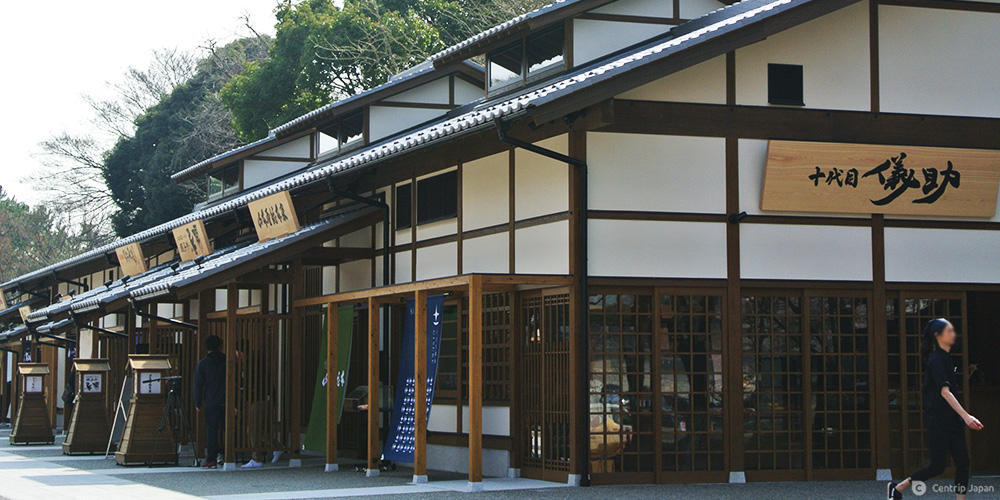 You can find many must-see traditional shops of Owari-Nagoya in this area.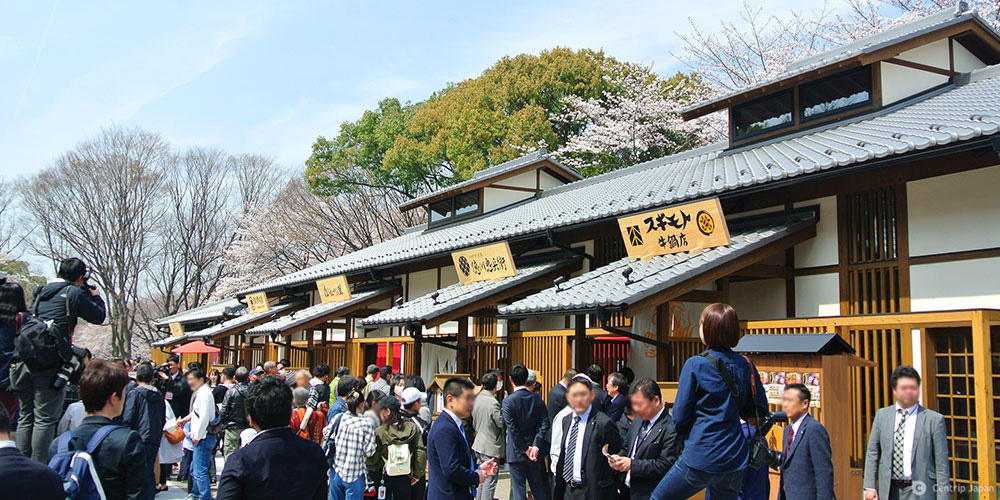 "Nagoya-meshi", Nagoya's local cuisine, is served in the wooden buildings which resemble the townscapes back in the Edo period.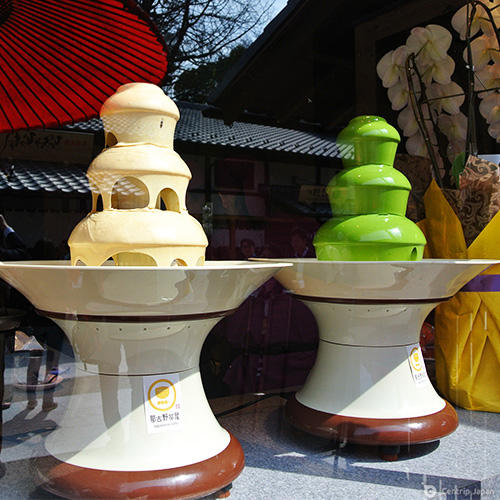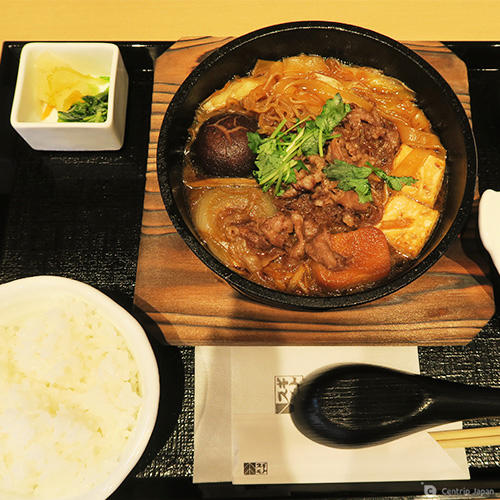 Nagoya Cochin (chicken), miso udon, miso bean curd, miso cutlet, Japanese shrimp fritters, warabi-mochi (bracken starch dumplings), Japanese-style sweets…
There are many items available to take out, so this is a perfect choice for anyone who wants to try out a variety of Nagoya dishes!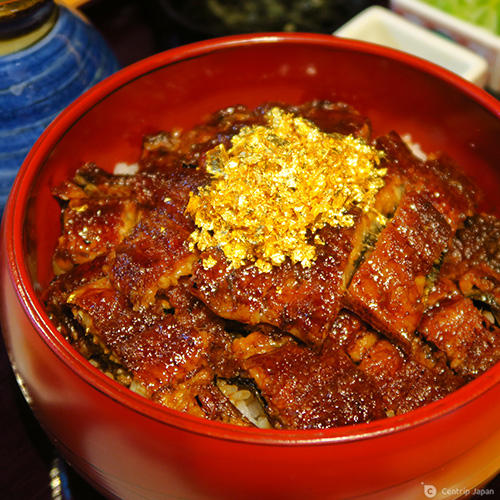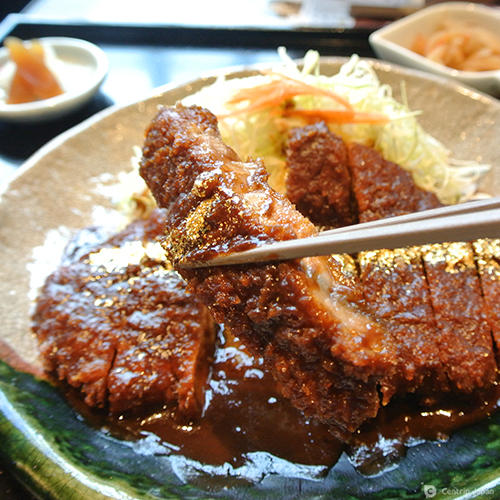 Do not forget to check out the dishes only available at this very spot!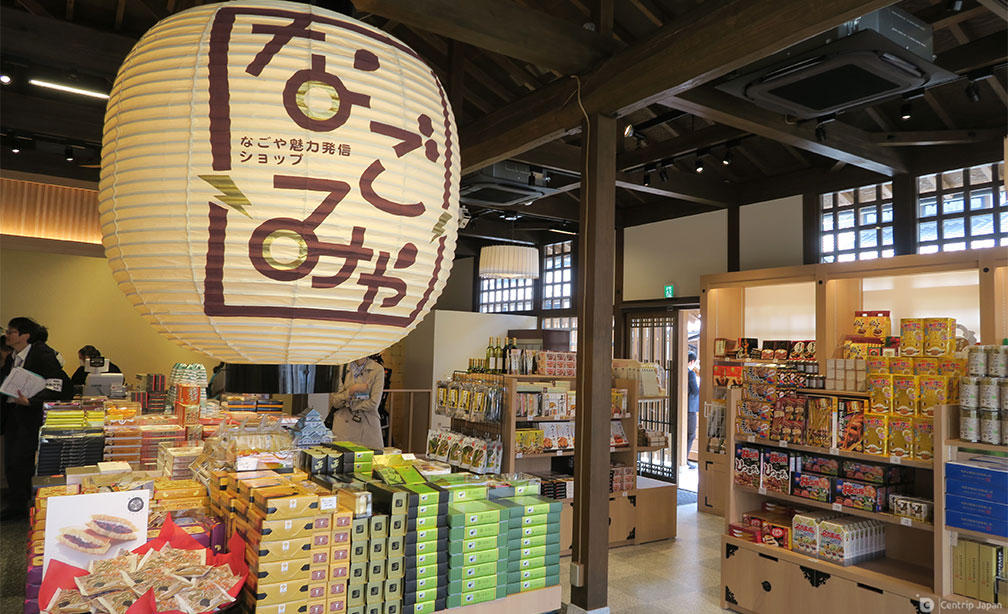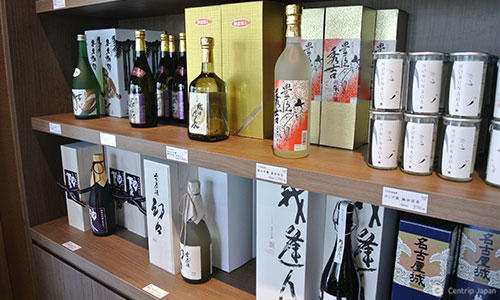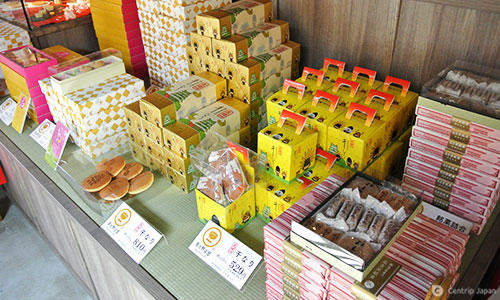 For those of you interested in "special editions", you can find original goods and Nagoya Castle-related goods at the souvenir shops, which also sell Nagoya specialties and confections. Find your favorite to take back home!
If you wish to experience Nagoya while taking a trip back to the Edo period, this is the right area for you!
◼︎ Shops in the Yoshinao Zone
Tenth Generation GISUKE: local sake with a counter for free tastings.
Yamamotoya Souhonke: Miso udon, noodles.
TORIKAI SOUHONKE: Nagoya Cochin, Oyako-don, Chicken wings.
Hitsumabushi Bincho:Hitsumabushi, Unagi inari.
Miso-katsu YABATON: Miso cutlet.
Nagoya Tofu KAWAGUCHI: Miso bean curd, Nagoya tofu.
OWARIYA: Pickled fish, Moriguchi pickled radish.
Nagono Chaya (Ryouguchiya Korekiyo): Sweets, meals, and souvenirs
EBISENBEI NO SATO: Shrimp crackers.
OWARINAGOYA TENDON TOKUGAWATYUBE:Tempura, ten-don, tempura rice balls, washoku.
classic sukiyaki SUGIMOTO: Beef hotpot, Japanese beef stew.
NAGOMIYA:Gift shop.
Muneharu Zone: New shops open until 22:30!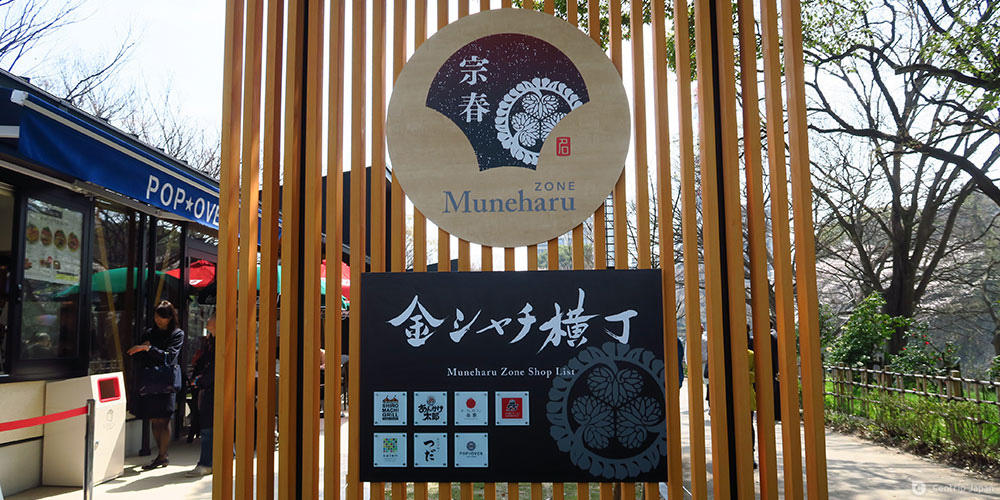 Only a few minutes walk from exit seven of the "Shiyakusho Station" (市役所) is the "Muneharu Zone", an modern area for the latest shops. "Muneharu" was the seventh leader of the Owari domain. His taste for extravagance led him to shape Nagoya into a town of arts.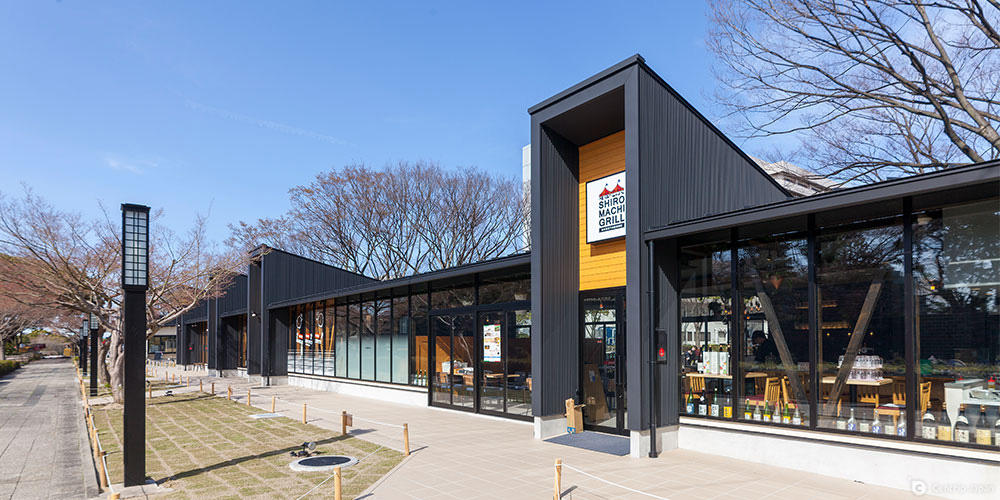 In contrast to the Yoshinao Zone, the Muneharu Zone is an area of a "new generation". Cafés and restaurants produced by young business managers are to be found in this area. In the stylish Japanese-style restaurants, a variety of offerings such as Italian cuisines, fries, steak ankake spaghetti, and others, will be served.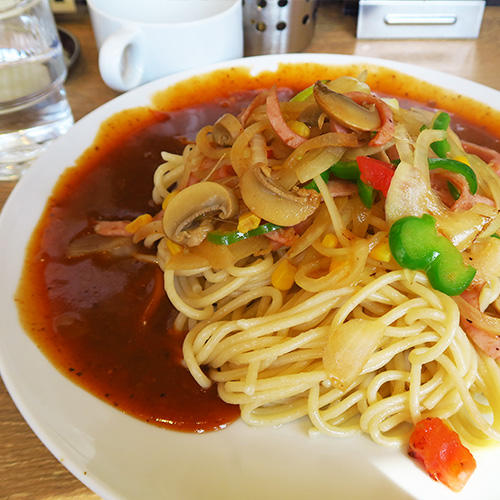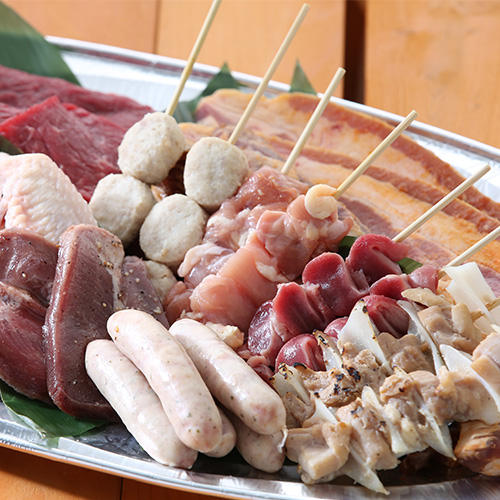 You can buy drinks, sweets, and food to take out as well. Take a break here during your sightseeing!
This area is open until 22:30. The good thing about this is that you will have more time in the day for sightseeing and will not have to worry about being late for dinner!
◼︎ Shops in the Muneharu Zone
SHIROMACHI GRILL: Gluten-free dishes, pizza, etc.
Ankake Tarou: Ankake spaghetti, Indian spaghetti, etc.
Pork restaurant GAKUYA:Hobiton pork dishes, organic vegetable salads.
FUJIYAMA GOGO: Tsukemen, Jiro-style ramen, Taiwan mazesoba.
Saien: Chopped salad, Kinshachi soft cream.
Creative deep fried skewers TUDA: Creative deep-fried skewers and wine.
Cafe diner POP OVER:Steak, pop pancakes, etc.
In Summary
What do you think? Two different zones, two different styles.

The Yoshinao Zone is for those who want to enjoy traditional Japanese food and local Nagoya cuisine, and the Muneharu Zone is for those who want to enjoy the style of the present. Here's the good news : it's only a 10 minute walk from one to the other - so why not visit both areas?
Next time, we will be introducing more specific dishes and souvenir shops at Kinshachi Yokocho!
Access
Yoshinao Zone
Subway, Meijio-line, "Shiyakusho Station" (市役所駅). 10 minute walk from exit seven.
Subway, Tsurumai-line, "Sengen-cho Station" (浅間町駅). 10 minute walk from exit 1.
Muneharu Zone
Subway, Meijo-line, "Shiyakusho Station" (市役所駅). Near exit seven.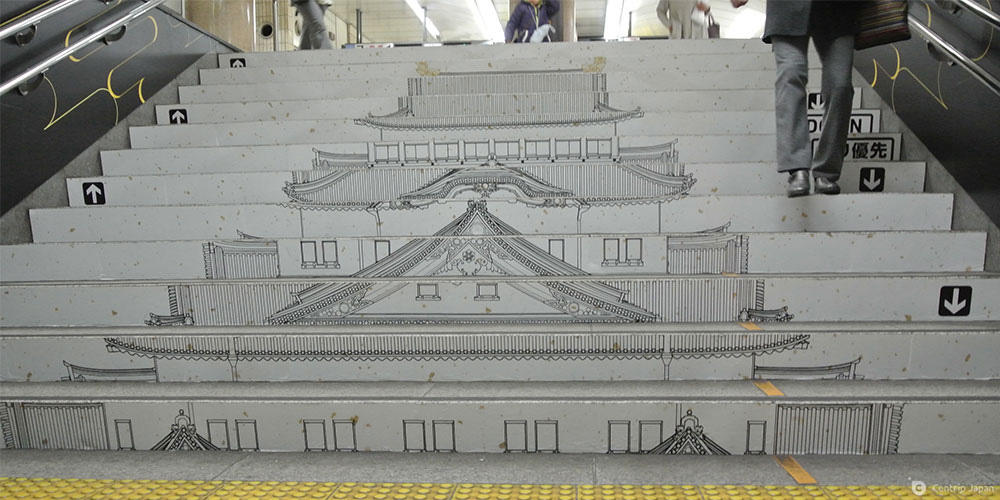 Climb the stairs with the painting of Nagoya Castle and find the ticket gates. The nearest exit is exit seven.