| Centrip Editorial Board
Get Your Kimono On In Central Japan!
The kimono is a traditional Japanese garment. These days, very few Japanese people wear kimonos daily, however, many wear kimonos for weddings and New Years' holiday. The Kimono is saved for special occasions.
Both Japanese and foreign visitors dream of having their own special kimono experience. When people imagine wearing a kimono, romantic images of Tokyo and Kyoto spring to mind, but there are many more places around Japan that are great for posing in a kimono. Much like Tokyo and Kyoto, Central Japan also offers many unique and breathtaking areas to take photos, with one added benefit: fewer crowds and tourists. This makes it perfect for getting that extra special photograph. So sit back and relax while we give you the low-down on kimono rentals and introduce you to some of the most beautiful areas for photos in Central Japan.
Historical Japanese castles and streets — Inuyama City (Aichi)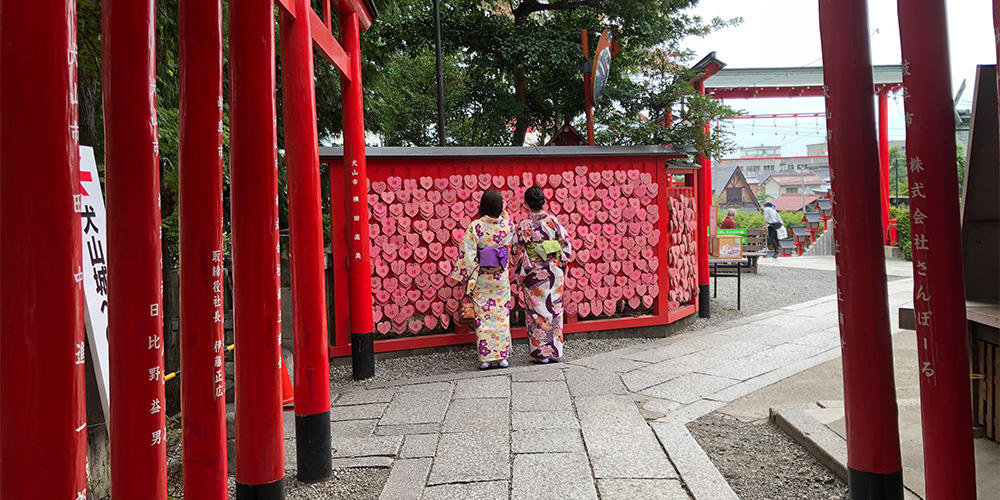 Inuyama Castle is said to be the oldest intact castle in Japan. First built in 1440, and untouched by the ravages of WW2, Inuyama castle is enjoyed by all visitors, especially the history buffs. To reach here, take the Meitetsu Inuyama line from Nagoya Station to Inuyama station, about 40 minutes, and the nearest drop-off point to reach the castle on foot.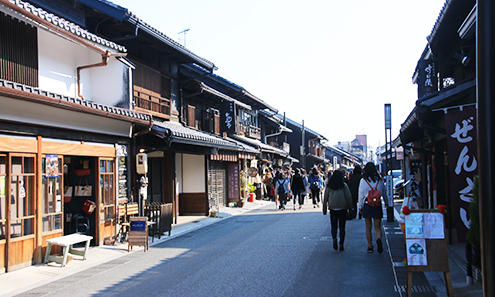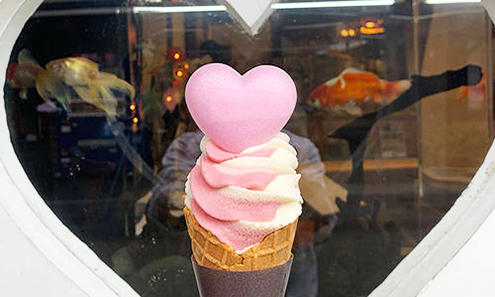 When you arrive at Inuyama Station, head out the west exit and go to Inuyama Castle, where the ancient castle town still sits below the castle. The streets are lined with old Japanese wooden houses, the perfect backdrop for posing in kimono. Many cute heart-shaped products are sold here, so try a photo or two for some added Japanese kawaii!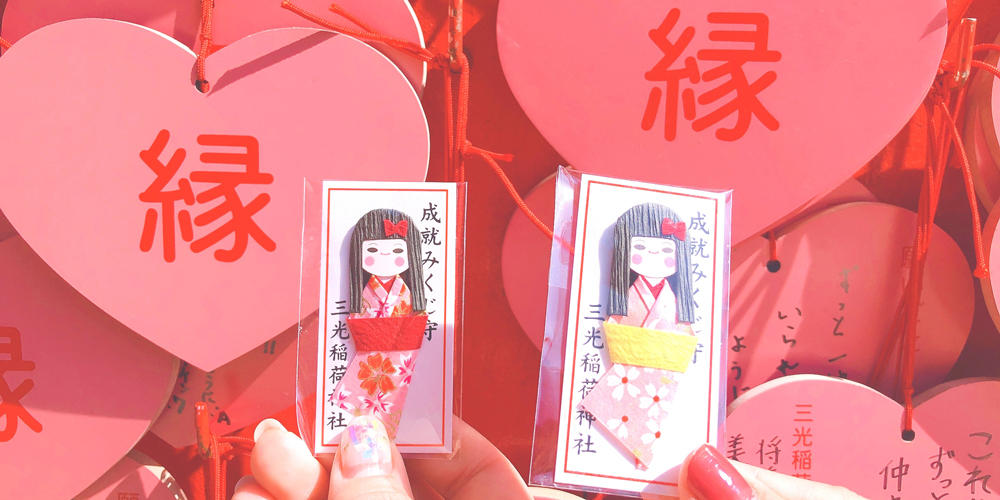 Afterward, take a walk to Sankouinari Shrine. This famous shrine has a pink heart-shaped ema (good luck placard). The red torii gate and heart-shaped ema work perfectly to frame stunning pictures.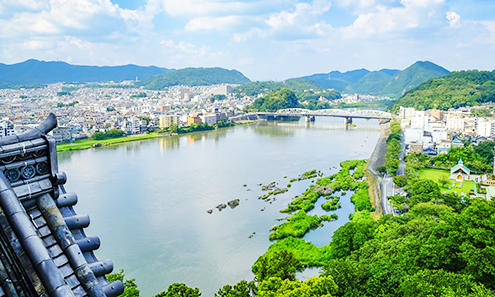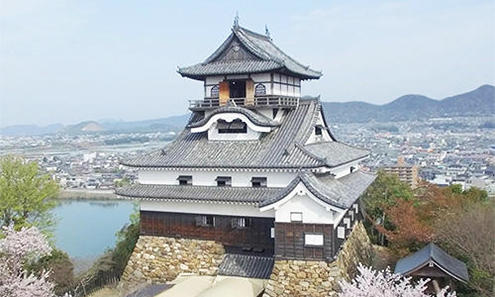 When you are finished head to Inuyama Castle. Check out the superb views overlooking Inuyama's castle town, from the keep on top of the castle! The wooden corridors are slippery, and the stairs are incredibly narrow and steep, so watch your step!
Kimono rental shop
・Inuyama Biyori
Japanese TV and social media recommend this shop for both kimono and yukata. It has over 200 choices of kimono for women and 30 for men!
・Inuyama Komachi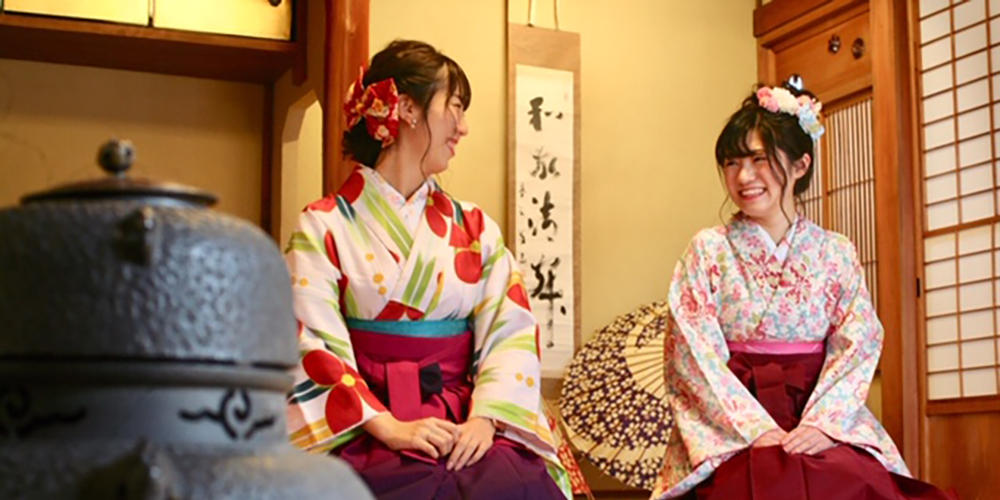 Found on the second floor of a 100-year-old house, the atmosphere is par excellence. You can rent a kimono, and experience an elegant Japanese tea ceremony (Sadou).
Travel back in time to late 19th century Japan — Meiji Mura (Aichi)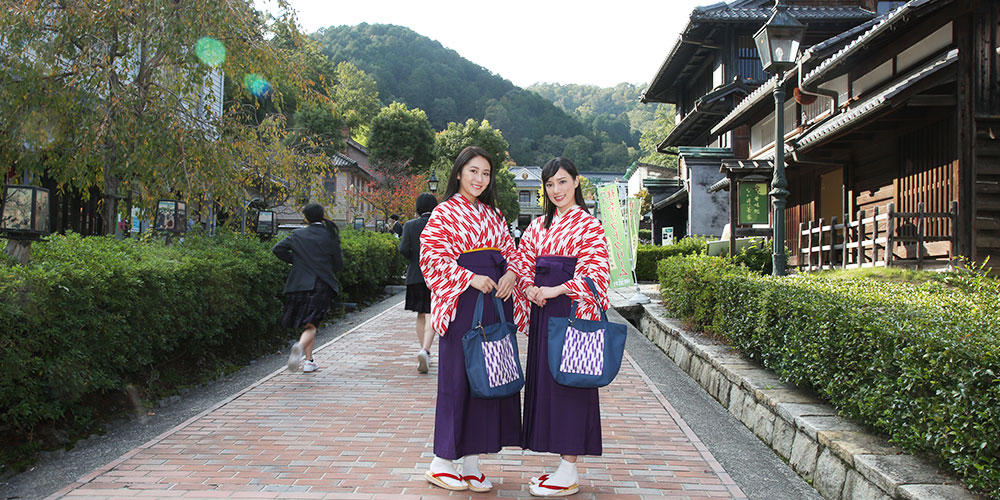 The Meiji Period (1868-1912) is characterized by the modernization of Japan. During this period many cultural and technological advances of the industrialized European nations were imported to Japan. The museum of Meiji Mura is home to over 67 buildings constructed in the Meiji period that were relocated here from around Japan.
The upheaval of the Meiji Period brought with it many changes, even to the attire of Japan. At the Museum Meiji Mura, you can try on the different fashions developed during this period that differ from the traditional styles of kimono. Female students of the time wore an Onna Hakama, while men wore a Hakama with a shirt in a style called Shoseifuku.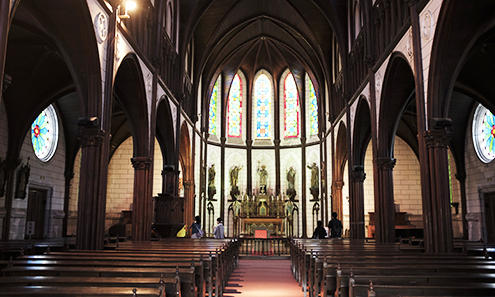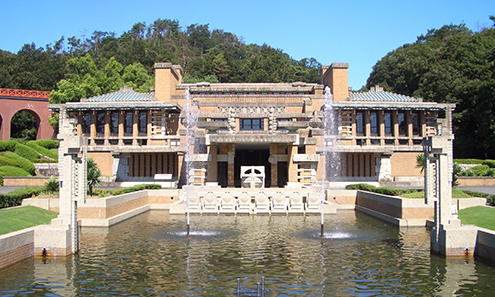 Once you change into your costume you'll be ready to start your photoshoot in the Meiji Period. Each building offers a unique photogenic atmosphere! St. Xavier's Cathedral is said to be the most romantic among them. Wait for the sun to shine through the stained glass windows, and fill the hall with radiant colors. It's so mesmerizing you might forget to snap your photos!
Kimono rental shop
・Haikara Costume Shop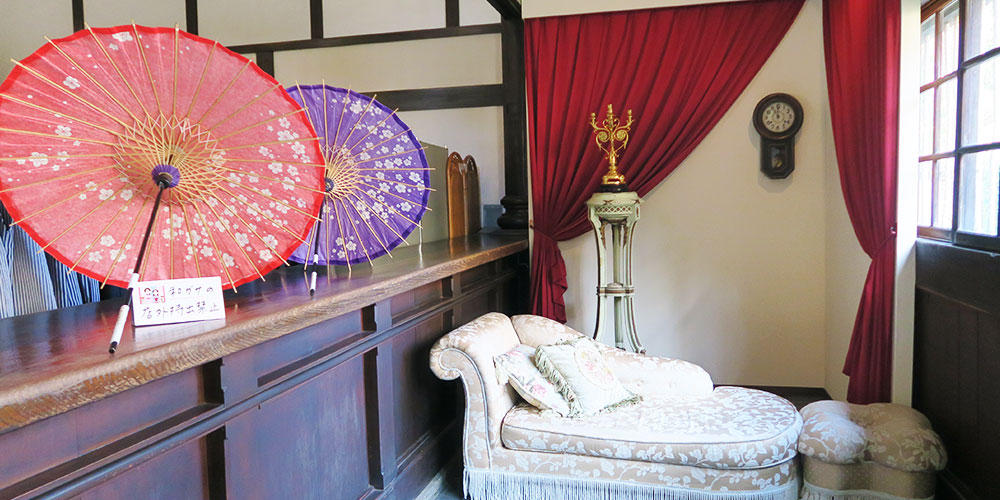 Two courses are available: a walking course, which allows you to wear the kimono up until one hour before closing, and a commemorative photography course, which gives you access to a photography studio. The walking course is recommended if you want the full Meiji Mura experience, but be aware it is only available to the first 20 people to visit and rentals are prohibited on rainy days.
Gorgeous Photos with Dazzling Gold — Nagoya Castle (Aichi)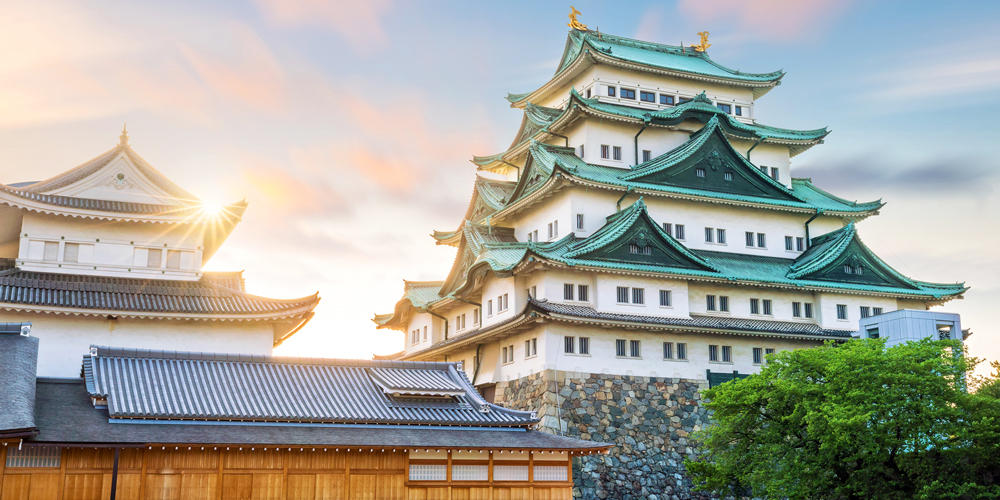 Nagoya Castle is one of Nagoya's must-visit sightseeing locations with plenty of photogenic areas.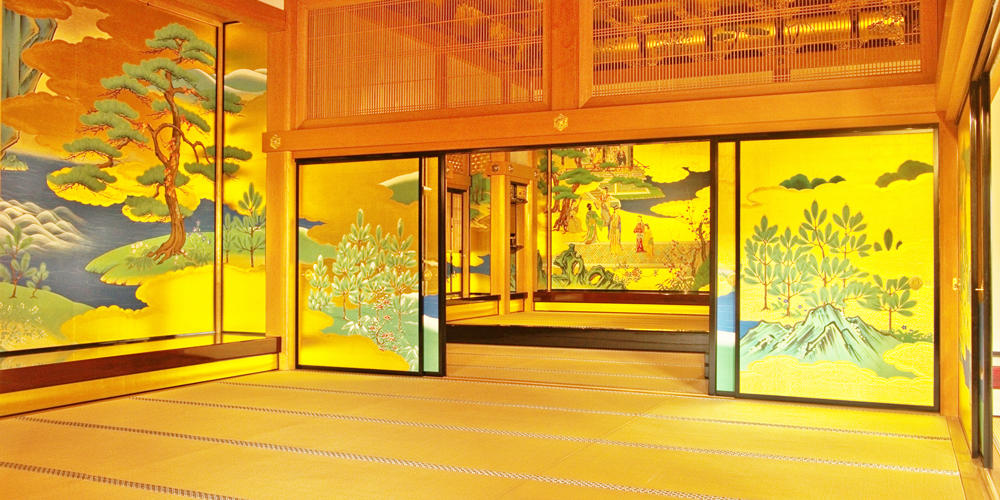 For your visit, Honmarugoten can't be recommended enough! The beautiful gold-gilded rooms and gorgeously decorated walls are the perfect backdrop for photography. The ceilings, metal fittings, and paintings are meticulously crafted and worth close inspection. Flash photography is prohibited so switch off your flash before you take photos.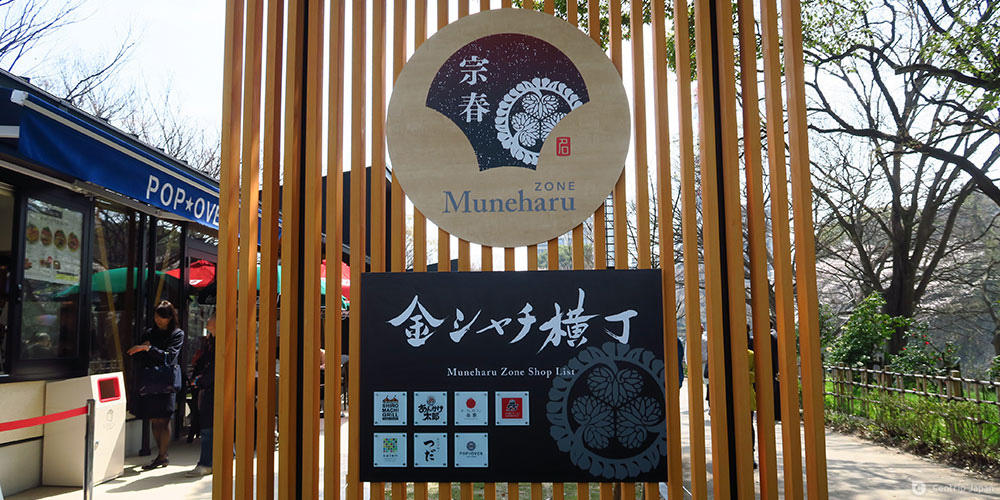 When you are done with the castle check out Kinshachi Yokocho, a restaurant area where you can try Nagoyameshi (Nagoyan Cuisine). The area is divided into two sections, Yoshinao Zone and the Muneharu Zone. Check out cafe diner POP ☆ OVER for great Instagramable photos guaranteed to bring in the likes. Their ninja-themed ice cream, parfaits, and cheese dogs are so kawaii (cute)!
Kimono Rental Shop
・Matsuura
They have a 1-day plan from 9 am–6 pm and a 1-night plan from 9 am–6 pm on the following day. If you want to enjoy an evening dinner while wearing a kimono the latter course is perfect for you!
Nagoya's Cultural Melting-Pot — Osu (Aichi Prefecture)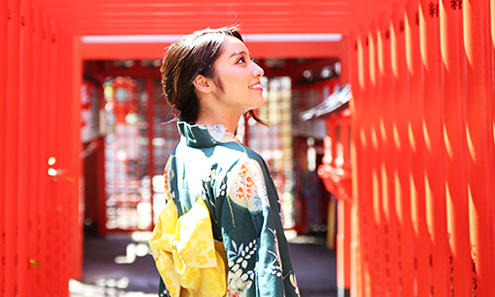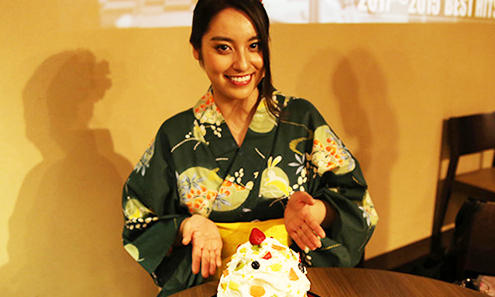 The Osu area is within walking distance from downtown Sakae in Nagoya. The term Cultural Melting-Pot sums up Osu perfectly! With old shrines and temples, local stores established long ago, second-hand clothing, antiques, and shops representing modern cultural developments such as anime and maid cafes, with many foreign cultural influences all mixed in!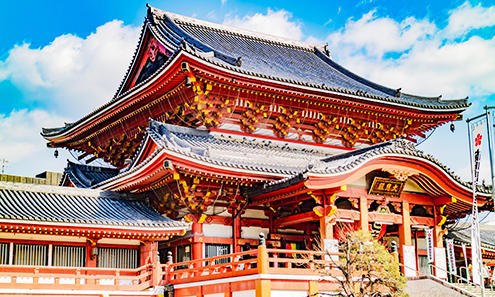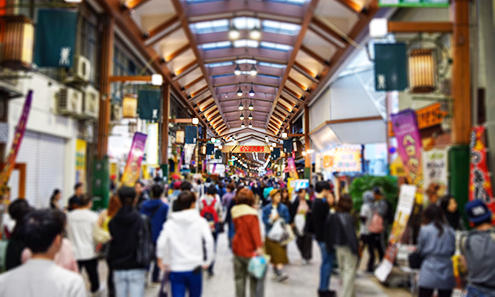 You can also enjoy Osu in a kimono. The first place to visit is Osu Kanon, the symbol of Osu, afterward, take a walk down the shopping street. The large Osu Manekineko (Beckoning Cat), and many stylish cafes make for great Instagrammable spots. Konparu, a local Nagoyan cafe, and the renovated house-turned-cafe, Café Buriko, are of particular note for their great atmosphere and delicious food.
Kimono Rental Shop
・Wasou Kajiura (English service available)
About a 1-minute walk from Kamimaezu station. This shop is also a school that teaches you how to wear a kimono. Let the pros help fit you in cool and beautiful kimonos.
Recycle Kimono Shop
・Komehyo Kimono-kan
When you visit Osu come here to see antique kimonos! It is famous among locals for its collection of cheap and cute antique kimonos. If you've ever thought about picking up a kimono, check Komehyo first.
Experience elegant culture — Kanazawa City (Ishikawa)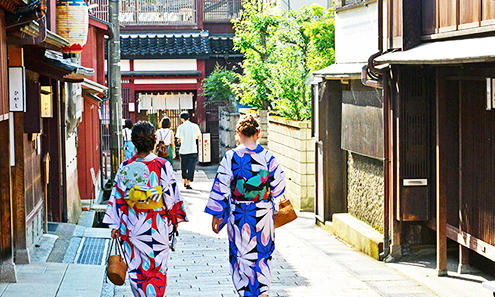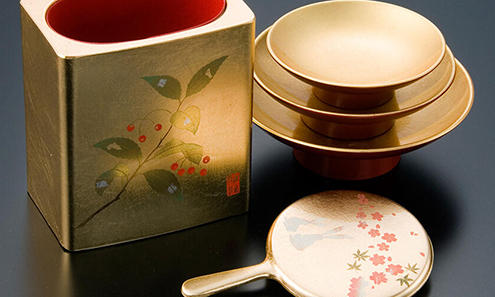 Kanazawa city is also known as Little Kyoto. Around 400 years ago, it flourished as Japan's top commercial city, where traditional crafts such as gold-leaf, Kanazawa lacquerware, Kutaniyaki, and Kaga Temari flourished. Both the streets and handicrafts are tasteful and elegant and are enhanced by donning a kimono for a stroll.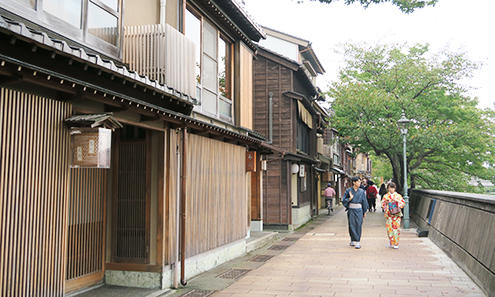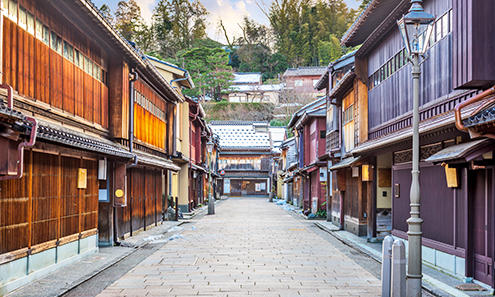 If you find yourself wanting an elegant city walk, go to Higashichayagai. There you'll find fashionable cafes and shops dealing in traditional crafts, so you can eat and shop all in the same area. The chaya, in the name of the town, refers to a teahouse, a place of mature tastes, where Geiko (female entertainers) perform for people with songs and dances. To get a true feel old teahouse atmosphere, visit the teahouse called Shima. Enjoy the taste of Matcha green tea, but please remember filming in the venue is highly frowned upon.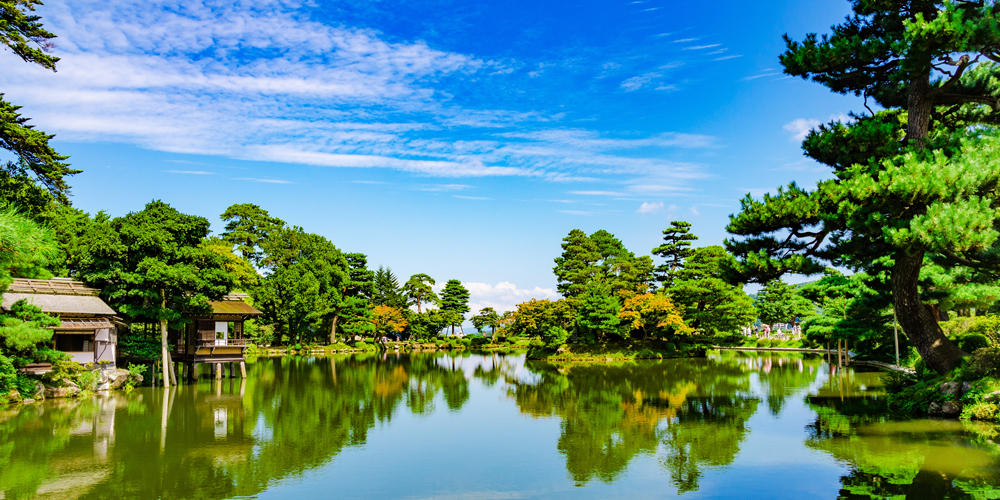 Kanazawa has many sights to enjoy. Highlights include one of Japan's three famous gardens, Kenrokuen, Kanazawa Castle Park, Gyokuseninmaru Garden, and 21st Century Museum of Contemporary Art Kanazawa. Be sure to visit all of them for a real artistic experience.
Kimono Rental Shop
・Kyoto Kimono Rental Wargo
Kenrokuen is about an 8-minute walk from here. There are plenty of plans to choose from, including standard kimonos, classy antique kimonos and hakama styles. If you want to walk around comfortably, pick the Taishou kimono plan.
・Kokoyui Kimono Rental Shop
Check out this Kanazawa sightseeing kimono course. Enjoy your trip by taking it easy in a kimono (Aya Plan), starting from ¥ 5,400. Plans with a professional photographer and/or an interpreter (Chinese, English) are available. Check their site for more detail.