| Centrip Editorial Board
Rent a kimono and become a Meiji girl! Introducing Meiji Mura and Inuyama. Let's find the best photo spots!
Do you know Meiji Mura? It's in Inuyama town, on the outskirts of Nagoya, and it lets you experience the Japan of 150 years ago…as well as being full of "Instagrammable" spots.
Meiji Mura is a kind of open-air museum and all the buildings on display here have been disassembled, brought to Meiji Mura from different parts of Japan, and reconstructed. This means that all the buildings at Meiji Mura are the real thing: religious institutions, hotels, post offices, theaters - and that stepping into Meiji Mura feels like taking a trip back in time.
Meiji Mura is a big place, and you will find trains and trams around. It's perfectly possible to spend an entire day there and not see everything.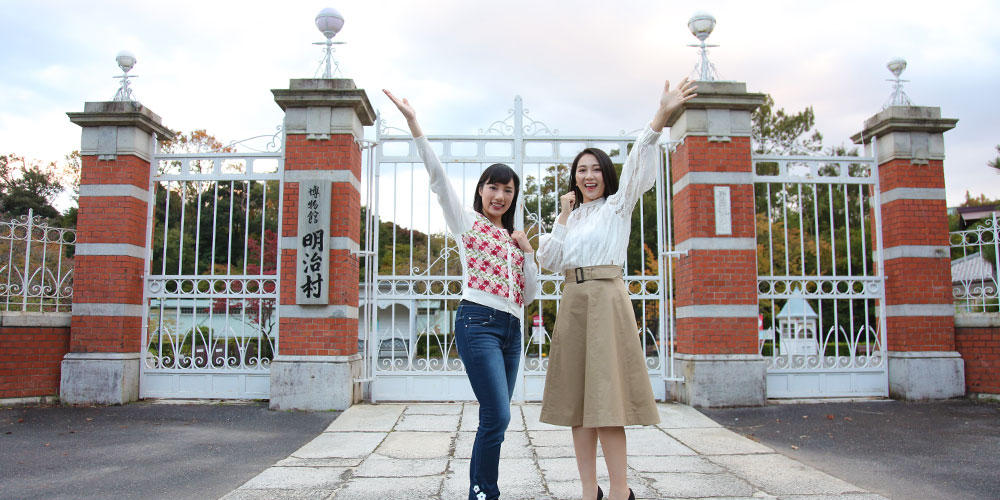 A good number of foreign visitors come to Meiji Mura, ranging from people who are fascinated by architecture to history buffs and photographers. We have put together a course with the goal of finding the best photo spots while also getting that old historical feel. Finally, we'll introduce the best places to eat in Inuyama's famous castle town.
Did you know?
The Meiji Period was from 1868 to 1912. This was a period where Japan absorbed a lot of western culture, resulting in Western influence on clothing, buildings, religion, and other areas.
What to bring?
Selfie stick / camera (when using the stick inside the buildings, please be considerate of other visitors and be respectful of the buildings themselves).
Suitable shoes for walking (high heels not advised).
Some kind of protection from the sun (you'll be walking outside quite a bit) like a hat or parasol.
Clothes : retro clothes will fit in with the atmosphere at Meiji Mura (if you choose not to rent a kimono)
Any necessary makeup, accessories, etc.
Got everything? Let's go and take photos around Meiji Mura!
Get dressed up Meiji-style and take a tour around Meiji Mura!
The clothing store - turn yourself into a Meiji-era girl!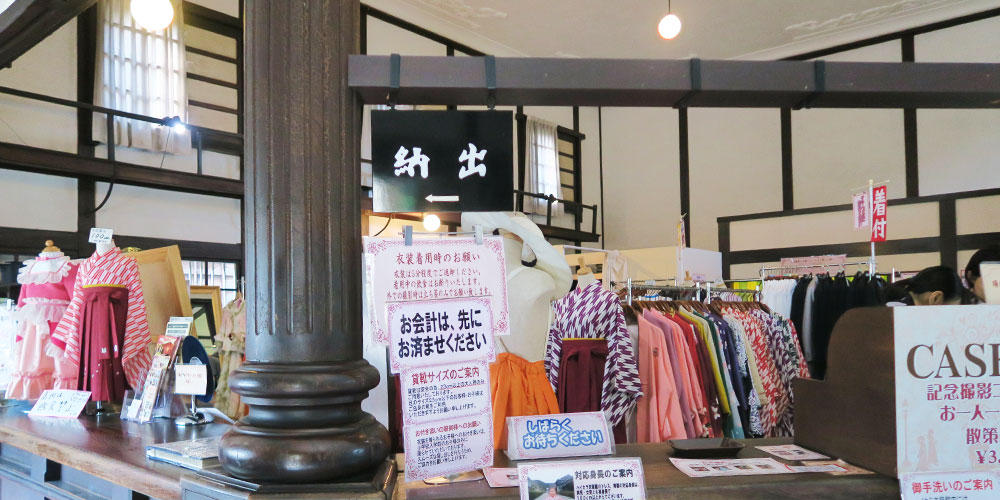 Once you get to Meiji Mura, head first to the stylish clothing store, where you can rent a change of clothes.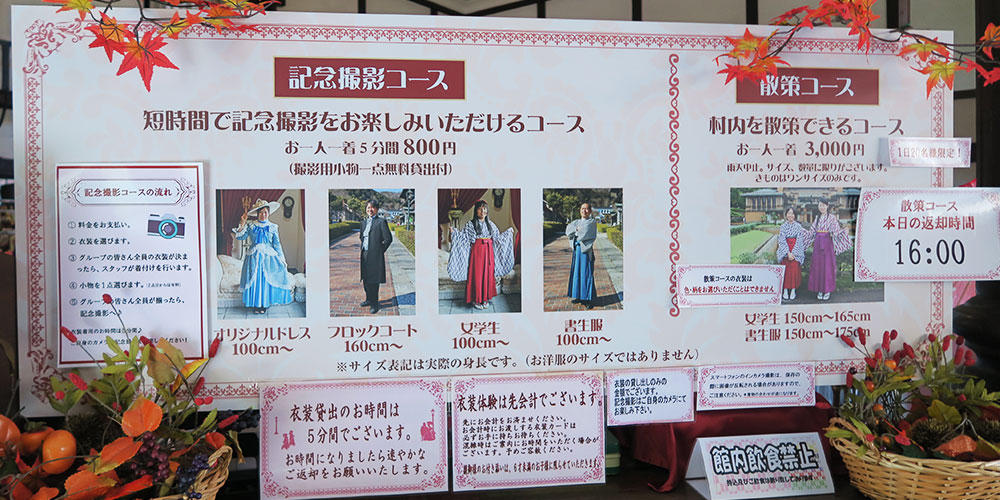 As the Meiji period was a time when Japan was soaking up western culture, we have both traditional Japanese kimonos and also western style dresses.
The western dresses, much as you might imagine, are classical in style and will make a real princess of you. However, the Japanese kimonos are a little different to regular kimonos.
This kimono (called "Yagasuri"), when worn with a hakama (divided skirt), forms the school uniform used by girls in the Meiji period. "Yagasuri" refers to a pattern based on feathered arrows. An arrow shot from a bow does not return, and it is said that when a bride in the Edo period wore such an item it would bring her good fortune in marriage (she would not "return" to her former home). The high waistband ensures that it is easy to walk in, and the large knot gives a delightful impression.
There are two rental methods. The first (known as the "souvenir photo" course) involves changing into the clothes and gives you five minutes to take pictures. This course costs ¥800. The second course (the "walking course"), available during Meiji Mura's opening hours, costs ¥3,500. Explanations are available in English and Chinese, so don't be shy!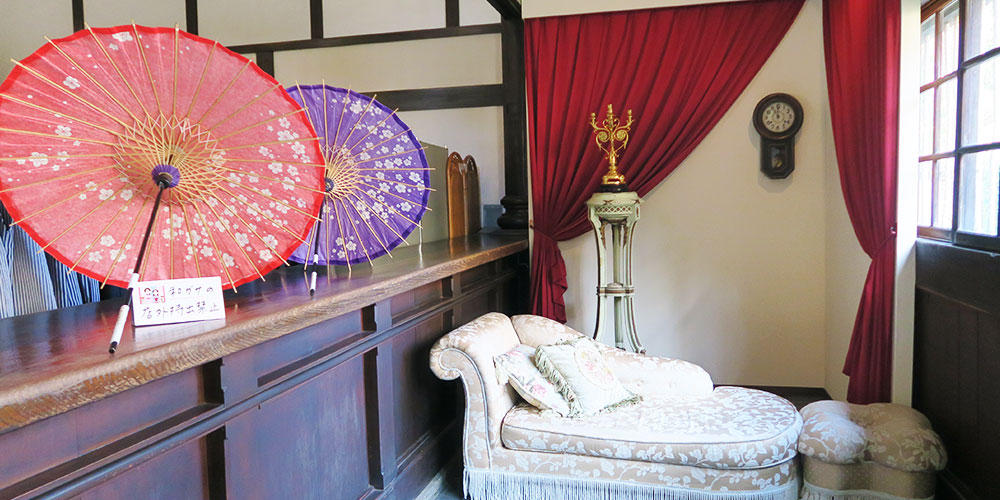 The "souvenir photo" course lets you choose between western and Japanese styles of dress, and from accessories like Japanese-style umbrellas and others. Once you have changed into your chosen costume, you can take photos outside. There is also a small space for photos inside which you are also welcome to use.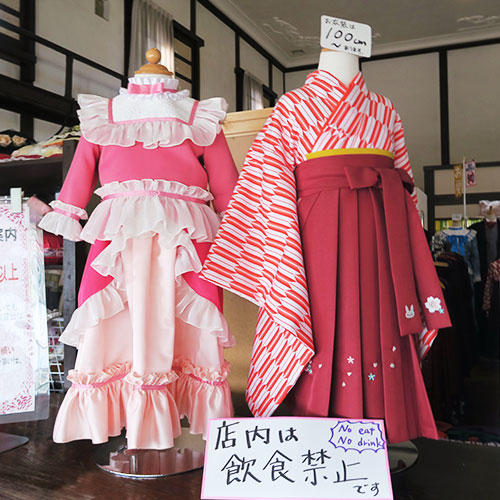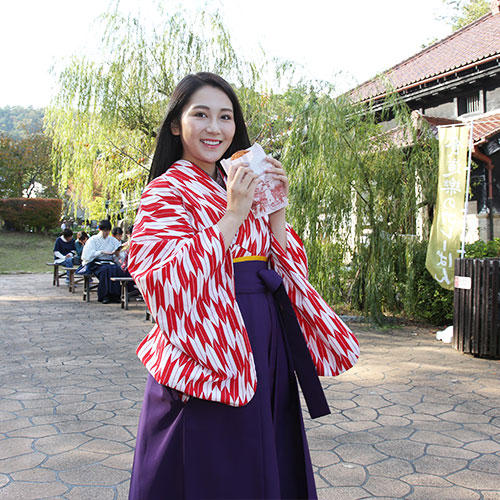 The "walking course" allows you to rent a costume for the day and take photographs freely anywhere you like. In addition, it comes with a cute bag.
Please be advised, though, that for this course only the "Yagasuri" kimono can be rented, and the rentals are limited to the first twenty applicants per day, so if you want to take the walking course, it would be good to get to Meiji Mura early.
There are not many tourist spots where such a schoolgirl's uniform can be rented. If you're going to make the effort to come to Meiji Mura, with its historical atmosphere and abundant photo spots, why not go for the walking course and spend the day walking around in a kimono?
Brick Road - entering Meiji Mura's downtown area.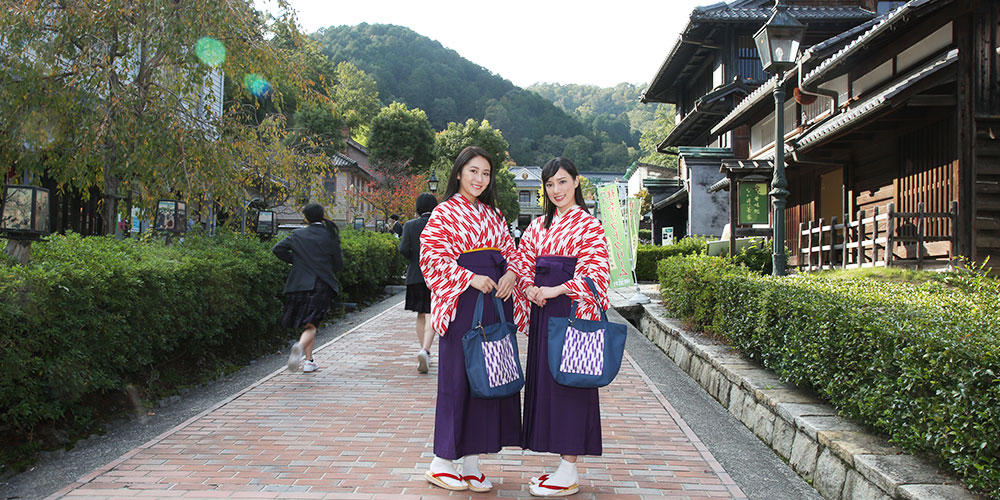 Now you're all dressed up, take the short walk from the clothing store to the brick road.
On the left and right of the brick road are old-style buildings. With this bustling atmosphere, this place could certainly be called the "Meiji Mura Ginza"! Even within Meiji Mura, this is surely the place which shows us the true essence of how things were in the Meiji period. The brick road has been used in many television dramas, including the NHK drama "Gochisosan"
Let's take a picture here and start on our "Meiji time trip". Look - isn't it just like a poster for a TV drama?
The lanterns along the road evoke the lifestyle of the Meiji period.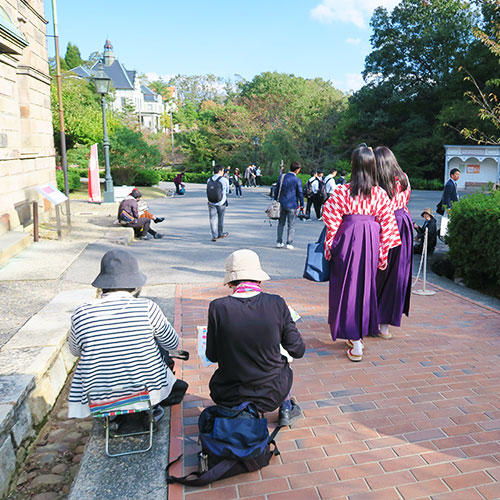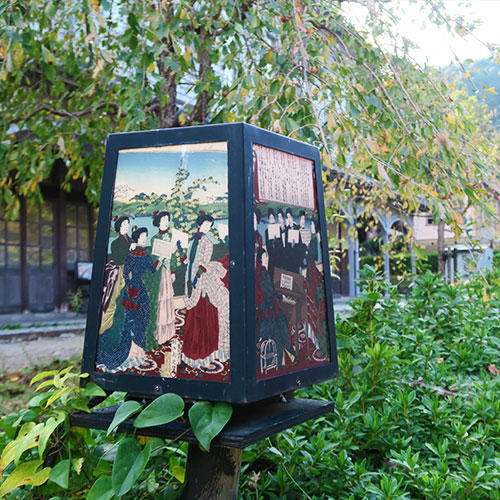 Shokudouraku curry bread - enjoy the taste of 120 years ago.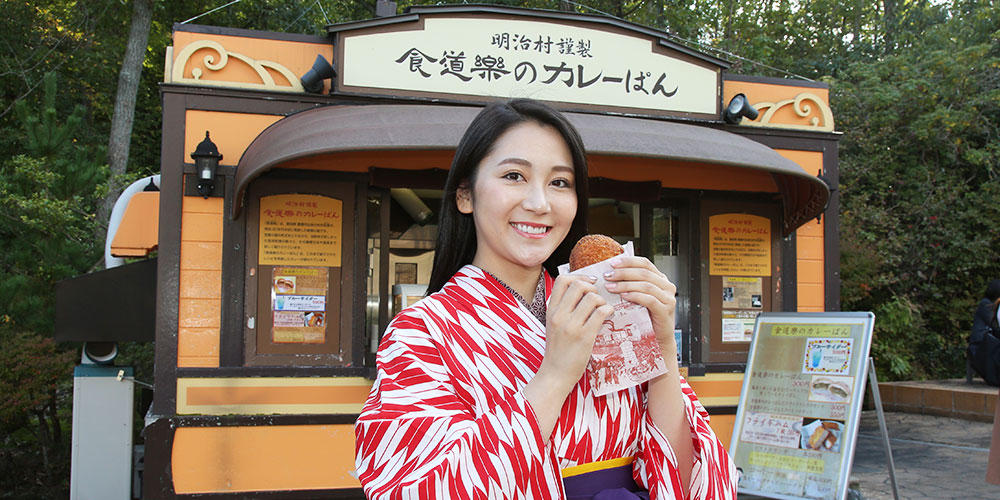 Next to the brick road is the "Shokudouraku curry bread shop". There is a story behind this curry bread. "Shokudouraku" is a novel from the Meiji period. At that time, western cuisine was still somewhat rare in Japan, yet this book had detailed descriptions of western food, how it was cooked, the utensils, and so on. The curry in "Meiji Mura's curry bread" is a rearrangement of the recipe from the novel, so you can enjoy the taste of the past!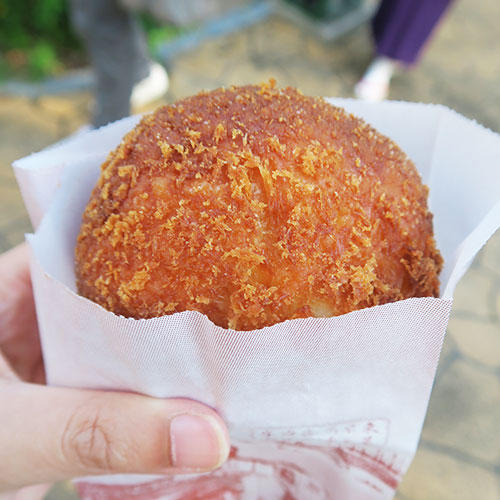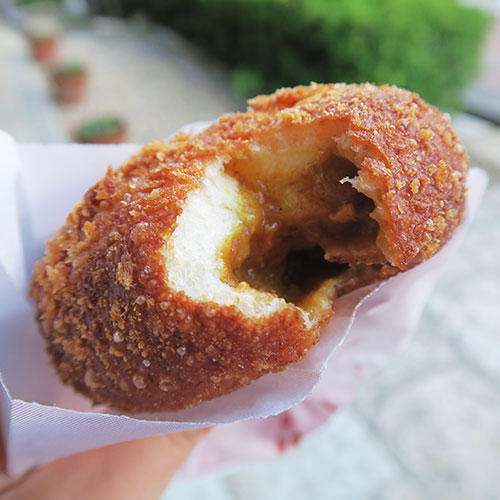 The outside of the bread is crisp and crunchy, and inside is sweet curry. It's different to how curry is made in Japan these days, but it's still delicious!
Nakai tearoom - enjoy matcha dessert in a brewery.
Still in our costume, let's head next door to the Nakai teahouse for some Japanese style sweets.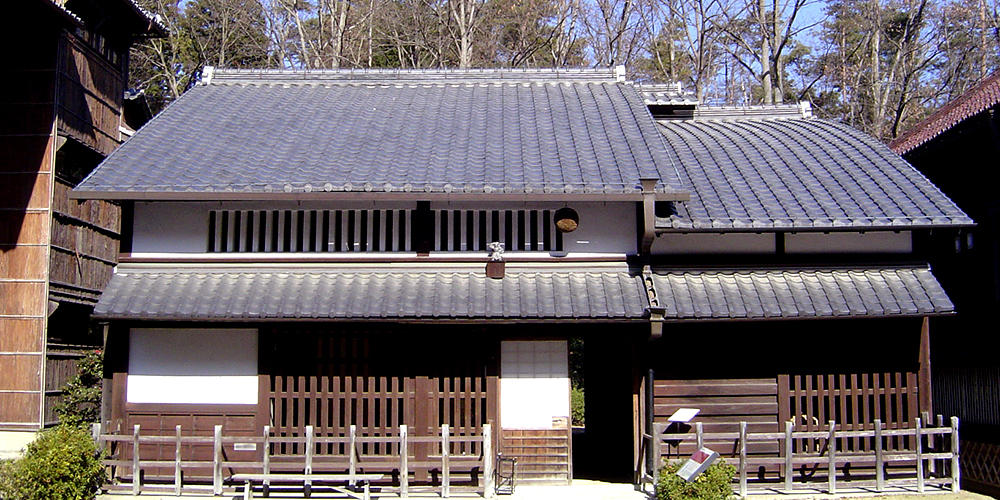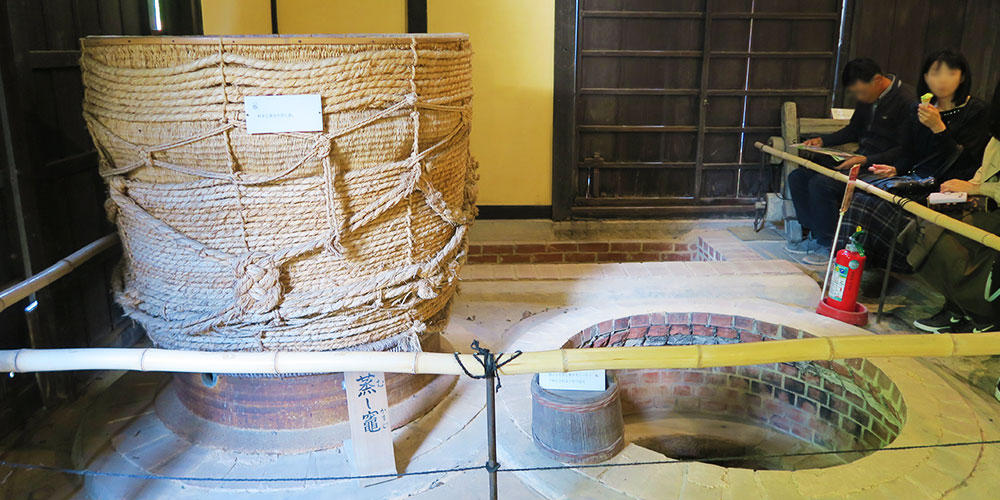 The teahouse was originally a brewery, erected in Kyoto around 1870 before being dismantled, moved to Meiji Mura, and reconstructed. Inside is an area for storing and washing rice, fermentation, etc.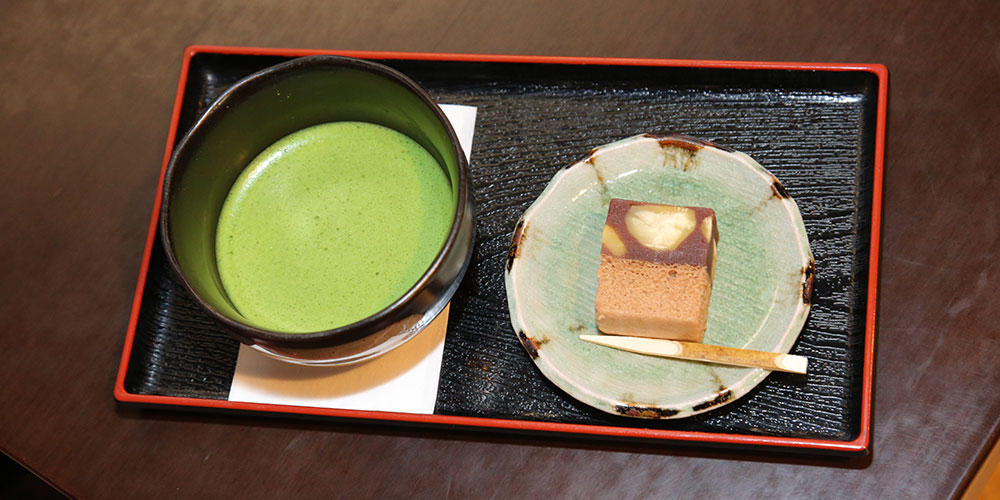 Available here are the "matcha set", matcha ice cream, Japanese sake, and more. Enjoy a traditional dessert in this historical spot while soaking up the Meiji-period atmosphere.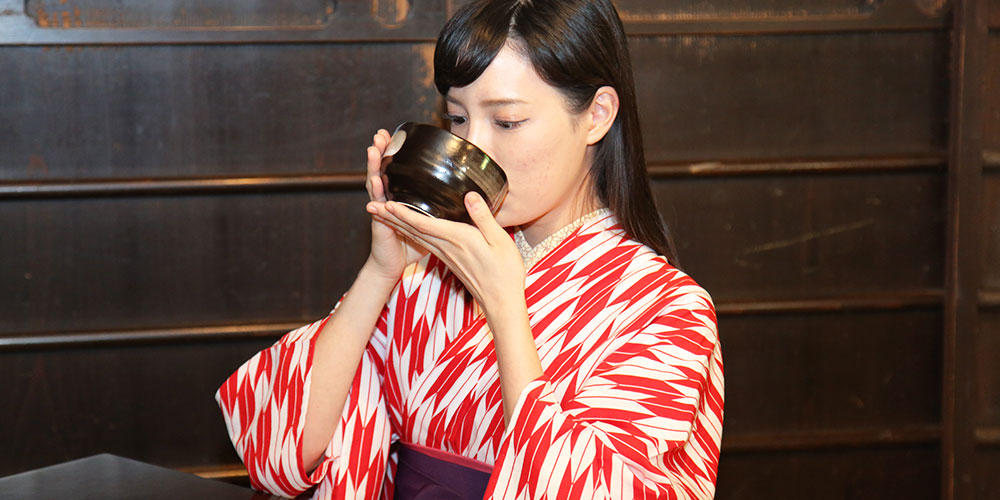 If you want to try drinking matcha the traditional way, see below for one way of doing so.
1) Before drinking the matcha, eat the dessert (Japanese sweet).
2) Pick up the teacup with your right hand and place it directly in front of you.
3) With your left hand, rotate the teacup 90 degrees clockwise.
4) Drink the tea in three or four sips. Finish the drink with a slurping sound to announce that you're finished.
5) When you have finished, wipe the rim of the teacup with your finger.
6) Closely inspect and appreciate the teacup.
7) Rotate the teacup anticlockwise by 90 degrees and put it back.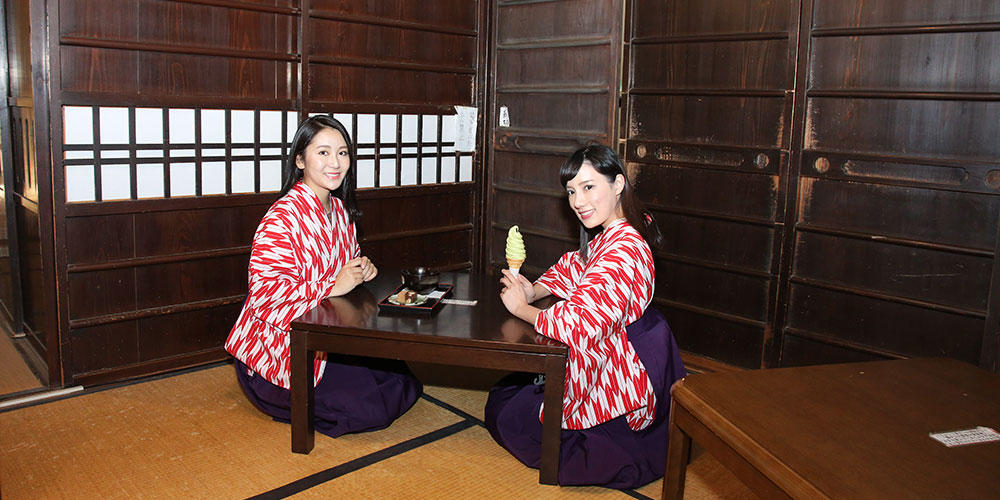 The essence of good manners involves showing respect to the tea master who serves you. Drink the matcha with elegance, taking care not to do anything to offend your fellow drinkers. Maybe you will be able to understand the Japanese "spirit of harmony".
Marquis Tsugumichi Saigo House - the white house where the elite gathered.
Next, head over to icchome and the Marquis Tsugumichi Saigo House, an important cultural property.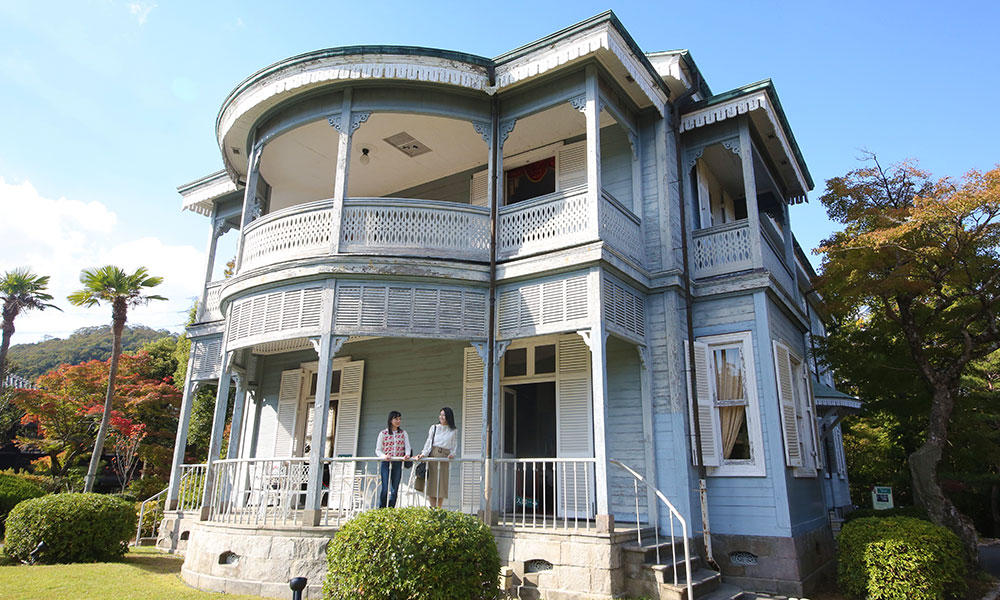 This house belonged to Tsugimichi Saigo, the brother of the hero of the Meiji Restoration, Takamori Saigo. It was designed as a western style house where important officials could meet. The western room was said to have been designed in around 1880 by a French architect and the stairs, along with the handrails, door fittings, etc, are believed to be imported goods, brought in from France. giving you a sense of the atmosphere of the time.
There are explanations given at regular periods. Reservations are not needed. People with an interest in history are welcome to take part.
For people who are into photography, the most important thing is getting a great shot here!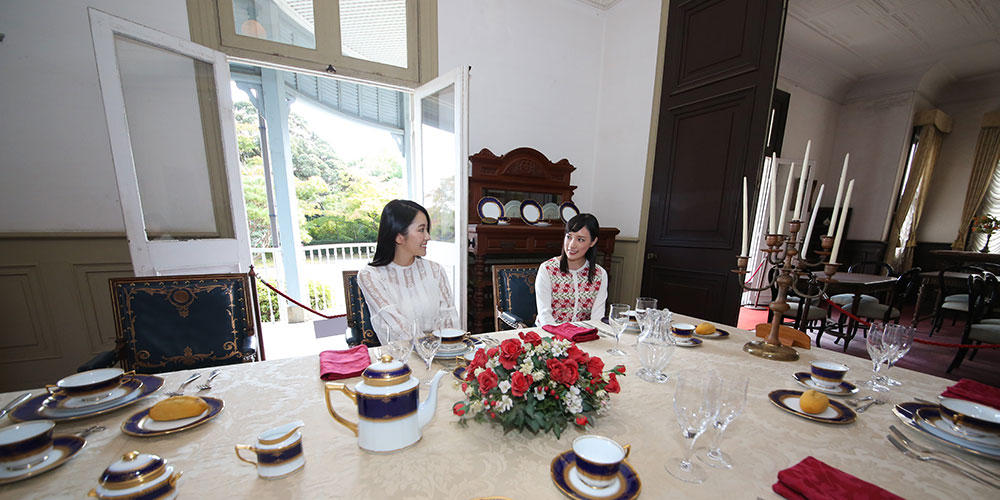 As for photo spots, we recommend the dining area and the balcony. In the dining area, you can sit on Meiji-era chairs used in palaces and get a sense of what a dinner party was like back then. The veranda gets good natural light, giving you a chance for a great picture.
Experience the Meiji period transportation system!
Meiji Mura covers a wide area and features three kinds of transport within the facility: bus, train and steam train. If you buy a one-day ticket (¥1,300) you can enjoy unlimited use of all three.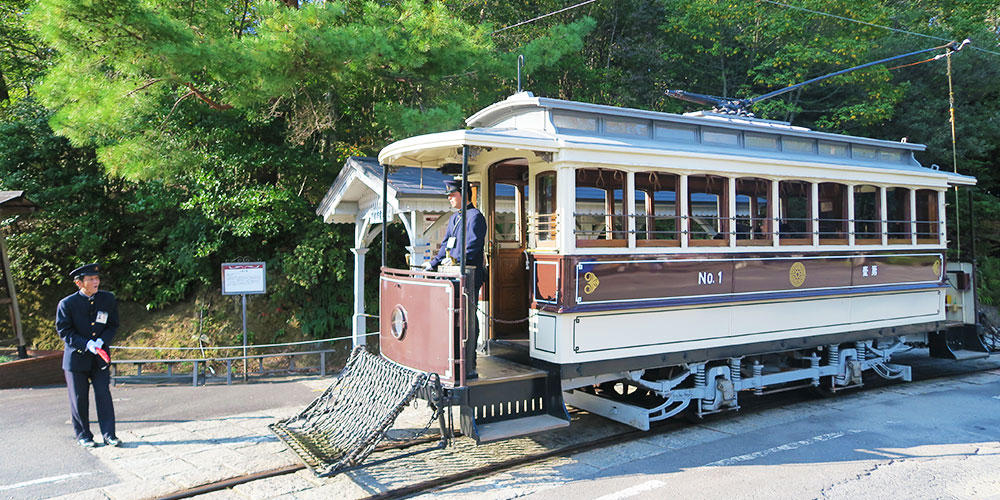 Let's hop onto the train and go to the next area. With your retro clothing, traveling on this old-style train is going to be great fun!
In spring you can enjoy the sight of the cherry blossoms, and in autum, the changing colour of the leaves. Depending on the season, Meiji Mura will present you with a different scene.
St Francis Xavier's cathedral - a cathedral with magical stained glass
Entering this gothic cathedral, you're definitely going to want to take pictures!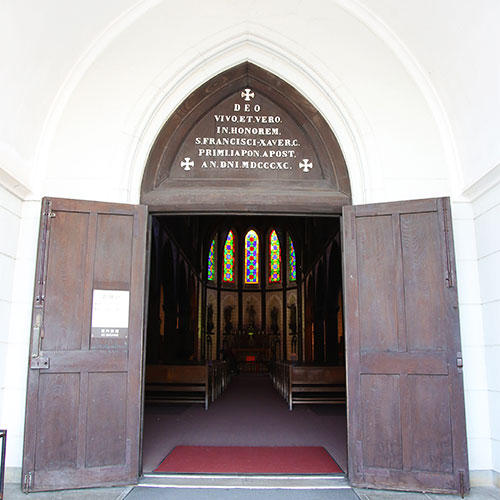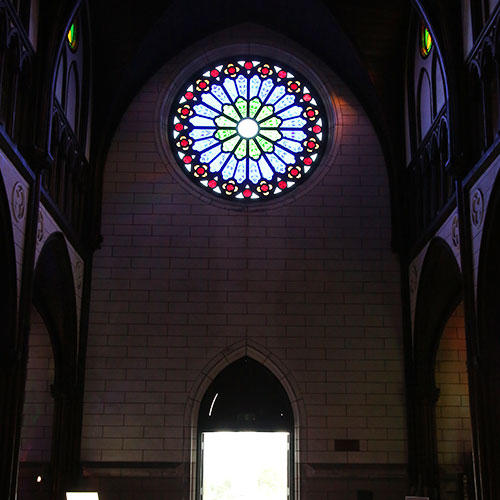 In the Meiji period, Christianity had only just been introduced to Japan (after which it increased in popularity). This makes St Francis Xavier's cathedral a particularly unusual building. It was constructed in 1890 under the supervision of a French Catholic priest. Dismantling and moving it to Meiji Mura for reconstruction was a considerable task.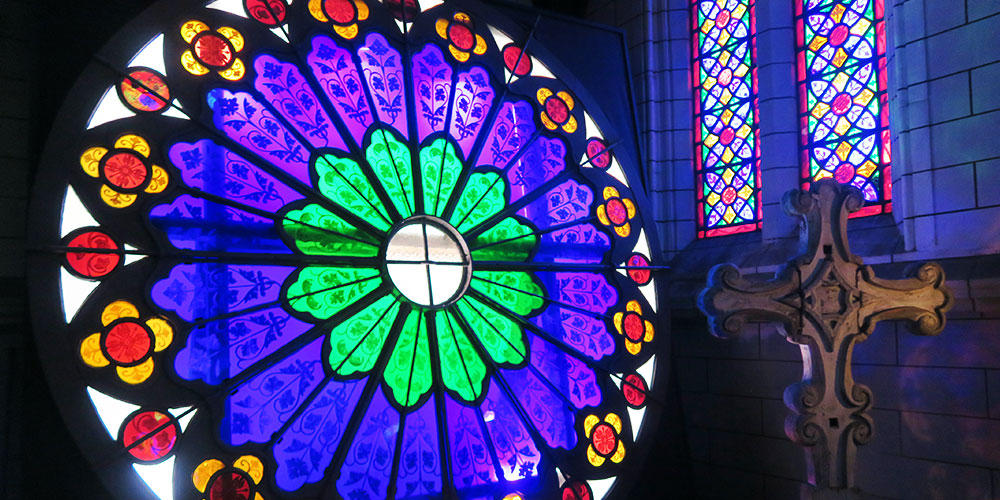 The defining characteristic of this building is the stained glass windows. Flower designs are painted on the stained glass, and then a sheet of completely transparent glass is added to protect it.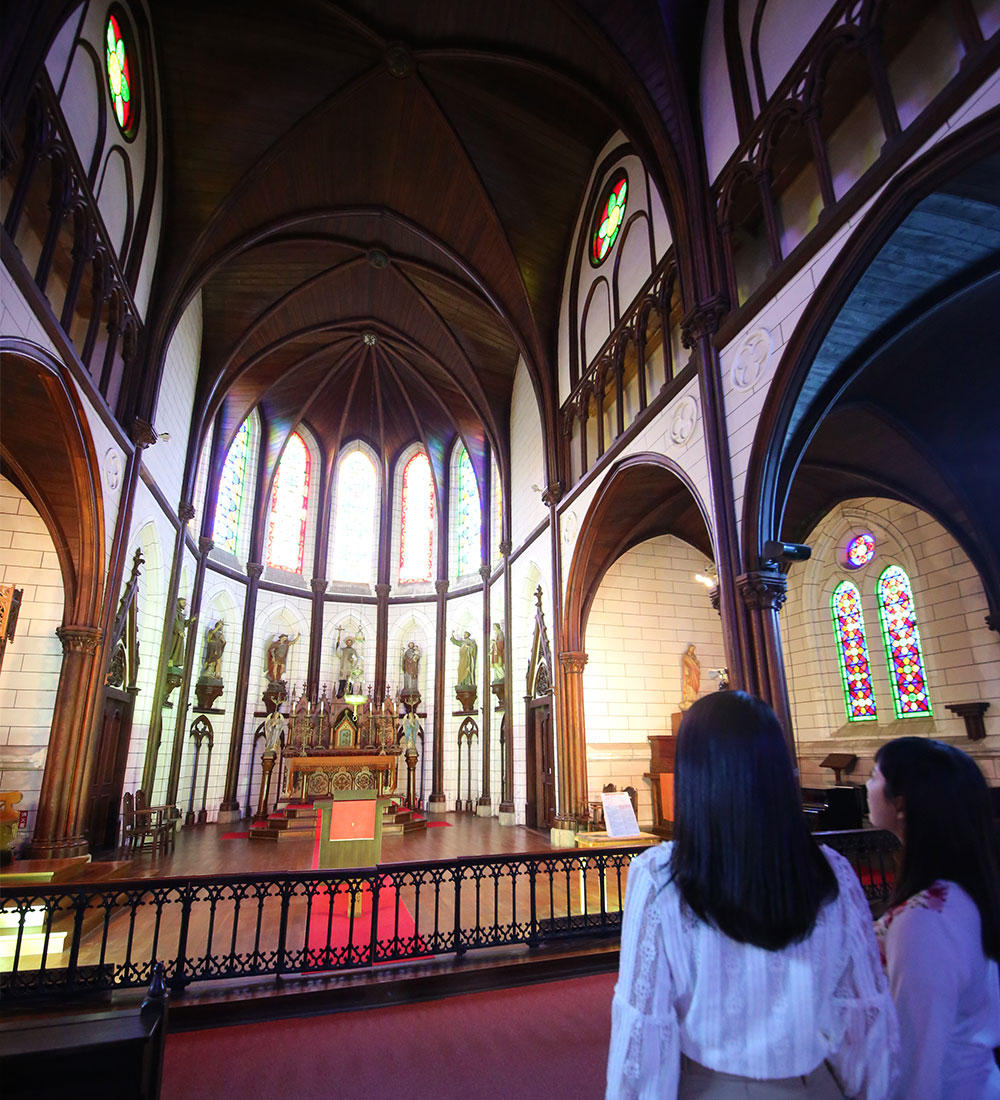 We recommend standing in front of the main stained glass window and photographing the magnificent interior. One thing to be aware of is that the inside of the cathedral is dark, so your camera's shutter speed might be low, and you will need to take measures to prevent a blurry picture.
Kureha-za Theater - experience the theater of the Meiji-era folk.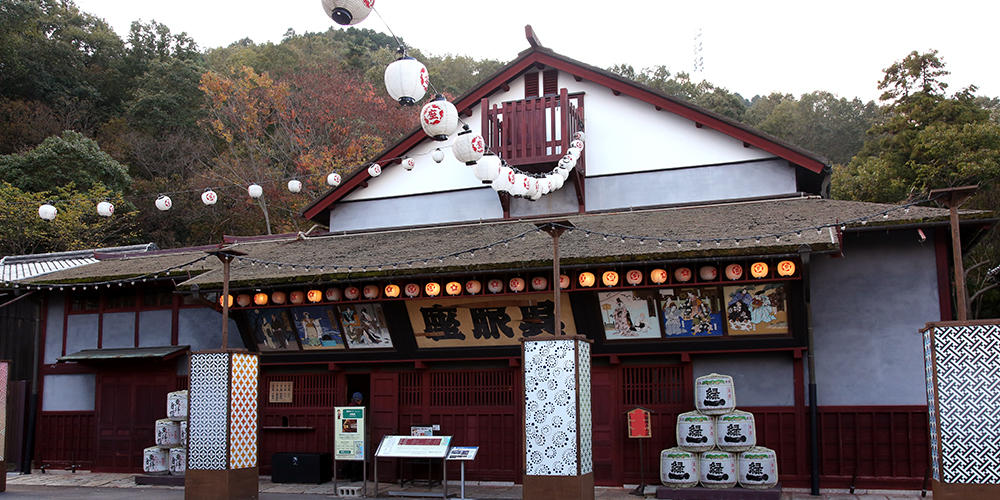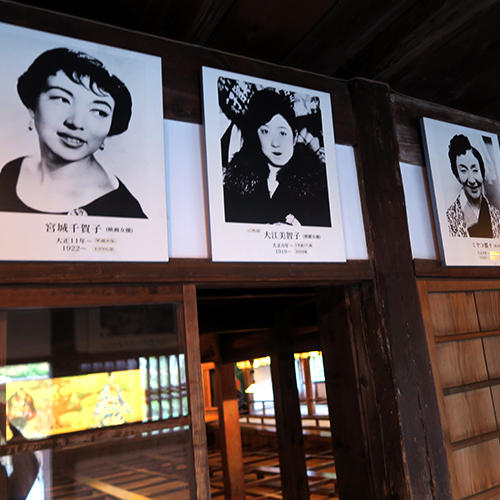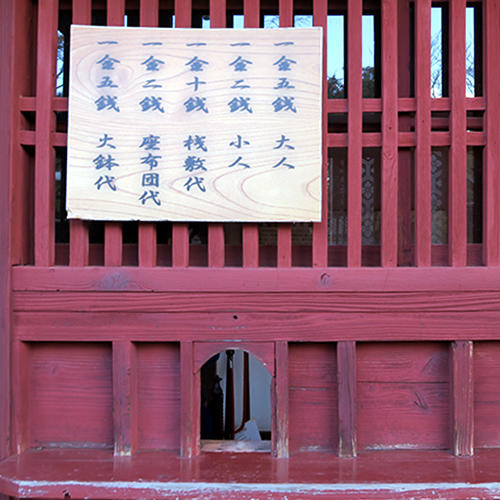 The Kureha-za Theater is an Important Cultural Asset. As a theater, it served as entertainment for the people, as well as being a place for socialising. As well as hosting performances of kabuki and manzai (two-person comedy), it also broadcast political material.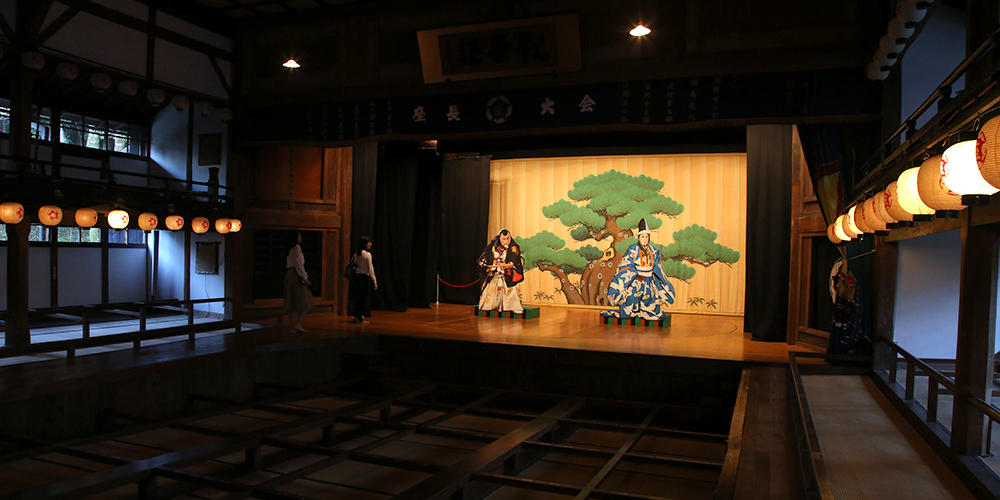 This two-storey wooden building contains many contraptions used in the peformances. For example, a stage for kabuki which could be rotated by hand, a hidden basement under the stage, etc. These give you a window into over one hundred years of theater architecture.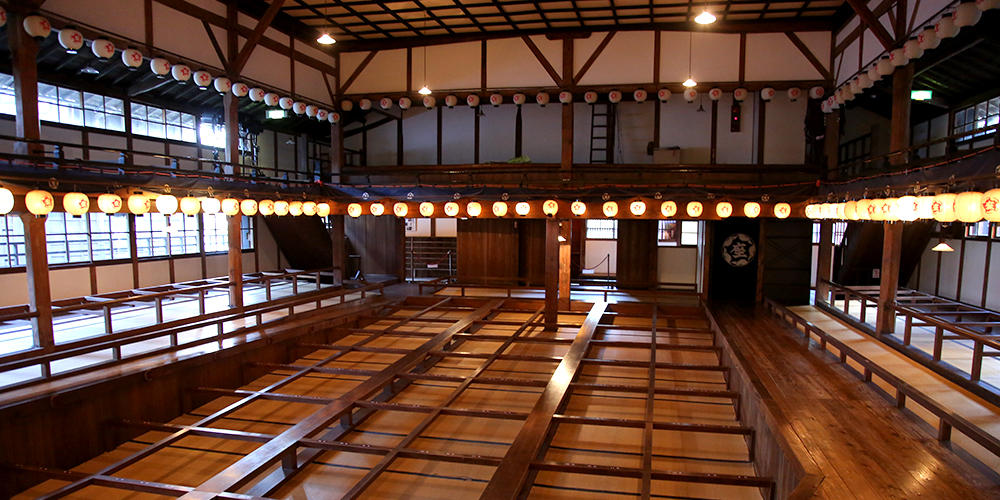 The customers' seats were partitioned by pieces of wood, and at a glance it might not be obvious where one should sit, but look closely and you will see numbers identifying the seat, just like in today's movie theaters.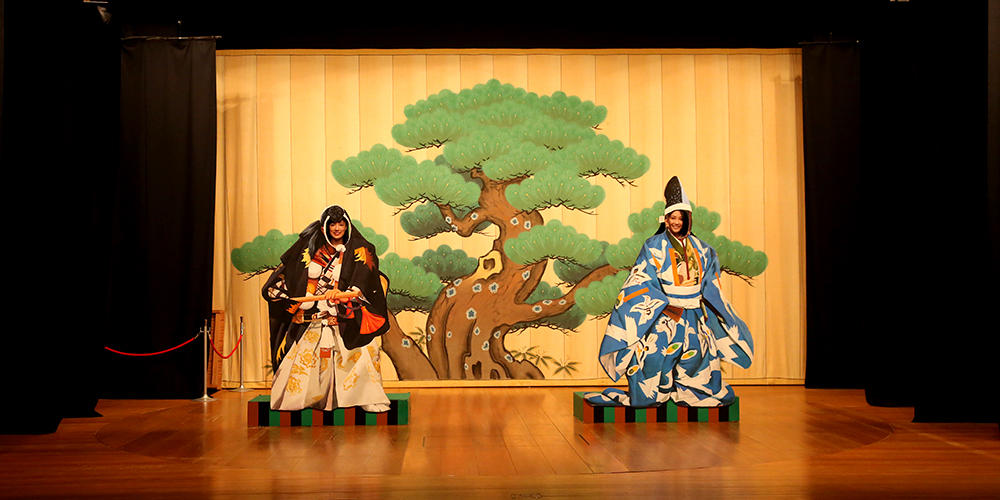 You could take a picture in the center of the theater, which is decorated with lanterns, or get on the stage, grab some props, and transform yourself into a Meiji-era star!
Please note that it is only possible to enter this building when the free guided tour (Japanese only) takes place.
SL Tokyo Station Kiosk - get some original limited goods!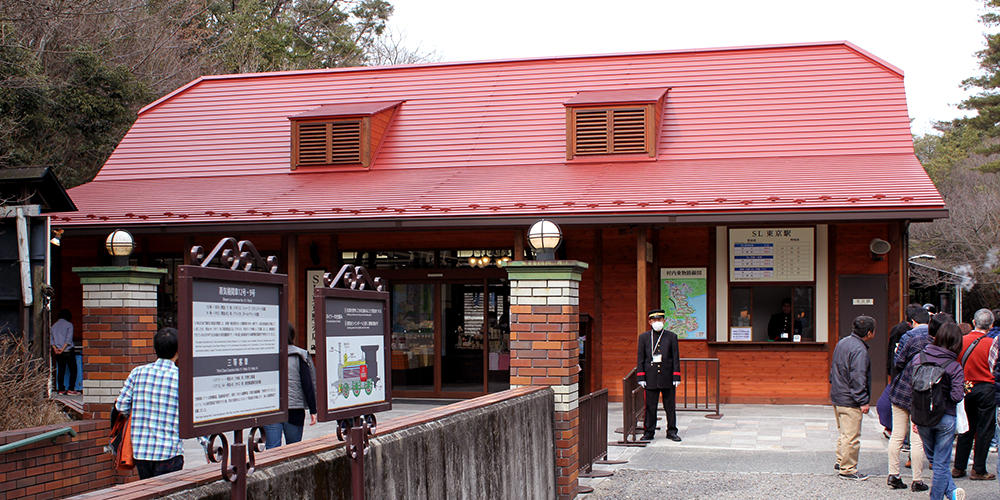 When you've finished, drop by the souvenir store. Meiji Mura's original limited goods make great souvenirs!
The oldest steam train in Japan.
Next, jump on the steam train heading for "Tokyo Station" and let's go to the next spot.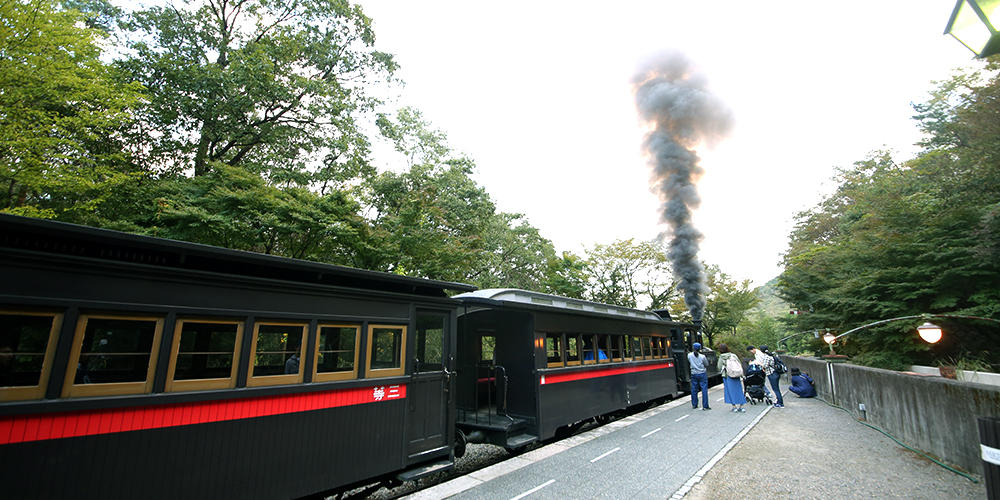 The steam train at Meiji Mura, built in 1874, is the oldest remaining example of its kind in Japan. The train moves by heating water with coal, leading to steam, which in turn powers the engine and moves the train.
The interesting thing about it is that a change of direction uses human strength!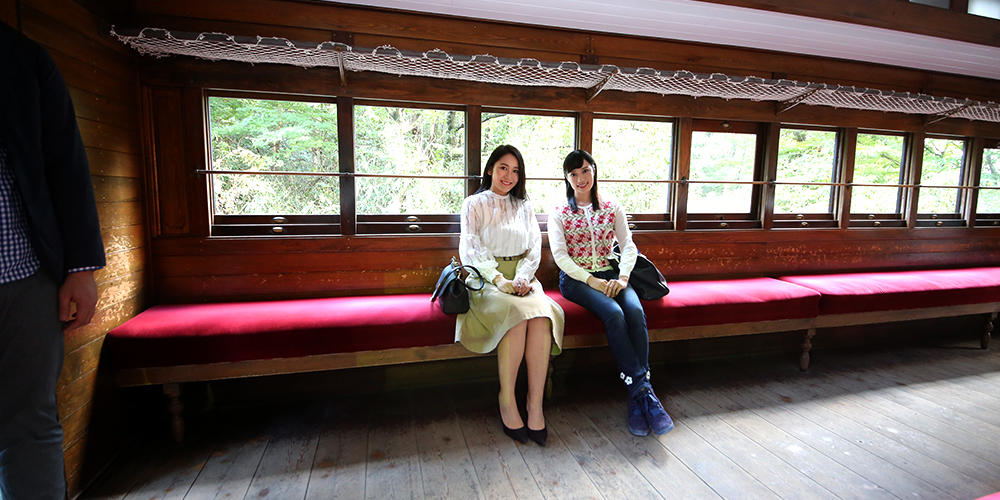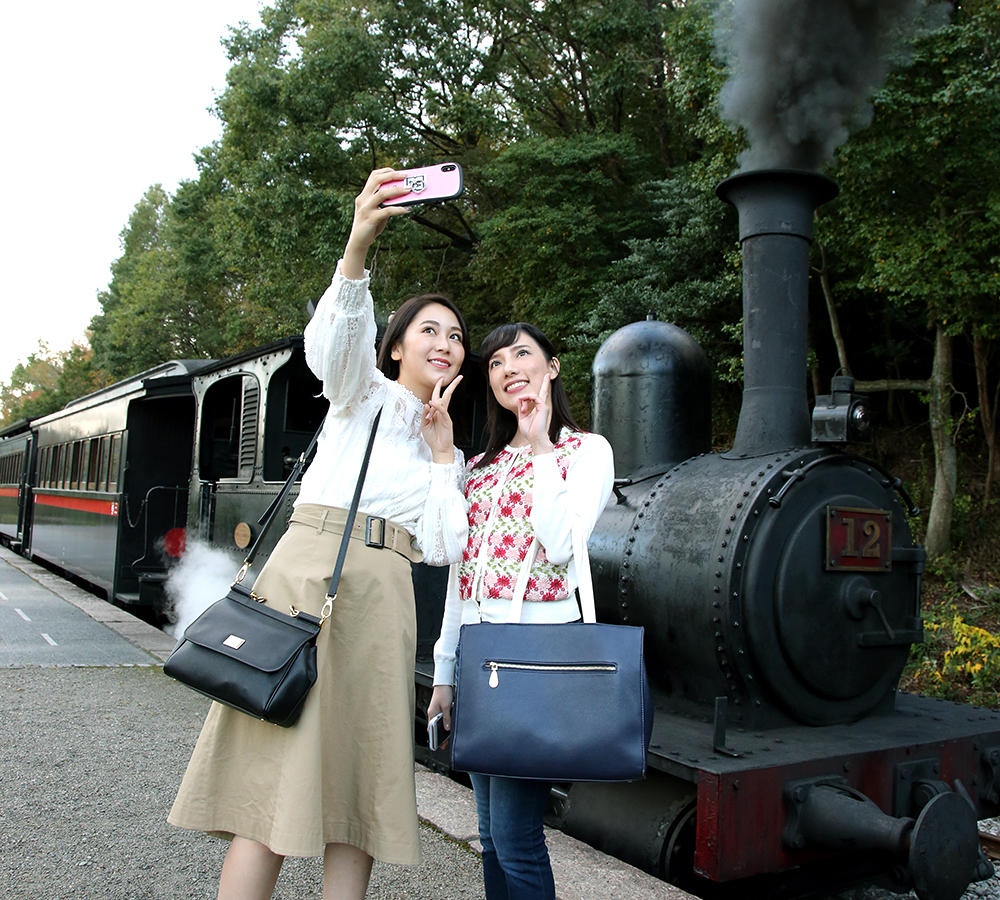 Quick, get a picture while the steam billows out! Maybe you can get a picture like the "farewell scene" in a drama!
"Raku" for miscellaneous Japanese-style goods - find yourself something cute!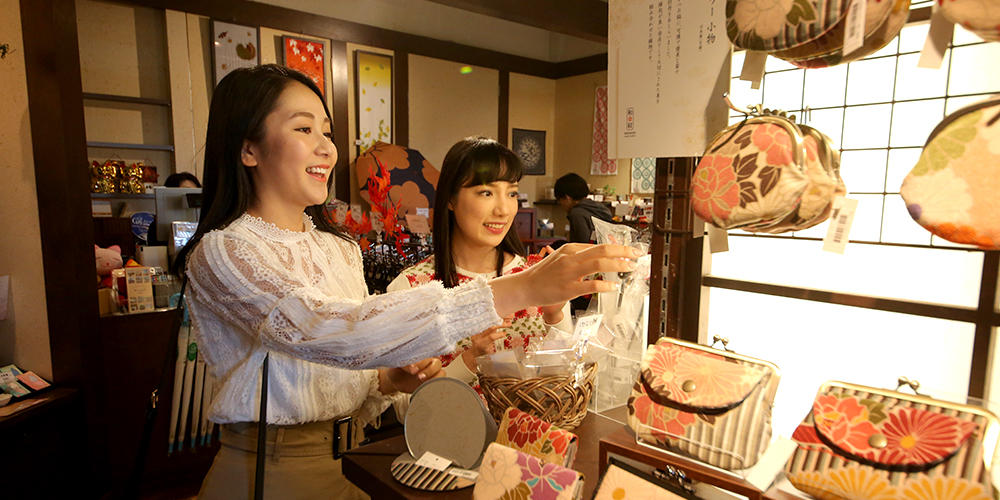 "Raku" mainly sells Japanese-style miscellaneous goods. Their lineup mixes traditional and modern ideas and is very popular with ladies.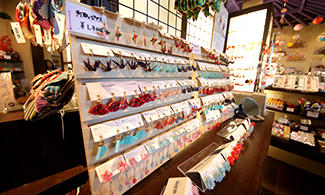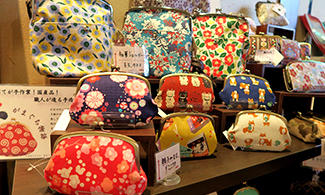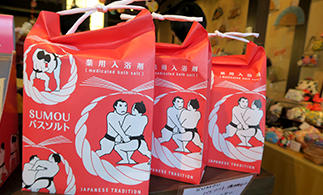 Examples of their products : folding crane earrings, small, Japanese-style purses, handkerchiefs and other such delicate products, as well as fun things like sumo bath powder, and hand towels featuring diet advice.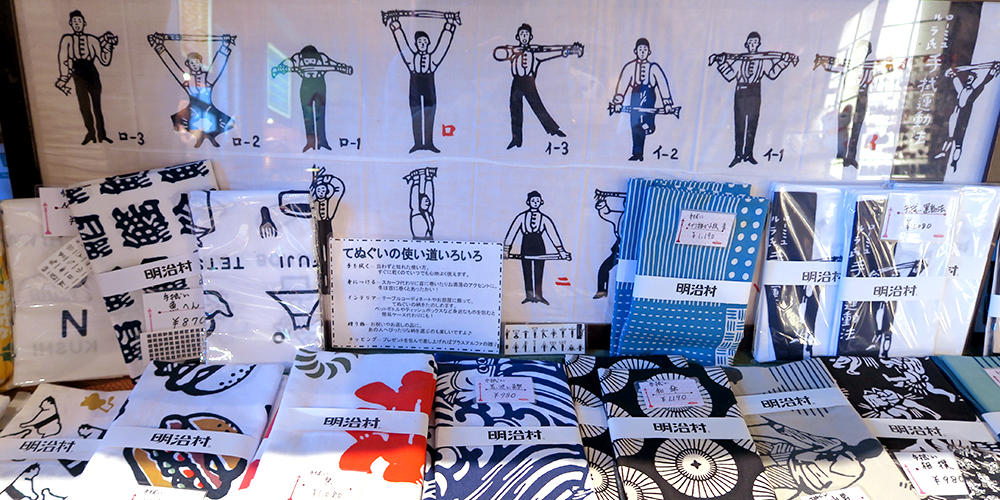 By the way, there are various ways to use Japanese hand towels. Naturally you can wipe your hands with them, but you can also wear them around your neck like a scarf, decorate your house with them, wrap presents in them, or give them AS a present.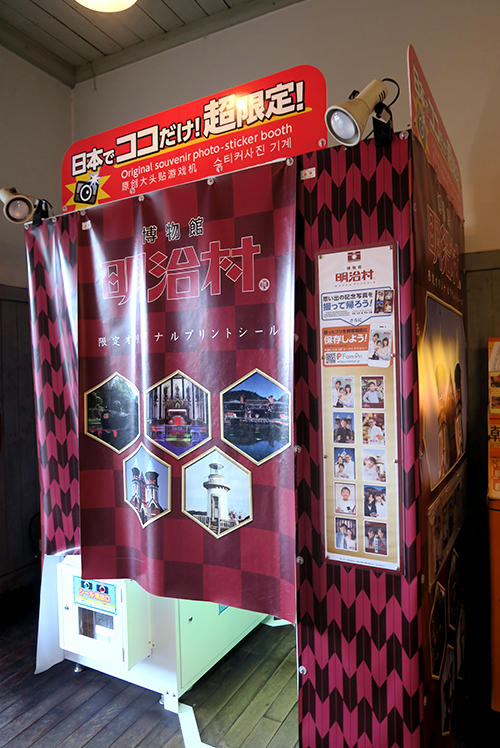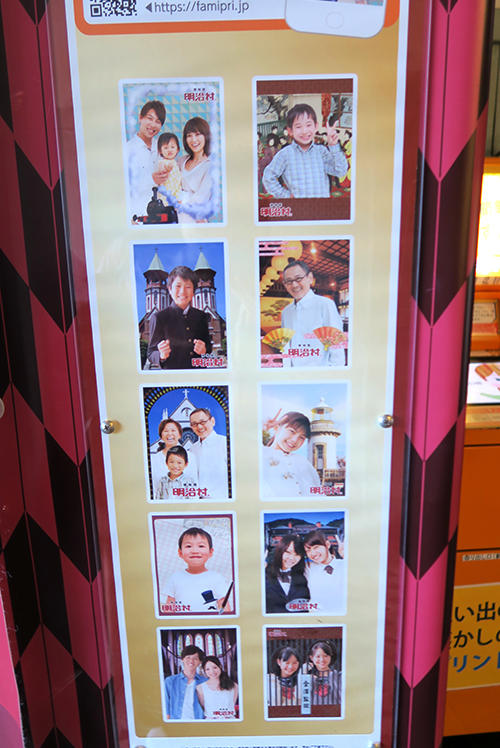 Next to "Raku" is Meiji Mura's own special Purikura booth, so why not give it a try?
Nagoya-an : Shop specializing in Nagoya cuisine.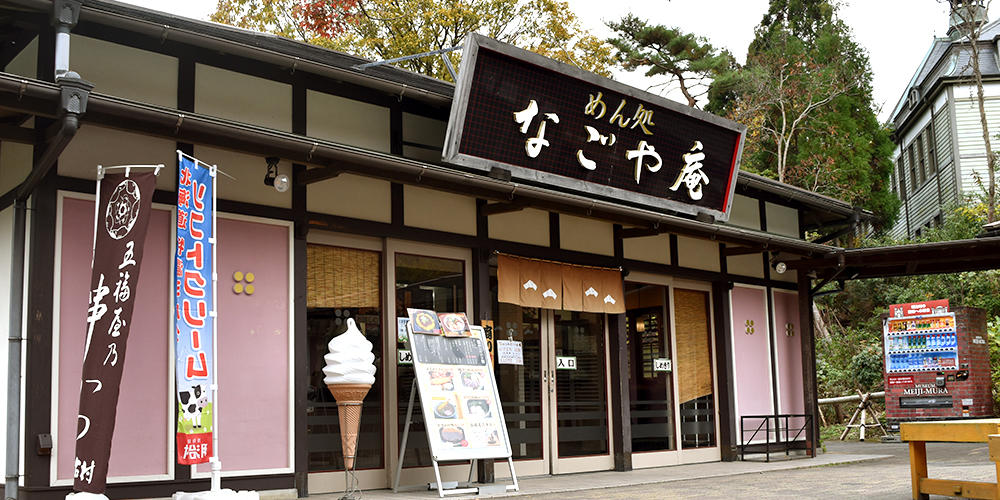 "Nagoya-an is a restaurant specializing in Nagoya's cuisine. Udon, miso-katsu, tebasaki (chicken wings), etc - all the Nagoya favourites are here, but we recommend the kishimen (broad, flat noodles) in particular!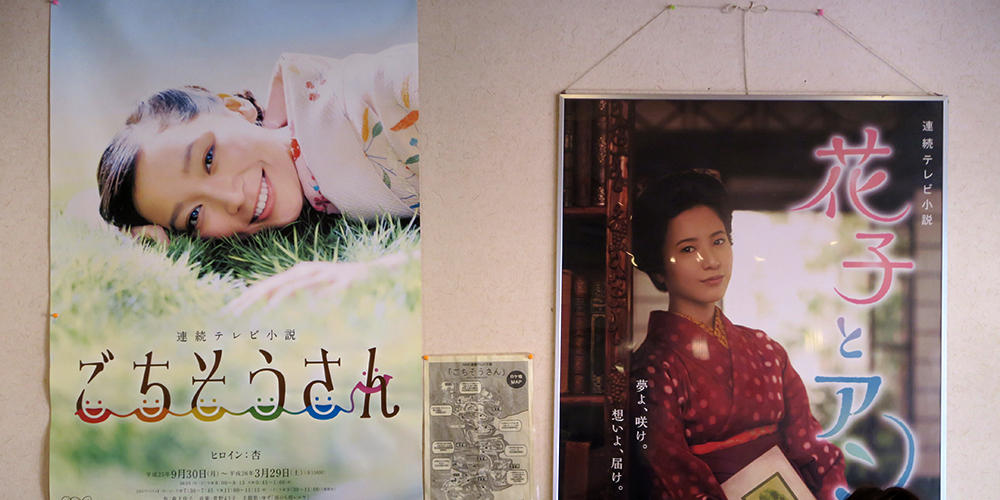 In the restaurant there is a poster of the television drama ""Hanako to an"". So a ""movie pilgrimage"" is also an option!"
Down to the castle town for something to eat.
Near Meiji Mura, in Inuyama's castle town, there are many shops selling snacks and sweets, which are popular with ladies. We will introduce two of these shops.
World Cuisine Passport: Caprese skewer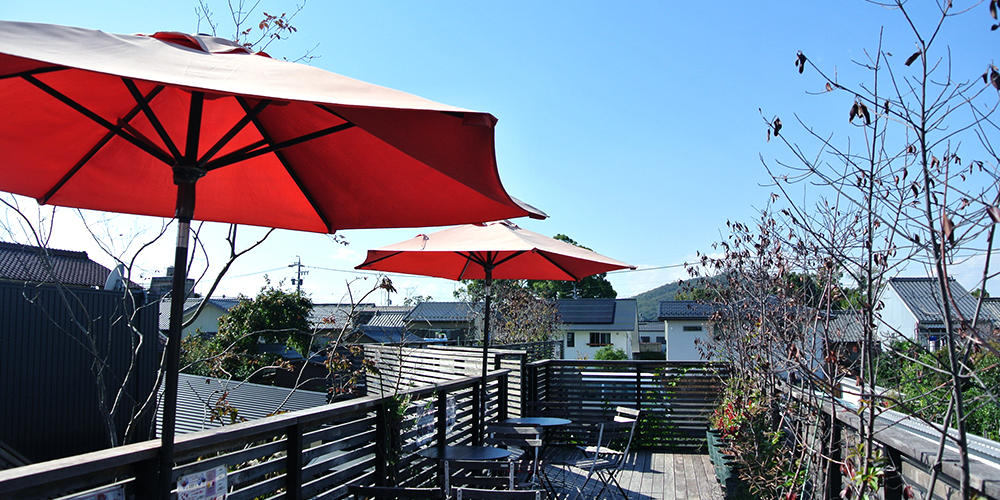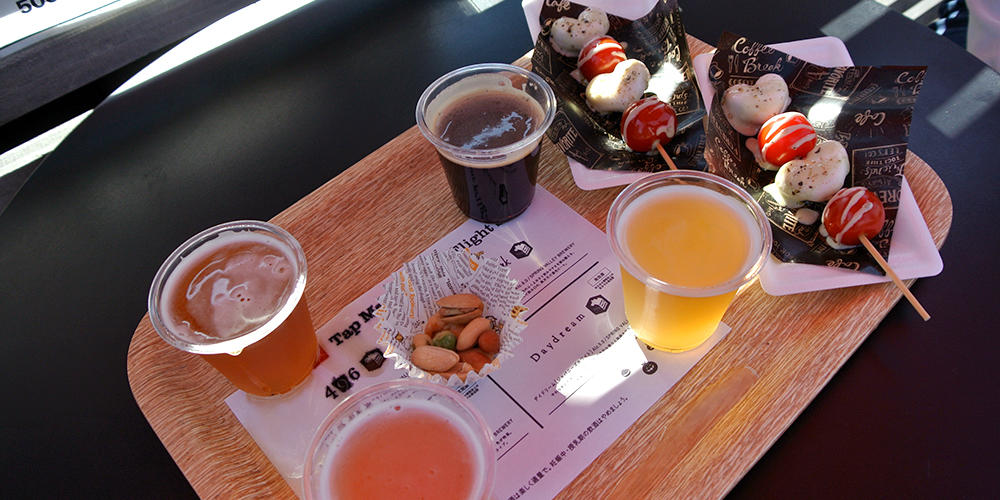 This shop, located in "Mori no marché" in Inuyama's castle town, provides "stateless takeout food". Our recommendation is the super-cute Caprese skewer. The red is mini tomato, and the white is mozarella cheese which has been made into a heart shape. It tastes as good as it looks, and goes particularly well with wine or beer. In particular, we suggest the colourful sampling set of four craft beers featuring citrus, Japanese pepper, raspberry juice, etc. Looking down on the castle town from the atmospheric terrace is a great way to take a break.
Hyoukaroujin : Tsuzumimochi and fried Japanese mugwort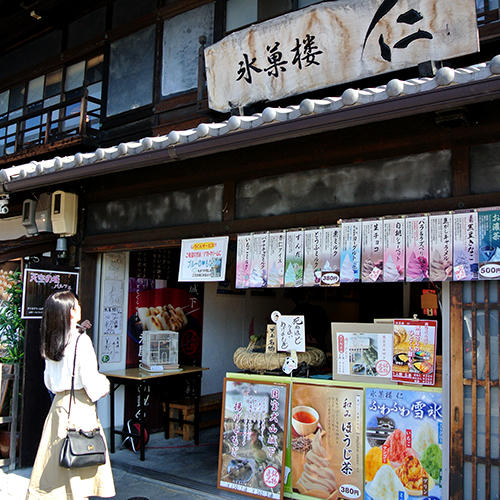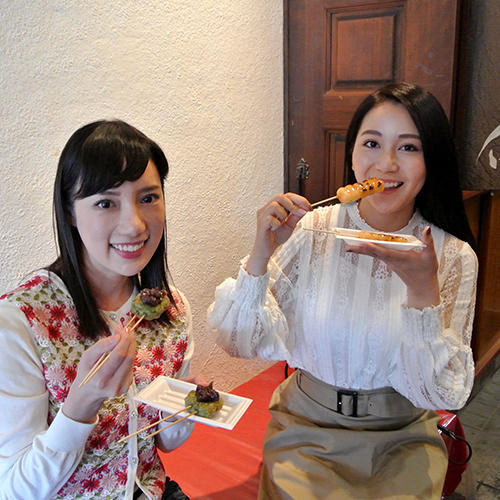 For people who feel like trying some Japanese sweets while strolling around, we suggest the tsuzumimochi and Japanese mugwort. Tsuzumimochi is a skewered confectionery in the shape of a traditional Japanese percussion instrument (from where it gets the name "Tsuzumi") is made from soft mochi and has four types of sauce to choose from : shoyu, mitarashi (a syrup made from soy sauce and sugar), capsicum and curry. It is priced reasonably at ¥90 per skewer, as well as being perfectly bite-sized and having that melt-in-your-mouth feeling.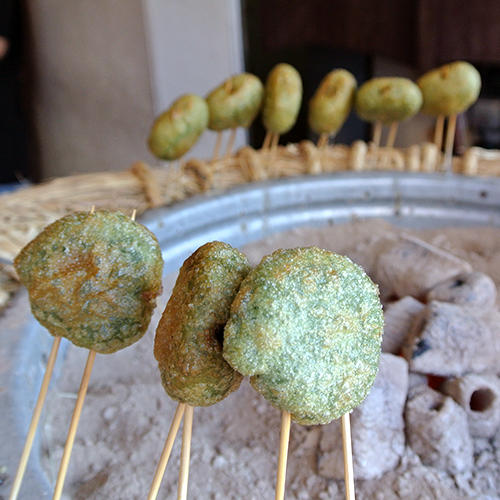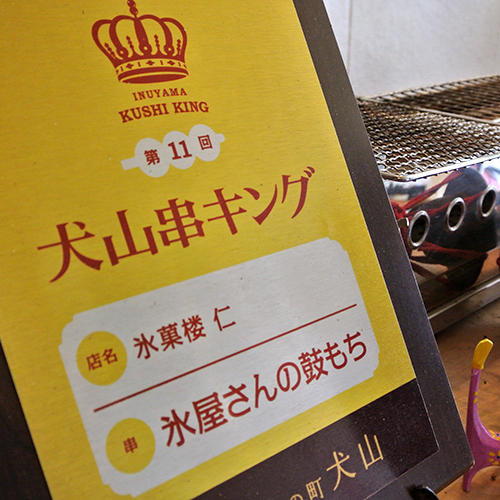 A new product with its catchphrase "Just-right mugwort", grilled over a charcoal fire and covered with tsubuan (a form of sweet bean paste) from Hokkaido. Recommended to people who want to try the "King of Japanese sweets".
In conclusion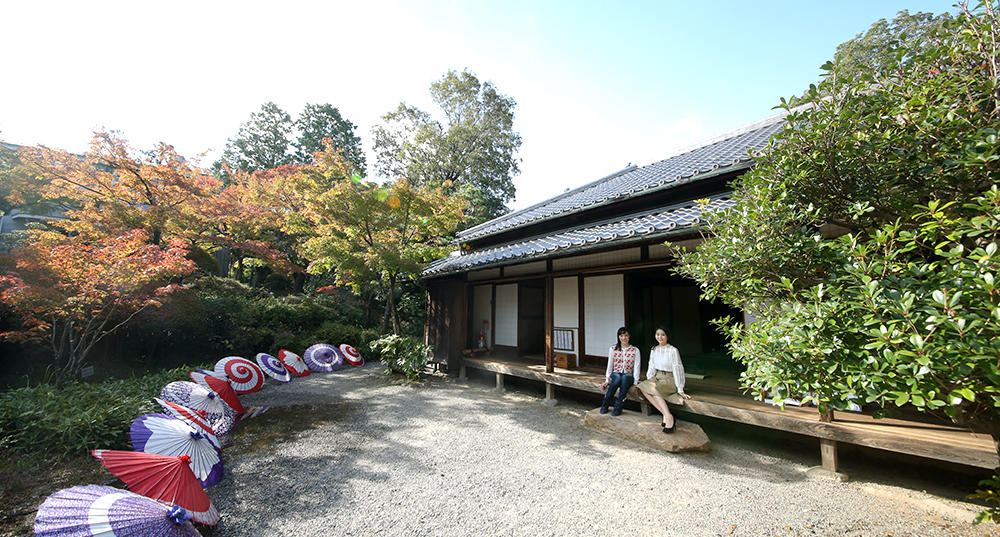 "Meiji Mura has a charm which encourages you to take your time enjoying it. Whether your interests lie in photography, history, drawing, architecture, or dramas, anyone can find their own way to enjoy Meiji Mura. What we have shown you today is the ""beautiful photo course"". If there are other things which take your fancy, check out the articles on Centrip Japan and find your own ""Meiji Mura moments""!"
Sponsored by THE MUSEUM MEIJI-MURA