What is Meiji Mura?
Meiji Mura is an open-air museum in Inuyama, Aichi that lets visitors experience what it was like to live during the Meiji Period. It's one of the largest theme parks in Japan—measuring 1 million square meters. It's home to 67 Meiji-era buildings that were deconstructed, moved to Inuyama, and then reconstructed on-site. on-site.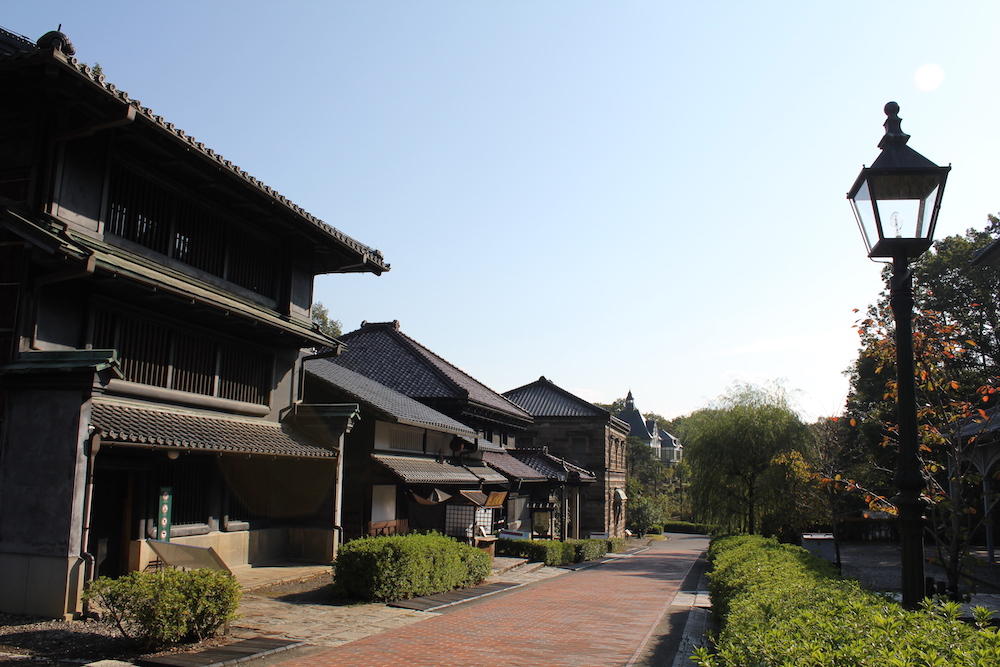 What was the Meiji Period?
The Meiji Period lasted from 1868 to 1912. This was a time when Japan began opening its doors to the world and first started to accept the Western culture. Beginning with technology, philosophy, and culture—all the way up to food and daily lifestyle changes—Japan was taking on Western ways of life and the people took to them in great numbers. It was during this period that the term "East-West Compromise" showed up. The Meiji Period was the beginning of a more open civilization—a modernizing of Japan.
Meiji Mura's All-Original Collection
The beauty of Meiji Mura is that instead of being home to a great collection of replicas, it's home to an amazing collection of actual buildings of the era. These buildings are even open to visitors as well. 11 of the park's buildings are recognized as national treasures. At Meiji Mura, you can not just see the priceless cultural artifacts—you can experience the culture!
The Architecture of Meiji Mura
Toumatsu Home (Important Cultural Property—1901)
This was a center of business in Nagoya, which was one of Japan's three largest cities during the Meiji Period. The Toumatsu House was constructed using the traditional method, which requires burning the walls of a building, to prevent the possibility of future fires. The house was rebuilt three separate times—at the end of the Edo Period, Meiji 28, and Meiji 34. The building is constructed in such a way that the front is narrow and the rear is wide and deep. Front walls that extended straight up to the third floor did not exist in Japan before the Meiji Period and it can be said that in business and architecture, this building led the way.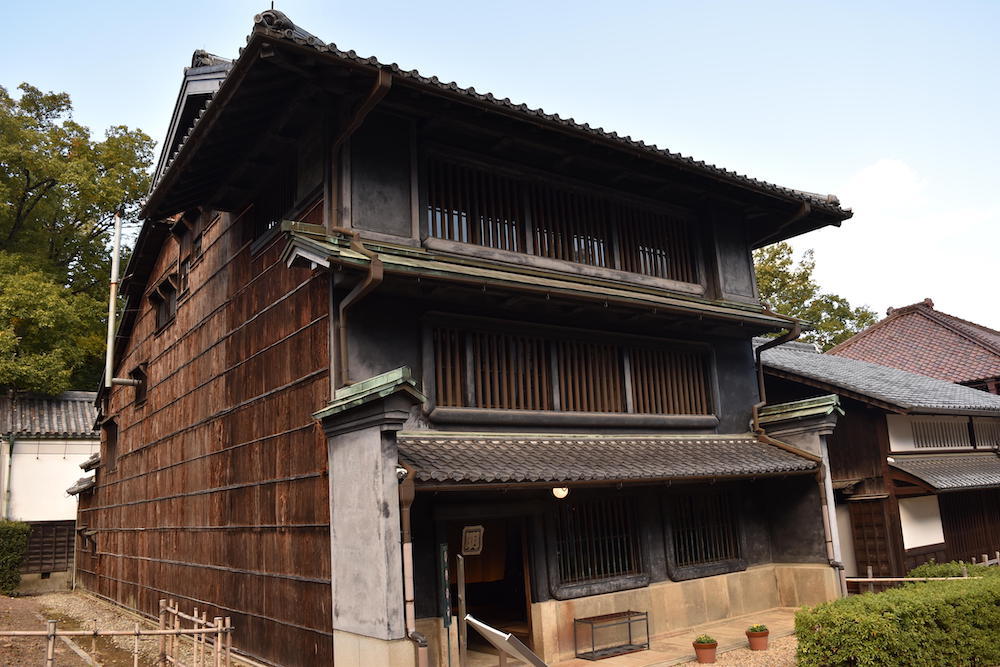 Imperial Hotel Lobby and Front Entrance (1923)
In 1890, the newly renovated government of Japan was looking to entice foreign travelers to visit the country. The Imperial Hotel in Tokyo was built to be a "guest house" for these foreign visitors. The entrance and lobby of that hotel remain to this day at Meiji Mura. Designed by famed 20th Century American architect Frank Lloyd Wright, this masterpiece connects 2D and 3D in fascinating ways and is known the world over for its magnificence.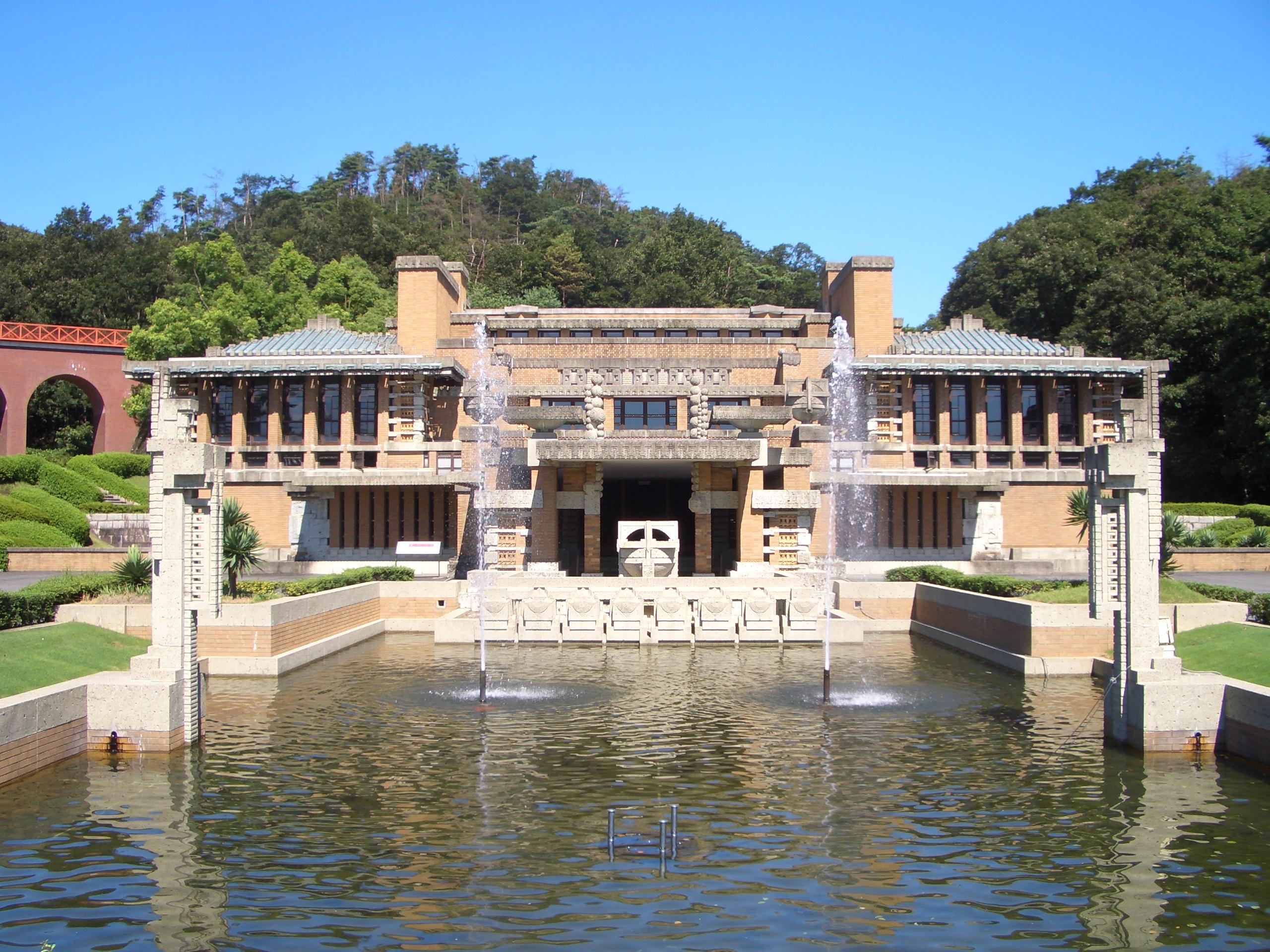 Central Guard Station and Ward, Kanazawa Prison (1907)
The Kanazawa Prison is a wooden Western-style prison constructed in 1907. The prison is laid out encompassing a central guardhouse. From that central position, the guards could see everything happening in the halls. At first glance, it appears to be a standard Western building, but on the inside, the walls are strictly divided. It's a great place to see how prisons have changed in days past. Visitors can also step inside one of the former cells and experience what it would have been like to be a prisoner here.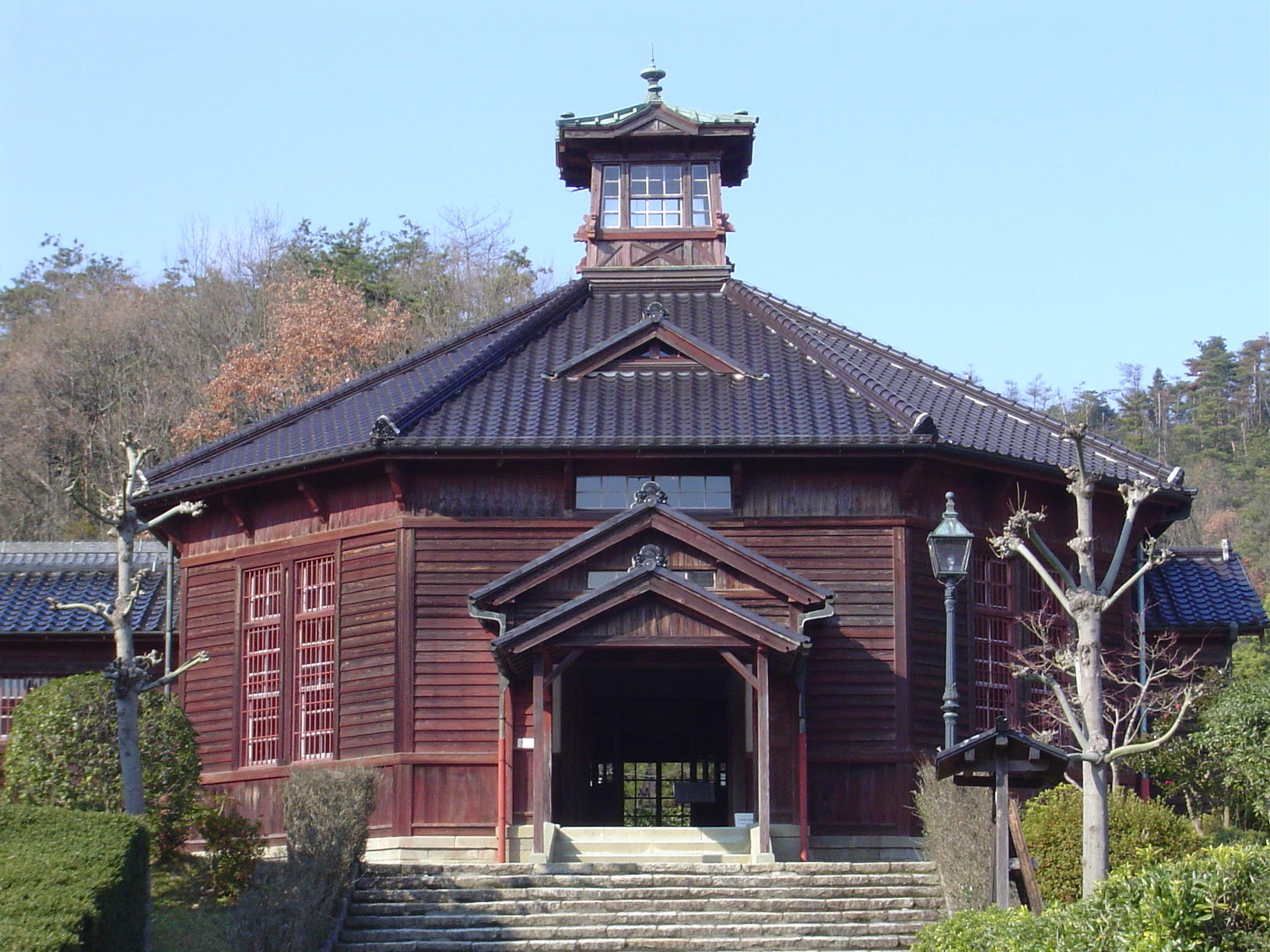 Meiji Mura Map
Recommended Routes
Quick Route
Village Bus (requires a fee)

Kureha-za Theater Area (47–50)

Home of Marquis Tsugumichi Saigo (8)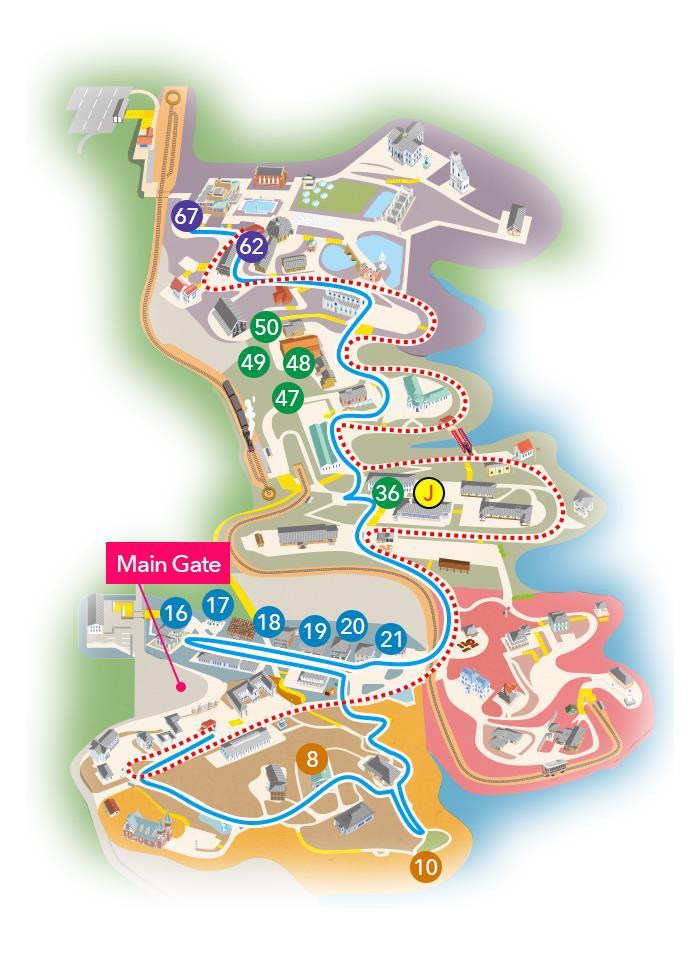 Standard Route
Home of Marquis Tsugumichi Saigo (8)

Ogai Mori and Soseki Natsume Home (9)

Village Bus (requires a fee)

St. Francis Xavier's Cathedral (51)

Kureha-za Theater Area (47–50)

Uji-yamada Post Office (46)

Nagoya to Shinagawa Todai

Meiji Costume Experience (20)

Mie Prefectural Office (13)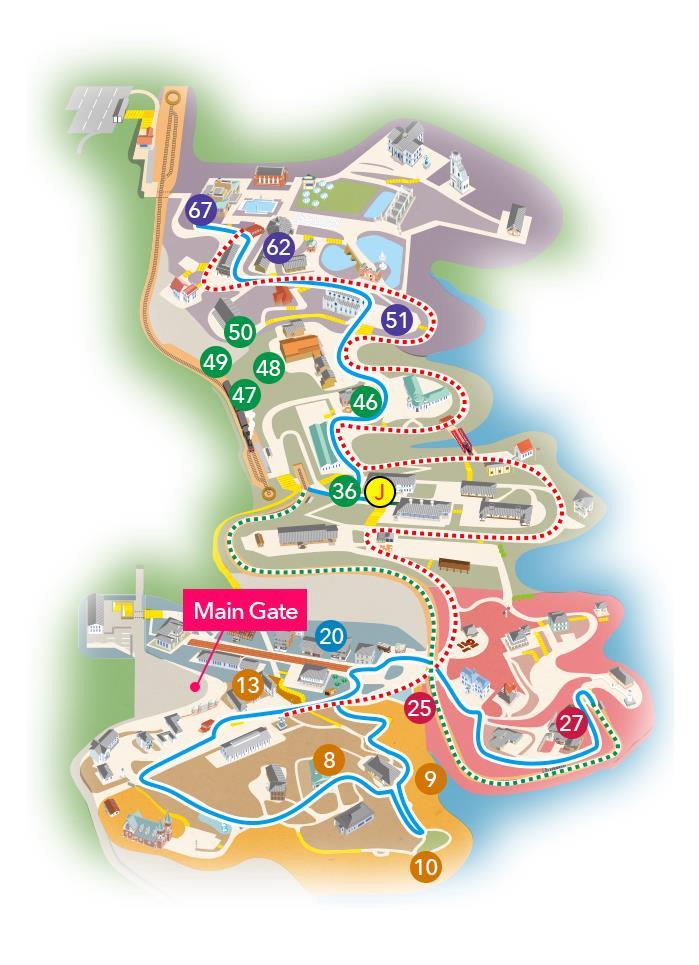 Operating Hours
Applies to April 2020 thru March 2021.
| | |
| --- | --- |
| April–July, September, October | 9:30–17:00 |
| August | 10:00–17:00 |
| November | 9:30–16:00 |
| December–February | 10:00–16:00 |
| March | 9:30–17:00 |
Please be advised that times may vary depending on sunset and the season.
Park Closures
2020

7/20(Mon)–7/22(Wed)
8/4(Tue), 8/5(Wed), 8/18(Tue), 8/19(Wed), 8/25(Tue), 8/26(Wed)
9/1(Tue)–9/4(Fri)
12/14(Mon)–12/18(Fri), 12/31(Thu)

2021

1/12(Tue)–1/15(Fri), 1/19(Tue), 1/20(Wed), 1/26(Tue), 1/27(Wed)
Admissions
| | |
| --- | --- |
| Adults | ¥2,000 |
| University Students/Seniors | ¥1,600 |
| High School | ¥1,200 |
| Elementary | ¥700 |
Getting Around Meiji Mura
Steam Engine Locomotive (SL9 & SL12)
There are two train stations inside Meiji Mura—Nagoya Station and Tokyo Station. The ride between them takes about 5 minutes. The train that runs this trip is a real steam engine that was used during the Meiji Period. It's the oldest working steam engine in Japan. It's rare not just in Japan, but the world over. A one-way ride for adults costs ¥500 or ¥300 for kids.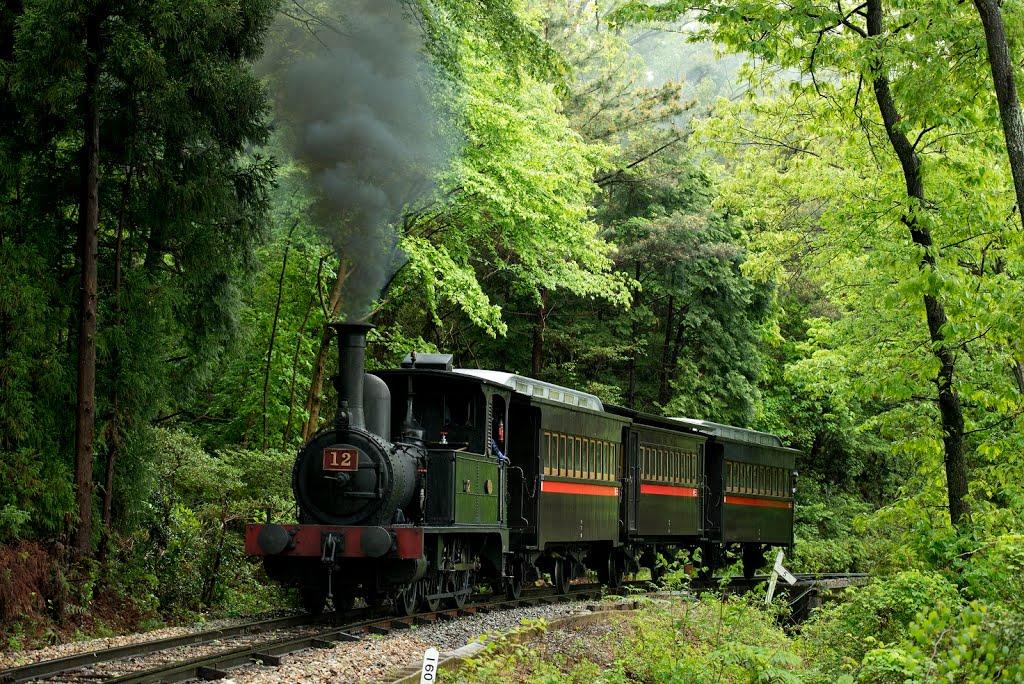 Kyoto Streetcar
Kyoto's streetcar network, which began in 1895, was Japan's first. The streetcar connects Meiji Mura's Ward 2's Streetcar Kyoto Shichijo Station, Ward 3's Shinagawa Lighthouse Station, and Ward 4's Streetcar Nagoya Station. There are 2–3 cars every hour. One ride costs ¥500 for adults and ¥300 for kids.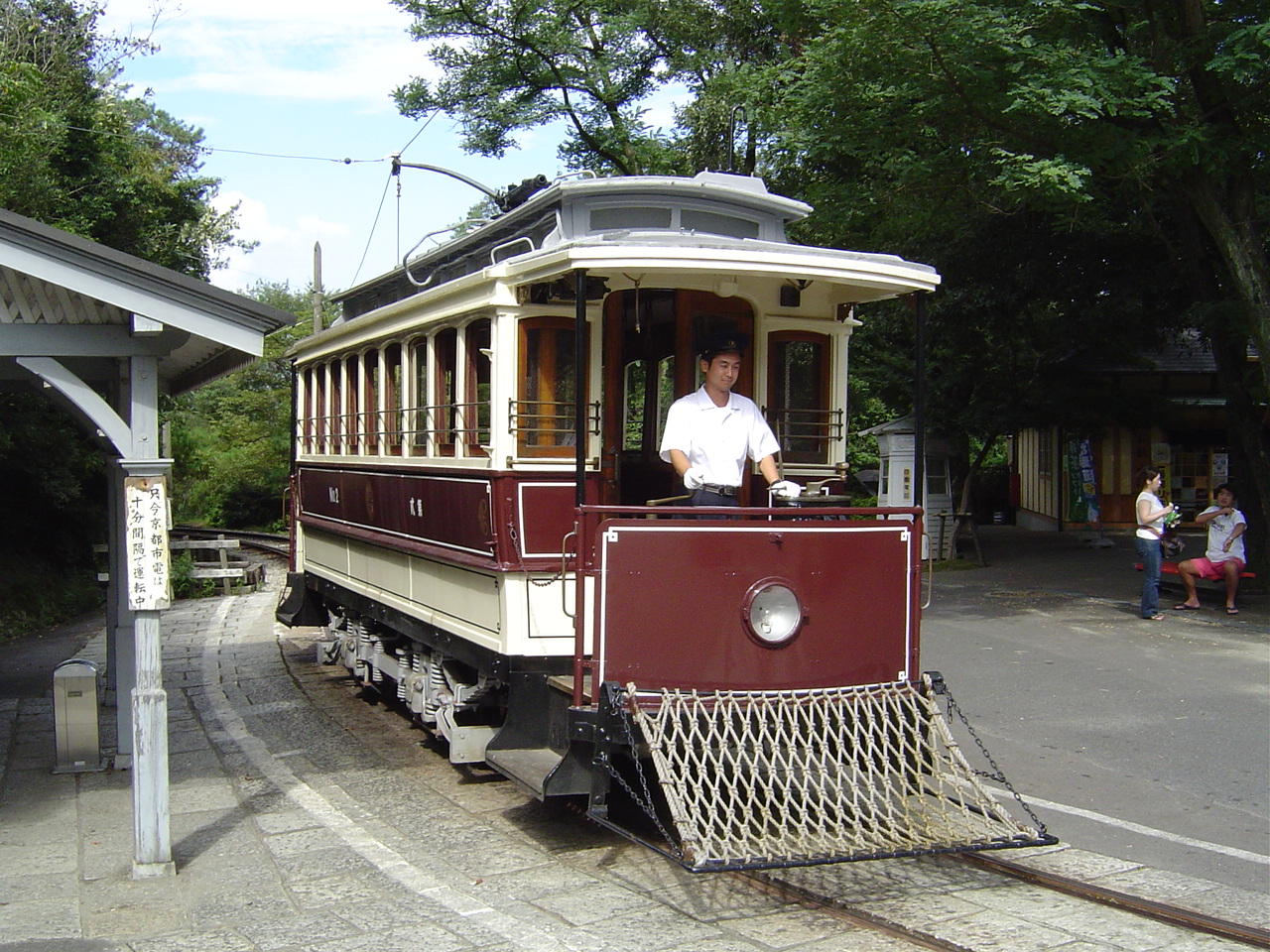 Village Bus
The village bus runs the length of the front gate to the Imperial Hotel. The bus leaves every 20 minutes on weekdays, and in 15-minute intervals on weekends and holidays. For guests looking for easy transportation around the park, it's a great option. You can purchase an all-day pass that runs ¥500 for adults and ¥300 for kids.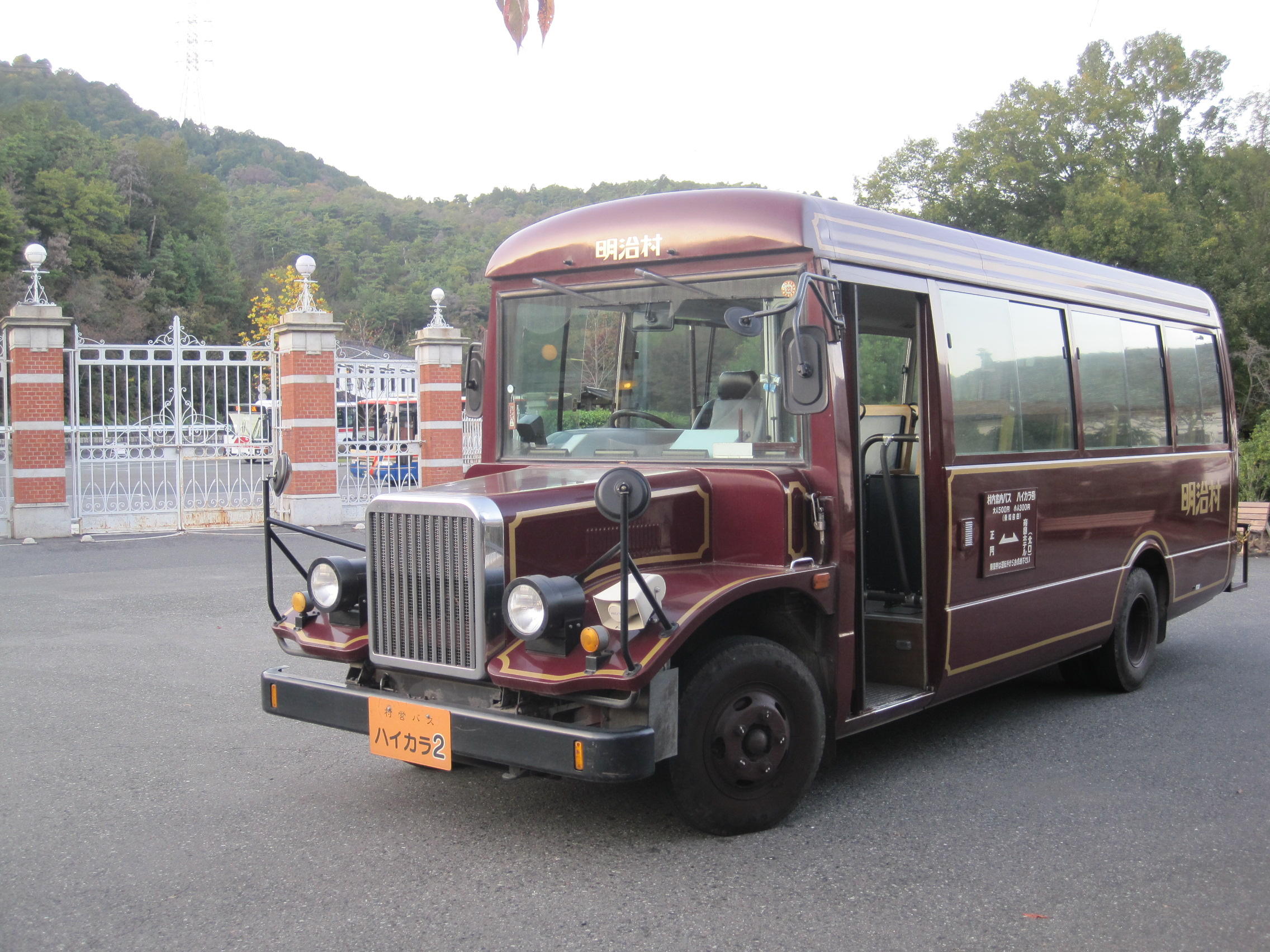 Meiji Period Dishes and Nagoya Cuisine
Shokudouraku Curry Bread
Curry bread was originally introduced in the best-selling Meiji Period novel "Shokudouraku". The bread is stuffed with Indian curry, chicken, and peanuts.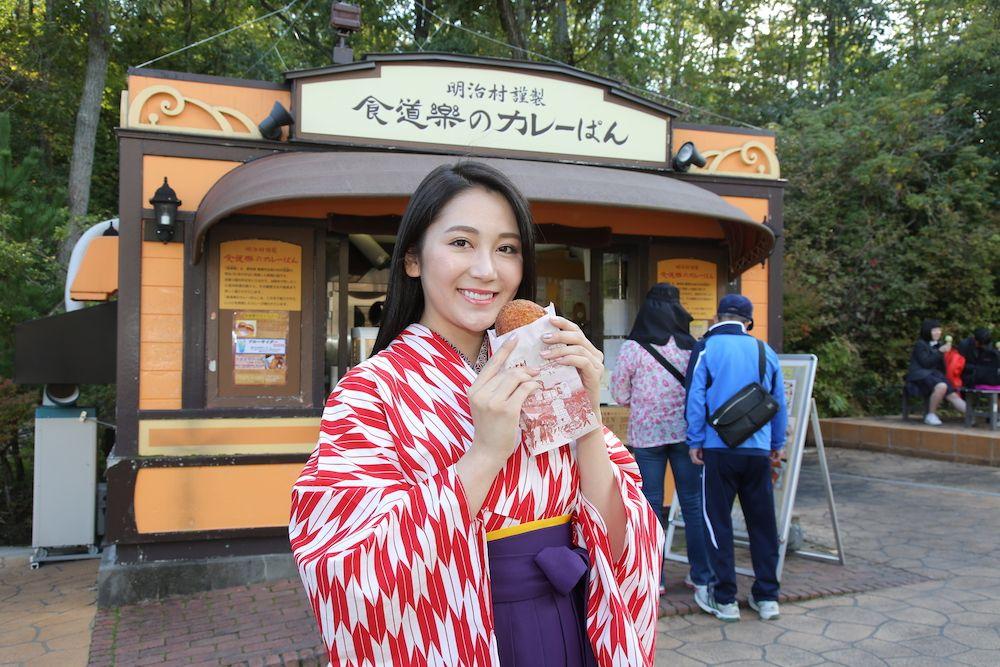 Noodle House Nagoya An
You can enjoy Nagoya favorites like kishimen (flat udon-style noodles), miso-flavored pork cutlet, and chicken wings.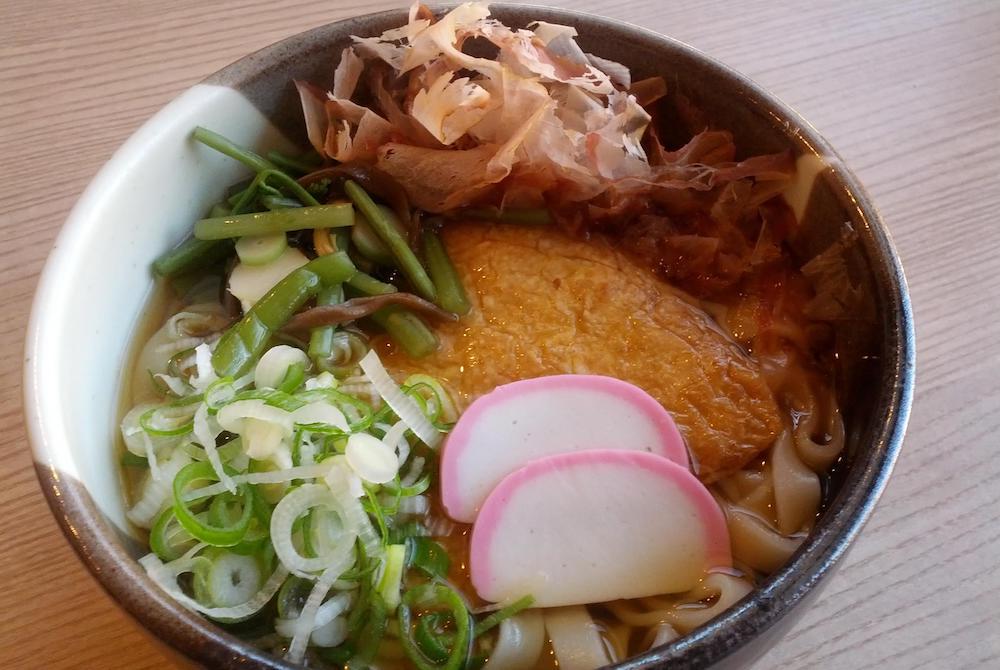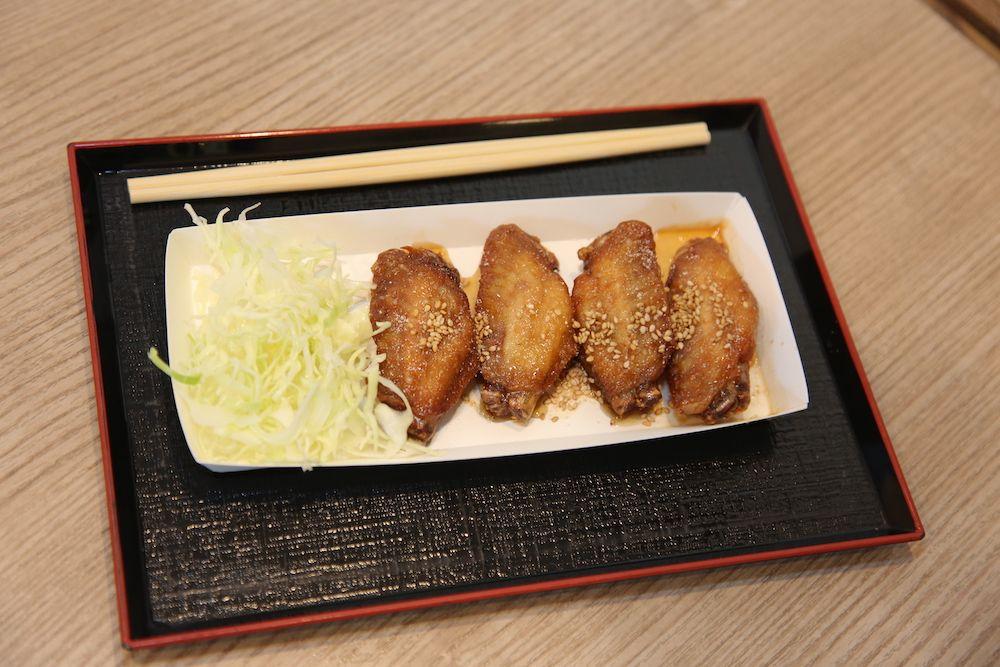 Omlette Rice and Grill Romantei
Try out some retro Japanese takes on Western cuisine like omelet-covered rice, curry, and rice, hashed beef with rice, and grilled meatloaf.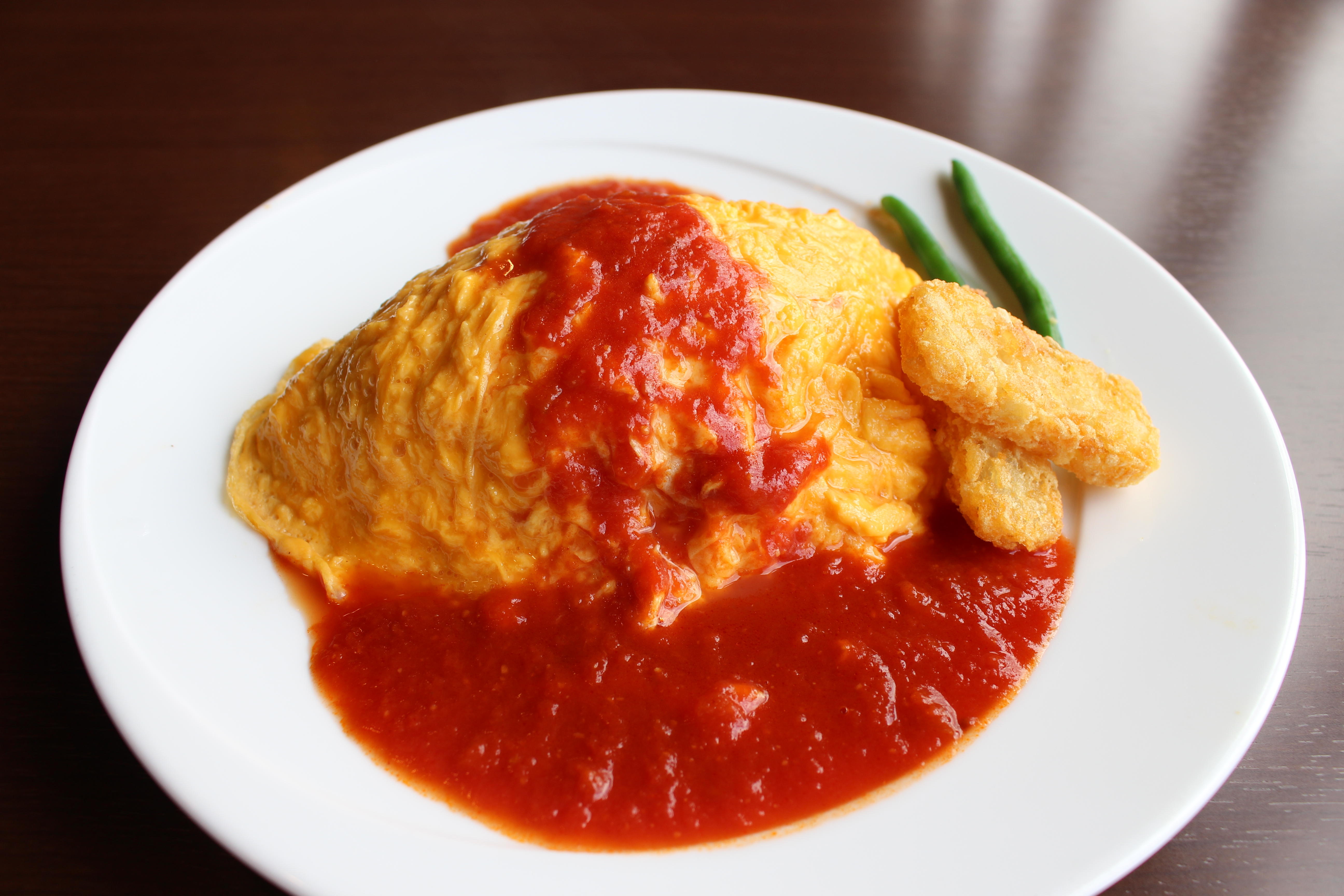 Purchase Original Souvenirs
Museum Shop
Pick up one of our original souvenirs or some delicious sweets. The museum shop is located right next to the main gate, so it's a convenient stop on your way home.
Japanese Knick Knack Shop Raku
Raku has a wide variety of knick-knacks and accessories like Japanese-style towels, handkerchiefs Japanese fans, and other interesting traditional items. With a large selection of colors and designs, you're sure to find something you'll like.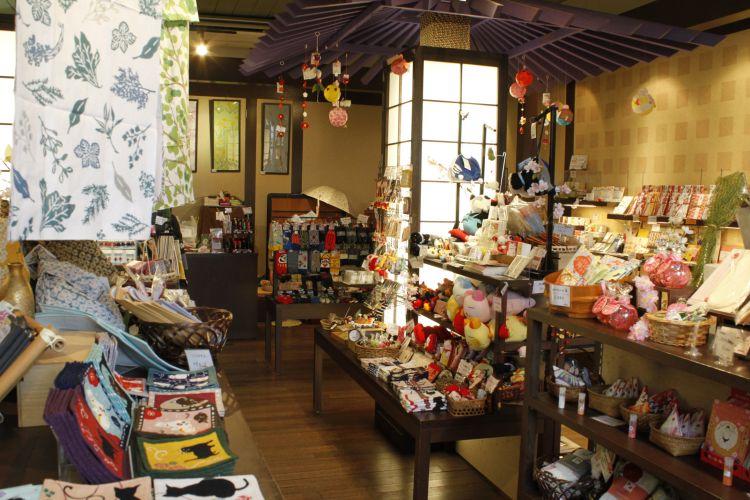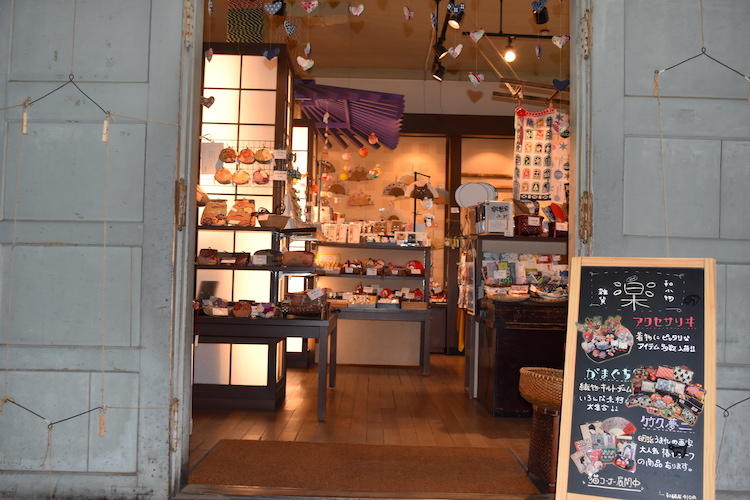 SL Tokyo Station Shop
This shop is full to the brim with interesting items like original cakes and cookies, and items related to celebrated literary figures like Natsume Soseki that you'll only find at Meiji Mura. If you're looking for retro or uniquely Japanese souvenirs, this is the place!
Guides and Assistance
Voice Guidance System "Madonna"
Using our special digital pen, you can hear all about the fantastic architecture you'll find at Meiji Mura in Japanese, English, Chinese, and Korean. It's a convenient way to learn everything you can about Meiji Mura's collection as you stroll through the village.
You'll find the digital pen and map at the main gate ticket office and the SL Tokyo Station Shop. The use of the digital pen is free, but a ¥1000 deposit is required.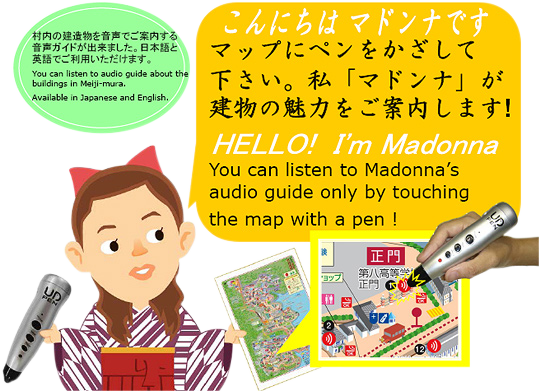 Guided Tours from Specialist Staff Members with Special Area Access
Special tours of Saigo Jundou's home, the Toumatsu family home, Zagyo-so, the Kureha-za Theater, and Shibakawa Mataemon's home are available from our expertly-trained staff. You'll be able to enter parts of the buildings that are usually off-limits as well. Spoken portions of the tour are only available in Japanese. Please check tour times in advance.
Getting to Meiji Mura
From Chubu Centrair International Airport and Nagoya
Get off the Meitetsu Inuyama Line at Inuyama Station [犬山駅] and exit east towards the Meitetsu Bus bound for Meiji Mura [明治村行き]
Get off at Meitetsu Nagoya and take the Meiji Mura bus [明治村行き] from the Meitetsu Bus Center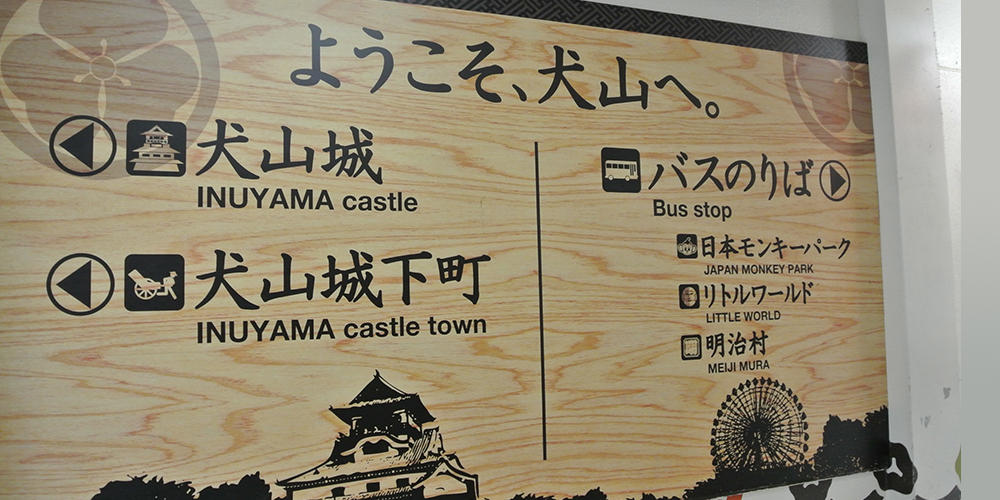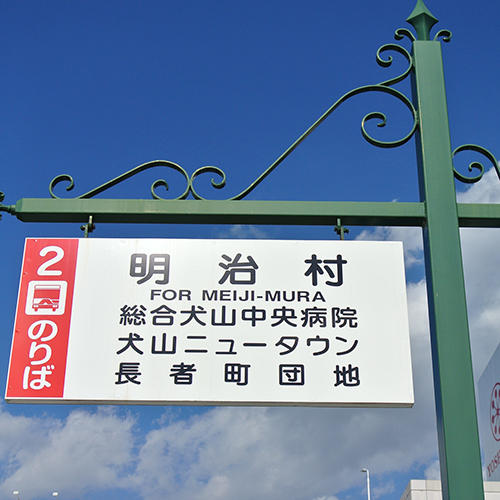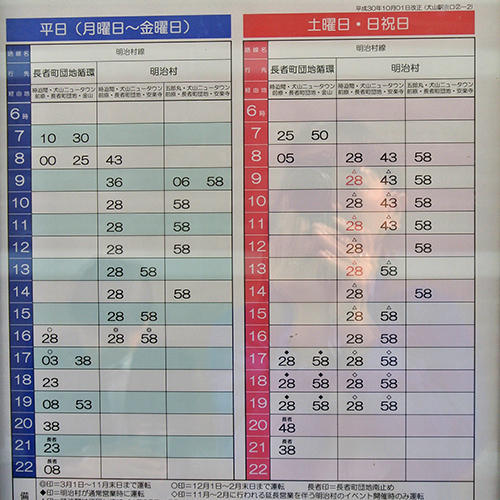 Train times for weekdays are in blue on the left, and weekends and holidays are in red on the right.
From Tokyo
Get off the Tokaido Shinkansen at Nagoya Station [名古屋駅]
Get off the Meitetsu Inuyama Line at Inuyama Station [犬山駅] and exit east towards the Meitetsu Bus bound for Meiji Mura [明治村行き]
Get off at Meitetsu Nagoya and take the Meiji Mura bus [明治村行き] from the Meitetsu Bus Center
From Osaka
Get off the Tokaido Shinkansen at Nagoya Station [ 名古屋駅] or Kintetsu Nagoya [名古屋駅]
Get off the Meitetsu Inuyama Line at Inuyama Station [犬山駅] and exit east towards the Meitetsu Bus bound for Meiji Mura [明治村行き]
Get off at Meitetsu Nagoya and take the Meiji Mura bus [明治村行き] from the Meitetsu Bus Center