| Centrip Editorial Board
Experience the Meiji Period : The Modernization of Japan and its Architectural Style
Meiji Mura : The Architecture and Culture of the Meiji Period.
From the year 1639, when Japan entered into a period of isolationism, contact with the outside world was cut off, with the exception of trade with Holland and China. During this period, the remarkable growth in commerce and industry brought about by the Industrial Revolution prompted European countries to look east in order to find new markets, and they pushed Japan to open up its ports. In 1854, in the latter part of the Meiji period, the arrival of America's Commodore Matthew Perry prompted Japan to sign the Kanagawa Treaty and begin the process of opening its doors to the rest of the world.
In 1868, the establishment of a new government brought modernization to Japan. Experts and technicians from a variety of fields ranging from industry to scholarship were employed to promote the adoption of western culture.
In regard to architecture, the central government, looking for a Western style, employed many Western architects and created the National Diet Building as well as other major constructions. At first, purely Western buildings were erected, and then gradually the Western started appearing in peoples' homes with a mixture of Japanese and western design, sometimes with a single western room in an otherwise Japanese style house.
Let's take a look at some Meiji period architecture at Meiji Mura.
Tomatsu House
A three-storey merchant's house located along the Horikawa river in Nagoya, built with the "stucco finish" method typical of the Edo period, and modified several times since the Meiji period. It is designated as an Important Cultural Property. During the Edo period, only members of the samurai class were permitted to build three-storey buildings, and in 1919 the law forbade the construction of high wooden structures, so a three storey wooden building was only feasible during a period of some fifty years. Narrow at the front but deep, it is typical of such structures, but the atrium and skylight window above the dirt-floored room allowing light into the room is a particular feature. It could be said that this is the forerunner of shop architecture. There is a guide to the building courtesy of the staff. As there is also a guidebook in English, you do not have to understand Japanese to enjoy this building.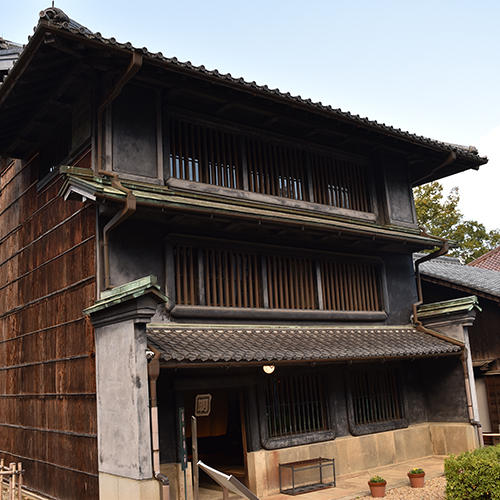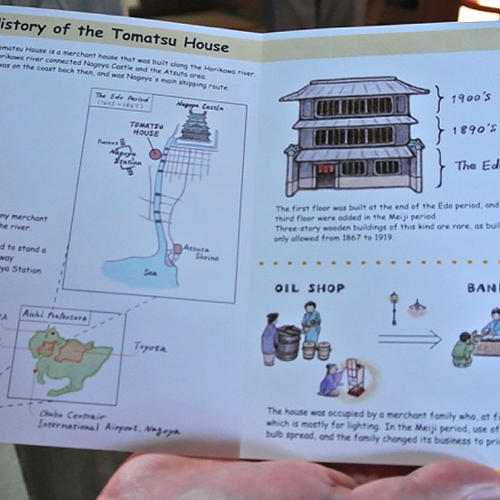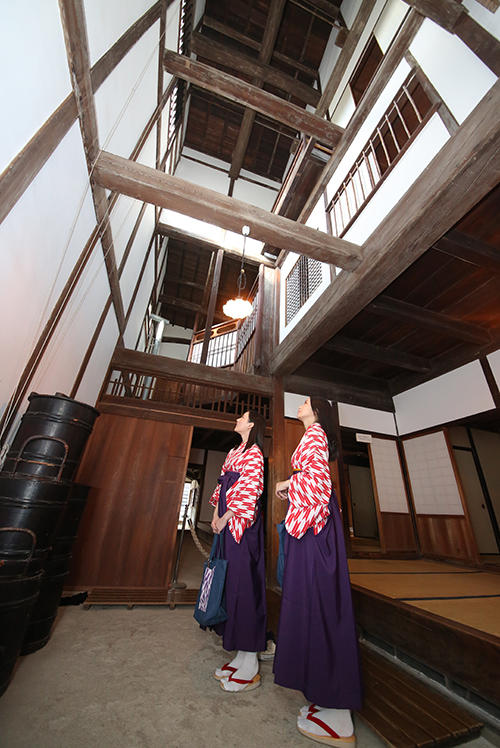 Zagyo-So, Villa of Prince Kinmochi Saionji
This is the villa of the former Prime Minister of Japan, Kinmochi Saionji. It is designated as an Important Cultural Property. The name of this building, located in Okitsu near the port of Shimizu, is said to be based around the idea of "passing the time idly fishing and doing nothing". Opening the sliding doors to the tatami (reed mat) room on the second floor reveals a vista of what would have at the time been the port of Shimizu, and which now is formed by Lake Iruka against a backdrop of distant mountains. Access to this room is limited to when the guided tours take place, so if you wish to see this scenery, please join the guided tour. The abundant use of bamboo throughout the house suggests a pure Japanese style of architecture, but Saionji - who had studied abroad when young - had a western-style room and lavatory built as well.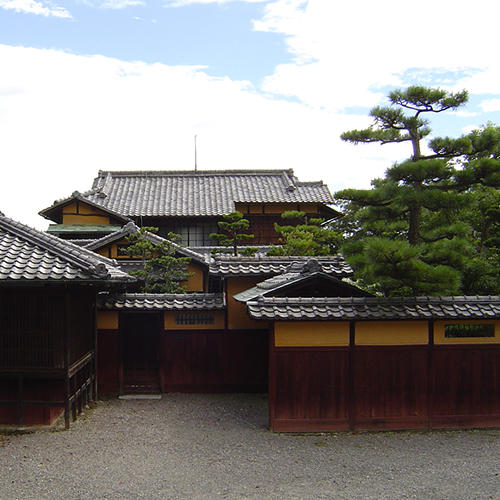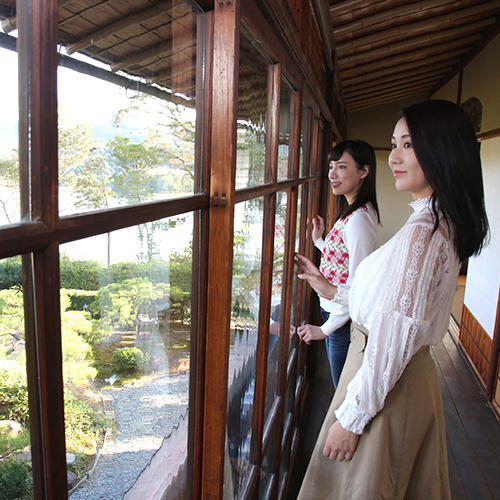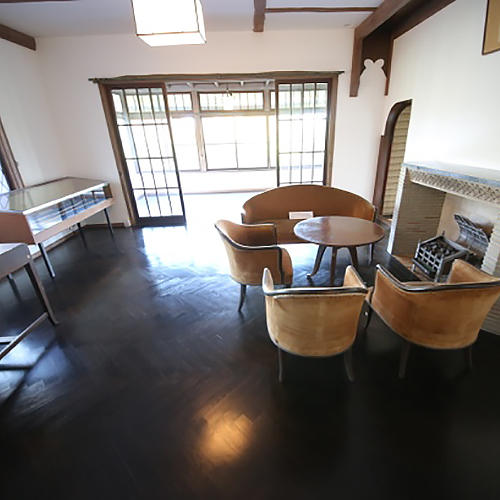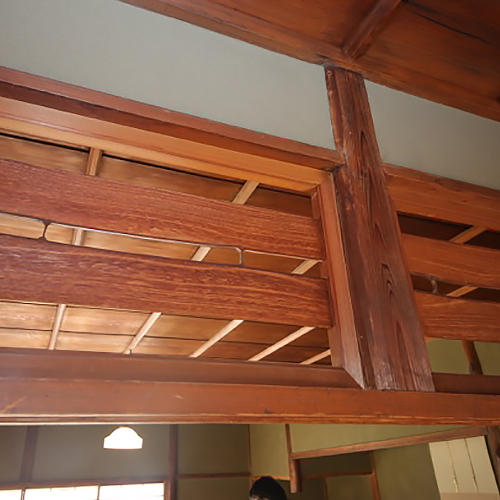 Kureha-za theater
A renowned theater from the Edo period, originally erected in Ikeda city, Osaka prefecture. It is designated as an Important Cultural Property. As well as touring around giving performances of various forms of entertainment such as kabuki, rakugo (comic storytelling), manzai (two-person comedy) and others, it was also used by the government to give performances relating to socialism and other such issues. Besides being a theater, it was also a place for regular people to meet and socialize, as well as serving a purpose by transmitting information. The guided tour naturally covers the guest seating and the stage, but beyond this, it also introduces the wings and basement as well.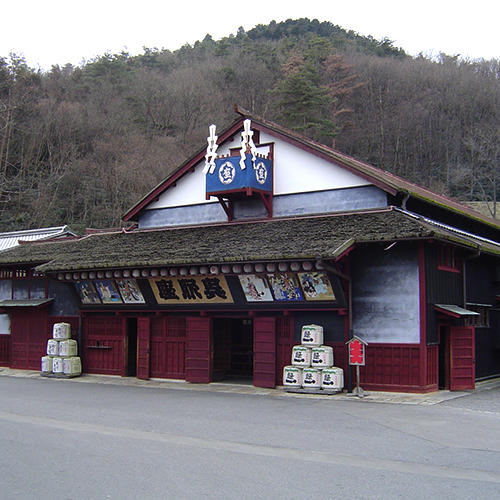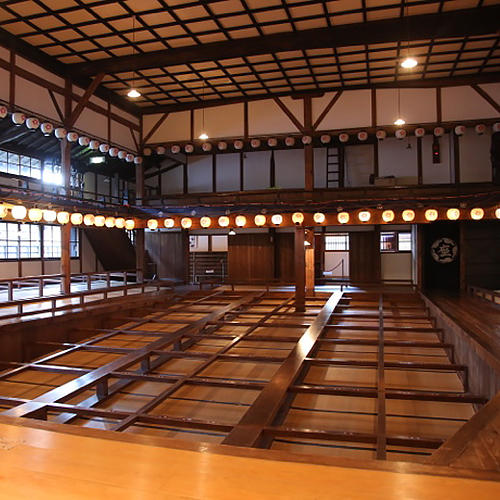 House of Ogai Mori and Soseki Natsume
This house, built around 1887, was originally erected in Sendagi in Tokyo's Bunkyo ward, as the residence of one Dr. Nakajima. It was also rented, by Mori Ogai in around 1890, and by Natsume Soseki from 1903 to 1906. While living there, Mori published the short story "Maihime" ("The dancing girl"), and, following this, continued to write and make headway into literary circles. Ten years later, Soseki wrote one of his most famous works "I am a cat", while living here. While this house can boast of having had two such literary giants living there, it is also interesting to note that, as a typical middle class house of the time, it has features that we see in more modern architecture.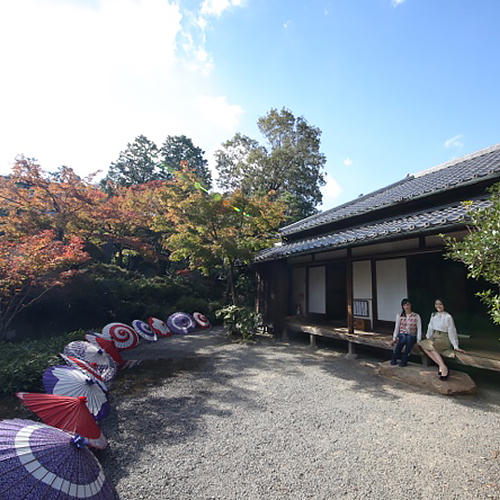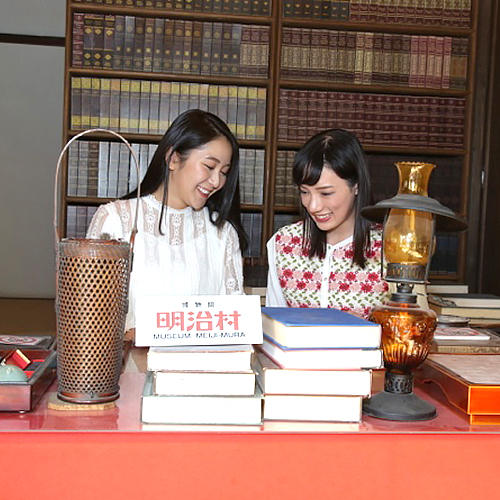 Musei-do Gymnasium for Martial Arts, Fourth National High School
The dojo (martial arts gynmasium) built at the Fourth National High School, Kanazawa city. The dojo, with its strongly Western-influenced wooden siding and pantile roofing, contains areas for judo, kendo (swordsmanship) and kyudo (archery). While it does not look particularly special at a glance, it makes use of clever design, including springs under the judo area in order to improve how much the floor gives, and trenches under the kendo area to improve the resonance and reverberation of sounds inside.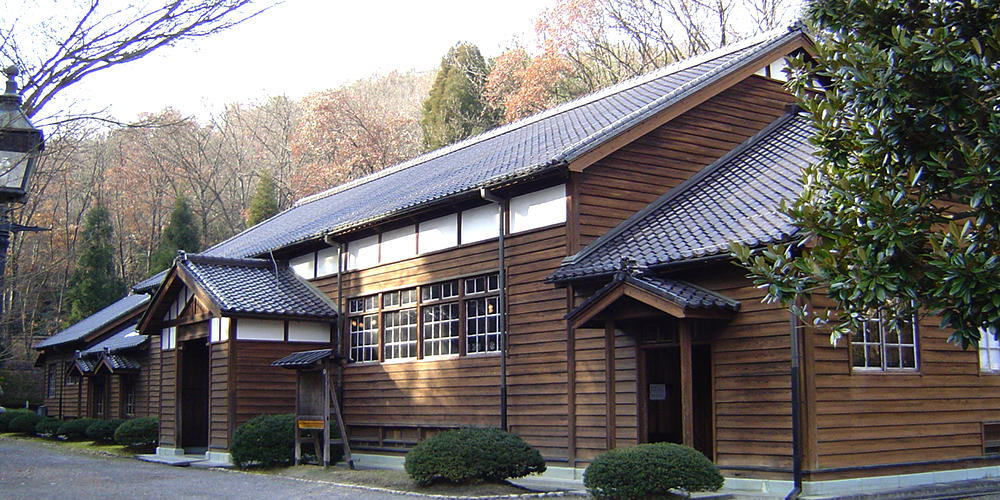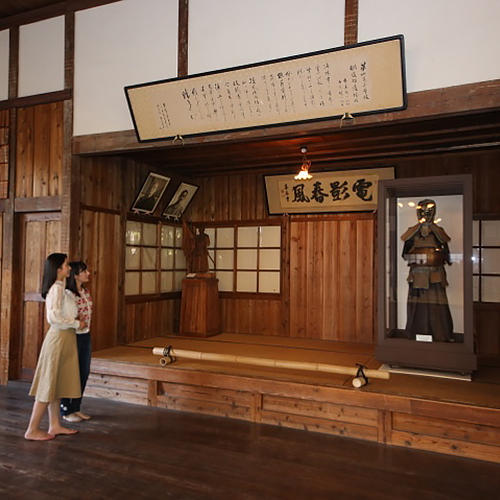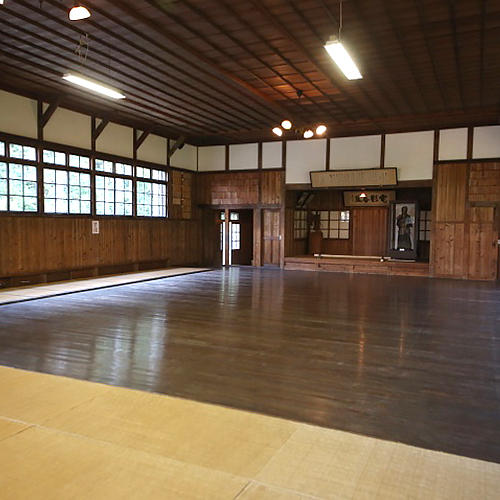 Main Entrance Hall and Lobby, Imperial Hotel
The main entrance hall and lobby of the Imperial Hotel, which was built over a period of four years and designed by the great American architect Frank Lloyd Wright. It was erected at the site of the former Imperial Hotel in Uchisaiwaicho, in Tokyo's Chiyoda ward. The Oya stones and terracotta are arranged in geometrical patterns, and in particular the Oya stone surrounding the light pillars (look for what look like very large Jenga bricks) is said to give off a powerful sense of presence to those who see it. The terrace on the second floor has a coffee shop, so why not relax with a drink while looking out over Frank Lloyd Wright's masterpiece?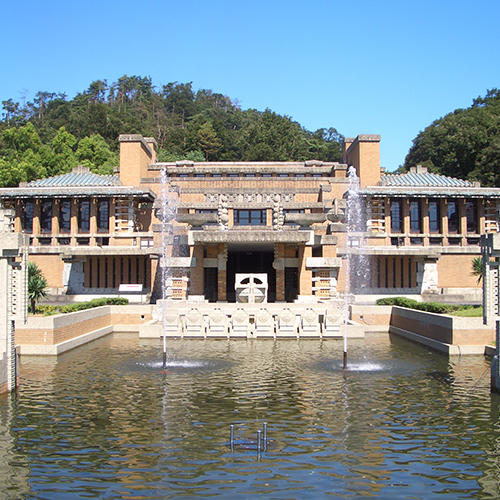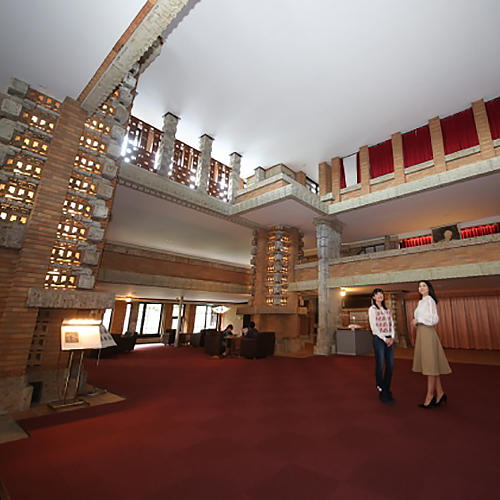 Featured Spot: Inuyama's Unique Castle Town
Donden Hall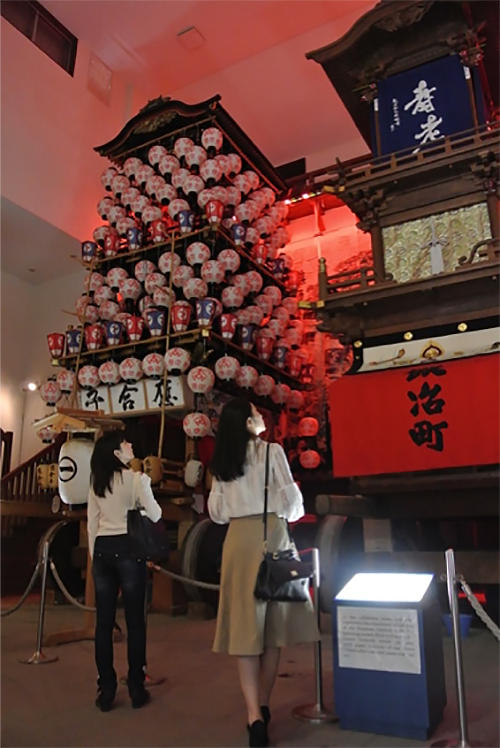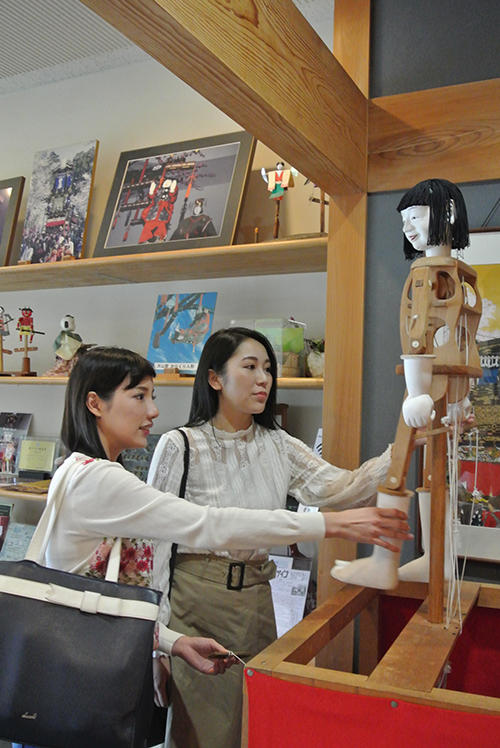 On display are four of the thirteen festival floats pulled through the streets of Inuyama during the town's festival, which is recognized by the Japanese government and UNESCO as an important intangible culture asset. Visitors can experience, through the information panels and with the use of light and sound, a typical festival day. Looking down on these eight-meter high, three-layered floats from the second floor of the building gives an even clearer impression of their size. By the entrance to the first floor is a relaxing tatami (reed mat) room, where you can take off your shoes and rest a moment—also a great chance to see traditional Japanese automatons.
Koumisaryou Juhyouya, Inuyama Inoue-tei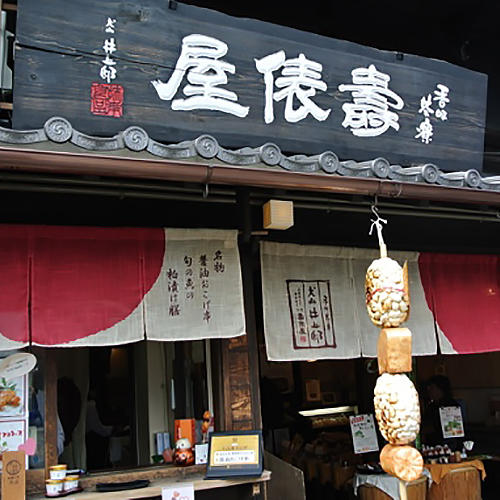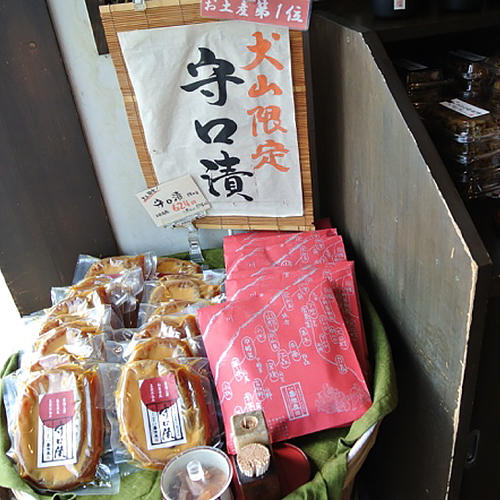 "A ten-minute walk from Inuyama castle brings you to the castle town area and to this shop, which features a famous Nagoya speciality known as Moriguchi pickles, an example of what is called ""Naratzuke"", or ""Nara pickles"". Moriguchi pickles are created from moriguchi radishes picked in Fuso town (near Inuyama), and these radishes are noted for their length—some exceeding one meter. They are flavoured with strained sake barrel sediments and mirin (sweet rice wine) and thoroughly pickled. ""Nara pickles"" refers to a method of preparing various products pickled in sake barrel sediments, including pickling cucumber melons, radishes, watermelon skin, cucumbers and other vegetables as well as meat and fish. They are characterized by their distinctive aroma and rich taste. For lunch, we recommend Juhyouha. Their set lunch includes pickled salmon (or the current seasonal fish) with side dishes, pickles, rice and miso soup, which you can enjoy in the tatami (reed mat) room inside the store. The price is ¥1320 for the salmon set or ¥1420 for the seasonal fish set. Enjoy the grilled fish and rich-tasting Nara pickles as a high-quality, healthy example of Japanese food."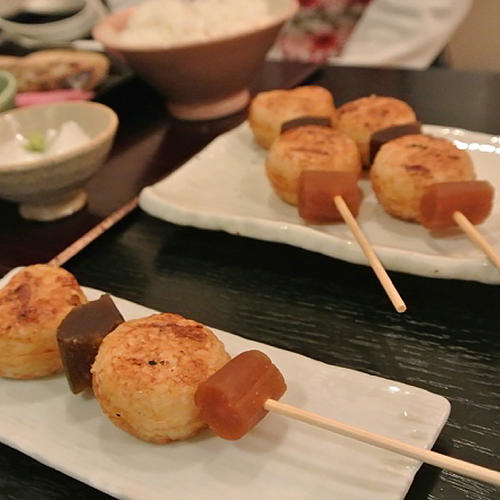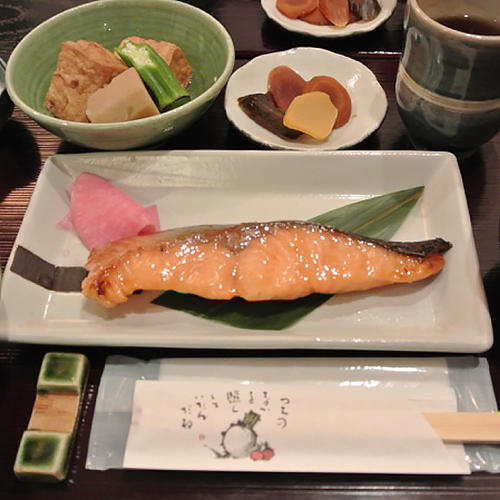 If you feel like something a little lighter, we suggest the ¥160 grilled rice skeewers. These are made with soy sauce, well-browned and served with pickles. If you're in luck, you might even get a cute heart-shaped one. The rice balls are particularly tasty and perfect for on-the-go when you're feeling a bit peckish. If a particular pickle takes your fancy, you can buy it at the store. Pickles keep for a long time, so you can also buy them as a souvenir without worrying too much about them staying fresh. You can also "try before you buy", so you can be sure to take back something good!
Wrap-Up
Meiji Mura is a great place to travel back in time and experience the modernization of Meiji Period Japan. While you're in town, you definitely want to visit Inuyama Castle as well. Take a short 10-minute walk downtown from Inuyama Station and you can enjoy a nice mix of retro and modern restaurants and shops. With easy access from Centrair, Inuyama is a great place to experience the various facets of Japanese culture!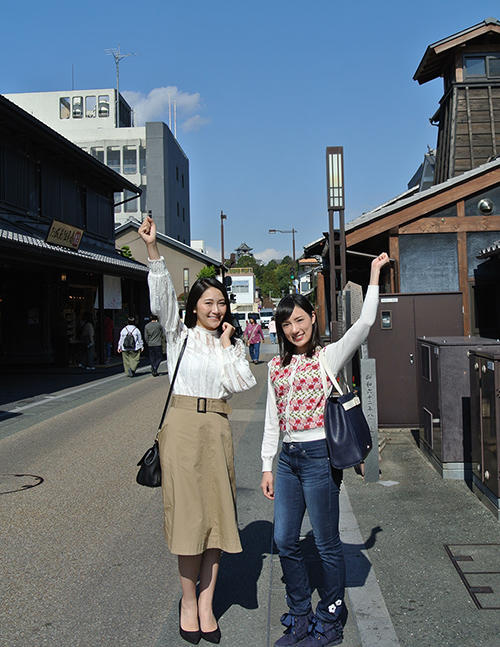 Sponsored by THE MUSEUM MEIJI-MURA