| Centrip Editorial Board
A Cultural Journey Through the Land of the Samurai and Ninja
The Central Japan region was the center of the Warring States period, where many warlords made their mark. If you plan on visiting Central Japan, here are some activities that let you experience the history and culture of the Central Japan region, along with places well-known for their samurai and ninja history.
Kumihimo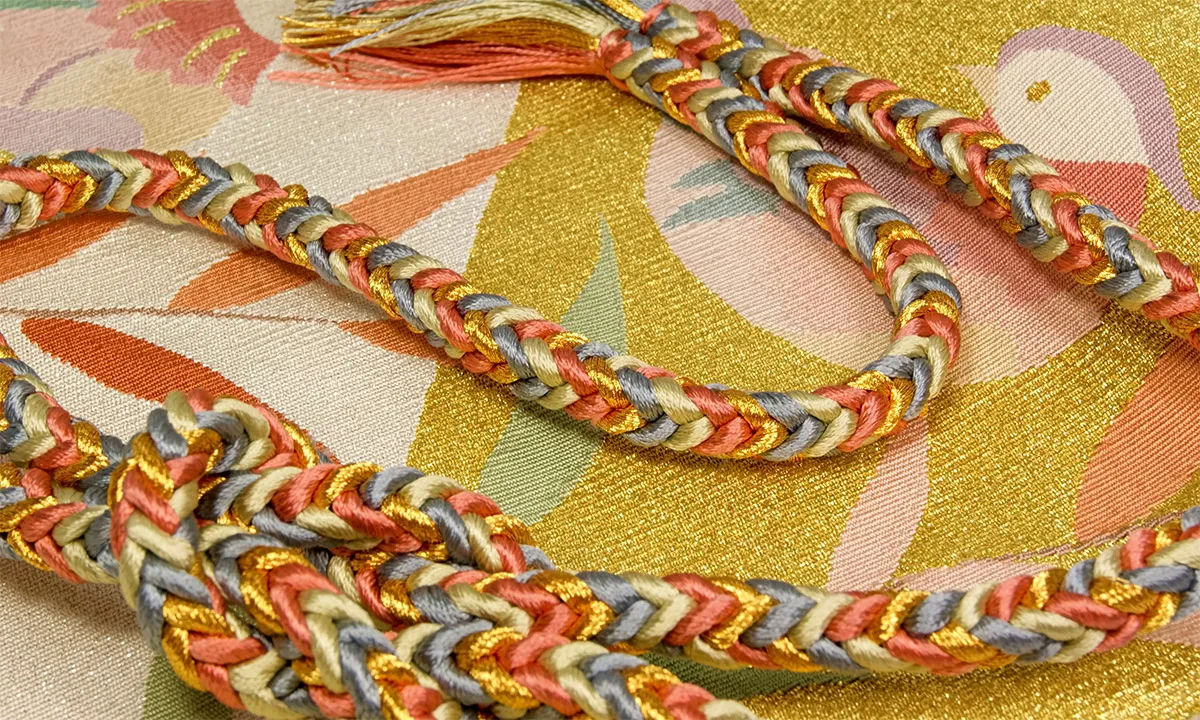 A decorative braided cord for holding a kimono sash in place
Have you heard of kumihimo (braided cord)? Thanks to the hit animated film Your Name, kumihimo has become well-known. Kumihimo is a braided cord consisting of several to dozens of thin silk threads interlaced to create various patterns and shapes. The sageo is a kumihimo with excellent elasticity and durability for tying a katana or armor to prevent it from being dropped. Kumihimo's beauty continues to attract many people today in ornaments and crafts.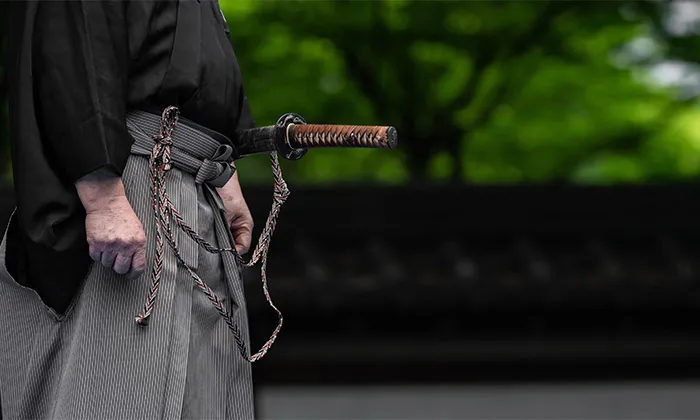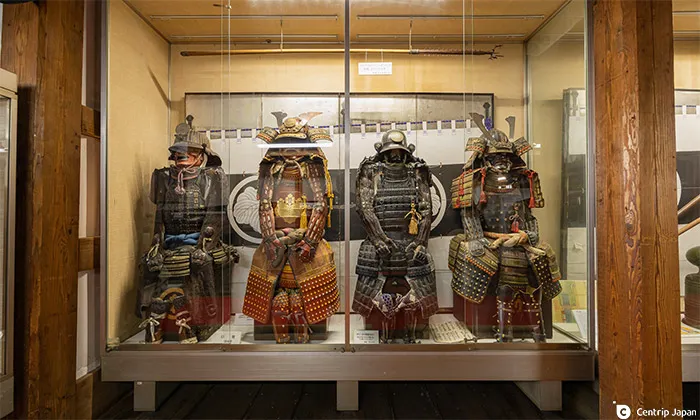 The area around Iga, where the Iga ninja played an active role, is known for its silkworm farming, the source of kumihimo for centuries. Today, visitors can experience kumihimo making at the Iga Kumihimo Braiding Center near Iga Ueno Castle and other places in the city.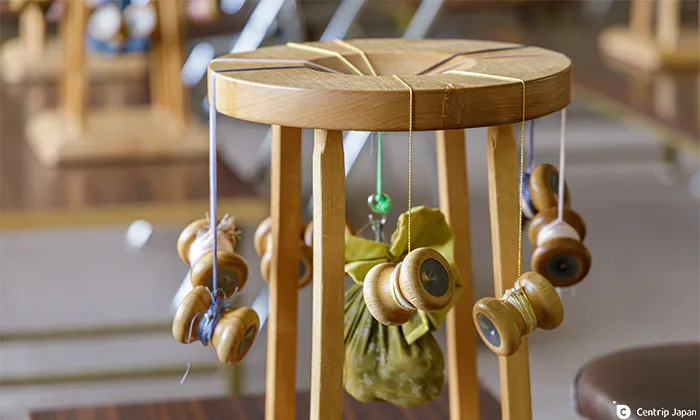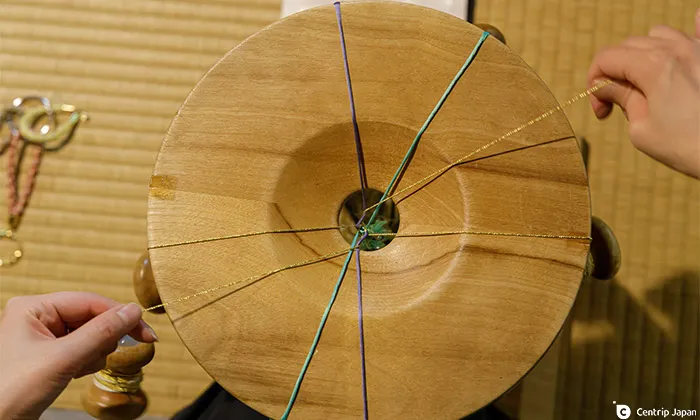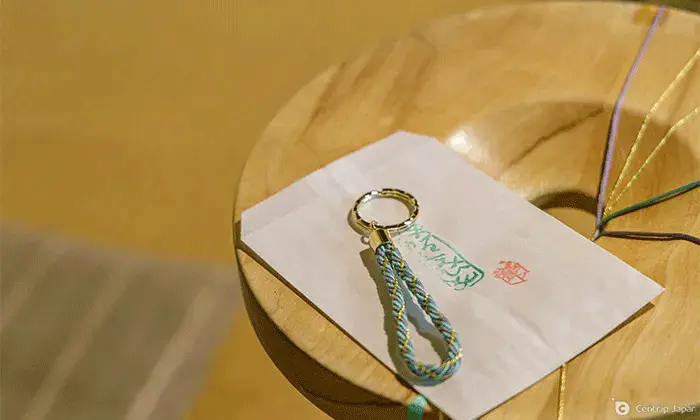 Approximately one hour is required to make a kumihimo. Many places offer the experience without requiring a reservation, so if you have the time take a load off and give it a try.
Arimatsu Shibori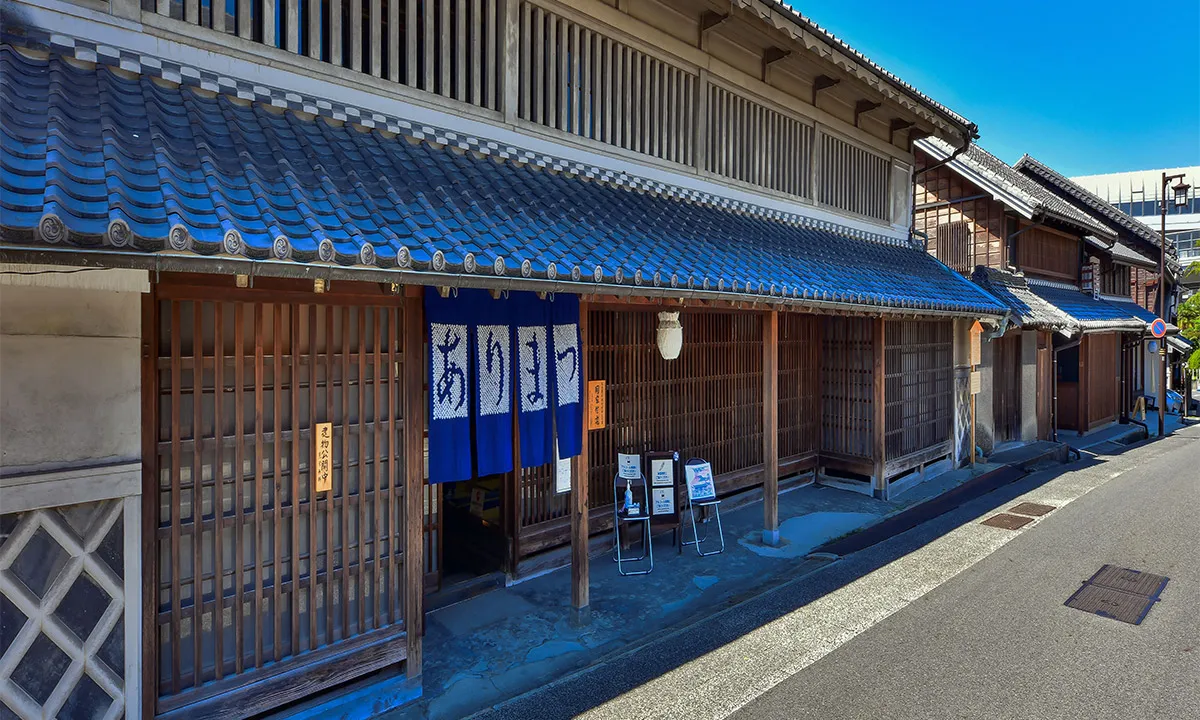 Arimatsu's townscape
Arimatsu is not far from the site of one of the most significant battles of the Warring States Period, the Battle of Okehazama. Arimatsu is famous for its Edo period townscape and beautiful tie-dyeing called Arimatsu Shibori, with a 400-year history.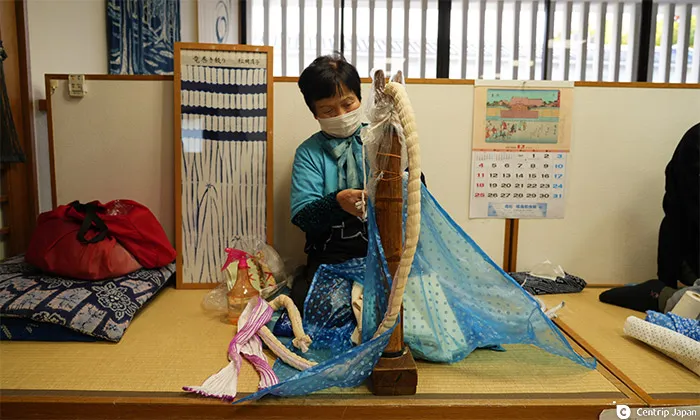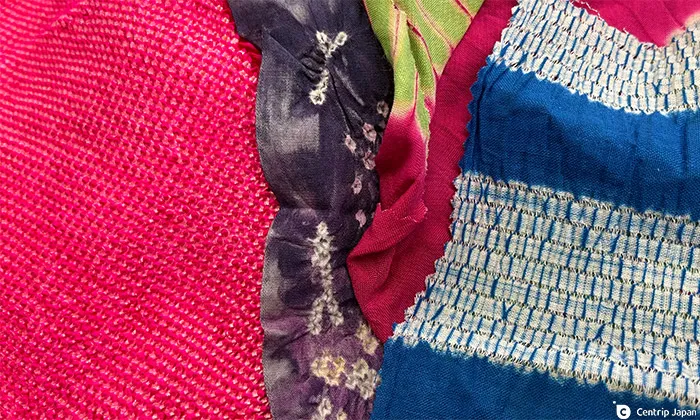 At the Arimatsu Tie-dyeing Museum, visitors can watch a tie-dyeing demonstration by two artisans at various times and experience tie-dyeing at seven locations in the city (reservations required).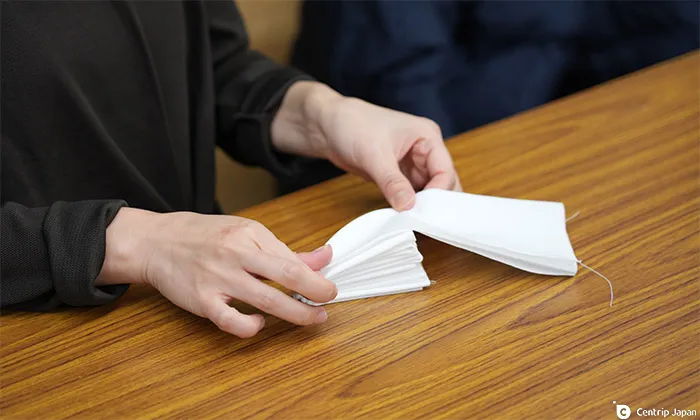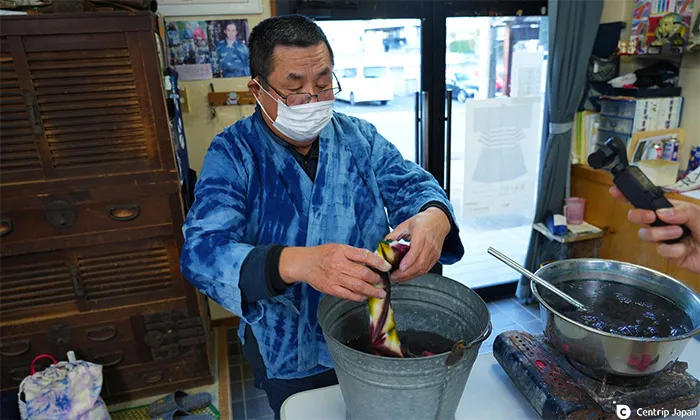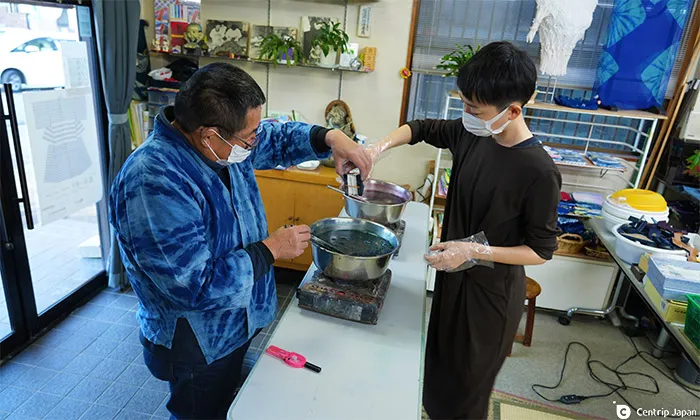 The entire process takes about one hour. You can customize the type and color of the tie-dye to your liking and create an original tie-dyed material, a one-of-a-kind. This activity is perfect for visitors seeking a casual experience of traditional techniques in the historical townscape.
Kimono Costumes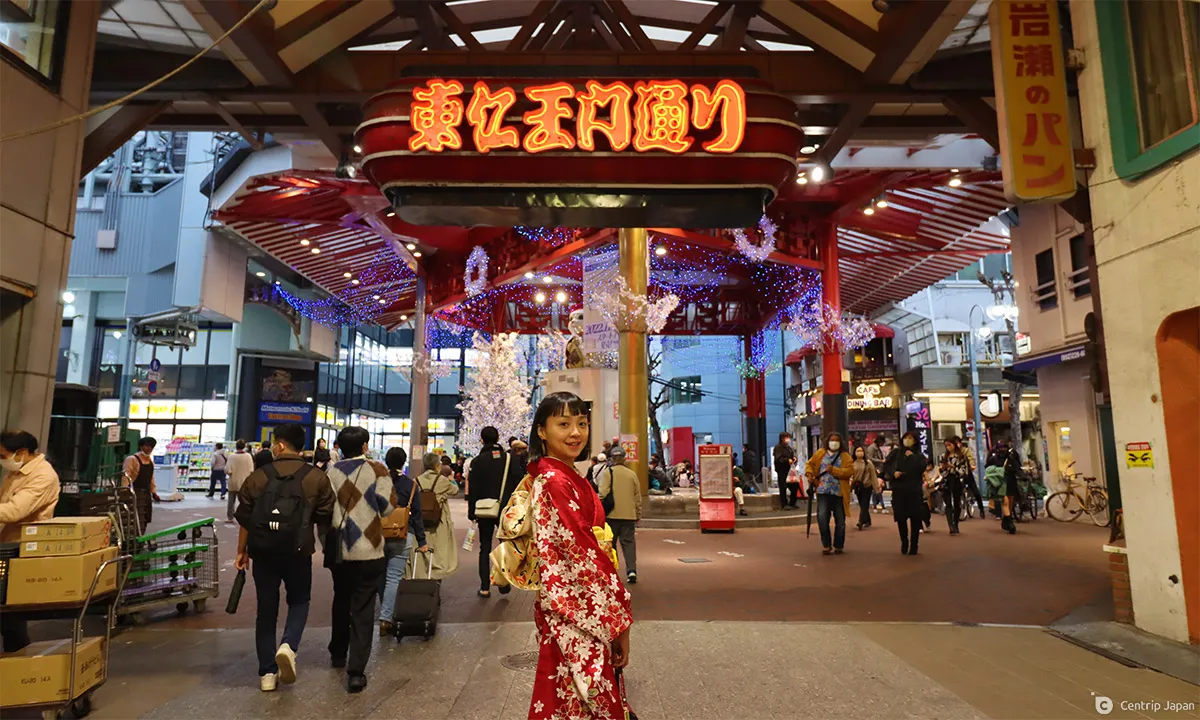 Osu Shopping Street
If you are looking for something more unusual and extravagant to remember your visit, how about experiencing wearing a traditional Japanese Kimono?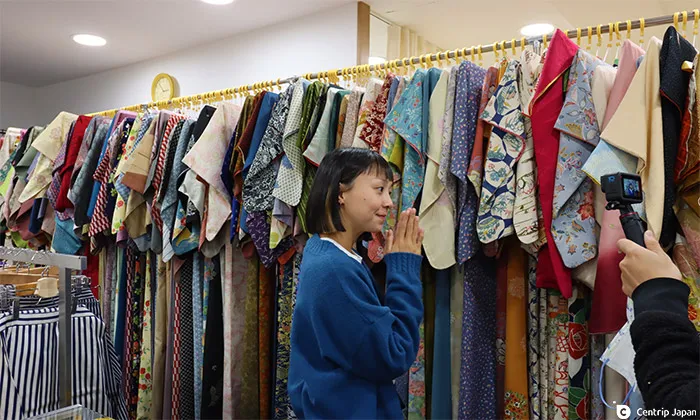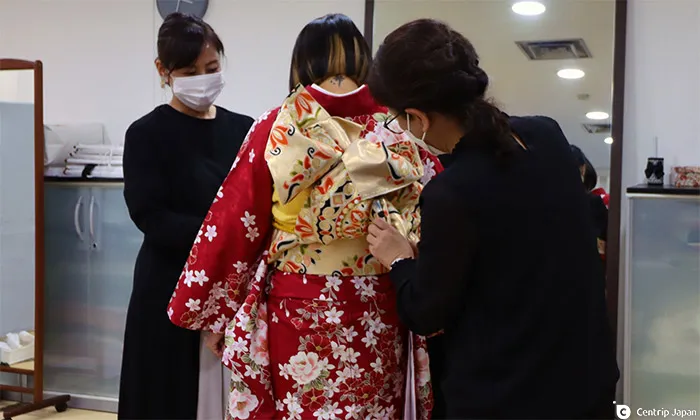 Located in the famous sightseeing district of Osu in Nagoya, the shop Wasou Kajiura offers plans that allow you to enjoy walking around town wearing a kimono. A wide range of kimonos for adults and children are available, so the whole family can experience wearing them.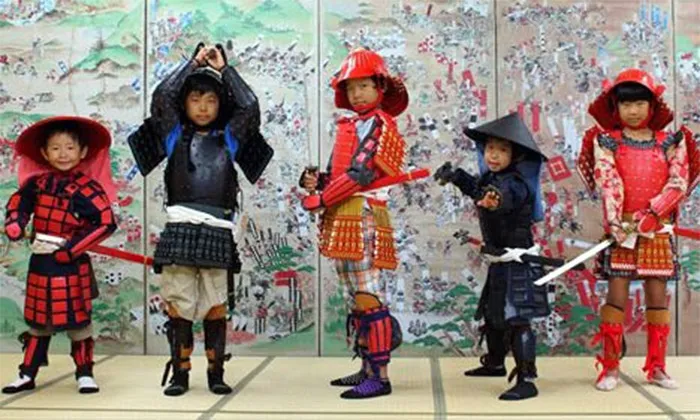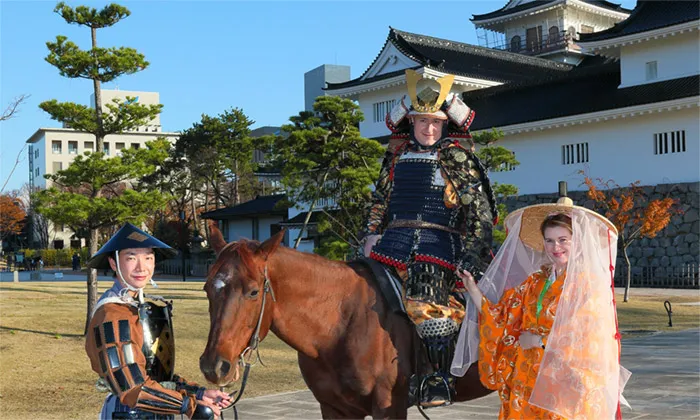 In the past, only kimonos rental shops were around but recently samurai armor rental shops are popping up. If you want to try them out, please check out Sekigahara Sasaoyama Koryukan, Kani City Koryukaikan, or Toyama City Machinaka Tourist Information Center.
If you are interested in experiencing kimonos in Central Japan, please refer to this article for rental stores and recommended photo spots.
Zen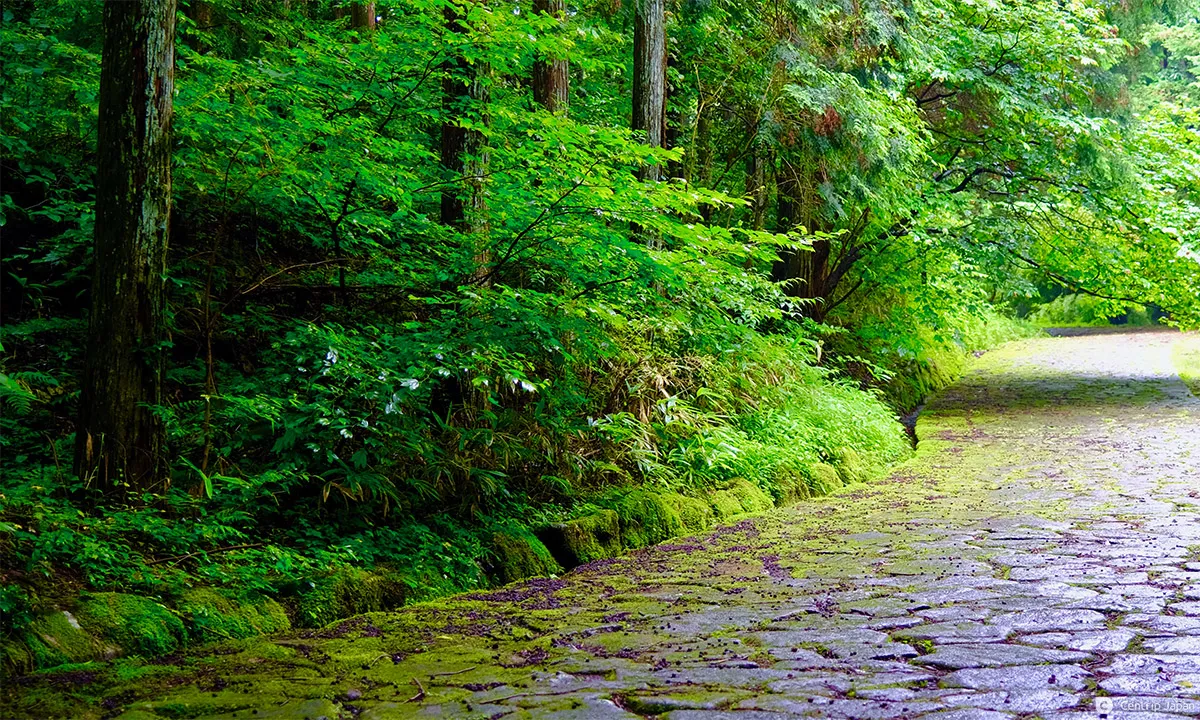 Stone pavement at Ochiai Inn
Zen was the spiritual anchor for many military commanders who sought spiritual stability during the Warring States period. In Nakatsugawa, where there were three post towns, Magomejuku, Ochiaijuku, and Tsumagojuku, there are programs that give visitors the opportunity to experience Zen in a casual setting amidst the elegant townscape.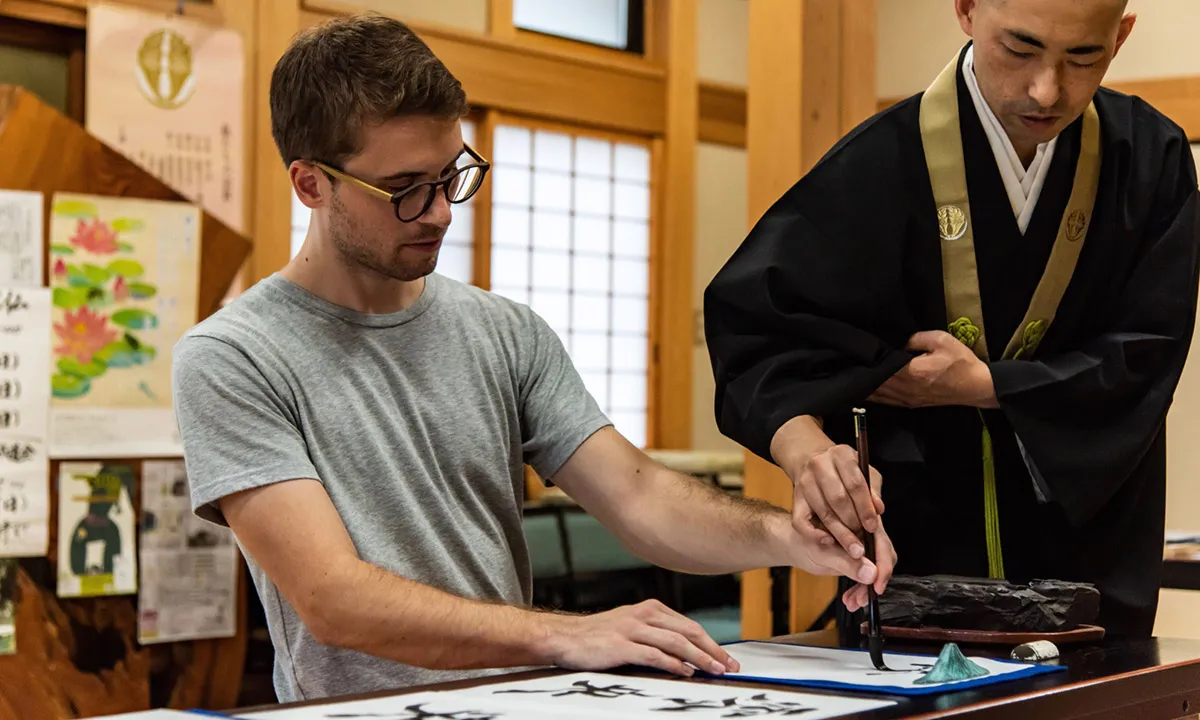 Learning how to copy sutra
The first activity is the Buddhist practice of copying sutras one character at a time. Today, sutra copying is attracting renewed attention for calming the mind and improving concentration by clearing the mind of distractions and concentrating the mind and body.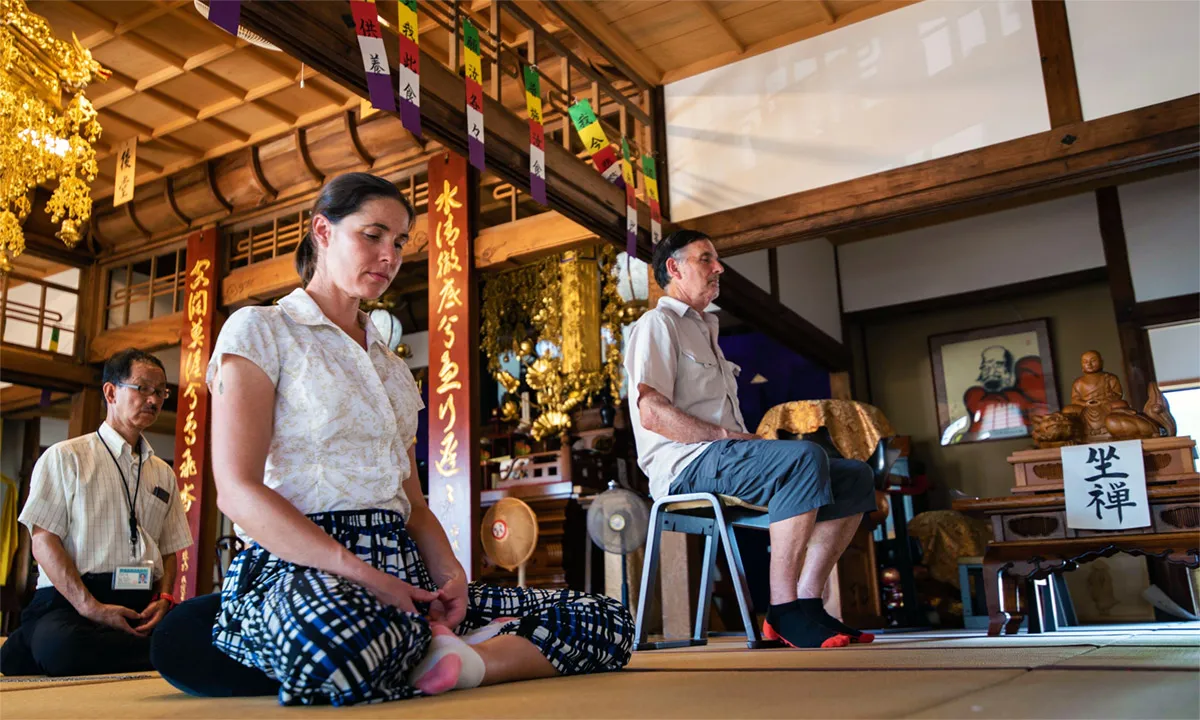 Practicing zazen meditation
The second is zazen, a Buddhist practice involving maintaining the correct posture to unify the mind. Zazen is a way to clear your mind of all distractions, empty your thoughts, and face yourself to regulate your mind. Both of these activities allow people to get away from the hustle and bustle of the city and let them relax and reexamine themselves in silence.
Tea Ceremony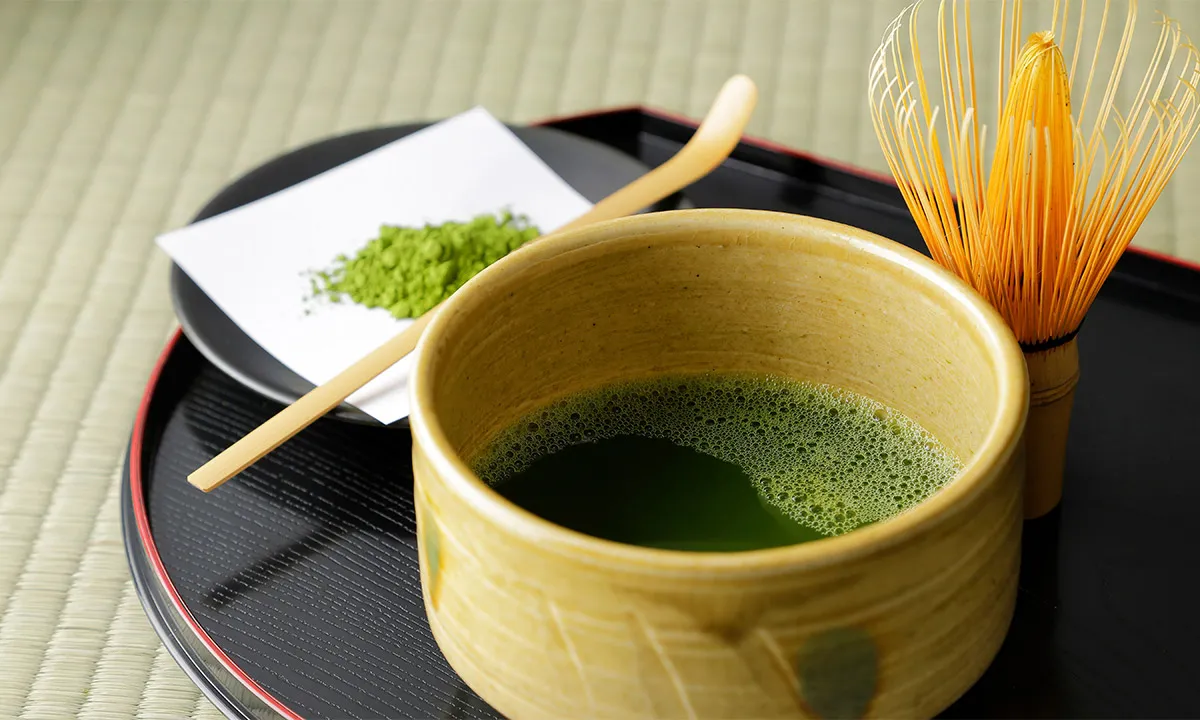 Tea ceremony ready to begin
Warlords like Nobunaga Oda and Hideyoshi Toyotomi enjoyed the tea ceremony The tea ceremony occurs in an indoor room called a chashitsu (tearoom). Once attendees are inside, they are seated equally, regardless of status.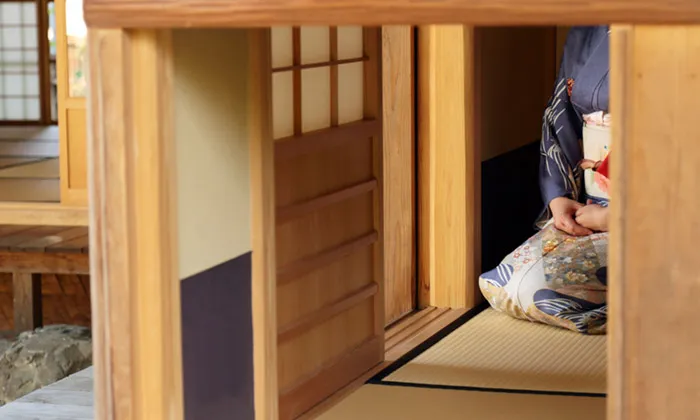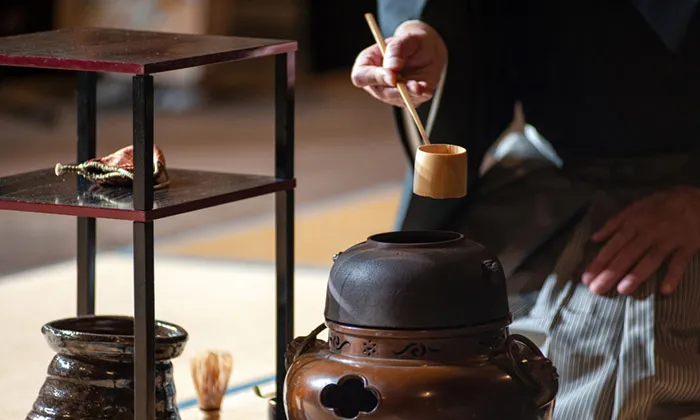 The entrance to the tea room was extremely narrow, and samurai had to enter the room while kneeling with their swords off and their heads bowed. Therefore, the tea ceremony was a popular form of communication and served as the only place for samurai, who fought day and night, to rest without fear of being attacked by their enemies.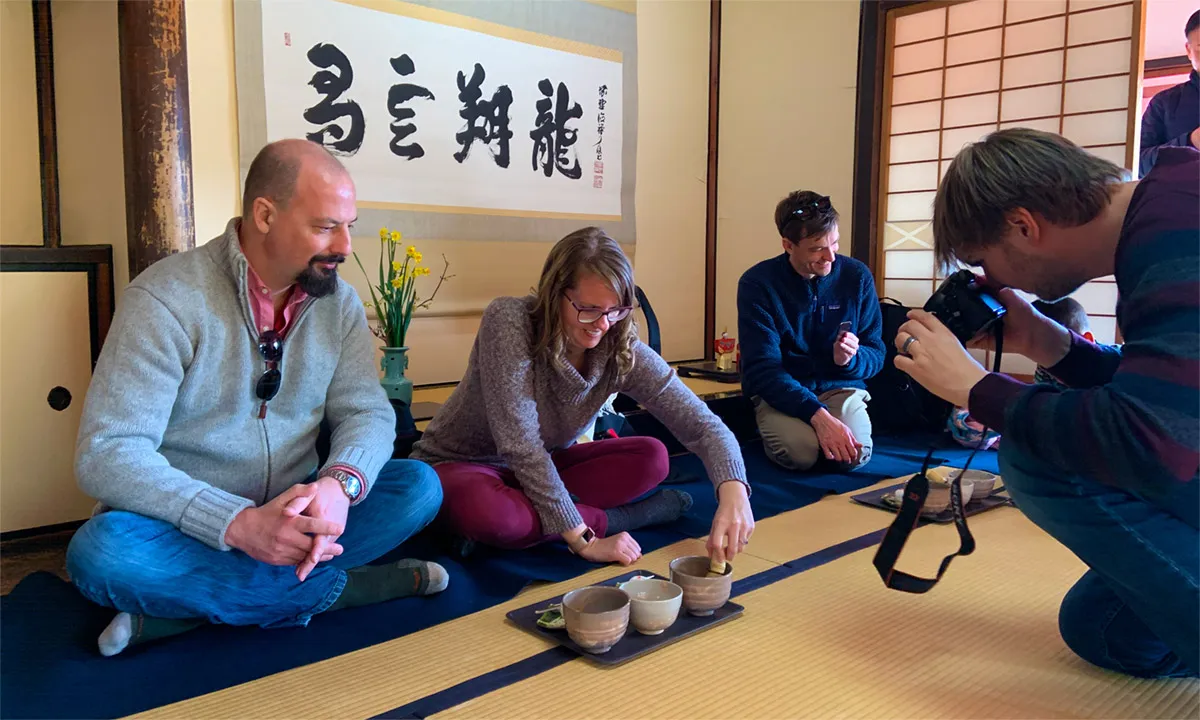 Tea Ceremony Experience in Nishio
Many places in Central Japan offer tea ceremony experiences, but if you want the best experience, we recommend you try a tea ceremony experience in Nishio, Aichi Prefecture. Nishio is the largest producer of powdered green tea in Japan. Nishio, Aichi Prefecture, is the best place to experience a tea ceremony. It is worth mentioning that if you are interested in this experience, you can start from the process of making matcha. You can even have your tea made from matcha you ground yourself. Be sure to enjoy this tea ceremony experience.
For those with limited time, we recommend the matcha experience at the Japanese-style cafe in the Tamesaburo Memorial Museum, a branch of the Furukawa Art Museum in Nagoya. Enjoy seasonal Japanese sweets and matcha green tea while admiring the beautiful Japanese garden. If you are interested, please read this article.
Mino Washi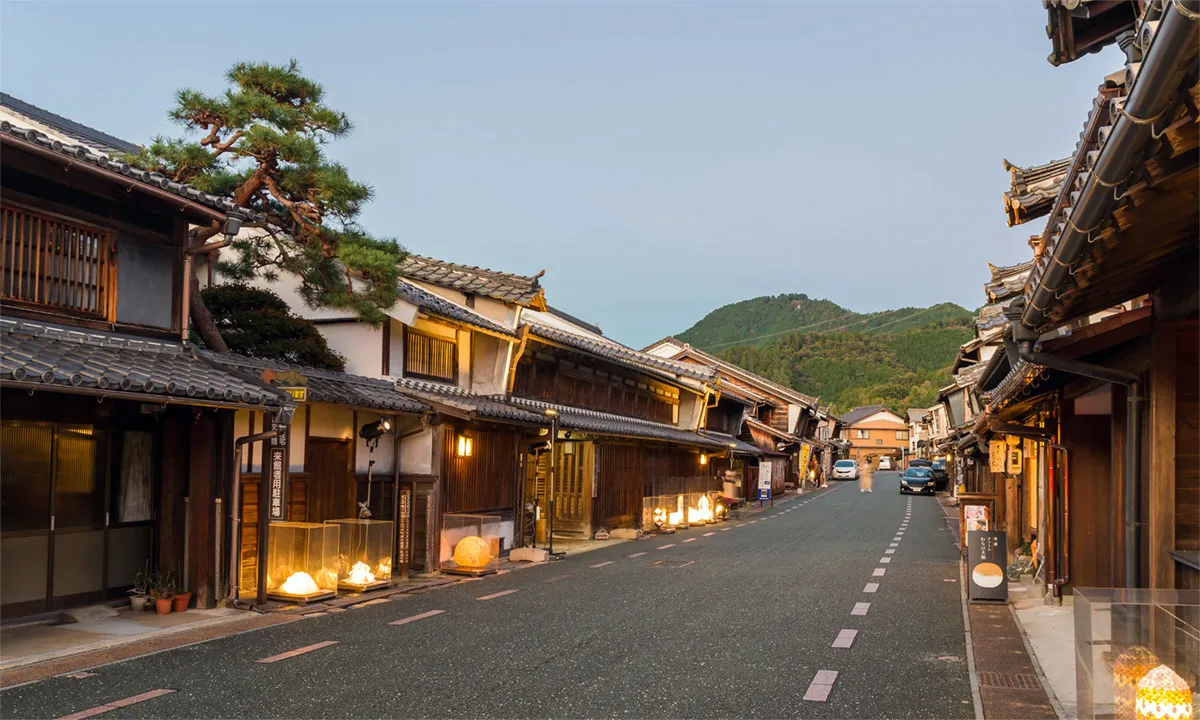 Townscape of Mino
Mino is between Nagoya and Takayama, a popular tourist destination. It is known for its tasteful streets lined with Edo-period townhouses and Mino Washi (Japanese paper). Mino Washi is Japan's oldest paper, with a history of approximately 1,300 years. Its strength and flexibility are ideal for preservation, and its whiteness increases with the passage of time.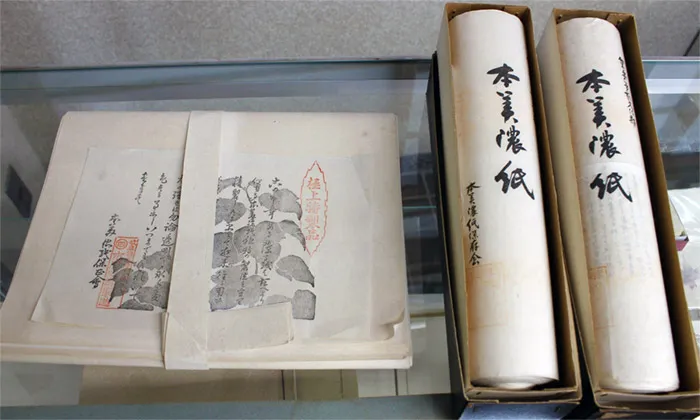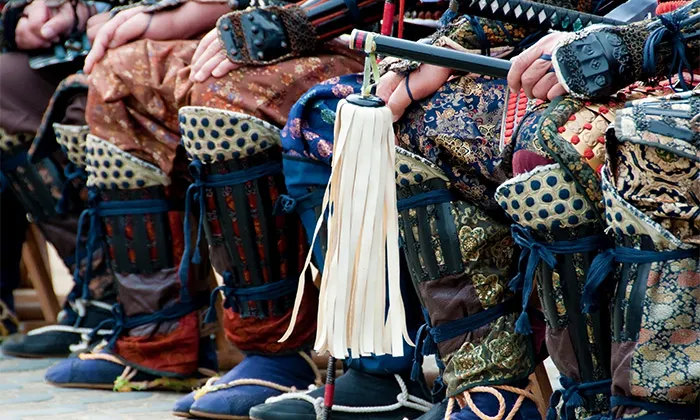 Tokugawa Ieyasu, the warlord who ended the Warring States period, favored Mino washi. At the Battle of Sekigahara, which triggered Ieyasu's rise to power, he used Mino Washi to make the saihai (a baton used for commanding an army, like a conductor's baton). Afterward, Mino Washi was regarded as good luck and became the official paper of the 260-year Tokugawa Shogunate.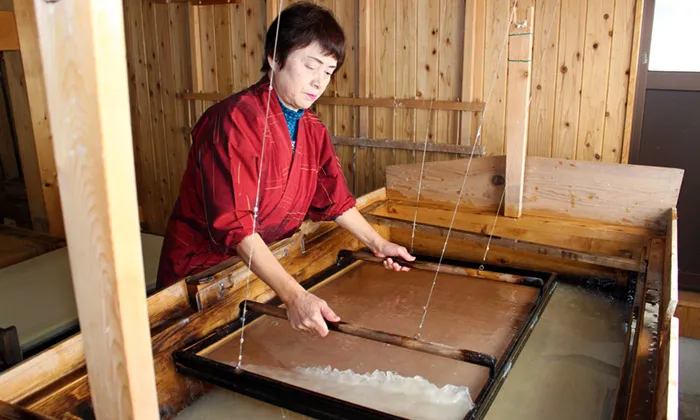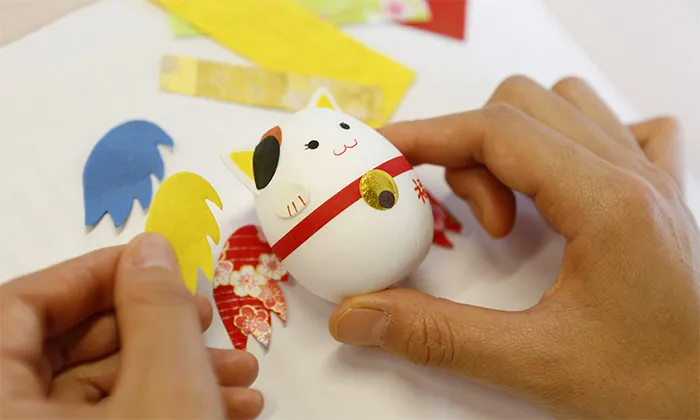 At the Mino Washi no Sato Kaikan, visitors can learn about the history and techniques of Mino Washi and experience traditional washi making. Several lessons are available, ranging from a 20-minute one (No reservation) to a full 5-hour one (Reservation required). Come and experience the world of Mino Washi.
Rickshaws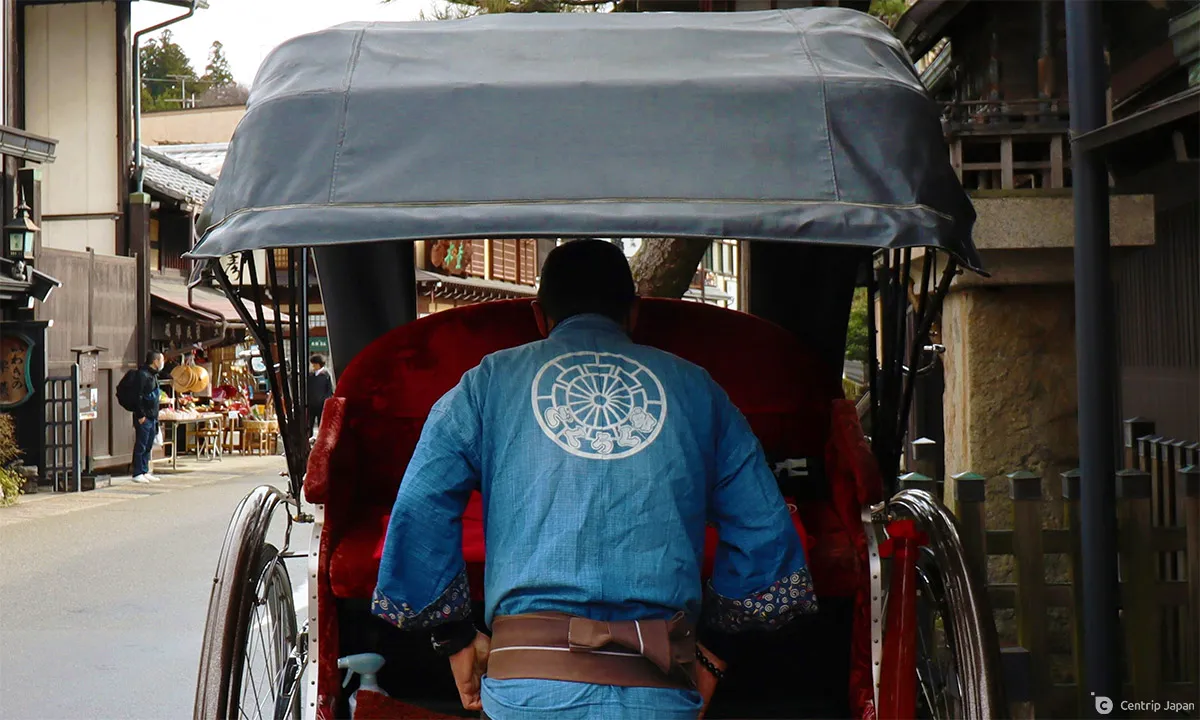 A rickshaw
If you are feeling a bit tired or want a change of scenery, we recommend taking a rickshaw. Rickshaws are hand-drawn vehicles equipped with seats to carry people. Before the advent of the rickshaw, the only means of transportation was on foot, on horseback, or on palanquins, which were box-shaped conveyances carried by people.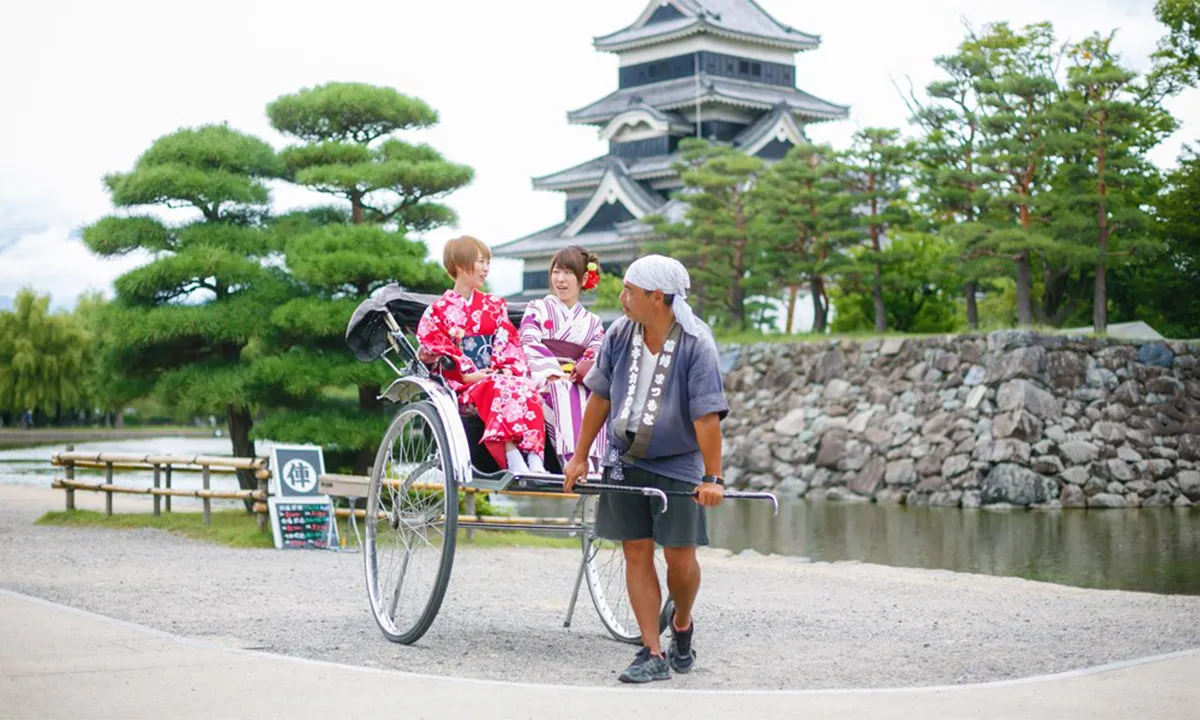 Rickshaw-guided tours around Matsumoto Castle
Matsumoto Castle, with its beautiful contrast of black and white walls against the backdrop of the Japanese Alps, offers guided tours around the castle in a rickshaw.
You can even try riding in a rickshaw in Kinshachi Yokocho next to Nagoya Castle. It's a great way to relax and go sightseeing.
Wrap-up
Many more experiences to give you a taste of the history and culture of the Central Japan region await. Come and forge special memories of the Ninja and Samurai of Central Japan.
Click here to get the latest information on Central Japan.Centrip Japan - Nagoya and Chubu Information