| Hannah Tsai
Inuyama: Four Photogenic Places to Wear Kimono!
Inuyama, reached by train in less than 30 minutes from Nagoya Station, is an Edo-inspired sightseeing area with a quaint old town and has become an Internet hotspot because of the Love Ema (wooden placard) Shrine. In beautiful Inuyama, many girls put on lovely kimonos and walk around the old town, taking pictures among the cute and unique atmosphere.
Today, Centrip Japan invited YouTuber Hsuan to experience wearing a kimono and to show you how to rent one in Inuyama, in addition to introducing recommend kimono photo spots.
<Navigator's Profile>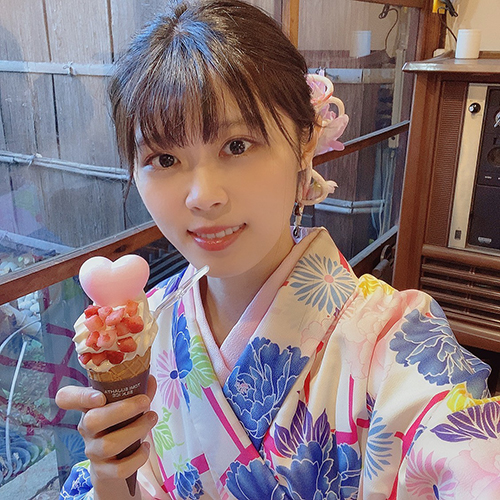 Hsuan
A YouTuber, and this article's host from Taiwan. She is active in both Japan and Taiwan.
Love is in the air! Rent a kimono in cute and quaint Inuyama.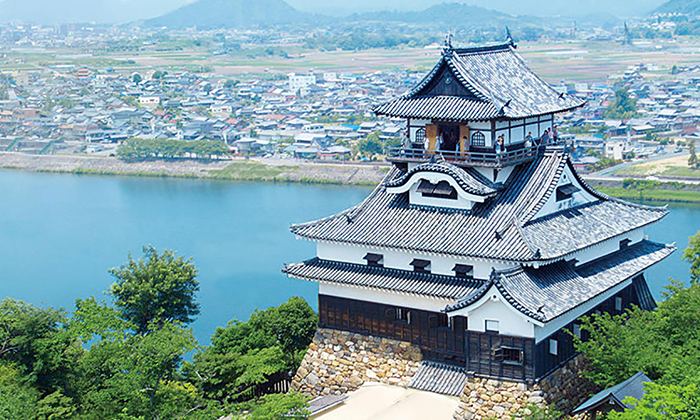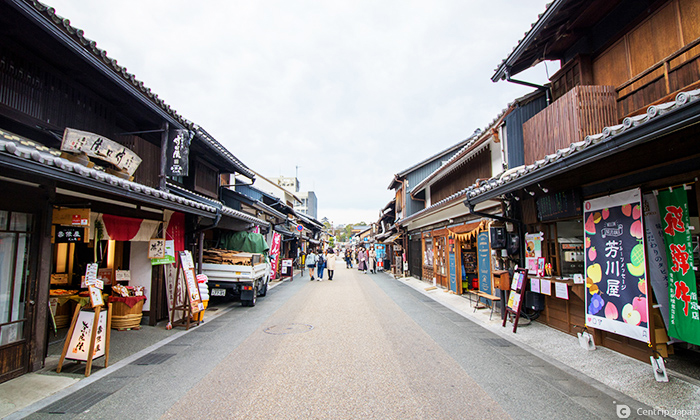 Inuyama is best known for Inuyama Castle, one of Japan's five remaining wooden castles and national treasure, and its castle town, where a large number of old wooden houses remain preserved. In recent years, Inuyama has become net famous for love Shrines, and many small and cute foods, that create a unique landscape that is both old but trendy.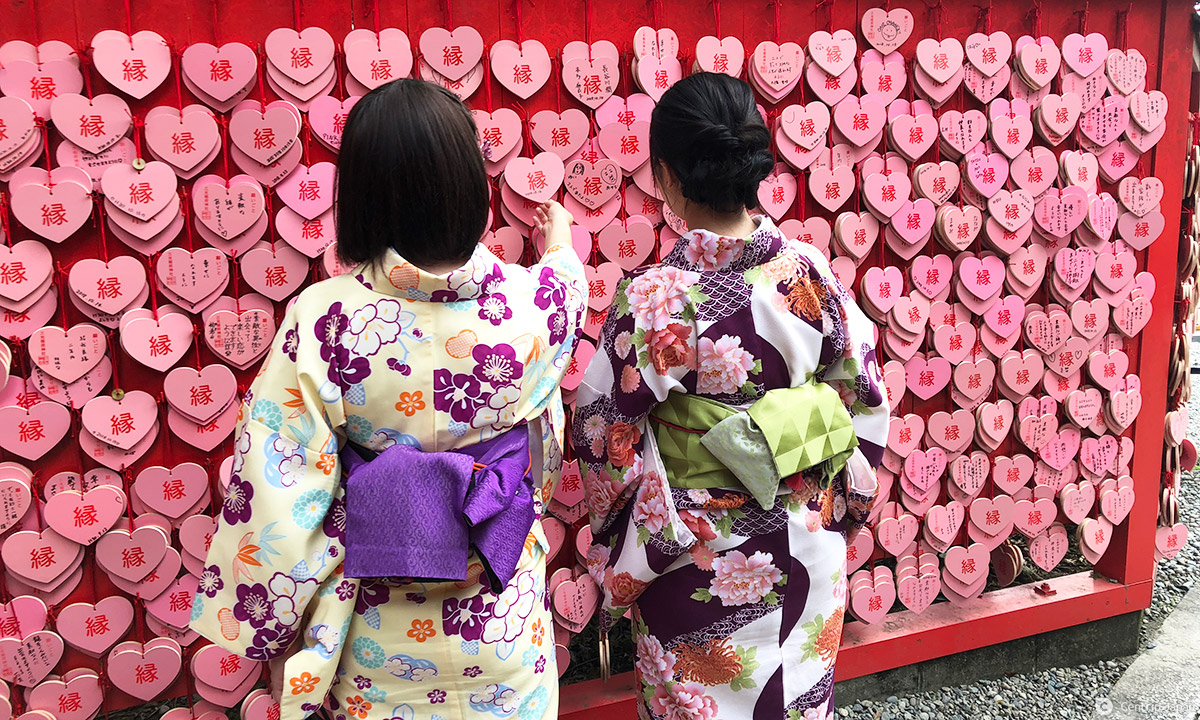 Inuyama is not the same as Kyoto, the mecca of the kimono experience. Kyoto is more reserved and elegant, while Inuyama's kimono experience has a more modern and fashionable atmosphere in terms of design and streets, making it perfect for girls!
Pick the kimono that suits you best!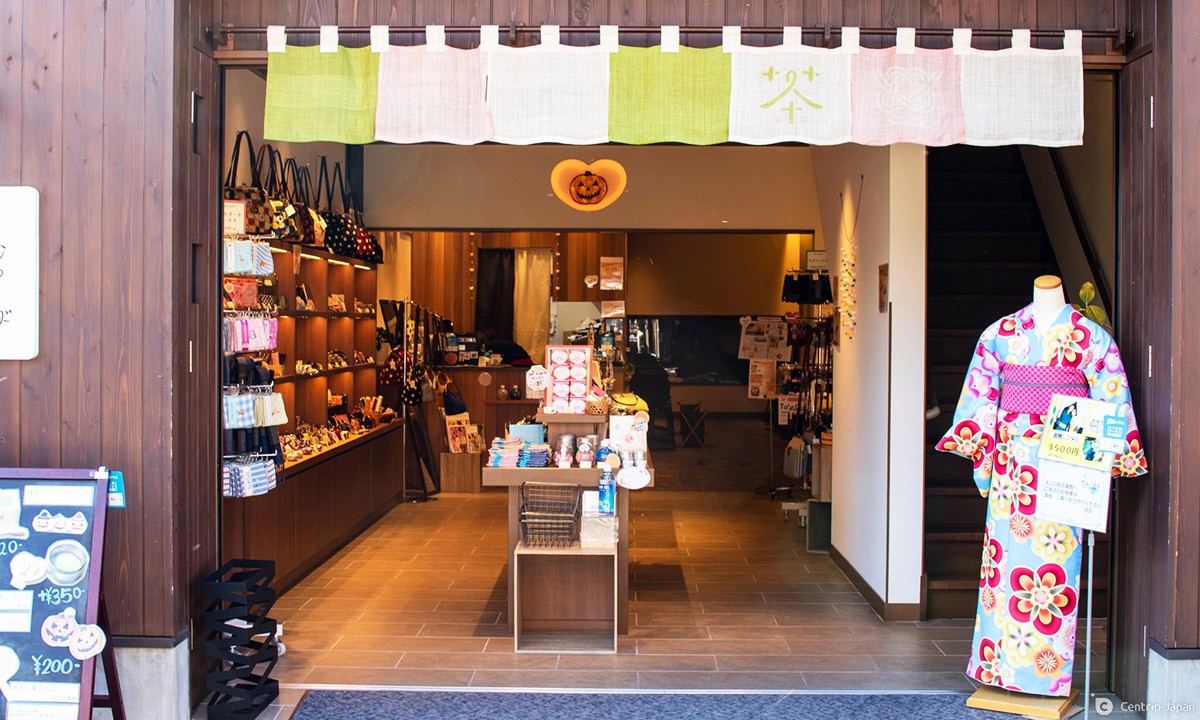 The kimono Hsuan is wearing comes from Inuyama Biyori, which focuses on kimono with patterns suited for "taking the perfect photo." The designs are fashionable with colors that are vibrant and cute.
The kimono experience
Making an appointment
It is possible to rent a kimono on the same day without making a reservation, but we recommend making a reservation online to reduce the wait time. Note: the deadline for online reservations is 4 pm the day before arrival.
Kimono and choosing accessories (15 minutes)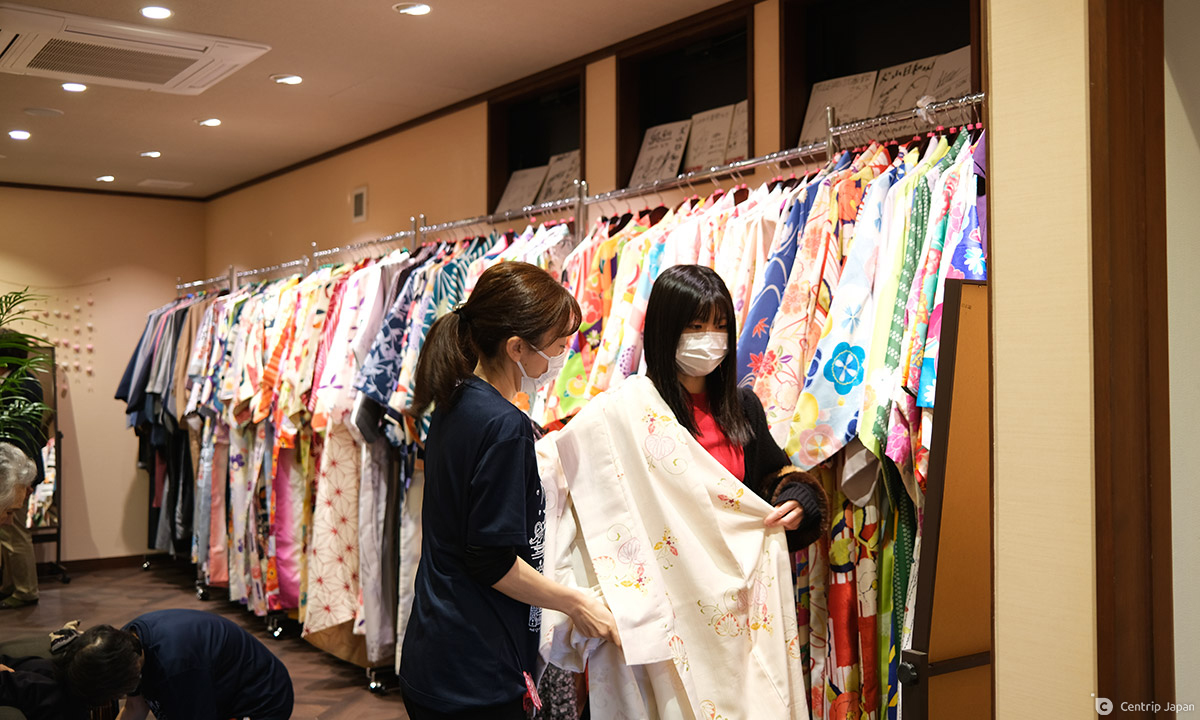 All kimonos are priced at ¥3,500 regardless of design. However, there are hundreds of kimonos, and each one is so cute that you'll have a hard time choosing one!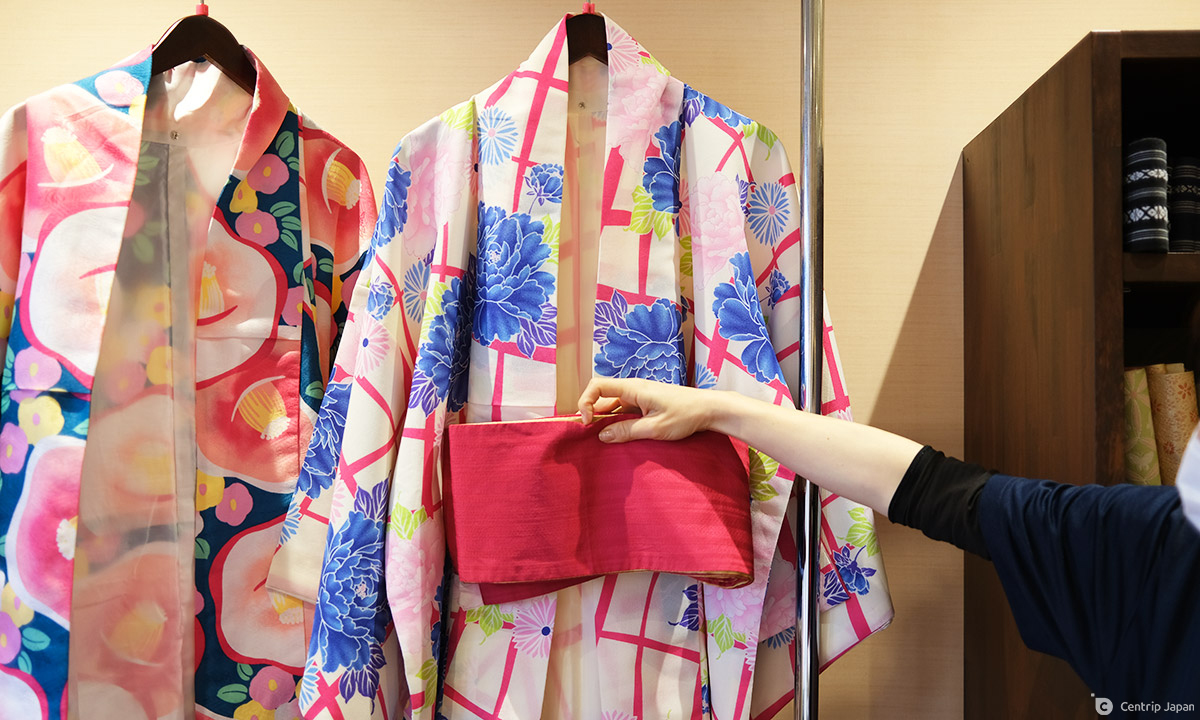 In my experience, the best method is first to choose your favorite color, then consult with the kimono dresser for your accessory color! If you ask the dressmaker, they will recommend a few suggestions that match your chosen style and which compliments the colors beautifully.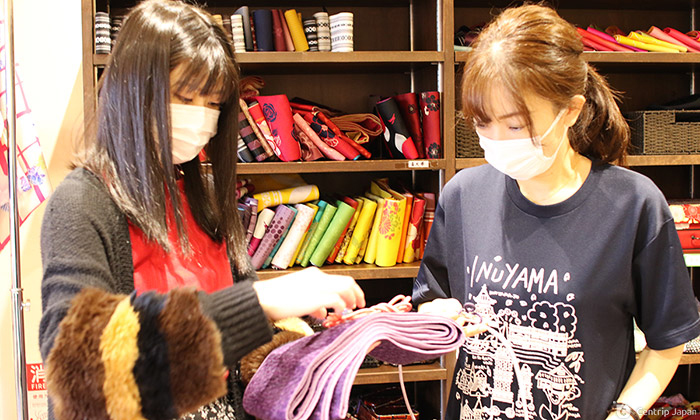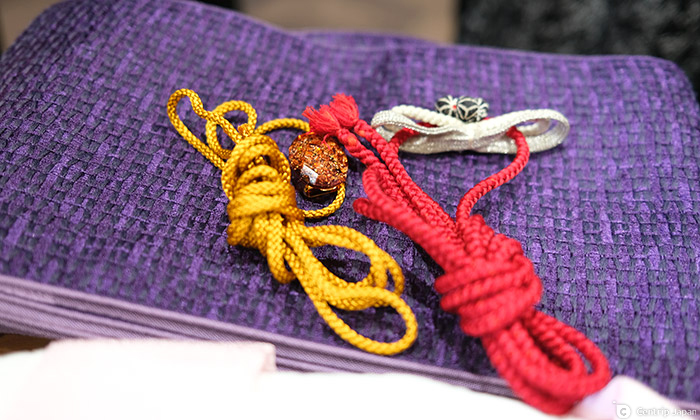 Next, you choose belts, accessories, and more. Some designs come with an additional charge.
Dressing (15 minutes)
Once you've chosen your kimono, the dresser will quickly and skillfully dress you; the process is complicated, but they approach each dressing with seriousness and care, will always make you look great! The store will take care of your belongings while you change.
Hair styling (15 minutes)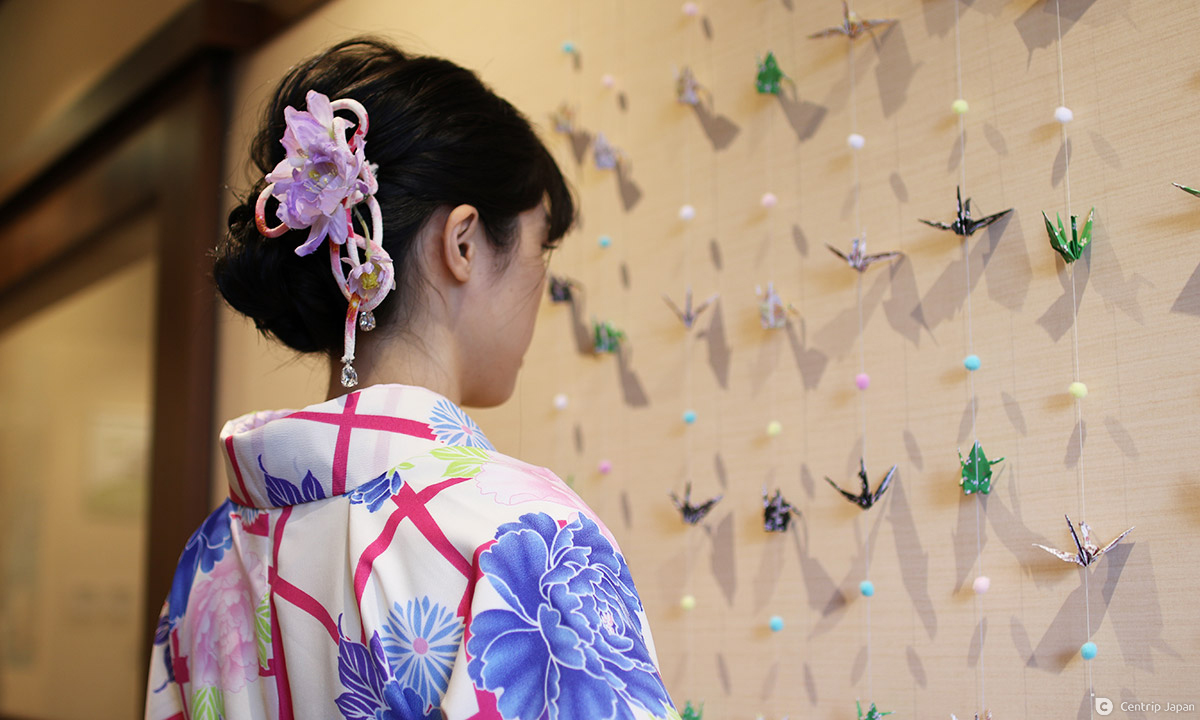 Hair styling is ¥2,000 (before tax). You can choose from one of five styles.
Recommended Kimono Photographic Spots
Check out these recommended spots after you've donned your kimono.
1. Sanko Inari Shrine: Love ema (wooden placards) and Torii gates.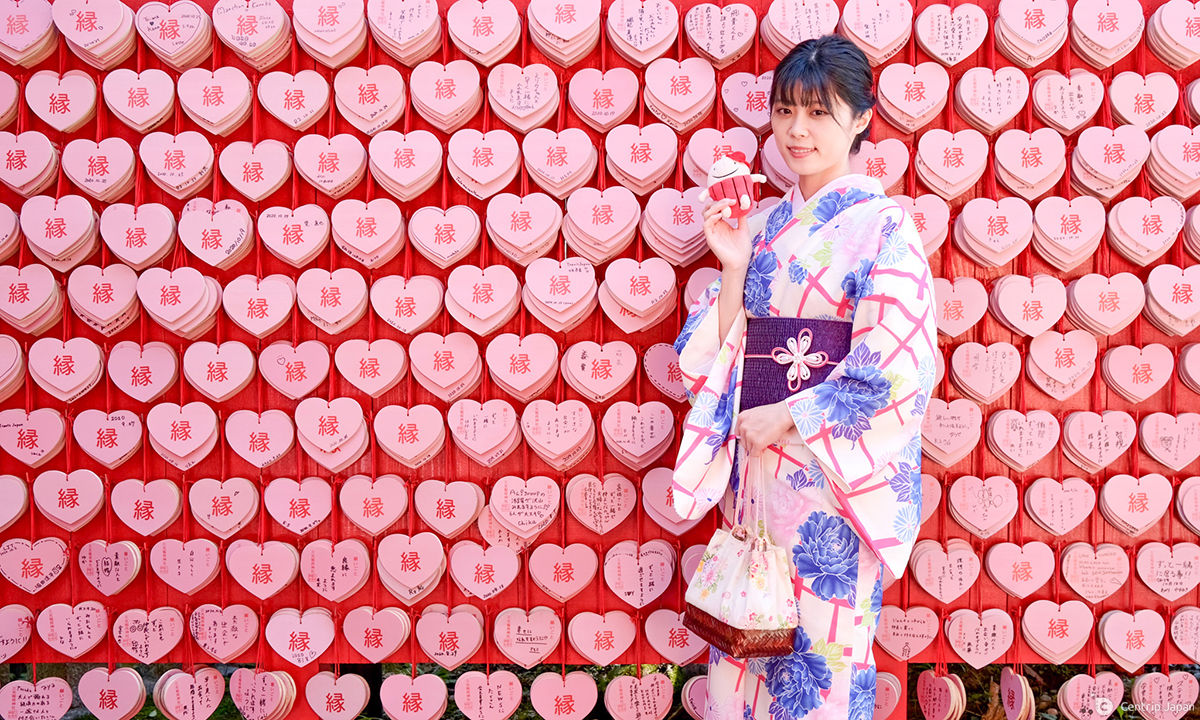 Sanko Inari Shrine is famous as a love shrine and for praying for good karma. At the shrine is a pink wall covered in wooden placards known as ema. The pink-covered wall looks so charming when photographed and attracts many women in Japan to make the pilgrimage to the shrine.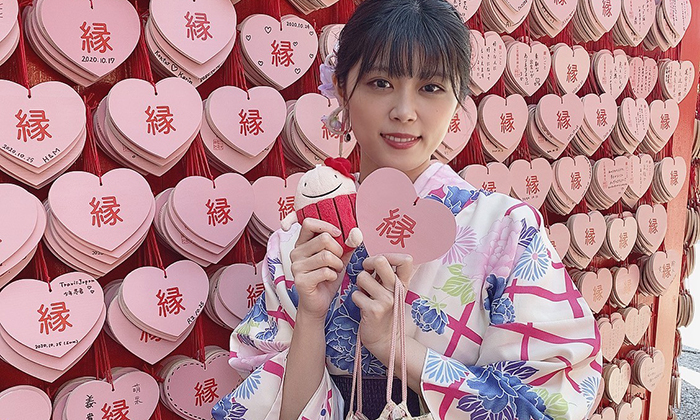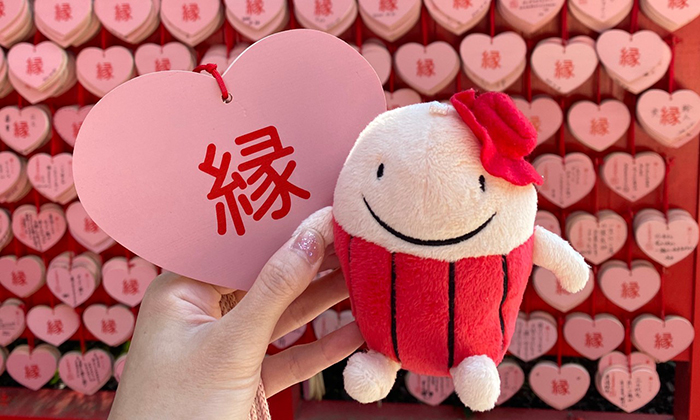 Buying an ema and writing your wish for good fortune not only brings good luck but also makes a great prop for photos.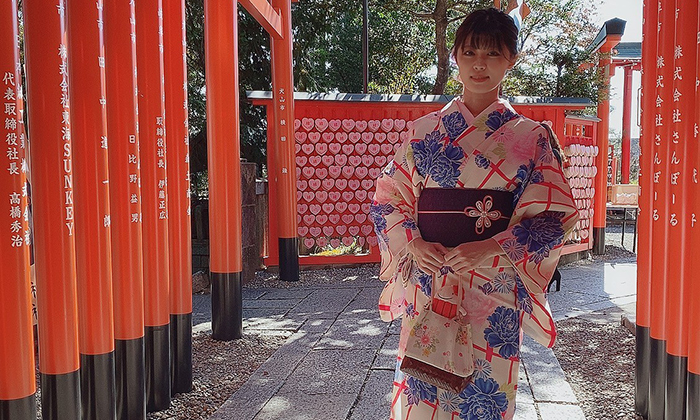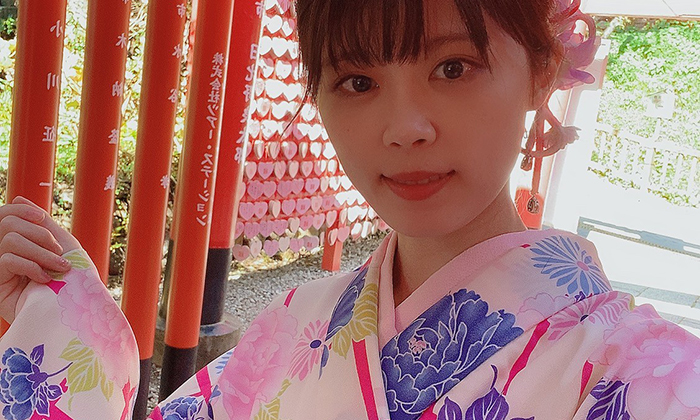 Many Torii gates line the walks of Sanko Inari Shrine. So you can photograph the Torii and the painted ema together. The popularity of photos taken here encourages more visitors to come for pictures of their own. But if you want pictures without someone photo-bombing them, you'll have to wait or, better yet, go early in the morning to avoid the crowds.
2. Inuyama Castle: A vast, panoramic view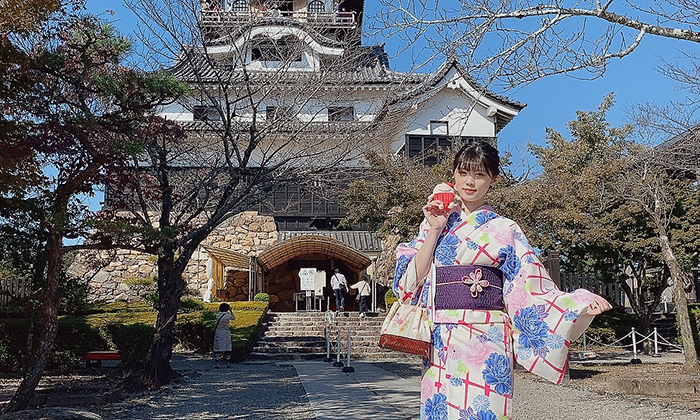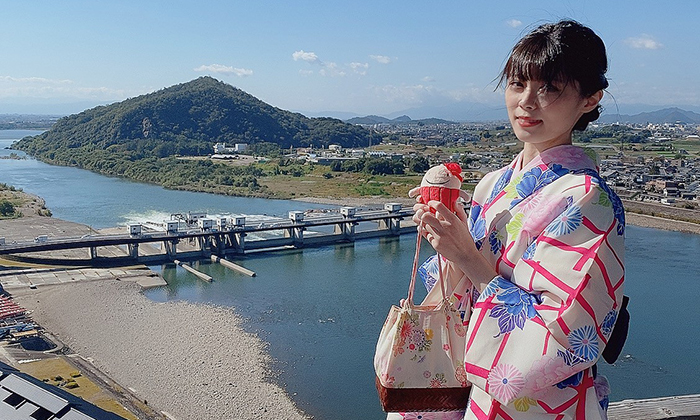 Inuyama Castle is known as the oldest surviving wooden castle in Japan and is of great historical significance. The castle is located on high terrain with no surrounding obstacles, making the 360-degree view of Inuyama and the surroundings wonderful.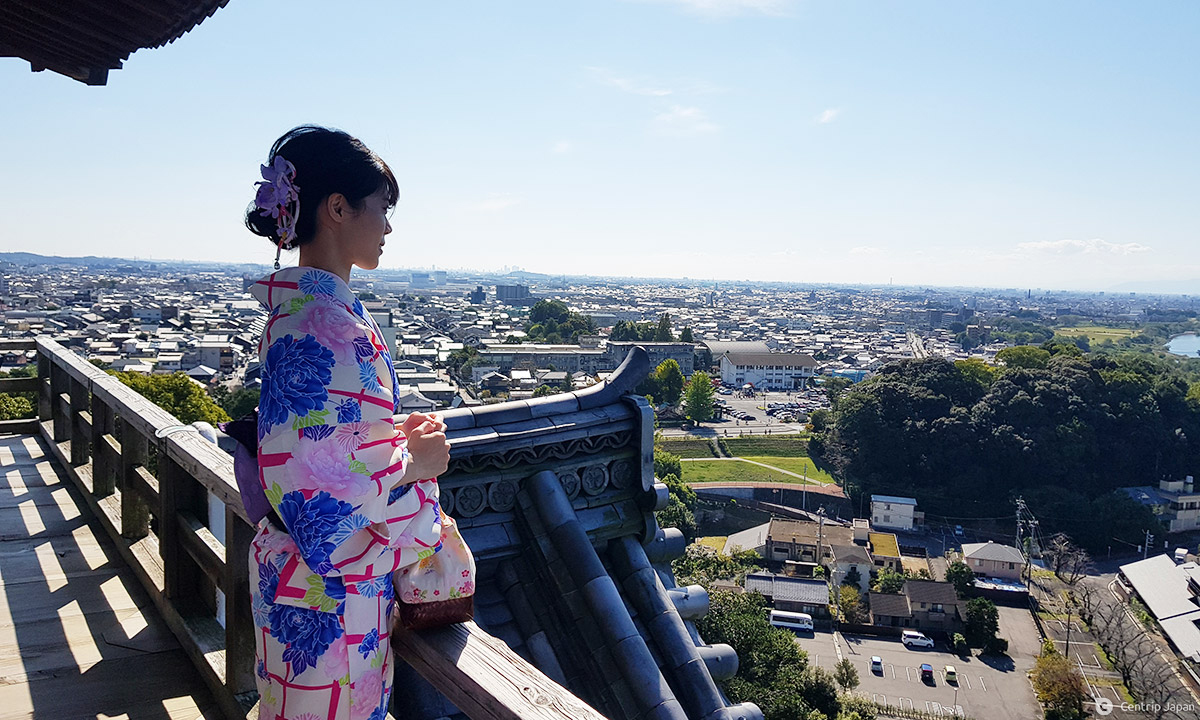 Climbing the steep stairs of Inuyama Castle in a kimono is a bit strenuous, but the view from the top is worth it! Your lovely kimono set against the blue sky and the river make for a rare vantage point and spectacular photos.
Inuyama Castle's rooftop is a bit windy & the railing is only waist-high, so be careful when taking photos!
3. Inuyama Castle Town: Edo-style wooden buildings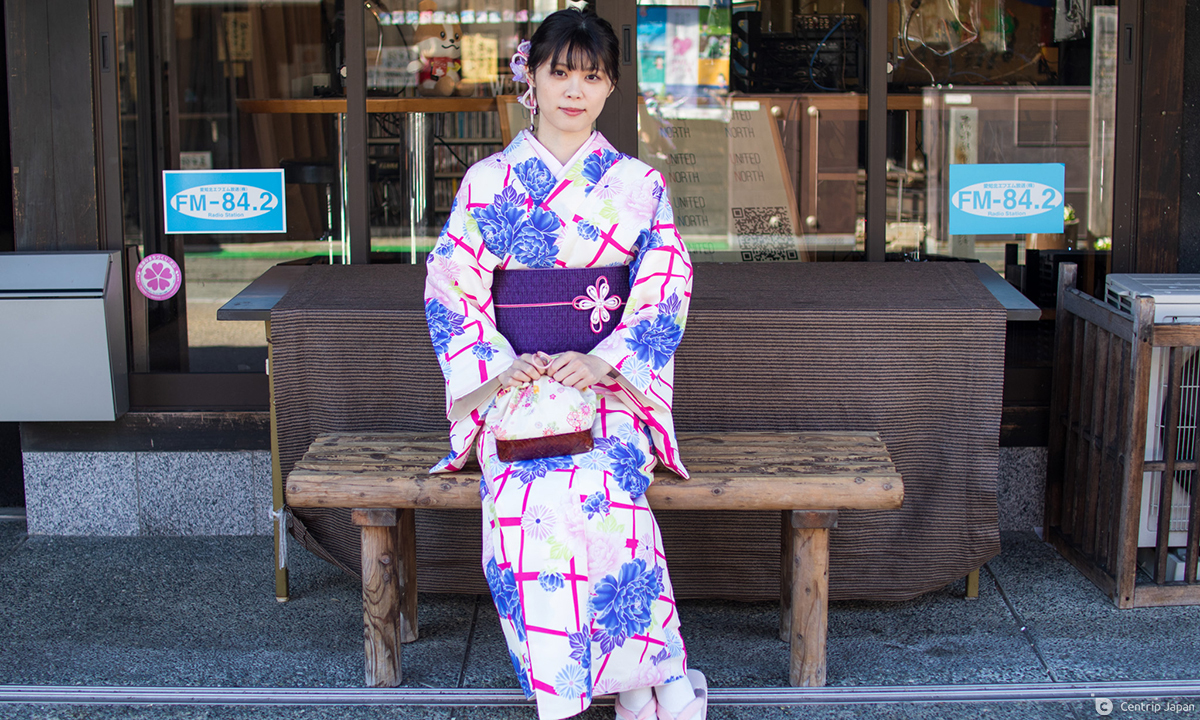 Inuyama Castle Town retains its old wooden houses, and every corner is a beautiful backdrop.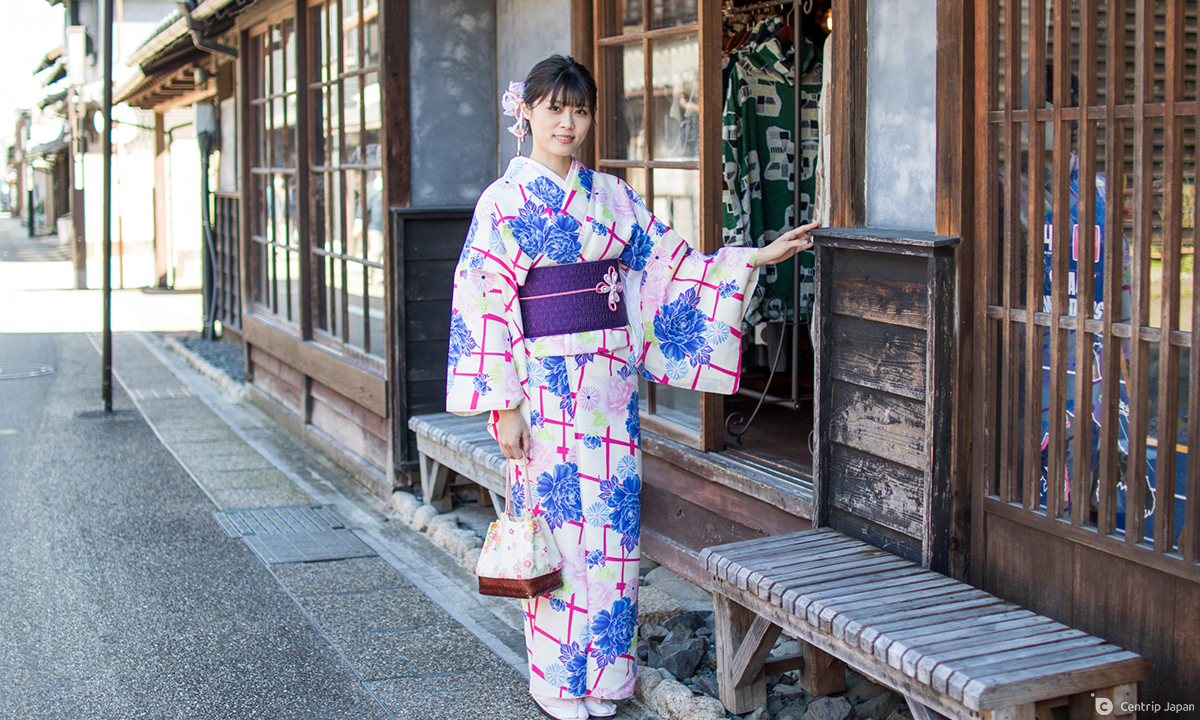 Choose a location with few people and a large aperture lens, and you'll look like pretty no matter how you shoot.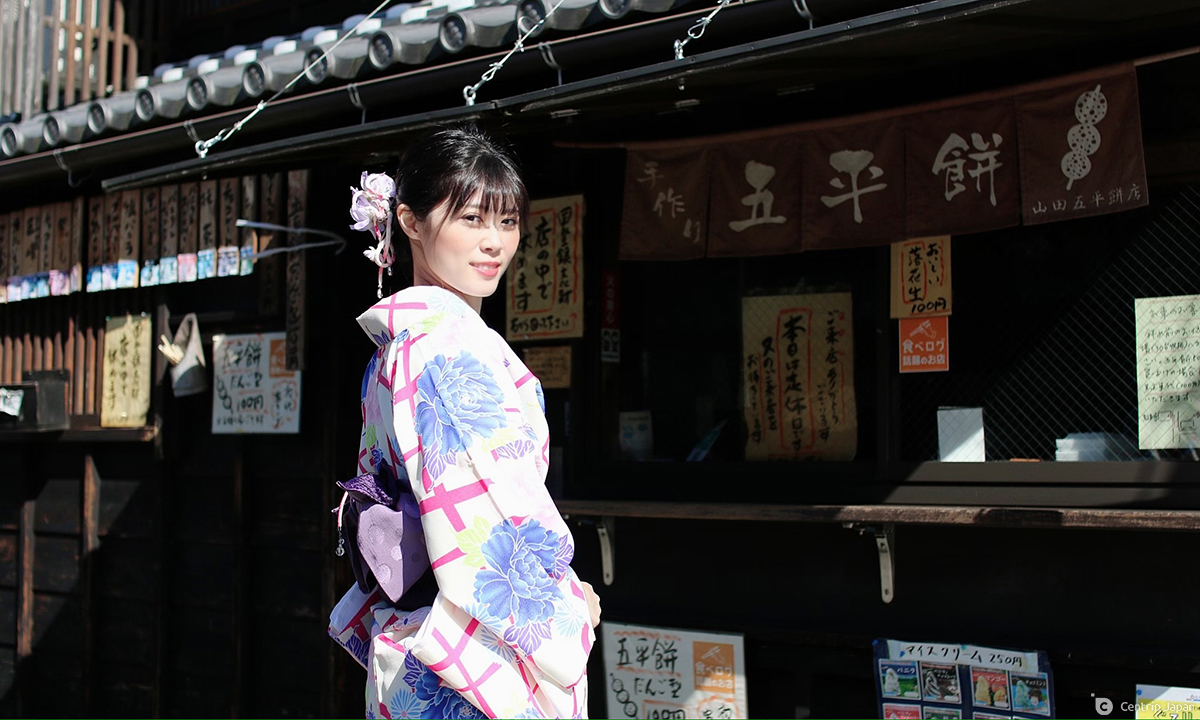 Inuyama's castle town is full of stylish stores. These traditional-looking stores are great for photos, as well as the food they have on offer. Foods such as cheesecake skewers, ice cream, and sushi are served cleverly in bite-sized pieces and designed to convey a sense of quality and style when held for a photo.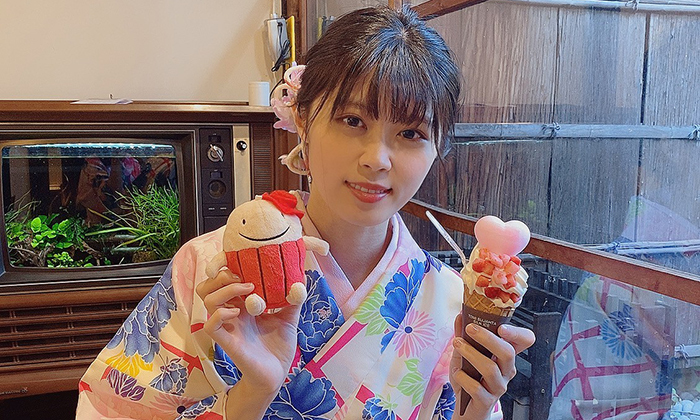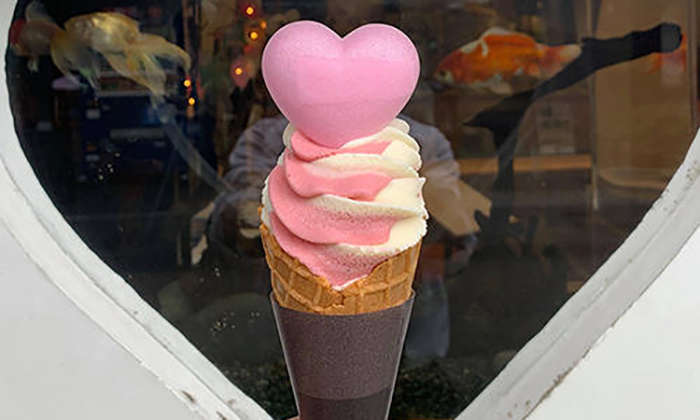 The secret to a kimono photoshoot is the cafe Honmachi Saryo. It is a century-old folk house converted into a Japanese-style tea house. The cute soft-serve ice cream and beautifully prepared snacks this cafe has on offer an air of elegance to any photo!
4. Step into the past with a ride on a rickshaw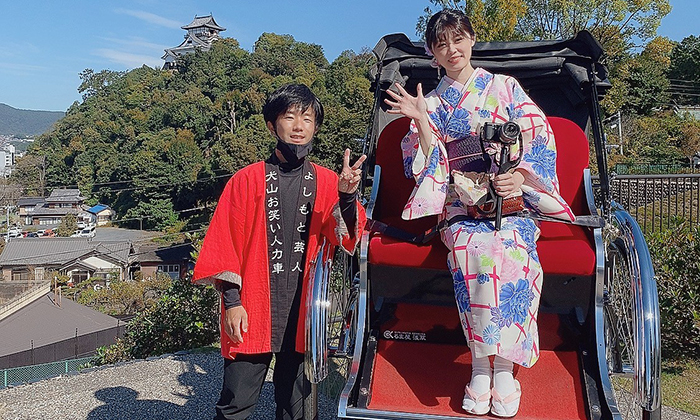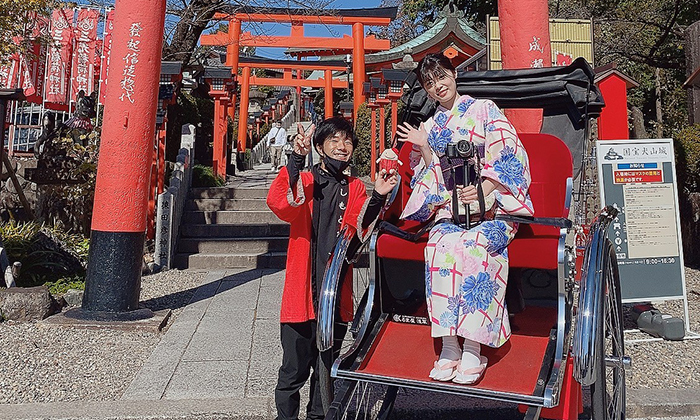 Many sightseeing spots have rickshaw services that offer guided tours. Inuyama's rickshaw is called the "Funny Rickshaw," with a Japanese comedian by the name of Yoshimoto as its driver. The drivers offer humorous tours to introduce their customers to Inuyama. So put yourself in the shoes of an elegant noblewoman from days long past, and take a ride on a rickshaw! Unfortunately, the comedians speak mostly in Japanese. So if you can understand Japanese, be prepared for an entertaining ride.
Price: ¥1,000 (15 minutes, maximum of two people)
Get to Inuyama with the Inuyama Jokamachi Ticket!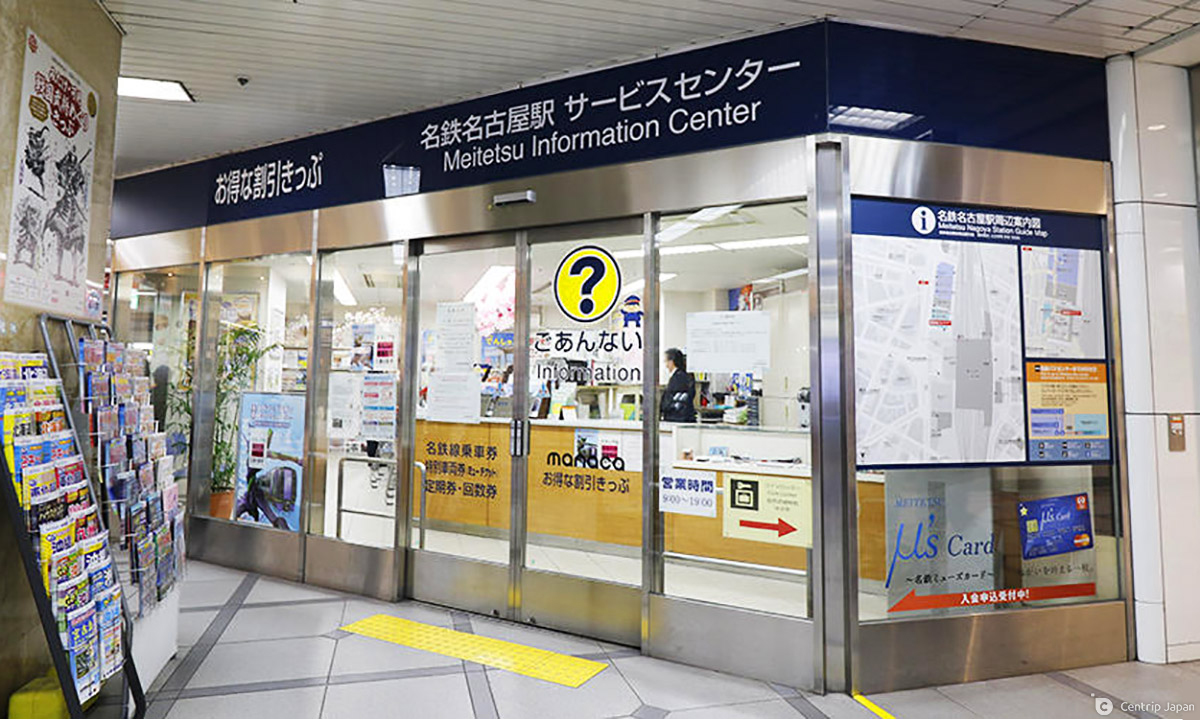 If you want to save money on travel and food, we recommend the Meitetsu Inuyama Jokamachi Ticket. The ticket includes a round-trip ticket from any Meitetsu station to Inuyama Station/Inuyama Yuen Station. The Inuyama Castle Admission Ticket and Inuyama Designated Shops Coupon (for use at 3 out of 12 stores) are available at different prices depending on your departure station. For example, if you depart from Meitetsu Nagoya Station with a round-trip ticket and the Inuyama Castle Admission Ticket, you will save ¥410 (¥1,380) and up to ¥800 (¥1,210) with the discount coupon. If you're planning to visit Inuyama Castle, the saving this ticket package offers is a great deal. If you rent a kimono from Inuyama Biyori, you will get a discount of ¥3,300.
Wrap-up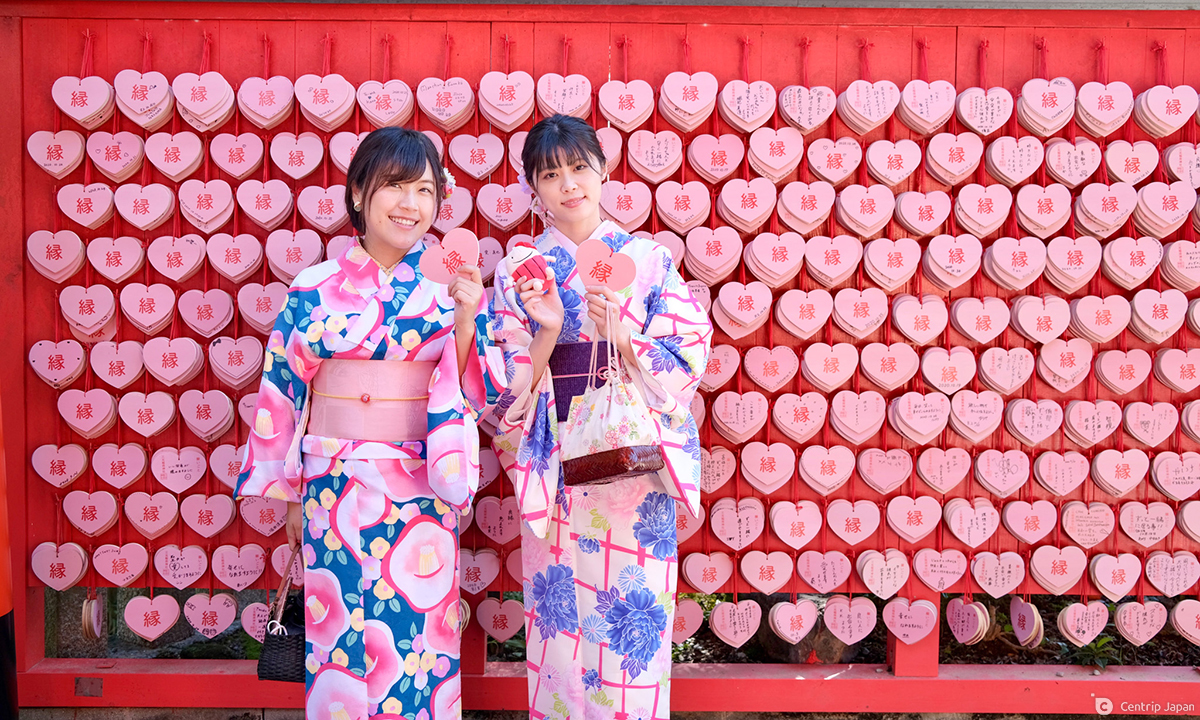 After reading about Hsuan's adventures with kimono in Inuyama, are you excited to try it out? Inuyama is both a historical and social media destination, and it's perfect for anyone who loves the elegant historic buildings or wants to capture cute & pretty pictures. If you have time, you can make your way to Meiji Mura, a short 20-minute ride from Inuyama Station. This outdoor museum, set in the Meiji Era, is a paradise for kimono lovers! We can't wait to see what beautiful kimono pictures you take!
Click here to get the latest information on Central Japan.Centrip Japan - Nagoya and Chubu Information