| Centrip Editorial Board
Inuyama Castle & Town: Nagoya Day-Trip Sightseeing Series 11
Tired of shopping in Nagoya? Want to take a break and get a taste of history? Then you'll love Inuyama, a short 25-minute ride away from Nagoya.
Inuyama is host to one of 5 castles designated a national treasure in Japan: Inuyama Castle. As well as Sanko Inari Shrine, which has a heart-shaped ema (wooden prayer plaques), and a castle town, the perfect place to put on a kimono and go for a walk. Add to that the many heart-shaped sweets on sale and you'll fall in love with Inuyama.
Join us as we walk you through the Inuyama Castle Town Ticket, and show you how to best enjoy your day in Inuyama.
What a steal! The Inuyama Castle Town Ticket
The Inuyama Castle Town Set Ticket includes a roundtrip ticket from any Meitetsu Station to Inuyama Station or Inuyama Yuen Station. It also includes admission to Inuyama Castle and 3 coupons for use from among 12 different stores. Ticket prices vary slightly depending on your departure station.
For example, a ticket set from Meitetsu Nagoya Station costs ¥1,380. This gives you a savings of ¥410 if you were to pay for just the round-trip ticket and entry to the castle on your own. In addition, the coupons will save you up to ¥800 giving you a whopping total of ¥1,210 in savings! Getting this ticket set is a no-brainer.
Centrip recommends this ticket for people who:
A. Want to visit Inuyama castle.
B. Want to eat at Inuyama's Castletown.
Introducing the 12 participating stores
Where do I buy the Inuyama Castle Town Ticket?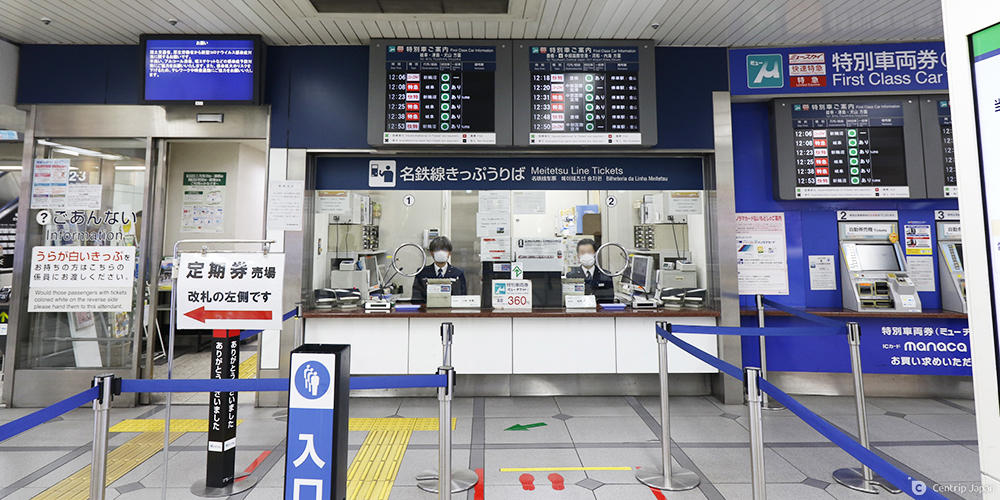 You can purchase it at ticket windows in any Meitetsu station.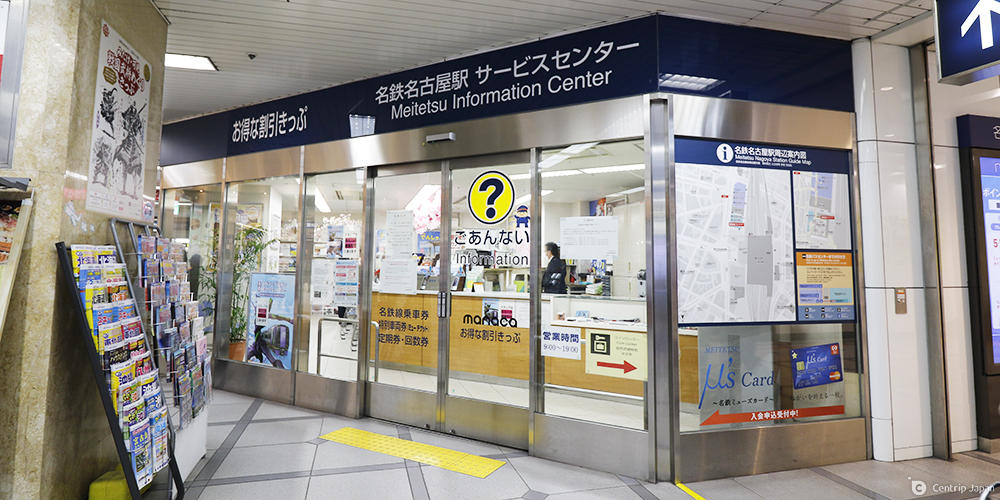 You can even buy it at the Meitetsu Information Center in Nagoya Station. Here they offer many other Meitetsu discount tickets in a variety of languages and the staff are happy to provide you with any assistance you require.
How do I use the Inuyama Castle Town Ticket?
When you purchase it you'll get a Meitetsu Round-trip Ticket and an Inuyama Castle Ticket, as well as Meitetsu Coupons.
You can exchange the Inuyama Castle voucher for an admission ticket at Inuyama Castle's ticket booth. The Meitetsu Coupon has three blanks, which will get stamped when you use it.
How do I get to Inuyama Station from Nagoya Station?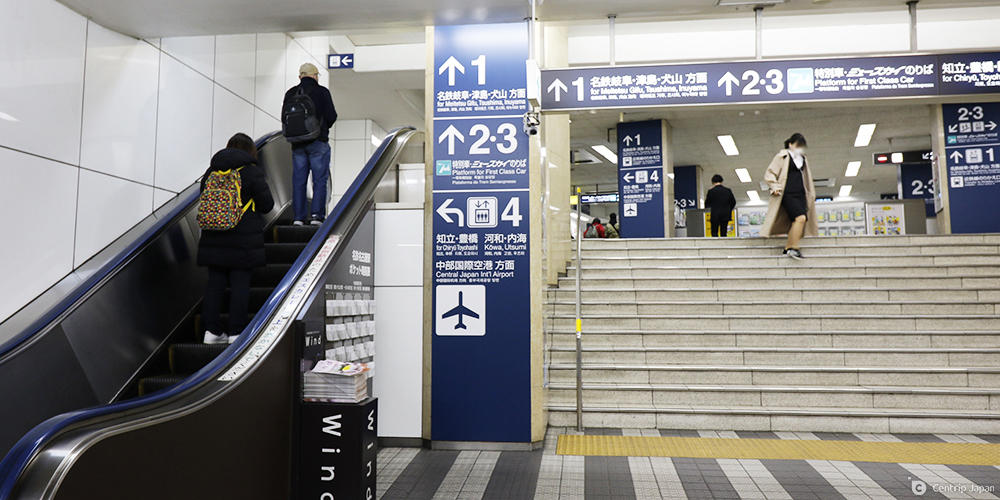 Taking the train? Use Meitetsu Nagoya.
For departures to Inuyama Station head to platform No. 1.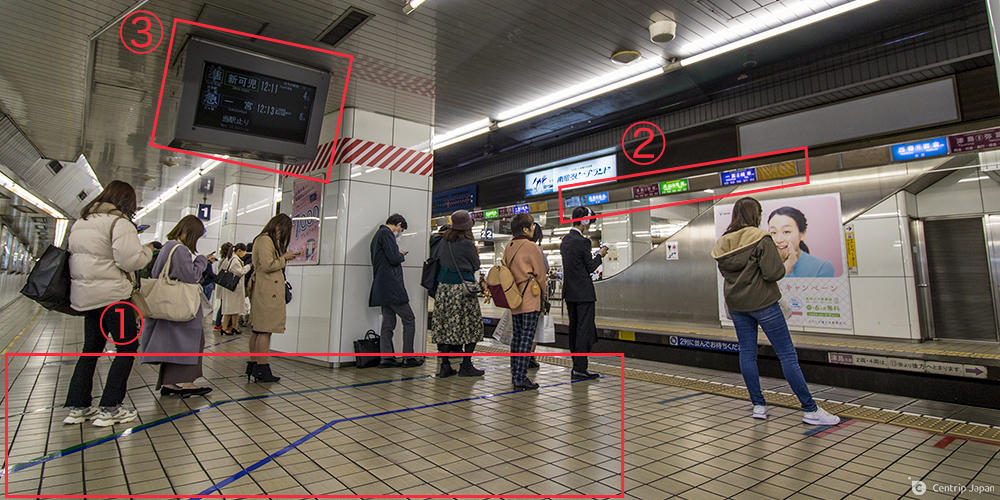 On platform No. 1, trains come and go on multiple different routes. This can make it a bit confusing for non-locals. To simplify things check these 3 tips.
1. First, pay attention to the colored lines on the platform. You'll want the green line.
2. Second check the panel on the ceiling above the opposite platform. For Inuyama look at the green one. Can you sense a theme? The train will arrive soon after the lights on the green panel being to flash.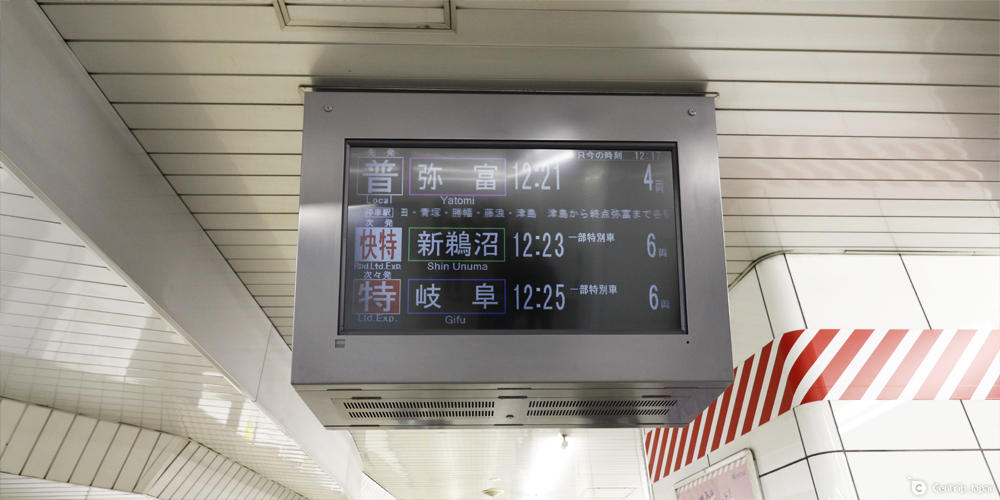 3. Check scheduled arrivals on the monitor above the platform you are standing on for arrival/departure times. Trains heading to Inuyama have a green box around them. For example, the Shin-Unuma bound train in the picture will take you to Inuyama.
Must-see Places in Inuyama
The Oldest Wooden Keep in Japan: Inuyama Castle, a Japanese National Treasure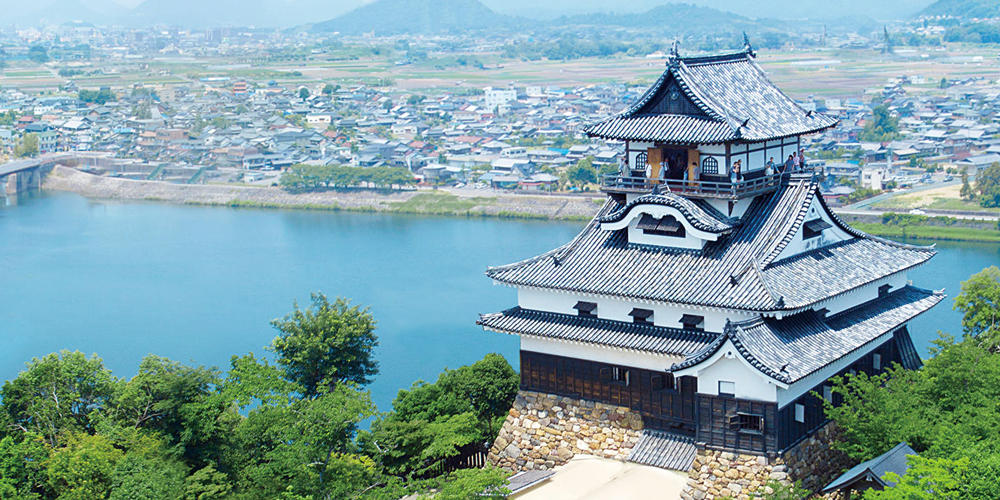 Japan is home to many castles, but only 5 are designated National Treasures. Built in 1573, Inuyama Castle remains Japan's oldest wooden keep.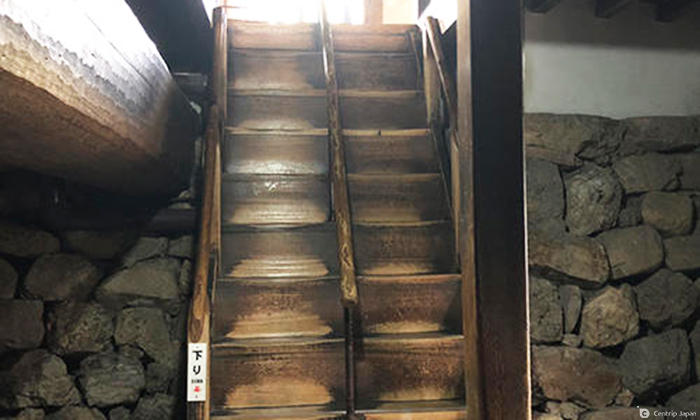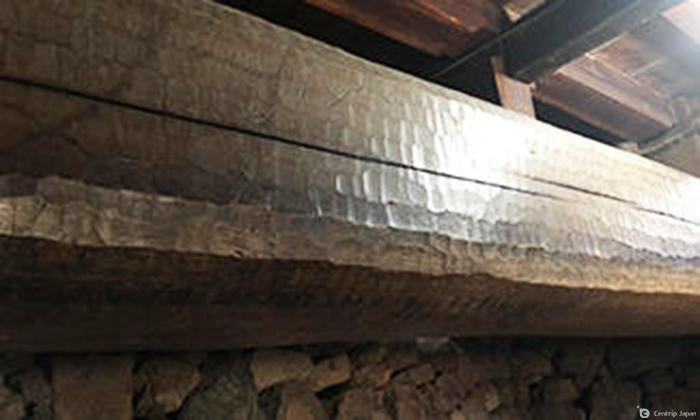 Unlike most castles in Japan, Inuyama Castle's original structure still remains, and the history of the castle stretches back to the Sengoku Period (Warring States Period). The castle's steep stairs work to prevent full-scale enemy charges. The fish-like scale markings on the support structure are signs of them being carved by hatchets. So imagine stepping back into the Sengoku Period as you walk on the old creaking floorboards and take in the 500-year-old pillar.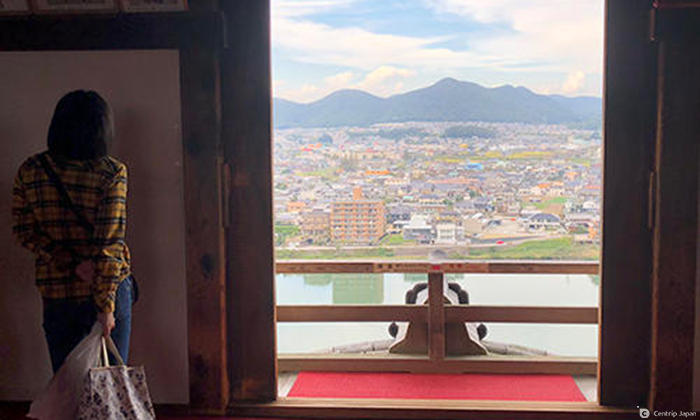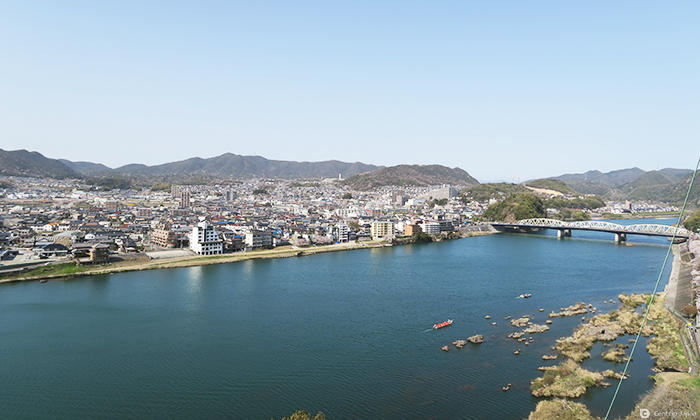 Inuyama Castle's top floor has one of the most memorable views I have ever seen. It looks over the Kiso River, is surrounded by water, and near the mountains. The low rails remain as they were originally built, allowing you to enjoy the scenery from the castle's heights without obstruction, a view previously reserved for the castle's ruler.
Sanko Inari Shrine: A Shrine for Blessings on Marriage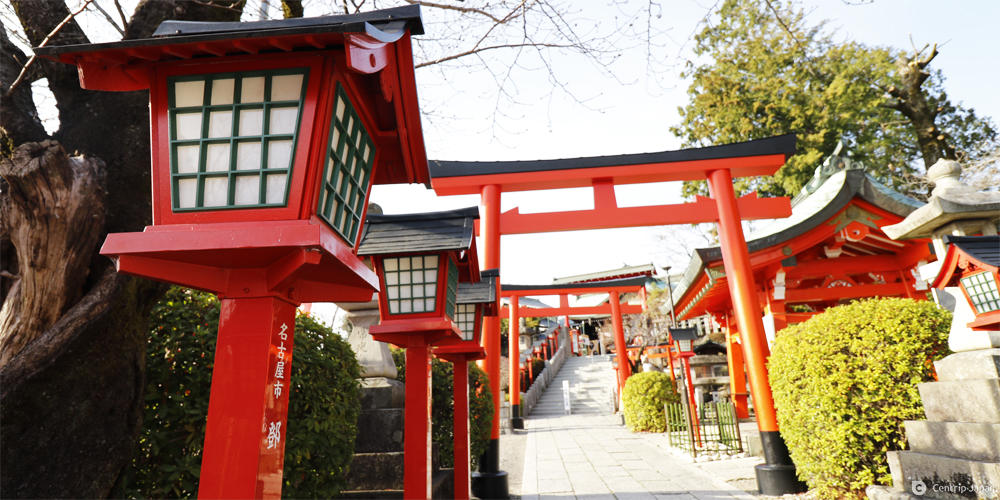 Sanko Inari Shrine was originally home to the guardian deity for the ruler of Inuyama castle. Nowadays it is famous for marriage seekers looking for the perfect match. Other visitors pray for safety for their families, as well as success in business.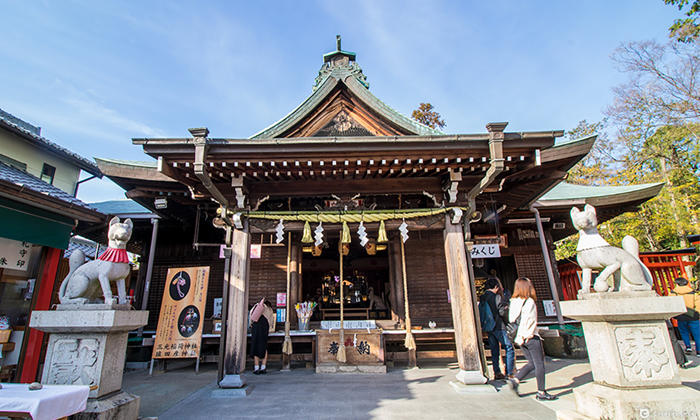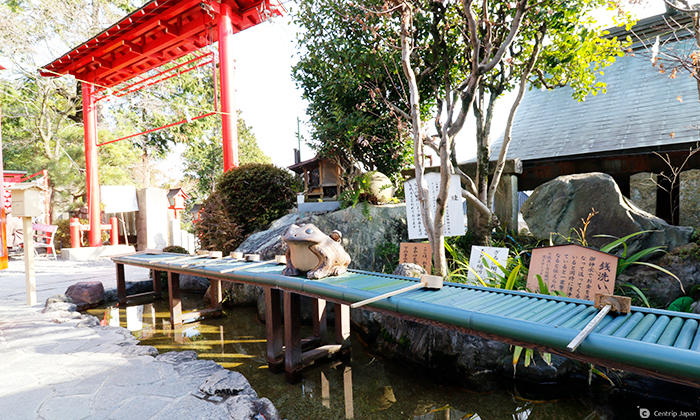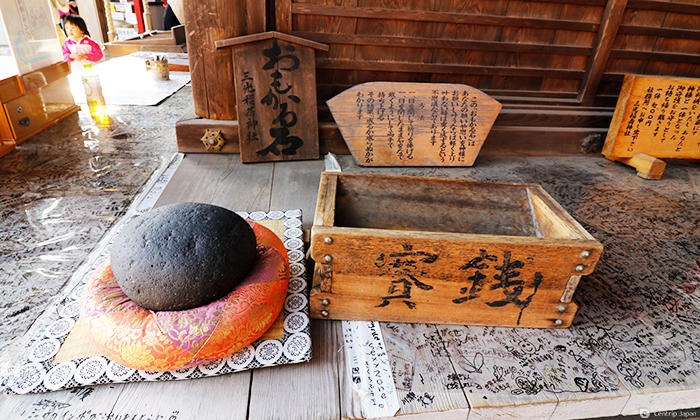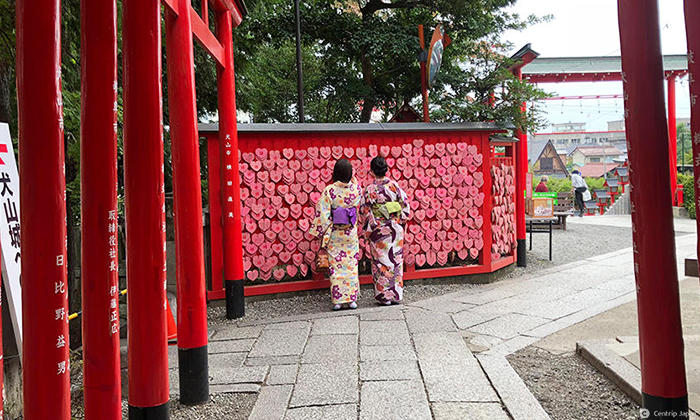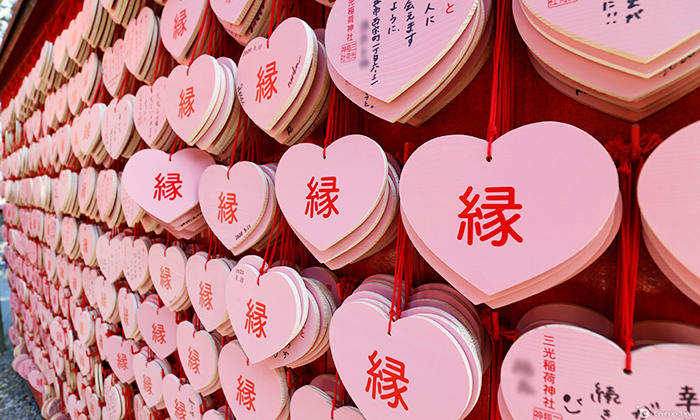 The most popular sights are the wall, covered in pink heart-shaped ema, and the bright red torii gate. Many women visit for luck and wait in line to have their picture taken in front of both.
Must-buy Shopping in Inuyama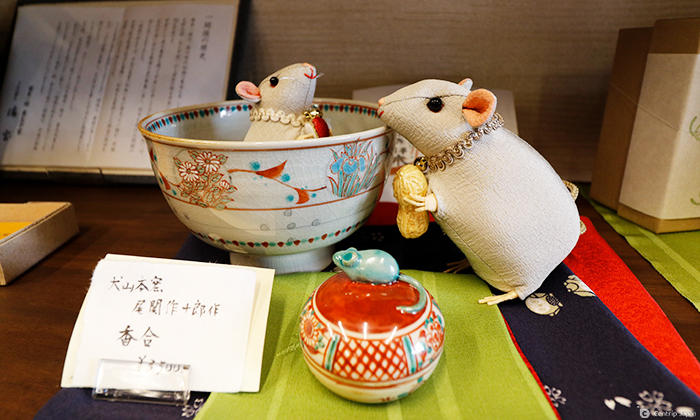 Inuyama-yaki's (Inuyama pottery) defining characteristics are the gorgeous patterns of cherry blossoms, autumn leaves, phoenix, and flowers.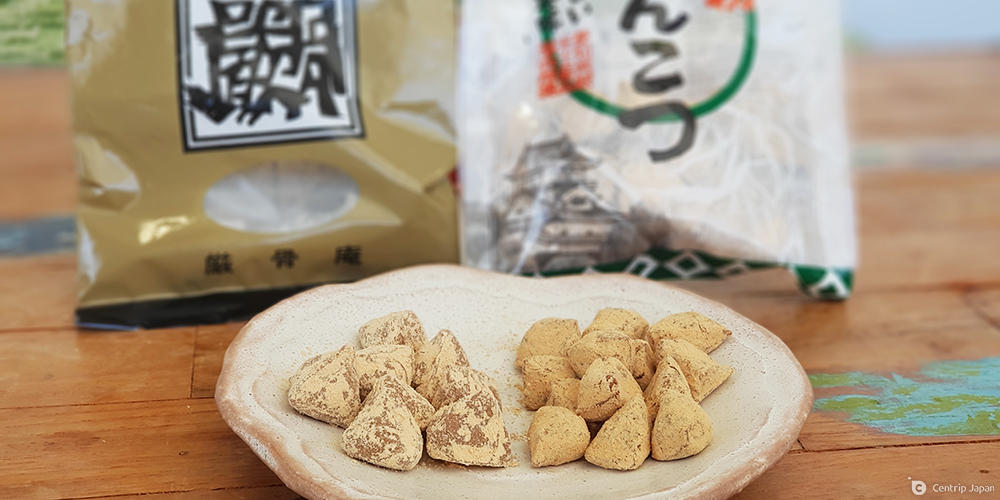 Genkotsu Ame (candy), has a history of over 400 years in Inuyama. It's made by kneading syrup until hardened and then coated in kinako (powdered soybeans). Genkotsu (拳骨) means "fist" in English. As the name suggests, this candy is hard! It's unique texture and taste is enjoyed by many.
Genkotsu Ame can be purchased at three locations in Inuyama: Genkotsu-an, Fujisawa Seika, and Takadaya Seika. Each store has it's own unique taste, so feel free to give them all a try.
Hands-on Experiences in Inuyama
The Kimono Experience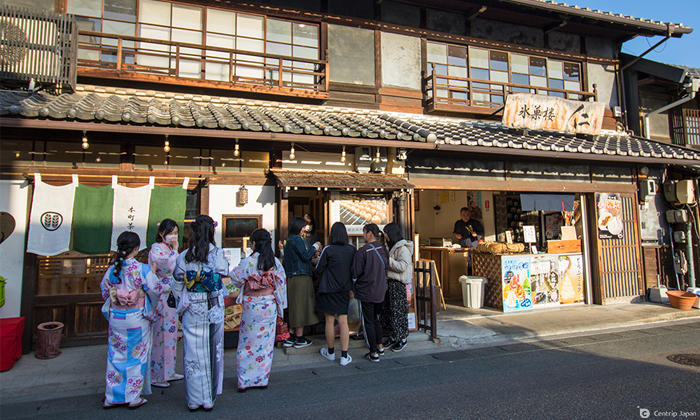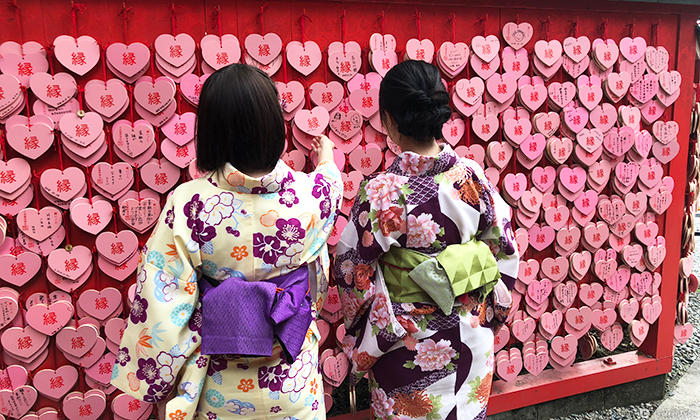 Inuyama is the perfect location for Kimono photos in Japan. In addition to the castle and the town's historic buildings, you can get your picture taken with the heart-shaped ema of Sanko Inari Shrine and the colorful sweets and delicious skewers sold in town. Japanese Kawaii (Cute) culture can be overwhelming, and Inuyama's offerings put even Kyoto & Asakusa to shame!
In Inuyama you can rent a kimono at either Inuyama Biyori or Inuyama Komachi. Many guests from all over the world visit, so don't worry about communication barriers.
Hand-on hand-made Leather Goods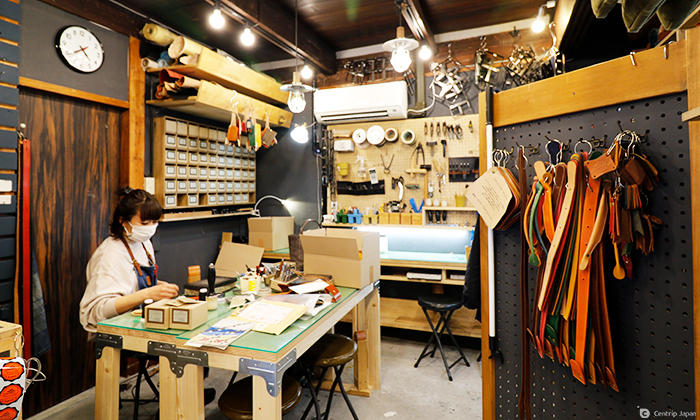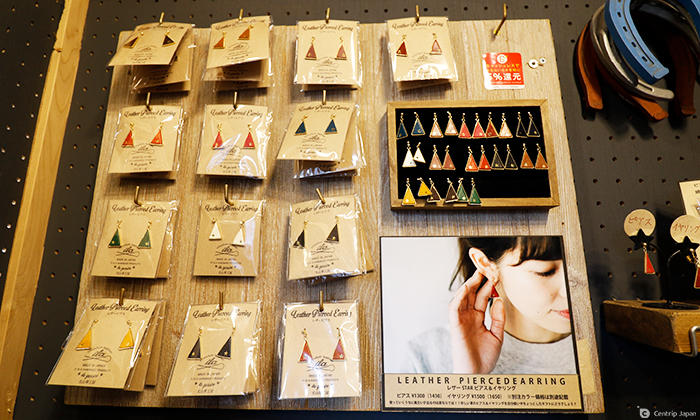 Try some traditional Inuyama techniques, and make your own leather souvenir.
Inuyama Leather Studio vinculum leather deals in handmade leather products. Products include handmade leather bags, business card holders, wallets, camera straps, and earrings. They offer various hands-on experiences. They take around 30 minutes to 1 hour to complete, and when you're done you'll have a cool and unique leather accessory! Depending on availability, you can participate in the basic plan without a reservation.
Handmade Inuyama Pottery
Here you can try your hand at making Inuyama-yaki. The pottery kilns at Ozeki Sakujuro Aioi Ceramic Studio have been passed down for generations since the founder, Ozeki Sakujuro, over 200 years ago. These are the only remaining ascending kilns in Inuyama.
You can pick from two courses, the Handbuilding Course or the Pottery Wheel Course. Try your hand at making bowls or cups (¥2,500/90mins). Your pottery will be baked afterward and you can arrange to have it shipped to your home. The instructor speaks some English so don't worry if your Japanese isn't up to snuff. Reservations can be made in advance and you can arrange for a pickup and drop off at Inuyama Station for no additional cost.
Inuyama Must-eats
One of Inuyama's must-eats is their skewers!
Inuyama is known as the Skewer-Town, a term which originated with a local dish, invented in the 19th century, called Dengaku. Dengaku is a skewer made from tofu and miso.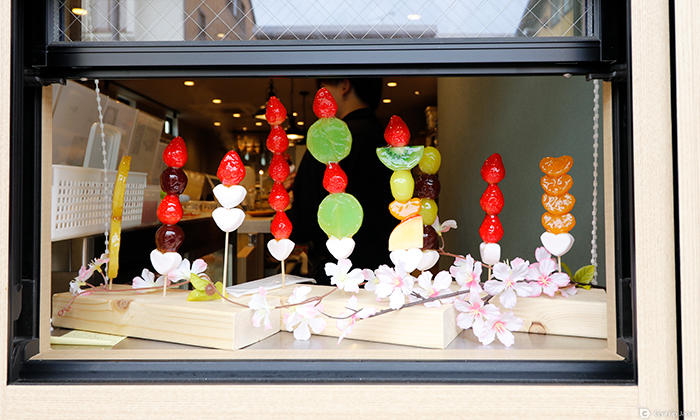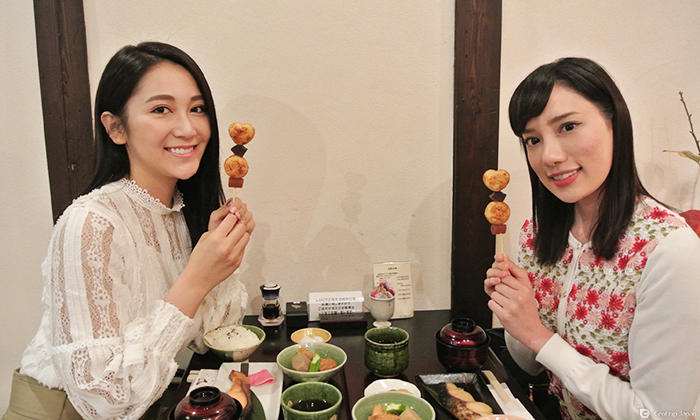 Gohei-mochi is another popular skewer, and cute skewers, like heart-shaped cheese skewers, heart-shaped fried eggs, and strawberry skewers have appeared one after another. Each skewer has just enough on it so you can try out as many types as you'd like. Feel free to pick up a few while walking around the castle town.
Check the next page out for the Coupon deals available in the set!