| Centrip Editorial Board
Inuyama Castle & Town 2: Nagoya Day-Trip Sightseeing Series Part 2
Inuyama Castle Town Ticket, Participating Stores
If you are worried about spending too much on sweets, don't worry the Meitetsu Coupon is ready to save you some cash.
Of the 12 participating stores 2 of them are Kimono rental shops and the other 10 are for food.
Skewers
Yamada Goheimochi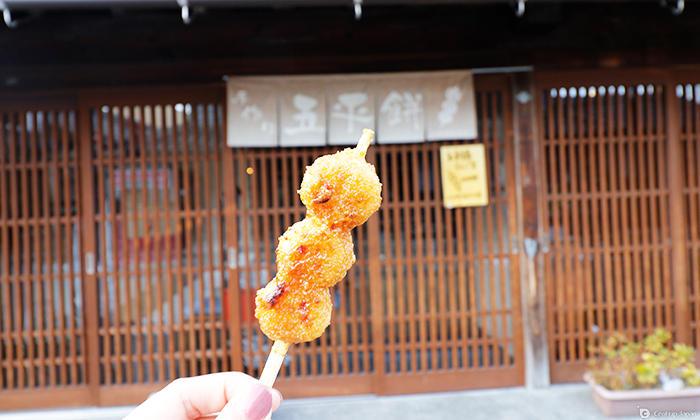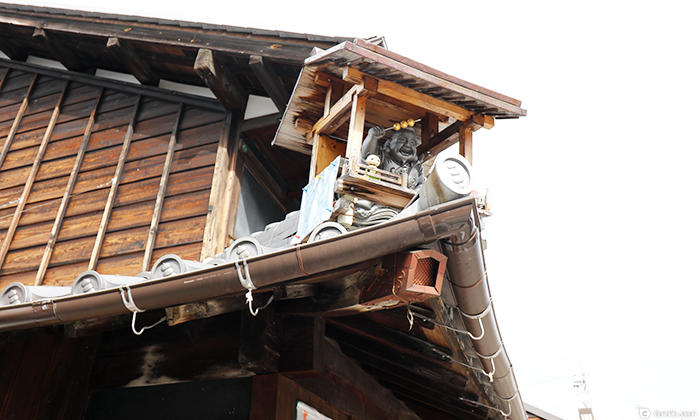 Gohei Mochi is a Central Japan specialty. It's made by dipping a rice cake in sauce and shaping it into small balls. Yamada Gohei Mochi uses a homemade & rich sauce made from sesame, walnuts, and peanuts.
Discount Details:
Gohei Mochi: ¥100 per skewer discounted down to ¥70 (First 5 skewers only)
Juhyoya Inuyama Inouetei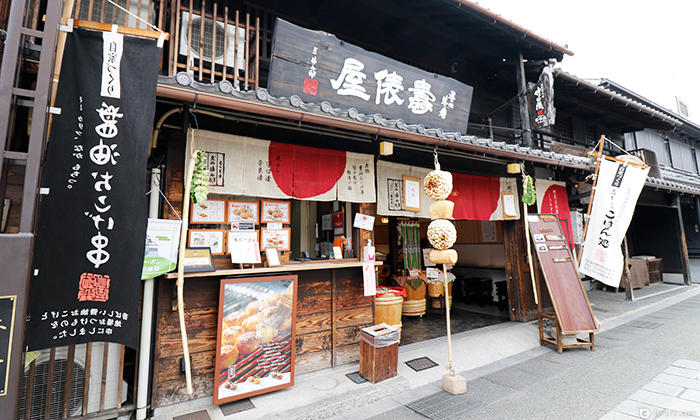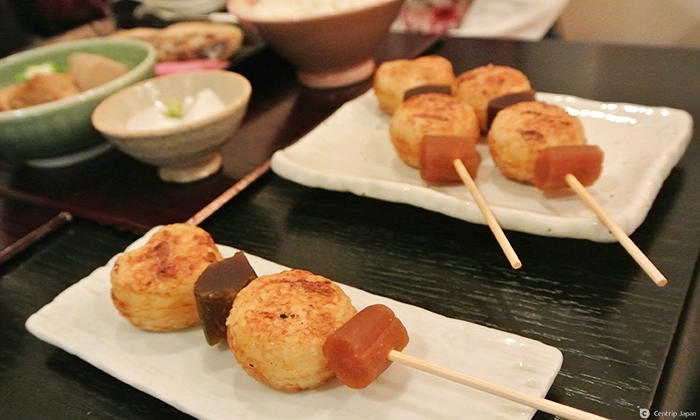 Juhyoya specializes in tsukemono (Japanese pickled vegetables) and in Aichi the most famous is Moriguchi-zuke. Other foods they serve include salmon meals with seasonal pickled vegetables, Moriguchi-zuke cakes, and popular soy sauce skewers.
Discount Details:
Buyers of soy sauce skewers, ¥170 ea., will receive a ticket for a special draw!
Sakura Chaya
Sakura Chaya is famous for its Dengaku. Dengaku is tofu, which is skewered and then roasted right before your eyes, the tofu with the aromatic scent of miso is superb.
Discount Details:
6 Tofu Dengaku Skewers: Take out price ¥500 discounted to ¥400. Eat-in price ¥660 discounted to ¥550.
Inuyama Honmaru Square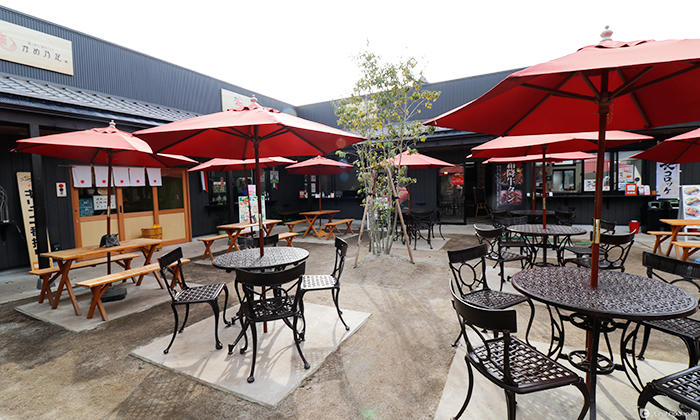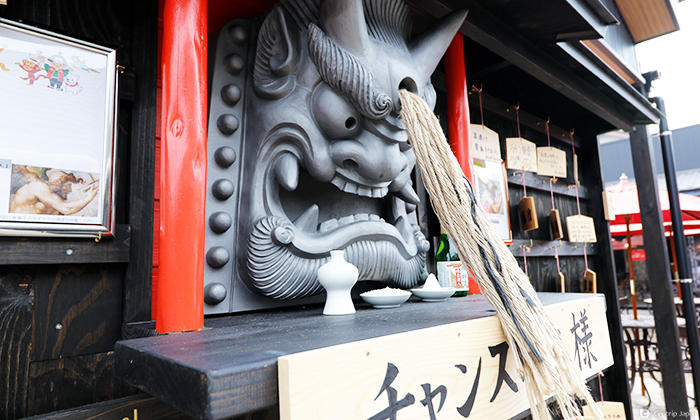 The next 5 stores are all found in the same square. Each with its own unique characteristics.
Take a load off and get a foot bath while enjoying a nice cup of Joe, at Kame-no-Ashi. They also have many dishes available, like Ushiwakamaru, Hida beef takoyaki, Marufuku cup pasta & spaghetti donut, Niku Kobo Minoya Hida beef sushi, and Kanmi Dokoro Appare Honpo keema-curry-egg dorayaki.
Discount Details:
¥100 yen off purchases over ¥500, at select stores.
Cafes & Sweets
Yoshikawaya
Yoshikawaya serves newly made desserts with the freshest fruit, daily. Their ice cream is topped with cute heart-shaped strawberries and the cup is full of frozen strawberries giving you a good bang for your buck.
Discount Details:
Limited edition seasonal sweets in a cone: ¥550 discounted to ¥450
Juhyoya Inuyama-an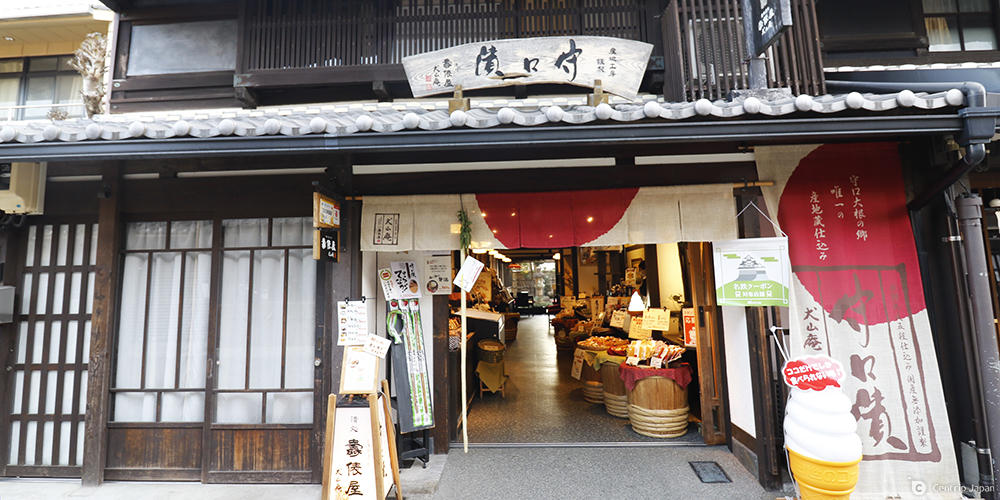 If you come to Inuyama you have to try these out: Moriguchi-zuke Softserve Ice Cream and Japanese Burger! Aren't you just dying to take a bite?
Discount Details:
Customers who make a purchase instore will receive a ticket for a special draw!
Chadokoro Kuraya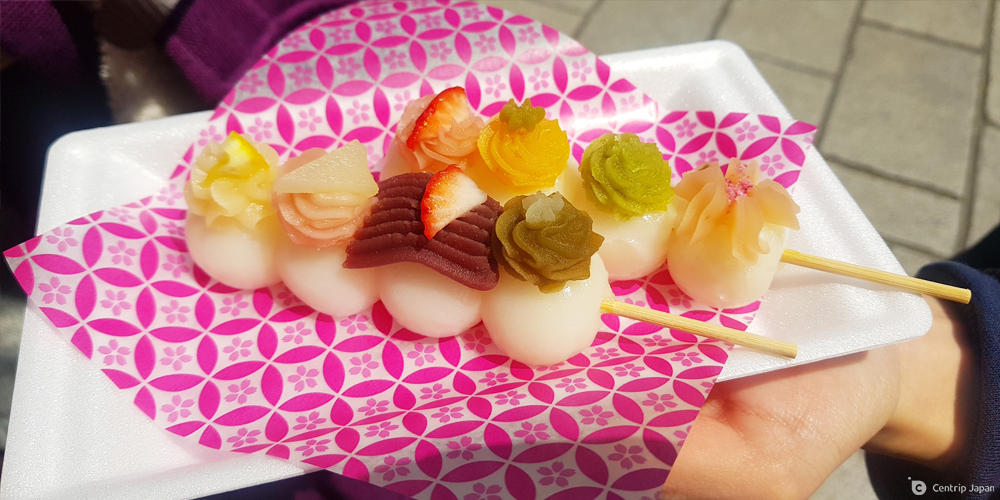 An Instagram favorite, colorful Koi Komachi Dango!
Discount Details:
A ¥100 discount on purchases over ¥600.
Coffee Kobo Kifune
You can find Coffee Kobo Kibune is along the Kiso river promenade. The store received the Urban Beautification Award. Here you can enjoy authentically brewed coffee and Japanese desserts in a relaxing atmosphere.
Discount Details:
Coffee Jelly Animitsu: ¥600 discounted to ¥500
Omiyage & Hands-on Experiences
Mamekichi's Head Store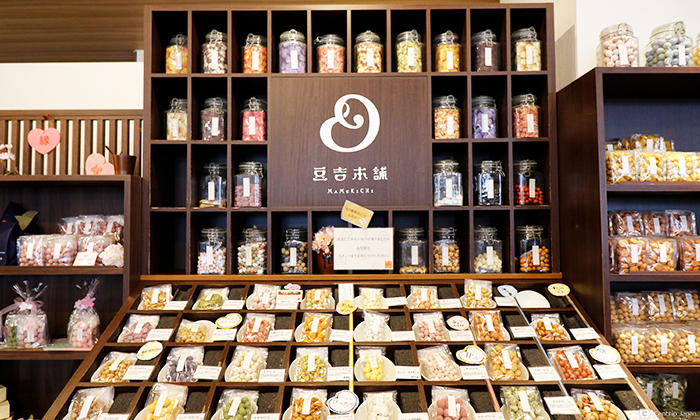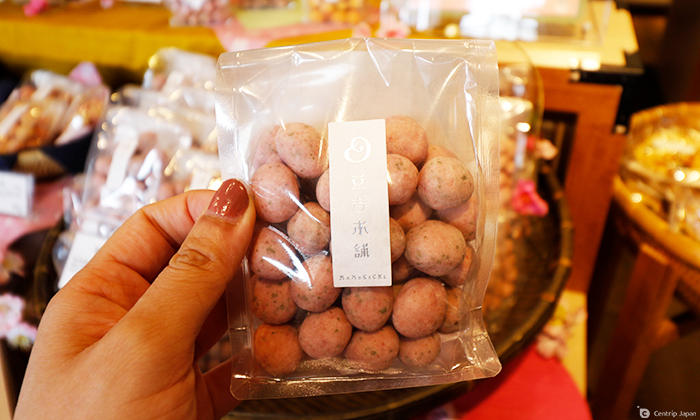 Mamekichi specializes in confections made from beans. Over 100 kinds of beans such as strawberry milk chocolate beans and mentaiko beans are available. Marriage Beans are also available, only in Inuyama.
Discount Details:
Marriages Beans: ¥500 discounted to ¥400
Inuyama Loreley Beer Hall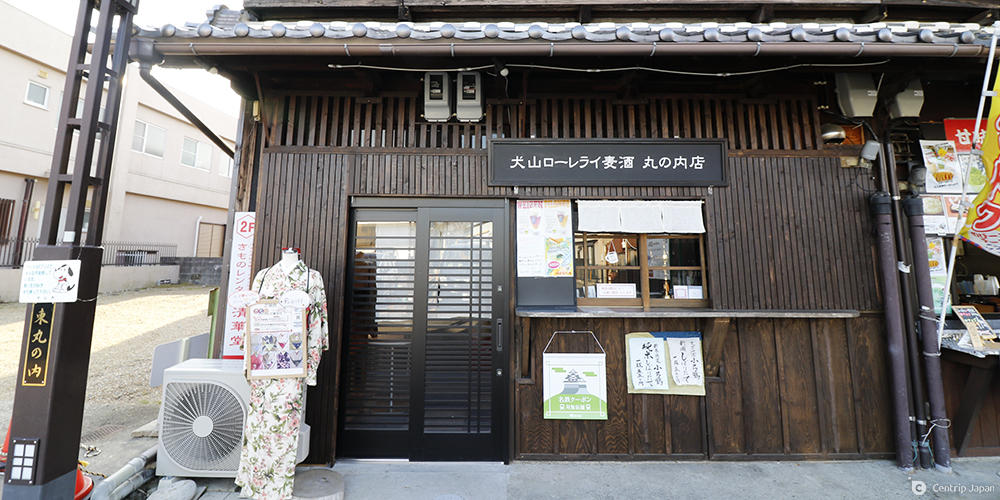 Inuyama's local beer, Loreley beer, was born under the watchful gaze of expert German brewers. The taste is refined, as neither heat nor filtration is used in the brewing process. If you enjoy beer make sure you stop in here!
Discount Details:
Draft Beer: ¥100 off your first beer
Inuyama Biyori & Inuyama Biyori Ichibankan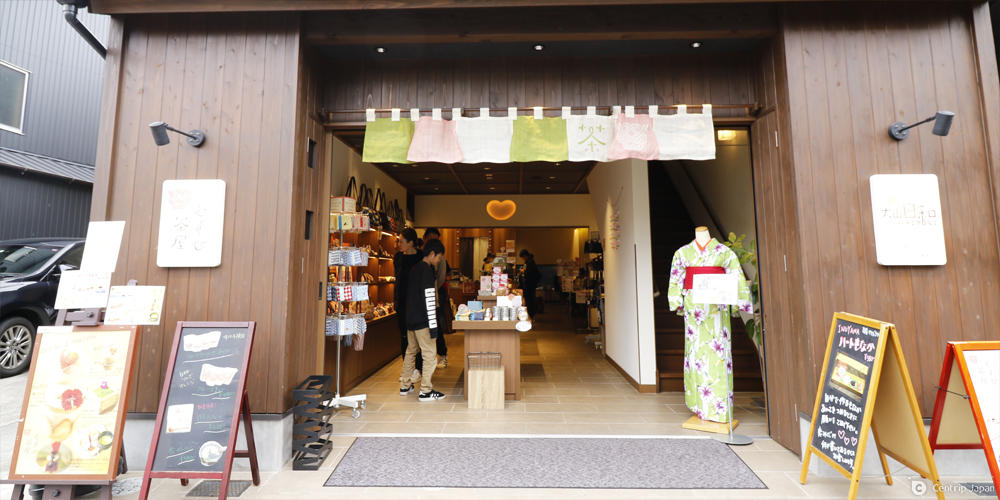 A choice of more than 100 kimonos, with hairstyling sets and selfie sticks for an added cost.
Discount Details:
Kimono 1-day Rental: ¥3,850 discounted to ¥3,300 (Advanced reservations only)
Recommended Usage
• The most bang for your buck:
Rent a Kimono at Inuyama Biyori or it's sister shop, Inuyama Biyori Ichibankan, try 5 Yamada Gohei Mochi, and visit any of the other shops with a 100 yen discount.
For a total savings of ¥800! (Kimono ¥550 + 5 Gohei Mochi at ¥30 off ea. ¥150 + ¥100)
• Inuyama's Legendary Food:
Yamada Gohei Mochi, with Sakura Chaya's Dengaku, and Juhyoya Inuyama Inouetei's Soy Sauce Skewer
• Instagram Plan:
Chadokoro Kuraya's Koi Komachi Dango, with Yoshikawaya's Seasonal Corn Sweets, and Coffee Kobo Kifune's Coffee Jelly Anmitsu.
• Special Foods:
One of the Inuyama Honmaru Square stores, with Juhyoya Inuyama Inouetei's Moriguchi Softserve Icecream, Mamekichi's Bean Sweets
Inuyama's Most Beautiful Feature, the Human Touch of Its People.
A cavalcade of Instagrammable foods, one after the other, brings energy to this old castle town. But what really impressed me was the humanity and culture of Inuyama.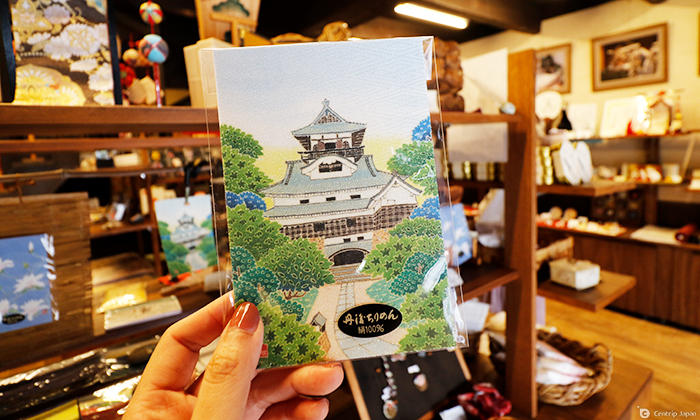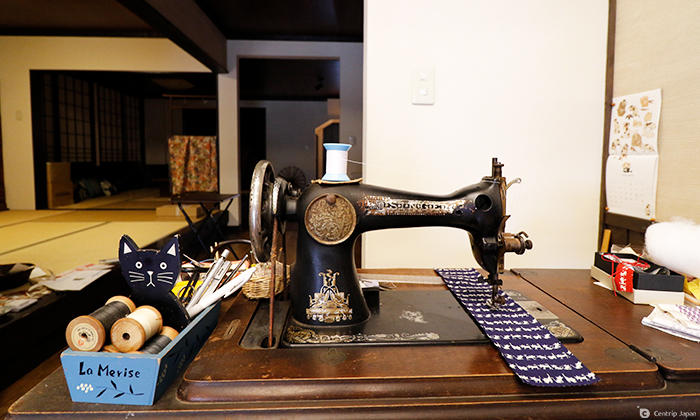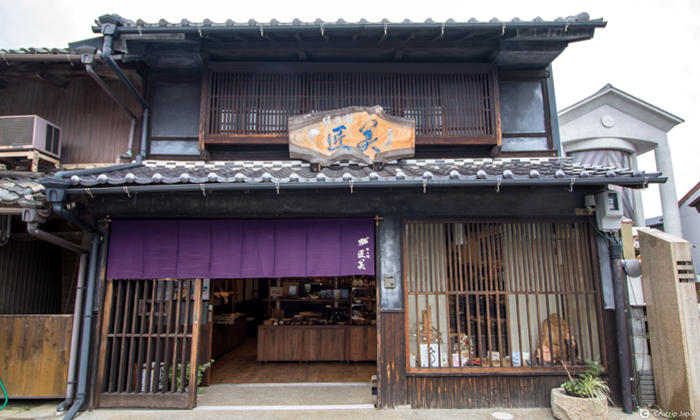 For example, the textile store Kinunoyakata Takumi sells traditional silk fabric. The shop owner's wife takes English classes weekly so she can introduce visitors from overseas to the beauty of Inuyama. She told me about a little-known spot to see early-blooming cherry blossoms and told me the story of Inuyama's famous Inuyama Hot Dog.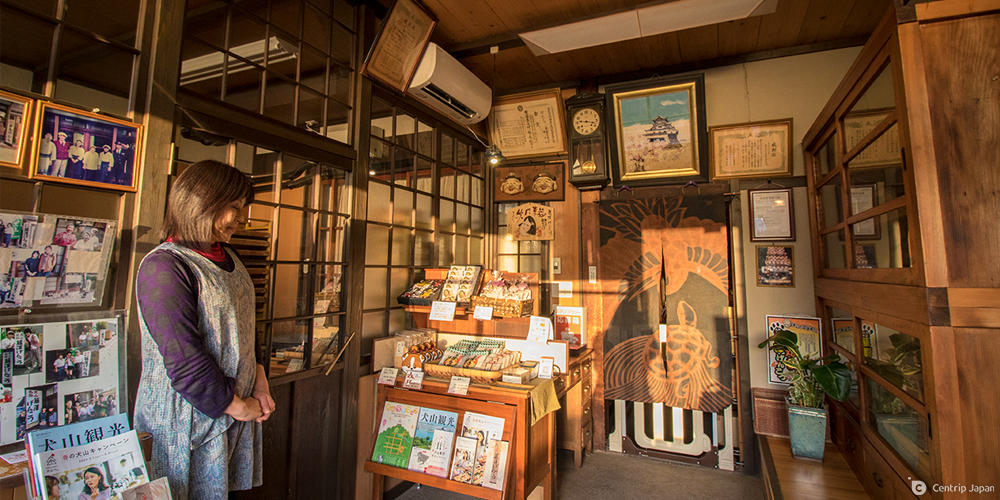 At Fujisawa Seika, the shop owner's wife smiled as she explained the architecture of the store, how it was designated as a cultural property, and explained to me the history of Genkotsu.
Both are residents of Inuyama who desire to pass their stories on to visitors who may only have one chance to visit their beloved town.
Inuyama is a small yet popular tourist destination. The town has deep cultural roots and is very popular among women. Centrip hopes that you too will visit and see the beauty that Inuyama has on offer.
Click here to get the latest information on Central Japan.Centrip Japan - Nagoya and Chubu Information