| Centrip Editorial Board
Become a connoisseur of Kinshachi Yokocho: Check out the must-buys and must-trys
Visiting Nagoya? Then I bet you have Nagoya Castle on your itinerary.
Kinshachi Yokocho", a shopping street with all kinds of eateries and shops, recently had its grand opening right next to Nagoya Castle.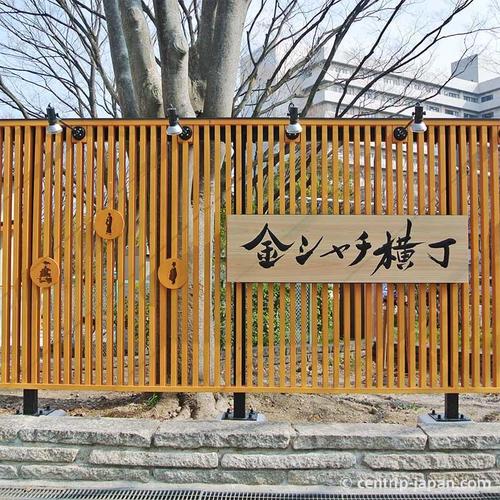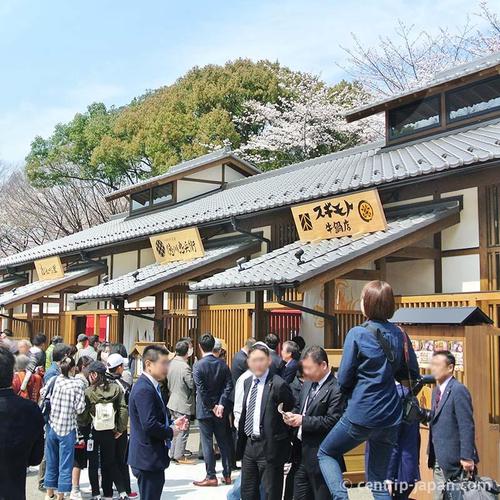 In the previous article, we gave a brief overview of Kinchachi Yokocho. To recap : there are two zones, the "Yoshinao Zone" and the "Muneharu Zone". You can find Nagoya-meshi (Nagoya's local food), take-out food to eat as you walk around, limited editions only available at the Kinshachi Yokocho, and more. I know, I know, we're spoiled for choice!
Unsure of where to start? Let us provide you with further details, focusing on the best stuff at the "Yoshinao Zone".
Keen to try "Nagoya-meshi"?
You cannot leave Nagoya city without having tried "Nagoya-meshi". Hitsumabushi (eel), Miso-katsu (Pork cutlet with miso sauce), Miso Udon (Udon noodles with miso sauce)… these are all great examples of Nagoya-meshi which you can try at Kinshachi Yokocho.
Charcoal grilled eel: "Kinshachi Hitsumabushi(6,600 yen)", proudly served at "Bincho"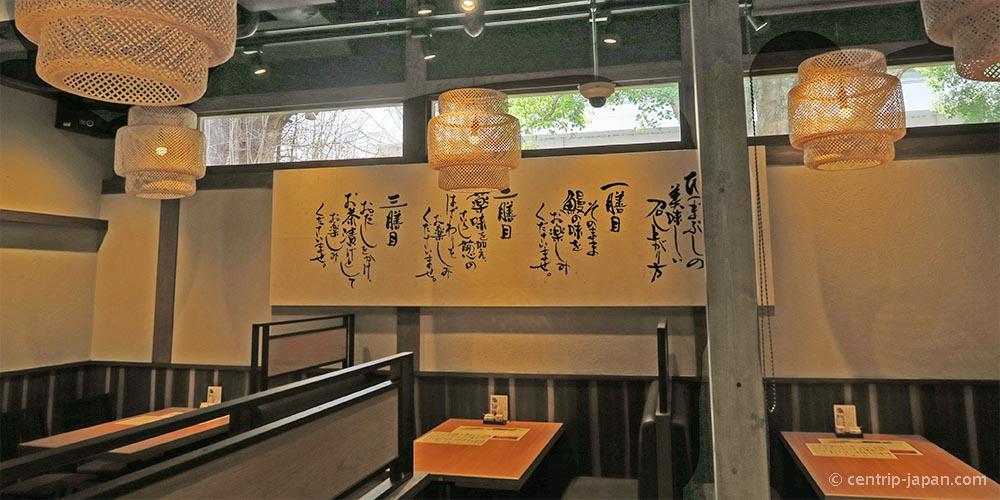 Hitsumabushi is a Japanese dish consisting of broiled eel, seasoned with sweet-spicy sauce, on top of white rice. First, use the rice scoop to scoop one third of the meal into your bowl. Eat your first bowl as it is, and try the second bowl after adding some spice. For the final bowl, we definitely recommend you to make it into "ocha-zuke" (broiled rice with tea). All three ways of eating the hitsumabushi give us a different flavor and texture. We are proud being able to have hitsumabushi as our local food. Delicious!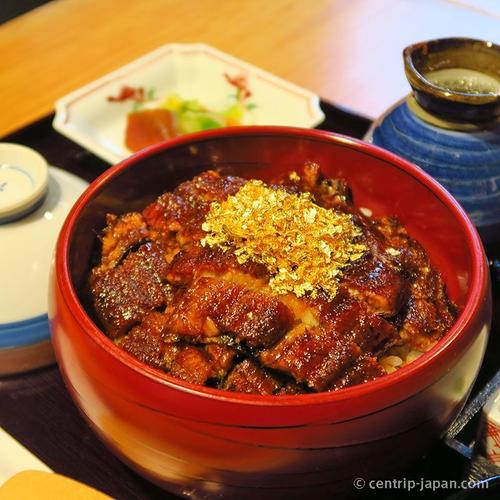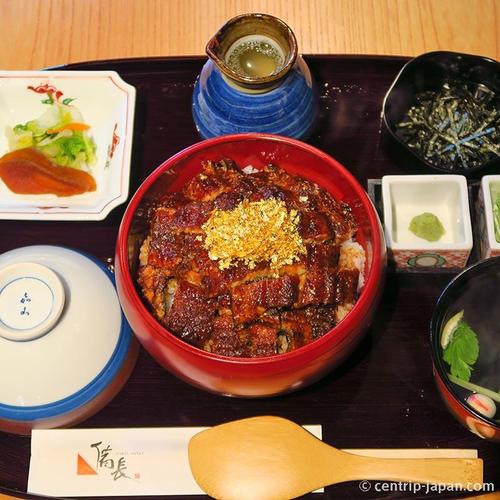 At "Bincho", the name taken from bincho charcoal, the eel is broiled using - obviously - the aforementioned charcoal, in order to keep its flavor contained. The crispy eel, broiled by a professional chef, has a melty texture. I can guarantee that it will go well with white rice.
The "Kinshachi Hitsumabushi", with a gold leaf as its topping, is only served at Kinshachi Yokocho.
"Yabaton"'s golden miso-katsu: Winning over Taiwan and Thailand as well!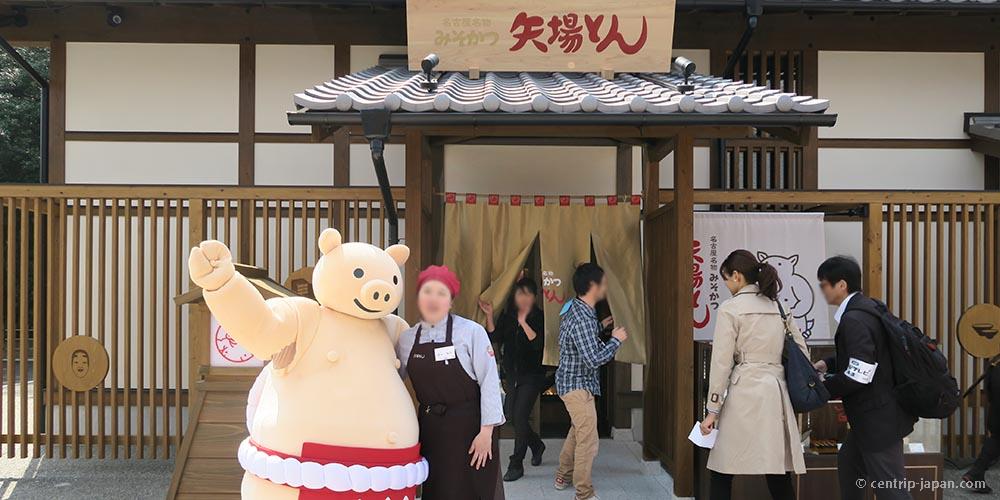 Miso is one dish representing Nagoya city. The "Yabaton", a restaurant also famous overseas, is popular for its "Miso-katsu" (Pork cutlet and miso sauce).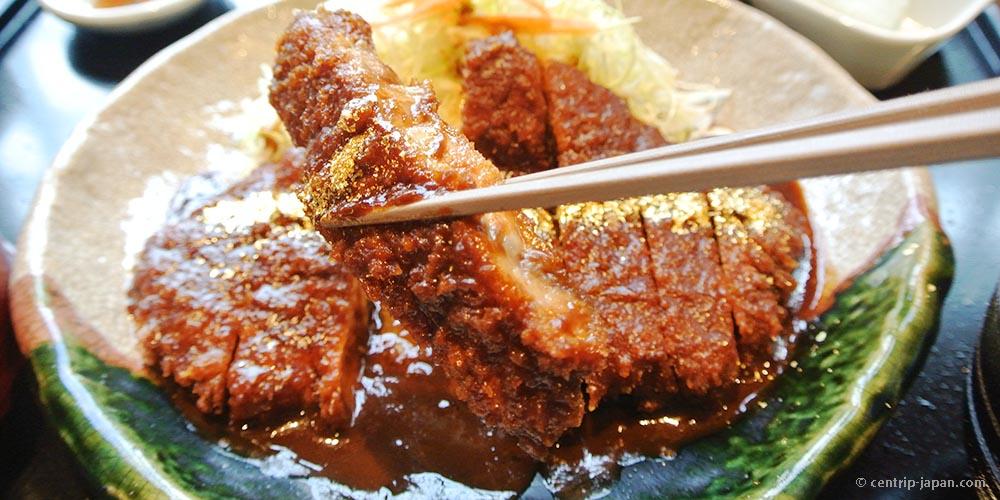 Yabaton is a restaurant located all over the city, but the "Kinpaku Miso-katsu(2,800 yen)" is only available at this very store. One of the staff will pour the miso sauce over your cutlet right in front of you, and finish it off by adding a gold leaf as the topping. The sweet sauce of this dish is probably the best combination with the crisp cutlet.
Both the "Kinshachi Hitsumabushi" and "Kinpaku Miso-katsu" are gorgeous, delicious, and photogenic!
Add a sense of luxury to your day at Kinshachi Yokocho!
Yum, yum… enjoy your fill of Japanese-style sweets!
Introducing "Kinshachi dango" from "Nagoya Chaya", produced by a Japanese confectioner with a history of 380 years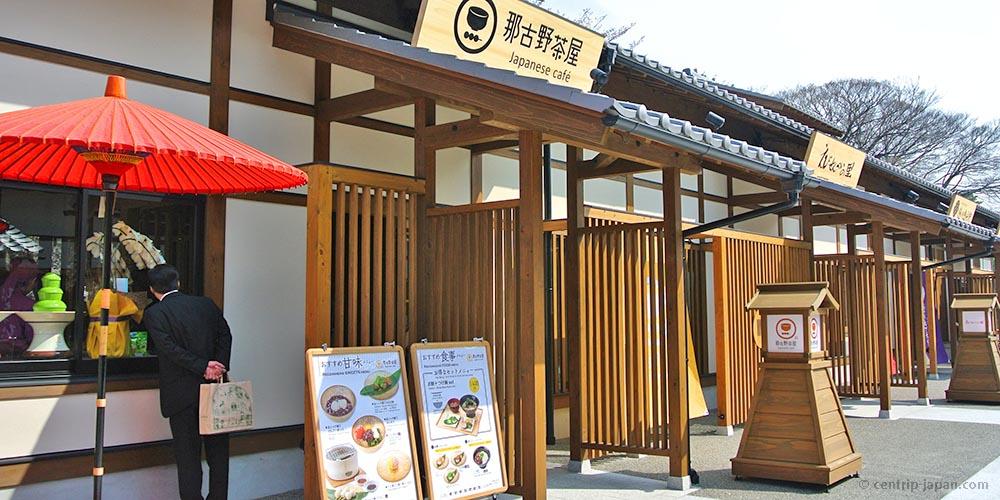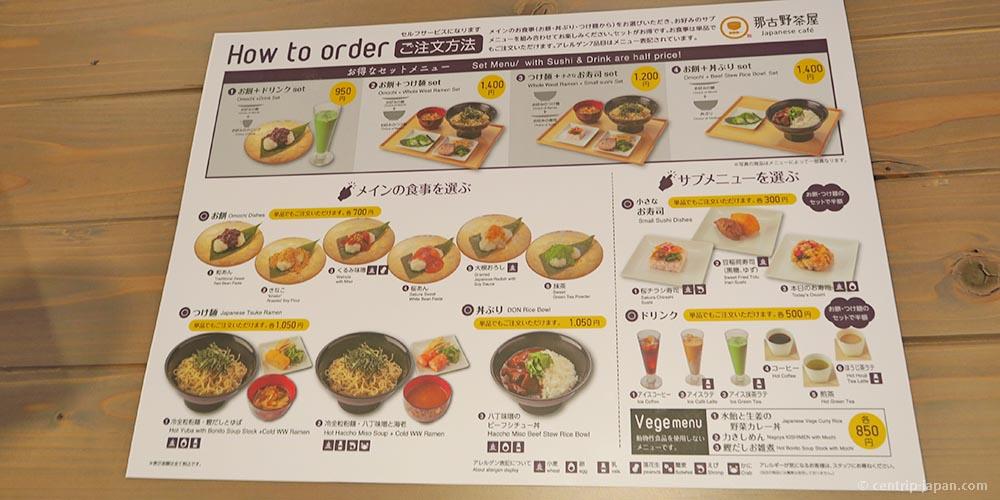 "Nagoya Chaya" is a café serving Japanese confectionery, produced by "Ryoguchiya Korekiyo".
"Kinshachi Yokosho Warabi-mochi(700 yen)" with mochi covered in green tea powder and soy flour, "Kinshachi Yokocho Anmitsu(850 yen)" served in a golden bowl, just-made mochi(700 yen) with five flavors from which to choose, etc.… there are many more sweets you can choose from the menu!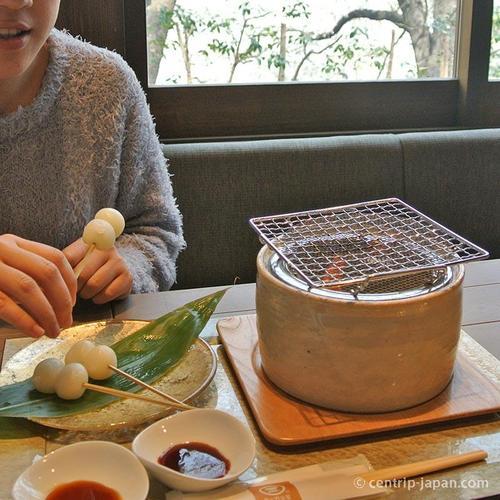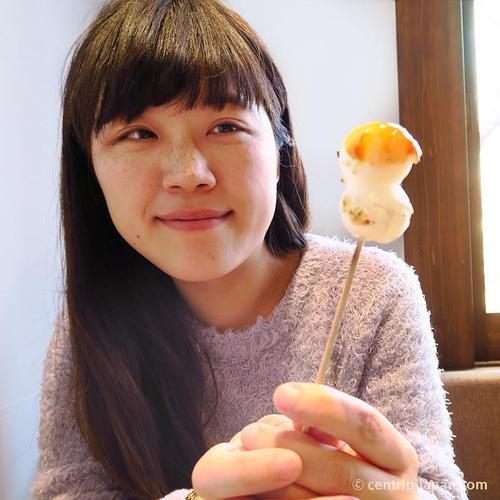 The "Kinshachi Yokocho Dango(800 yen)" allows you to experience roasting the dango (rice dumplings) on the charcoal brazier yourself. Once the dango is well-roasted, dip it into either the soy sauce or mitarashi sauce (sweet soy sauce) and eat it up. Delicious!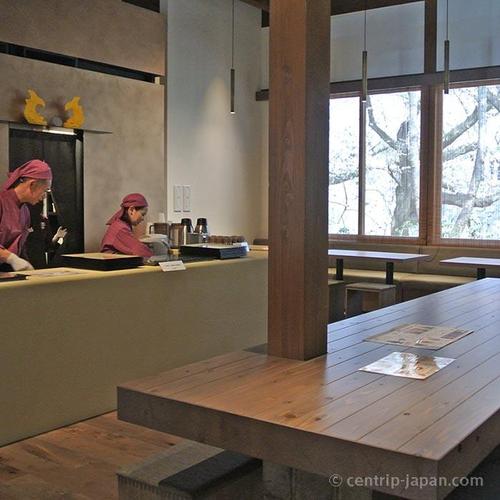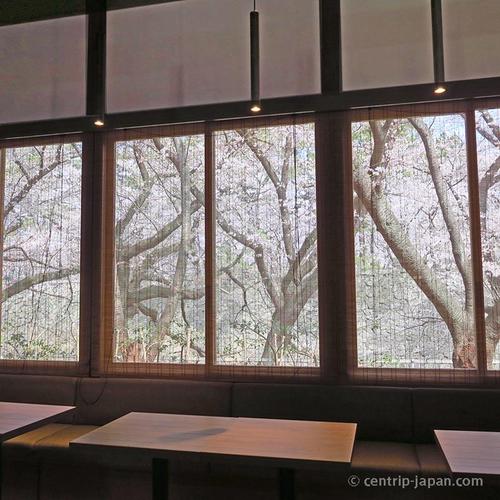 You can see Nagoya Castle from the restaurant, through the big window.
You can enjoy the scenery of the four seasons while savoring your Japanese sweets!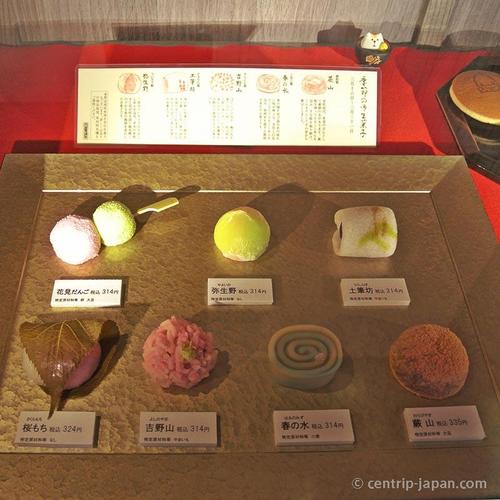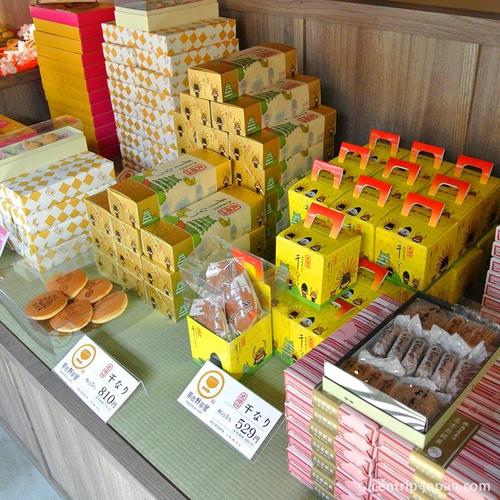 The "Dango fountain(250 yen)" is well recommended, either as a souvenir or to eat on the go. For the sauce, choose from green tea, soy powder, Mitarashi, and walnut-miso.
Introducing "Kinpaku Tofu Soft Cream" from "Nagoya Tofu, Kawaguchi", a tofu specialty shop with a history of 70 years!
"Nagoya Tofu, Kawaguchi" prides itself on making the best and safest-to-eat tofu. With soy beans grown in Japan and clear spring water, their tofu is made using a method inherited from the old times. You can't go wrong with this!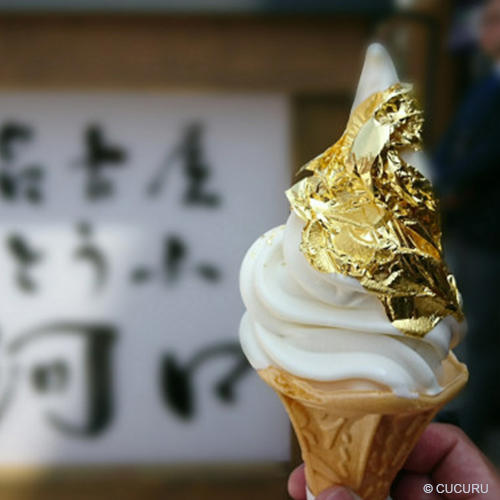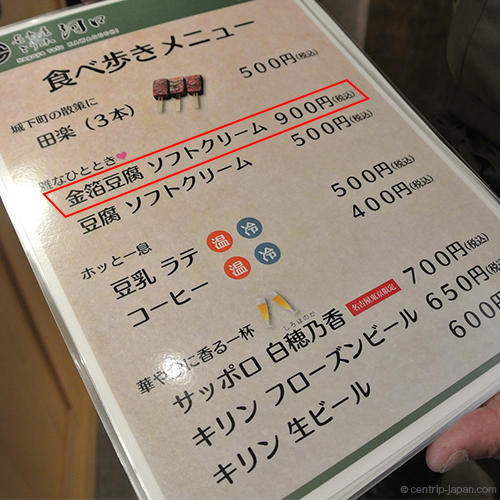 The "Kinpaku Soft Cream(900 yen)" is a limited edition product. It has a rich flavor of soy milk, and is not too sweet. It is also something for your Instagram account - the gold leaves sparkling on the white cream are very beautiful. Even if sweets are not your thing, I recommend you to try this out!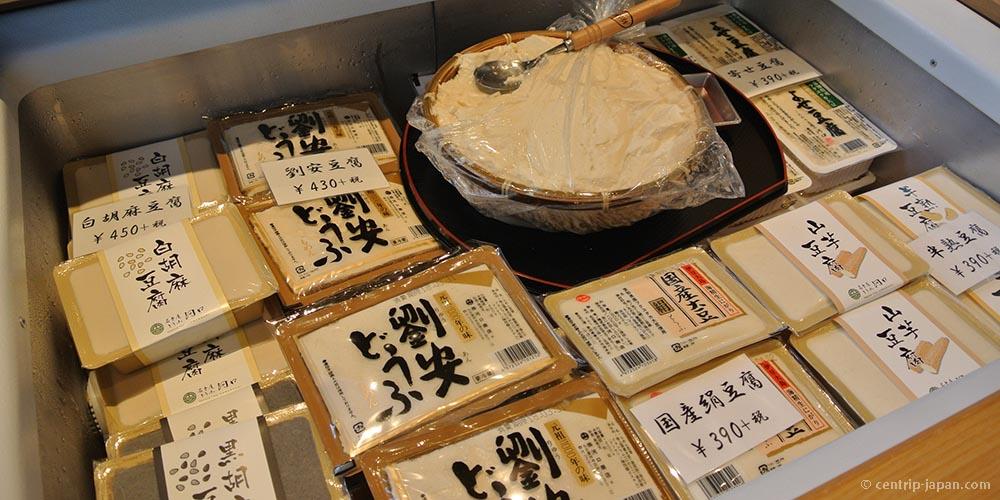 Just for your information, "Kawaguchi" uses "Fukuyutaka", a soybean grown in Aichi, as part of their goal to encourage the use of locally-grown and locally-consumed ingredients. The tofu is a great garnish for the servings at "Yabaton", located right next to "Kawaguchi".
Stock up on the best souvenirs!
Kinshachi Yokocho is not just for dining, but also has many great souvenirs as well. You can take your time dining, and still stop by the souvenir shops!
Maybe you know this one? "Ebisenbei no Sato"
Yum! It is too delicious. You won't be able to resist it…until it's all gone. "Ebisenbei no Sato", a famous souvenir shop in Nagoya, has come to Kinshachi Yokocho!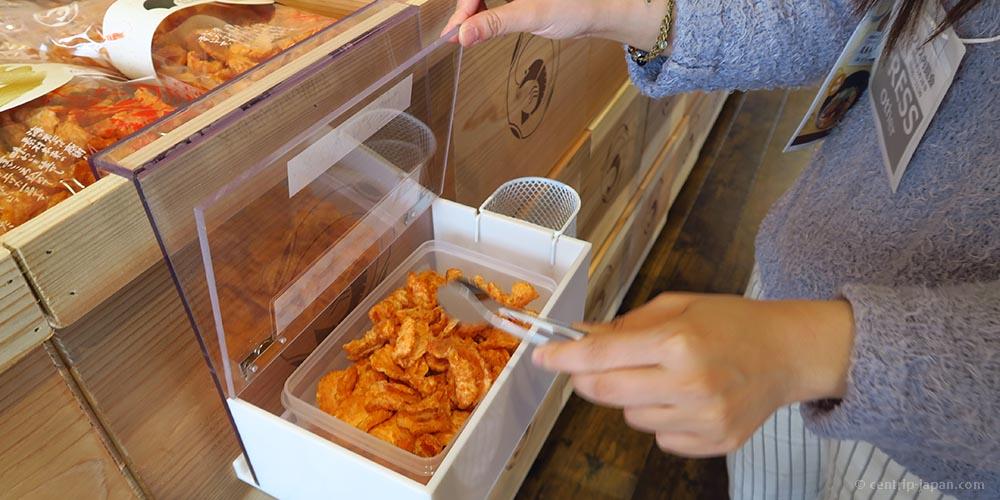 The crackers, made using shrimp, octopus, and other seafood, are a great choice for snacking. They also make a good souvenir to take back for friends who don't care for sweets.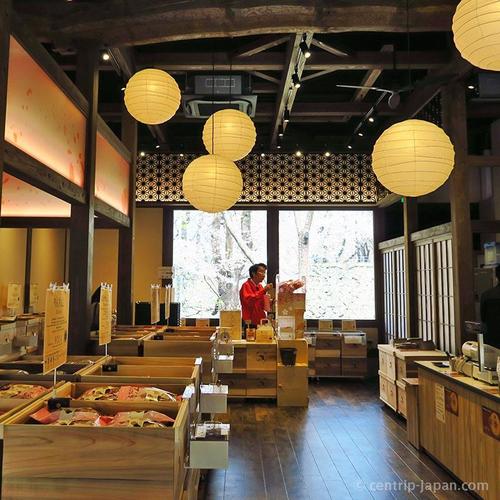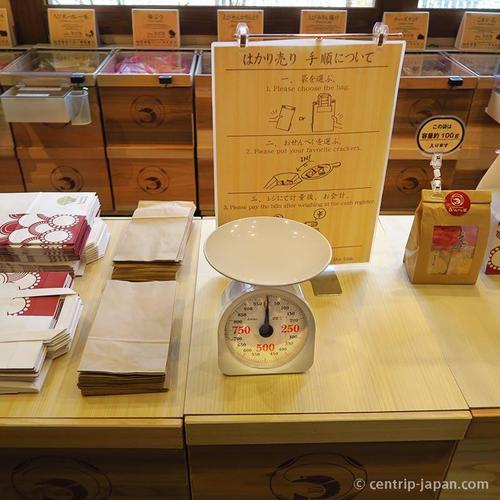 There are crackers coming in 10 different types of flavor, sold by weight. You can even try them out for free! Burdock, wasabi, sesame, pickled plums, and more…if you are curious, try them out!
The price is reasonable given the generous servings. You can take it back for yourself, or as a souvenir to share with others!
Try before you buy! If you are into local sake, visit "Jyuudaime Gisuke"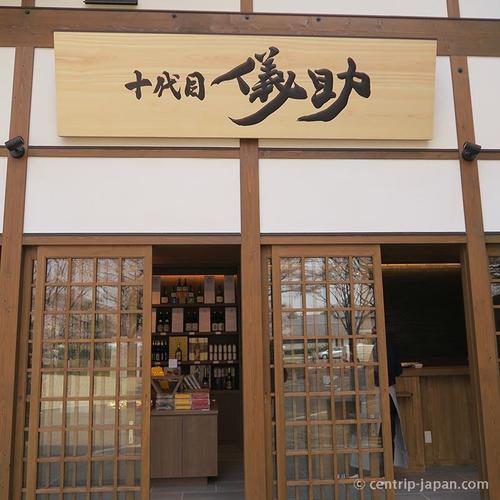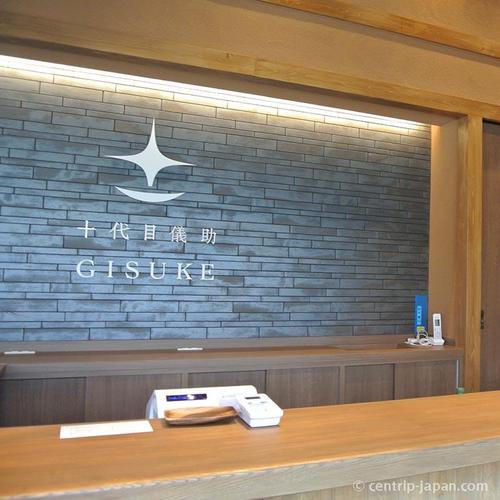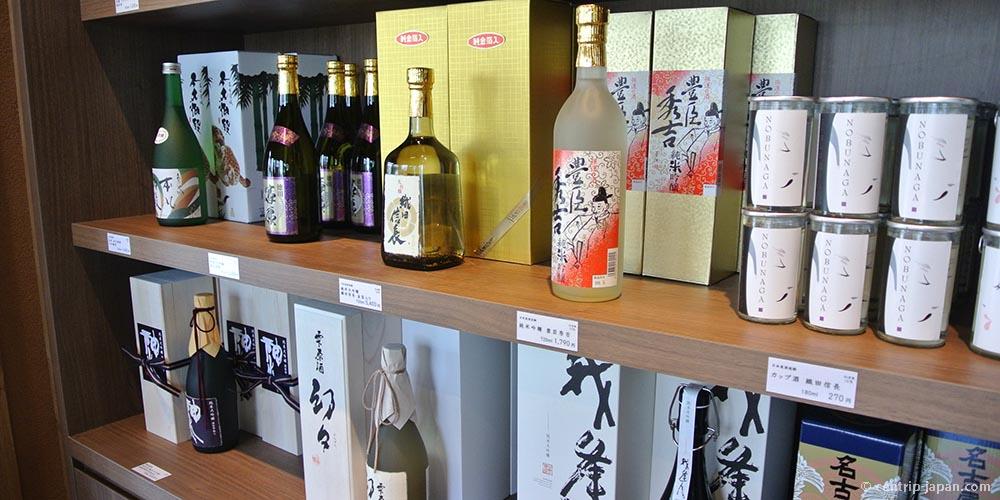 "Jyuudaime Gisuke" sells a variety of local sakes associated with Aichi and also Nagoya Castle. You can also find sake inspired by famous generals such as Nobunaga and Hideyoshi.
The "Taikoban Series", which consists of 4 different sakes made by the 4 breweries in Aichi, is the staff's recommendation.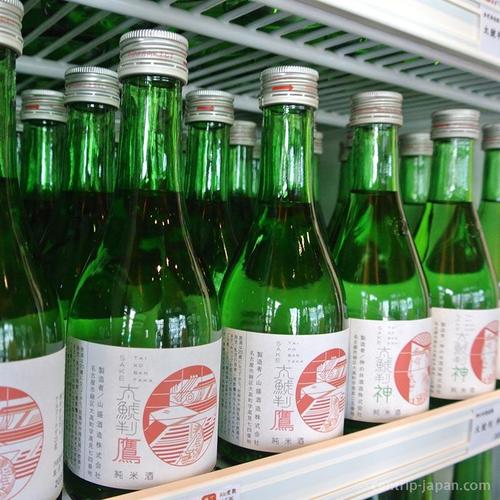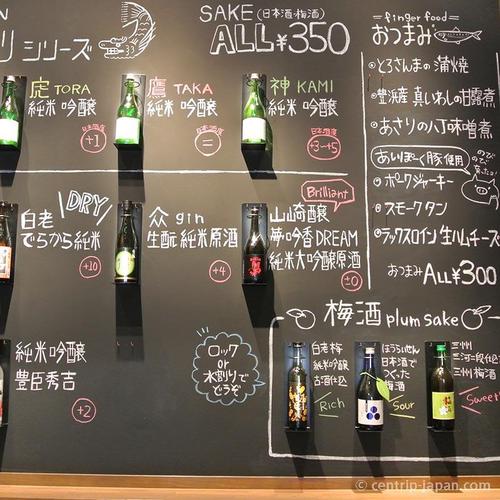 There are also tastings which carry a charge (550 yen for 3 types, and 350 yen for 1 type) available in the store. Find your favorite!
"NAGOMIYA": Anything you can think of to take back as a souvenir is right here!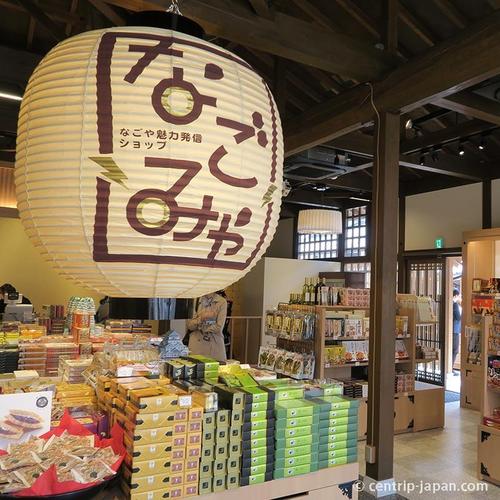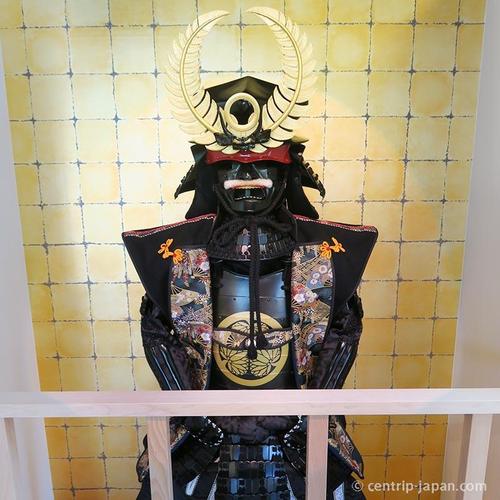 If you are willing to look through a variety of souvenirs to find what you want, this is the perfect place to visit. There are original goods only sold at this very place made with the motif of the Kinshachi Yokocho and the Nagoya Castle, local specialties, and more. There will also be a display corner showing samurai culture along with the overall history of Japan.
In summary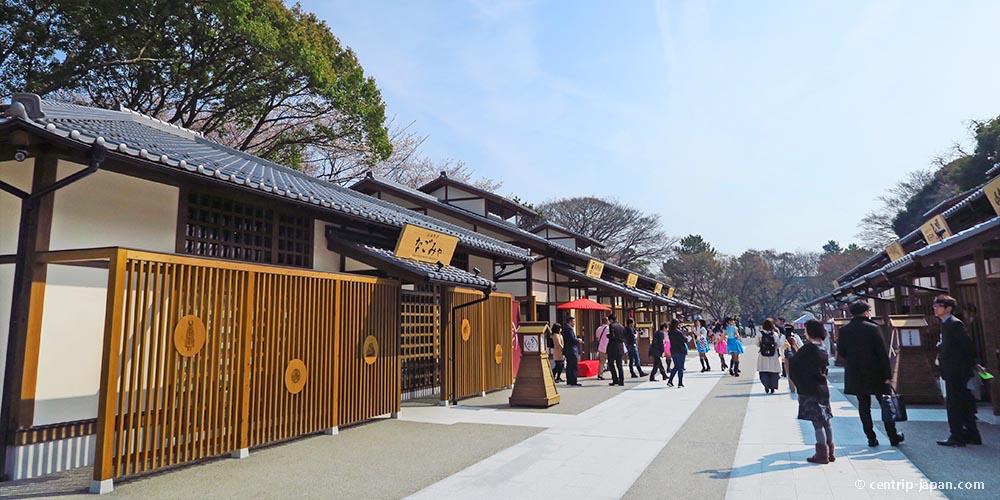 Since many of Nagoya's dining and shopping facilities can be found at Kinshachi Yokocho, you can get a feel for the local culture even if you don't have that much time. Since Kinshachi Yokocho is designed to resemble the landscape from back in the Edo period, you can also experience the history of Japan at this spot.
There are other shops which we didn't get around to today - don't forget to check them out as well. Let us remind you again - if you're coming to Nagoya, don't miss your chance to visit Kinshachi Yokocho!