| Bonnie Chow 
Takaoka: History, Tulips, Anime, and the Ocean
Background of Takaoka City
Takaoka City is in the northwestern part of Toyama Prefecture in the center of Honshu. The west side of the city is a mountainous area, whereas the northeastern side is Toyama Bay. Toshinaga Maeda, the second feudal lord of the Kaga Domain, established Takaoka city in 1609, attracting artisans, merchants, and metal-casters to move to Takaoaka, paving the way for Takaoka to become a castle town full of traditional crafts, festivals, and historical buildings. In 2015 and 2017, Takaoka City was certified as a place of Japanese Cultural Heritage established by the Agency for Cultural Affairs in Japan. Japan Heritage system designates areas in Japan that have clear themes related to Japanese culture. Takaoka originated as a castle town. Its story of development, by the townspeople, earned it a designation as a site of Japanese Heritage. In addition, Kitamaebune port, a shipowner's village, and a story related to Takaoka was also certified as Japan Heritage in April 2017.
However, Takaoka has more to offer other than historical sights. Because of its proximity to Takayama, Takaoka is always a day trip option if you stay at Takayama for two to three nights. If you are thinking about visiting Shirakawago from Takayama, you can also consider visiting Takaoka after Shirakawago. Takaoka city is less famous than Kanazawa in Ishikawa prefecture, but its appeal awaits your discovery. Cute Doraemon characters, tasting fresh seafood, and viewing the famous Tateyama mountain range on the sea coast are just a few to mention.
From Takayama to Takaoka
From Takayama, the fastest and direct way is taking JR Wide View Hida train to stop-over in Toyama and change to Ainokaze Toyama Railway to Takaoka. It takes about two hours in total. Alternatively, you can also take the public bus from Takayama to Takaoka station directly. It takes three hours. The one-way train price is ¥3,260, and the one-way bus fee from Takayama is slightly cheaper at ¥3,200. Please note: local trains cost only ¥2,060, one-way, taking three hours in total, and requiring two transfers. We recommend you check the train timetable in advance as the local train does not run every hour. You can also choose to take the bus to Takaoka after visiting Shirakawa-go. The bus travel time is only 50 minutes, and the one-way bus fee is ¥1800. You can choose to stay one night in Takaoka and then start sightseeing the next day morning.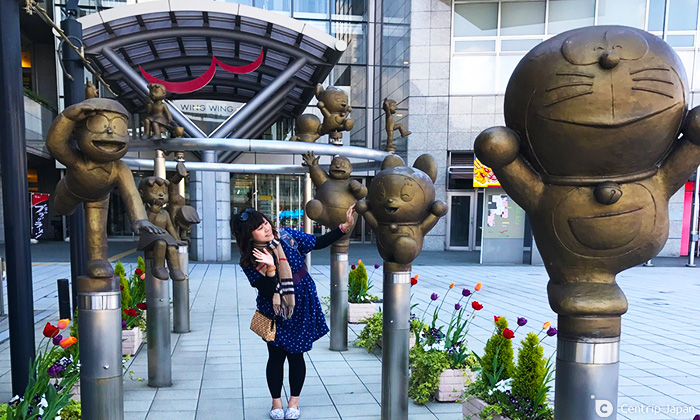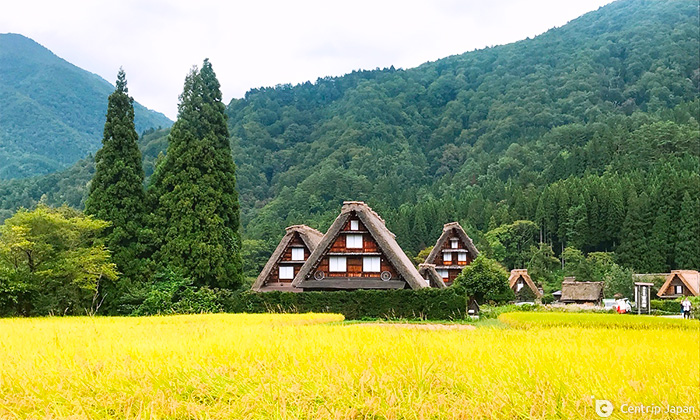 Doraemon, Gourmet, and Nature Route
Recommended schedule: Get on the Doraemon tram → get off at Shinminato Kittokito Fisherman's Wharf seafood market → get back on and go to Amaharashi Coast
The Doraemon route
Doraemon is a popular manga and animation character in Japan. Fujiko F. Fujio, the creator and well-known manga artist, was born in Takaoka city. In Takaoka, you can find Doraemon characters near the JR Takaoka station and even get on the Doraemon tram to head to the Coast of the Japan Sea. The Doraemon tram is called Manyo Line, which departs from Takaoka station and ends at Koshinokata station in the Shin-Minato Harbour area. There are over one million passengers who have ridden on the tram.
Please note that the Doraemon tram runs at a specific time only, and it is currently not running on Monday for maintenance purposes. The oneway fare is ¥200 to ¥400 based on your destination. The tram company also provides one day pass for ¥900. Please check the timetable below in advance.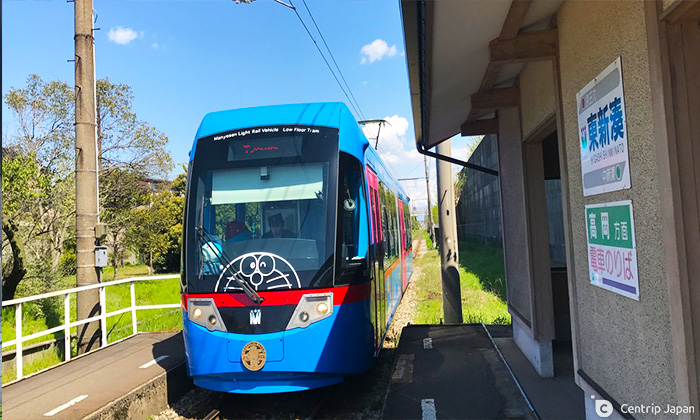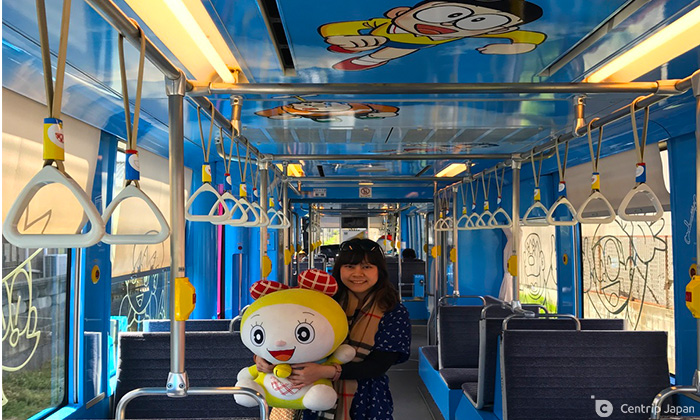 Shinminato Kittokito Fisherman's Wharf
By taking the Doraemon tram mentioned above, we recommend you get off the tram at Higashi-Shimminato station to visit the seafood market. The oneway fare from Takaoka Station to Higashi-Shimminato station is ¥400 per person and takes 40 minutes. After getting off the tram, it is a 10-minute walk to Fisherman's Wharf. Once you are there, you can feel the sea breeze and smell the scent of the sea! We recommend you visit this seafood paradise between November and February as it is the season for Japanese snow crab. Snow crab in the Japan Sea is famous for its freshness and sweetness. You can get snow crab boiled in restaurants and even choose your own crab. Prices range from ¥2,500 to ¥5,000 for a whole snow crab. Do not miss it if you visit Toyama prefecture in the crab-eating season! In addition, there is a crab auction in the market where you can see buyers and vendors and countless crabs! The auction welcomes tourists to watch the auction on the second floor. The viewing fee for adults is ¥100 per person, and reservation by phone is necessary. Please note that crab auction viewing is temporarily closed, so check availability before visiting. It's not just snow crab, there are various seafood restaurants in the market with grilled shellfish, sashimi bowls, sushi, tempura, etc. All seafood provided is caught fresh in the morning. Souvenir shops selling local specialties like dried squid, seaweed, and local sake are available as well. How about having a high-quality seafood lunch when you visit Japan next time?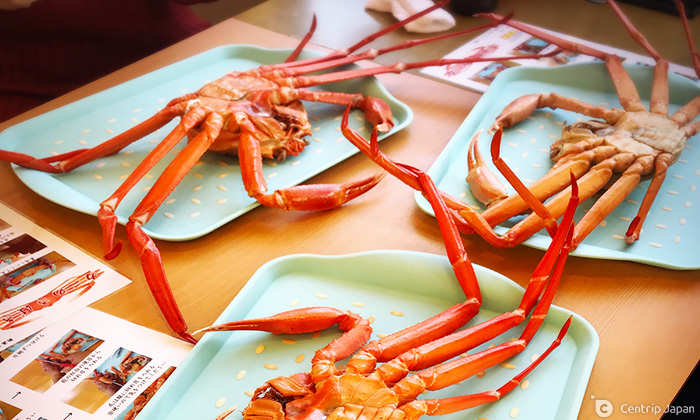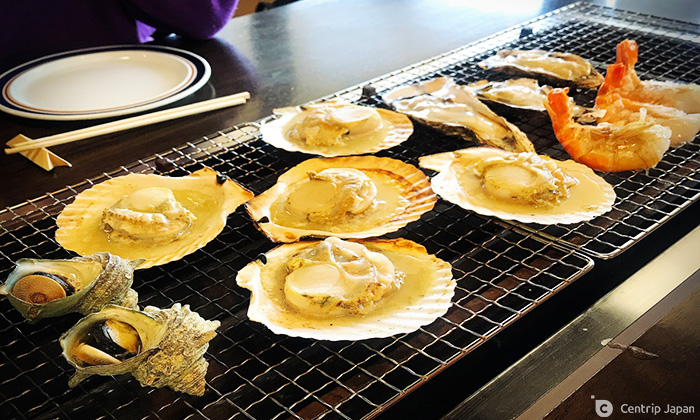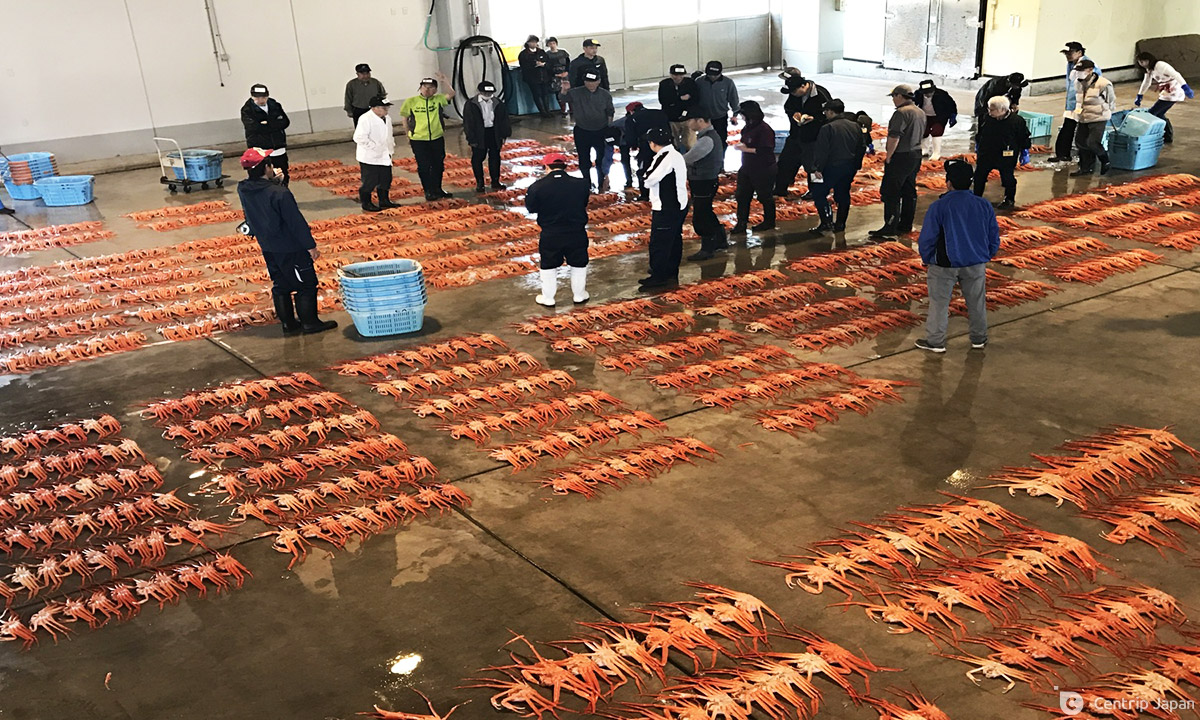 The crab auction in the KittoKito Fisherman's Wharf is open to visitors to see. (Temporarily closed. Please check the availability.)
Kaiohmaru Park
After a delicious seafood lunch, would you like to take a little walk to the seafront to enjoy the sea breeze and probably see the snow mountain range of Tateyama? Kaiwomaru Park is about 10 minutes walk from Shinminato Kittokito Fisherman's Wharf. The Kaiwomaru sailing ship is open to the public, and visitors can board and learn about its history. At the moment, it is temporarily closed, so please check their website before visiting.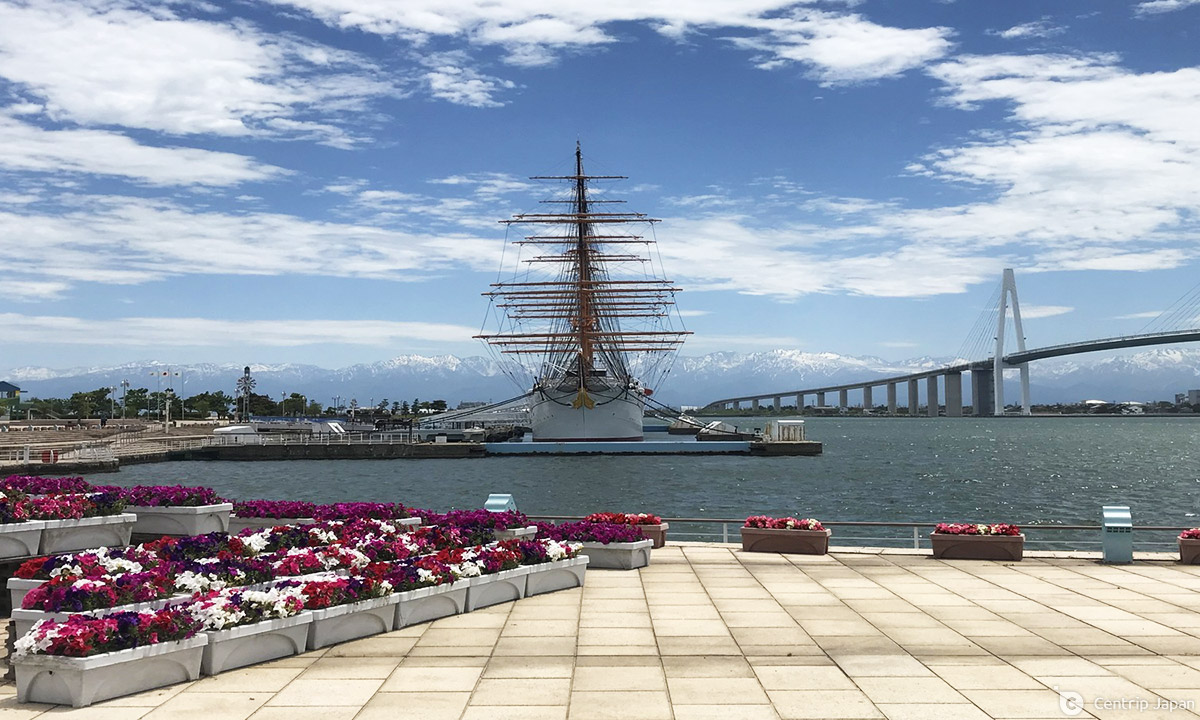 You can see the Tateyama mountain range covered in snow from October to May in Kaiwomaru Park. The scenery is magnificent.
Amaharashi Coast
From JR Takaoka Station, it takes 20 minutes to arrive at Amaharashi station by Himi line. From this station, walk five minutes to the coast of the Sea of Japan and enjoy the spectacular view of the 3000-meter high Tateyama mountain range covered in snow. Morning is the best time for viewing on sunny days from November to May. It is also one of the top 100 Shorelines of Japan!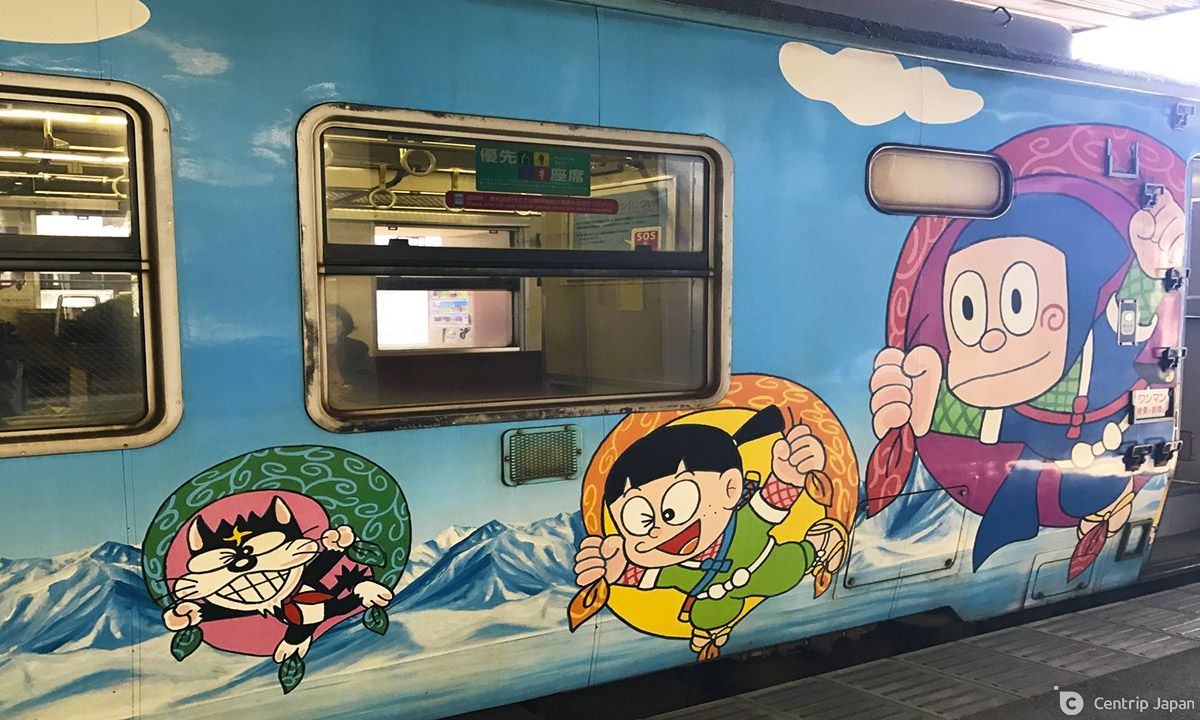 JR Himi Line has a train with the Ninja Hattori Kun, a manga written by Fujiko F. Fujio.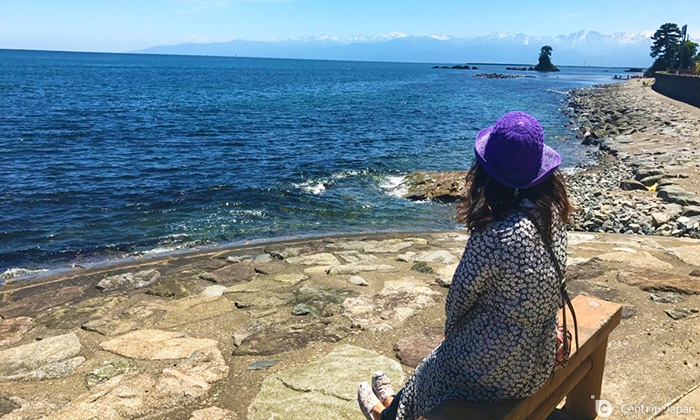 Bicycle rental service
Takaoka station area is flat and can the town is easily explored on foot or by cycling. Bicycle rental service is available from April to November for ¥300. You can use the bicycle from 10 am to 4 pm. We recommend visitors rent it in the JR Takaoka Station, and there is an option that you can return the bike at JR Shin Takaoka Station by paying an extra ¥300. Depending on the COVID-19 situation, rental service may be suspended. Please check with the tourist information center if you plan to rent a bicycle for your trip.
Classic Historical Route
Recommended schedule: Kanayamachi Old town → Takaoka Mikuruyama Musuem → Great Budda Takaoka Kojo Park → Sushi lunch (Sushi Kuine or Banya no sushi) → Zuiryuji Temple
Kanayamachi Old Town
In feudal times, Toshinaga Maeda, the lord of Takaoka, promoted economic prosperity and made the Kanayamachi streets home for metalworkers times. Nowadays, all traditional buildings in this street are well-preserved. Kanayamachi old town is a 20-minute walk from JR Takaoka Station. Here you can walk on the 500 meter-long cobblestone road and observe the architecture of the old latticed houses. The traditional atmosphere in the Kanayamachi area brings you back to the time of Meiji and Taisho eras around 150 years ago. In 2012, it became an important preservation district in Japan. There is also a workshop where you can experience metal-casting and a shop, make tin accessories, and Takaoka's traditional crafts. Why don't you make your own accessory as a memory of your trip?
Takaoka Mikuruyama Musuem
Takaoka Mikuruyama Festival is a UNESCO Intangible Cultural Heritage, and also designated as an important tangible folk cultural property and an intangible folk cultural property of Japan. This is one of only five festivals in Japan with this designation. On May first, seven floats decorated with excellent craftsmanship such as metalwork, lacquer work, dyeing, and weaving parade through the streets. You will marvel at the magnificent artisanal techniques in Takaoka. This festival has 400 years of history and it continues from one generation to the next. If you are interested in seeing the floats, we recommend you visit the Takaoka Mikuruyama Museum. There, on display, are the festival floats and a movie of the festival that lets you experience it as if you were there. A Karakuri marionette experience is available too.
Opening hour: 9:00 am- 5:00 pm
Closing date: Tuesday, and the day after public holiday
Entrance fee: ¥450 per adult (high school student or above)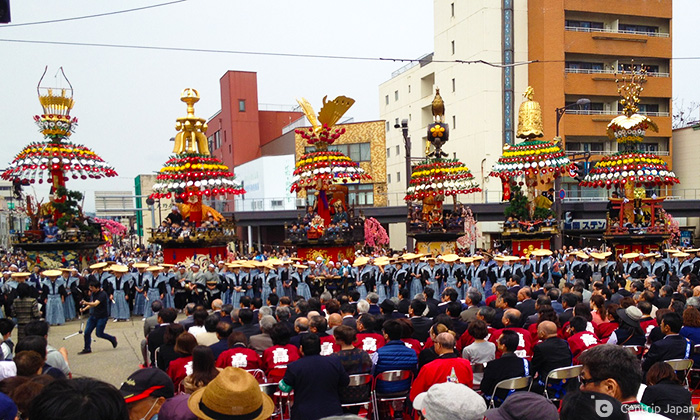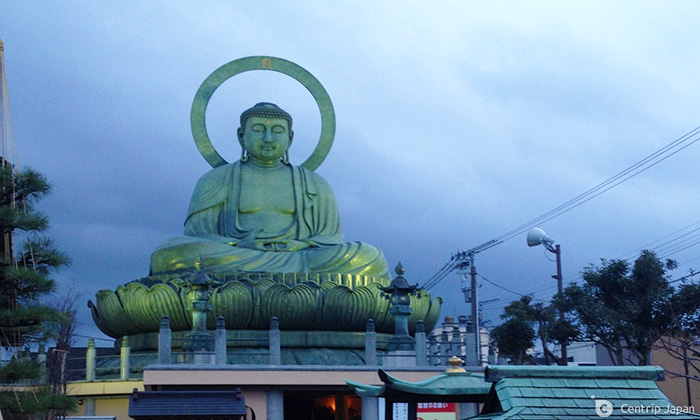 The Great Buddha of Takaoka
This large bronze Buddha at 15.85 tall and 65 tons, along with the Buddha in Nara and Kamakura, is one of the largest Buddha statues in Japan. It illustrates the excellent metal-casting skills of people in Takaoka. It is a 10-minute walk from JR Takaoka Station.
Takaoka Kojo (Old castle) Park
This park is only a seven-minute walk from the Great Buddha and is one of the most popular tourist spots in Takaoka. Takaoka Castle was demolished according to the law of One Province One Castle in 1615. However, the fortifications and moat remain, and the scenery of this park is wonderful, especially during the cherry blossom season in spring. It is one of the Top 100 Cherry Blossoms Spots.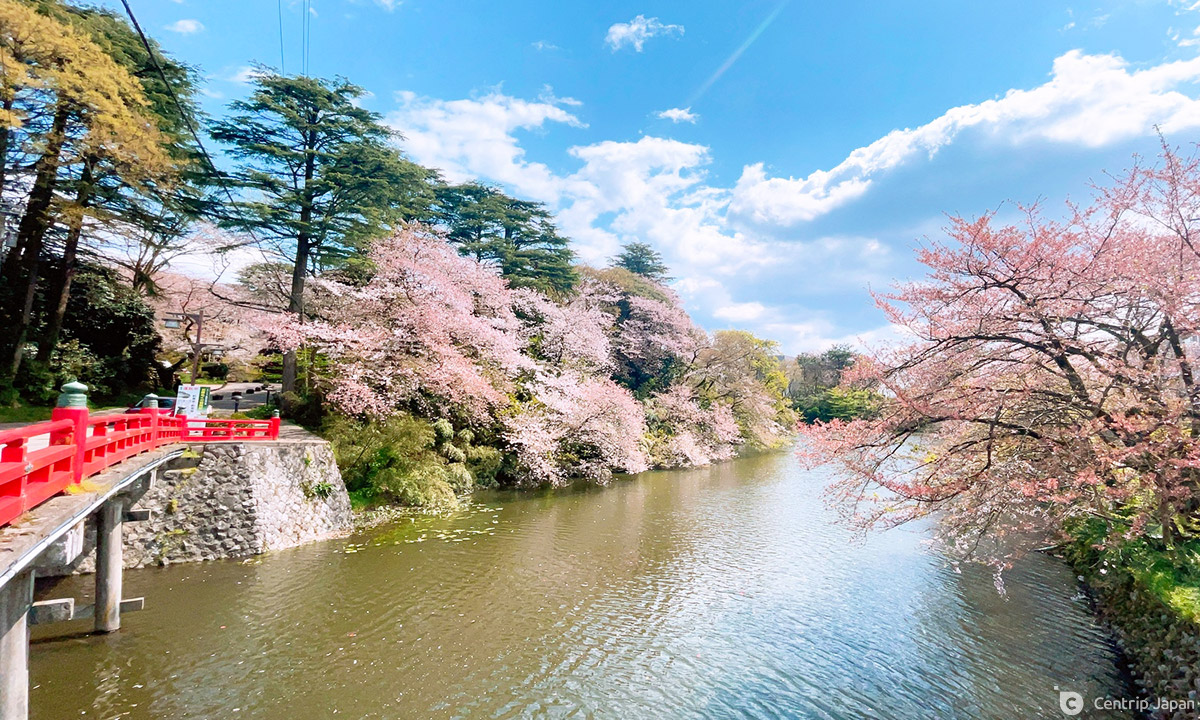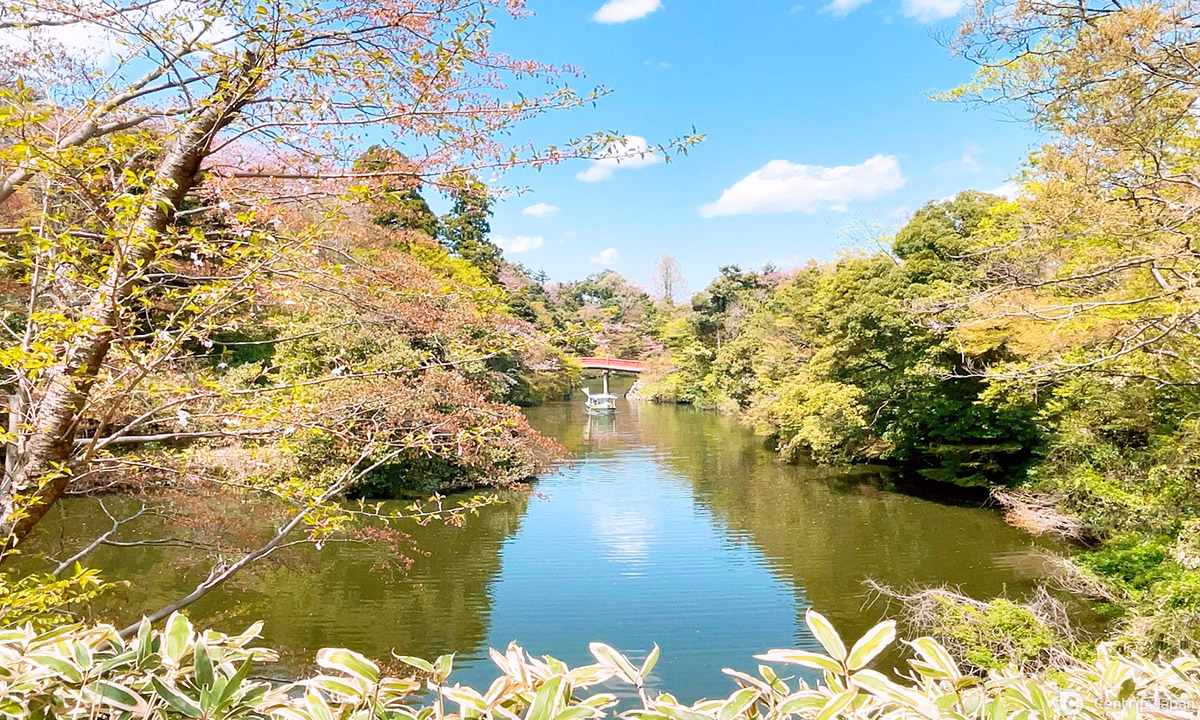 Sushi lunch
Takaoka, blessed by its proximity to Toyama Bay, is where you can eat fresh and delicious sushi all year round. Below are the sushi restaurant recommendations from locals.
Sushi Kuine
Sushi Kuine is about a 16-minute walk from the JR Shin Takaoka Station. It is popular among locals, so please prepare to get in line on weekends or holidays.
Address: 433 Akasofu, Takaoka, Toyama 933-0806
Banya no sushi
Banya no Sushi restaurant is a bit far from the tourist spots, but it wins the hearts of locals because of the reasonable price and good quality. It is about a 30-minute walk from the old castle park. Visiting at lunchtime is recommended since they offer various set menus starting from ¥550.
Address: 1350 Nomura, Takaoka, Toyama 933-0014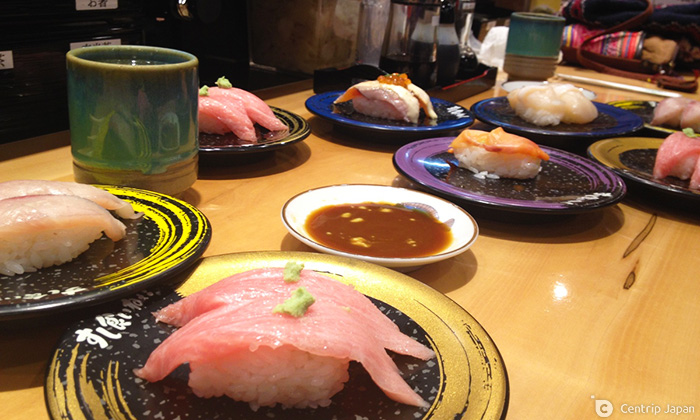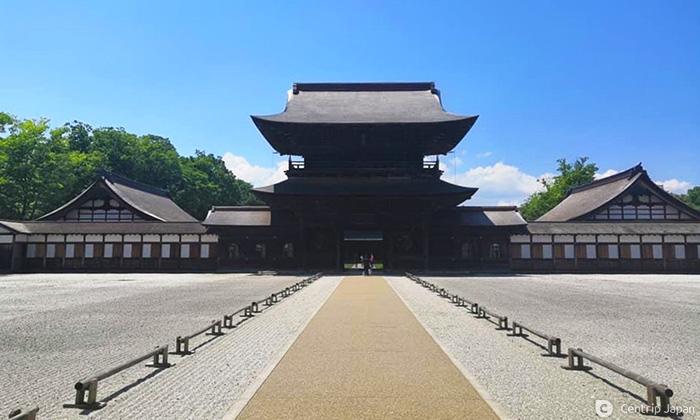 Zuiryuji Temple
Zuiryuji Temple, a Zen Buddhist temple, is the only national treasure in Toyama Prefecture. It takes 10 minutes to walk from JR Takaoka Station. The construction of Zuiryuri Temple took 20 years to complete and, the tiles of the main hall, made by lead, are the highlight of visiting this temple.
Side trip to Tonami
Tonami city, 16 km away from Takaoka city, is famous for the Tulip flowers and a festival. It is convenient to visit by car, but taking the train to get there is also possible. It takes around 40 minutes from Takaoka. If you depart from Takayama, it takes about three hours by train, and the oneway fare is ¥3,550.
Do you like tulips? Here is the chance for you to see various types of tulips in an open-air garden. Tonami Tulip Fair is held every year from the end of April to early May. This fair will satisfy flower lovers since you can see colorful and diverse tulip flower fields within an hour! If you are visiting in late April, it is highly probable to see the cherry blossom as well! It is about a 15-minutes walk from JR Tonami Station, and a free shuttle bus runs between JR station and the venue during the Tulip Fair. The entrance fee for adults for Tulip Fair in 2021 is ¥1,300 per person. Parking spaces are available for ¥500.
Would you like to experience a local Japanese festival in the countryside? Tonami Yotaka Festival occurs on the Friday and Saturday of the second week in June. This festival is said to have started in the Taisho era (1912-1926). This festival is for a good harvest and watching the large lantern floats collide at night. Please visit this festival to feel the enthusiasm of the Tonami people!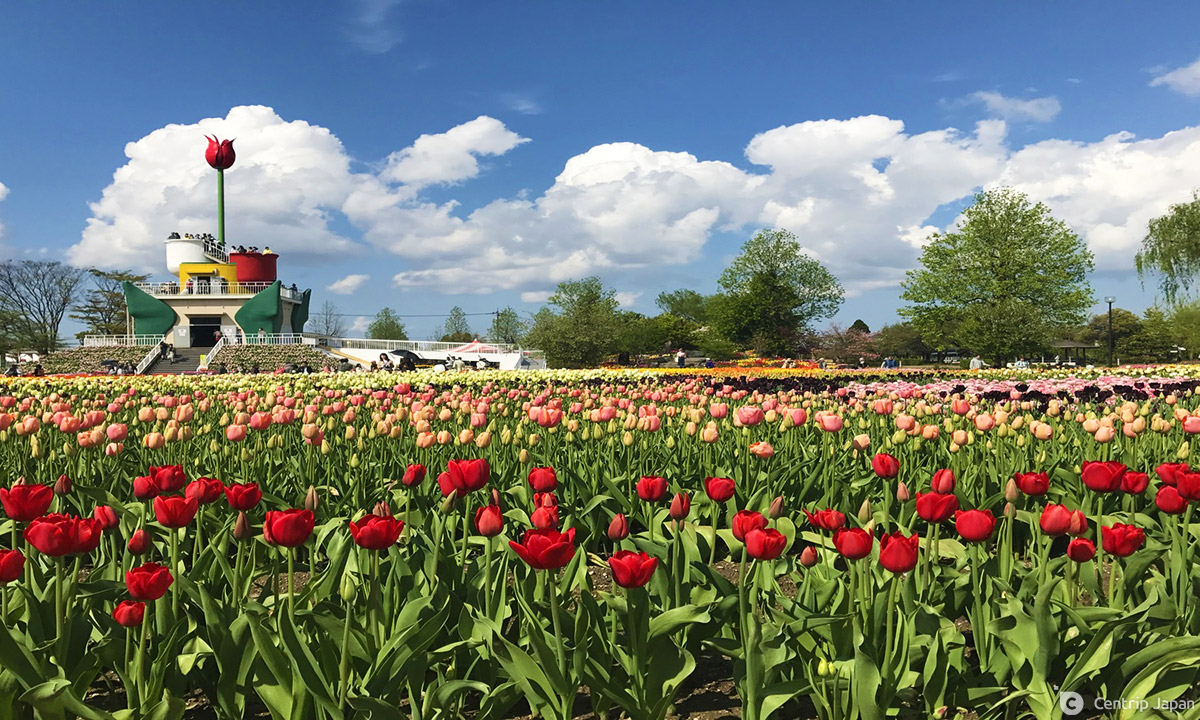 When the weather is nice, the tulip flower field looks lovely.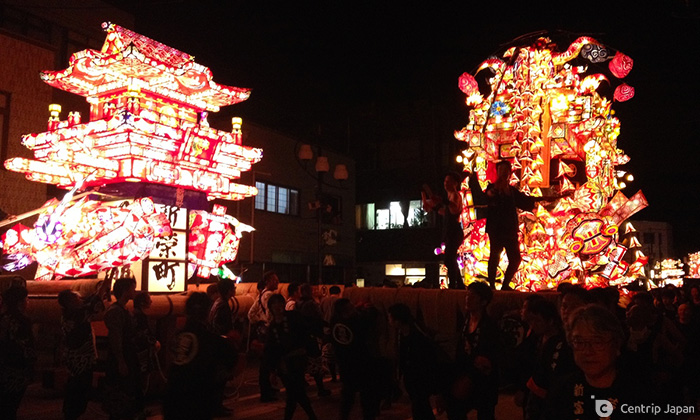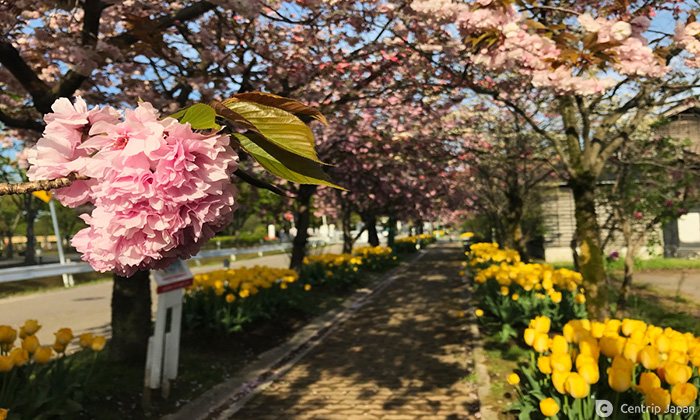 How to get to Takaoka From Nagoya
From Nagoya to Takaoka, the best way is to drive, and it takes three hours. Alternatively, it is possible to access by train and transfer once in Kanazawa. It takes about four hours and the oneway fare is ¥7,770, so we recommend staying one night in Takayama, Shirakawa-go, or Kanazawa before heading to Takaoka.
Wrap-up
o sum up, Takaoka is a city for Japanese traditional, natural, and gourmet lovers. It is time to visit this hidden gem in Japan!
Click here to get the latest information on Central Japan.Centrip Japan - Nagoya and Chubu Information