| Centrip Editorial Board
Five of Nagano's Most Rewarding Outdoor Activities
Nagano is an outdoor paradise that could easily make a claim for being Japan's adventure capital, with its unparalleled number of outdoor activities available across the prefecture. Here we'll highlight five of those activities that span all four seasons and a range of intensity levels. There's something for everyone with our picks that include hiking, biking, skiing, snowshoeing and ropeway-assisted sightseeing.
Hiking the Yatsugatake Range
Hike through sublime forests and rugged peaks with spectacular panoramic views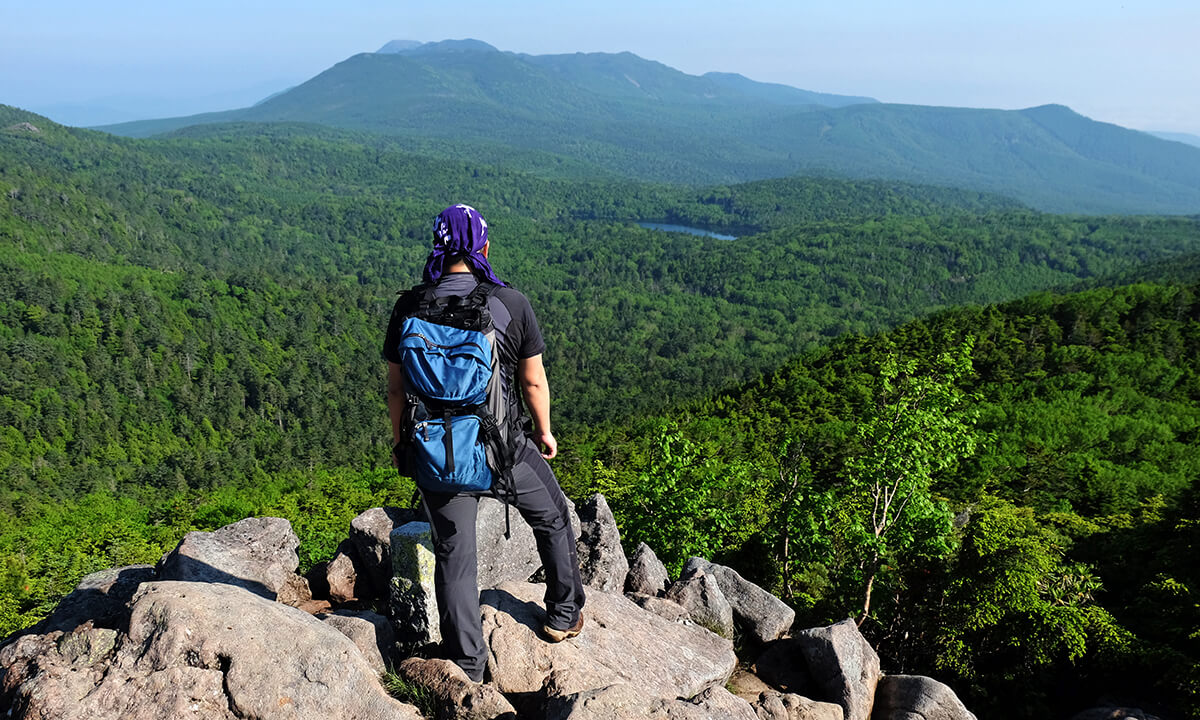 Shirokoma Pond ringed by dense old-growth forest in northern Yatsugatake
Most people are familiar with the Japanese Alps but may not have heard of Yatsugatake, a nearby range that tops out at near 2,900 meters and provides 360-degree views of the Alps and Mt. Fuji. While Yatsugatake rivals the Alps as one of the country's premier mountain playgrounds. Here you can find a wide range of landscapes and hiking trails to suit your schedule, experience level and expectations; from easy one-day hikes through the forest, to tough multi-day traverses.
Area Information
Suwa Area / Chino City
Yatsugatake lies in the middle of Honshu, on Nagano's eastern border with Yamanashi Prefecture, around 20 kilometers south of Matsumoto. This lengthy chain of peaks stretches for more than 20 kilometers in length, from Mt. Tateshina at its northern end, to Mt. Gongen in the south.
Yatsugatake is part of Yatsugatake-Chushin Kogen Quasi-National Park. This means the area has been designated as an "excellent scenic area that is equivalent to a national park," but is smaller and managed by the prefectural government. Its pristinely-preserved forests and rugged ridgelines set the stage for epic adventures.
The name Yatsugatake literally translates to 8 peaks, but the truth is, there are quite a few more (more than 20!).
Activity Information
Minami Yatsugatake
The southern part of Yatsugatake is characterized by an extended rocky ridge packed tightly with a string of massive peaks dominated by the stately form of 2,899-meter Mt. Akadake, the tallest mountain in Yatsugatake. This area is great for those who enjoy "peak hunting" or want to chase views of Mt. Fuji or the Alps.
Recommended Route: This is a tough one-night, two-day loop starting at Minotoguchi and climbing to the summits of Yatsugatake's 4 tallest peaks (Mt. Io, Mt. Yokodake, Mt. Akadake and Mt. Amida; all above 2,760 meters). The link below covers the route and is an excellent reference for planning your hike.
Yamakei Hikes in Japan - Loop of the Southern Yatsugatake Volcanic Group: Mt. Io, Mt. Yokodake, Mt. Akadake & Mt. Amida
Kita Yatsugatake (北八ヶ岳)
The northern half of Yatsugatake features gentler, less imposing summits spread further apart and separated by long stretches of beautiful forest. Hiking here is less intensive and more suited to a leisurely style of walking, though climbing to the peaks is still demanding. One of the focal points of Kita Yatsugatake is the serenely beautiful Shirakoma Pond and the magical moss-covered forests surrounding it.
Recommended Route: This easy day hike takes you from Mugikusa Pass to the pond, around its perimeter and through primeval forest before climbing to a panoramic viewpoint and a nearby peak and looping back to the start. This is a wonderful course that affords plenty of opportunities for photography and relaxation. The link below contains a general description and more details of the route.
Yamakei Hikes in Japan - Loop of the Northern Yatsugatake Volcanic Group: Shirakoma Pond and Takami-ishi
Riding the Komagatake Ropeway
Take a scenic trip to an incredible alpine valley on Japan's first ropeway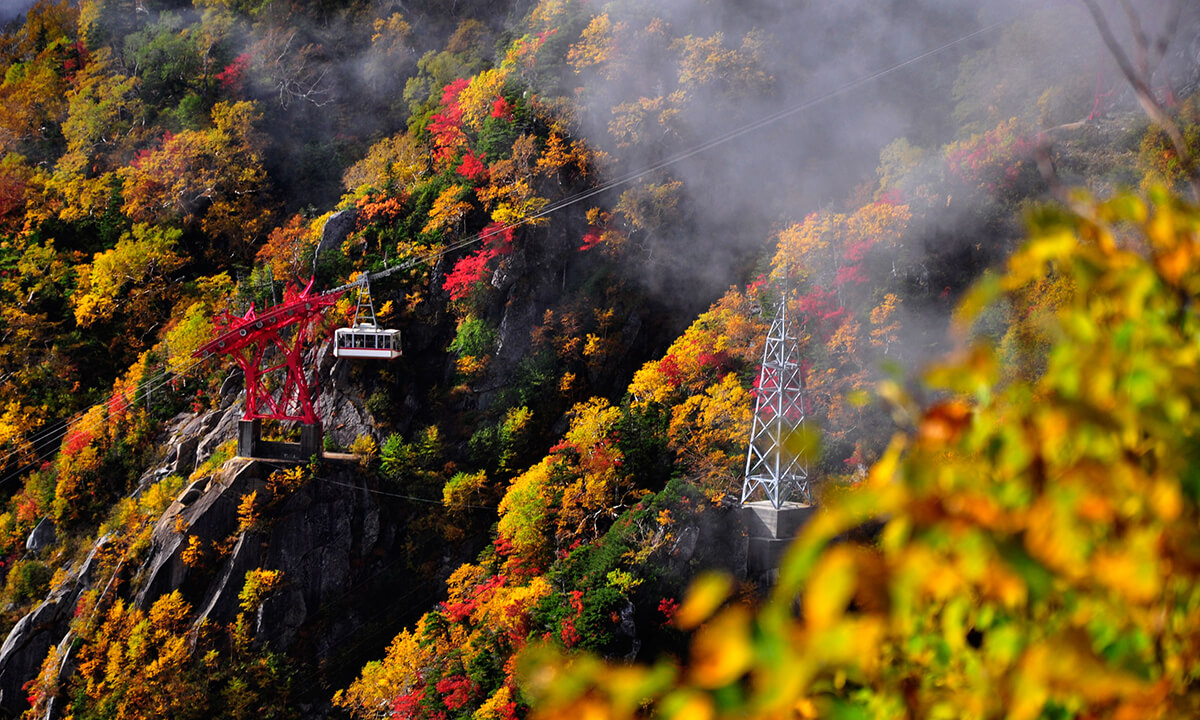 The Komagatake Ropeway climbing through vibrant autumn foliage
The Japanese Alps are renowned for their dramatic beauty, and draw hikers from across Japan and the globe to their extensive network of trails and mountain huts. The rewards of a visit to these impressive peaks are many, but typically must be earned through the exhausting efforts required to reach them on foot. Central Nagano's Komagatake Ropeway provides the perfect compromise, whisking visitors to the base of a magnificent glacier-carved valley 2,600 meters above sea level, where they can experience world-class views without expending large amounts of energy to get there.
Area Information
Kamiina Area / Komagane City
The Komagatake Ropeway is located in the Chuo (Central) Alps, one of the three major mountain chains that form the Japanese Alps. The Central Alps rise high above south-central Nagano's Ina Valley, where the city of Komagane and the Komagatake Ropeway can be found.
The ropeway transports people to the spectacular Senjojiki Cirque, a bowl-shaped basin circled by towering peaks in the heart of the Central Alps. This dazzling landscape formed tens of thousands of years ago by the actions of an immense sheet of ice is now a paradise of alpine plants and home to some of the most iconic mountain views anywhere. Furthermore, thanks to the ropeway, there is plenty of enjoyment to be had on the journey as well as the destination.
Activity Information
Flying through the air in a gondola is a unique and enjoyable experience that the ropeway's official homepage aptly describes as a "450-second aerial adventure." Doing it in this setting makes it unforgettable.
The pioneering, 2-kilometer long Komagatake Ropeway, built in 1967, was Japan's first such mountain cable car. It still holds the distinction for ferrying its passengers up the greatest vertical gain (950 meters) to the highest terminal station (2,612 meters) of any of the country's ropeways. Windows wrap around the car's full perimeter, enabling picture-perfect views in all directions on the way up and down, and when you step out into the pure mountain air upon disembarking at Senjojiki Station the enormous scale of the cirque and the Alps will hit you.
Most visitors who take the ropeway do so for one of two main reasons: sightseeing around the foot of the cirque, or mountain climbing to Mt. Kiso and other major peaks of the Central Alps.
Sightseeing
Sightseeing is as simple as taking the ropeway up to the top and completing the 1-kilometer / 1-hour walk that circles the relatively flat terrain around the terminal station. In summer these are fields of wildflowers, but the views are fantastic in any season. The official homepage has a nice hand drawn map, photos from the two main viewpoints, and an album of several alpine flowers that grow in the area to give you an idea of what to expect. Many people opt for a tasty lunch with a view at the Hotel Senjojiki before heading back down.
Komagatake Ropeway - Senjojiki Cirque Hiking Trail
Mountain Climbing
More ambitious hikers take the ropeway in order to access the mountain trail leading up through the gut of the cirque and onward to the top of Mt. Kiso Komagatake, the tallest peak of the Central Alps at 2,956 meters. This can be done in 3 to 5 hours depending on your fitness and the current conditions, but will require an early start and proper clothing and equipment. Once again, the ropeway's homepage does a good job of introducing the route as well as recommended gear, manners, and more.
Komagatake Ropeway - Mt. Kiso Komagatake Trail
Snowshoeing in Otari Village
Experience idyllic landscapes covered in meters of snow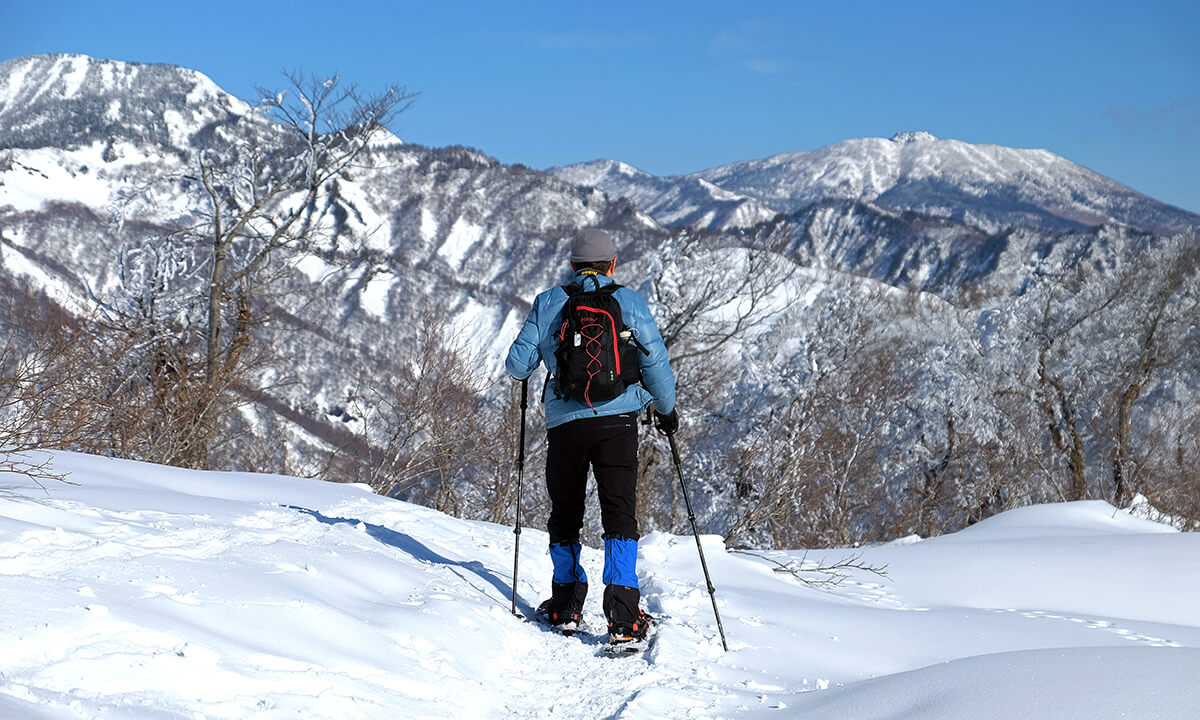 Snowshoeing high above Otari with amazing views of a distant Mt. Myoko
Area Information
Northern Alps Area / Otari Village
Otari sits at the extreme northern edge of Nagano, on the border with Niigata Prefecture and next to the popular skiing village of Hakuba. It is a wonderfully picturesque place sandwiched between the Chubu Sangaku National Park on its western side and the Myoko-Togakushi Renzan National Park to the east.
Its location between the Sea of Japan and the Northern Japanese Alps, along with the super cold air masses that regularly travel through the upper atmosphere south from Siberia, translate to frequent heavy snowfalls. In fact, the area is right in the middle of one of Japan's top snowiest regions.
Activity Information
The possibilities for snowshoeing in Otari are endless. If you plan to stick close to your hotel or around the slopes of one of the resorts, going on a self-guided walk is an option. For those who want to go further afield, it's recommended that you go with a local guide who knows the area and can help you choose a course that's appropriate.
Self-Guided Snowshoeing
Snowshoes and pole sets can be rented at a number of ski resort rental shops in Otari, most notably Tsugaike's Uchikawa Sports and Arai Sports. Setting out without a specific destination in mind can be part of the fun, but if you're looking for recommendations, here are a few:
Tsugaike Wood Chip Road
The Tsugaike Wood Chip Road is in a quiet, forested area between the Tsugaike and Hakuba Norikura ski resorts. In summer two separate trails, the 1.5km-long A Course and the 1km-long B Course, loop through the canopy of green above, but in winter everything is under the snow, opening up the entire area to exploration. Though relatively small and bound by roads on two sides, it's a great place to find animal tracks or even encounter the wildlife that made them.
Cortina Wonder Village
This quiet area adjacent to Cortina's Green Plaza Hotel offers a full slate of activities for visitors to enjoy, including sledding, snowcat rides and snowshoeing using traditional, handmade wooden snowshoes called kanjiki. There is plenty of flat and gently-undulating terrain nearby to aimlessly trample through, or you can participate in a "point rally" and join in the hunt for numbered placards and other surprises hidden amongst the trees.
Guided Snowshoeing
Going on a guided snowshoe tour is the best way to fully-experience the best of what Otari has to offer. Destinations throughout the village offer the chance to get away from the crowded ski resorts and experience the region's beautiful nature, and include treks to breathtaking overlooks, high alpine plateaus, panoramic mountain passes, secluded frozen lakes, small rural settlements and more. The location for each tour is determined by the guide in consideration of current weather and snow conditions.
Hakuba-based Evergreen Outoor Center is the most reliable snowshoe guiding service in English, but if you speak Japanese or are ok going with a local guide who may not be proficient in English, there are many more options such as the Otari Outdoor Club and various independent guides who can be arranged through the Otari Tourism Bureau.
Hitting the Slopes of Shiga Kogen Snow Resort
Ski or snowboard in style at Japan's largest and highest snow resort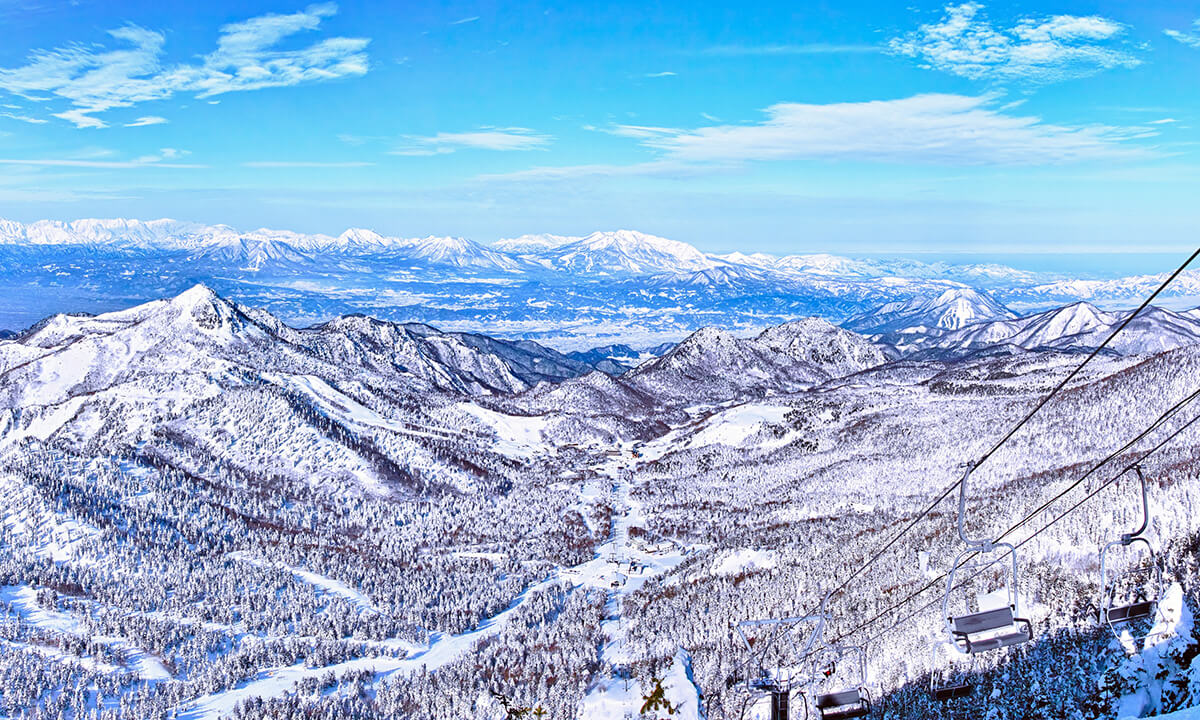 In addition to fantastic snow and ample terrain, Shiga Kogen boasts incredible views
Japan has earned a reputation as a powder paradise, and skiers and snowboarders flock to its slopes each winter in search of perfect lines through deep "japow" and smooth turns on corduroy groomers. The places to do so are almost as unlimited as the snow itself, with more than 500 resorts in operation across the country. Even with so many options one destination really stands out. Shiga Kogen is actually 18 resorts unified under a single lift pass and linked together from one end to the other by lifts, trails and free shuttle buses.It is Japan's largest ski resort and a great place to plan your winter getaway.
Area Information
Hokushin Area / Yamanouchi Town
Shiga Kogen is part of the small town of Yamanouchi (山ノ内町), located in the mountains some 40 kilometers northeast of Nagano City and within the borders of the Joshin'etsu-Kogen National Park, which straddles the borders of Gunma, Nagano and Niigata prefectures.
The kogen in Shiga Kogen translates to "highland" and describes the area's lofty setting; the resort's slopes range in elevation from 1,340 to 2,307 meters. This ensures both plentiful, reliable, quality snow and an extended winter season, usually lasting more than half the year, from mid-December to the end of May.
Activity Information
Japan's huge number of ski areas speaks to the fact that most are relatively small in scale. This can be part of the appeal, since it allows visitors to experience the atmosphere and charm of local resorts. This is why Shiga Kogen is so special: it presents an excellent compromise to this conundrum, giving visitors the best of both worlds with tons of terrain and loads of local ski town flair.
Though not huge by international standards, Shiga Kogen is a giant in relation to most Japanese resorts. The area's 18 ski areas combined feature more than 60 lifts and 90 runs extending for more than 80 kilometers. That's significantly more than can be skied in a single day or even a weekend, making Shiga Kogen a favorite amongst friends and families on extended holidays.
The breakdown of beginner, intermediate and advanced terrain varies from resort to resort, but overall the split stands at 46% / 37% / 17%. A few of Shiga Kogen's resorts, like Ichinose Yamanokami, Tannenomori Okojo, Hasuike, Maruike, Yokoteyama and Shibutoge are particularly family-friendly with more than 50% beginner runs and little to no advanced trails, while others such as Okushigakogen and Terakoya boast intermediate and advanced terrain totaling more than 70%. No matter what you're looking for, you can find it at Shiga Kogen.
Though skiing and snowboarding are the main draws, a handful of other activities can be enjoyed at Shiga Kogen, including the extremely-popular day trip to see the world-famous onsen-bathing Snow Monkeys, snowmobiling and more.
Offroad Riding at Madarao's Giro Gravel Bike Park
Bike across a diverse landscape on a variety of surfaces at Madarao's newest attraction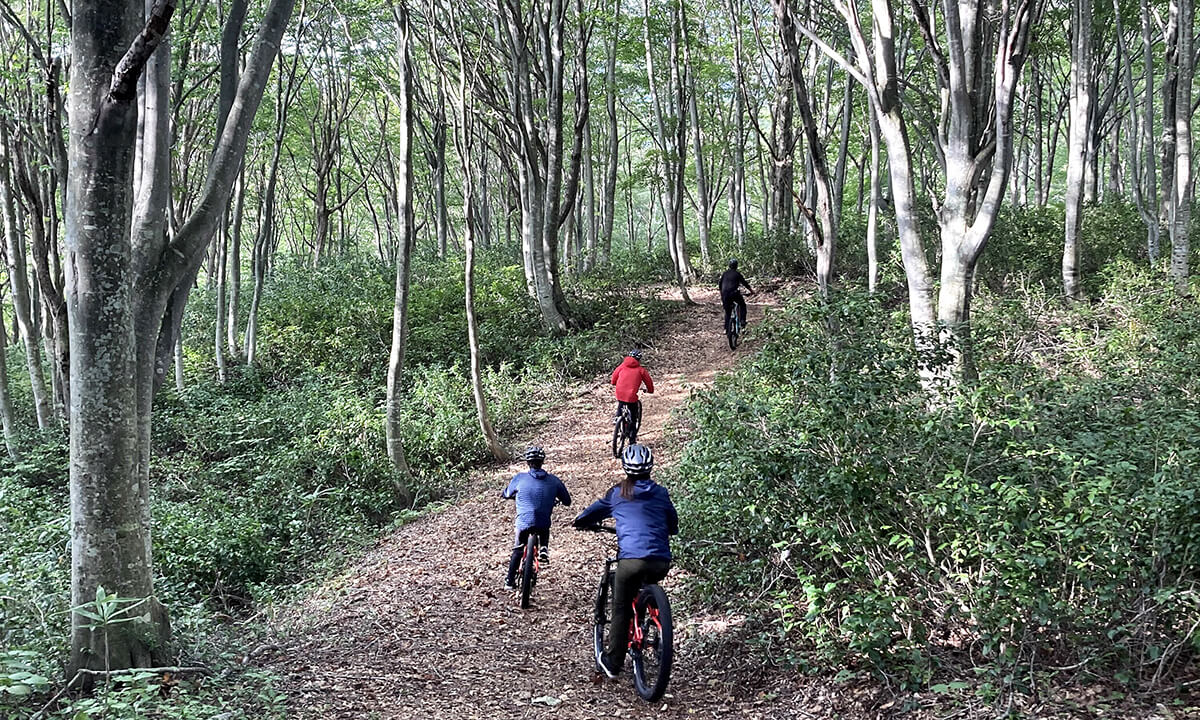 Riding off-road along the forested trails of Madarao's Gravel Bike Park
Nagano has long been a fantastic place to explore by bike. Road cycling is the most common form of two-wheel touring, but the popularity of mountain biking has experienced a noticeable surge, with new trails going up all over the prefecture and the number of participants steadily growing. Flying somewhat under the radar but quickly gaining steam is gravel biking; a hybrid between the two. In 2020 Iiyama City's Madarao took the movement to a whole new level by opening dedicated gravel biking trails to riders as part of its Giro Gravel Bike Park. The pioneering park is working to make gravel riding more accessible and more enjoyable, and is finding success at both.
Area Information
Hokushin Area / Iiyama City
Madarao Mountain Resort sits squarely on Nagano's northern border with Niigata, in the western part of Iiyama City. The resort area lies between 910 and 1,350 meters of elevation and the Gravel Bike Park occupies portions of the resort's base area. The Hokuriku Shinkansen has made accessing Madarao faster and easier than ever: taking just 10 minutes by bullet train from Nagano Station to Iiyama, then a short 30-minute bus ride to Madarao.
Activity Information
Gravel biking is a surprisingly simple and satisfying concept, where the objective is to take your bike off the road and onto dirt and gravel trails. In contrast to mountain biking which is often downhill-specific, technically challenging or a combination of both, gravel biking is less specialized and avoids extreme terrain. Exploration andspending time in nature are at the heart of gravel riding, and taking your bike beyond the pavement allows you to do both.
The Giro Gravel Bike Park is an ongoing project that is looking to build more trails over the coming years, but there is plenty on hand already to lure beginners and veterans of the sport alike. All of the trails are built specifically for the purpose of gravel riding and the park has made it a point to create routes that can be enjoyed by everyone. The park is open from early July to the end of October and visitors pay a flat entry fee for full-day access. You're free to bring and use your own bicycle, though rental bikes are available on site as well, with riders able to choose between a standard mountain bike or e-bike.
The Trails
There are currently three completed trails in the park open to the general public and one just outside the park that can be cycled as part of a tour. A brief description of each follows:
SS2
This is the park's entry-level trail, suitable for kids and first-timers. Here you can discover the joy of riding on dirt with little risk or effort, since the total 700m loop trail includes 400m of descent gentle enough to require no or very little braking. This is a great option for families camping at the nearby Madarao Kogen Camping Park and looking for a fun activity to do together.
SS1
SS1 is billed as the "step-up" trail for those comfortable with the easier SS2. It's a full-fledged off-road trail through the forest and out onto the ski slopes over undulating terrain. It makes for a great place to sharpen your technique or enjoy quick laps on repeat.
SS3
This trail is best suited to intermediate and advanced riders. The path starts out from the center of the campground, and after a brief climb enters a long, snaking 700m downhill on switchbacking dirt trail cut into the side of the grassy ski slope. The trail affords wide-open views and the series of hairpin turns gives the feeling of being on a roller coaster ride.
Click here to get the latest information on Central Japan.Centrip Japan - Nagoya and Chubu Information