| John Asano
Winter Fun at Hirugano Kogen Ski Resort
Looking for some winter fun before spring starts? Hirugano Kogen Ski Resort is a fun, family-friendly ski resort in the mountains of Gifu Prefecture. Located in the northern region of Gujo City close to Takayama, it is the perfect place for families to enjoy the snow with wide, gentle slopes for children, beginner-friendly slopes for skiing and snowboarding, and a kids area for the little ones to enjoy.
Skiing in Gujo
The Gujo area of Gifu Prefecture is perfect for skiing or snowboarding with soft, powdery snow and numerous ski slopes to enjoy. The ski resorts are open to the public from the end of December to the end of March, giving visitors 3 months of great skiing conditions. This area is popular with people from the Kansai region of Japan due to its easy access via the expressway.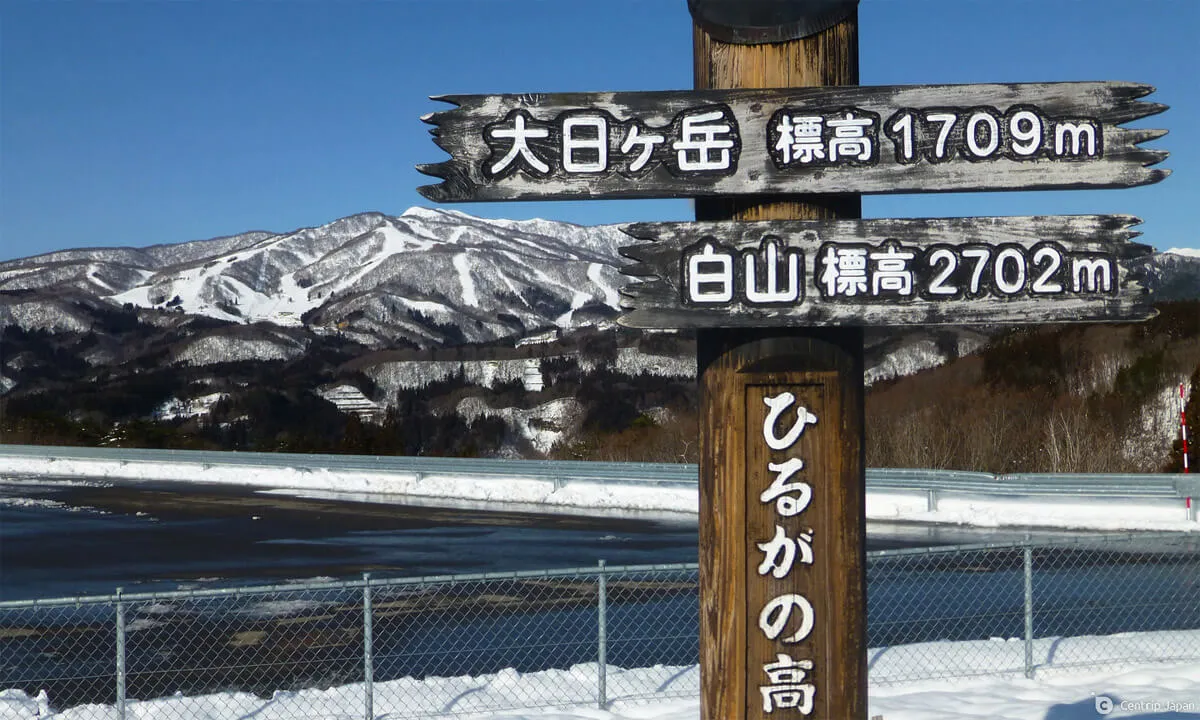 The Takasu Mountains from the Hirugano Kogen Service Area
Hirugano Kogen is part of a group of ski areas that is collectively promoted as the Takasu Mountains. It is located at an altitude of 900 meters with 4 km of slopes and 3 lifts in operation. There was about 100 cm of snow when I visited, which was perfect. It is a great place for anyone wanting to try skiing or snowboarding for the first time.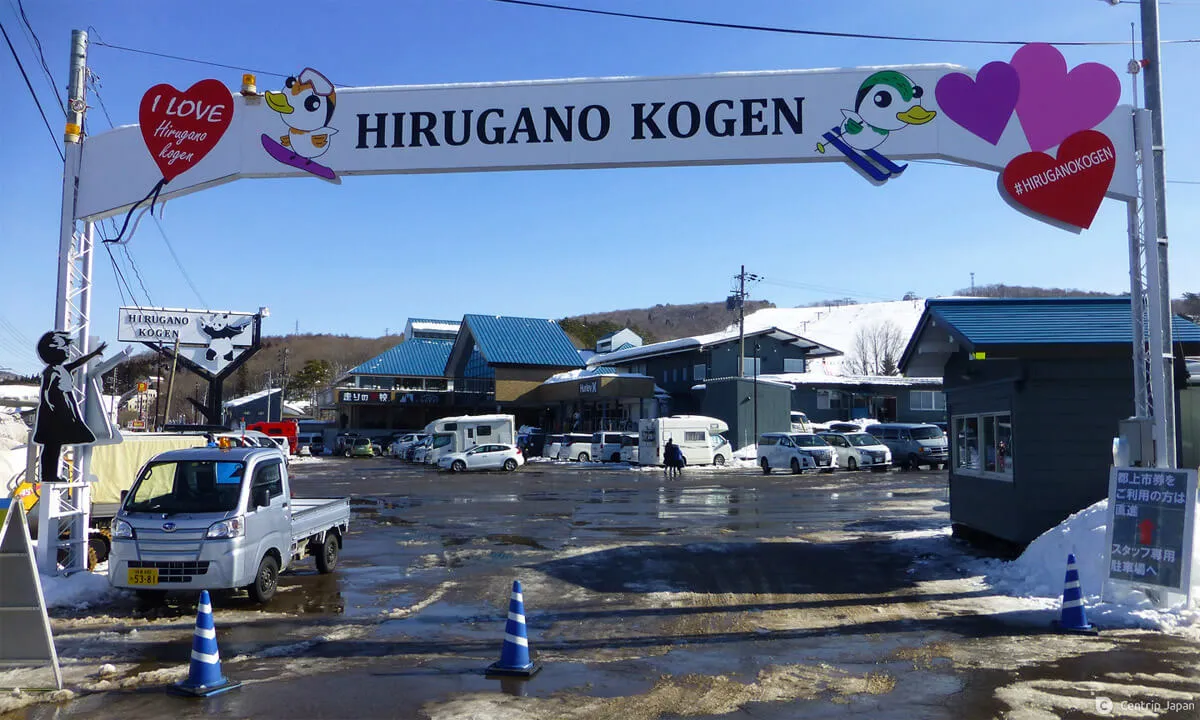 Welcome to Hirugano Kogen Ski Resort
A Great Family Spot
The Hirugano Kogen Ski Resort is a great family spot with friendly staff, tasty food and of course, great slopes that are suited for beginner and intermediate skiers and snowboarders. Besides skiing and snowboarding, there are plenty of other snow-related activities for everyone to enjoy including snow rafting, sledding, a snow hut experience or simply just playing in the snow.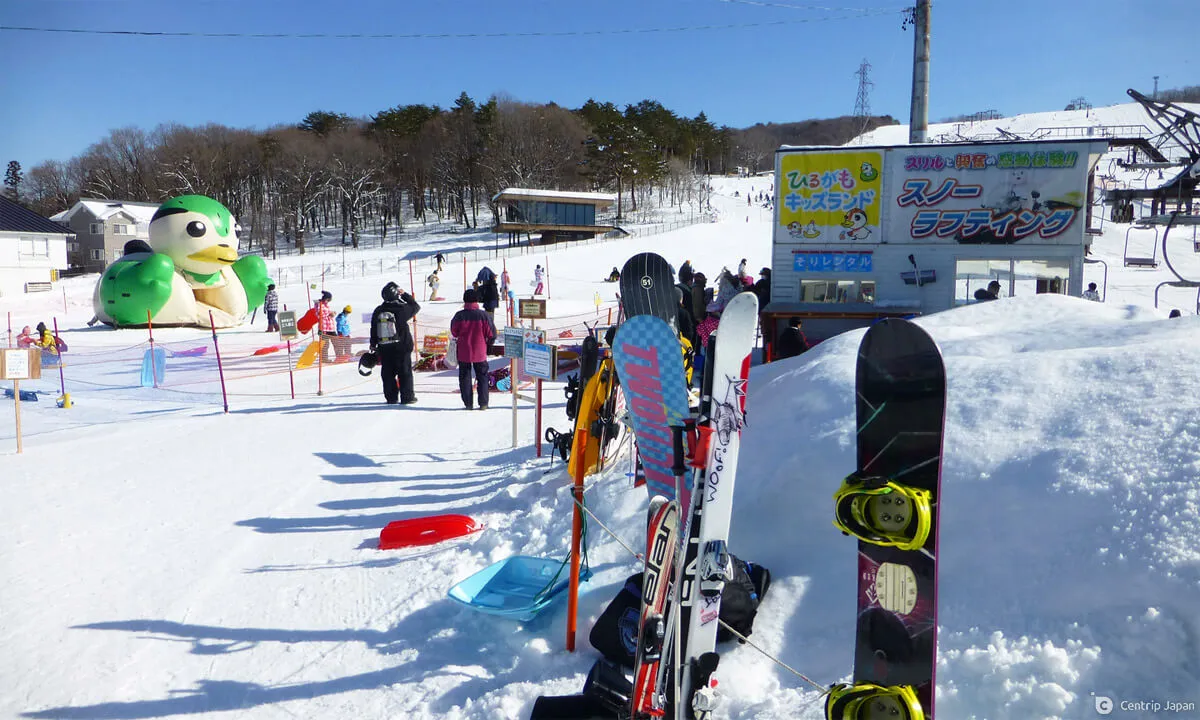 On the way to the kids area
The Slopes
This ski resort is popular with families with children due to its gentle, wide slopes and friendly staff.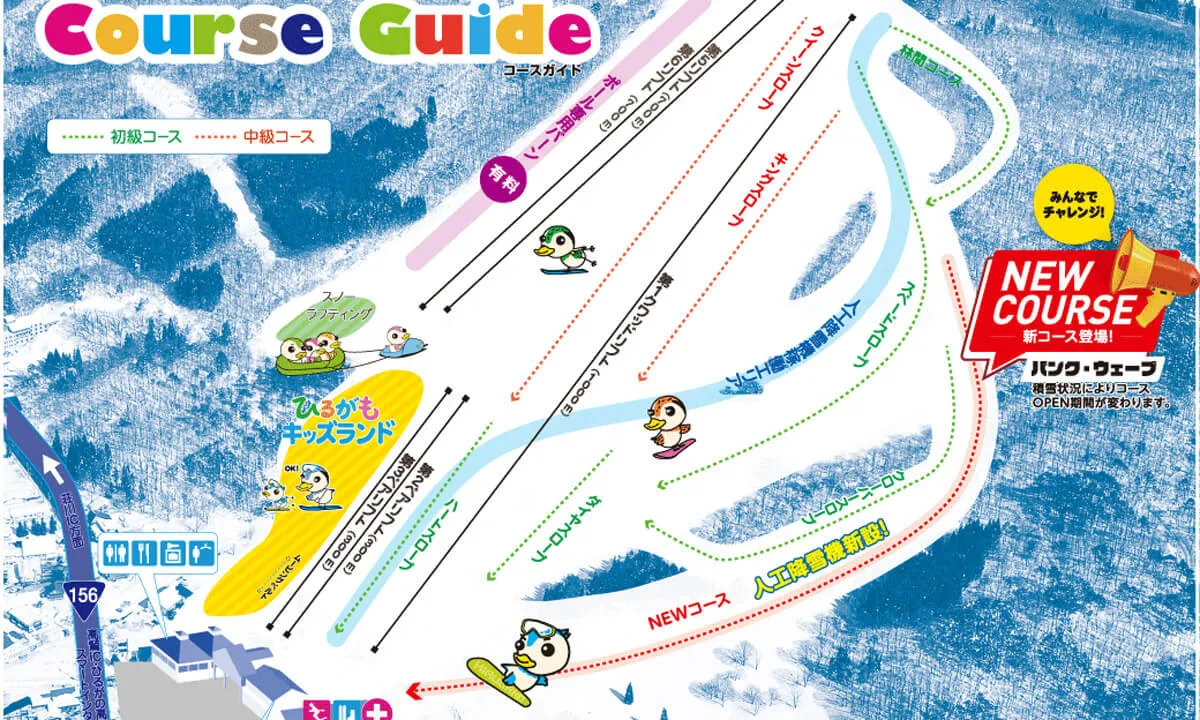 Hirugano Kogen Course Guide via Hirugano Kogen Ski Resort
Beginner Courses
The beginner courses include:
The Forest Course – a 450-meter course that takes you through the woods.
The Spade Slope – a longer 800-meter course that is popular with beginners.
The Clover Slope – a short 400-meter slope with a gentle incline where skiers can enjoy the atmosphere of the nearby forests.
The Diamond Slope – a little-known course that is relatively flat with a 10-degree average slope. This is the perfect slope for beginners to practice their moves without all the crowds.
The Heart Slope – this is the best place to start for anyone new to skiing or snowboarding. The short 300-meter slope is flat and wide with a gentle 10-degree slope.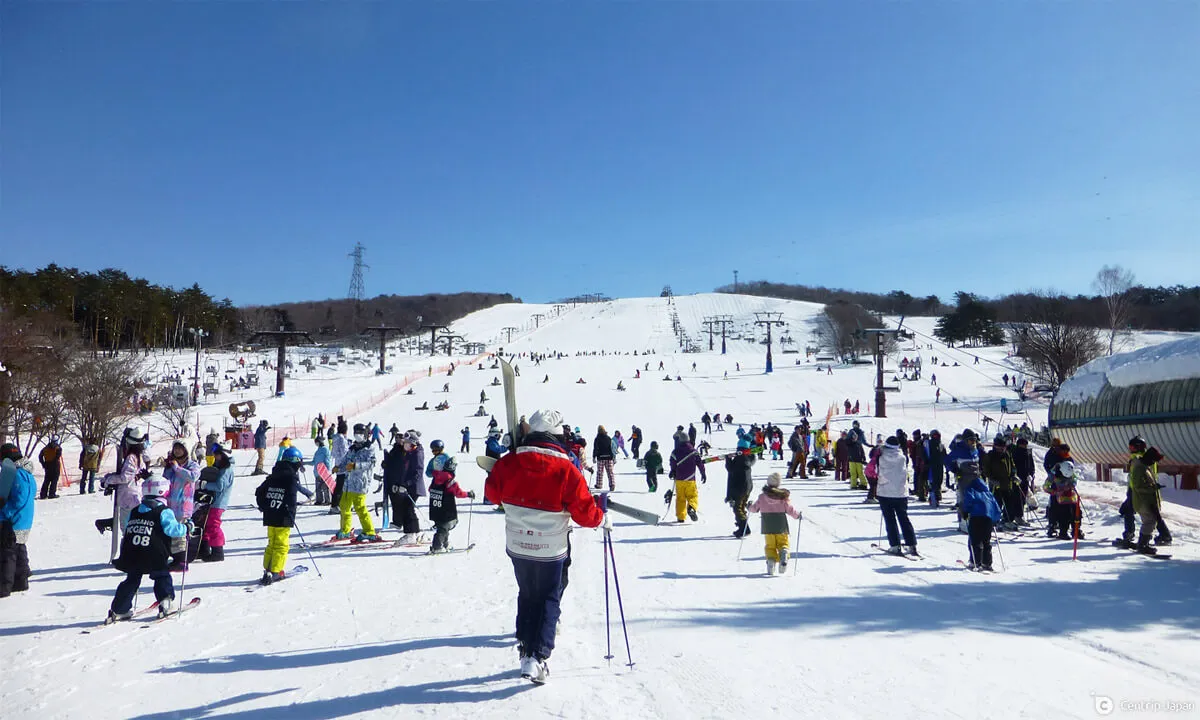 The Heart Slope is the first slope that you see upon arrival
Intermediate Courses
The intermediate courses include:
The Queen Slope – an 800-meter course that will challenge intermediate skiers to make turns. This is perfect for anyone of an average or intermediate level of skiing or snowboarding.
The King Slope – This wide intermediate course is 500 meters long with a quad lift.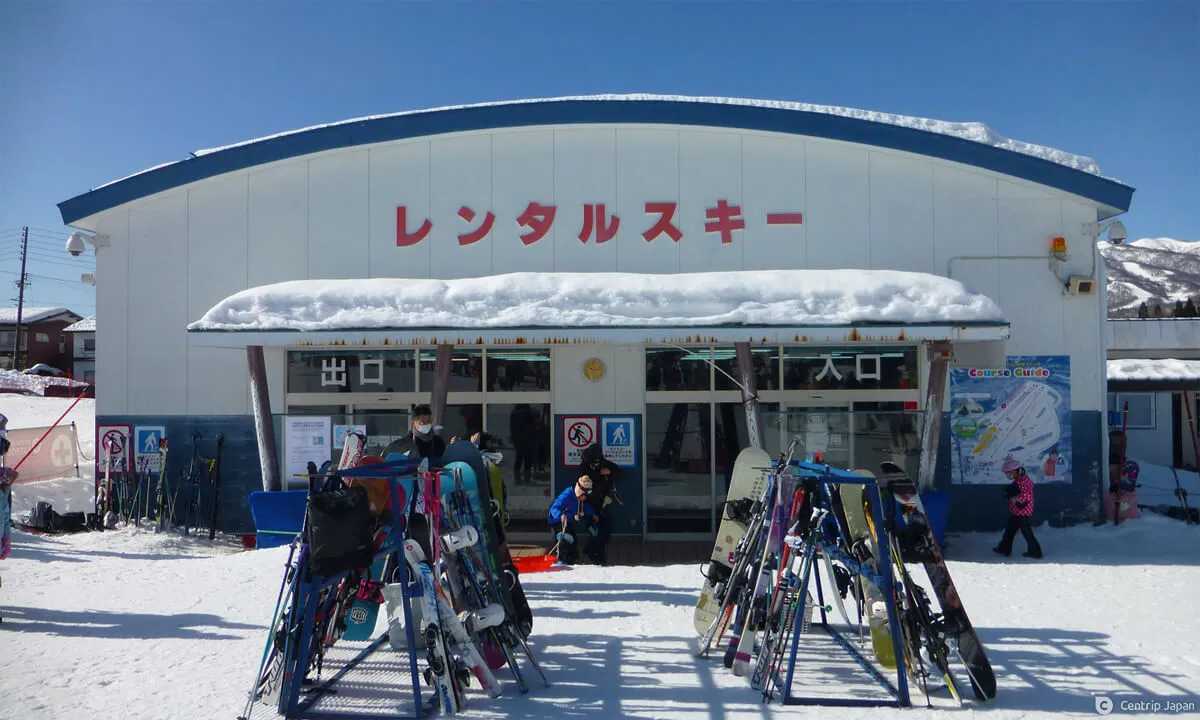 Ski rental at Hirugano Kogen Ski Resort
The Lifts
There are 3 lifts in operation which include 2 pair lifts and 1 quad lift. The lifts operate from 8:30 am to 4:30 p.m. A 1-day pass for adults is ¥4,400 and ¥3,000 for children. You can save money by purchasing an afternoon ticket which can be used from 12:00 p.m. to 4:30 p.m. The afternoon ticket is ¥3,300 for adults and ¥2,600 for children. You can also buy a family ticket for ¥6,000 which can be used by 1 adult and 1 child.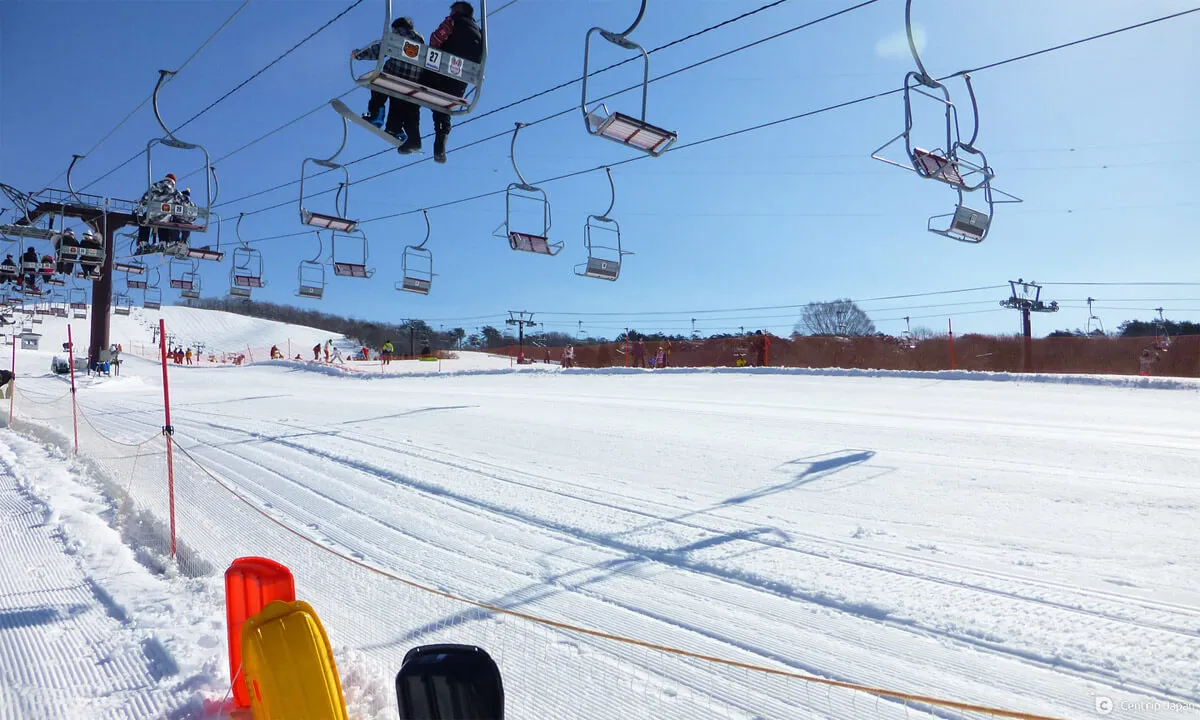 Some of the pair lifts at Hirugano Kogen
Hirugamo Kids Land
This kid-friendly area is a safe place for children and families to play with peace of mind without having to worry about the little ones wandering off. The facilities include a ski school for kids, a play area with a giant blow-up penguin, a sledding course, and an area with soft snow for making a snowman or a kamakura igloo.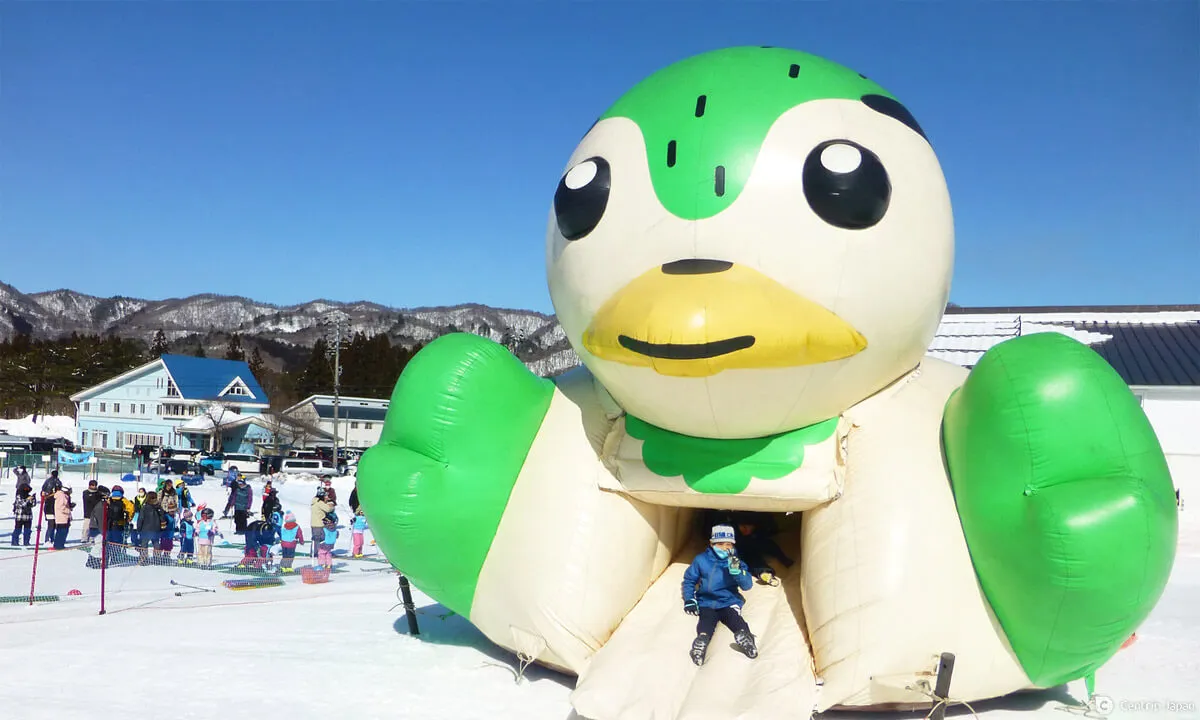 Hirugamo Kids Land
The long sledding course has a snow escalator to take you to the top in ease. The course is about 100 meters long with firm snow to ensure that you zoom down the slope in no time at all. You can bring your own sled or rent one for ¥500.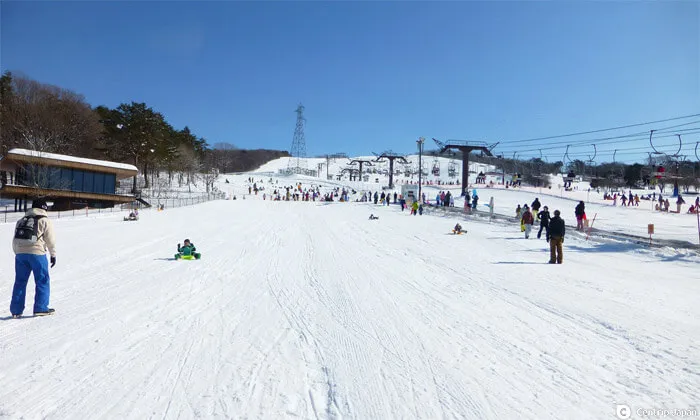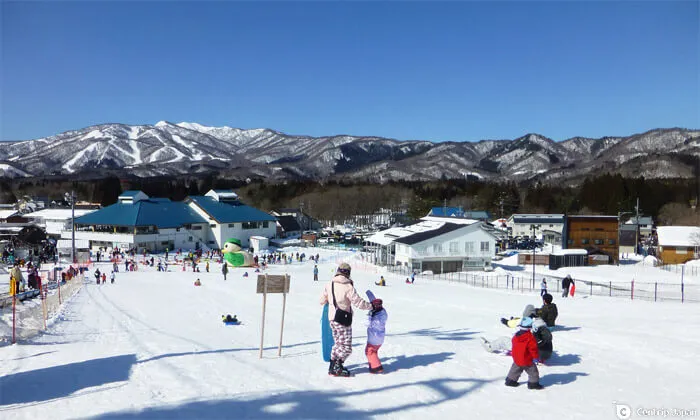 At the top of the sledding course is a play area with soft snow. It is the perfect place for families to have fun playing in the snow.
Admission Fee to Hirugamo Kids Land: ¥500 for adults and ¥1000 for children. This area is free for anyone with a 1-day and afternoon lift ticket.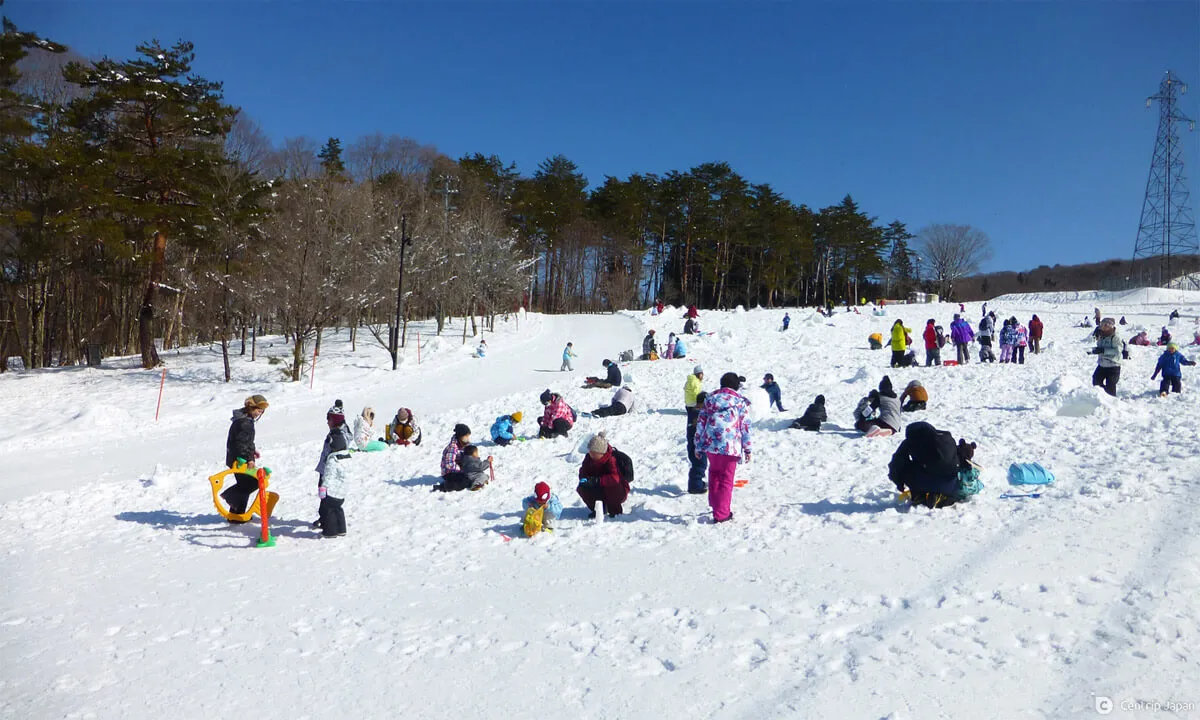 Fun in the snow at the play area above the sledding course
Snow Rafting
A popular activity for families is to try snow rafting. Participants can ride a rafting boat along a special course on the slopes. It is fun for both the little ones and adults alike. The fee is ¥500 per person for both adults and children.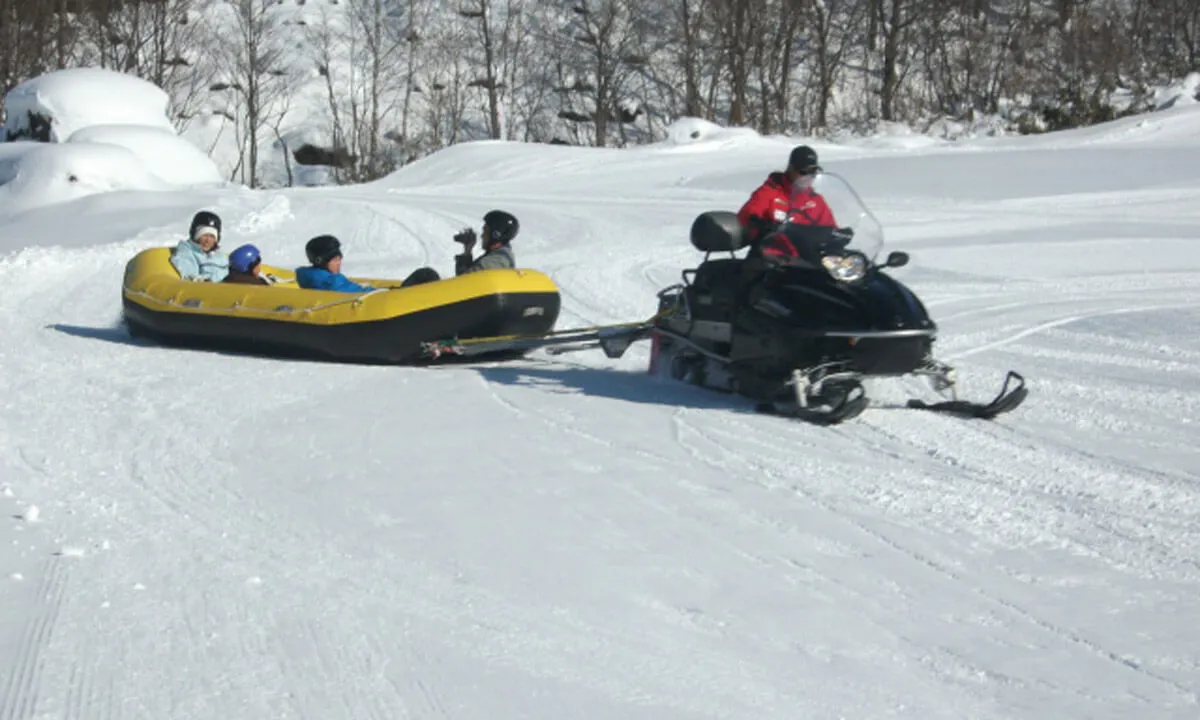 Snow Rafting at Hirugamo Kids Land via Japan Ski Guide
The Facilities
Hirugano Kogen Ski Resort has a wide range of facilities which include a rest area, indoor kids space, electronic lockers, a change room, and restaurants.
Restaurants
As mentioned above there is plenty of food to enjoy at Hirugano Kogen Ski Resort from curry and pizza to ramen and udon. The Sky Restaurant on the second floor has 170 seats in the east building and 220 seats in the west building that offer fantastic views of the ski slopes and surrounding mountains.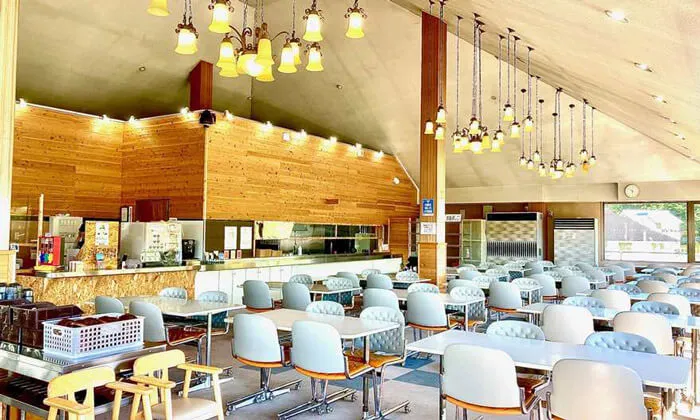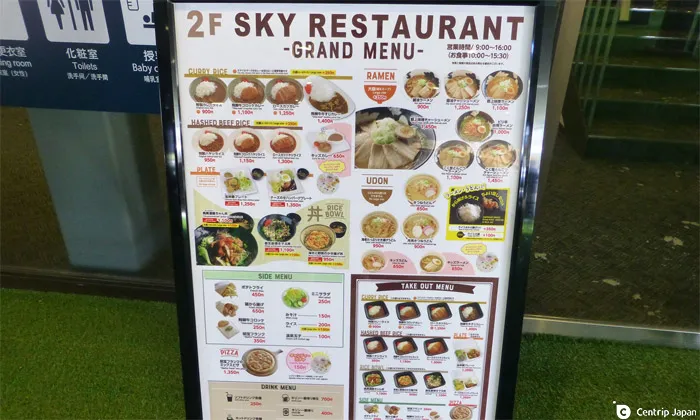 There are also restaurants to enjoy outside as well, which include a pizzeria, crepe shop and fast-food shop among others.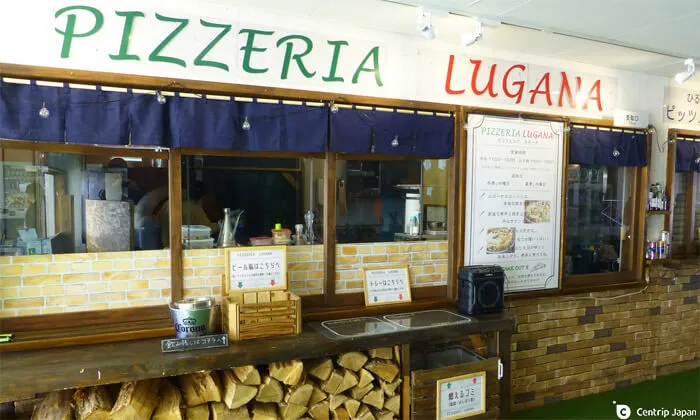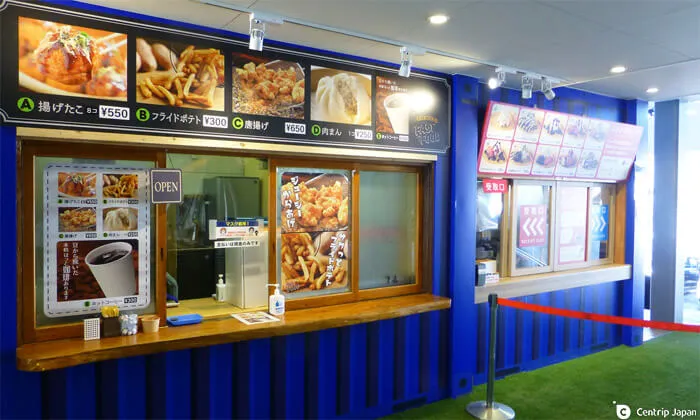 Wrap Up
Hirugano Kogen Ski Resort is a fun place that the whole family can enjoy from kids to adults. Grab your skis or snowboard and hit the slopes before spring arrives and the snow melts away.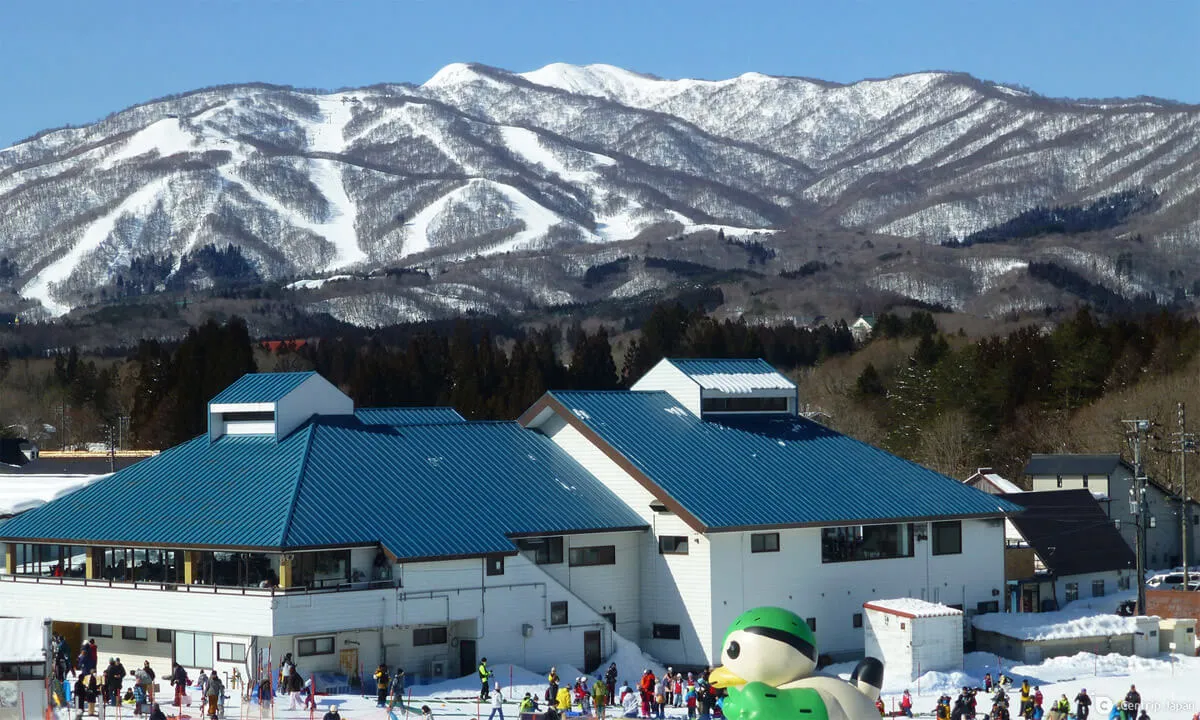 Hirugano Kogen Ski Resort
Basic Information
Address: 4670-75 Takasu-cho, Hirugano, Gujo, Gifu Prefecture 501-5301
Restaurant Hours: 9:00 a.m. to 4:00 p.m.
Open Date: 23 December 2022
Close Date: 21 March 2023
How to Get There?
The best way to get to Hirugano Kogen Ski Resort is by highway bus. High-speed buses conveniently leave from Nagoya, Gifu, and Takayama.
If you are traveling by car, there is a large parking area that can accommodate 600 cars. There is a flat ¥1,000 parking fee for standard-sized cars. Make sure you get there early on weekends and public holidays as the ski resort is extremely popular and the parking spaces fill up quickly.
Click here to get the latest information on Central Japan.Centrip Japan - Nagoya and Chubu Information