| Centrip Editorial Board
Central Japan Summer Events: Festivals, Cosplay, Endless Fun!
Central Japan summer events: festivals, cosplay, endless Fun! Visitors to Japan in July and August are lucky! Many kinds of matsuri (祭り- festivals) are held in the summer, and there is an endless choice of exciting events held in July. Tai Matsuri (鯛祭り- Sea Bream Festival), Owari Tsushima Tenno Matsuri (尾張津島天王祭 - floating lights festival), and World Cosplay Summit are only a few of the events waiting for you! Let's explore Japan's exciting summer!
1. Minamichita-town: a festival of the extraordinary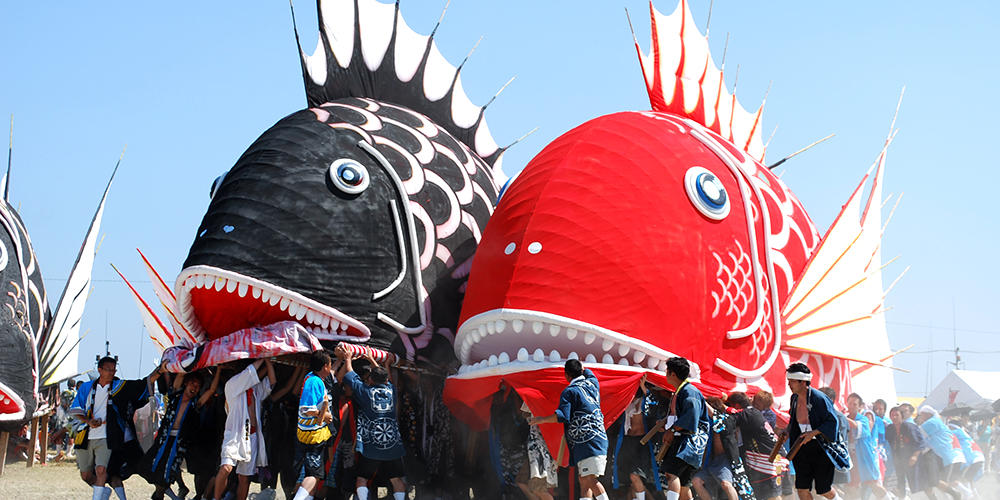 Source:南知多町観光協会
A stranger festival has never been seen! Toyohama (豊浜) is one of the best commercial fishing ports in Aichi near Central Japan International Airport Centrair (中部国際空港セントレア). The bizarre annual festival, Toyohama Tai Matsuri (豊浜鯛祭り), is based on the tides at Toyohama Beach. It is held in summer to pray for maritime safety and an abundant catch.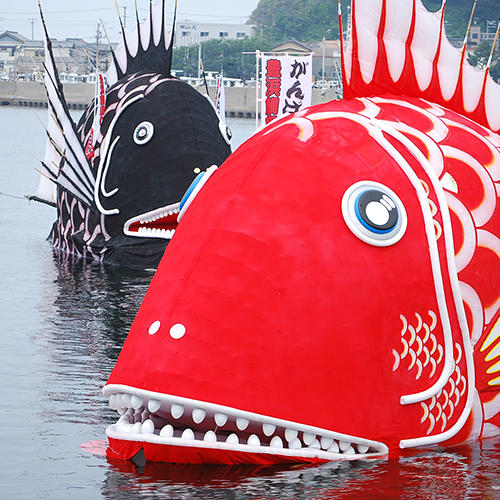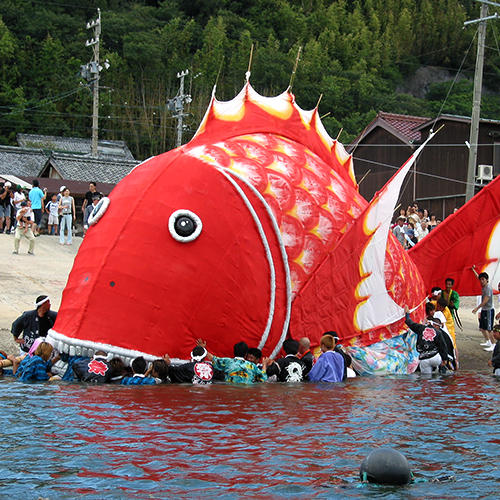 The matsuri starts with a parade of giant sea breams (鯛/Tai) made of bamboo frames and dyed cotton cloth, carried by a group of young men in traditional clothing. After floating through the town, the breams are then returned to the sea to swim and then taken to the shrine as sacrificial offerings! In the evening the sea bream are illuminated. The giant sea bream are around 18 meters in length, 6 meters in height and weigh 1 ton. Each one has to be carried by a group of up to 60 men. What an unusual festival!
Each giant sea bream is cute and features a different color. Check it out!
Place
Around the entire Toyohama district
Location
Toyohama, Minamichita, Chita-district, Aichi 470-3412
Date
July 20, 2019(Sat) and July 21, 2019(Sun)
July 20, 2019 (Sat): Nakamura-Ku, Torii-Ku, Toubu-Ku, Hantsuki
July 21, 2019 (Sun): Nakamura-Ku, Torii-Ku, Toubu-Ku, Hantsuki, Nakazu-Ku
Start time
8:00am-5:00pm
Phone number
0569-65-0004 (Toyohama Tourism Association)
Directions
(Train) From Meitetsu Nagoya Station, take the express train bound for Kowa Station. Get off at Kowa Station and board the Toyohama Line of the Umikko Bus, bound for Morozaki Port. Get off at Sea Bream Festival Square
Link
Minamichita Town Tourism Association Site(Japanese)
2. Tsushima-city: mystic lantern lights
Owari Tsushima Tenno Matsuri (尾張津島天王祭), is one of Japan's three major river festivals, with a history of over 600 years. In 2016, it was designated an Intangible Cultural Heritage for Humanity by UNESCO. The festival is divided into 2 parts: Asa-Matsuri (朝祭 - Morning Festival) and Yo-sai (宵祭 - Evening Festival). The evening part is the main event: 5 Makiwara Boats (巻藁船/Makiwara fune), decorated with 12 lanterns at the bow and 365 lanterns arranged in a dome-like shape on the hull, speed toward to the Tenno River(天王川) to the sounds of festival flutes and drums. The illuminated boats on a silent river will take a special place in your memories!
Every year there are a lot of visitors to Tsushima-city (津島市/Tsushima-shi) during the matsuri. Don't forget to stake out a good spot in advance!
Place
Tsushima Shrine, Tennogawa Park
Location
Miyagawa, Tsushima-city, Aichi, Japan 496-0853 (Tennogawa Park)
Shinmei 1, Tsushima-city, Aichi, Japan 496-0851 (Tsushima Shrine)
Date
Yo-Sai (Evening Festival):July 27,2019(Sat) 6:00pm-
Asa-Matsuri (Morning Festival): July 28, 2019(Sun)9:10am-
Phone number
0567-28-8051 (Tsushima City Tourism Association)
Directions
(Train)15min walk west from Tsushima Station on the Meitetsu Tsushima Line
Link
Aichi Now - Official Site for Tourism Aichi - (English)
3. Kariya-city: dancing paper samurai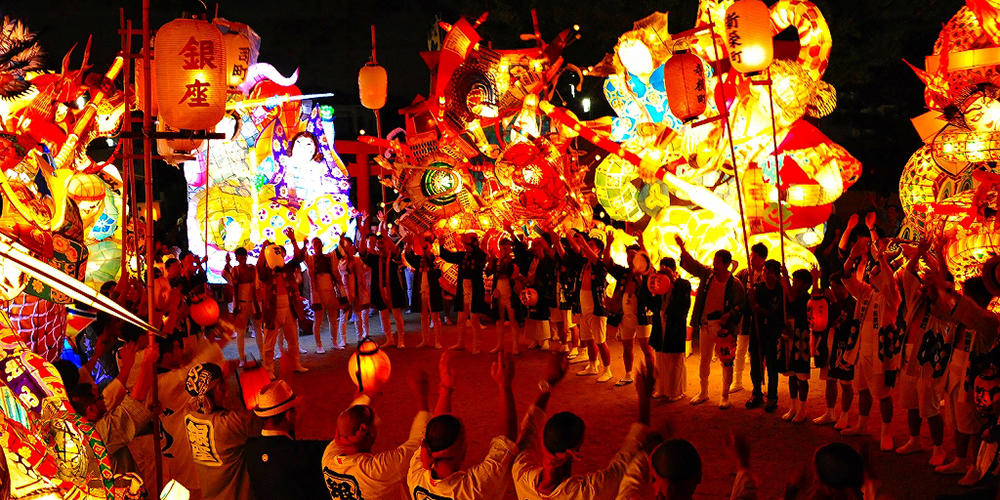 Source: 刈谷市観光協会
The Kariya Mando Festival (刈谷万燈祭り), a matsuri of Akiba Shrine (秋葉神社), boasts more than 230 years of history and is held to pray for the town's safety and protection from fire. It is designated as an Important Intangible Folk Cultural Asset of Aichi. During the festival, young men dance to music played on flutes and drums while each carries a paper-mache Samurai called a Mando(万燈) on his shoulders .
It is quite spectacular to see the various colorful Samurai Mando lit up at the same time.
Place
Downtown Kariya city (刈谷市) (Akiba Shrine and surrounding area)

Location
Ginza 2-101, Kariya-city, Aichi 448-0845 (Akiba Shrine/秋葉神社)
Date
September 19, 2020 (Sat): 4:00pm-10:00pm
September 20, 2020 (Sun): 5:40pm-10:00pm
Phone number
0566-23-4100 (Kariya City Tourism Association)
Directions
(Train) 5min walk north from Kariya-shi Station on the Meitetsu Mikawa Line
Link
Kariya City Travel Guide
4. Nagoya: World Cosplay Summit
A must-go carnival for ACG fans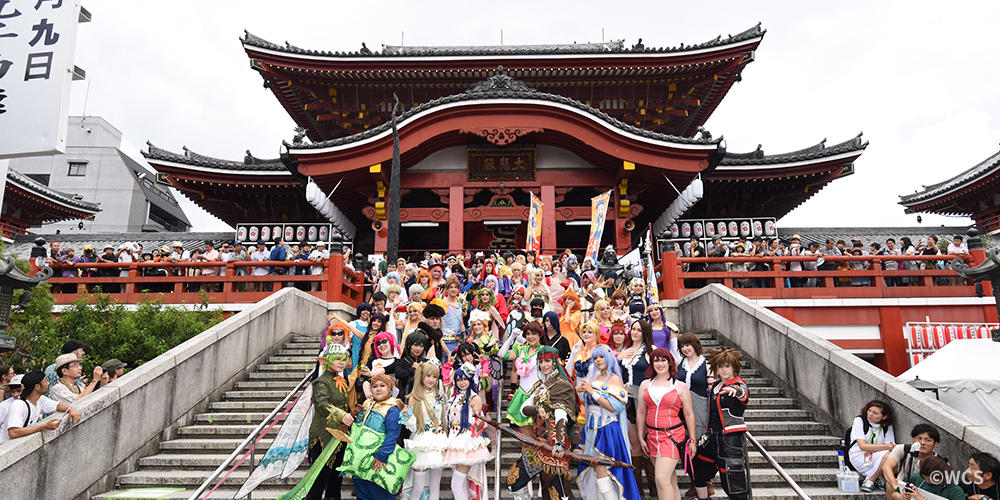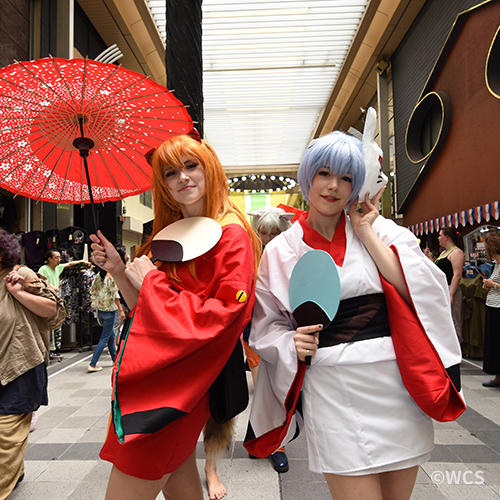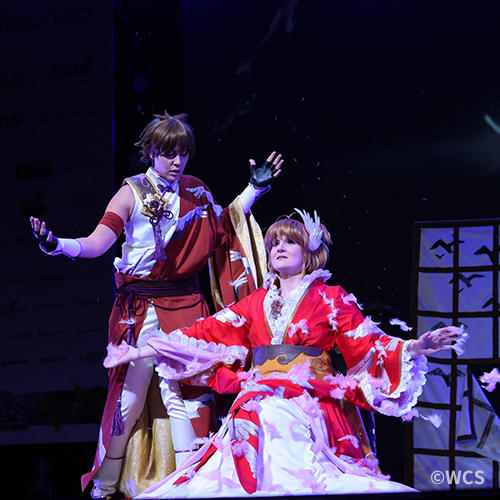 Are you an ACG (animation, comic, game) fan? If the answer is yes, then do not miss the largest cosplay event in the world! The World Cosplay Summit(WCS) began in 2003 and has become an annual event held in Nagoya. It attracts numerous cosplayers from over 30 countries, and every year top cosplayers from each country come to Nagoya to compete for the title of No.1 cosplayer in the world.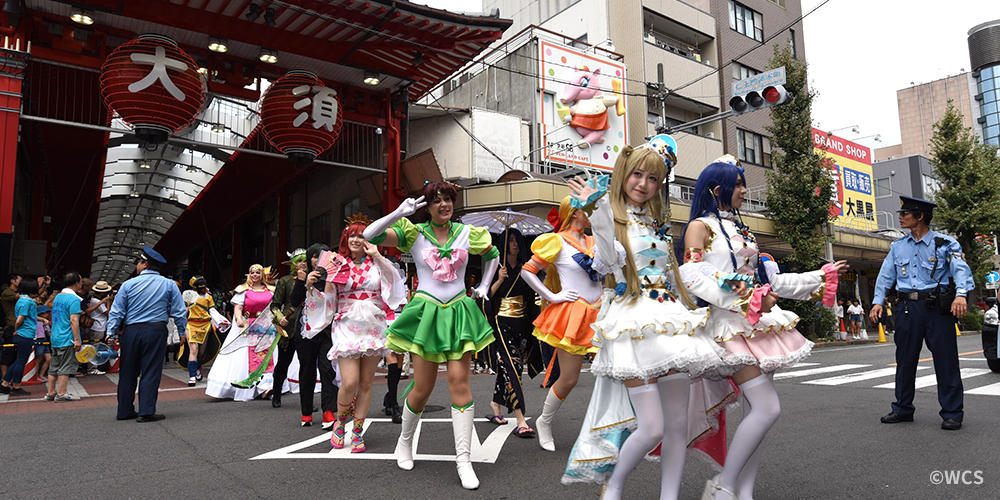 During the event, there is a cosplay championship, a cosplay parade, animation music performances and so on. Even if you're just taking photos, you will have many unique memories. And maybe you can meet your favorite animation characters!
Place
Nagoya,Inuyama,Tokyo

Location
1-11-1 Higashisakura, Higashi-ku, Nagoya (Oasis 21)
Date
July 27, 2019(Sat) – August 4, 2019(Sun)

July 27, 2019(Sat)-July 28, 2019(Sun): World Cosplay Summit2019 in TOKYO(Tokyo Dome City Attractions)

July 31, 2019(Wed): The Museum Meiji-Mura

August 2, 2019(Fri): Underground city night parade

August 3, 2019(Sat): World Cosplay Summit 2019 in NAGOYA
World Cosplay Championship NAGOYA ROUND

August 4, 2019(Sun): World Cosplay Summit2019 in NAGOYA
World Cosplay Championship The FINAL
Osu Cosplay Parade
Phone number
052-962-2003
Link
WCS Official Website (English)
Summary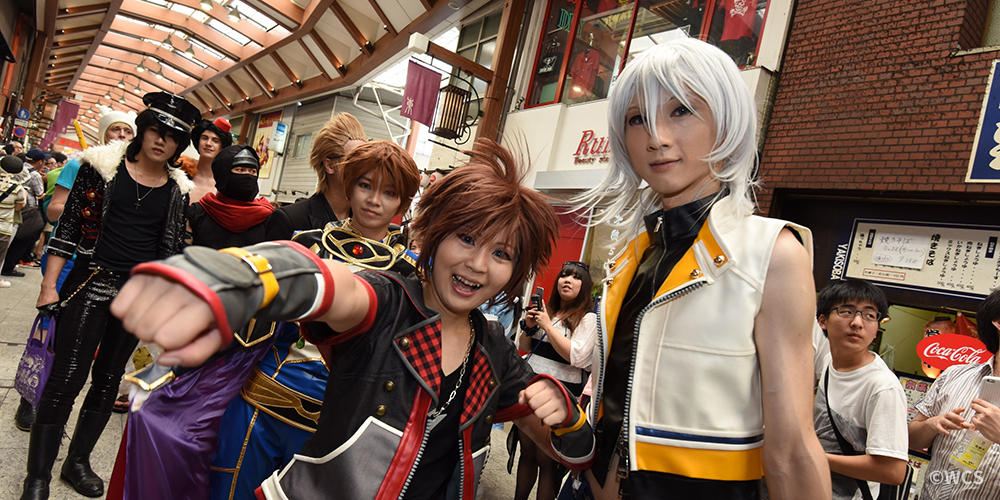 These events in July mentioned here are the best of the best, and every one is worth a look!
The only problem is that most of them will be held on the last weekend of July - it's difficult to choose!!
Have you decided which summer event you want to go now? Let's start to plan our schedule now!