| Centrip Editorial Board
Top 7 2021 Chubu Illumination Roundup
Winter's just around the corner, and you know what that means…it's illumination season, once again. Starting every November, Japan (and the Chubu area) reignites its love affair with seasonal lighting. The Chubu region is home to a number of interesting events, so if your Japan travels allow for it, be sure to take part in the festivities. It's a chance to enjoy a bit of sparkle and step out of the ordinary. So grab your mittens and let's head out!
1. Izu Plateau Granillumi (Shizuoka)
This one's not just for show—a lighting display with attractions to enjoy.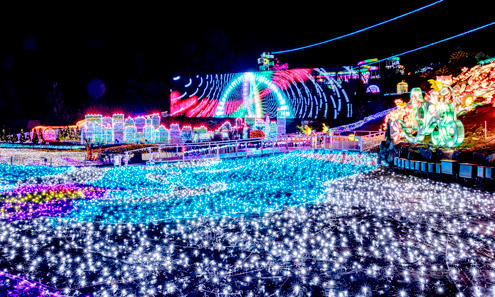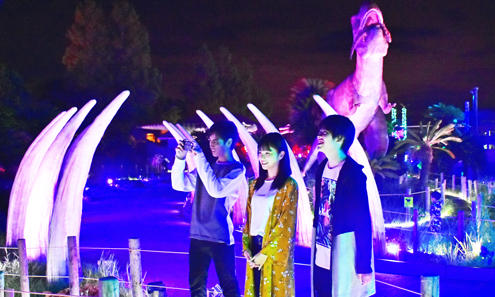 The Izu Plateau Granillumi (伊豆高原グランイルミ / Izukogen Granirumi) is held at Shizuoka's Izu Granpal Amusement Park (伊豆ぐらんぱる公園 / Izu Guranpal Koen). This location's main draw is its attractions that make the lighting festival more of a "hands-on" event. Ride the Ryusei Meteor zipline through the night sky—hovering over the colorfully-lit park or hop in a full-size Dino Age go-cart (age restrictions apply) and tear up the track racing your friends and family, or one of the many other attractions at the park. You'll also find The Show of Light & Sound with lights synced to music that makes it truly feel like it's "showtime".
— Availability —
Saturday, September 19, 2020 – Tuesday, August 31, 2021
6:00 pm – 9:30 pm (tentative schedule)
— Admission —
Junior high and up: ¥1500
Elementary and up: ¥800
Pre-school: free
*Elementary school-aged and under children must be accompanied by an adult
*Afternoon and evening admissions separate
*Attractions require separate fees
— HP—
Granilllumi Official Site (Japanese)
Izu Granpal Amusement Park Official Site (Japanese)
2. Tokinosumika Illumination—Hikari no Sumika (Shizuoka)
Experience beautiful lights from atop the plateau.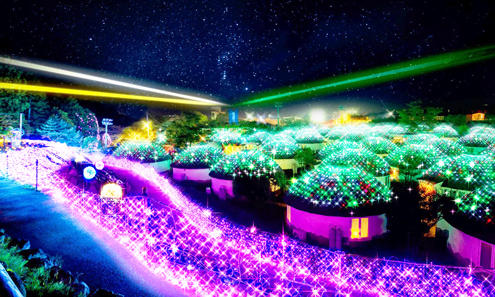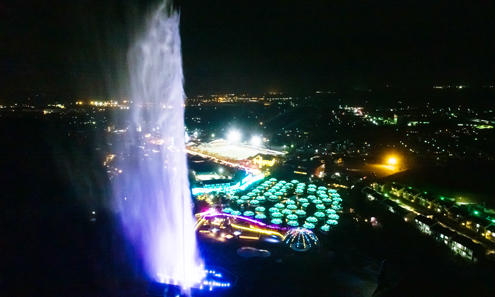 Gotemba Kogen Tokinosumika (御殿場高原時之栖), in Shizuoka's Gotemba City, is home to hot springs, restaurants, overnight accommodations, sports facilities, and a host of activities for visitors to enjoy and feel refreshed. The park also hosts the lighting festival they call Hikari-no-Sumika. Here you can see Japan's highest altitude water fountain show, Oōkyū no Oka (王宮の丘) along with the LIGHT OF MAGIC WONDER CIRCUS, newly added for 2019, and the Taiwanese lantern art display, Lantern Object. There is also a 370-meter light tunnel that shouldn't be missed. While not too far from Nagoya, Gotemba makes for a fun overnight trip, and because Gotemba sits in the middle of Nagoya and Tokyo, it will easily fit into an itinerary that starts in Nagoya and ends in Tokyo.
— Availability —
Friday, September 18, 2020 – Sunday, March 21, 2021
4:30 pm – 10:00 pm (varies depending on the season)
— Admission —

Oōkyū no Oka
Adult (junior high and up): ¥1000
Elementary school: ¥200

Aquatic Paradise Aquarium
Adult (junior high and up): ¥1000
Elementary school: ¥300

Light Tunnel · Twin Trees · Mt. Fuji Light Country Festival
Free admission

See the official site for further details.
— HP—
Illumination Official Site (Japanese)
Gotemba Kogen Tokinosumika Official Site (Japanese)
3. Laguna Ten Bosch (Aichi)
Have a blast at this lighting event and enjoy a magical winter night by the sea!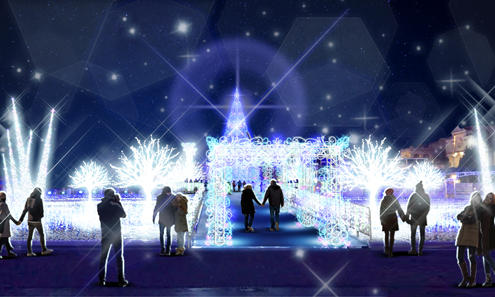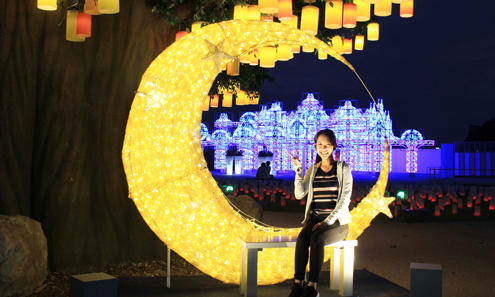 Gamagori City in Aichi Prefecture is home to the massive resort complex, Laguna Ten Bosch (ラグーナテンボス). Its lighting festival is receiving a major upgrade for 2019 with it's new Frozen Ocean display making its first appearance at the park. As you pass through light gates floating on the sea, white rime and icy objects surround you to create a mysterious world. In addition to the six illuminations on display, including the "Lucky Rainbow Arch", an illuminated arch composed of over 1 million lights, you'll also find three projection mapping shows and a fireworks display. After seeing the lights, we recommend spending the night at the robot hotel, "Henn na Hotel Laguna Ten Bosch".
4. Nabana no Sato Illumination (Mie)
Just a hop, skip, and jump from Nagoya—see a massive lighting display with tons of attention to detail.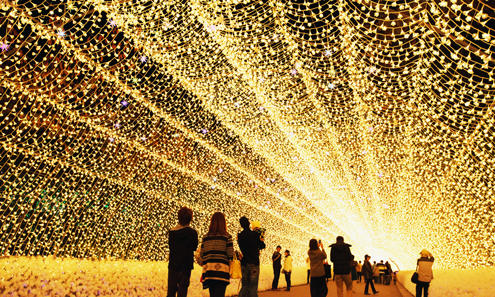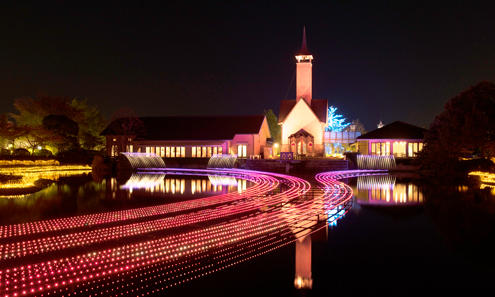 Famous for being Japan's largest lighting display, Nabana no Sato (なばなの里) is a theme park centered around food, flowers, and hot springs. Every year, visitors flock to the park to see the massive number of lights on display, including the 200 meter-long light tunnel, Hana Kairō, and the magnificently lit reflecting pond, Hikari no Taiga (The Great River of Light). To get to Nabana no Sato, you can take a 40-minute bus ride from Nagoya Station directly to the park. The latter part of November into the end of December is also a good time to see the fall leaves as they change color. Check them out together.
Check out articles about past Nabana no Sato lighting displays.
— Availability —
Saturday, October 24, 2020 – Monday, May 31, 2021
— Business Hours —
9am–9pm (illumination start times vary with season and weekday) Open till 10pm on special occaissions. See the illumination event page for more details about special days and times.
— Admission —
Adults · Elementary school children: ¥2300 (includes ¥1000 voucher that can be spent inside the park)
Preschool children: free
— HP—
Illumination Event Page (Japanese)
Nabana no Sato Official Site (Japanese)
5. Hoshigaoka Terrace's Winter Illumination (Aichi)
At-home illumination right in the middle of the city.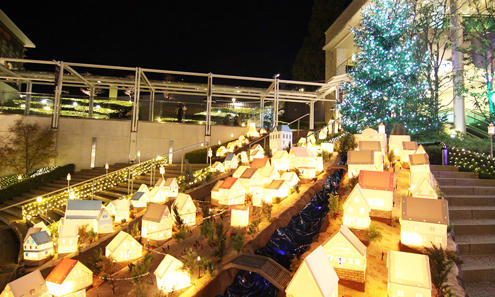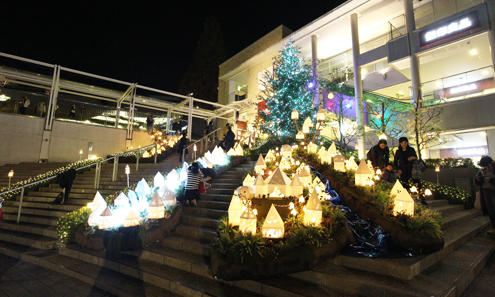 Right next to Hoshigaoka Station on the Higashiyama Line is the Hoshigaoka Terrace (星ヶ丘テラス) shopping and entertainment complex. The terrace, in collaboration with students at the nearby Sugiyama Jogakuen University and Aichi Prefectural Aichi High School of Technology and Engineering, has put together a lighting display for visitors to enjoy. The lights warm up the area and create a peaceful and relaxing atmosphere. The illumination design centers around a motif of local homes, the stars in the night sky, and observatories—all things certain to bring a smile to your face. Also decorating the terrace are snow fairies, snowmen, and wishing trees. It's a comfortable, homey sort of feeling you get here.
We recommend swinging by Hoshigaoka Station after your day at the Higashiyama Zoo & Botanical Gardens is over.
— Availability —
November 14, 2020 – February 28, 2021
starting at 5pm and running until 11pm.
— Hoshigaoka Terrace Business Hours —
10am–8pm
— Admission —
Free
6. Centrair
Enjoy illumination at the airport!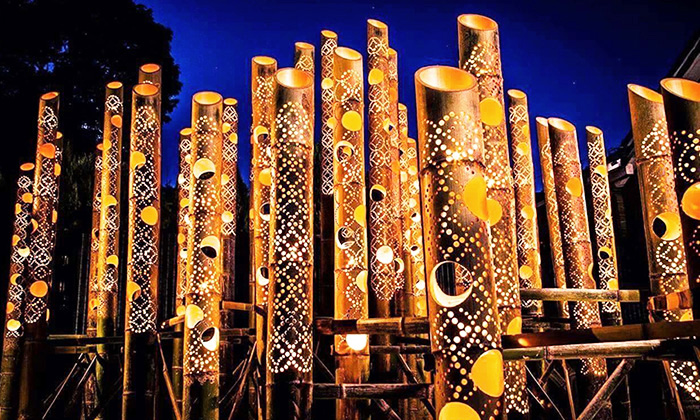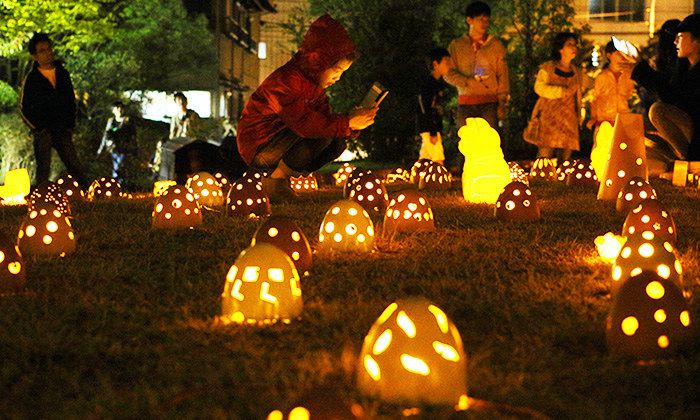 The Chubu area's main airport, Chubu Centrair International Airport (中部国際空港セントレア) holds a limited-time illumination event each year. The theme of this year's 2020 illumination is; Lights of hope that unite our hearts. There are three different categories: Bamboo Lighting, Lights of Dreams and Hopes by Local Elementary School Students(An eco-friendly tree made of plastic bottles filled with strips of paper with the dreams and hopes of elementary school students) , and Local Lights with Tokoname Pottery. Enjoy the illumination while you're at the airport!
— Illumination —
November 28, 2020 through March 31, 2021.
— Illumination Location —
Terminal 1, 3rd floor Departure Lobby
Terminal 1, 4F Event Plaza
Access Plaza 2F

— Admission —
Free
7. Nagoya Port Garden Kinjō Futō Green Park (Aichi)
The ultimate illumination at local date spot, Nagoya Port!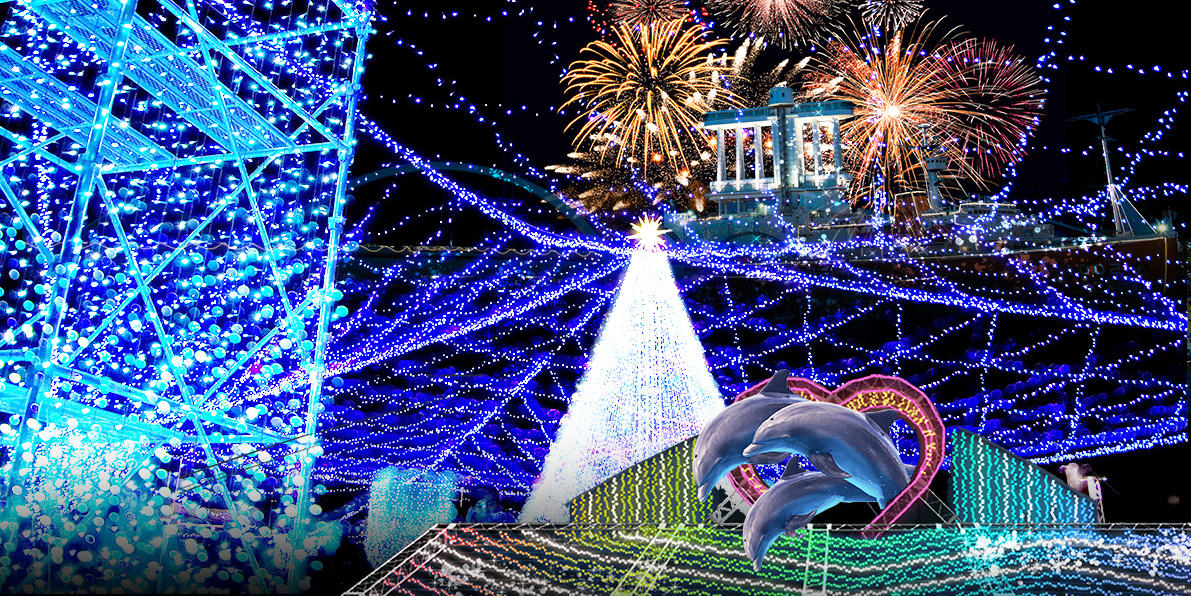 Nagoya Port is one of Japan's most important trading ports. The Port's Garden Pier area is sports a public park called Nagoya Kō Garden Futō Rinkai Ryōkuen and is home to the Nagoya Port Aquarium, in addition to various dining establishments, shops, and a Japanese ship which ventured all the way to Antarctica and back. Illumination season is quite romantic here, particularly the park. Admission to the park is free, of course. Each year brings a new theme for the lights in the park. This year's theme is "Nagoya port illumination2020 ~Over the Rainbow~". The area is very open, and makes it easy to see and enjoy the lights.
Wrap-up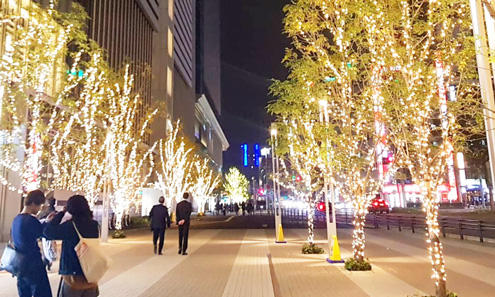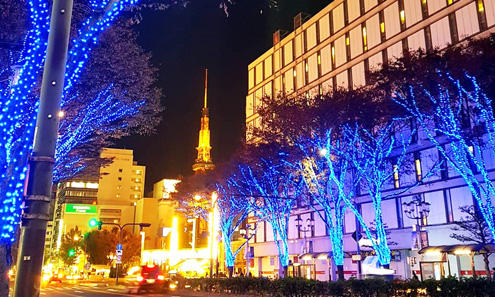 Winter lighting events are always fun to get out and see. We think you'll really enjoy the spots we introduced in this article, so get out there and check them out! Don't forget to check out some of the lights on display around downtown Nagoya either though. The rotary in front of Nagoya Station, the area around Midland Square, and Hirokōji Street in Sakae also get done up in lights each winter. These lights feel like an everyday part of life in the city, brightening up an evening stroll, and make a wonderful memory of your trip.