| Bonnie Chow 
2 Days 1 night in Fukuji Onsen and Kamikochi hiking trip from Nagoya
Have you heard of Fukuji Onsen and Kamikochi?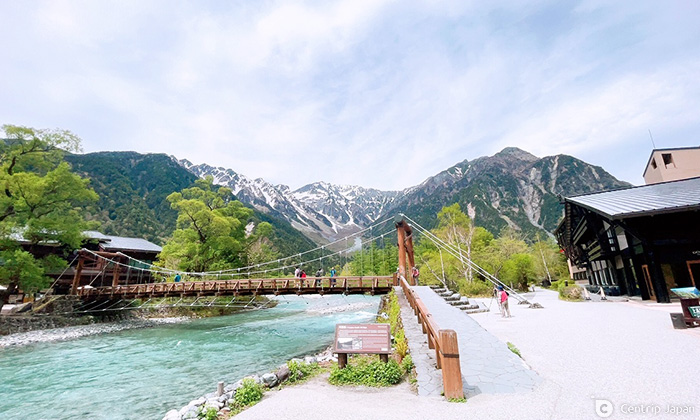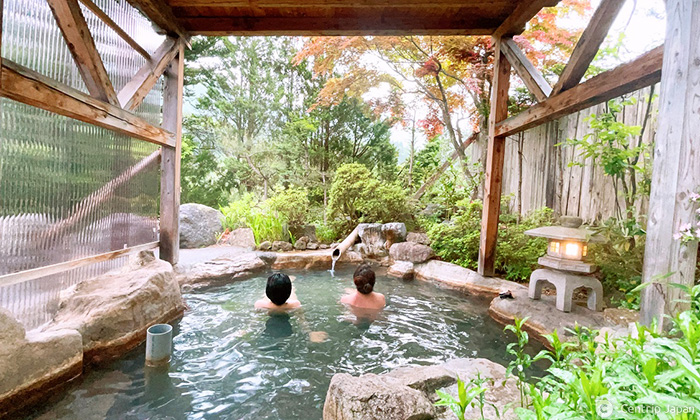 Fukuji Onsen is inside Okuhida-onsengo, the famous hot spring area, surrounded by Northern Japan Alps in Gifu prefecture. From Fukuji Onsen, it provides easy access to Kamikochi, one of the most popular hiking trails in Japan. Both Fukuji Onsen and Kamikochi are in the Chubu Sangaku National Park.
Okuhida-onsengo consists of five onsen villages that each onsen area is unique and has different hot spring sources. It has more than 100 outdoor onsen bath where you are able to soak in the hot spring surrounded by nature especially it is the best place to enjoy the Japanese's favorite Yukimi-buro (enjoying the snowy view in an open-air hot spring). Fukuji onsen is relatively less well known among foreigners but popular among Japanese for the exceptional hot spring quality, tranquility as well as traditional ryokan experience. It is also called "Emperor Izumi" because Emperor Murakami was recuperated here in the 9th century.
Kamikochi literally means "where gods descend" in Japanese where spectacular alpine scenery can be seen in every season and its beauty is similar to heaven with running crystal clear river stream, active volcano, forest and wild animals such as Japanese monkeys, ducks etc. Please note that Kamikochi only opens from late April to 15 November every year.
What are the recommended schedule and the main sightseeing spots in Fukuji onsen and Kamikochi?
The recommended schedule is as follows:
Day 1
Arriving at Fukuji Onsen
Drop the luggage at the Ryokan before check in
Fukujiyama mountain hiking (8km in 4 hours) (Optional)
Enjoy hot spring in ryokan before dinner
Overnight in traditional Japanese style ryokan

Day 2
Soaking in the open-air hot spring before breakfast
Exploring the Fukuji onsen morning market and foot spa Yadori-yu
Depart to Kamikochi
2 hours walking in Kamikochi and lunch (Taisho pond to Kappa Bridge)
Depart to Nagoya

Fukujiyama mountain hiking
The Fukujiyama trekking course is a mountain trail that departs from Fukuji Onsen to the summit of Fukujiyama. It is 8km long and the round trip takes approximately 4 hours to complete. It takes about two and a half hours to go up and 1 hour and 45 mins to go down. The slope is gentle and you can enjoy hiking easily without the need for heavy equipment. Climbing uphill requires stamina so it is recommended to bring your own lunch or snack to recharge your energy during the journey.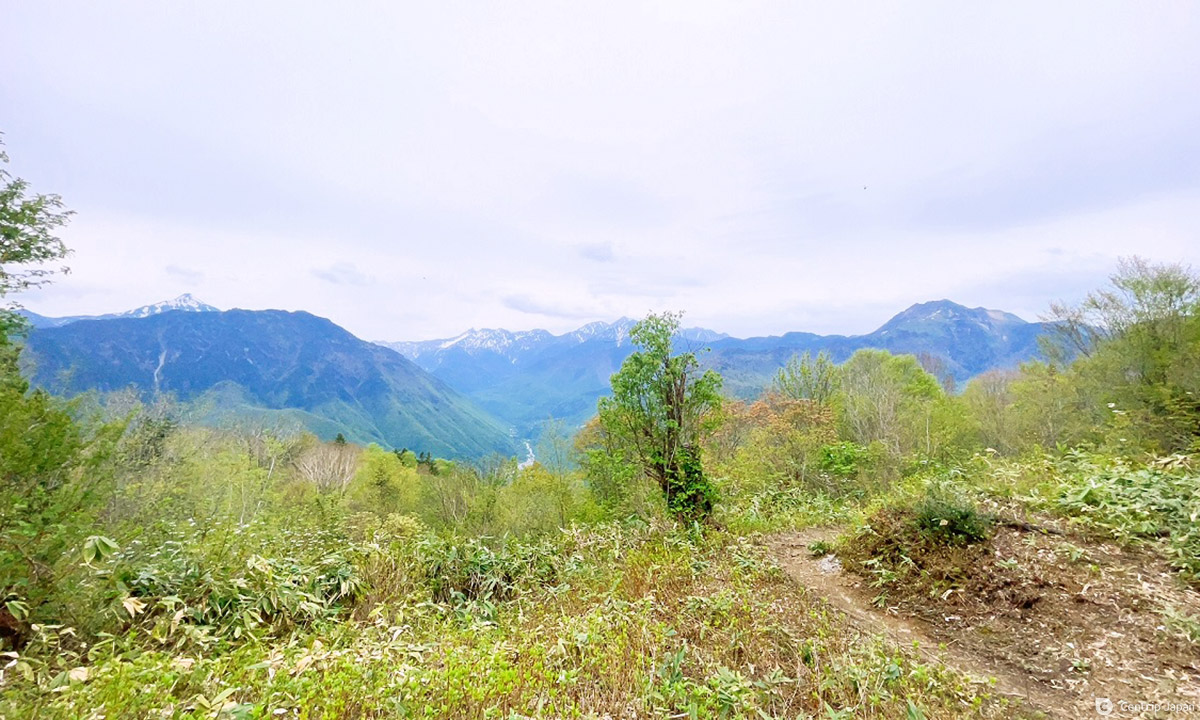 View from the top of Fukujiyama mountain
The attractions of the Fukuchiyama trekking course are four observation points along the route and you can overlook the Northern Japan Alps. It is especially beautiful in spring and autumn for the snow-capped mountain and autumn foliage. The view from the top of the mountain is overwhelming! It is an excellent location with a panoramic view of Mt. Hotaka, Mt. Yakedake and Mt. Norikura and Mt. Kasagadake. This trekking course is considered as intermediate level as there are a number of uphill and downhill trails.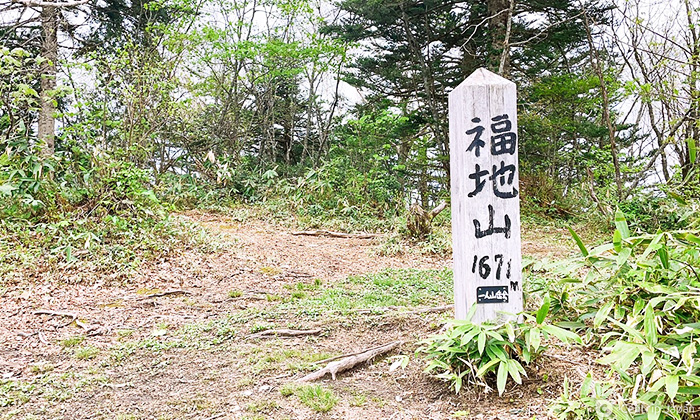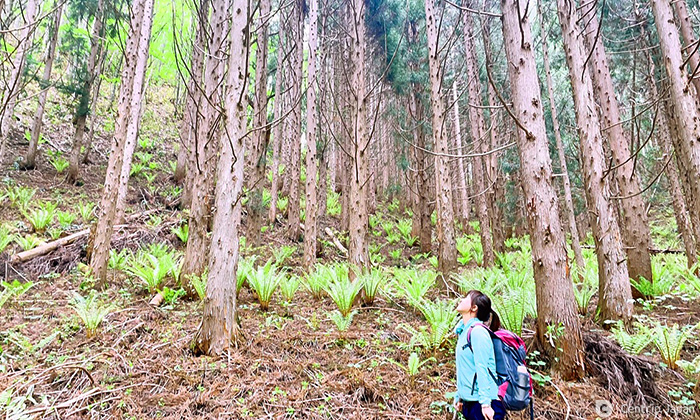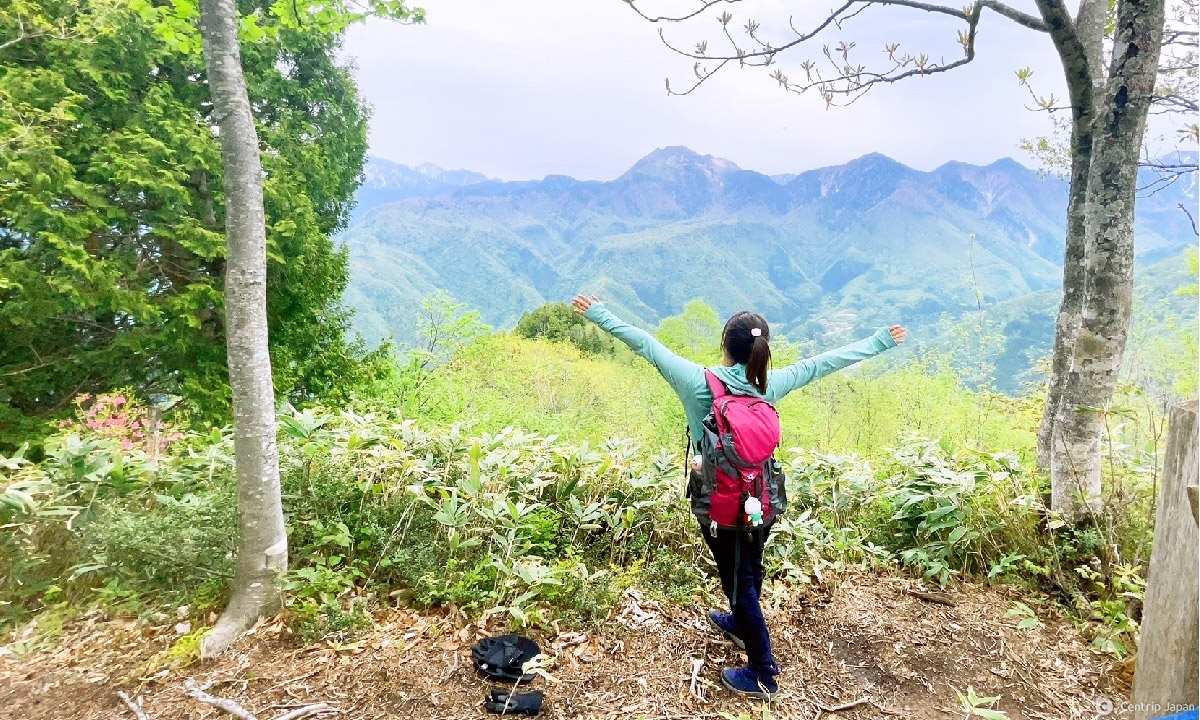 Beautiful mountain view from the third observation point
Fukuji onsen morning market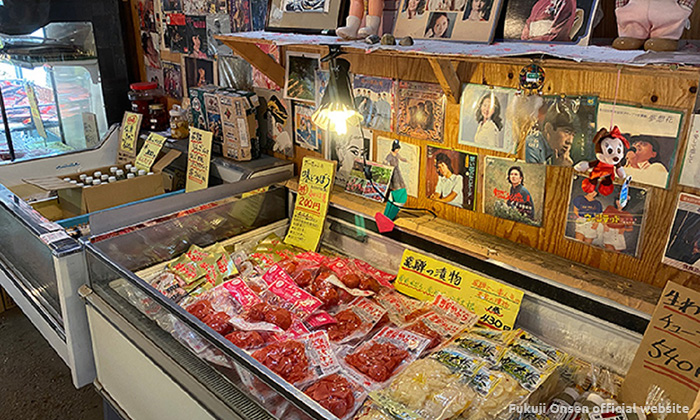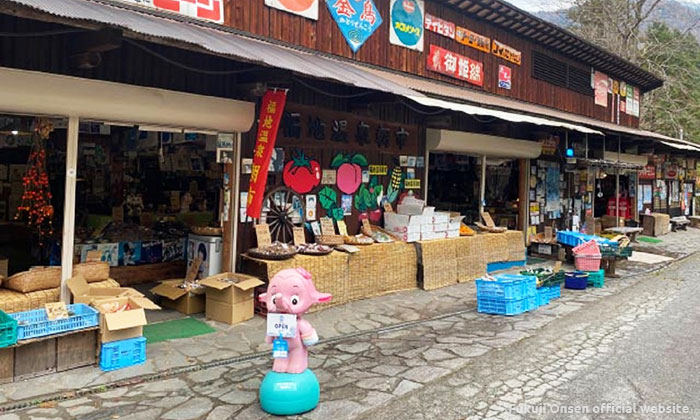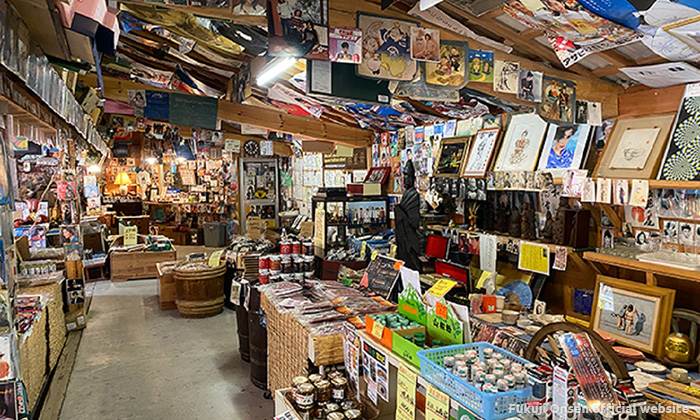 This morning market opens all year around from early morning to 11:00 a.m. that its sells different kinds of local products such as local grown vegetables, seasonal fruit, Hida-sansho seasoning, hoba miso (miso paste grilled on a magnolia leaf) and specialty products. It is recommended to visit here after eating breakfast in the ryokan.
Opening hour :
15th April - 14th November: 6:30 - 11:00 am
15th November - 14th April: 8:30 - 11:00 am
Foot spa Yadori-yu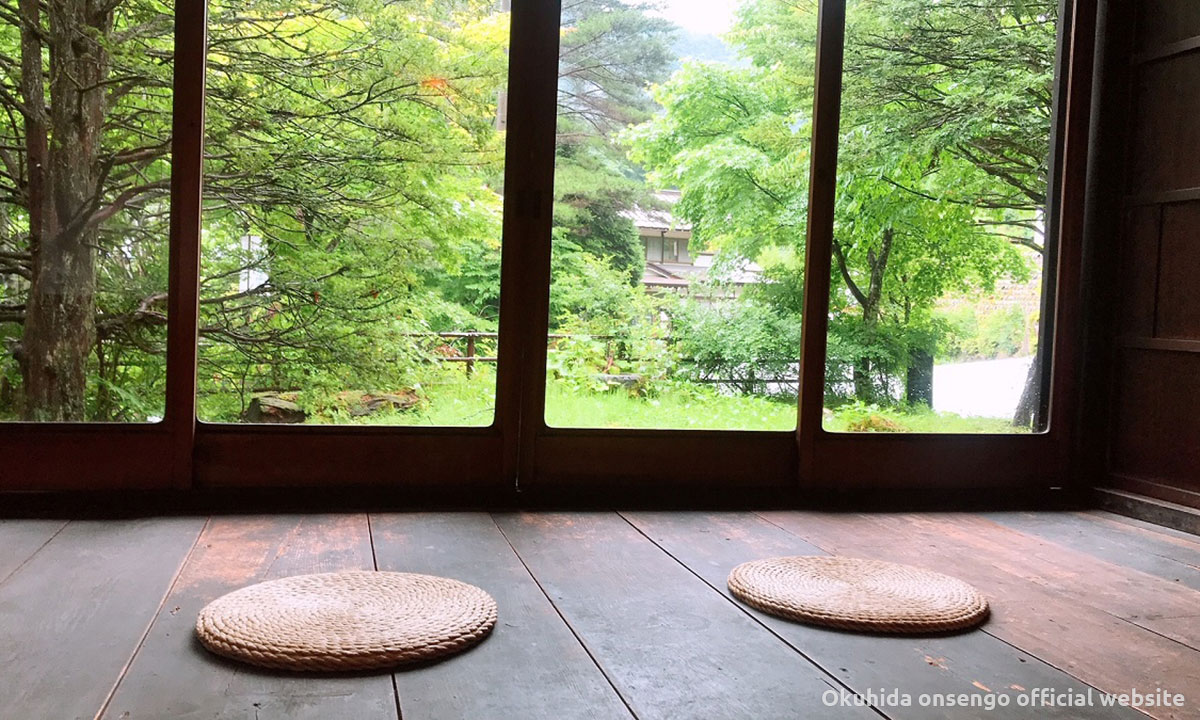 This facility is exclusively for guests staying overnight in Fukuji Onsen all year round from 9am to 9:30p.m.. After visiting the morning market, it takes 5 minutes' walk to this foot spa. It is a special experience to enjoy the indoor foot spa in a traditional old Japanese house while seeing the Japanese gardens through the windows. Do not miss to take a look of the interior of the house as you will find hearths and huge wooden beams!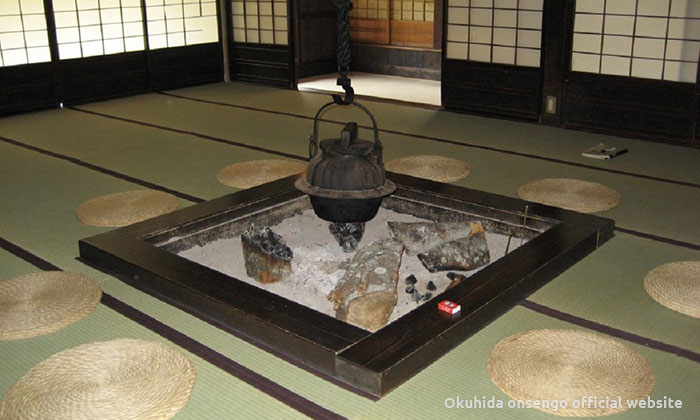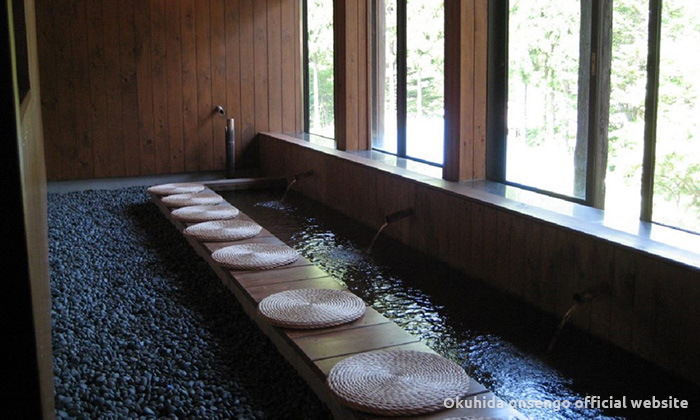 Kamikochi walking course from Taisho Pond to Kappa Bridge
The walking course starts from Taisho Pond and ends at the Kappa Bridge. It takes 1 hour and 5 mins to finish this course. Taisho Pond was created by the eruption of active volcano Mt. Yakedake in 1915 and you can enjoy the spectacular mountain scenery of Hotaka range and Mt. Yakedake. When it is not windy, the reflection of the Hotaka mountain range is magnificent especially when the mountains are snow-capped in spring and autumn. From Taisho pond to Tashiro Bridge, there is a 1.9km walking trail where you can find clear streams, wild flowers, marshes and forests. If you would like to see the azure waters of Azusa River clearly, you can choose to walk on the Azusa River trail. After reaching at the Tashiro Bridge, there are two paths leading to the Kappa Bridge, you may choose to walk on the path on the left in autumn as there are a numbers of huge Ginkgo trees on the right side which turns golden yellow in mid-October. The autumn scenery in this path is picturesque that it stays forever in your memory. Finally you reach the Kappa bridge, a suspension bridge and the famous photo spot of Kamikochi, that you cannot be missed. A relaxing lunch or coffee break near Kappa Bridge is recommended. It takes 5 mins from Kappa bridge to the Kamikochi bus terminal where you can take the bus back to Hirayu Onsen then to Takayama.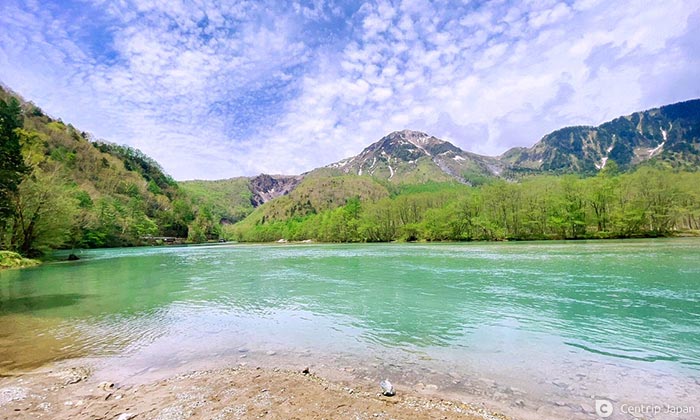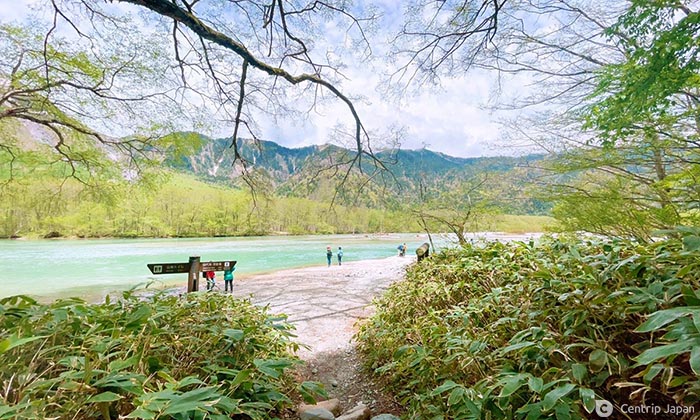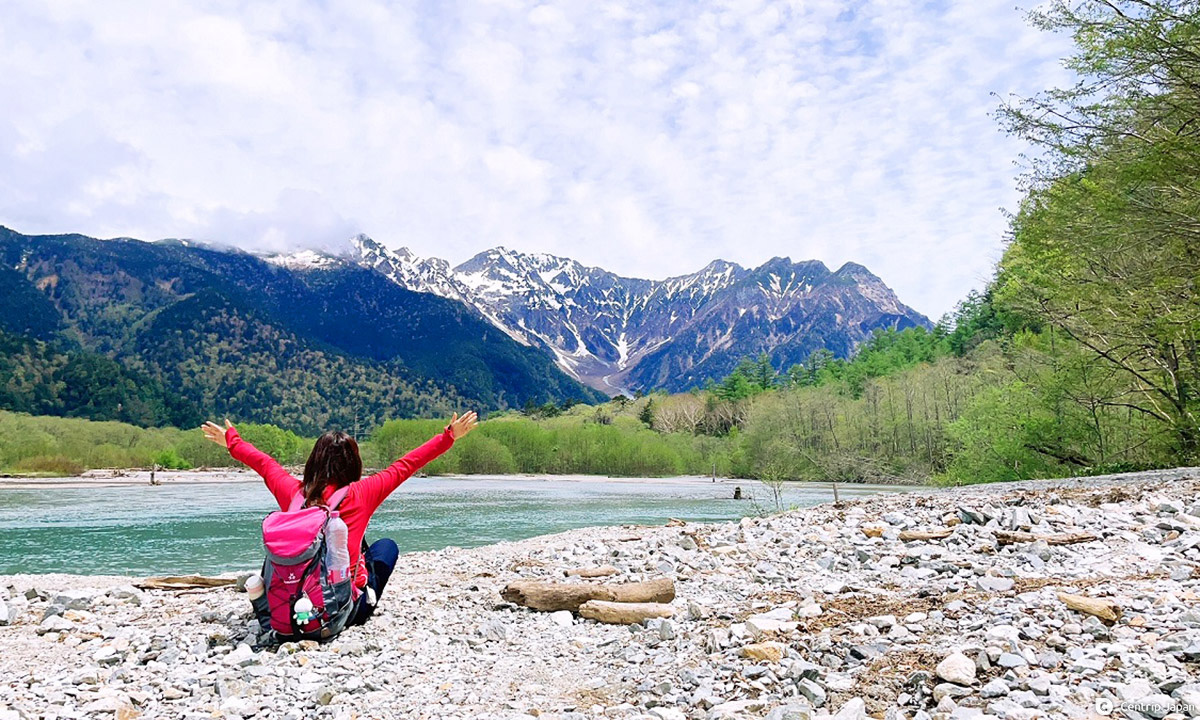 The Japan Alps Hotaka range is just in front of you.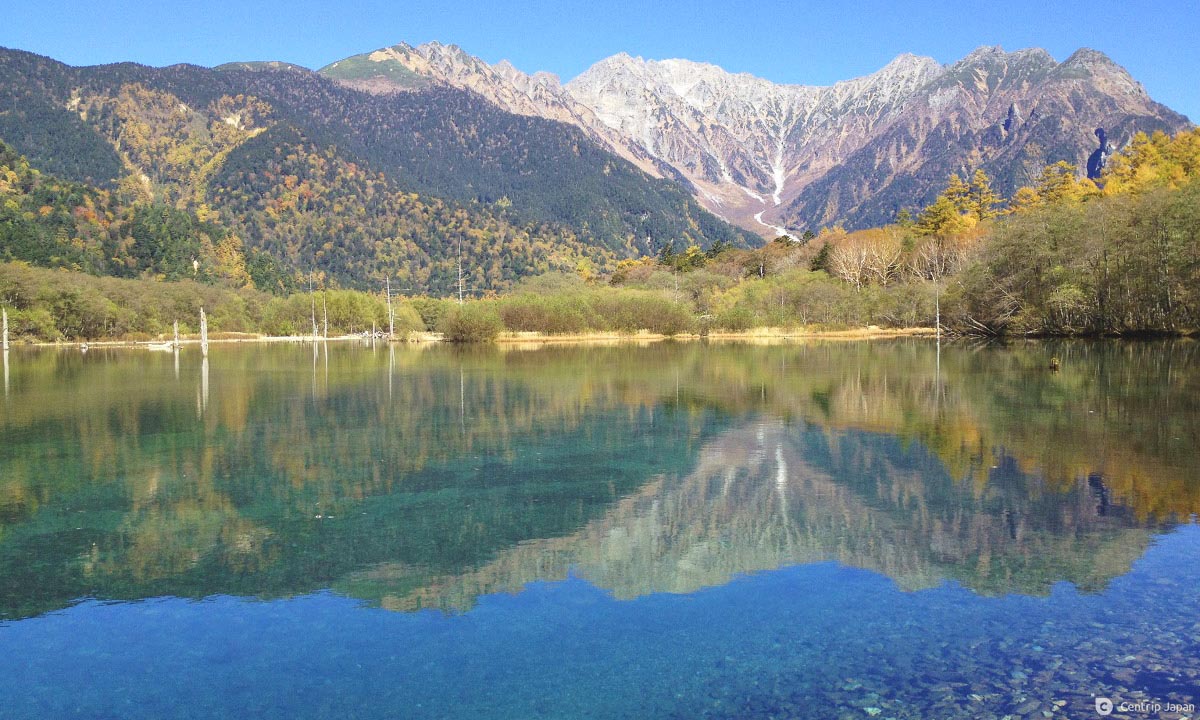 Taisho Pond in Autumn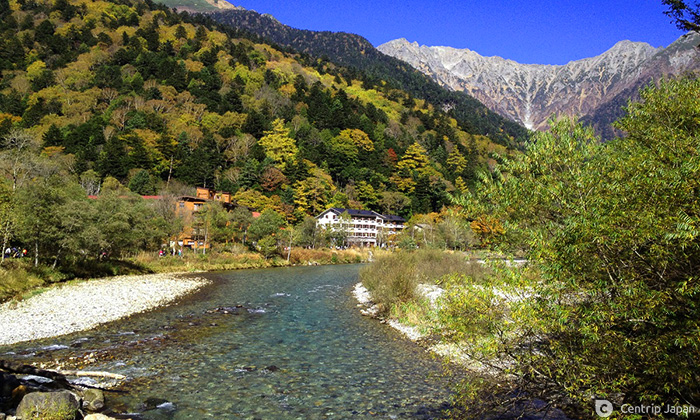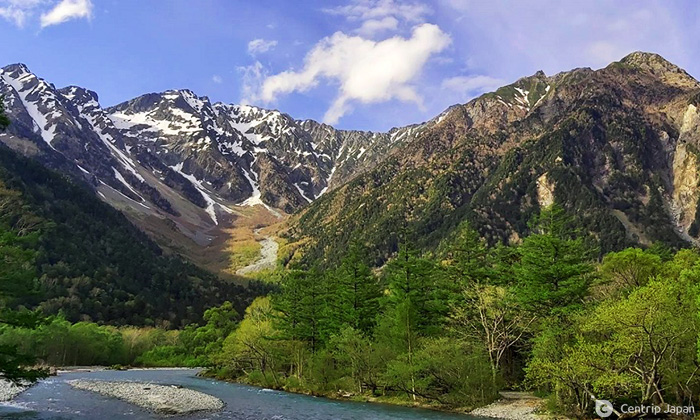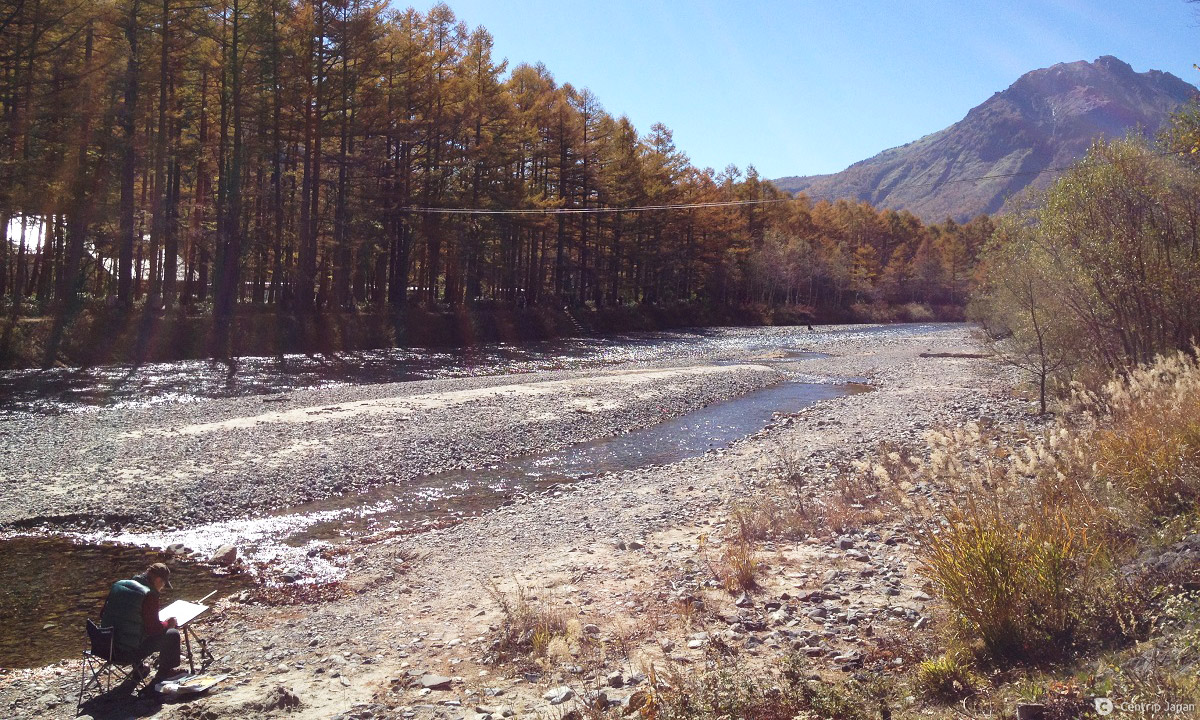 The golden yellow ginkgo trees created picturesque scenery in autumn.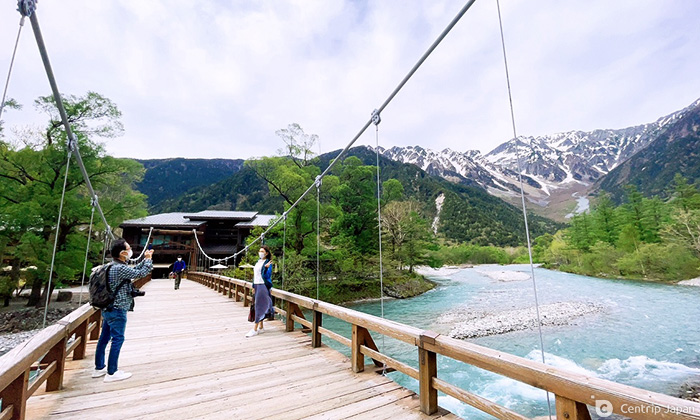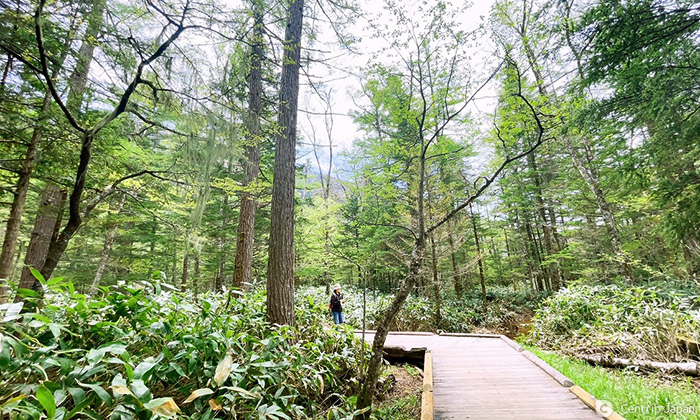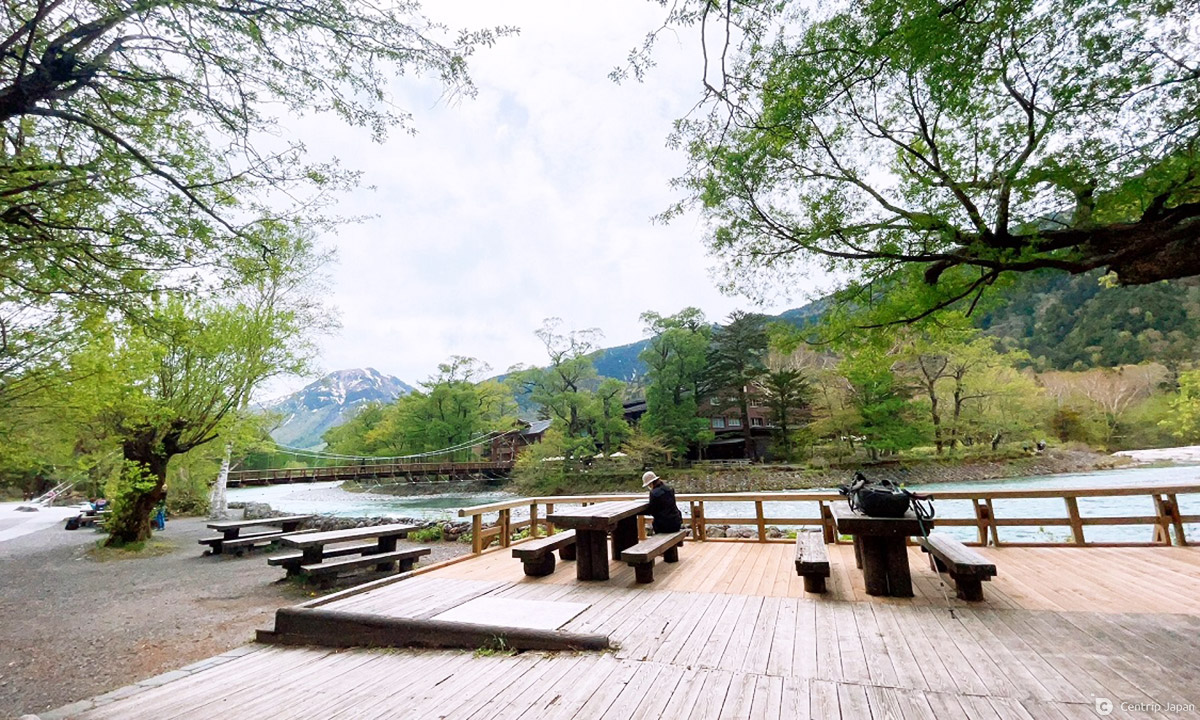 Kappa Bridge resting area
Lunch and dessert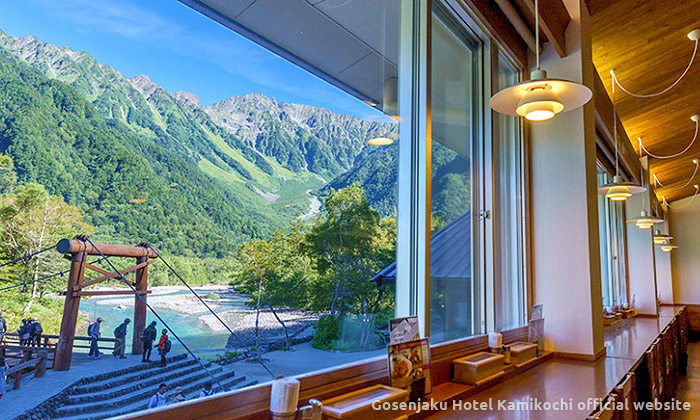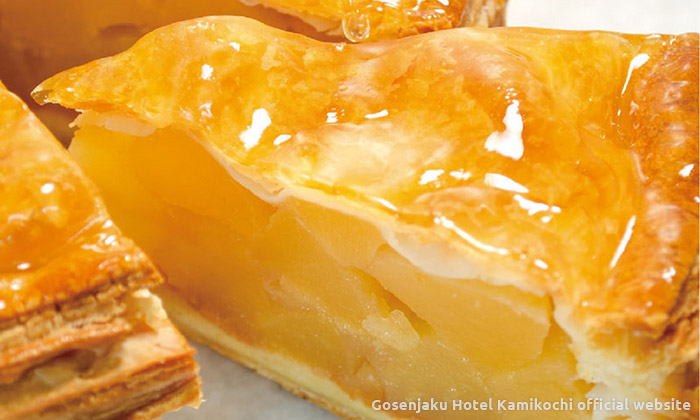 If you would like to oversee the Kappa Bridge and the Hotaka mountain range while having a delicious meal, Gosenjaku kitchen and Gosenjaku hotel are recommended. Food is from 990 yen and you can also take this chance to taste the gourmet of Nagano prefecture such as Sanzoyuyaki chicken(crispy fried chicken marinated in a garlic tare sauce and grilled), buckwheat noodles, Shinshu rice pork cutlet bowl etc. Don't forget to try the apple pie from 780 yen up at Gosenjaku hotel as the Nagano apples are always sweet!
How do I go to Fukiji Onsen from Nagoya?
From Nagoya, you can either take the JR train or public bus to reach Takayama. It takes 2 hours 10 mins by the JR Wide View Hida train or 2 hours 30 mins by the public bus. The one way train price is 5,610 yen whereas the one way bus fee is relatively cheaper at 3,100 yen. Upon arriving at Takayama, please take the Shinhotaka-line to Fukuji onsen by public bus and it costs 1,800 yen for 1 hour and 10 mins.
It is also possible to reach Fukuji Onsen by car from Nagoya in 3 hours but it snows in Okuhida area in winter therefore the roads are slippery. Please change to snow tires before heading to Okuhida area if you plan to travel to Fukuji Onsen in winter.
How do I go from Fukuji Onsen to Kamikochi and from Kamikochi to Nagoya?
From Fukuji Onsen, you can take a public bus to Hirayu onsen bus terminal for 12 minutes at 160 yen, then change to Kamikochi bus line and ride from Hirayu onsen to Taisho Pond for 16 minutes at 910 yen. Please note that private car cannot access to Kamikochi so if you drive, please park your car in the Akandana Parking Lot and take the public bus to Taisho Pond of Kamikochi Line from the parking lot. The parking and bus fee are 600 yen and 910 yen respectively. After getting off the bus at Taisho Pond, you can start walking to Kappa Bridge.
How do I go back to Nagoya from Kamikochi?
From Kamikochi bus terminal, you can take the public bus to Hirayu onsen bus terminal for 25 mins at 1180 yen. Upon arriving at Hirayu onsen, you can take the public bus back to Takayama in an hour for 1,600 yen. From Takayama, you can either ride on the JR train or public bus heading back to Nagoya for approximately 2 hour 30 mins. Please note that the Kamikochi bus line is running a special time table at the moment to prevent the spread of COVID-19. Please check the updated bus schedule from time to time before departure.
Wrap-up
If you are looking for a hiking and relaxing trip in nature, this is a prefect trip for you!
Click here to get the latest information on Central Japan.Centrip Japan - Nagoya and Chubu Information