| Pete Leong
Yunoyama village and Mt Gozaisho
Yunoyama onsen and Mount Gozaisho area is the perfect weekend getaway for cooler temperatures, outdoor adventures, relaxation, fun mountain drives, and tranquility.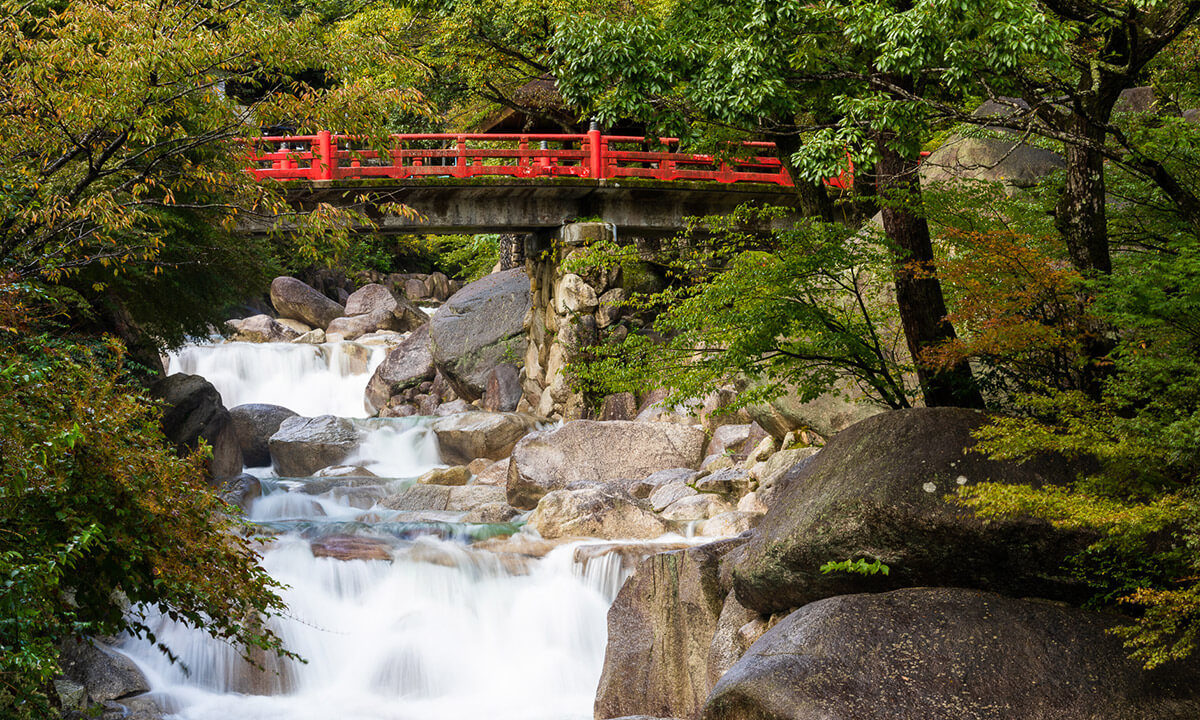 Ooishi park in Yunoyama is a nice spot to walk and cool off in the river waters.
Take a weekend escape to a place filled with natural beauty, four distinct seasonal changes, hiking, and hot spring resorts. Located in Komono towards the northern end of Mie Prefecture. Yunoyama onsen has been a popular tourist destination for decades.
Situated at an elevation of around 350m high, it is famously known for its changing beauty from Summer through to Spring, as well as its many Ryokan (Japanese inn's) all with hot springs to relax in after some nature hiking.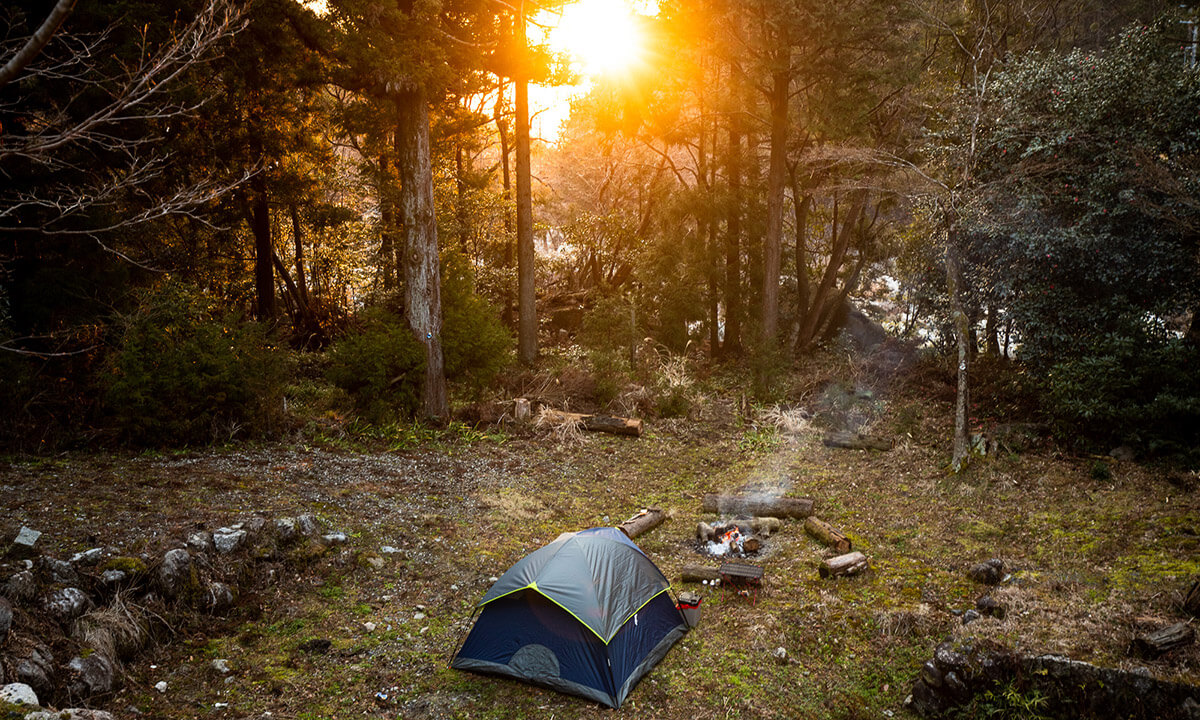 Camping in Yunoyama
The area also attracts campers, rock climbers, and cyclists to its stunning mountain roads and ranges. The most well-known of these mountains is Mount Gozaisho, at 1212m high it is the tallest in the area. Stunning views can be had from those that make their way to the top of Mt Gozaisho either via the ropeway or by hiking one of its many routes. On a clear day there are great views of Nagoya and Yokkaichi city as well as Lake Biwa (Japans largest lake in Shiga Prefecture) and if you`re really lucky with the weather even Mount Fuji can be seen in the distance.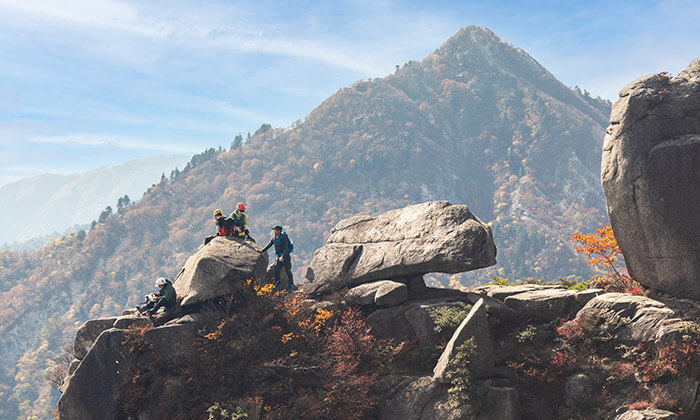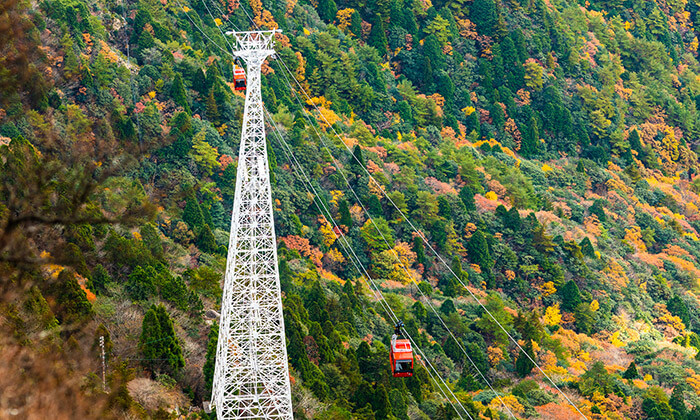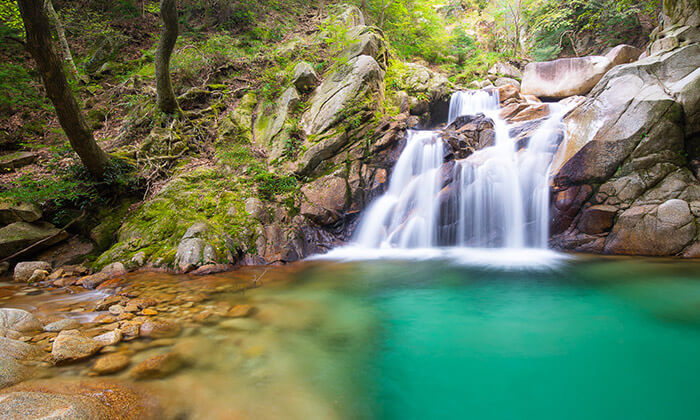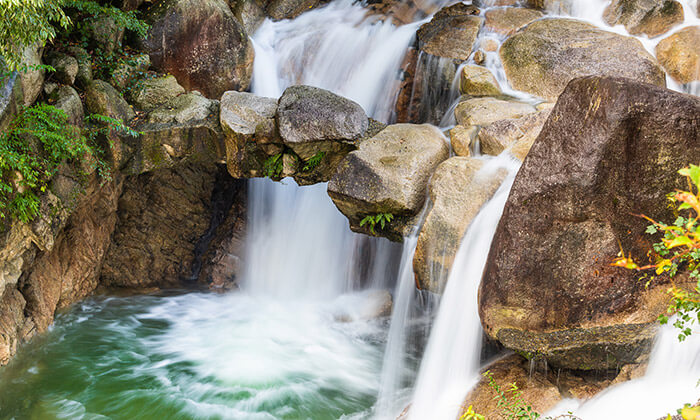 Surrounding Mt Gozaisho, there are many beautiful waterfalls and easier, less challenging nature trails to explore. One of the most well-known being Aotaki. Aotaki falls are tall and impressive to see, especially after some rain.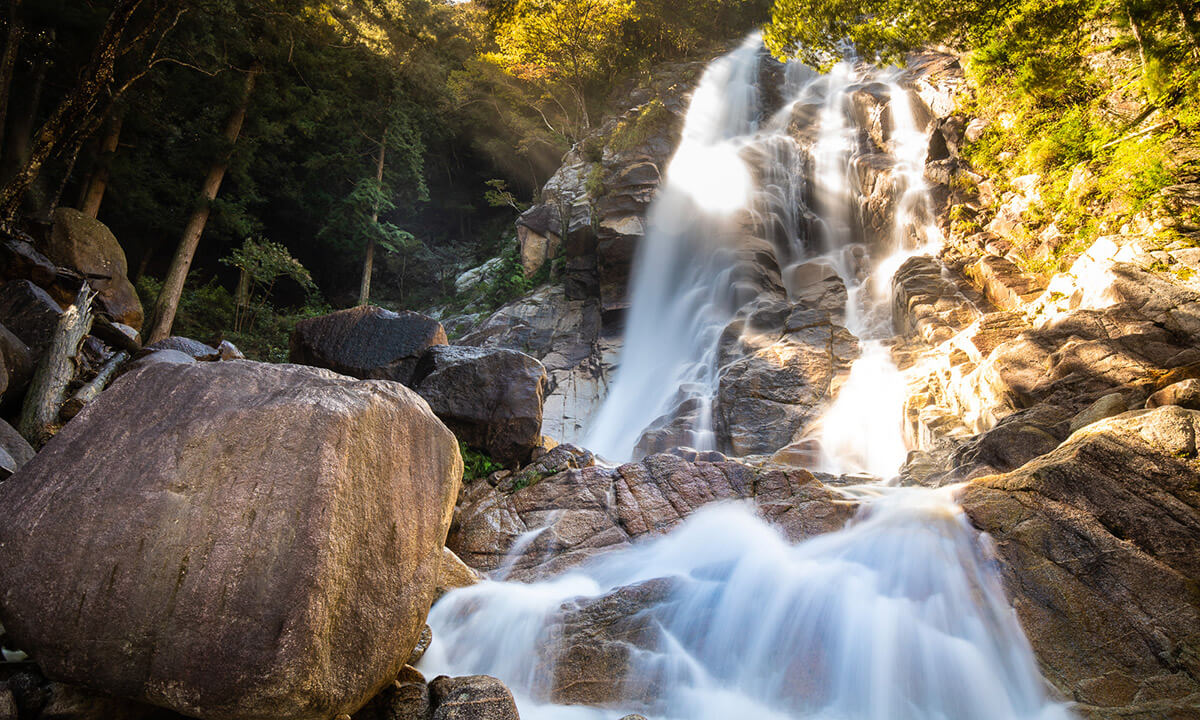 Aotaki falls
It is accessible by a roughly 20-minute walk along the "Ura Michi trail" which begins just along a path to the left side of the ropeway entrance.
It`s one of my personal favorite places to go for photography and a great spot to bring a picnic lunch to enjoy as you sit by the falls or cool off in the hotter months. For the more adventurous you can continue along the trail for 3hrs or so to the top of Mt Gozaisho, along the way you may even spot rock climbers high on the sheer rock cliffs high above.
I found the "Ura Michi" to be very enjoyable. One of the less strenuous but longer trails up Gozaisho.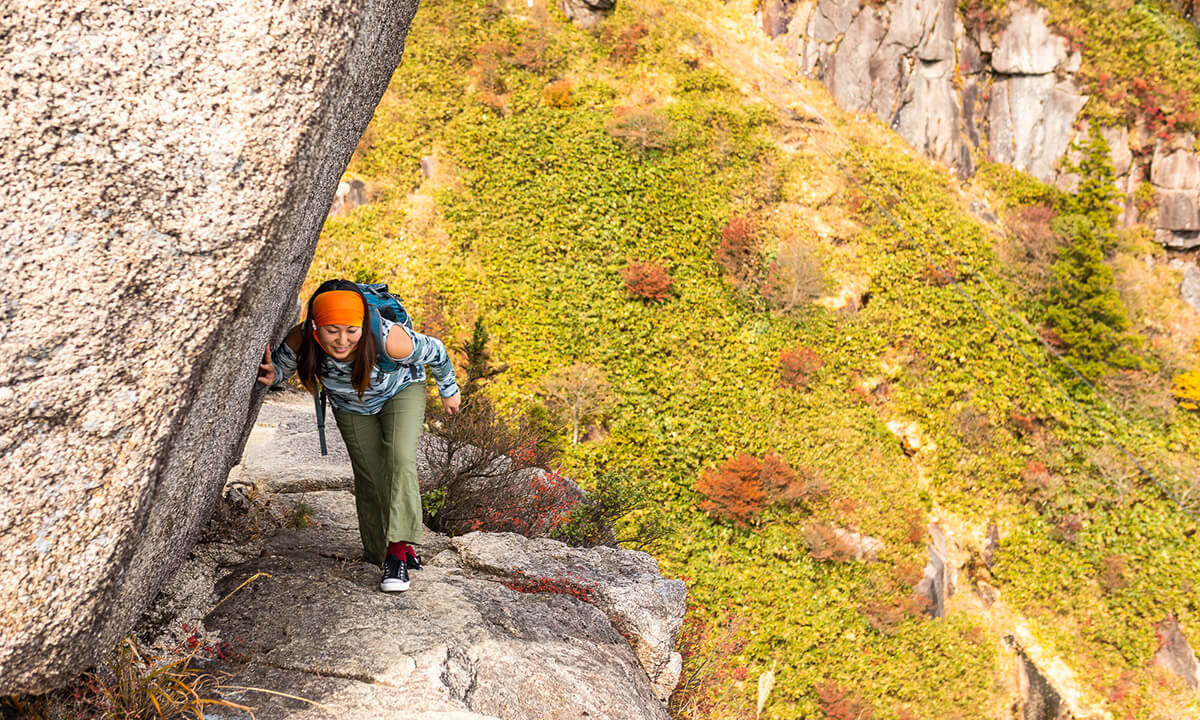 A hiker makes her way along one of the precarious rock areas of Mt Gozaisho.
There are several main hiking routes up Gozaisho, which are all challenging but fun for beginners through to experienced hikers. On weekends and especially holidays, groups of hikers of all ages can be seen on some of the more popular routes such as the "Naka Michi". Large fascinating rock formations can also be seen along the "Naka Michi" route. It is my favorite route up Gozaisho thanks to its several aforementioned jaw-dropping large rock formations. Care is needed however in several areas along some of the trails as there is potential for a dangerous fall. Guide maps are available from the stores and most Ryokan around Yunoyama town. However, it is possible to climb without a guide map as trails are quite clearly marked. If hiking isn't your thing then there is the well-known Gozaisho ropeway, which has been running since the 1950s. At 2.1km (1.3mi) long, it is one of Japan's longest.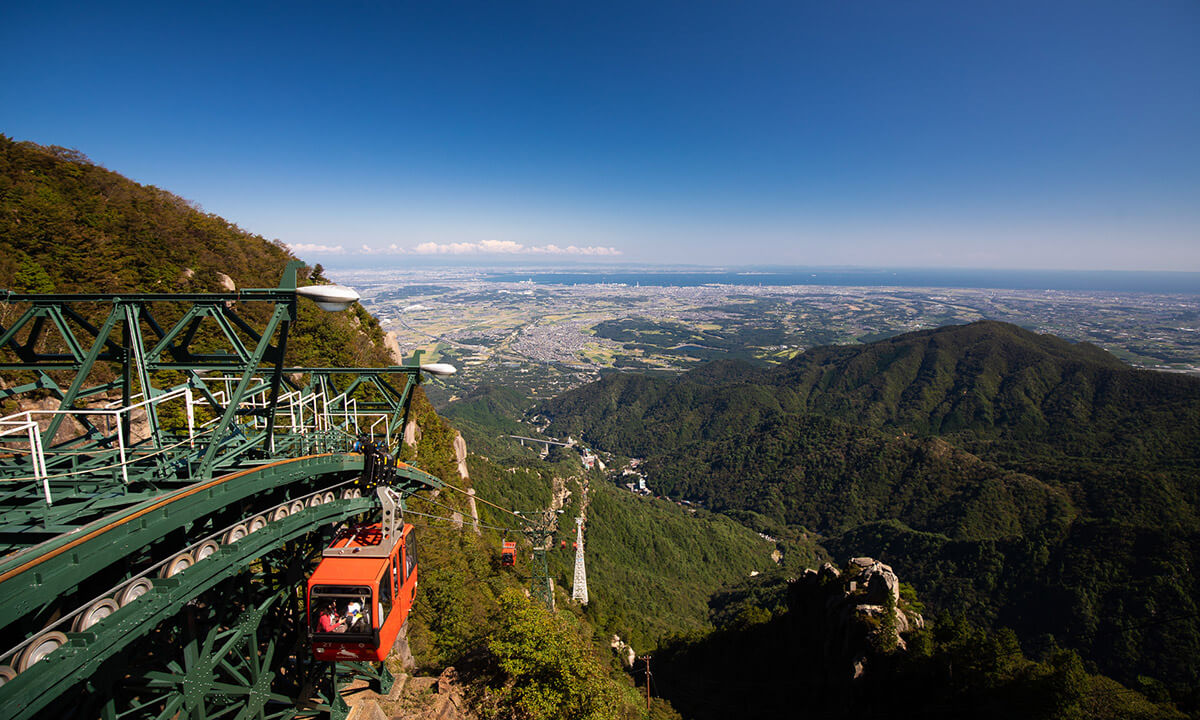 Looking down towards Yokkaichi city from the top of the ropeway.
The ropeway affords visitors 360-degree views along the way up from its base at Yunoyama onsen to the summit. At the top, you can enjoy hiking around and take in the different flora and fauna, eat and drink in one of the two restaurants with spectacular views of the surrounding mountain ranges. In wintertime, it is open as a ski park but the most popular time to visit is in Autumn when the mountain lights up with stunning Autumn leaf colors.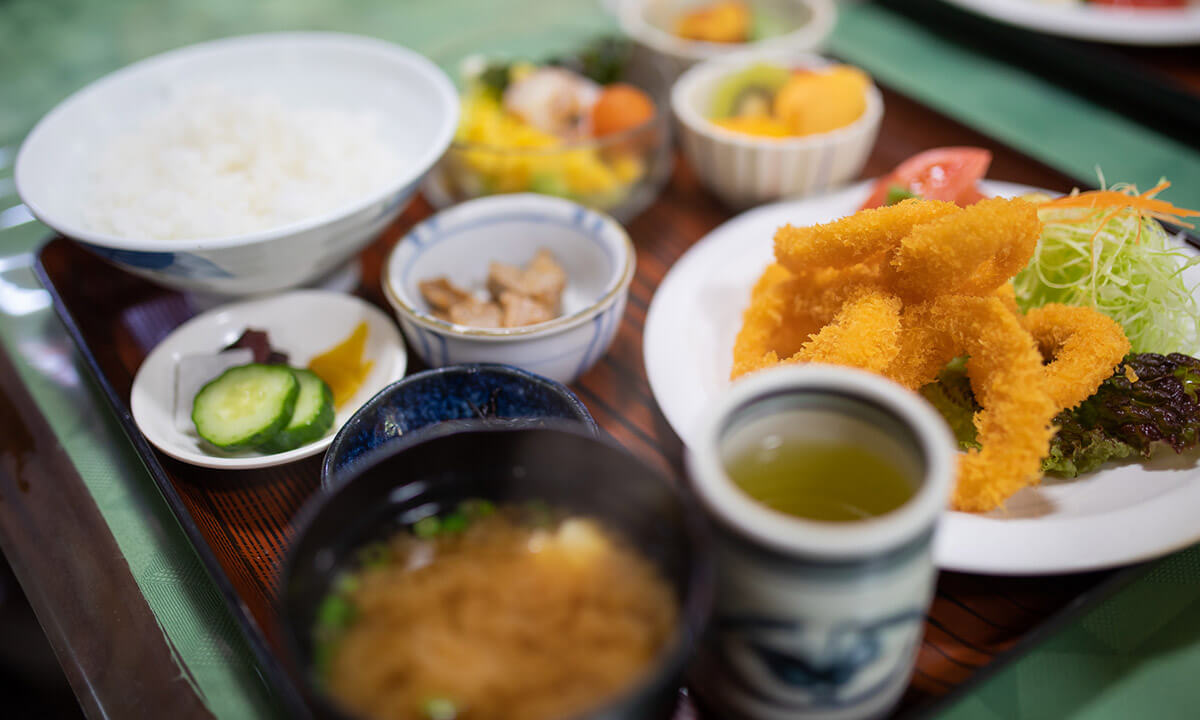 Lunch time at Kuma Bokujo in Yumoyama.
Around the base of the ropeway area visitors can also enjoy lunch at one of the several restaurants, visit souvenir stores and there is even a Mont-Bell store for all your hiking and outdoor adventure needs.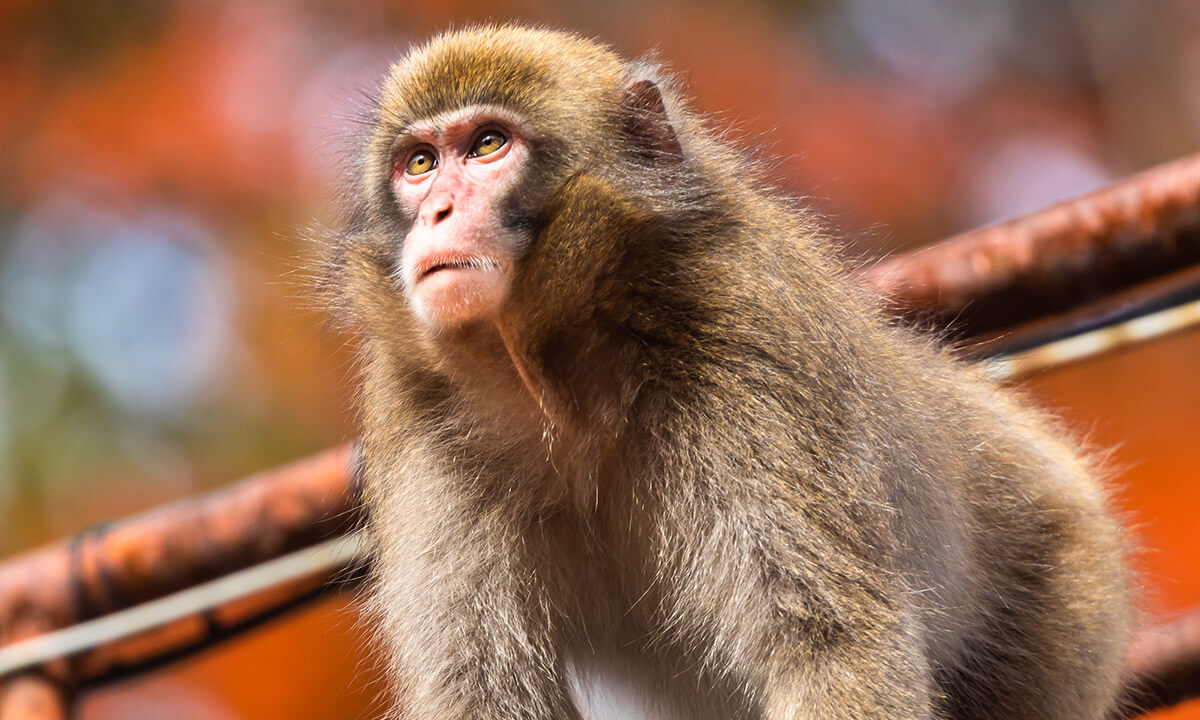 A Japanese Macaque enjoying the view from a roof top in town.
The area is popular a popular hang out for deer and Japanese Macaque Monkeys, sometimes they can even be seen in the main town and on the rooftops or in the trees alongside the roads leading up the mountains. If you are really lucky you may even have an encounter with the Kamoshika (Japanese Serow) a Goat like Antelope which usually likes to stay higher in the mountain forests. They are a national symbol of Japan and the mascot for Mt Gozaisho.
Lower down at the base of the mountains right near Yunoyama Onsen Station is Yunoyama Forest Adventure. A forest park where thrill-seekers can enjoy flying high through the forest trees on a zipline and conquering its many tree to tree obstacles and bridges. It`s a ton of fun for young and old alike.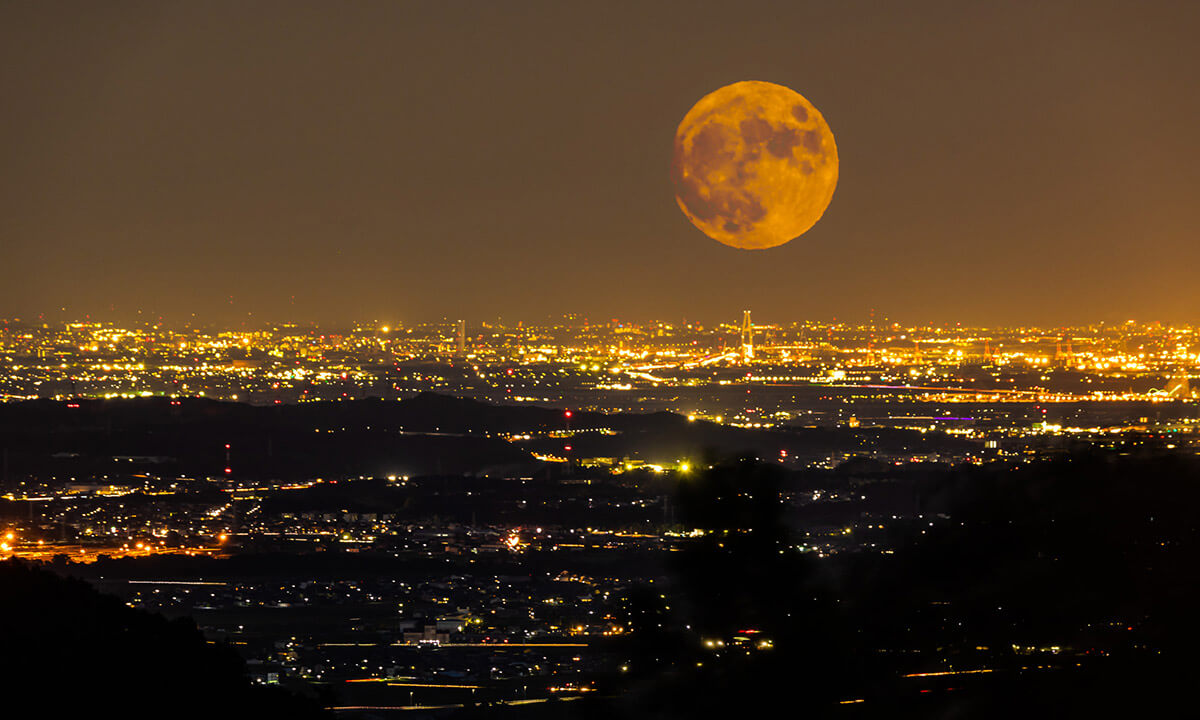 Full moon rise as seen from Komono Fuji.
If you are keen for some easier mountain hiking then just a couple of kilometers down the road there is Komono Fuji. A smaller mountain at only 369m high, it only takes around 20-30 minutes to reach its peak but still offers a fun, not so steep climb up through the forest where you will be rewarded with panoramic views over Yokkaichi and Nagoya city. It is also nice to do the hike in the early evening to catch a full moon rise over Yokkaichi city. Just remember to bring a headlamp for evening/night hikes. Parking is free for Komono Fuji.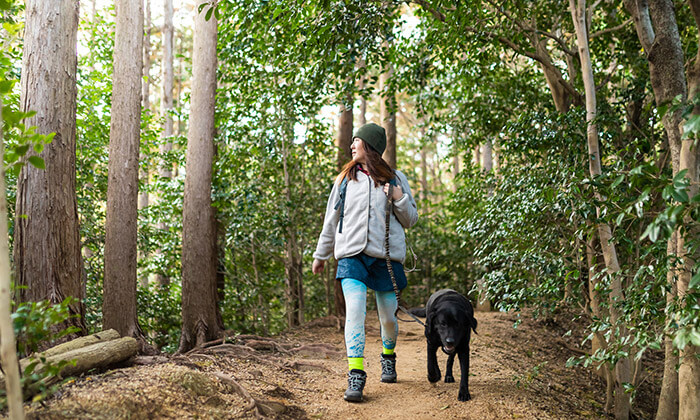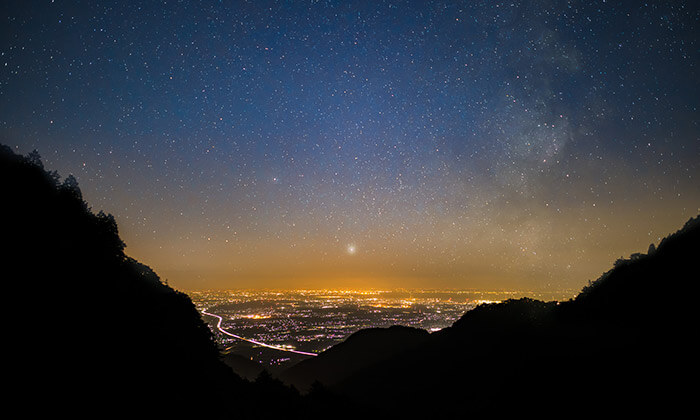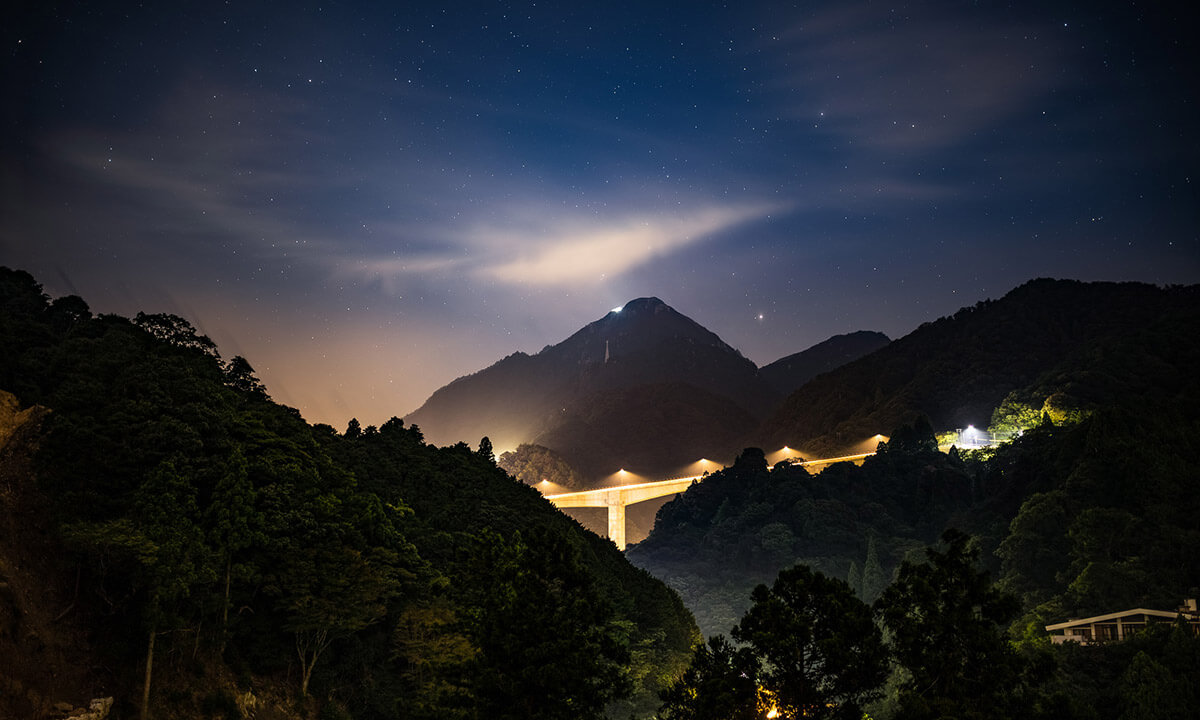 Gozaisho mountain at night.
Whether you enjoy hiking in nature, swimming in pristine waterfall streams, or just relaxing in hot springs, Yunoyama has something for everyone.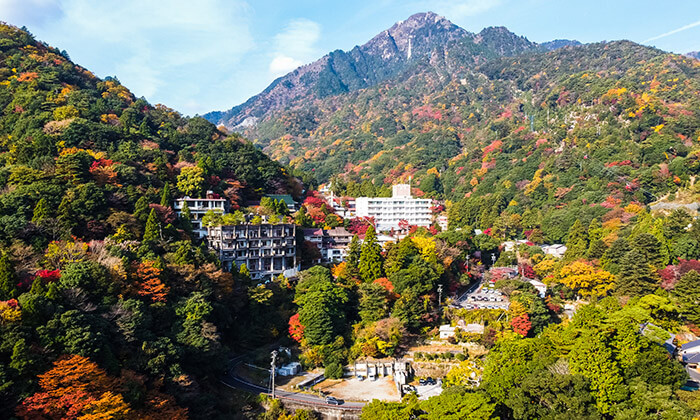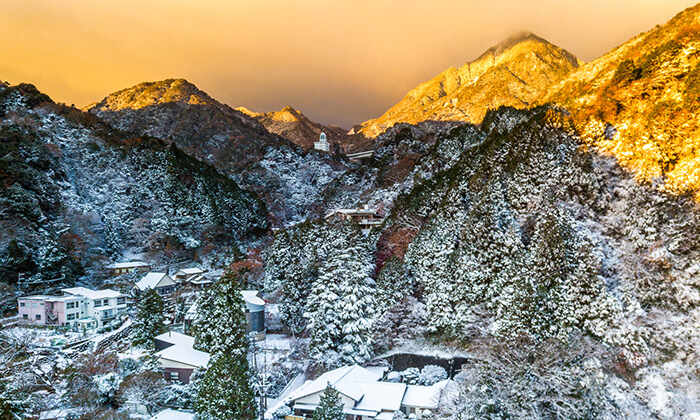 Access:
From Nagoya by train/bus: 30 minutes by Limited Express on the Kintetsu line to Kintetsu Yokkaichi Station. Then 30 minutes by local train to Kintetsu Yunoyama Onsen station. Then jump on the Mie Kotsu Bus for a 10-minute ride up the mountain to the base of Mount Gozaisho. Or about a 50-minute walk from Yunoyama Onsen Station up to the Gozaisho Ropeway.
By car: Depending on where you are coming from, head towards the Komono IC on the New Meishin Expressway. From there, it`s 10 minutes to Gozaisho Ropeway where car parking is available for between 500-2,000yen per day depending on the vehicle type/size.
Pets: Pets can also ride on the ropeway as long as you have them in a pet carrying cage (available from the ticket gate for 300yen). Note some larger dog breeds will not fit into the cages.
The best times to visit depending on what you like to see. If it's fall colors you're after its best to visit end of October through November. After that, it's snow through the winter months.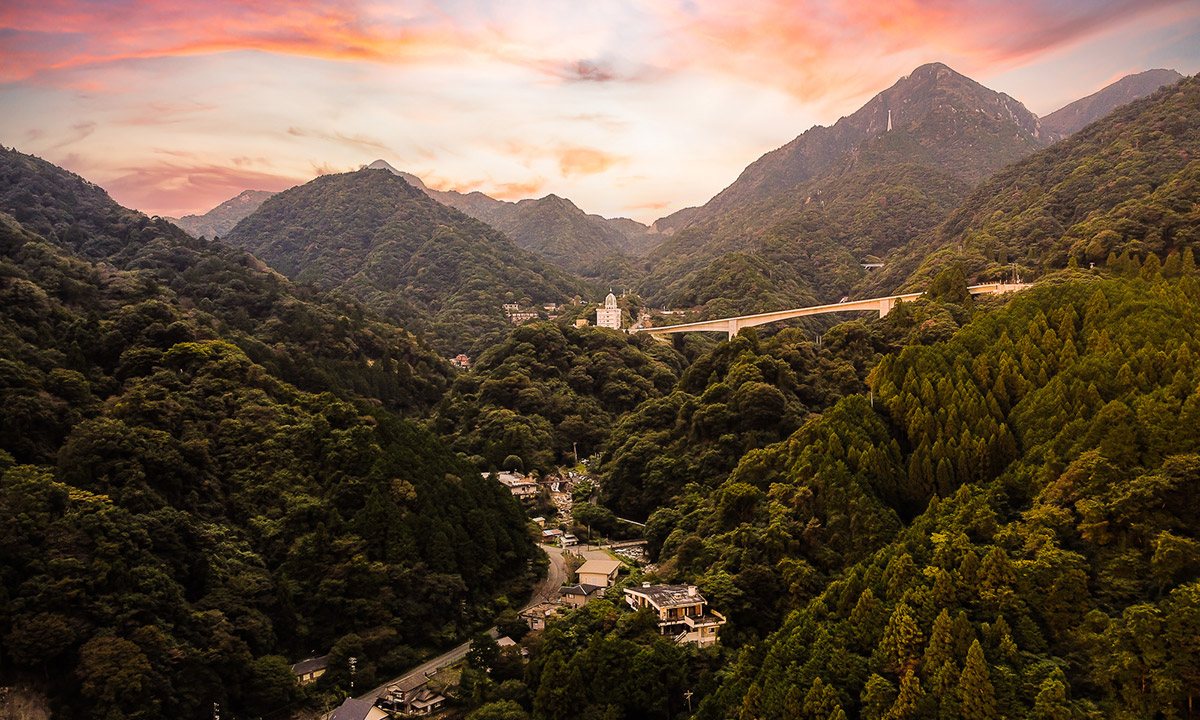 Yunoyama sunset.
Check out more information on Mt Gozaisho's website here
Forest Adventure information and bookings here
Click here to get the latest information on Central Japan.Centrip Japan - Nagoya and Chubu Information