| Hannah Tsai
Oyatsu Town 1: A New Family Attraction
Come see Japan's latest family attraction! In July 2019, Oyatsu Company the maker of the well-known Baby Star snack opened a theme park called Oyatsu Town, located in Mie, about one-hour from Nagoya.
But what is Oyatsu town? Oyatsu town is a theme park that focuses on family and children, where both parents and children can have a great experience. There are many exciting things to do such as riding zip lines, watching how Baby Star ramen is made, and having fun playing Hoshiokun, the Baby Star mascot. Join Centrip as we introduce Oyatsu Town and experience all fun there is to be had!
Baby Star and Oyatsu Town
Baby Star is so prevalent in Japan that everyone has tried it! This instant noodle snack has various flavors, such as chicken and miso, and is found all over Japan. From the first bite to the last, you'll love Baby Star delicious taste. Baby Star has been around for over 60 years and has customers of all ages, and Oyatsu Town was built with them in mind.
Adventure in Oyatsu Town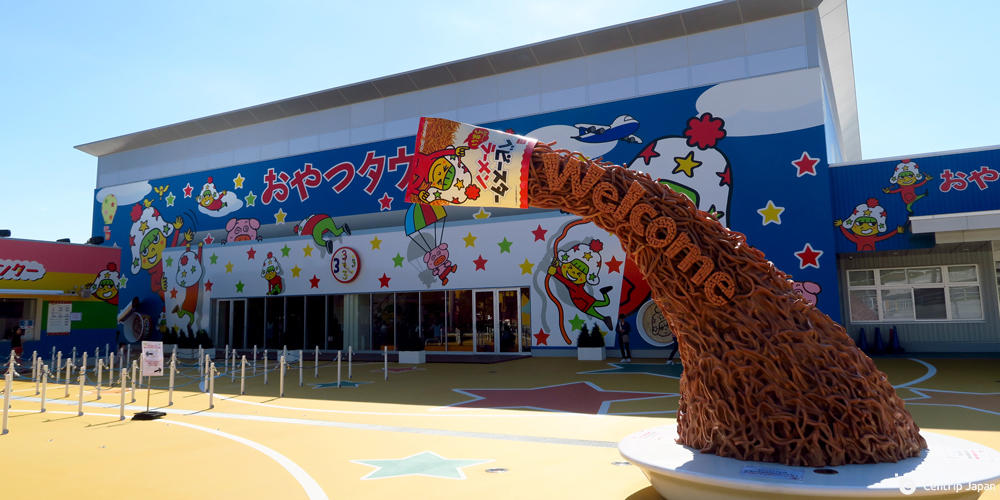 As soon as you arrive at the entrance of Oyatsu Town, you can see a building painted with Hoshiokun and a huge Baby Star statue.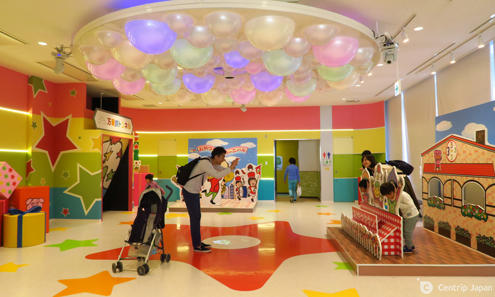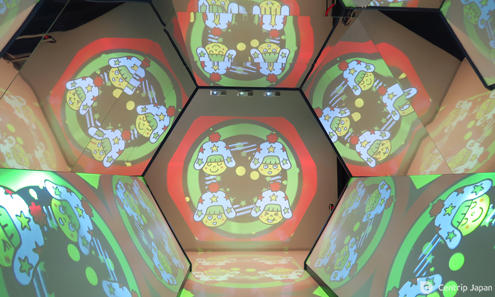 After entering the hall, you pass through the photo gallery and then enter the Kaleidoscope Tunnel. The digital effects in the tunnel paired with the sounds and light are a delight to kids and will leave them wishing that the tunnel will never end!
Oyatsu Town is divided into 4 areas: Oyatsu Square, Hoshiokun Kitchen, Baby Star Dining, and the Oyatsu Market.
Oyatsu Square: Where Fun is Born
Japan's largest indoor zip line!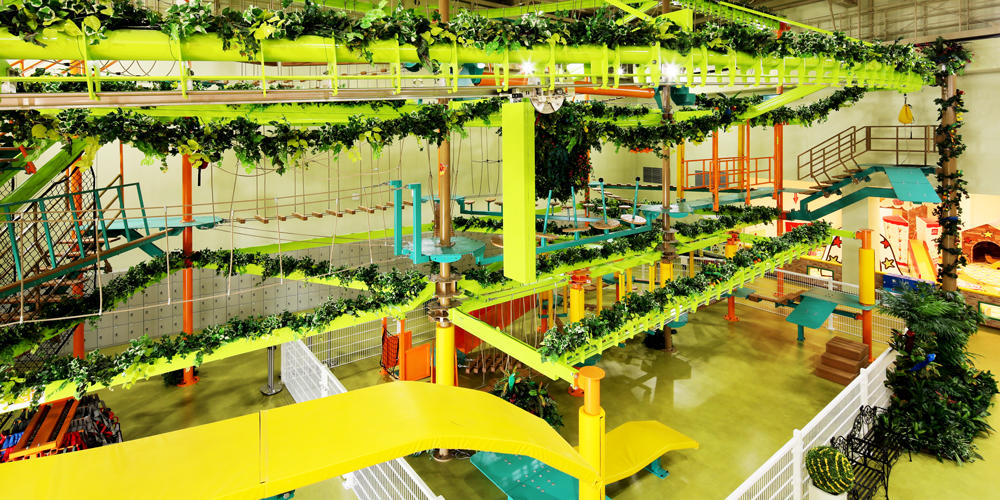 After passing through the Kaleidoscope Tunnel, you can see 3-floors of zip lines in front of you. This is the largest indoor zip line in Japan. If you are curious about how Tarzan feels when swinging through the jungle, then don't miss this attraction!
The first floor is open to children under 122cm and able to walk on their own. The exciting rides on the 2nd and 3rd floors are open to adults and children over 122cm. The price depends on the floor: 1st floor ¥500, 2nd floor ¥1500, 2nd & 3rd floor ¥2500.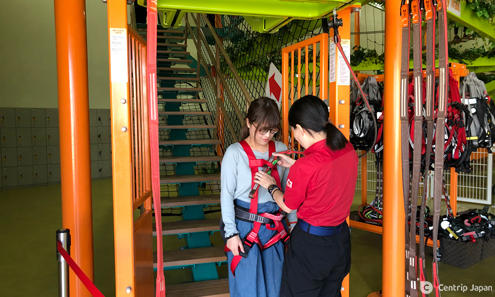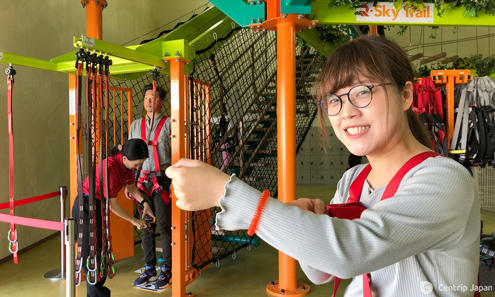 After getting your gear, it's adventure time! If you think this will be a cakewalk because it's a children's attraction think again!
Challengers will need to traverse 1-7 different obstacles, such as wooden bridges, sloping planks, etc. There even is a route that only allows you to walk across two ropes! The three-story-high walk is a straight drop to the floor below and at points, there are no handholds to grasp on either side (you only have the ropes tied to your harness for safety and support). It felt so scary that I almost couldn't try it! The allure is the intensity of the situation and the challenge of overcoming one's fear of heights. Anyone can enjoy it, or you can take pictures as your children brave the challenge!
Hoshio-kun Giant Slide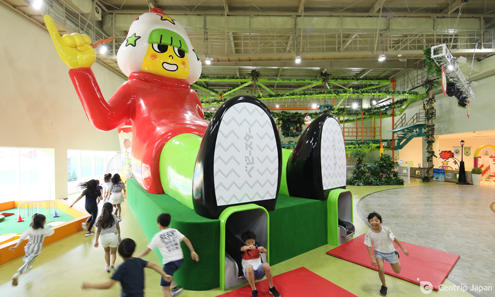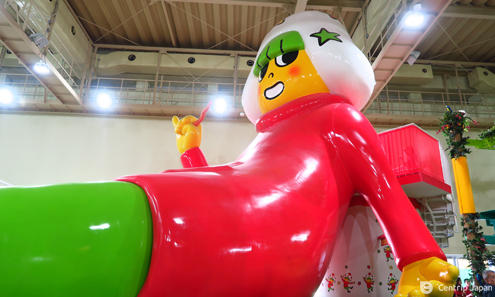 Hoshiokun Dodeka Slider - is another attraction that children are crazy about. There are various digital effects inside, so you can enjoy changing images while sliding. Follow Hoshiokun's hands to enter the slide.
Stage Performances
There are stage performances every day, where Hoshiokun sings and dances with everyone. Over-the-top gestures and easy-to-understand actions help break the language gap.
Little Town: Open to the kids under 3.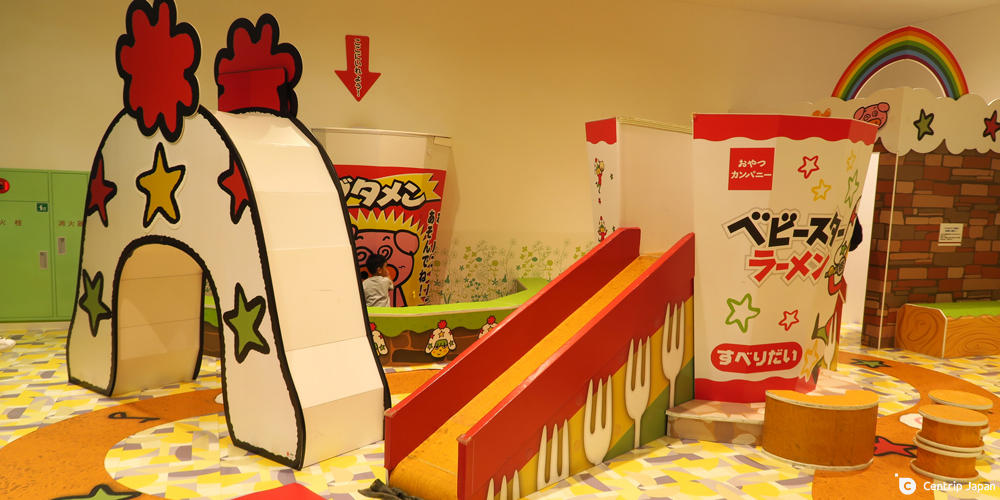 This area is especially for children under 3. Little Town has lots of attractions such as a Ramen slide, designed for young kids. All the attractions are made of thick cardboard to help reduce the chance of collision and injury.
DIY time: Hoshiokun Kitchen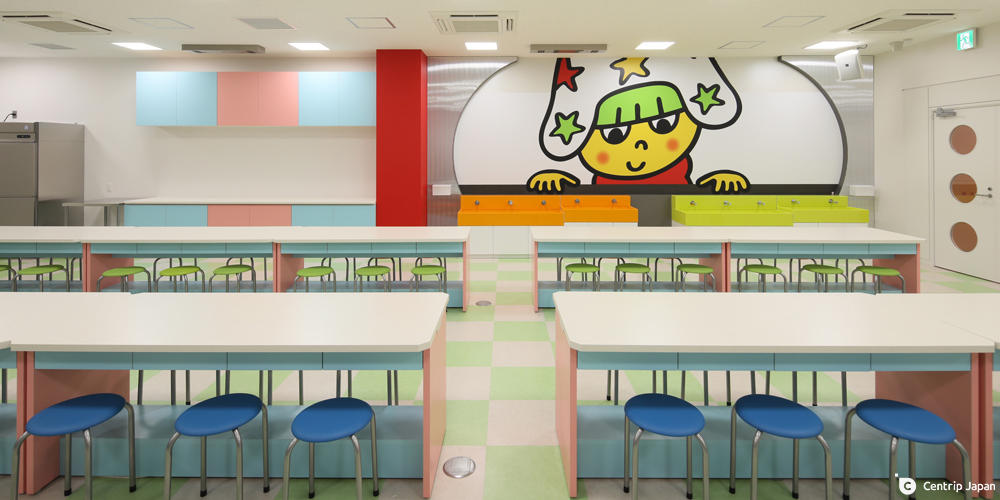 Make a unique Baby Star ramen at Hoshiokun Kitchen. There are 3 plans as follows:
1. My Special Baby Star

The most popular plan! Put uncooked ramen into a bag, add your favorite flavor and shake it up, then put the noodles into the oven to make them crispy and then put it in a personally designed package. Here you can enjoy handmade and unique Baby Star ramen! This plan is so popular that it is always fully booked, so don't forget to make a reservation online.
2. Shake and Make Baby Star

Add your favorite flavor to Baby Star and shake it! The more you shake, the more the flavor spreads! This plan is accessible to kids of all ages.
3. Make Chocolate Crunch

Baby Star chocolate cookies are a special snack only available in Oyatsu Town. Enjoy the tastes and try making one yourself!
First, crush Baby Star ramen, stir in chocolate pieces until they melt, sprinkle them into the ramen, stir them again, put them in the mold, and finally sprinkle with chocolate and other decorations, then finish by letting them cool.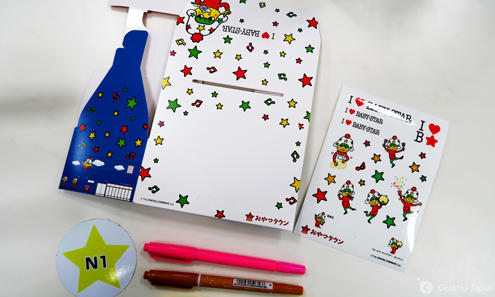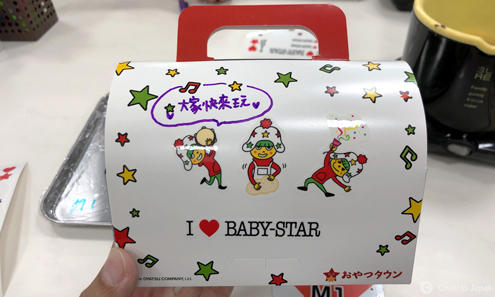 While waiting for the chocolate to cool, pick up the brush and sticker and design a special box.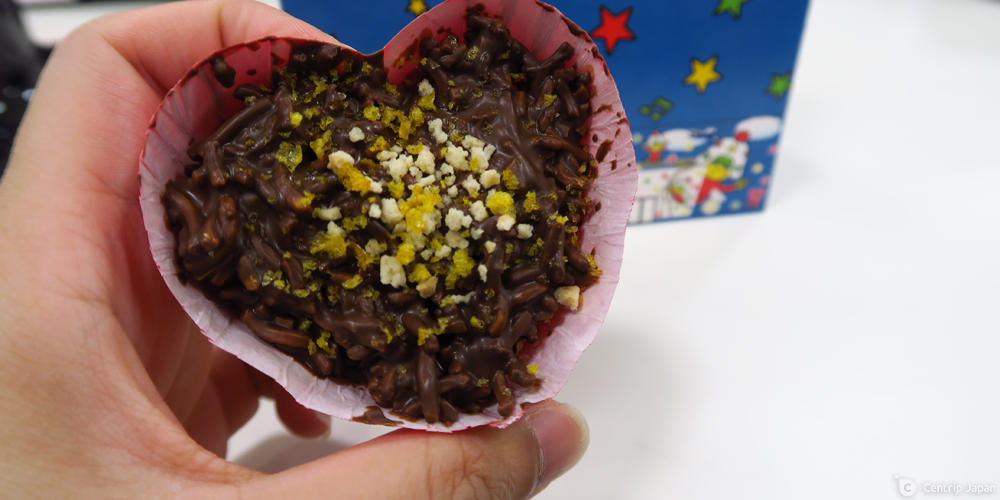 All-in-all it takes about 5 minutes, and the crispy taste of ramen covered with chocolate sauce is both savory and sweet. It is so delicious that I wanted to make some extra as a gift! This plan is suitable for primary & middle school students and takes only 30 minutes to complete.