| Bonnie Chow 
Mt. Norikura E-bike tour: A memorable ride in the clouds
Where is Mt. Norikura?
Mt. Norikura is among the 100 famous mountains in Japan, a part of Chubusangaku National Park, and the collective name for the 23 mountains on the southern edge of the Northern Japan Alps along the border of Gifu and Nagano prefecture. It can be easily accessed from Takayama and is well-known among hikers and cyclists due to the exceptional natural scenery. The Norikura Skyline, 2,000 meters above sea level, is the only road to restrict private cars from entering to protect the natural environment. Only buses, taxis, and bicycles are allowed to enter. It is a cyclist's paradise where you can enjoy riding surrounded by nature without worrying about cars on the road.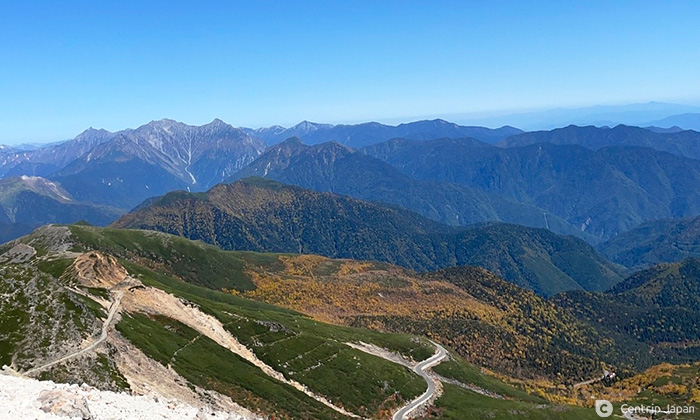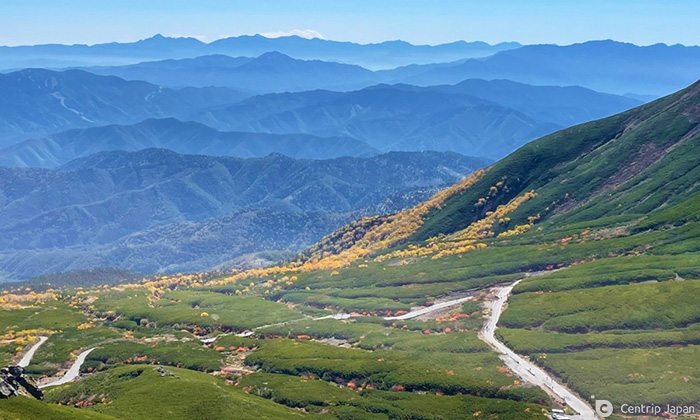 The seasons of Mt. Norikura
The highest peak in the Mt. Norikura area is Kengamine (3,026m), and it is usually snow-capped from November to April. It is only open to visitors from 15 May to 31 October every year. From May to June, the snow makes the roads too slippery, preventing cycling. The best cycling season in Mt. Norikura is from summer to early autumn, July to mid-October. In summer, at the Alpine Flower Field, next to the Tatamidaira parking lot (2,702m,) you can enjoy various alpine plants such as Anemone Narcissiflora and Fritillaria, which bloom from mid-July to mid-August. Free nature observation tours (in Japanese only) are organized by nature observation instructors every summer.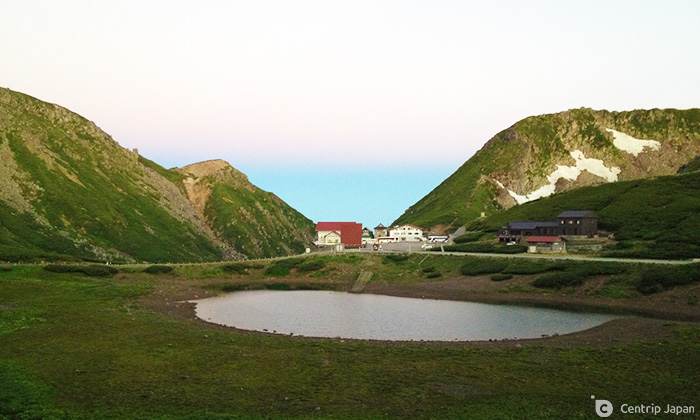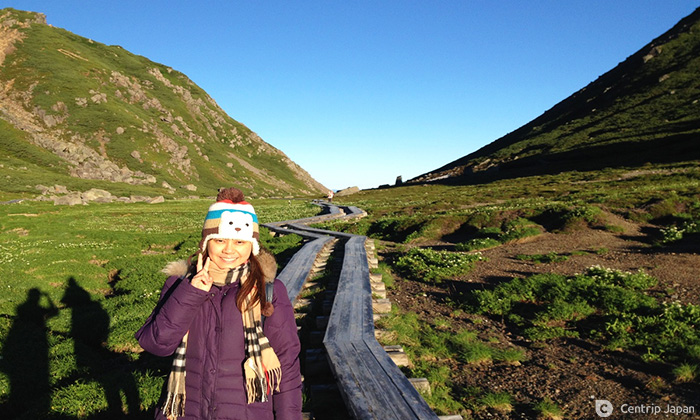 What is the e-bike tour at Mt. Norikura?
E-bike is a bicycle with an electric motor to assist in propulsion when you pedal. It does not require so much physical strength to ride uphill, and it is suitable for anyone over 12 years of age and 150cm tall. There is no upper age limit for participants. As soon as you are physically fit and can ride a bicycle, you are more than welcome to join the tour!
Usually, the only way to access Mt. Norikura is by bus. However, Satoyama Experience offers an E-bike tour to cycle on the Norikura Skyline, the highest point where you can climb by bicycle in Japan, surrounded by extraordinary nature above 2000 meters. The advantage of riding a bike over a bus is that you can enjoy the scenery at your own pace. It is a relaxing tour that does not require a lot of stamina and comes with a guide and support staff in a backup vehicle all the way. So you can store all your luggage in it without worrying about transportation troubles if you plan to visit other cities after the tour.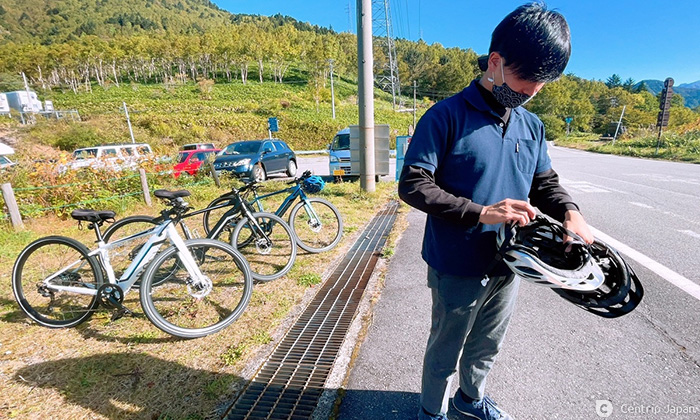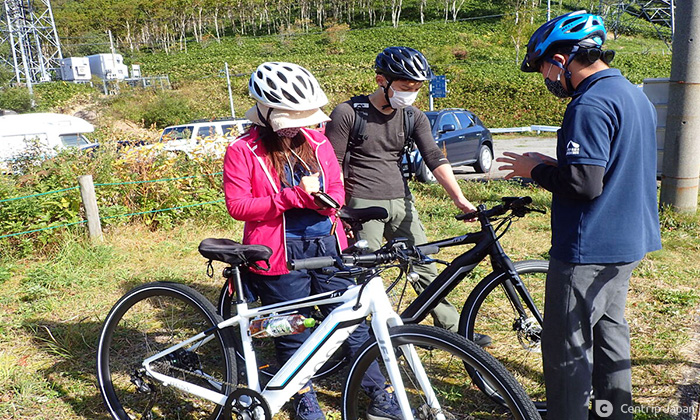 he e-bike tour is about 15km long, and the cycling starts from 1600m to Tataimidaira Parking Lot (2,702m). It is an easy ride pedal, and you'll ride uphill. There are several observation points on the way, and the tour guide will give you a signal to stop your bike.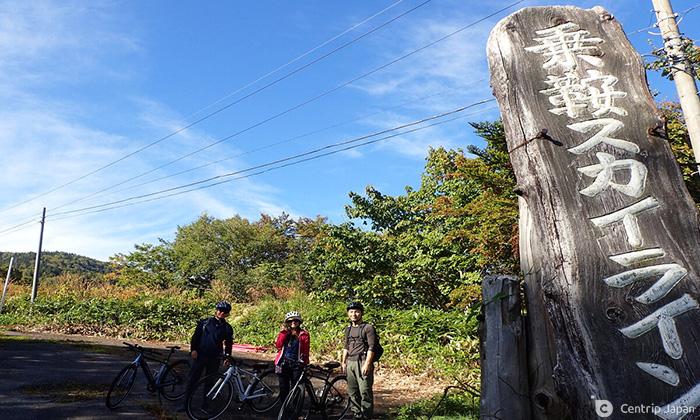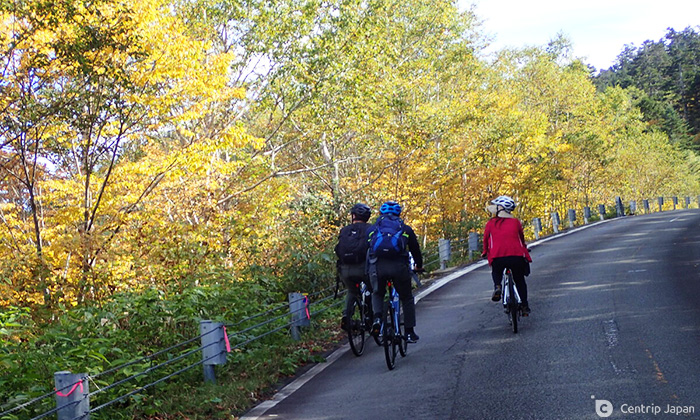 Don't worry about rushing back to your tour. If you want to take more pictures, the guide will provide you with enough time to enjoy the scenery. Support staff also takes photos for you and emails them to you afterward.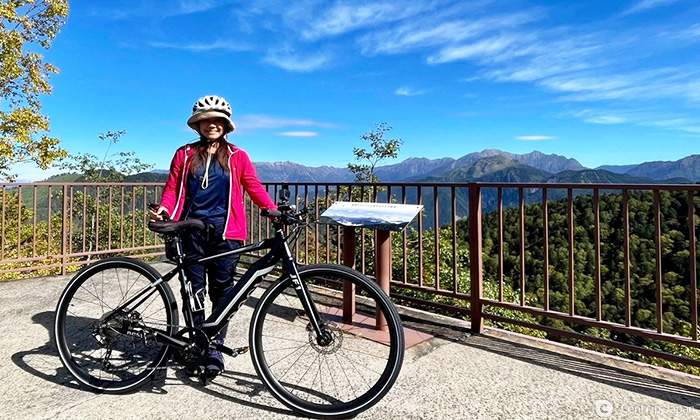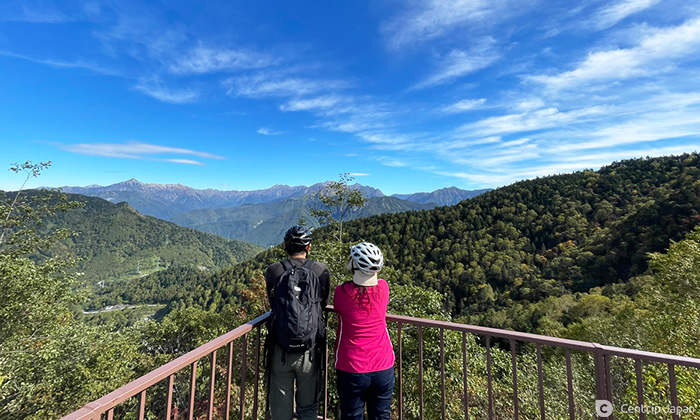 Depending on the weather, you may be able to observe a sea of clouds on the way.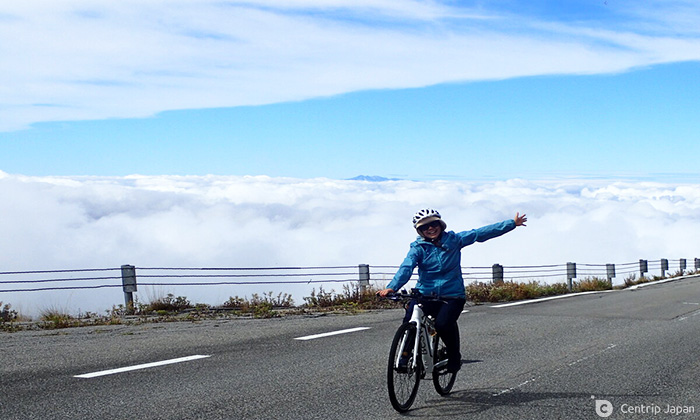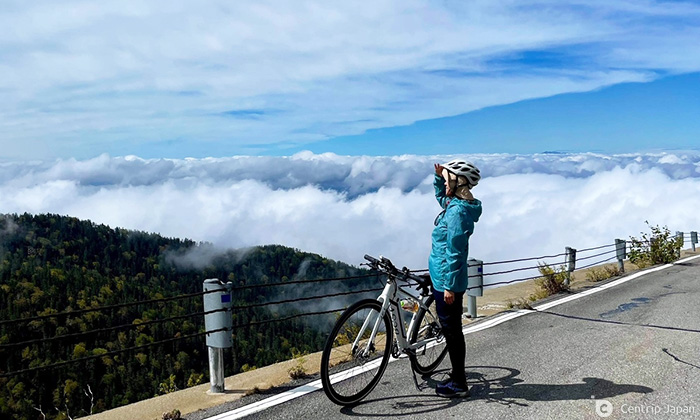 While climbing up to 1000m, the journey is scenic with changes in the landscape and marvelous autumn colors.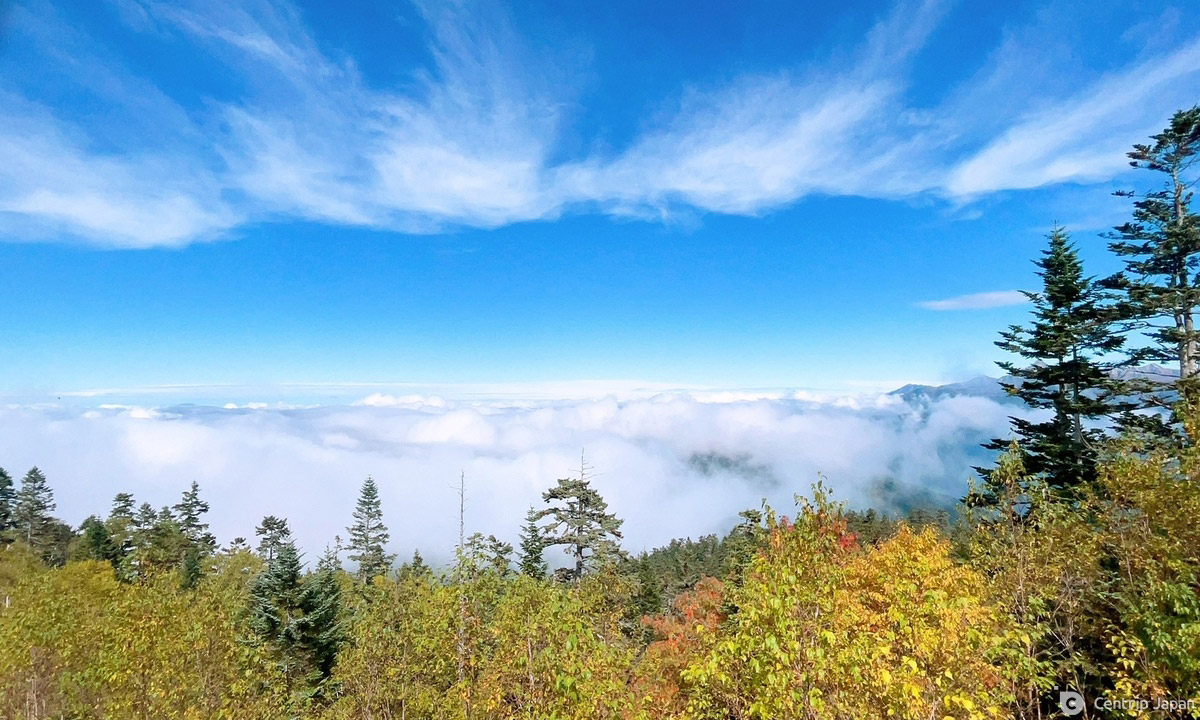 observation point with a view of stunning autumn colors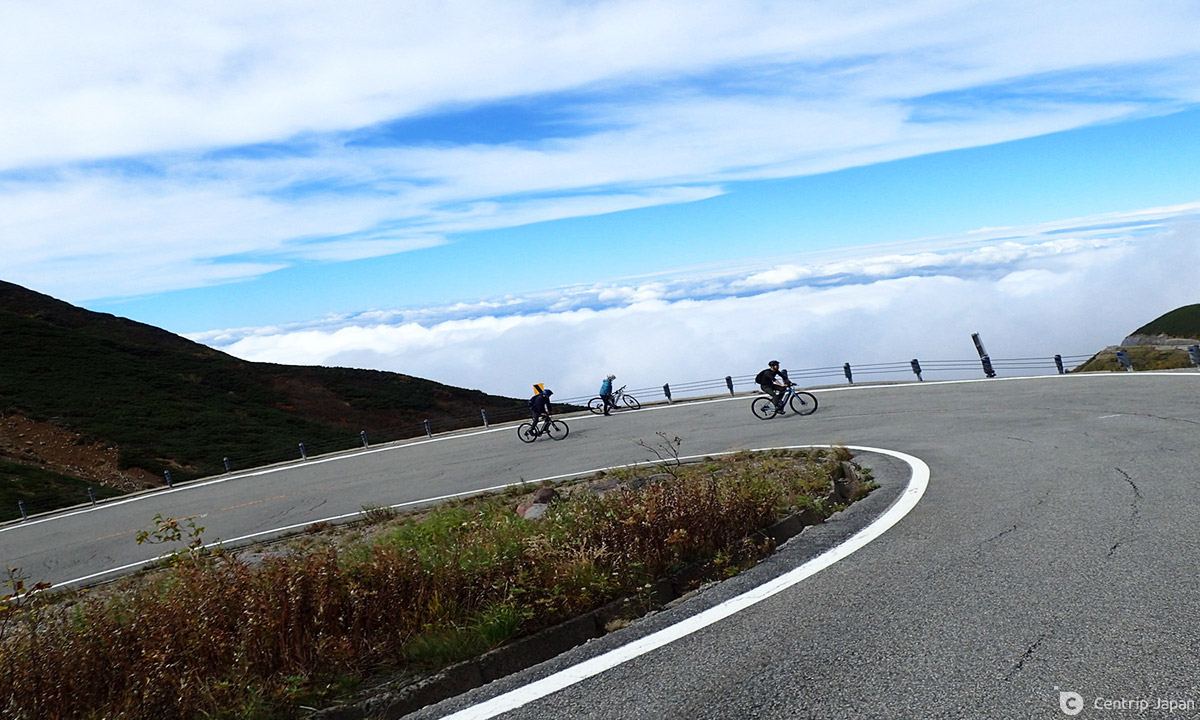 The support staff took the picture for us while we rode uphill along a big curve with the skyline at our backs!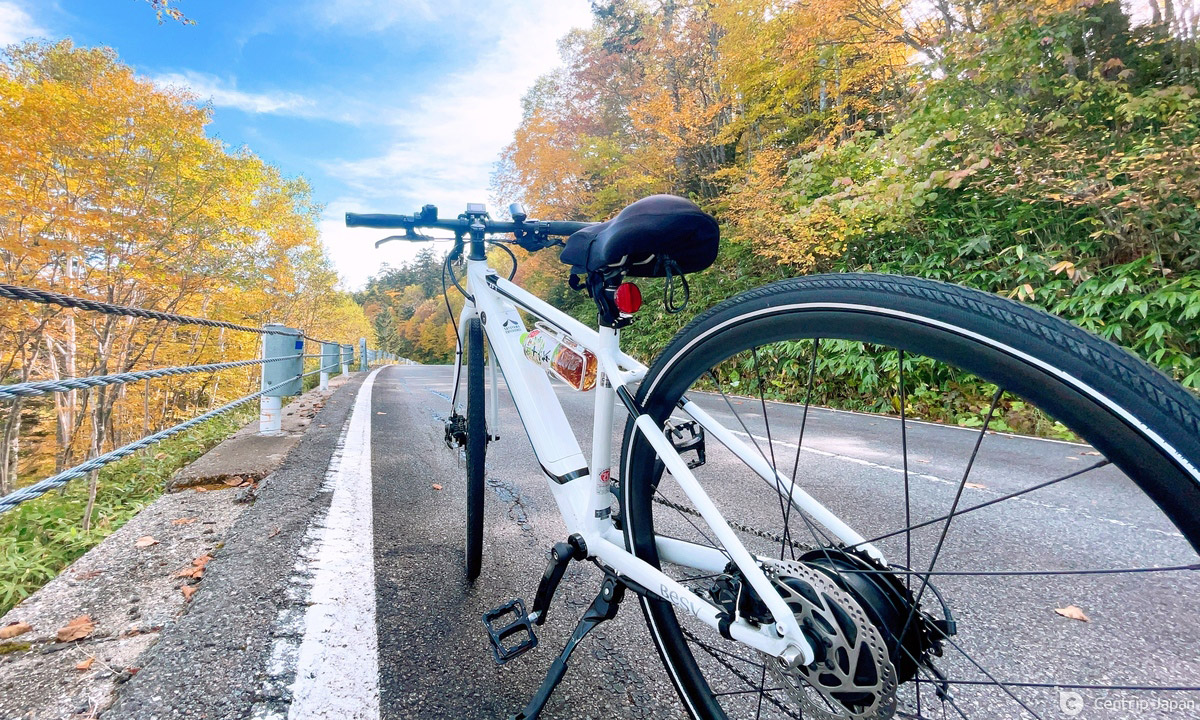 Mt. Norikura is famous in Japan for its early autumn foliage attributed to its high elevation. It is such a lovely experience to ride on an e-bike in September and enjoy the autumn colors
All in all, we felt like we were cycling in a dynamic autumn painting where we could breathe fresh air and feel the sun's warmth. It made for a very magical experience!
Norikura E-bike Tour schedule
8:40 a.m. Meeting tour guide at Honokidaira Parking Lot
8:40-9:00 a.m. Heading to Hirayutouge
(1,600m and the starting point of Norikura Skyline)
9:00 a.m. Tour begins (including stops and observation points)
11:40 a.m. Tour ends upon arriving at Tatamidaira parking lot (2,702m)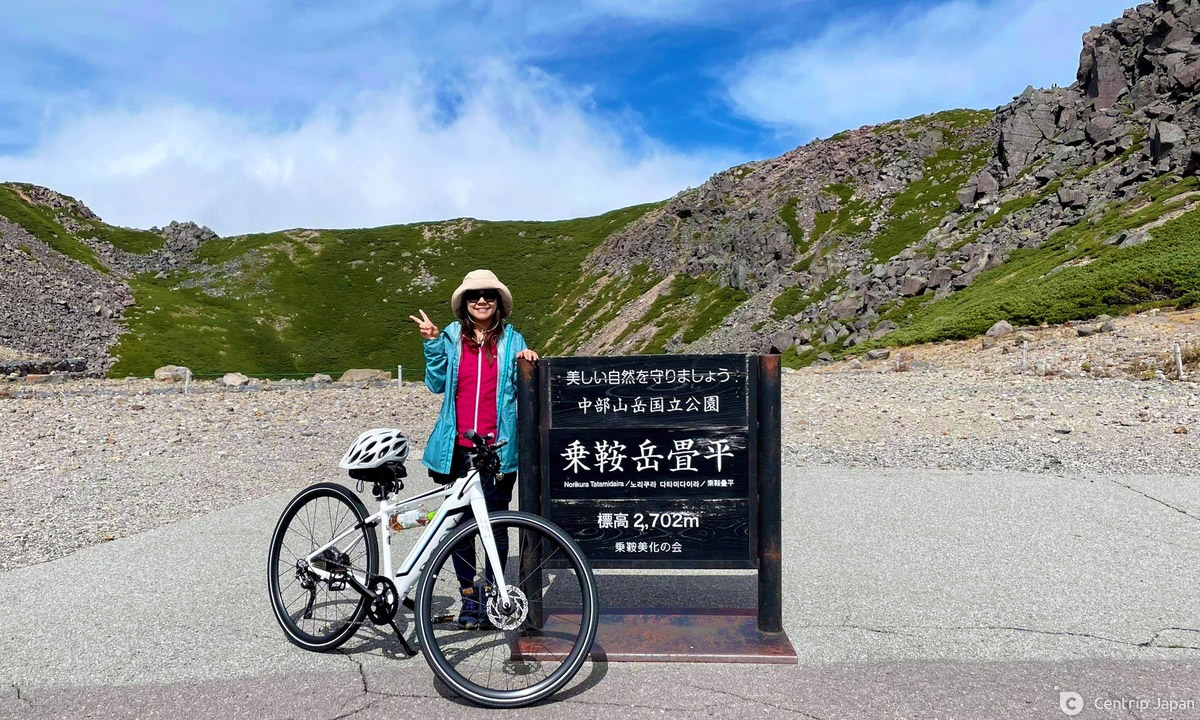 Finally, we arrived at Tatamidaira (2,702m) and finished the tour in three hours.
Preparation and clothing
In summer (Jul-Aug), the highest temperature in Mt. Norikura is 23 degrees Celsius, and the lowest is 17 degrees Celsius which makes it a perfect place to escape from the summer heat. However, the weather in the mountains changes all the time, so it is a good idea to bring a waterproof jacket and wear comfortable sports clothes and shoes for cycling. In early Autumn (Sept to Oct), the highest and lowest temperatures are 17 and 7 degrees Celsius, respectively. It was windy when we arrived at 2,000 meters, so you may also want to bring a light jacket in case of sudden temperature drops. Also, bring water with you and make use of the water bottle rack on the e-bike. There are restaurants in the Tatamidaira parking lot, so it is not necessary to prepare food.
How to sign up for the tour?
Satoyama Experience accepts reservations two days before the tour date. Tours require at least two participants, so groups of two to four members are encouraged. For reservations, fill in the reservation form on the website, and you will receive an email with instructions. Please note that cancellations may occur due to severe weather conditions.
For more information related to the E-bike tour, refer to the below website: https://satoyama-experience.com/jp/activity/cycling/tour/norikura-e-bike/
For further inquiries, contact Satoyama Experience directly.
Email: reservation@satoyama-experience.com
Contact phone: 0577-73-5715
Directions to the meeting point from Takayama
From Takayama, there are two ways to access the tour meeting point, Honokidaira Bus Terminal, either by public bus or private car. It takes 40 mins by bus, and the bus fee, one-way, is ¥1,230 per person. Buses depart at 7:40 a.m. and arrive at the tour meeting point at 8:23 a.m. Alternatively, it is also possible to drive 25km to the Honokidaira parking lot from Takayama and park your car there. There is no parking fee, and driving takes approximately 35 to 40 mins.
Lunch and free time
We were hungry after the tour, so we went to the restaurants at the Tatamidaira parking lot. They serve different types of local cuisine such as the Hida beef curry and rice, Kei Chan (Grilled miso chicken), Takayama ramen, and more.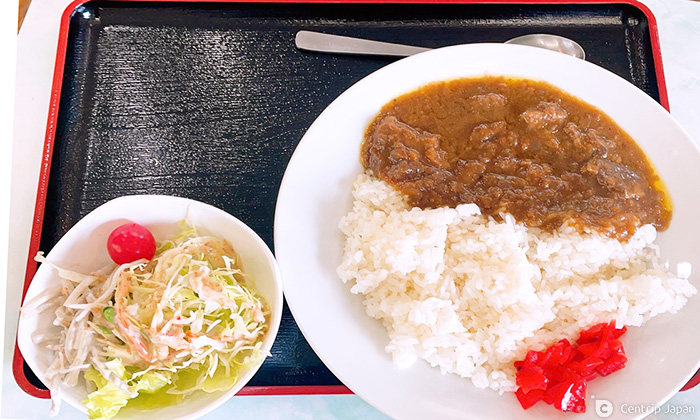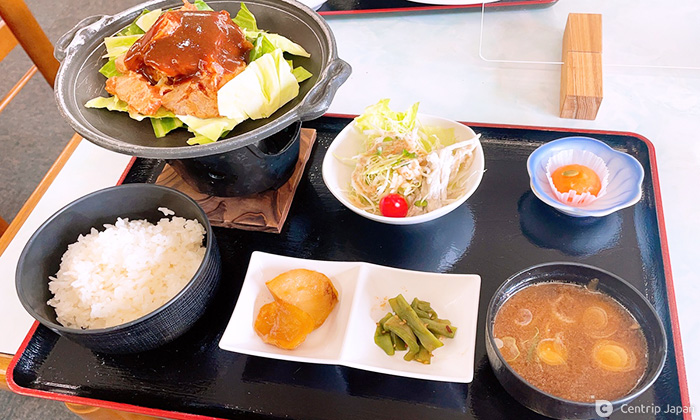 trails in Mt. Norikura, from the shortest trail, only 30 mins round-trip, or to Mt. Kengamine (3,026m), a 3-hour hike. Pick the one that best suits you.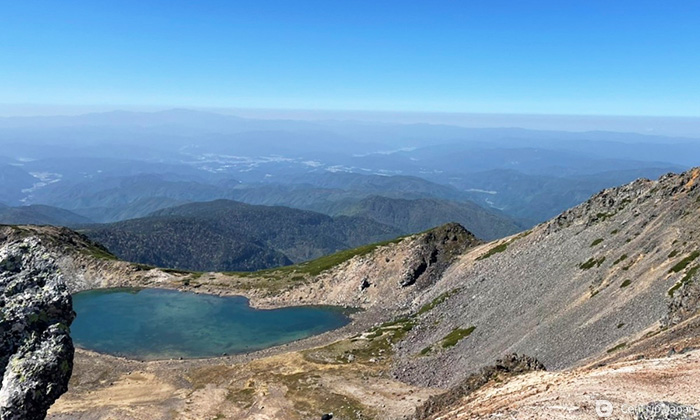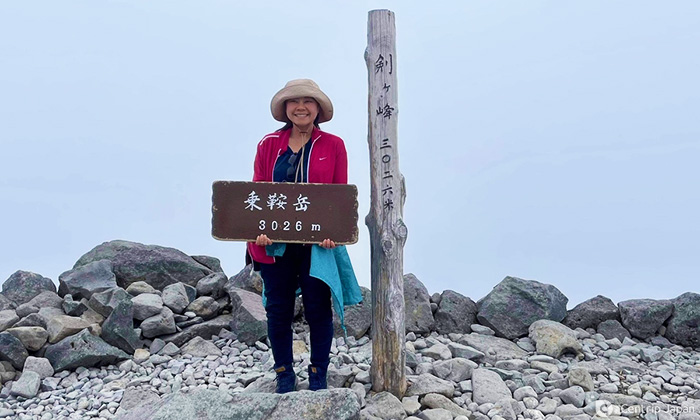 Wrap-up
Taking the Mt. Norikura E-bike tour offered by Satoyama Experience was a once-in-a-lifetime experience for me. It was a wondrous journey to cycle on one of the highest roads in Japan while enjoying the stunning autumn colors, beautiful landscapes, and a sea of clouds! Best of all, the tour guides are friendly and experienced, explain everything and could answer all of my questions. If you are looking for a leisurely bicycle ride on the Japanese Alps and an unforgettable tour in Japan, the Norikura E-bike tour is a must-do activity in Japan. Please set aside some time for this tour on your next trip to Central Japan!
Click here to get the latest information on Central Japan.Centrip Japan - Nagoya and Chubu Information