| Centrip Editorial Board
Five of Nagano's Unique Onsen (Hot Spring) Destinations
Japan is located on the Pacific Ring of Fire, making it one of the most seismically and volcanically active countries on Earth. The rugged topography of Nagano Prefecture provides awe-inspiring evidence of the hidden powers below that have shaped the landscape above, while its abundant geothermal springs, or onsen, offer a more subtle reminder that the process is ongoing. The prefecture's incredible number and variety of natural, mineral-rich hot springs make Nagano a top pick for onsen tourism, and these five destinations are some of the best places to do it.
Hoshino Onsen Tonbo-no-yu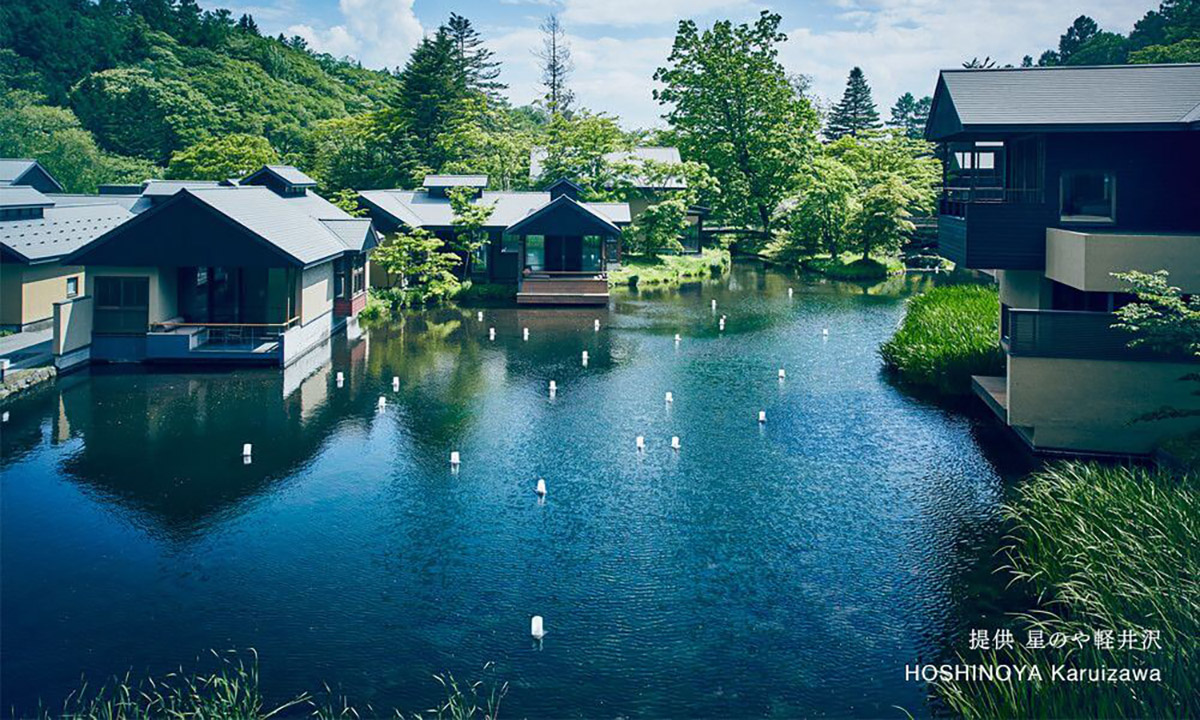 Hoshino Onsen is part of the exclusive Hoshinoya luxury resort
The first thing that stands out about Karuizawa's Hoshino Onsen is its unique setting. What started as a simple onsen more than 100 years ago is now part of Hoshinoya, a secluded luxury resort village at the foot of Mt. Asama. Ordinarily, places like this are reserved for the exclusive use of overnight guests, however, Tonbo-no-yu thankfully bucks convention and is open to the general public for day use.
Gazing out at the quiet forest and breathing the fresh mountain air as you approach the building's sleek, modern exterior is an apt prelude to the tranquility that awaits you inside. The elegant design aesthetic flows seamlessly into the facility's vaulted interior, where large floor-to-ceiling windows perfectly frame the cedar-lined indoor bath, connecting you to—rather than separating you from—the seasonal beauty outside. A sauna and cold-water bath round out the indoor options, while an attractive open-air outdoor bath, bordered by large stone slabs, lies just on the other side of the glass.
The refined, relaxing atmosphere created by the stylish and thoughtful design is more than matched by the quality of the hot spring itself. All of the baths are fed directly by a 100% natural spring flowing continuously from the underground source. The water is never diluted, filtered or recirculated, and is even drinkable—a testament to its purity. Tonbo-no-yu has earned recognition for the gentle, soothing properties of its spring. In particular, the mineral content of the spring is reputed for its ability to cleanse, moisturize and promote healthy skin.
Hoshino Onsen is open year-round and surrounded by a variety of sightseeing spots and other notable attractions and activities that Karuizawa has to offer. With so much to do nearby, smooth and easy access thanks to the Hokuriku Shinkansen, and the rare opportunity to indulge in an onsen on the grounds of a high-end resort, a visit should be high on your priority list.
Tateshina Onsen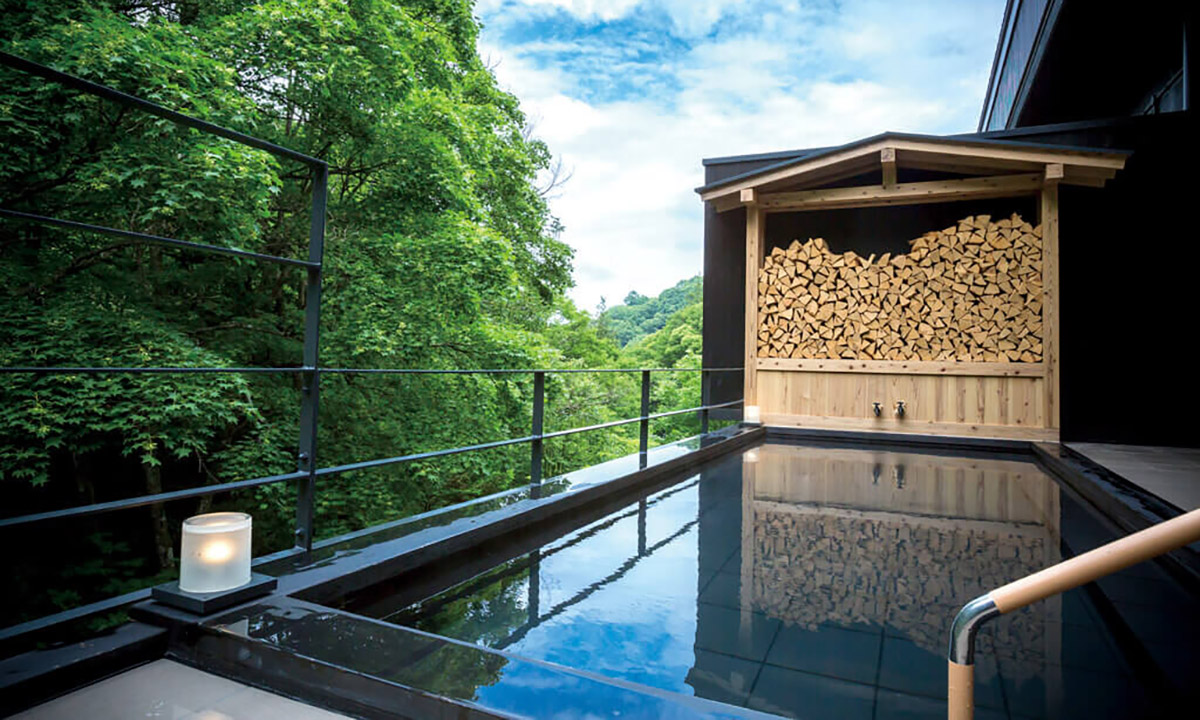 One of the five open-air baths available at Tateshina Shinyu Onsen
© Hotel Tateshina Shinyu Onsen Since 1926
The "Tateshina" in Chino City's Tateshina Onsen refers to the massive mountain in whose shadow it stands. The impressive cone-shaped stratovolcano has long been dormant, but the area around it continues to be a hotbed of geothermal activity. Here you can find an extraordinary number and variety of onsen, whose waters display a wild array of colors, textures and mineral compositions. Some of the springs here have been drawing visitors for possibly a millennium or more: a notable example being the powerful samurai-era warlord Takeda Shingen who is credited with recognizing and popularizing the healing properties of some of the springs found here.
Tateshina Onsen is the umbrella term used to reference the many onsen located throughout the greater Tateshina Kogen area. This vast highland area is situated several hundred meters above the valley floor and stretches multiple kilometers in all directions. It is a beautiful area blessed with lush and abundant nature, where you're never far from the next river, forest, waterfall, or outstanding scenic view. It's a wonderful environment to spend time relaxing in warm, therapeutic waters.
For the most part, the hot springs here are administered by high-class resort hotels, luxury onsen ryokan (Japanese style inns), modest guesthouses, and even public bathhouses scattered from one end of the highland to the other, ranging in elevation from 1,200 to 1,900 meters above sea level. Almost all facilities are types of accommodation, but most also open their hot springs for day use. Each one offers a combination of multiple indoor and outdoor baths.
Tateshina doesn't garner as much attention as some of Japan's celebrated onsen areas, despite the quantity, quality, history, and beauty of its thermal pools. Perhaps this comes down to the lack of centralization. Tateshina Onsen is not your classic, compact onsen-gai (onsen town), where visitors shuffle about from place to place in yukata (casual summer kimono) and geta (wooden sandals). Here most of the bathing options are separated by distances too great to walk, especially if you're wearing wooden sandals.) Instead, Tateshina Onsen appeals to those who are looking to get away from it all and turn their next hot spring experience into an onsen expedition.
Hachimen Daio Ashiyu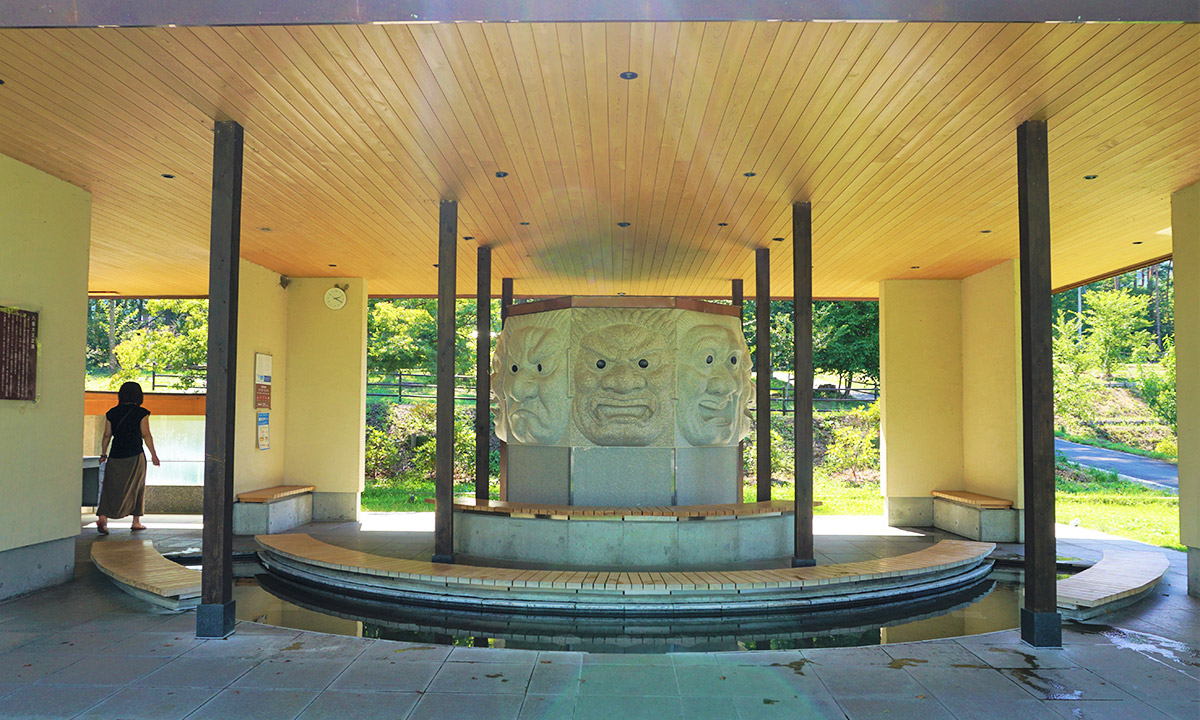 The pillar with eight different carved expressions
This free-to-use hot spring ashiyu (footbath) in Azumino City is popular with hikers, locals, and visitors to the area with tired feet and time to kill, and is a great place to rest during or wind down after a day of sightseeing. It's also a way to dip your toes into onsen culture (literally) if you're still new to the scene and not quite sure if you're ready to take the full plunge.
The footbath is located on a pleasant grassy plot a short distance from the full-service Shakunage no Yu onsen facility. The name and design of the footbath are inspired by an important figure of local Azumino folklore, whose legend lives on some 1,200 years after his death.
The popular Daio Wasabi Farm is named after him, in part because his torso is reputedly buried there. I know what you're thinking, but no, no part of Hachimen Daio's body is buried near the footbath, but the pillar standing at its center, adorned all the way around with eight different carved expressions, pays tribute to this beloved local hero. Hachimen literally translates to "eight faces," while Daio means "great king." The covered footbath is open throughout the year and hot water circulates through it between the hours of 10:00 a.m. to 8:00 p.m.
Togura Kamiyamada Onsen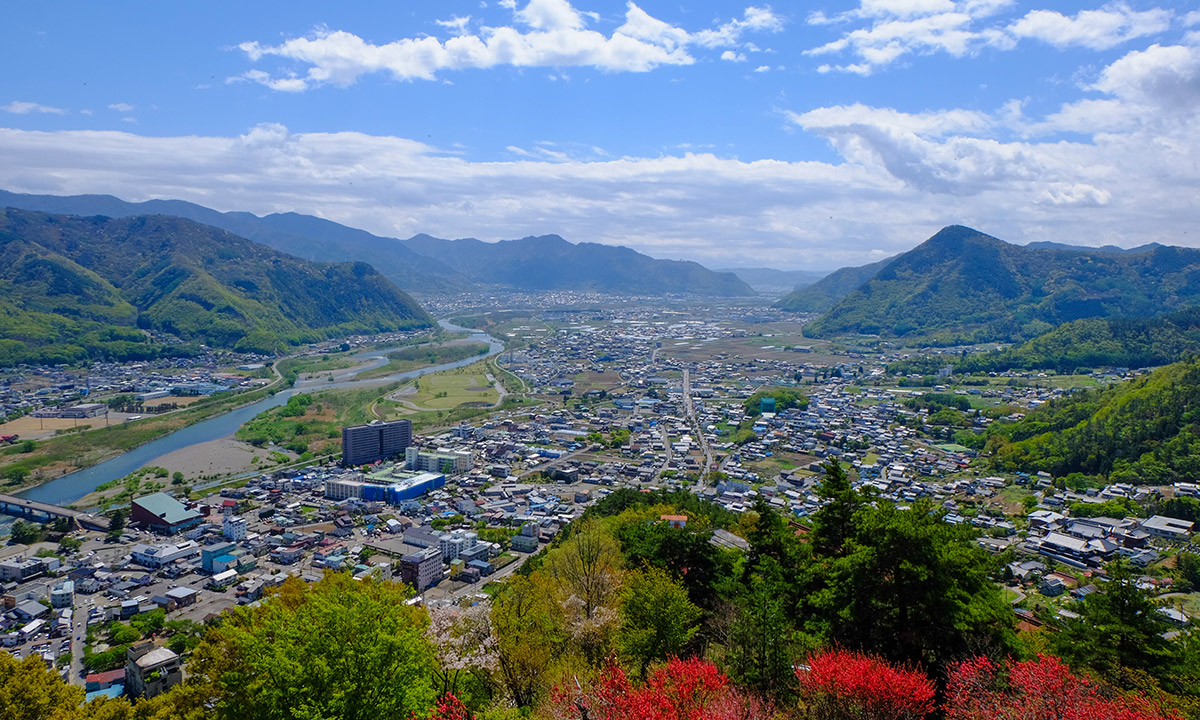 Togura Kamiyamada Onsen and the Chikuma River
Togura Kamiyamada Onsen is a quintessential onsen town resting on the banks of the Chikuma River. The roughly 30 onsen-equipped accommodations here run the gamut from large resort-style hotels to the family-run ryokan and everything in between. The area's hot springs have more than 120 years of history, and nowadays more than 50 separate subterranean sources supply multiple baths at each accommodation, as well as seven public bathhouses and several footbaths sprinkled through the town.
Here a walk along the narrow streets that crisscross the town is often met by the subtle stream of sulfurous fumes wafting through the air. That smell, which might be irritating under any other circumstance, is a welcome element in a place like this, reminding you of the wealth of beneficial properties contained in the mineral-rich springs. Despite the harsh smell of sulfur, the onsen waters themselves here are of the translucent, soft, soothing alkaline variety. You can feel the difference on your skin as you exit the bath, so it's no surprise that Togura Kamiyamada Onsen is widely known for its skin refreshing and rejuvenating prowess.
The town prides itself on its status as a favorite stopover spot for the faithful making visits to Nagano City's Zenkoji Temple, some 20 kilometers to the north. Zenjkoji's status as one of the most important temples in all of Japan means that visitors often come from far and wide to worship in its ancient halls. Extended travel can be tiring, and this is a great place to spend a day or two.
The baths are of course the main draw, but the retro-style, onsen town vibe is endearing, and the generous choice in shops, restaurants, and attractions is enough to keep you entertained between satisfying soaks in skin-smoothing onsen. One of the more unique options available to visitors is the chance to be entertained by geisha, which can be arranged through your accommodation.
One final thing to note is that for a traditional onsen town it is disproportionately easy to find English information on Togura Kamiyamada Onsen. This is no accident and is due in large part to the efforts of an American expat who inherited the family ryokan along with his Japanese wife and has worked with the local community to welcome and support international visitors and the expat community.
Nozawa Onsen's 13 Communal Onsen Baths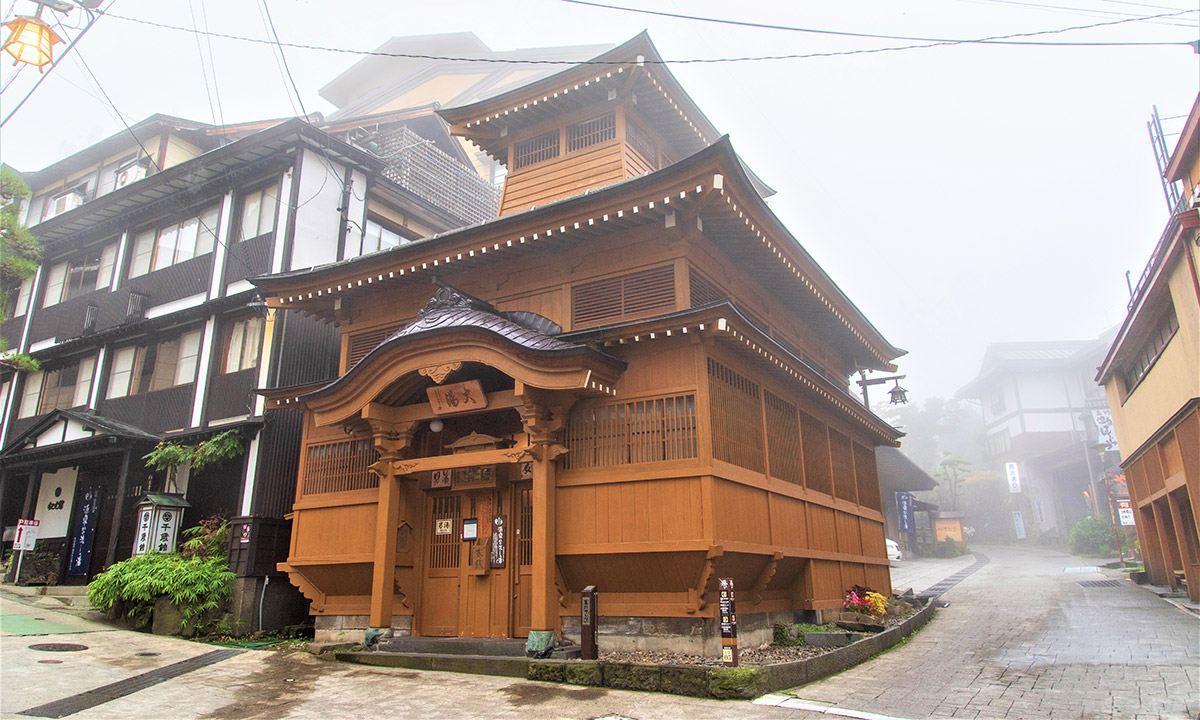 The quaint atmosphere of Nozawa Onsen's symbolic public bathhouse O-yu
Nozawa Onsen lies to the northeast of Iiyama City, at the base of Mt. Kenashi. For the majority of the year, it is a typical, quiet village like so many others in Nagano Prefecture. But as summer fades to fall and fall gives way to winter, the sleepy village comes alive with visitors flocking to its increasingly popular ski resort. Yes, the snow is fantastic, but there's another major reason for the resort's continued success: the unique character and charming atmosphere of its village.
Nozawa has all of the standard lodging options with in-house hot spring baths, but the main stars of Nozawa's onsen scene have always been its soto-yu. Soto-yu are free, communal onsen baths traditionally maintained and used by locals as either primary or supplementary venues for their daily bathing routine. The village is relatively compact and features thirteen of these communal baths in total, so most houses and lodges are within proximity to at least one. Luckily you don't have to be a resident to enjoy a dip in one of the baths (and a dive into the deep end of authentic onsen culture.) You should, however, always be respectful.
Most public baths are housed in stylish wooden buildings, each of a different design, and are separated into men's and women's sides. The interior has a small area for you to remove and store your clothing and a small bathing area. Several of the bathhouses feature two side-by-side tubs, with one labeled as being hot and the other as mild, but as a general rule - they're all hot. Some of the baths are over 50 degrees Celsius, so after washing, be sure to test the water and not jump straight in. The temperature, pH, mineral content, and reputed health benefits differ from place to place. No soap, shampoo, or towels are provided, so you'll need to bring your own.
Leaving your hotel and walking the streets with a basket of hygiene products in tow to take a bath with strangers might seem like an odd concept, but public bathing is the perfect intersection of Japan's love of onsen and the value placed on communication and cooperation in small, agricultural communities like this one. If you have the opportunity to visit Nozawa Onsen, you absolutely should experience this aspect of the local culture at least once. Maybe even thirteen times.
Click here to get the latest information on Central Japan.Centrip Japan - Nagoya and Chubu Information