| Bonnie Chow 
Local Tips: Shirakawago's Light Up Event
Ogimachi in Shirakawago is well-known for its beautiful winter scenery with thatched-roof houses blanketed in snow. It also became a UNESCO world heritage site in 1995. Gassho-zukuri refers to houses with wooden beams that form steep roofs that resemble two hands in prayer, designed to endure heavy snowfall in winter. Shirakawago has gained an outstanding reputation worldwide in recent years, thanks to frequent sharing on social media of their Shirakawago lit-up in winter. In this article, we'll let you know some great tips and places to visit in Shirakawago during the winter, both day and night so you can prepare for your trip.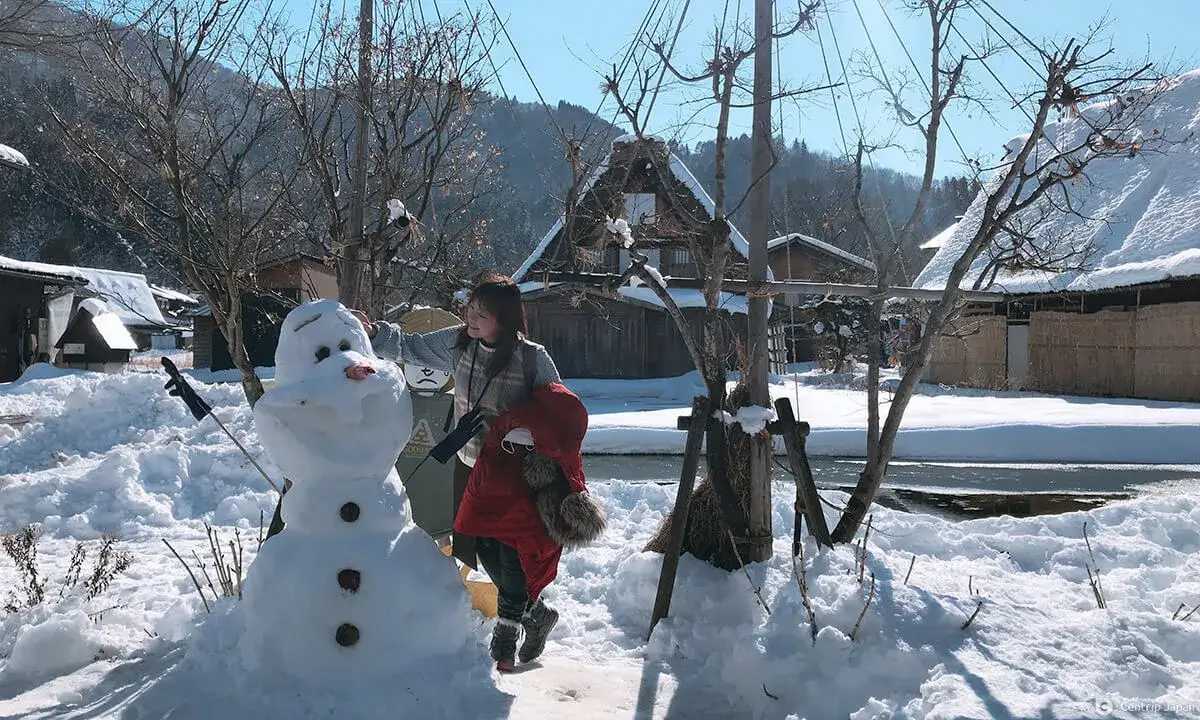 Olaf in Shirakawago
What makes Shirakawago unique in winter?
Reason one: Exceptional winter scenery
Shirakawago is 500 meters above sea level and has plenty of snowfall in winter. The heaviest snowfall in Shirakawago's history was three meters deep, and the highest snowfall on record this year was around 2 meters deep. The observation point gives panoramic views in winter of snow-capped mountain ranges, snow-covered gassho houses, and a clear blue sky to create impressive and picturesque scenery.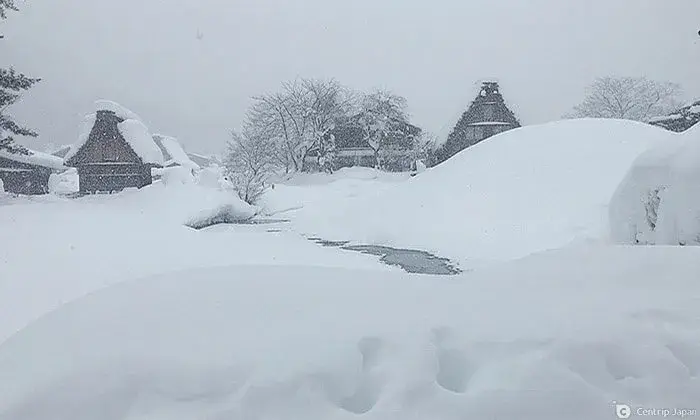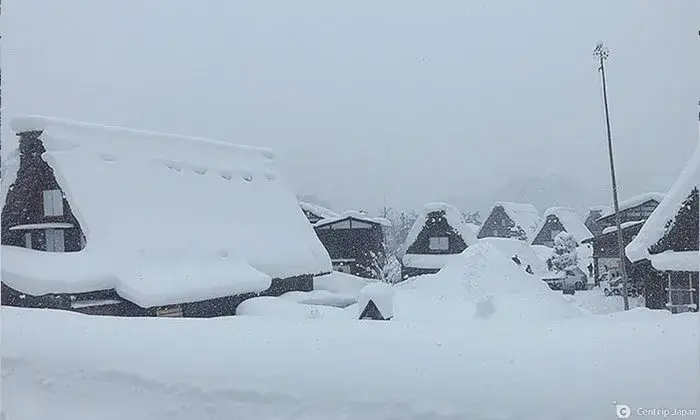 Reason two: Light up event
Shirakawago light-up events are held every year in January and February as one of Japan's most popular events. Pre-pandemic, Shirakawago attracted over 8,000 tourists in a single night, but since 2019 it cannot be visited without a reservation. The night scenery in Shirakawago is so breathtaking and magical that you'll feel like you've stepped into Disney's Frozen.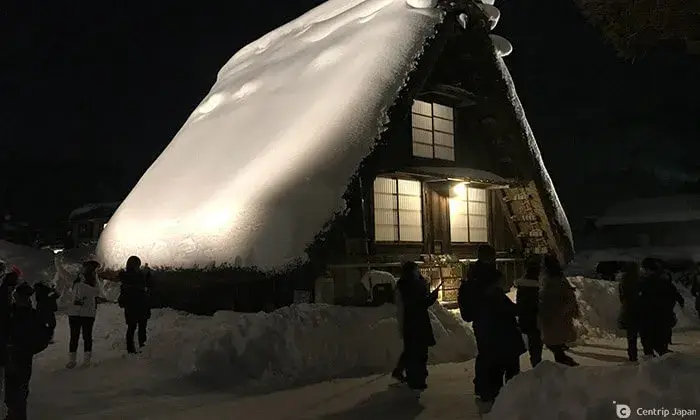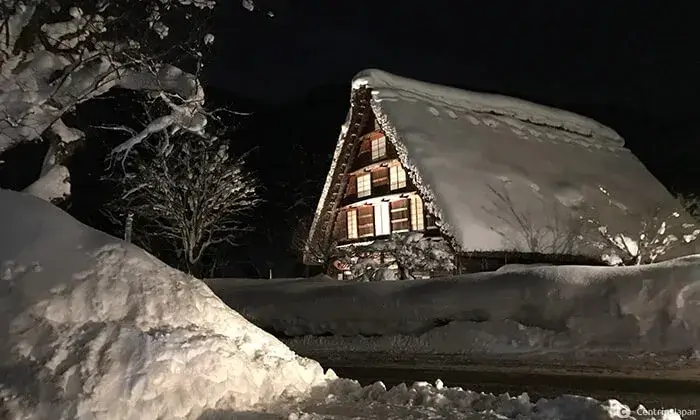 Reason three: A lively village in the real world
Shirakawago is a lively village of about 600 people, with around 100 traditional gassho-style houses. Gassho homes can withstand harsh weather. Everything you see, from the materials to the orientation of the homes, demonstrates how people survive and adapt to extreme weather even today. During the winter, they are covered in thick snow look like gingerbread houses with icing. Visiting Shirakawago in the winter is more than just taking pretty pictures; it's also a great way to learn how the villagers sustain a traditional lifestyle and culture while protecting the environment.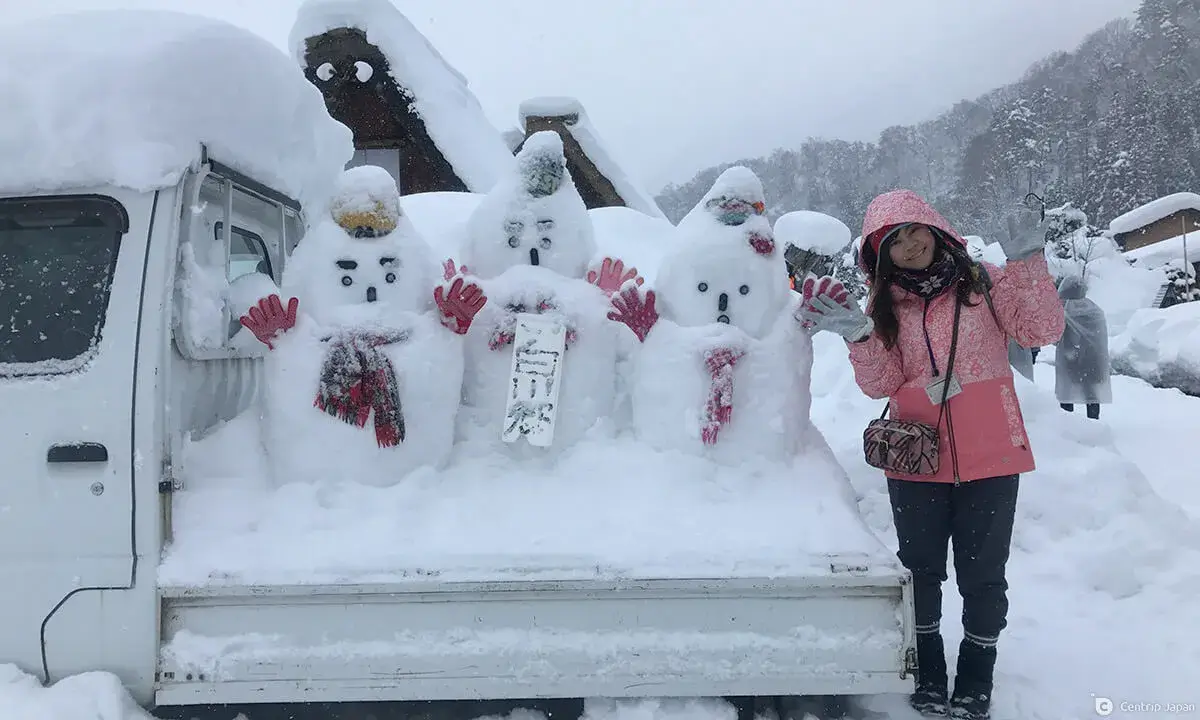 Locals make cute snowmen to entertain visitors
Weather and Wear
Shirakawago's winter season lasts from mid-December to March. Most of the snow falls between early January and mid-February with temperatures ranging between 0 and -10 degrees Celsius. The mornings and evenings are freezing, so please dress warmly in a scarf/neck warmer, beanie, gloves, thick socks, and a jacket. Because the roads are icy and slippery, get yourself some snow boots and waterproof shoes. Also, bring a power bank because battery life tanks when temperatures drop below 0ºC. Single-use heat packs are great for attending the light-up event, as the nights are cold. Please check the weather and live camera before visiting.
How to get to Shirakawago in winter?
There are no trains to Shirakawago. Public transportation, rental car, cab, or tour bus are the best options for getting there. Please see this article for more information on public transportation:
Getting to Shirakawa-go: Centrip Japan's Complete Guide to Shirakawa-go
Suspension bridge → Observation point → Wada House → lunch/coffee break → Kanda house → Myozenji Temple → Kanmachi
Suspension bridge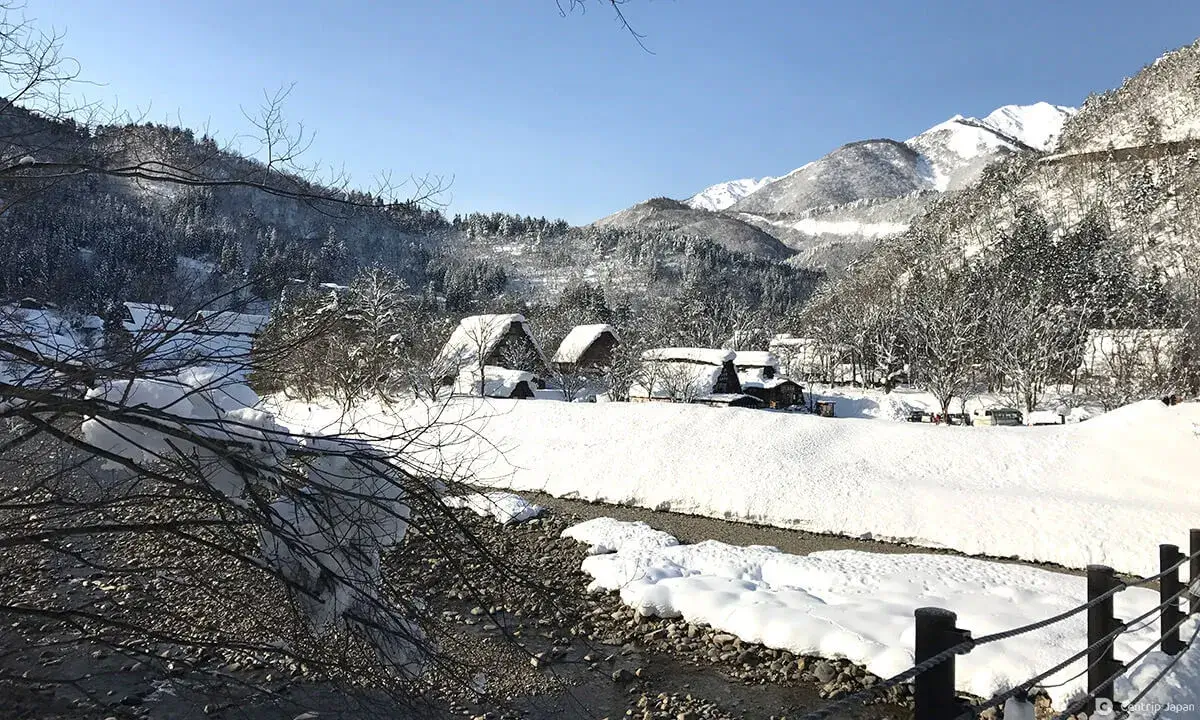 Breathtaking scenery from the suspension bridge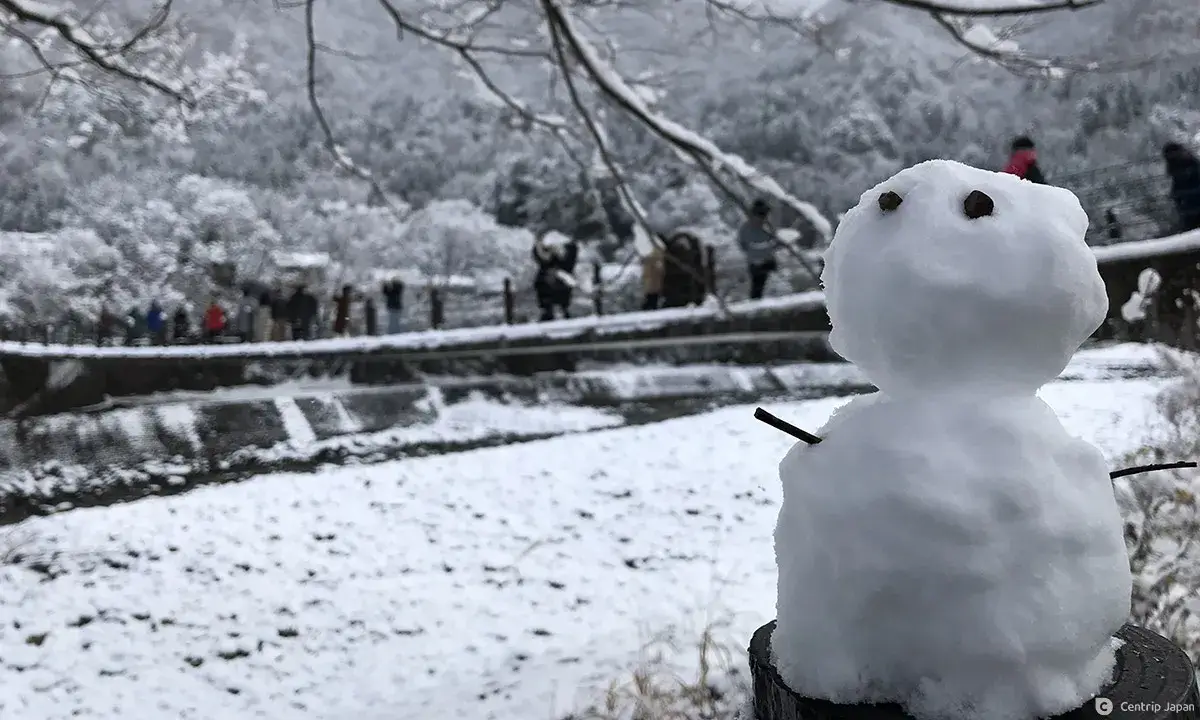 Many tourists cross this bridge in winter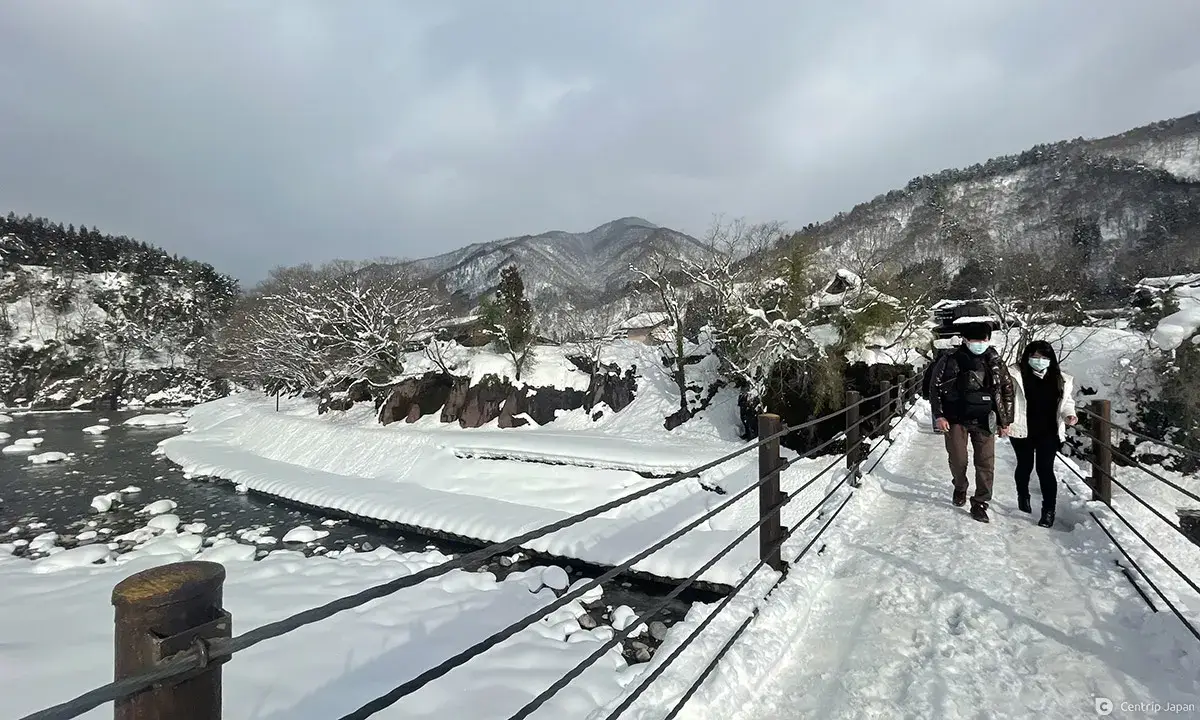 Be careful the bridge can be slippery!
The above walking course takes three hours to complete. If you rent a car or take a bus tour, you will begin your journey at the Seseragi parking lot, and the only way into the village is via the concrete suspension bridge. The scenery of the Sho river and the snow-capped mountains behind will amaze you.
Observation point
You've probably seen this photo on social media before because it's an unquestionably must-visit spot in Shirakawago. Either walk for 15 minutes or take a 5-minute shuttle bus ride to get to the observation point. Winter mornings are the best time to visit Shirakawago for serenity and to see fresh snow. We recommend visiting Shirakawago early in the morning before 9 am for the best views.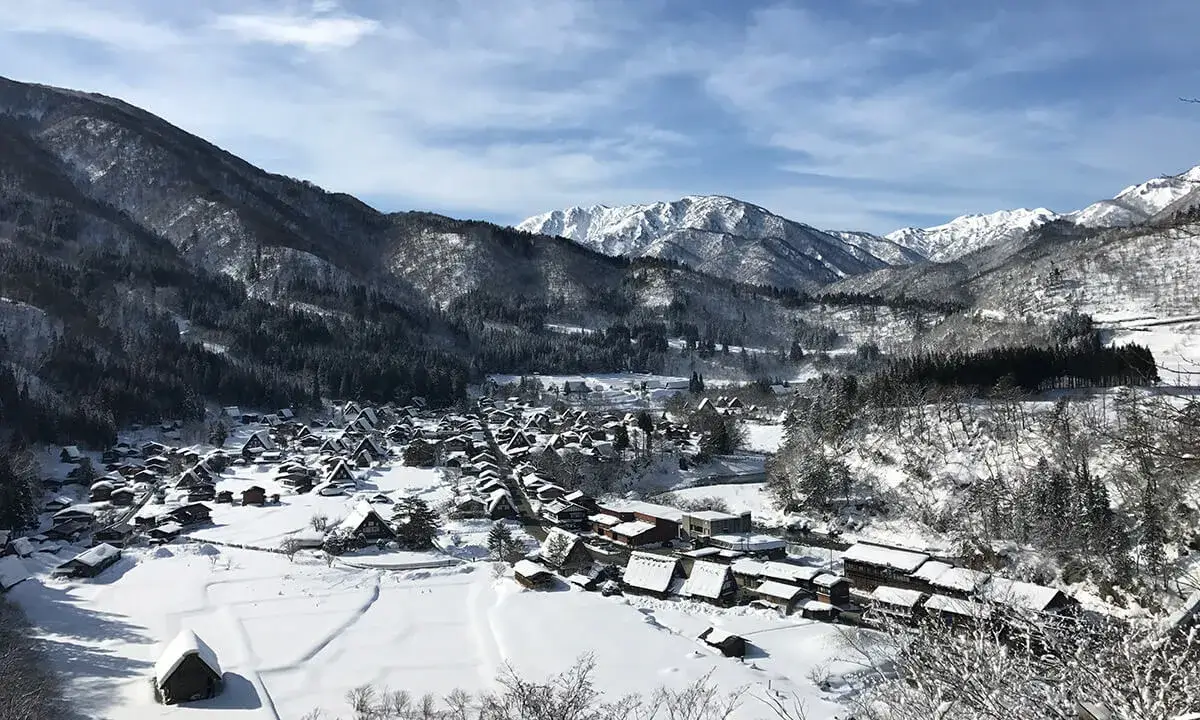 Picturesque winter morning scenery.
Wada house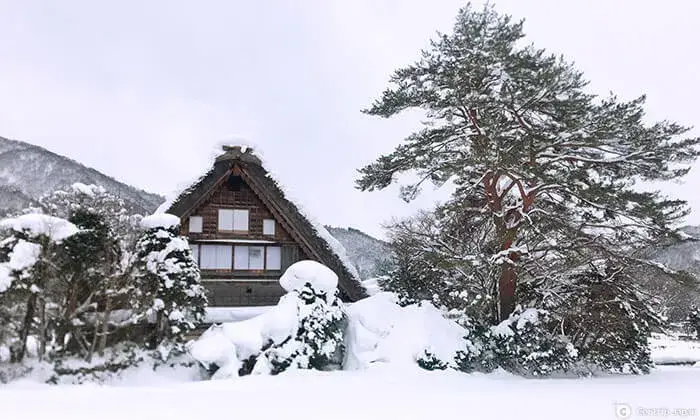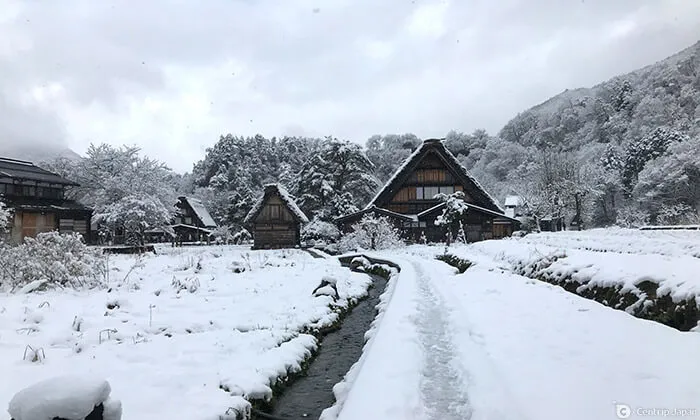 Would you like to experience how villagers in Shirakawago lived in the past? The best way is to visit Wada House and experience it yourself. Wada house is the biggest and oldest gassho house in the village and was built more than 300 years ago. It is also listed as a National Important Cultural Property. The irori (hearth) warms the house in the winter. The entrance fee is ¥300 per adult.
Kanda House
It took the Kanda family ten years to build this house. The 6th generation of the Kanda family still lives in the house and the grandmother from the 5th generation spend much of her childhood admiring the winter scenery from the windows on the second floor. The stairs are a little steep, and climbing to the top floor can be tough (4th floor). Before the pandemic, the Kanda family offered free herbal tea to visitors and a wonderful place to experience Japanese hospitality.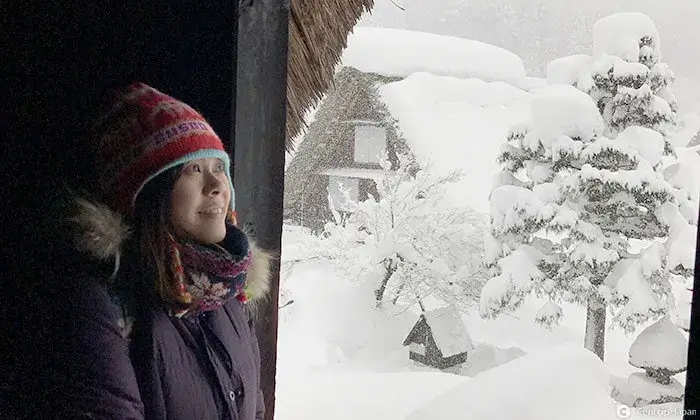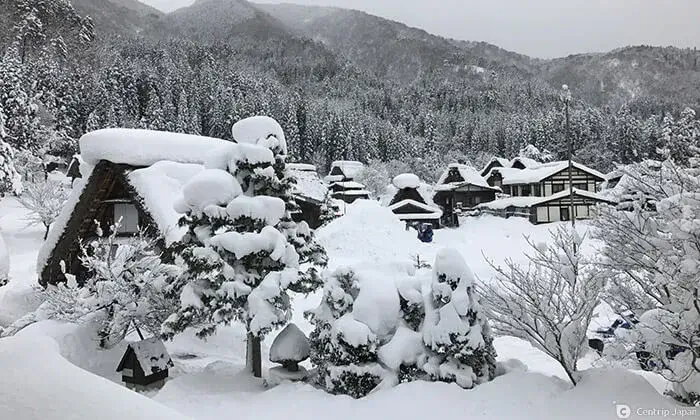 Myozenji Temple and Museum
Myozenji temple is connected to a museum that has a little cottage house next to it; these three houses are built in the gassho-zukuri style and create wonderful winter scenery. NHK, a Japanese government-owned public broadcaster, occasionally broadcasts the ringing of the Joya-no-Kane bell of Myozenji temple. The entrance fee is ¥300 for adults and ¥100 for children.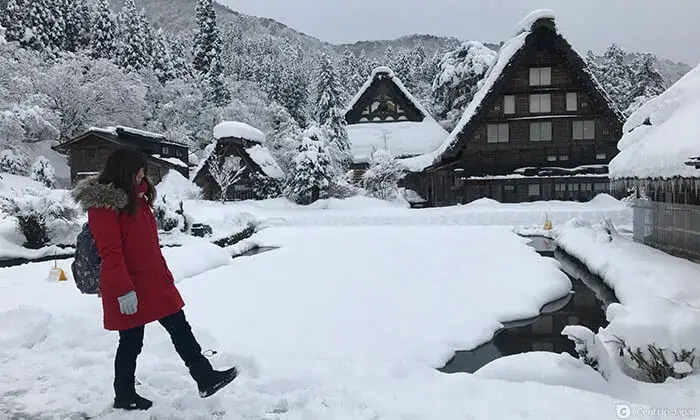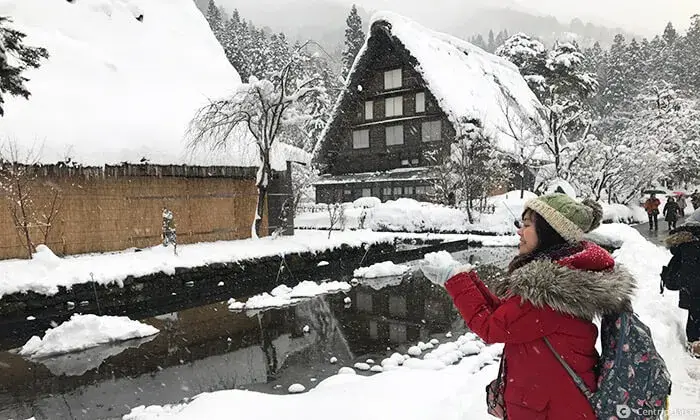 Kanmachi area
It takes 20 minutes to walk from Myozenji temple to Kanmachi area, yet the famous three houses behind the rice patty fields are great for photos, especially in winter. Do not walk on the patty as it is private property.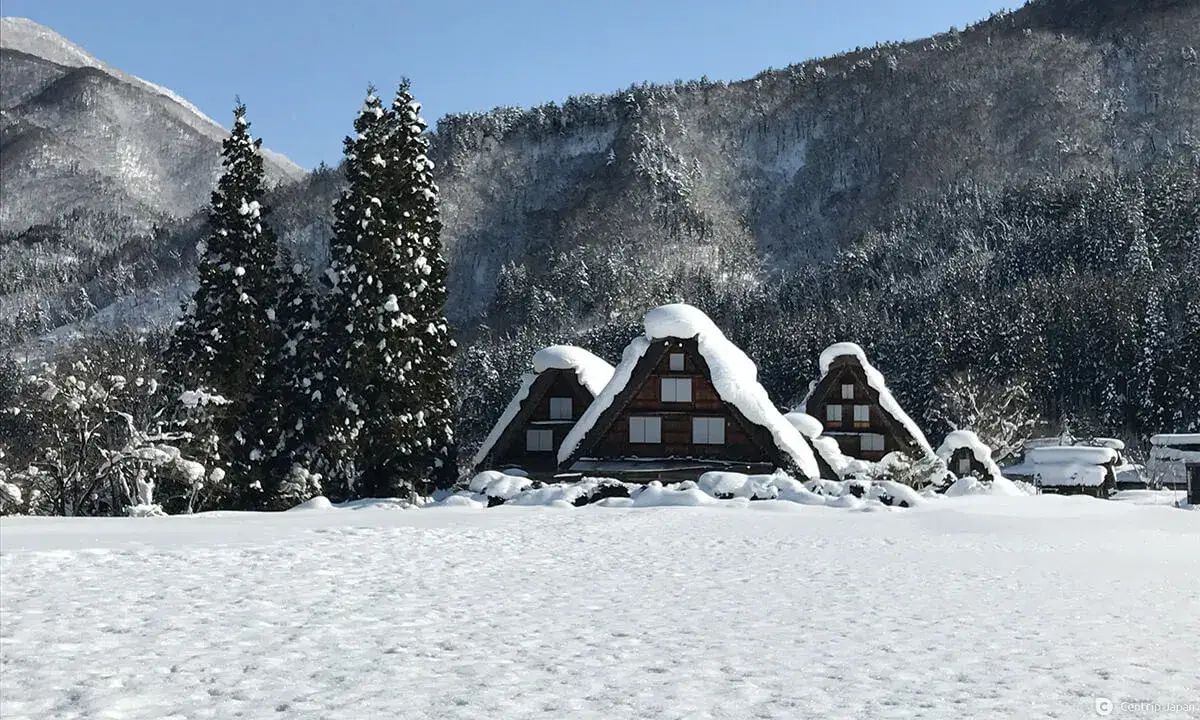 Shirakawago's signature winter scenery
Shirakawago Light Up Event
Shirakawago lights up for six nights only during the winter. Due to COVID-19, the 2021 and 2022 events were almost canceled and held only on one night, January 6 for these two years. Before COVID-19, accommodation and light-up tours were fully booked as soon as the application period began. If you would like to experience this event after the pandemic, make a reservation in advance.
There are only two ways to get access to the observation point in 2022:
-Stay one night in designated accommodation (Reservations start one month prior, please check the official website above.)
-Join a bus tour which includes the observation point tickets
Once you secure your tickets, please note the spots below to save yourself time from wandering around.
Observation point
To reach the observation point you need to walk uphill for 10-15 mins. Staff usually clears most of the snow from the path but it still takes a bit of energy to climb, be sure you wear waterproof and comfortable shoes. There are three-time slots for visitors to enter the observation point in 2022. The best time for taking photos is around 5:30-6:00p.m when the sky is not fully dark and there is a little bit of blue light. If you are a photo aficionado remember that tripods are not allowed at the observation point.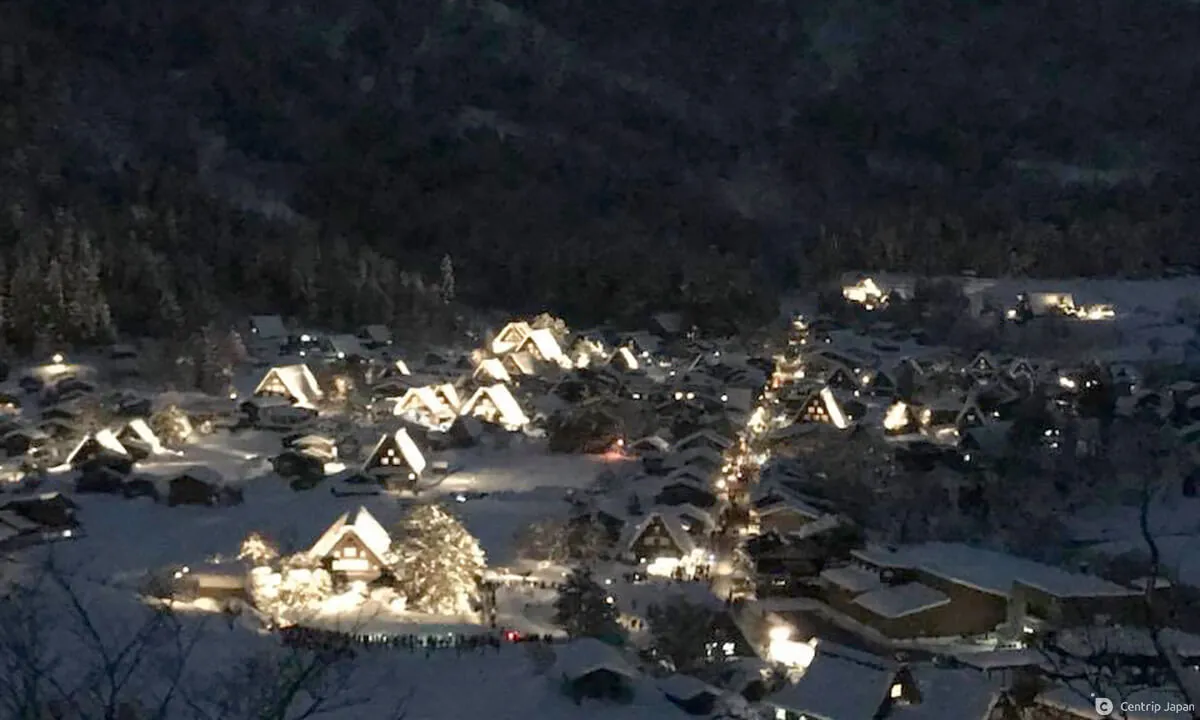 Picturesque scenery from the observation point
Myozenji Temple
As mentioned above, the three gassho houses at Myozenji look exceptional at nighttime along with the reflection in the patty's frozen water. There is a little path next to the house and if you walk up the hill you will be greeted by amazing scenery in front of you.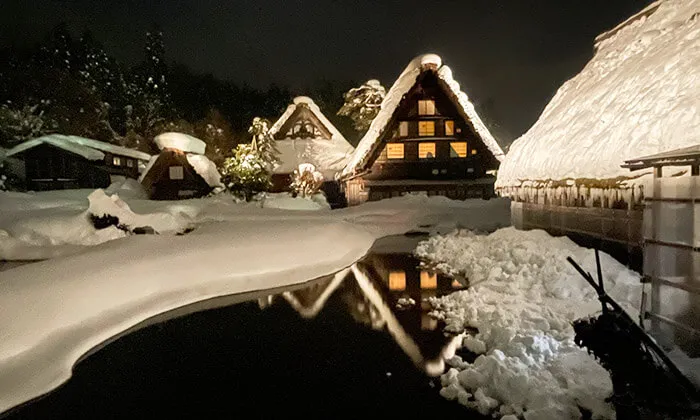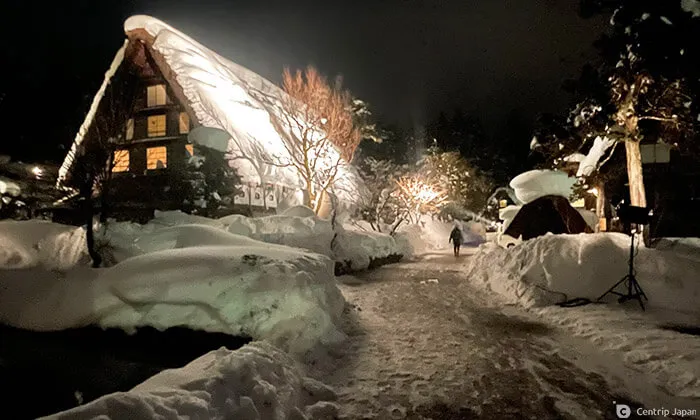 Kanmachi Area
It takes 20 minutes from Myozenji to the Kanmachi area and pictures in this area often appear in promotional material.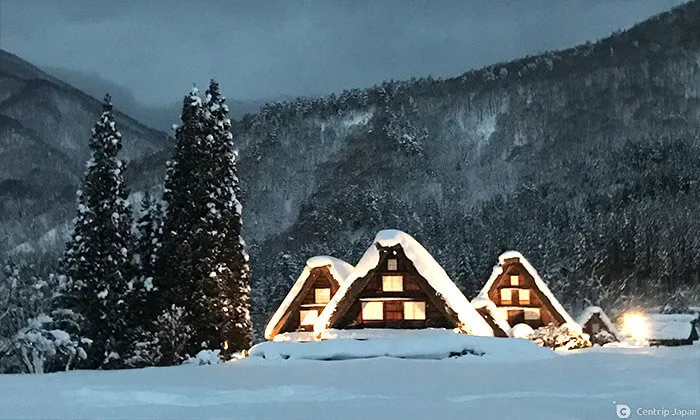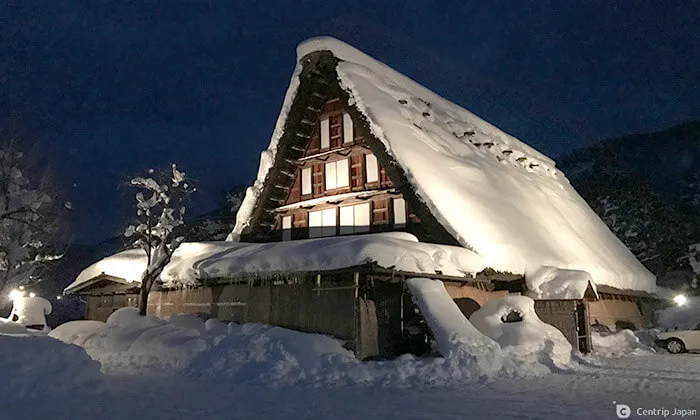 Coffee or lunch break
Kyoshu a Traditional Coffee Shop
Located in the middle of the village, Kyoshu has a statue of The Thinker at the entrance and is a perfect place to take a break when traveling to Shirakawago in winter. The large window seats with heaters leave you feeling comfortable to enjoy the snowy wonderland at ease.
Nomura Soba
Would you like to try a local favorite in Shirakawago? Nomura Soba uses locally grown buckwheat flour and their soba noodles are all handmade. I still remember You'll feel much warmer after eating hot soba noodles at Nomura Soba in the winter.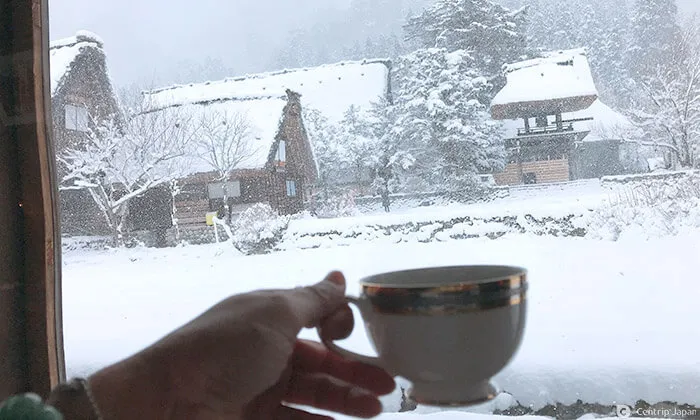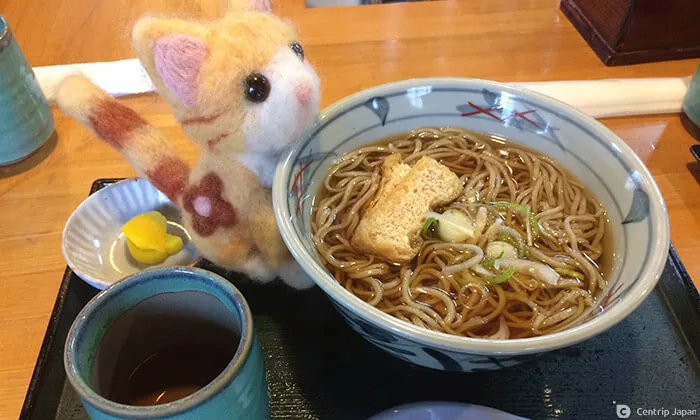 Wrap-up
It is worth paying a visit to Shirakwago in winter to admire the beauty, feel nature, as well as experience the rural culture of Japan. It is not just a dream come true but a once-a-life-time travel journey that will stay in your memory forever.
Click here to get the latest information on Central Japan.Centrip Japan - Nagoya and Chubu Information