| Hannah Tsai
The Outdoor Museum of Hida Folk Village: A gassho-style village with lots to offer!
The fairytale-like fantasy and cute gassho-style are a favorite among visitors to Japan. When it comes to gassho-style in Japan, most people only know of Shirakawa-go but, not many know of the outdoor museum of Hida Folk Village in Takayama. Many precious and important cultural properties are on display, and it is a short 10-minute bus ride from Takayama Station. This lesser-known gassho-style is only known to experts!
Gassho-style Hida Folk Village rescued from a destroyed village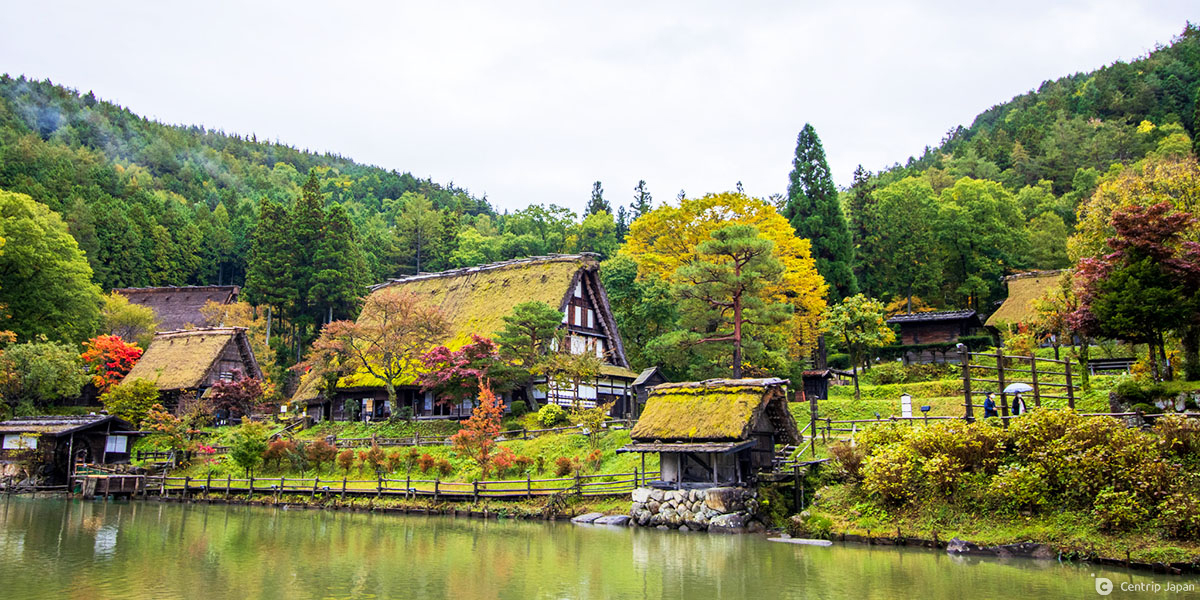 Hida Folk Village is a vast outdoor museum that has 30 gassho-style houses and large and small buildings built in the Hida area*. Walking through the village is like stepping into the past about 60 to 70 years ago. Many craftspeople are in the village weaving straw shoes, carving wood, and even doing monthly seasonal activities. Such as water drills for fire prevention, farming, etc.; time seems to be frozen, and the past lifestyles of the Hida area are authentically reproduced right before you.
* Hida area: A basin surrounded by mountains in the northern part of Gifu Prefecture, including Takayama City, Gero City, Shirakawa Township.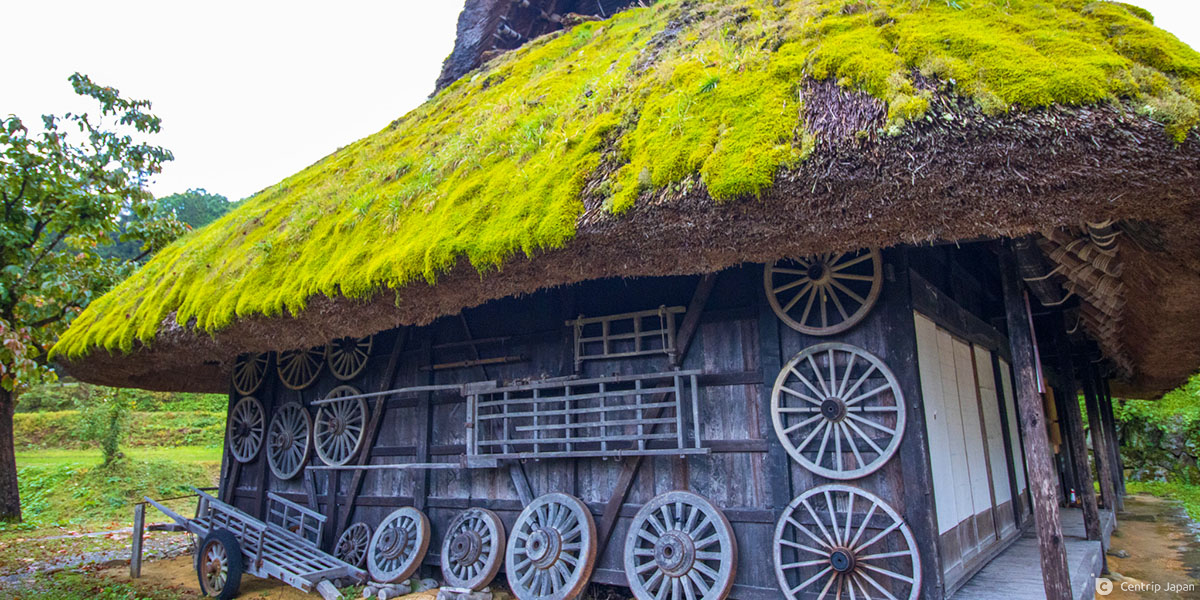 Hida Folk Village is a village with a history of about 50 years, and its reasons for existing are touching. Six or seventy years ago, due to the rapid growth of technology, the government built massive reservoirs to generate electricity, and the villages in the Hida area were on the verge of extinction. In order not to lose their precious culture, they salvaged more than 8,000 scattered folk-artifacts from all over to create Hida Folk Village.
What is the difference between Hida Folk Village and Shirakawa-go?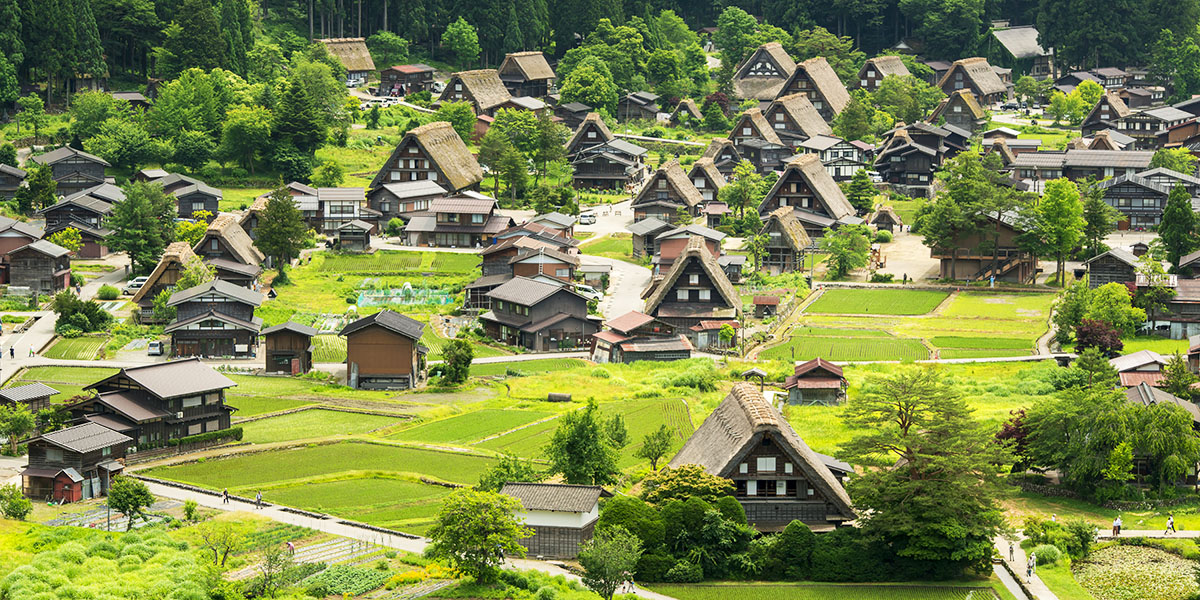 Shirakawa-go
You might be thinking: What is the difference between Shirakawa-go and Hida Folk Village?
Shirakawa Township has the largest number of gassho-style houses, and people still live in them.
While there are only 30 buildings in Hida Folk Village, there are four gassho-style buildings, which are important cultural assets, more than those in Shirakawa-go. As there are no residents in the village, you are free to enter each house. Compared to the private homes of Shirakawa-go, the buildings in Hida Folk Village are more diverse. Like the Washi (Japanese paper) making hut and grain storage.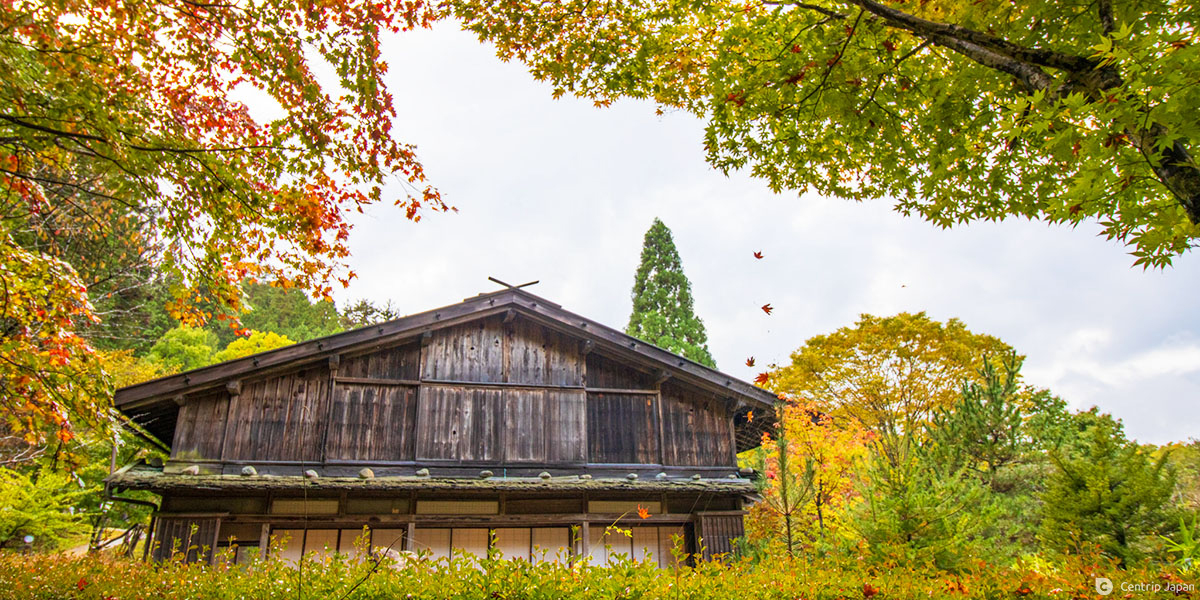 Hida Folk Village
For sightseeing, Shirakawa-go has restaurants, coffee shops, and other commercial facilities. But there are so many tourists it is almost impossible to take a picture without someone photo-bombing you. However if you want a photo of a full gassho-style village, Shirakawa-go the only option.
Hida-no-Sato is less flashy, and there are fewer visitors. So you can take your time and get as many pictures as you like without being disturbed.
Must-see spots in Hida Folk Village
Step into the gassho-style houses and discover the wisdom of the past
You can enter every gassho-style building in Hida Folk Village, and there are tools with different themes displayed in each building. You can find tools for tofu making and wood cutting tools as well as enter guest houses and the home of a Buddhist monk.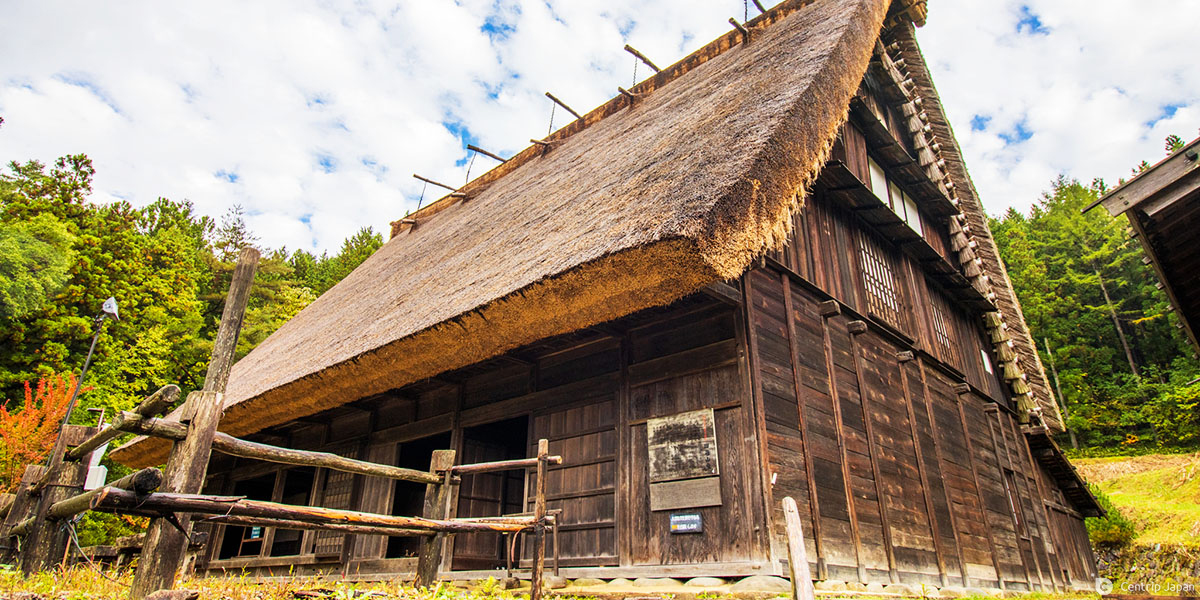 In this article, I will explain some of the more intriguing features of the Wakayama House, an important cultural asset.
Wakayama House is an important cultural asset. The exterior of the house is familiar, with its triangular roof, for withstanding strong winds and snow. The Wakayama family was wealthy in the past, and the building was so large that dozens of people used to live there.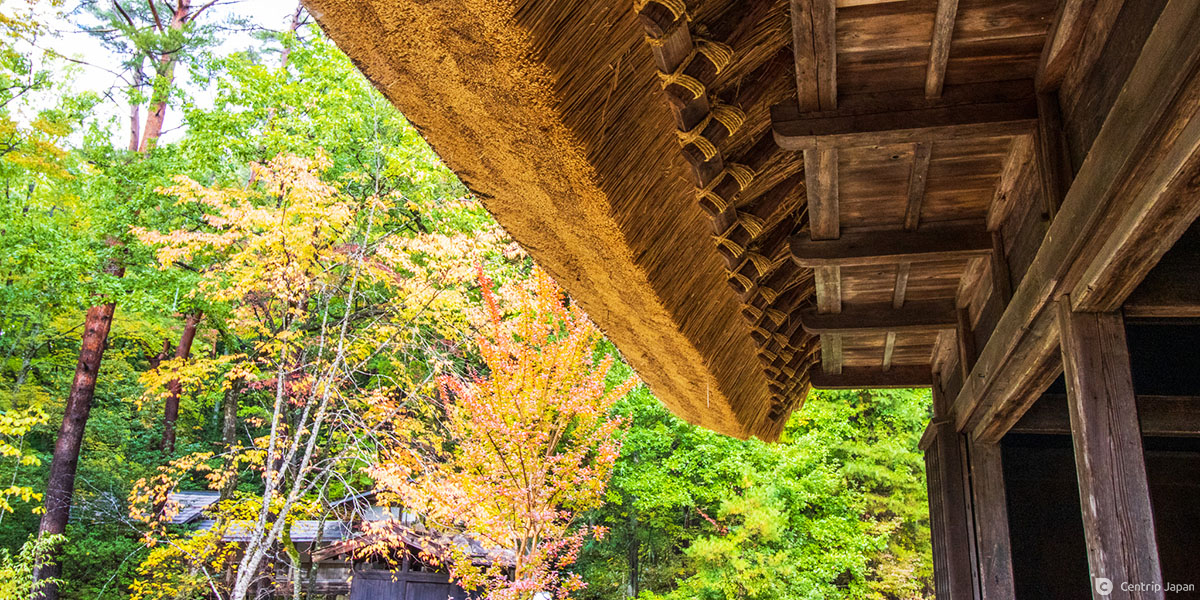 In the past, nails were a valuable item, but instead of using them, thatched straps were used with tree branches to tie them. The straps are flexible and do not loosen easily, making them more suitable for the houses than nails.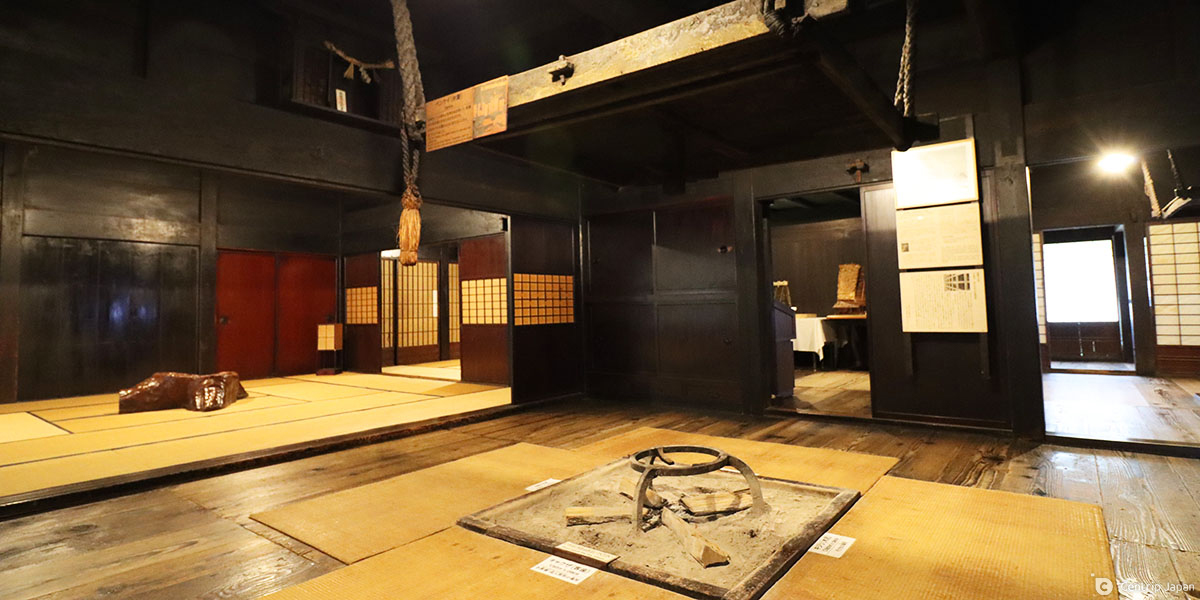 As soon as you enter, you come upon the Irori (a fireplace often seen in traditional Japanese architecture). Here residents could light a fire, dry their clothes, and cook food. Interestingly, the seats around the fireplace are designated, with the eldest family member sitting in the back, the second-oldest male or female sits near the kitchen, and the youngest child sits by the entrance.
Next to the living room are the stables, where the cows and horses lived under the same roof as people. Livestock was essential to the life of the family.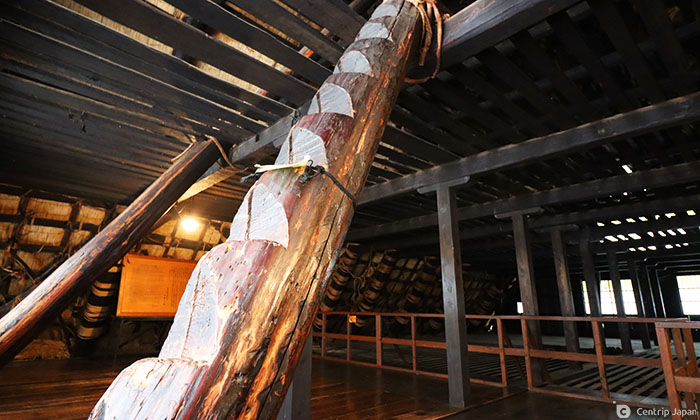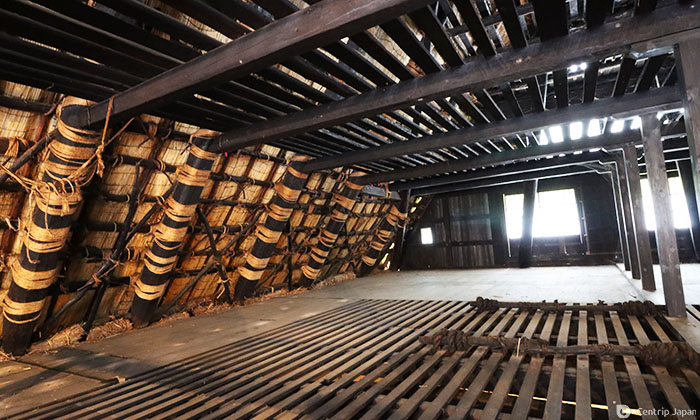 The occupants lived on the first floor, and up the steep wooden stairs on the second floor, they raised silkworms. In the winter climate, when it is not possible to work in the fields, silkworm raising and embroidery became a source of income.
Each cottage has a different function, so check the description before entering.
Experience village life first hand
In Hida, the farming techniques of the past and many unique objects will amaze you.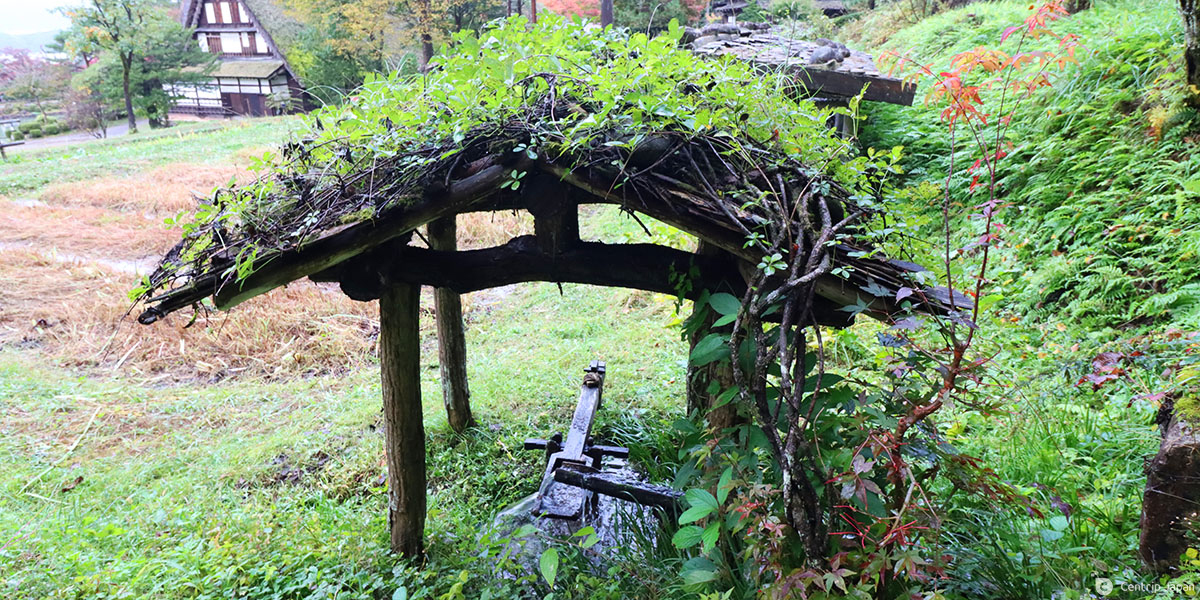 Knock, knock. Every few seconds the sound comes from a device that uses the flow of water to create periodic sound. Can you guess what the purpose is?
It is for scaring away wild boars that come and destroy crops!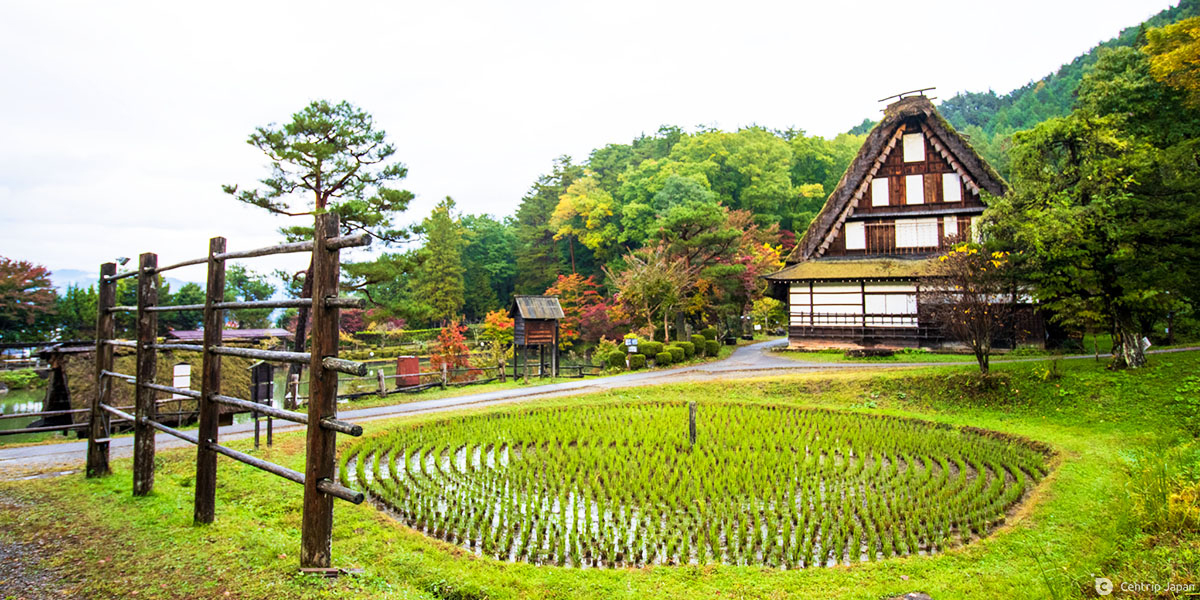 This wheel-shaped ricefield is known as Kuruma-da. The shape of the field is part of a ritual to the gods. It is one of the few remaining ricefields of its kind in Japan and is a precious part of Japanese folk history. Don't miss the annual rice-planting event held in Hida Folk Village in late May.
Blink & you might miss it! The disappearing art of old craftwork.
In days long past, farmers used to make a living by weaving straw sandals and embroidery. These traditional crafts have gradually disappeared. In Hida Folk Village, live demonstrations are on display every day, and they are free to watch, so be sure you don't miss them.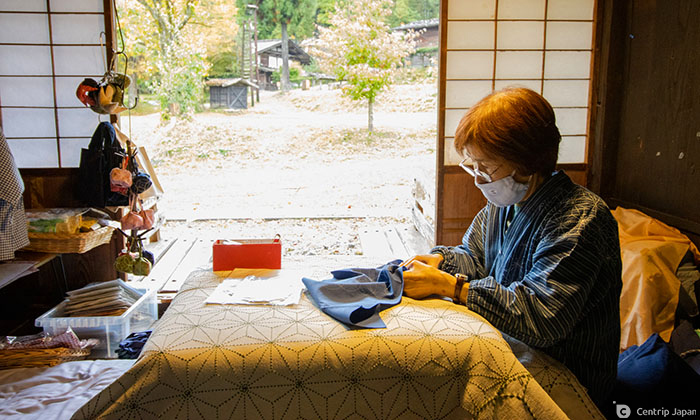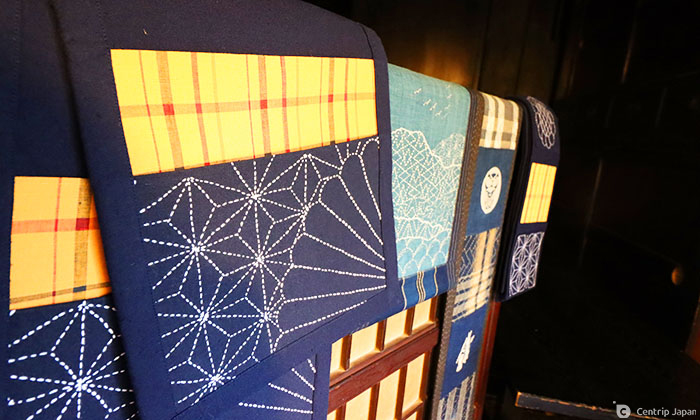 At the Tomita House, you can see local craftswomen demonstrating Sashiko embroidery, a type of Japanese folk embroidery using beautiful geometric patterns. Have a seat and chat with the craftswomen, and purchase a sashiko embroidered handbag as a souvenir.
To see yew wood carving (Ichii itto-bori) go to the Kobayashi House. Yew wood comes from rare 500-year old trees and carved by hand, one by one.
Mr. Yamashita, who demonstrates yew wood carving, told me that he has been doing it for 46 years but states he is still a junior in the business. Masters who are more experienced than Mr. Yamashita are all in their 70s or 80s, and there are only six apprentices younger than them. I wonder if there will be any yew woodcarvers left in a few decades?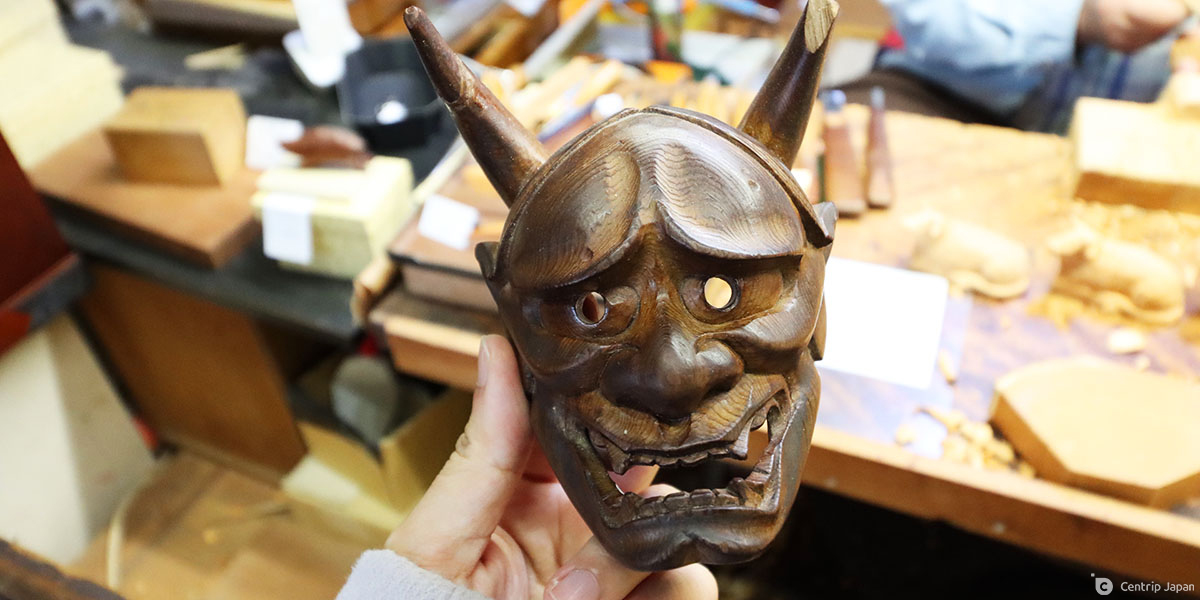 Another characteristic of yew wood carving is how the color of the wood gradually darkens over time, from the initial orange to dark brown. Look at this 70-year-old piece and notice the coloration of the wood.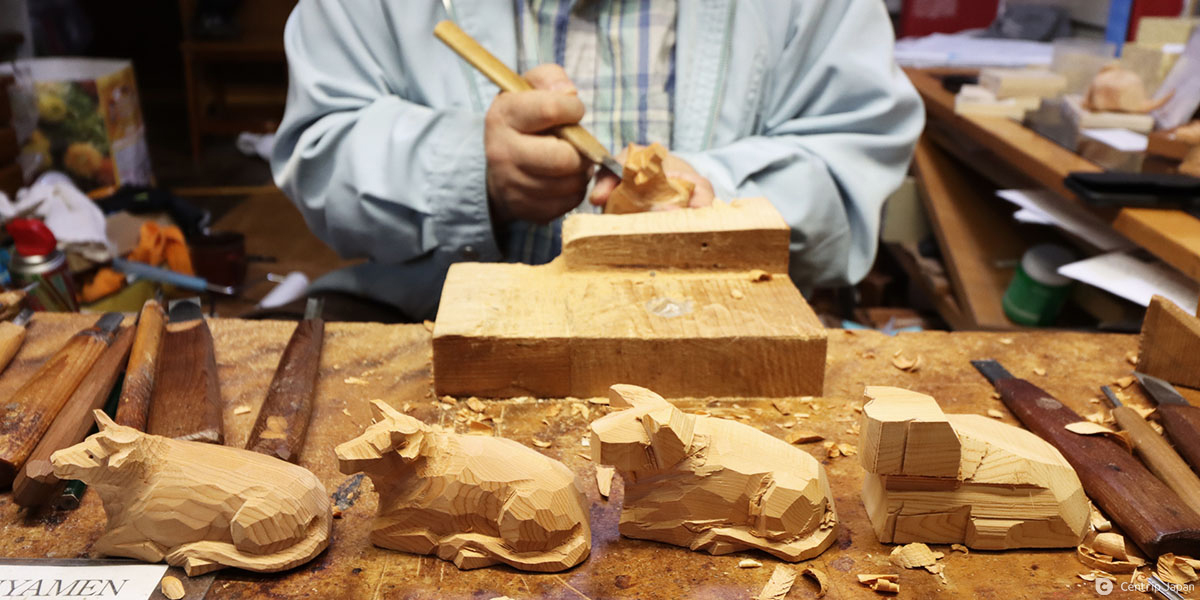 From right to left, you can see the carving process of yew wood carving.
A Village of Seasonal Beauty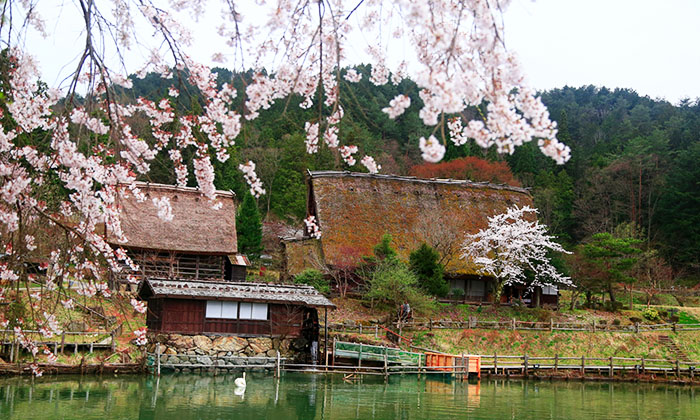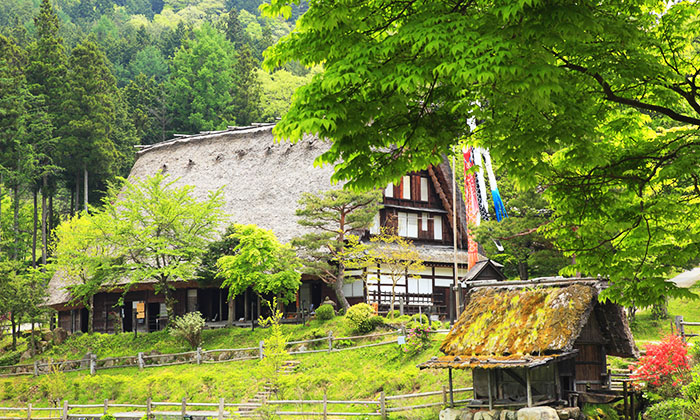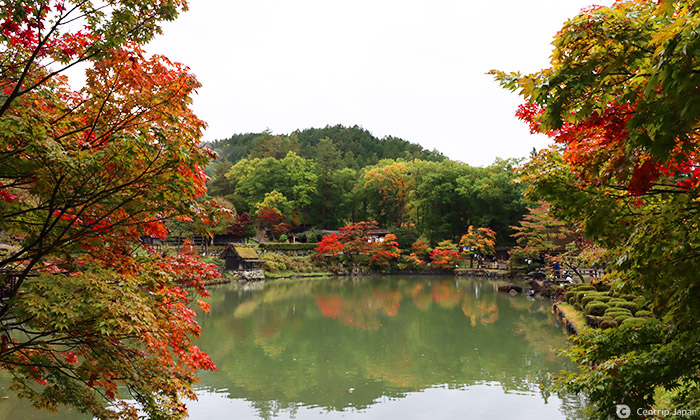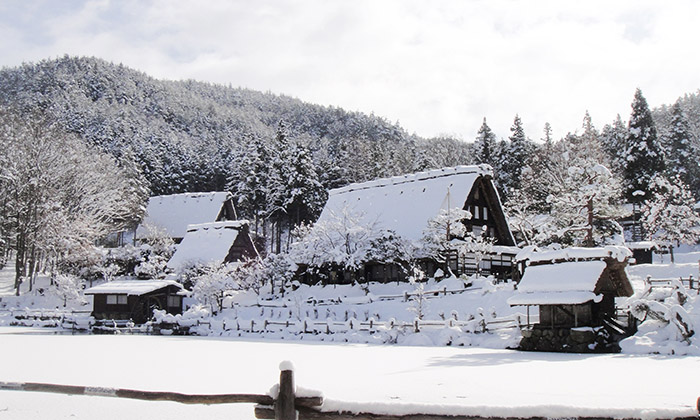 If you want some beautiful pictures, Hida Folk Village will not let you down. With cherry blossoms in spring, green leaves in summer, red leaves in autumn, the whites of winter snows, each season has something on offer. And for the icing on the cake, the night light-up event in November and December attracts many photographers.
Designed for foreign visitors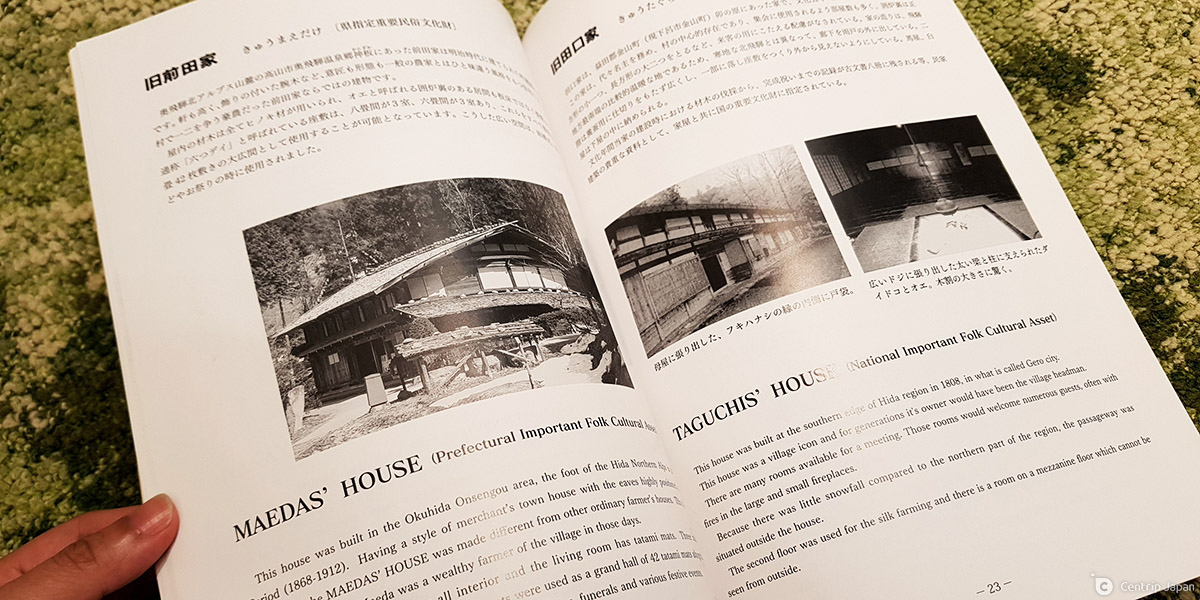 You might be worried that if you can not understand Japanese, you will end up just walking around but not understanding anything. No worries! Signs in English and bilingual (Japanese/English) pamphlets (¥300) are available. There are many foreign visitors, and the staff is ready to offer assistance if you need it.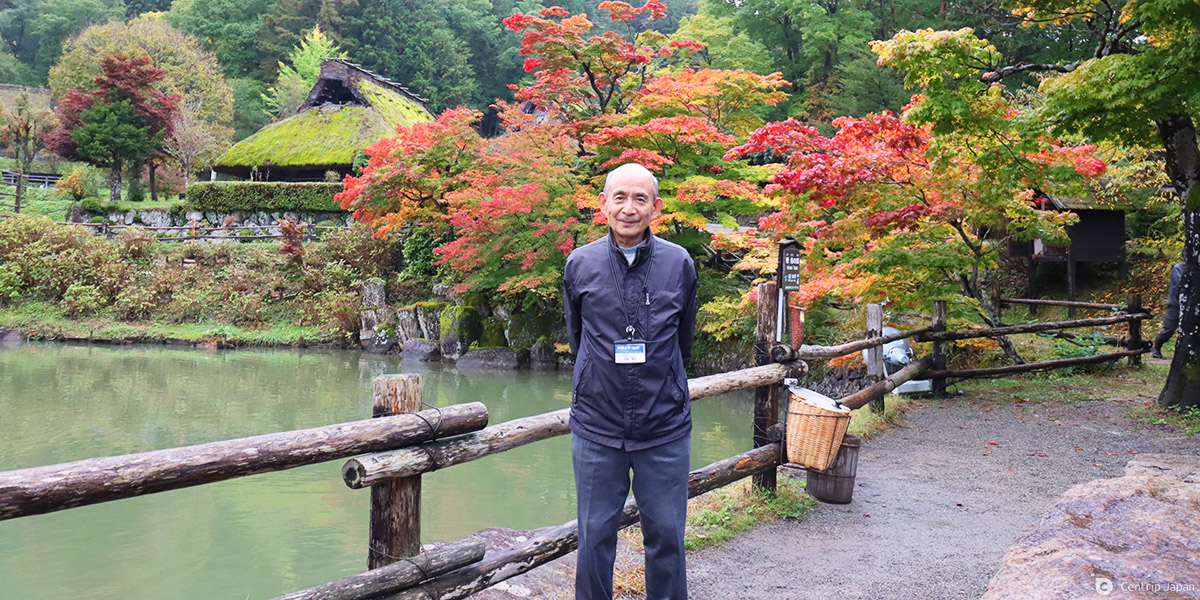 When you walk around the village, you may run into Mr. Nishikura, the director of Hida Folk Village. He is often found among his employees carrying firewood and cleaning around the area. If you are lucky enough to meet him, feel free to ask him some questions.
Wrap-up
When I was visiting Hida no Sato, I met a Japanese junior high school student who was studying in the village. It struck me that the young people of Japan want to reconnect with their past cultural practices, and of the importance of the Hida Folk Village mission to preserve it.
If you want to avoid the crowds and are tired of the same old travel routine, slow down, and experience the culture of a gassho-style village from the past. Hida Folk Village is a fascinating and unforgettable experience.
Click here to get the latest information on Central Japan.Centrip Japan - Nagoya and Chubu Information