| Centrip Editorial Board
2018 Central Japan Events for June : Don't miss out on the Hydrangea and Yukata festivals.
June sees the first stages of summer in central Japan, and the number of flower-related events is increasing. There are also many typically Japanese events featuring Yukata and kabuki.
This time we will introduce the Inazawa hydrangea festival in Aichi, the Shimoda Park hydrangea festival in Shizuoka, as well as street kabuki in the streets of Inuyama and the Akasaki festival in Mie.
Let's decide where to go this month!
【Aichi prefecture】 Inazawa hydrangea festival
10,000 flowers featuring 90 kinds of hydrangea.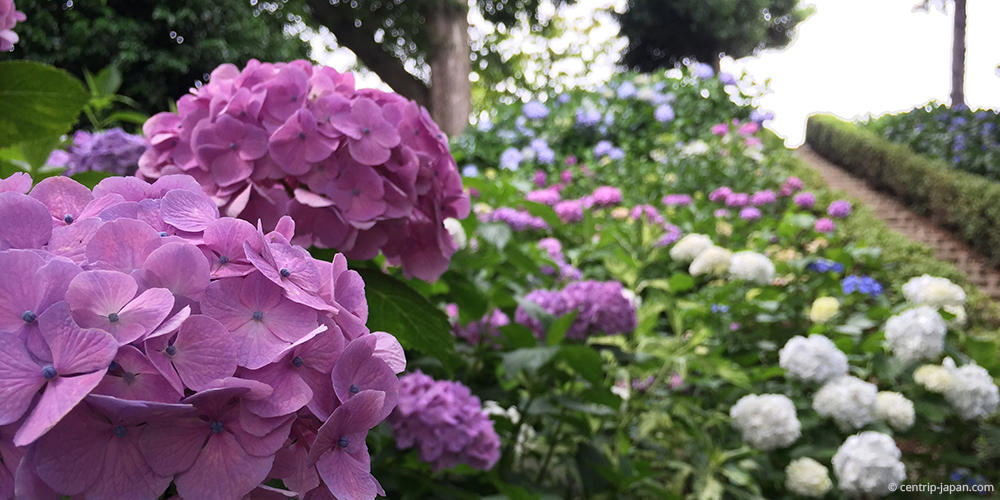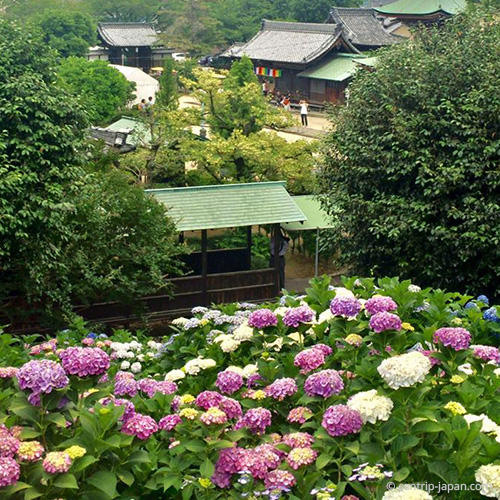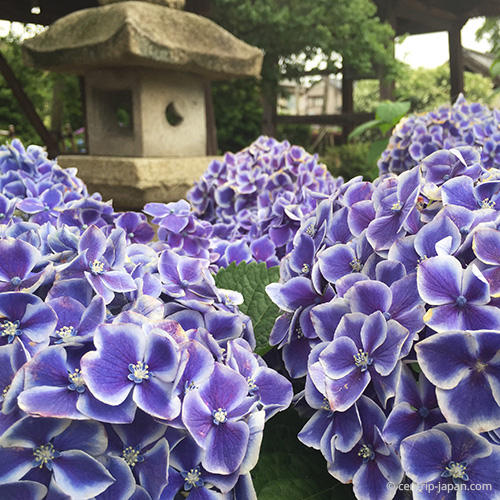 Do you want to see Japan's hydrangeas in full bloom?
Inazawa's hydrangea festival will be held at Otsukashokaiji historical park and Shokai temple.
Featuring 90 varieties of hydrangea and ten thousand actual bushes proudly cover the whole area. It's a great chance to get some photos for Facebook, Instagram, etc.
Furthermore, Shokai temple holds important cultural assets which will be on display during the period of the hydrangea festival, so why not enjoy the combination of history, culture and nature?

Location
Otsukashokaiji historical park and Shokai temple

Address
愛知県稲沢市大塚南1-33
Aichi pref Inazawa city Otsukaminami 1-33

Entry fee
Free entry

Dates
1-17 June 2018
Main event on 9th and 10th June

Opening times
10:00~16:00
Telephone
0587-32-1332
Access
[By train] A 25 minute walk from Konomiya station on the Nagoya Kintetsu line.
※On June 3,9,10 and 17, a free shuttle bus will run. The first bus departs Konomiya station at 9:15 and the last bus leaves Shokai temple at 16:00. (The trip takes 15 minutes one way)
[By car] 15 minutes from the Kiyosu West IC on the 2nd Nagoya ring road
Website
(Japanese) https://goo.gl/R6Wo8E
【Shizuoka prefecture】Shimoda park hydrangea festival.
A kaleidoscopic view! Three million hydrangeas in bloom.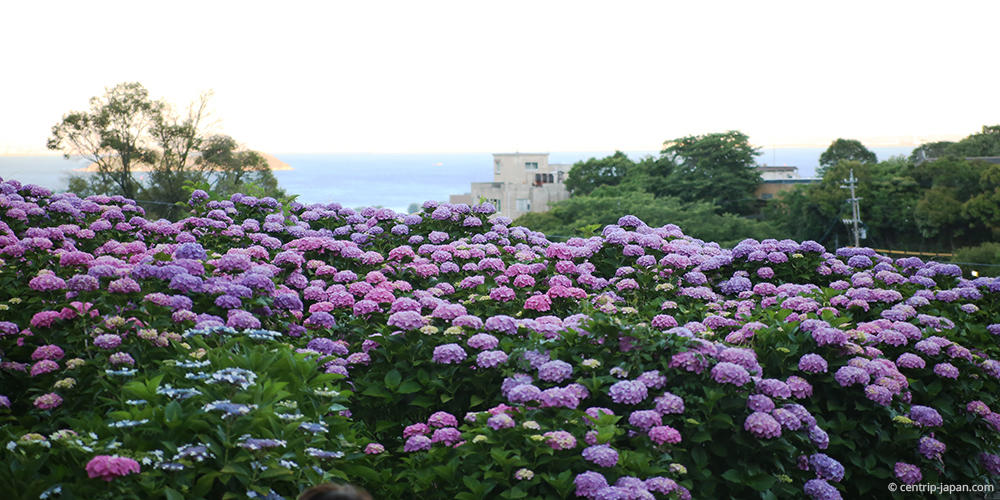 Are you ready for something even bigger and better? Then come to Shimoda park!
Winding their way across the paths of this wide park, 150,000 bushes and some three million flowers, featuring over a hundred varieties of hydrangea, provide a near-kaleidoscopic vista.
Furthermore, Shimoda park lies next to Shimoda port, so you can enjoy the hydrangeas while also exploring the city and port of Shimoda.
On June 10,17 and 24 (all Sundays), you can take part in making flower windmills and experience the Shimoda drum performance. As well as this, the middle of June sees the "kinmedai festival", so after you have feasted your eyes on the hydrangeas, feast your tastebuds on kinmendai (splendid alfonsino)
We really recommend coming to Shizuoka during this period.
Location
Shimoda Park

Address
静岡県下田市3
Shizuoka prefecture Shimoda city 3

Entry fee
Free entry

Event period
June 1-30, 2018

Telephone
0558-22-1531(Shimoda city tourist bureau)

Access
[By train] From Izukyu Shimoda station, take the bus for Shimodakaichu Aquarium and get off at "Ajisai Koen" stop (a temporary stop for the duration of the festival)
Website
http://www.shimoda-city.com/#we-page-home
【Inuyama city】East meets west as "street kabuki" from the Meiji period puts on a performance of "Romeo and Juliet".
Have you ever heard of "street kabuki?"
Kabuki is one of Japan's best known art forms and is considered an important cultural asset. As a form of classical theater, it is currently seen as somewhat arcane, but originally it was a form of entertainment for everyday people. Just like you and me!
In order to make kabuki seem more approachable, we present"street kabuki", a popular form of kabuki from the Edo period. This bucks convention with a performance of "Romeo and Juliet". Performances are given every Sunday so if you come to Meijimura, don't miss this "Kabuki meets Shakespeare" event!
Location
Meijimura Kurehaza theater.

Address
犬山市内山1番地
Inuyama city, Uchiyama 1
Entry fees
Adult 1700 yen, Senior citizen1300 yen, High school student 1000 yen,
Elementary or Junior High school student 600 yen.

Event dates
Every Sunday between June 10 and July 1

Performance times
First performance 12:00 Second performance 14:30. Performances last about 40 minutes.

Telephone
0568-67-0314(Meijimura)

Access
[By car] 5 minutes from the Komaki-Higashi IC of the Chuo Expressway
[Public transport] From Meitetsu Inuyama station, 20 minutes by Gifu Bus Community

Website
http://www.meijimura.com/english/
4.【Mie Prefecture】Akasaki festival
Yukata plus stalls plus twigs to ward off evil : a very Japanese festival!
The origins of this festival date back to ancient times. When an epidemic struck the local area, people hung twigs from their doors to request protection from misfortune. This tradition has continued to the present day, and every 22nd of June it takes the form of the "Akasaki festival".
On the day of the festival, some one hundred stalls are lined up, and with participants clad in yukata, the festival is also known affectionately as the "Yukata festival".
At the entrance to the shrine, cedar twigs to ward off misfortune are on sale. Why not take one and experience this very Japanese festival?
(Note : anyone can buy a cedar twig, but taking them back with you may involve an inspection at customs. Please bear this in mind).
Location
Asasaki Shrine (Toba 5-chome)

Address
鳥羽市鳥羽5丁目
Toba city Toba 5-chome
Entry fee
Free to enter

Date
June 22, from evening

Telephone


Access
[By car]Take the Ise IC from the Ise Expressway. 25 minutes via the Futami-toba line
[Public transport] 1. 10 minute walk from Kintetsu Akasaki Station
2. From Toba bus center, take the Kamome bus for 5 minutes and get off at "Akasaki Jinja Mae"
Website
http://tobakanko.jp/en/f05-07.html